So nice, I did it twice
Legit. I loved this tour so much that the following year I dragged my best friends along with me to do it all over again – and I still loved just as much, if not even more! So take it from me, someone who's done it twice, here's everything you need to know before you go;
? You'll be able to Facebook stalk everyone before your trip starts
Once you receive your pre-tour email, your guide will link you to a Facebook Group. As well as getting a quick look at any of the other travellers that have joined the group it's also the perfect place to share photos and ideas throughout the sail.
? Wifi vs sim cards
During your Island Hopper trip, there's pretty little wifi available other than at your accommodation and the occasional restaurant. Because the islands are pretty spread out, there's generally no service while travelling between them, so if you opt for a sim card it will only work when you're actually on land. On the ferries wifi is available for purchase but it's pretty costly.
? It's more expensive on the islands
Before leaving Athens it's a good idea to explore the markets for all your beach necessities. Because the island stops are a lot more expensive it's worth grabbing your sunscreen, towels and anything you'd need from a pharmacy beforehand.
?️ Think about where you want to sleep
Recommended accommodation vs your own?
On my first trip with Busabout I found that some of the accommodation was pretty win/lose, so my second time around I changed it up a bit. The recommended accommodation is also the most convenient because that's where the pick up/drop off locations are, but the quality really varies at each place. Your stays on each island are pretty short, so it's not really worth paying for something super fancy and expensive because you won't have much time to enjoy it. But at the same time, you don't want to get stuck in a sweaty dorm room. Here's my advice for each destination;
Athens
I highly recommend staying at Safestay Athens (previously Athenstyle) as the ferry to Mykonos leaves very early in the morning and this accommodation is the meeting point to get the shuttle. The private rooms are spacious and not too expensive so it's a great place to collect yourself before heading off on tour.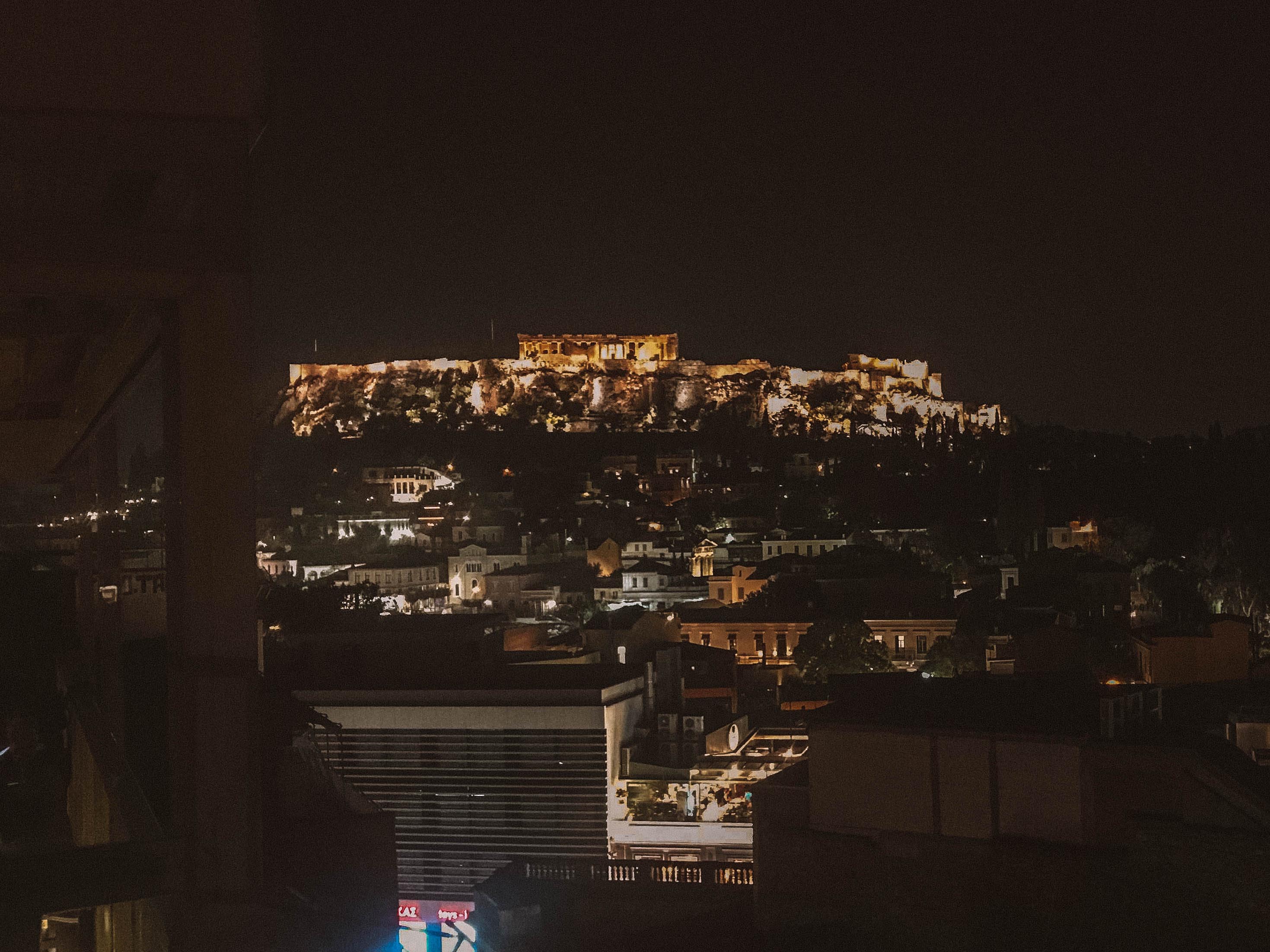 Mykonos
I recommend staying at the Paradise Beach Club as is it located quite far from the town of Mykonos. Though there are regular buses between the two, it becomes its own central hub where you are your Busabout family can hang out, party, and lounge around at the beach. If you want to stay in town you will be very far away from the group, you can always catch the bus over to Paradise, but the return buses don't run all night. Another option nearby Paradise is Paraga – it's still a little walks away, but it's on the right side of town. Paraga has a poolside bar and beach as well so it has it's own crowd, but I wouldn't walk between Paradise and Paraga alone at night.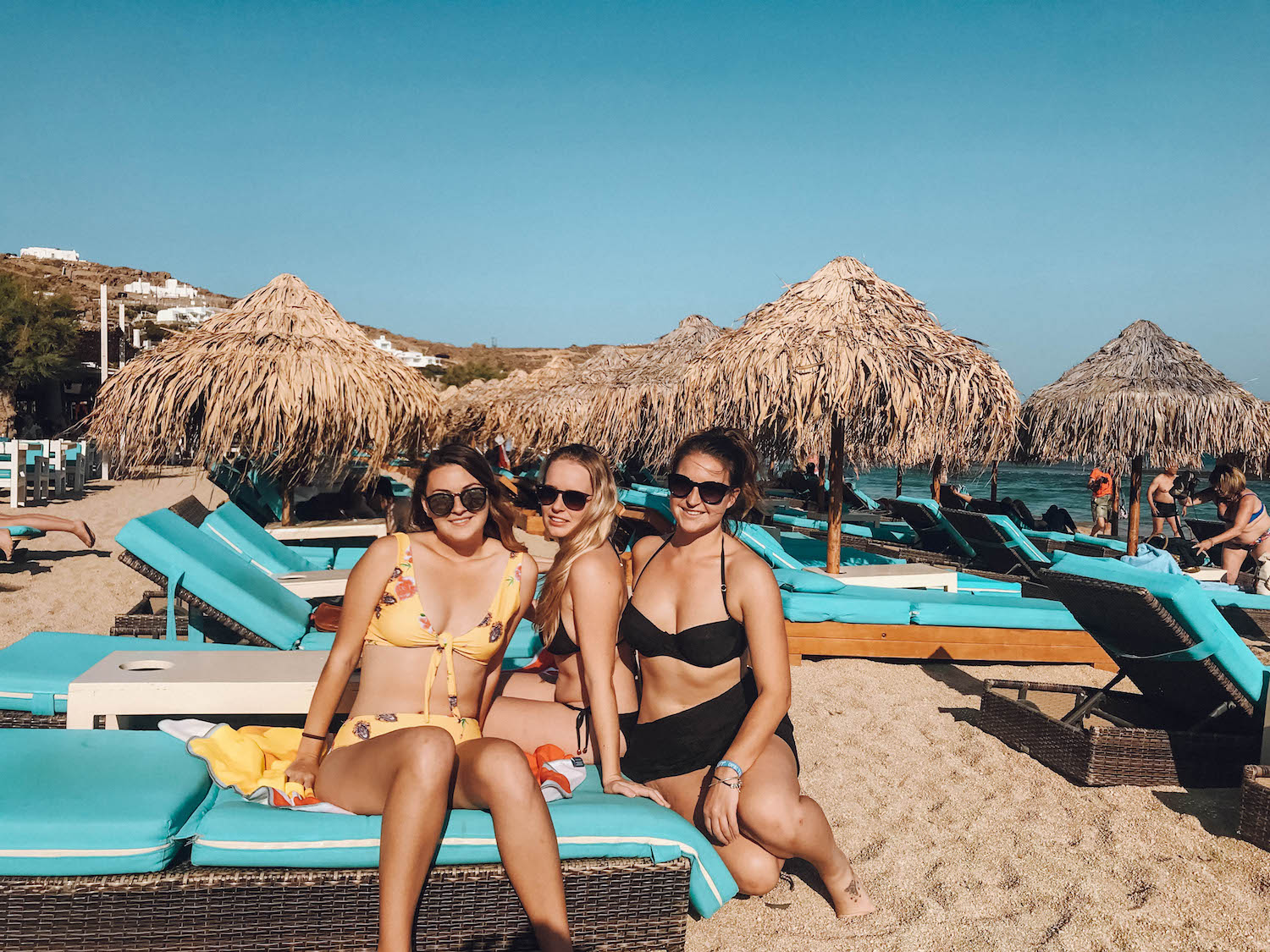 Paros
The recommended accommodation Sirocco's is not a hostel, so if you are travelling solo you have to pay for an entire room. While on my first trip, me and another solo traveller were a little annoyed by the fact that we could have easily shared a room together but instead we both paid for an entire room. It seemed like a silly system for anyone other than couples and friend groups.
Santorini
To be honest, I didn't love staying here. I chose this accommodation because it was the pick up/drop off points for my tour, but on my second time around I chose not to stay there. The hostel itself wasn't terrible – my main concern was the staff. The woman on the front desk was very blunt, gave no pleasantries, and when we tried to ask her recommendations on which beaches to visit or any tours to do (which you can book there) she basically shut down any of our hopes and ideas, saying they weren't worth it or that we couldn't do certain things – we found this not to be true when we later visited an information centre. 
One morning when we were departing for the ferry my friends had overslept their alarm. I know that wake-up calls aren't under the general job description for those working in hostels, but even a little assistance could have been helpful. Even though I knew where they were, and the staff knew where they were, she refused to let me or my guide go and wake them up even though their door was wide open.

We then asked if she could

please go and get them instead, so she walked in, walked straight out, went into another room, and woke up someone else from our tour that wasn't travelling with us. She even began yelling at him when he told her she had the wrong guy. My guide said that we were going to have to leave my friends behind – so I quickly and quietly went through their open door and woke them up. There wasn't anyone else in the room, but that didn't stop her from yelling at me. I understand the rules of privacy, but this seemed very over the top to me. Am I wrong??
There are plenty of budget accommodation options available around Santorini – I would just recommend booking in advance to make sure you can secure a spot somewhere that's still nearby the pick-up/drop-off points.
Ios
Similar to Mykonos the recommended accommodation is quite far away from town, however it is its own hub. There's a bar, club, restaurant, pools, beaches and everything that you need – the only negative is the long walk home from the clubs. Ios truly is the party island, so I recommend staying at Far Out Beach Club because this is the number1 spot to pre-drink and play games with your Busabout family before the end of your trip. There's various accommodation types ranging from camping to cabins to budget hotel rooms and then fancier bungalows. (I don't recommend camping, it's literally called the doghouses – they look like kennels. Everyone I know who's booked here has upgraded immediately). 
Food & Drinks
Yamas!
If you are on the Flexi-Hopper food is not provided throughout this tour. If you are on the Fixed tour there are included breakfasts and some of the family meals are included within your total tour cost. As these meals are optional for the Flexi tours it is up to you if you want to go to them. Same goes for the bar-crawls, the Fixed tour has some inclusions with welcome drinks, but for the Flexi this is an optional additional price.
? You'll be drinking just about every day 
For every stop along the Greek Island Hopper tour there's either a bar crawl, family bonding, or at least one club per night. Of course how much you go to or how much you drink is completely up to you, but more often than not the entire group follows the leader. Some clubs included free welcome shots, and some were no more than recommendations open to your own discretion. 
For each stop the group goes to;
Athens – Safestay Rooftop Bar (first night meet up)
Mykonos – Paradise Full Moon party
Mykonos – Guided bar crawl in town
Paros – Big Fat Greek Dinner
Paros – Guided bar crawl and karaoke night
Santorini – Family dinner and bar crawl
Santorini – Santo Winery & guided bar crawl
Ios – Guided bar crawl
Ios – Bar crawl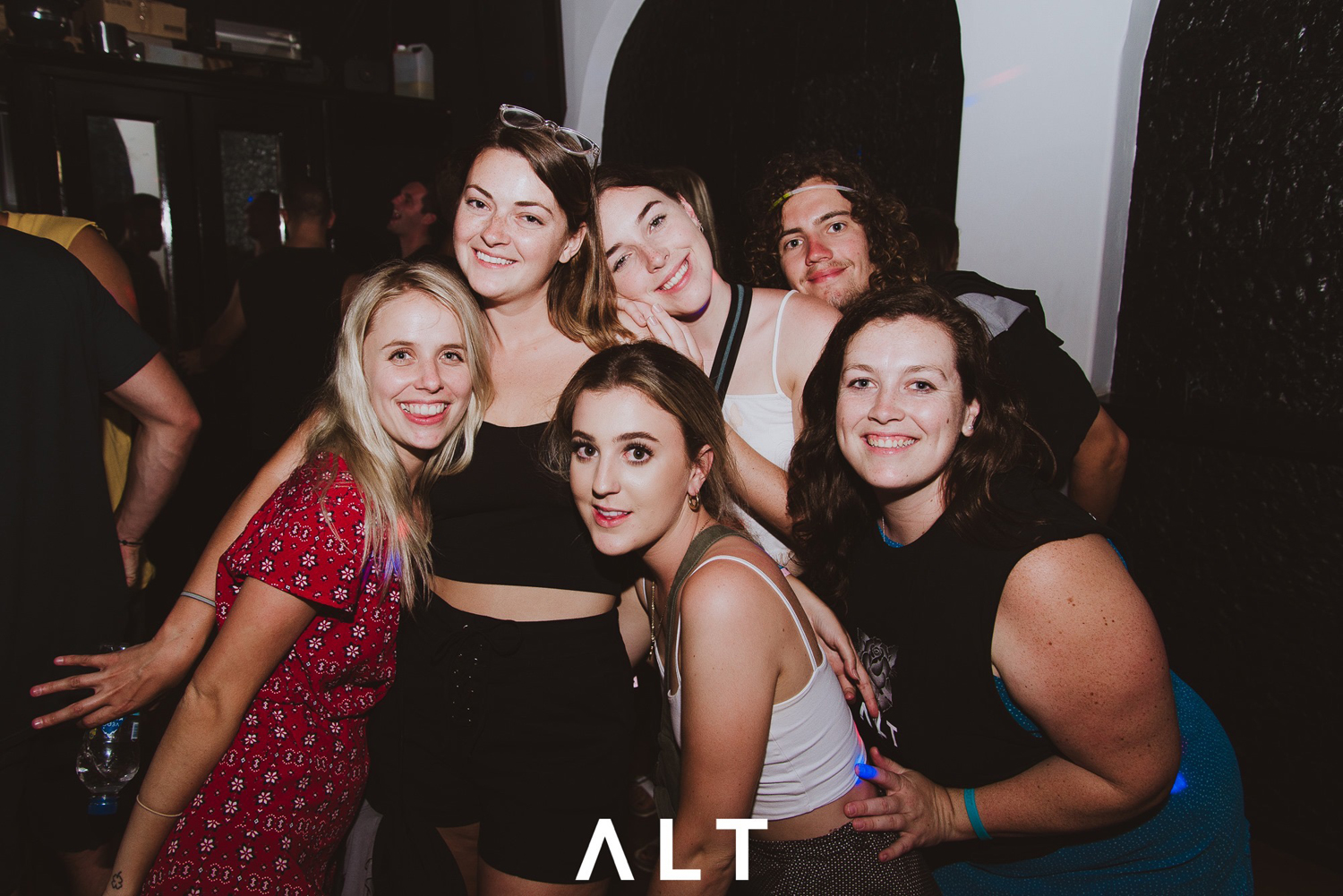 Daily Activities
? The Optional Activities 
There are also guided walking tours available at each stop, some of these are quite short, and others include snacks and family dinners – these are generally a great orientation to each area to get an idea of where you are. But again, optional.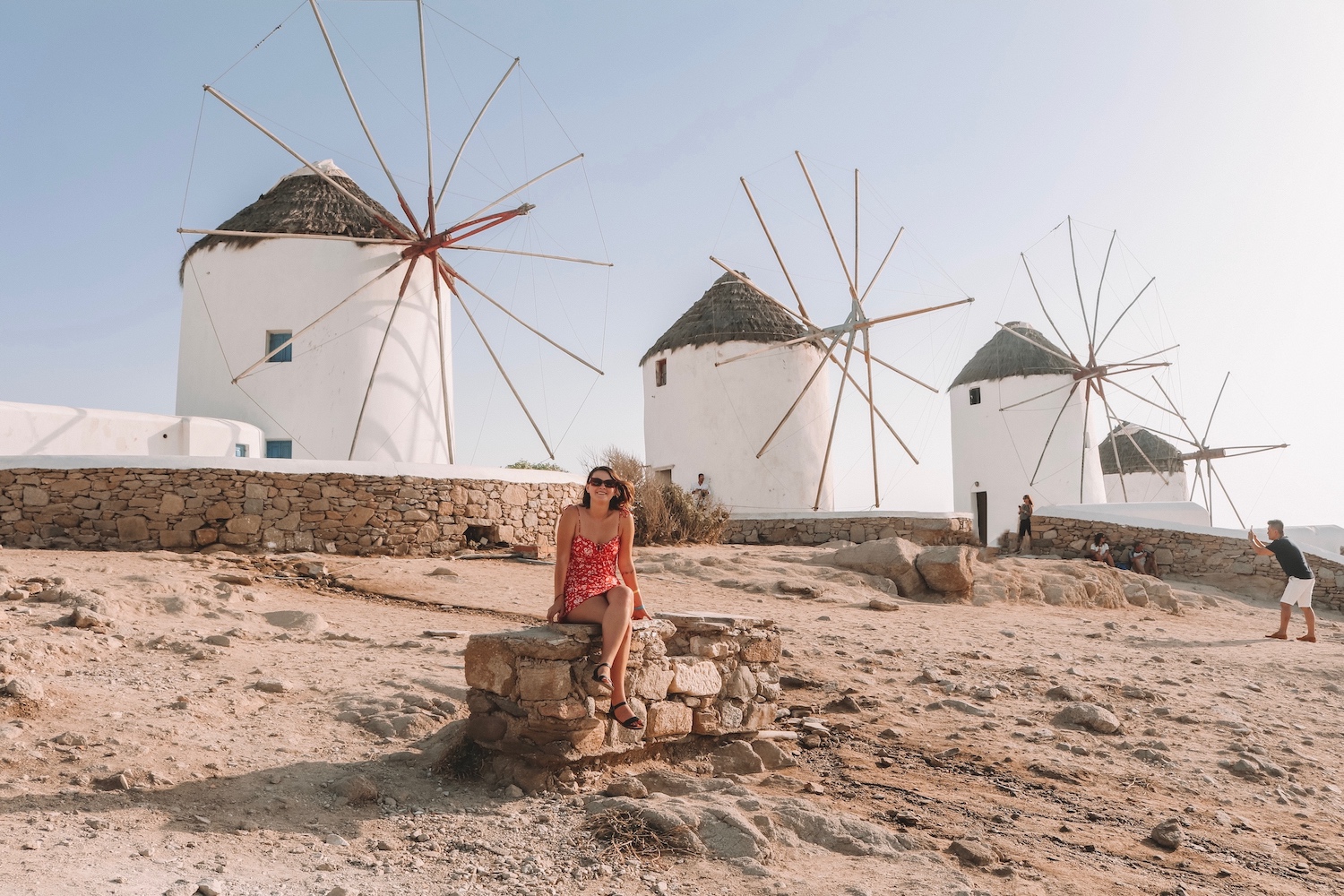 My Big Fat Greek Night, Paros
One of the Flexi-Hopper optional experiences allows you and your friends to join in on a traditional Greek dinner on the beach along with some plate smashing and dancing. The meal consisted of a few courses, all using locally sourced ingredients and recipes. After dinner it was time for some plate smashing. Plate smashing is said to originate from Ancient Greece and is a long-standing tradition that can still be seen throughout Greece, most often at wedding receptions. Once our food had settled and we'd gotten a few more special cocktails in, it was time to learn some traditional Greek dancing. A very old tradition, the dance that we learnt was from the 19th Century – kalamatianos – and involved dancing in a circle while holding hands.
The Famous Paros Boat Trip
Before I had even arrived in Paros, I'd heard floods of comments from other travellers telling me how great this optional activity was – and rightfully so. We set sail across the unbelievably clear blue waters of Anti-Paros, and made stops throughout the Aegean to jump ship, swim through natural caves and discover hidden beaches. Snorkelling gear was provided, and for the less confident (or tired!) there were also noodles that you could float around with. After that it was lunch time. We pulled up to shore alongside a private beach, and the crew pulled out some plastic chairs and tables and set up right on the shore. We sat with the water cooling down our feet and enjoyed a buffet BBQ feast before heading back to Paros.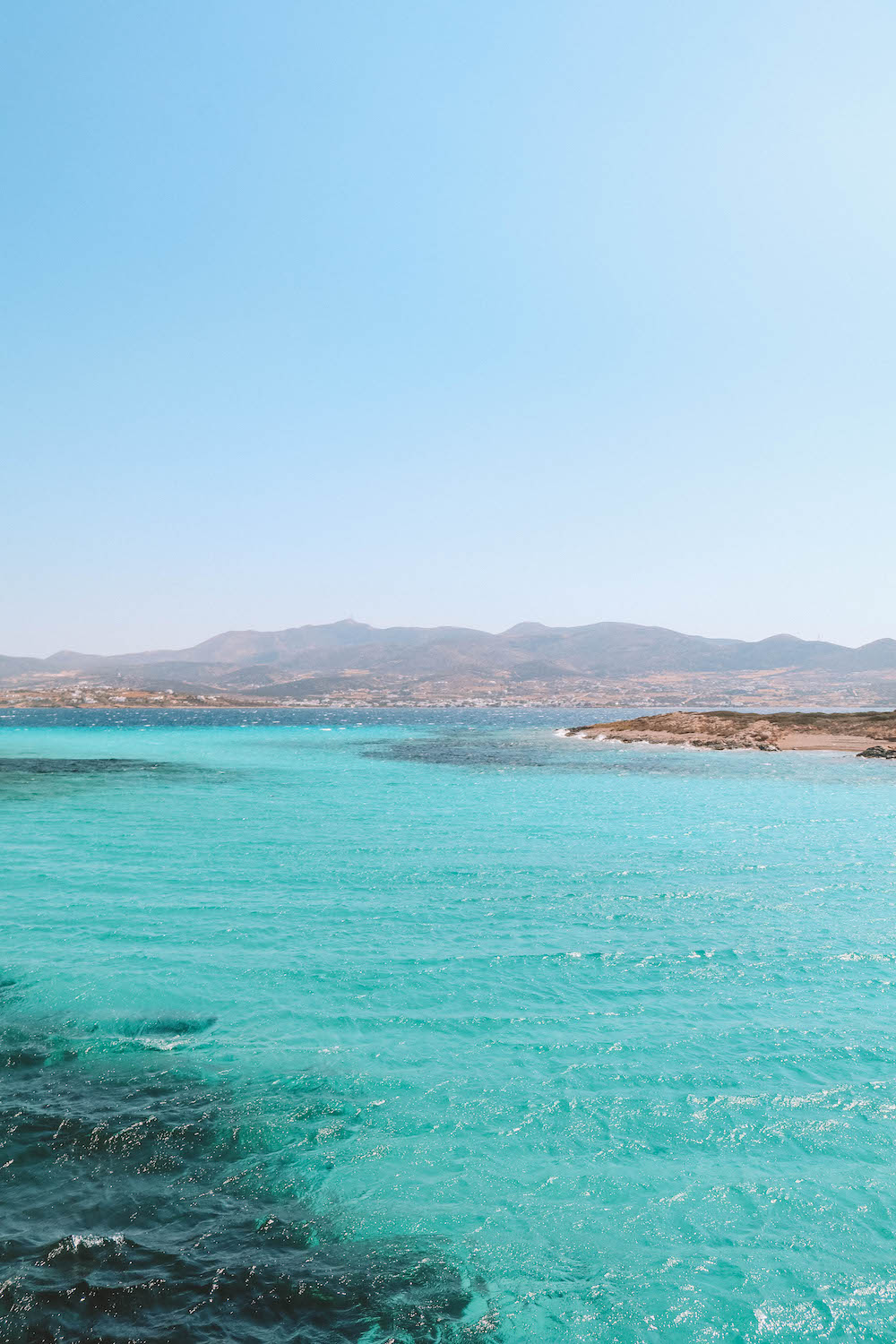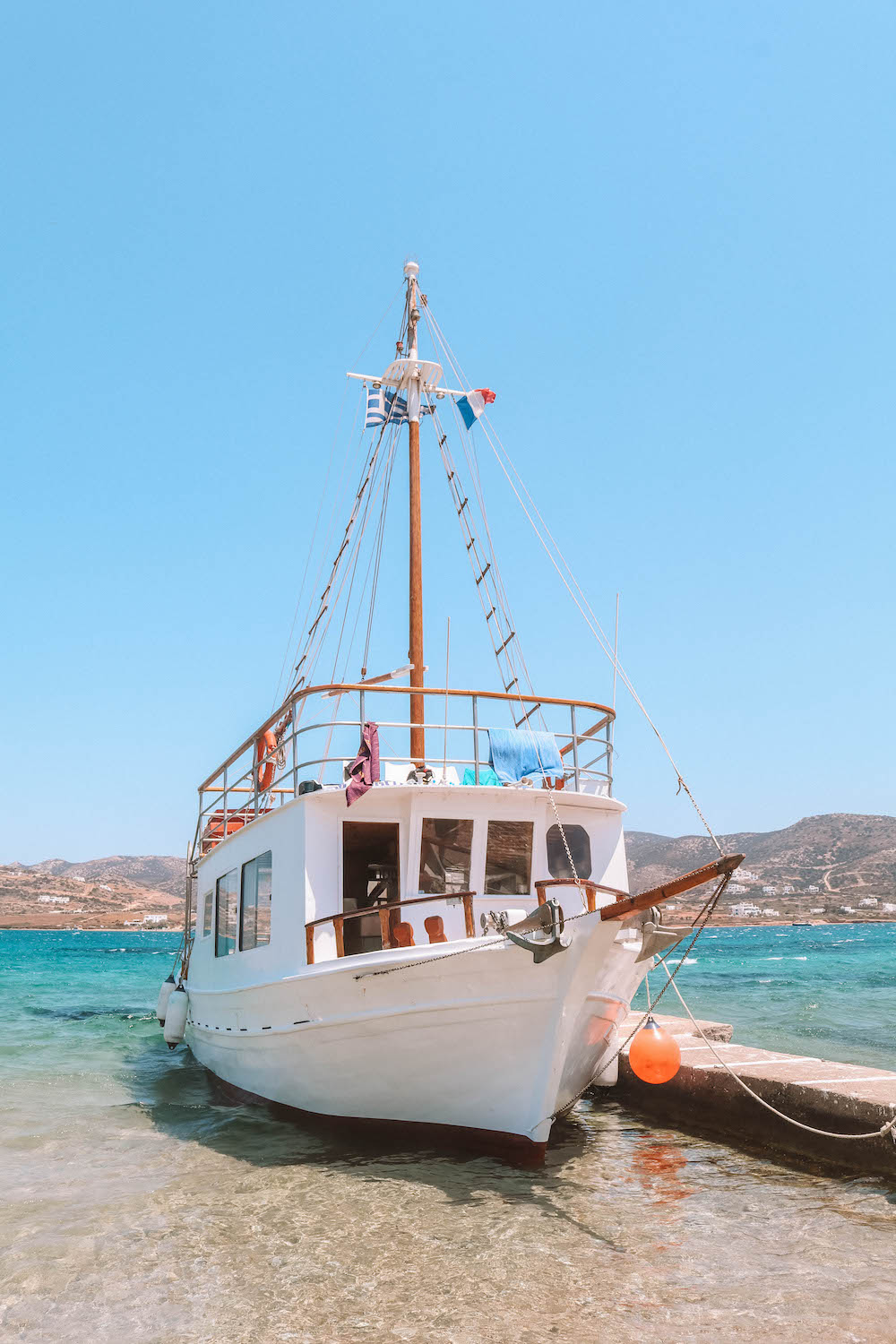 Sun-tour-ini
This is an entire day tour with a break in-between. If it's available I would opt for this activity because it covers all of the best bits over the entire island. Your morning starts with breakfast and a break down at Perissa (black) Beach, then Red Beach and then a delicious tasting at Santo Winery. Then you're given a few hours to either relax or wander around the shops, and then everyone meets back up in time to leave for sunset. To finish the evening the entire family sits down for a picnic of gyros above the Byzantine Castle Ruins for the famous Oia sunset.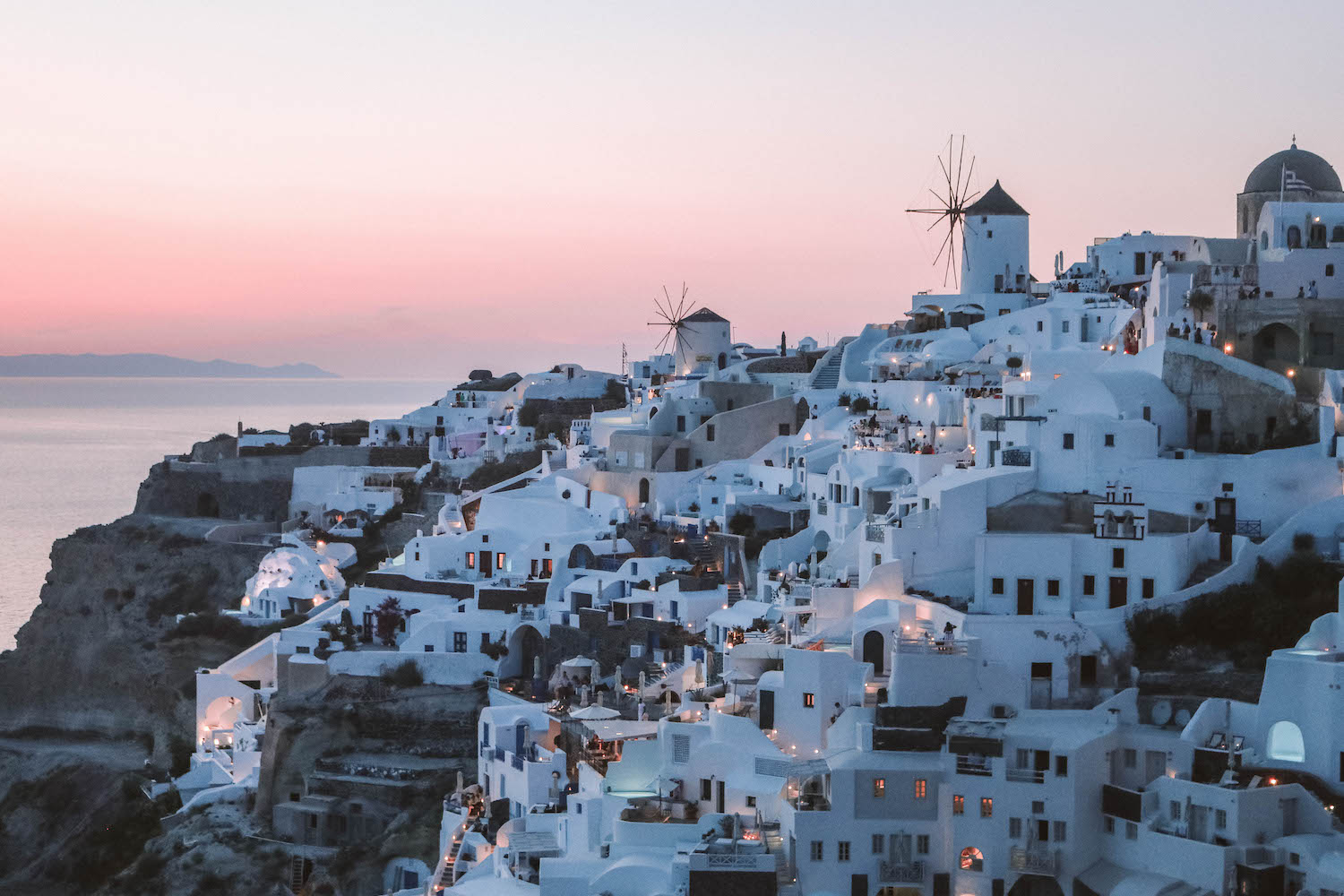 ? Other Activities to do in your free time
On some occasions, whether it be the weather, or the time of year, you might not be able to do some of the optional activities. My first trip to Santorini was during the shoulder season, so my tour group was very small. Because we didn't have enough people we weren't able to do the Sun-tour-ini trip. As well, maybe you just don't want to do them, and that's totally fine! So what else is there to do around town?
The Acropolis, Athens
Understandably a UNESCO World Heritage Site, the Acropolis of Athens is recognised as some of the greatest architectural and artistic monuments to derive from Ancient Greece. What was once a thriving Citadel located above the city of Athens, is now home to various ancient buildings that still hold significant historical value – the most well known being the Parthenon. Some of the remains include;
The Parthenon
Old Temple of Athena
Erechtheum
Propylaea
Odeon of Herodes Atticus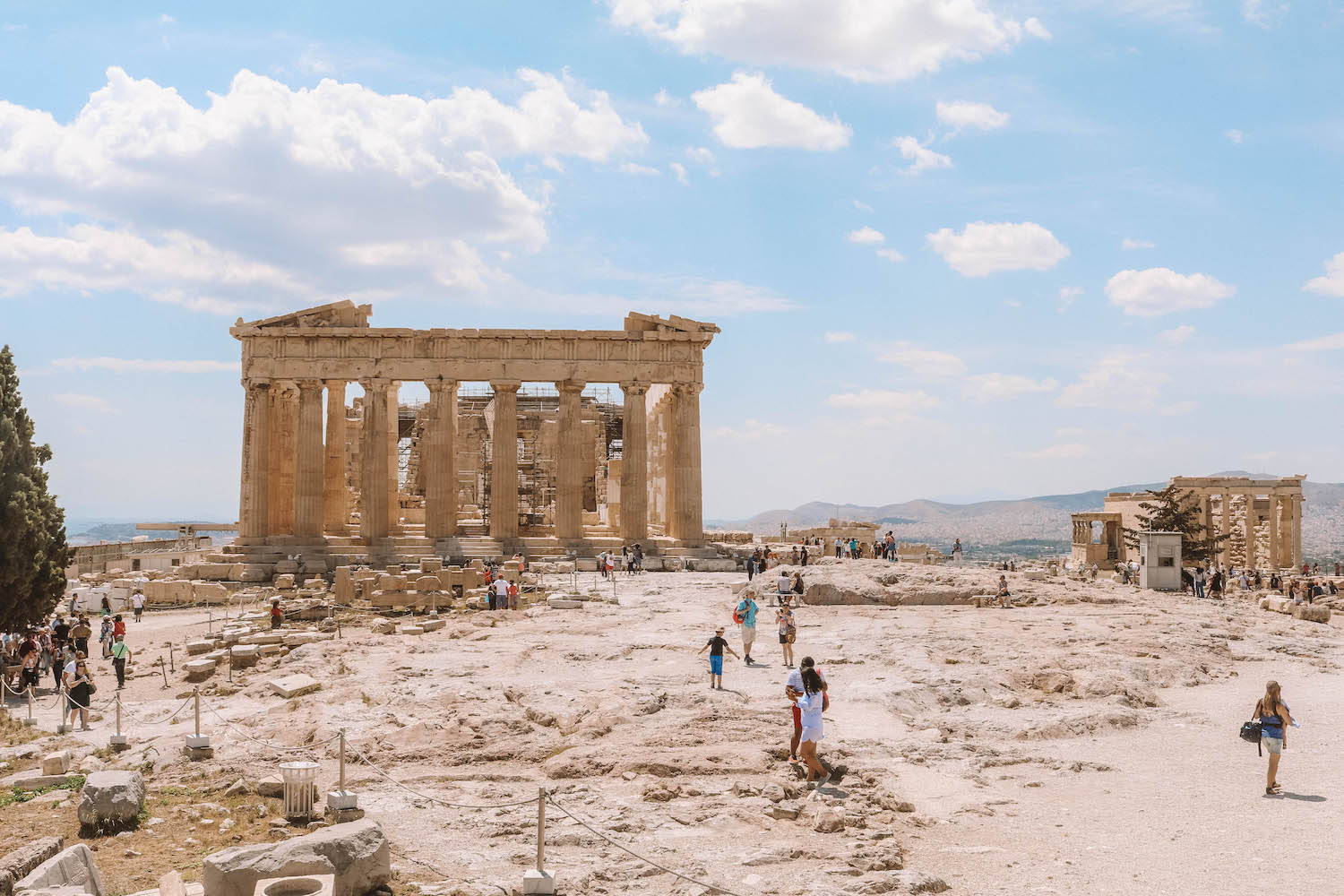 Lycabettus Hill Hike, Athens
The tallest of Athens seven hills, Mount Lycabettus pretty much begs to be climbed. The mountain is visible from almost anywhere throughout the city, and offers Athen's most outstanding views!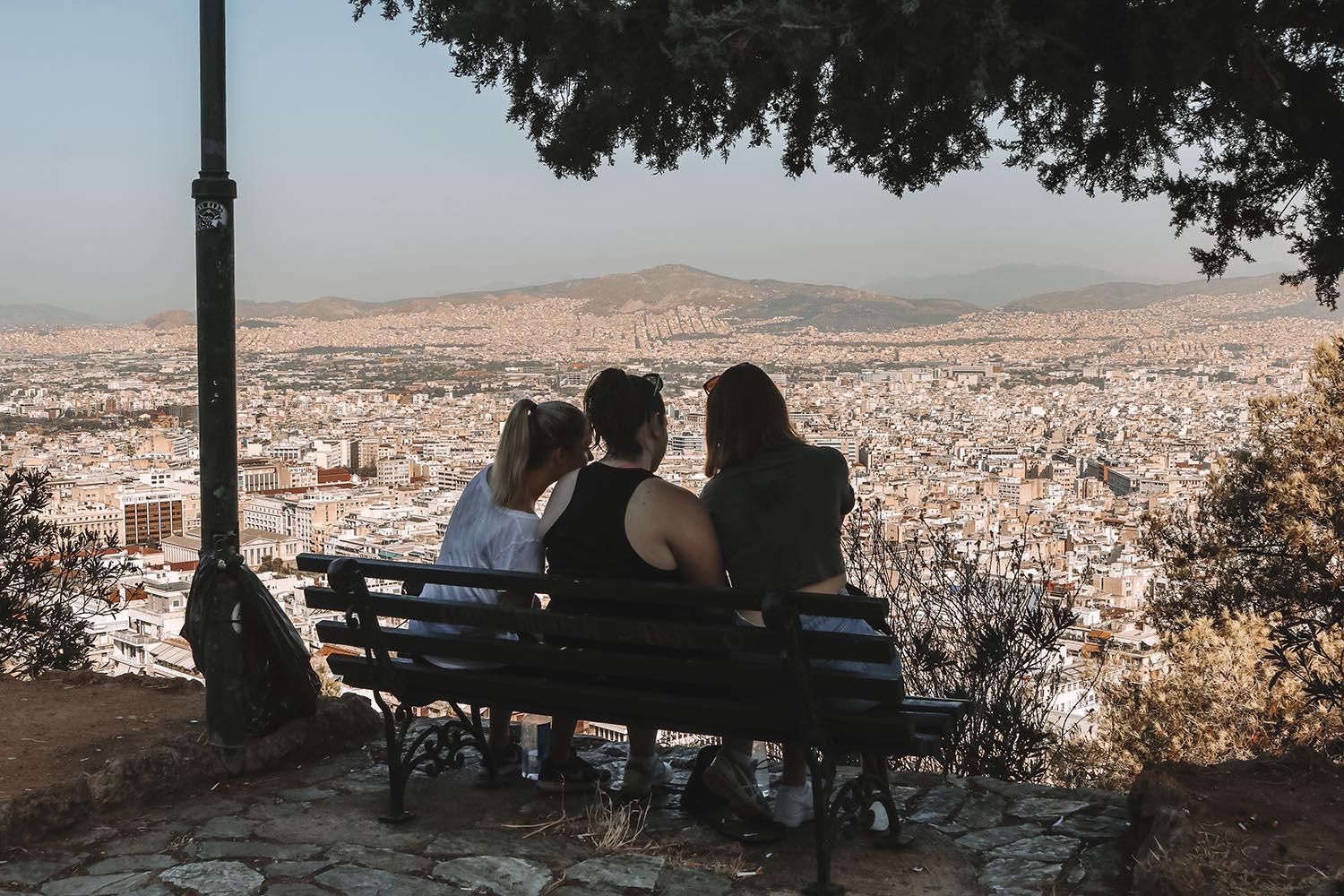 Panathenaic Stadium, Athens
The spectacular Panathenaic Stadium was home to the first modern Olympic games in 1896 in Athens. One of the most historic attractions of Athens, it is the only stadium in the world built entirely of marble.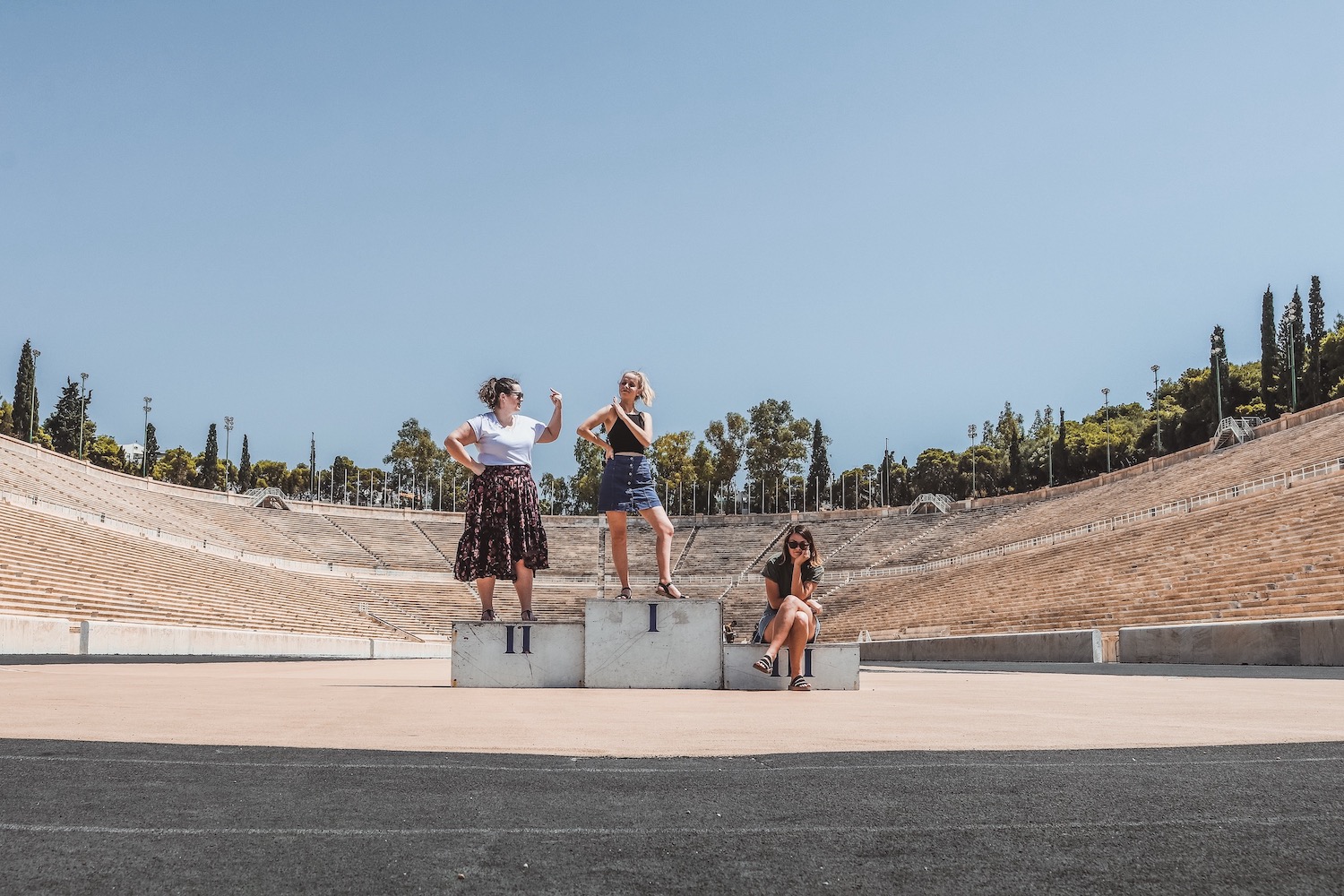 Temple of Zeus, Athens
The Temple of Zeus was an ancient Greek temple in Olympia, dedicated to the god Zeus.
Nea Kameni Volcano – Crater Walk & Hot Springs, Santorini
Our Busabout guide recommended to us the boat trip that took you over to Nea Kameni for a walk around the craters, and then to the natural hot springs formed by the active volcano. It was a trip that we knew we'd not only enjoy just for the adventure, but to learn a bit about the unknown – the caldera itself. The boat took us over to Nea Kameni, and we were allowed to explore with the guide, or wander around ourselves. After that it's a short trip over to the hot springs. As the boats are too large to get up close to the springs, you're welcome to jump off into the chilly water and swim towards the muddy shallows. Then you have free time to take advantage of the therapeutic elements of the rusty coloured water, and it's back to the Port.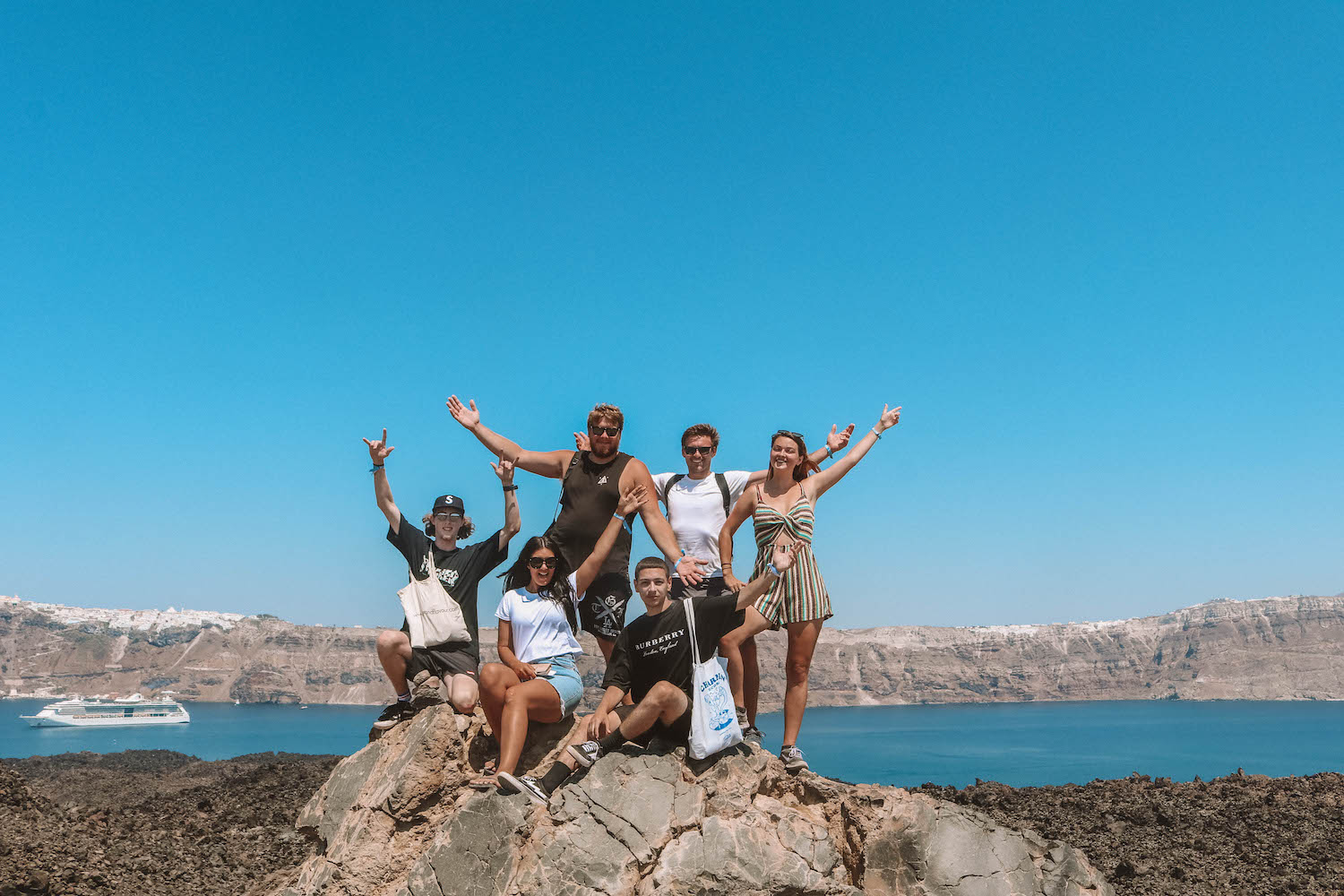 Speedboat Trip, Ios
From just outside the recommended accommodation Far Out Beach Club – you'll find plenty of options for paddle-board hire and also speedboat tours. The perfect thing about these tours is that you can usually sign up with just a days notice which is perfect when you aren't sure of your plan yet (subject to the season). The tour that we jumped onto took us to a nearby private beach with an included light lunch. It gave us an opportunity to snorkel at shipwrecks and explore underwater caves with all of the provided gear and information.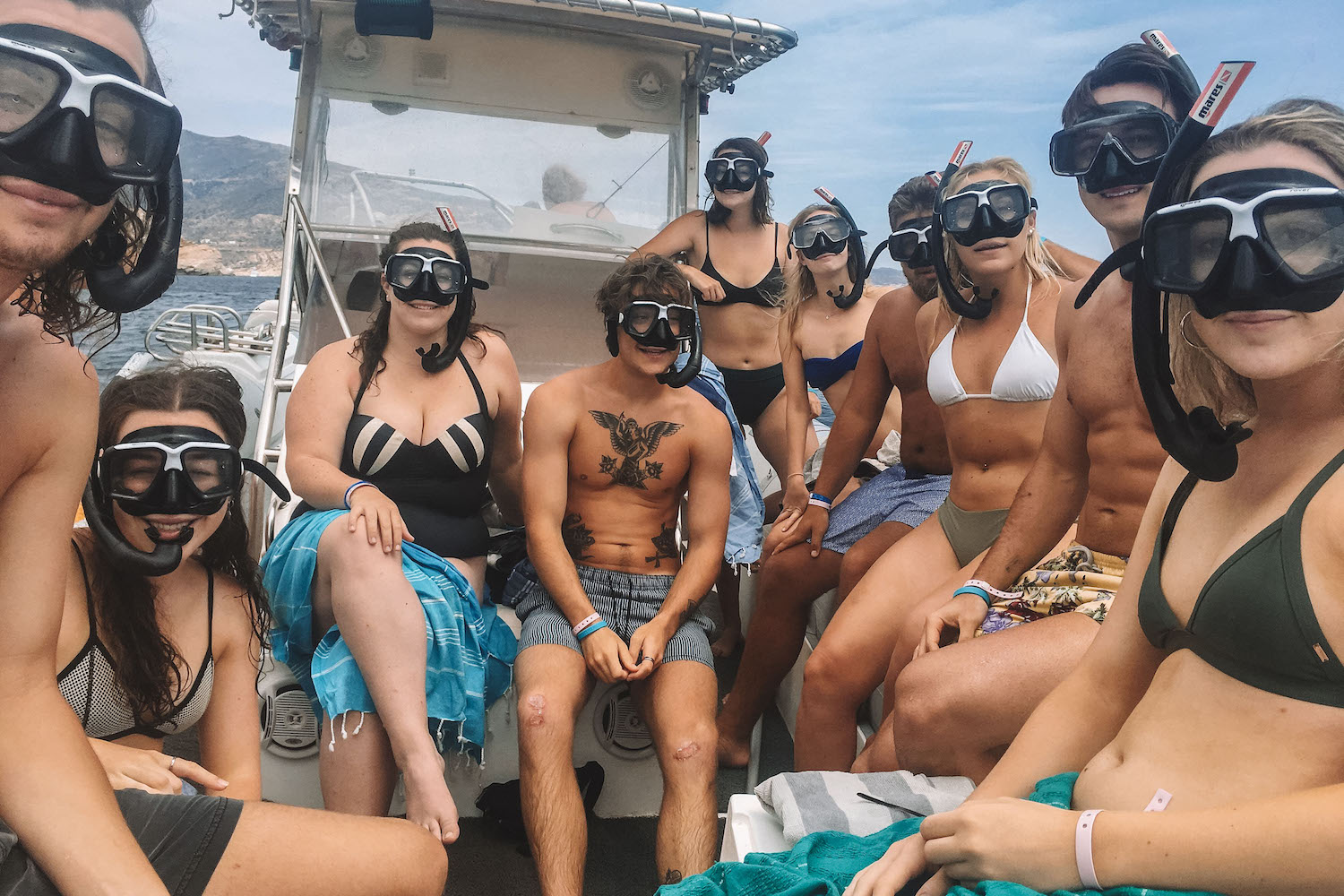 ?️ Your Busabout wristband will get you discounts
Not only is your wristband super trendy and cool to wear, it also brings some benefits. On your bar crawls in Ios your wristband will allow you free entry into some of the best clubs in town, and for some there'll even be welcome drinks included. As well as this, while on a guided walk around Santorini you'll be taken to a jewellery shop – Busabout travellers are provided a discount on all of their purchases here.
Everything else you need to know…
? You're probably going to get sick
If you've ever been on a Contiki you'll know of the "Contiki Cough", and this badboy exists all around.. Let's call it the Busabout Bug (as long as it alliterates it's legit right?). Anyway, The Busabout Bug is REAL and it's pretty unavoidable. With a lot of drinking, new experiences, and other sick travellers, it generally catches on as the trip gets closer to its end. I generally pack some cold&flu tablets and a bit of hydralyte for any trip and they become pretty useful for weeks such as these.
? There'll probably be a holiday romance (or two)
Yep.
? Get on your guides good side
From my experiences with Busabout I've found that your tour guide can really make a huge impact on your trip. Some trips it's like travelling with another best friend, but other times you'll have the odd guide that's more interested in what the "popular" or single people are doing… these times are less fun. Getting on your guides good side can really make all the difference. If you're that person that's a little bit late everyday then your guide is going to have lower expectaitons for you – so if one day you really are late they'll be less likely to stretch the time for you. If you're mates with your guide or they just know that you're generally an on-time kind of person, they're more likely to try figure out where you are and how to make things work for everyone.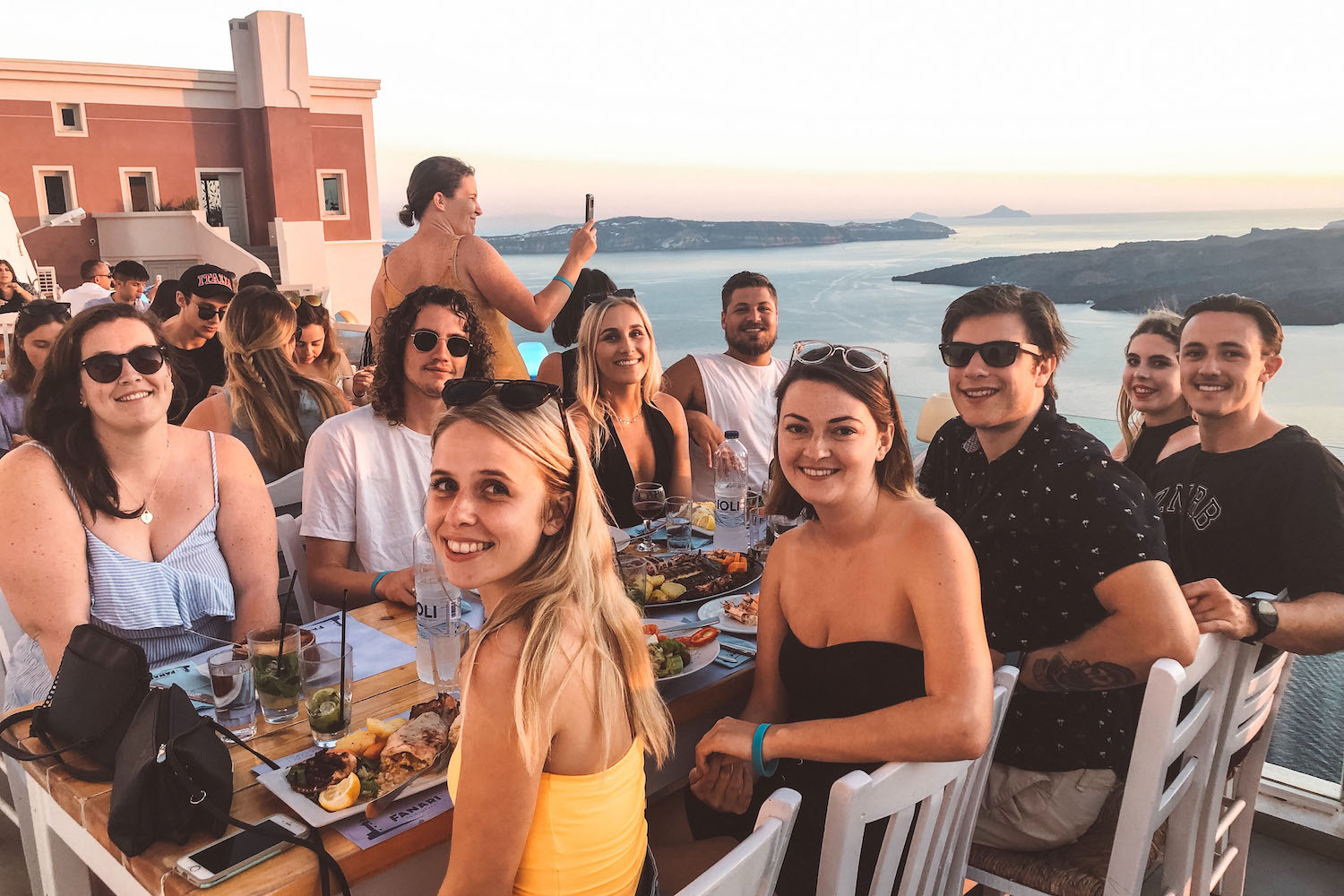 ⏰ If you are running late, they won't wait for you.
But on that note, the bus and the ferry waits for no one – it's up to you to make sure you are there on time. Your guides will usually do as much as they can, but if it comes to a point in deciding on everyone else's trip over yours, that's what they'll go with. If you do miss a bus or a ferry it will be totally up to you to figure out how to get to your next destination – and at your own expense too!
? Expect to tip your guide (& bus driver for the Fixed tour)
Like all guided tours around Europe, at the end of your trip your guide will provide you with envelopes to leave them a tip. According to one of my guides, the customary tip for each crew member is about AUD$45.
❤️ You'll meet some amazing people! 
I had to go there, it's cheesy but true. Though solo travel is easily doable, many of these experiences are made through the people you travel with and the memories that you make with each other. As I travelled with Busabout, I was able to get to know the people on my Greek Island Hopping tour and we shared the experiences together. We spent our days walking our feet flat from exploring and jumping into cool blue waters, and our nights playing games at our accommodation and going out into town with safety in numbers.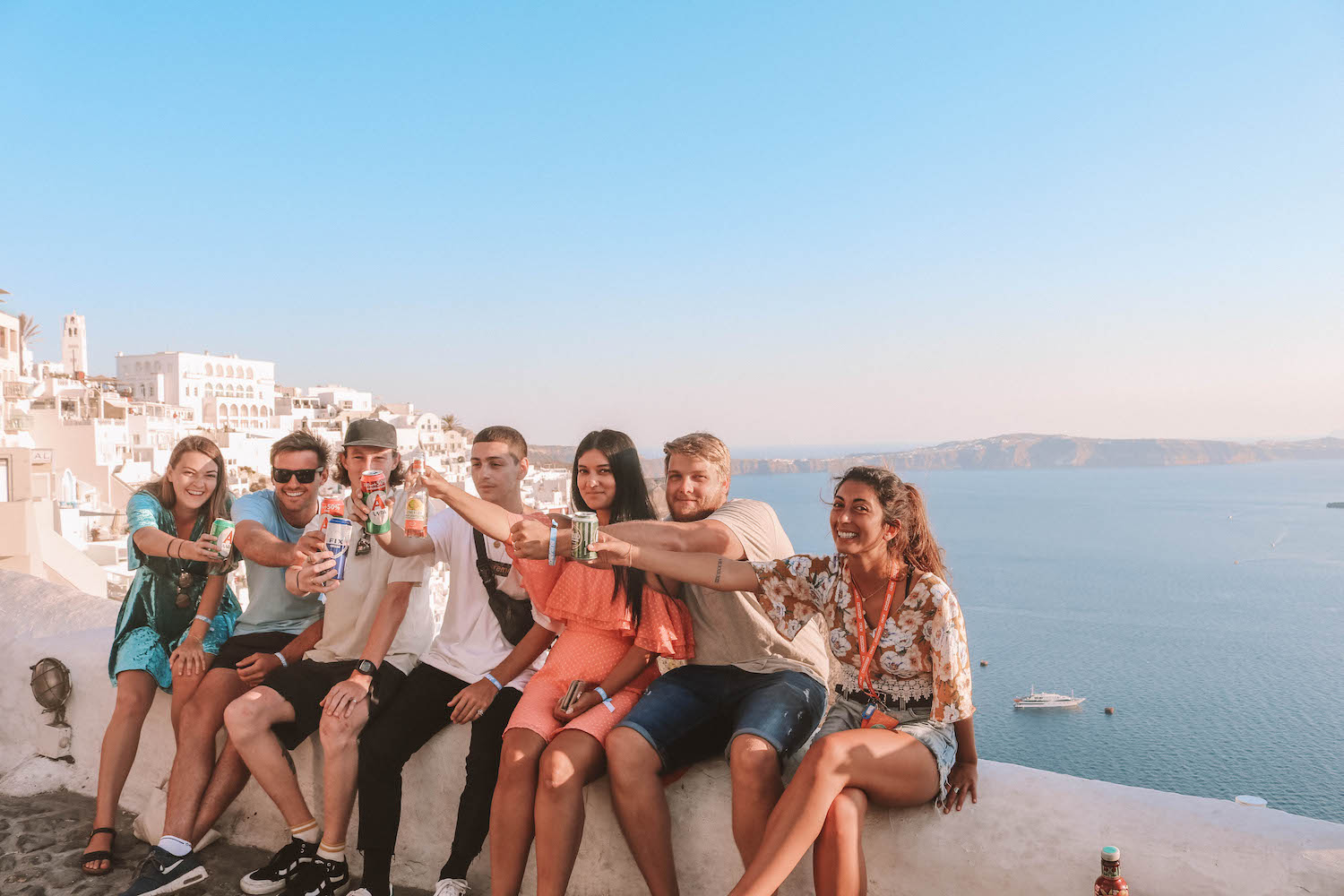 Haven't booked a trip yet? Well, click here – this isn't sponsored, I just had a really amazing time and I bet you would too.