Now before I even get into this, let's look at how it all began. Oktoberfest traditionally began with a massive wedding celebration in 1810 – fast forward to now, it has become one of the biggest festivals in the world – the Germans know how to keep the party going!
Filled with thousands of local and international visitors, everyone dons the traditional lederhosen or dirndl and clash their mugs together in a celebration of beer and good times! With good food, friends, beers and costumes, it's something that's always been on my bucketlist. But in saying that, it can get a little insane. Hangovers, and partying till the sun comes up – here's my tips on how to survive…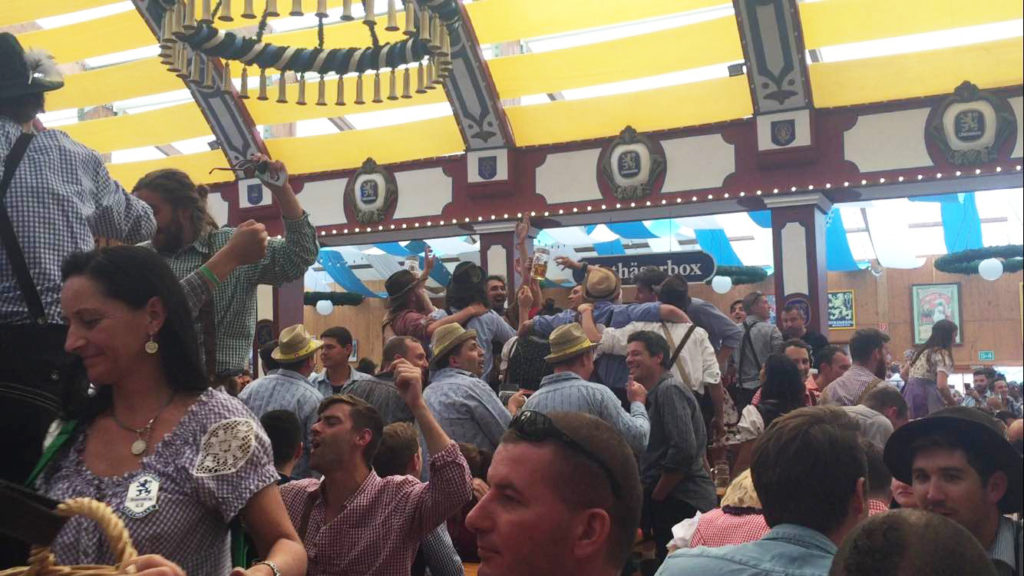 > When is it?
Oktoberfest traditionally starts in the third weekend in September and ends the first sunday of October. It began with the Royal Wedding on 12 October 1810. Crown Prince Ludwig, later to become King Ludwig I, was married to Princess Therese of Saxony-Hildburghausen on 12 October 1810.
2016 – 17th September to 3rd October
2017 – 16th September to 3rd October
2018 – 22nd September to 7th October
Today, Munich Oktoberfests are held in September because the weather is milder than that experienced in October. In Munich, the fest lasts for 16 days, beginning on a Saturday in September and always ending on the first Sunday in October.
> Where is it?
Munich, on the famous "Theresienwiese", which is also called "Festwiese" by the locals.
> Operating hours
Beer is served from 10am to 10:30pm on weekdays, and 9am to 10:30pm on weekends and holidays. Note: on the opening Saturday, they will not start serving beer until 12pm.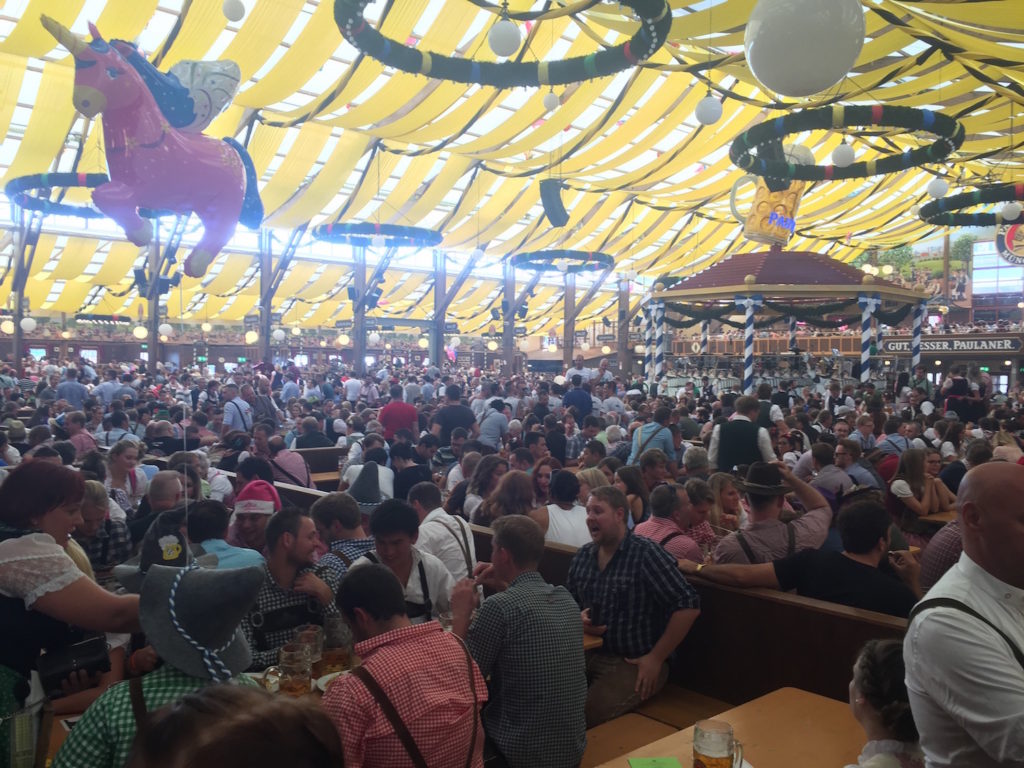 > There is no entry fee
> Bring cash
Most places don't take card or require a minimum payment. ATMs are available within the grounds though there are usually queues.
> Beverages
"There is a special beer brewed exclusively for Oktoberfest every year, fittingly called Oktoberfestbier. There are strict guidelines the breweries have to follow: the beer has to conform to the Reinheitsgebot (German Beer Purity Law – yes, there is such a thing!) and it must have been brewed within the city of Munich. At 6%, it has a higher alcohol content than normal beer."
Don't fret, there's plenty of options available! All tents offer 'Radlers' – beer mixed with sparkling water, and you can even get your hands on some Schnapps shots – just make sure you keep in pace with the beer drinkers. There is also water and fruit juices available but they cost almost the same as the beer. You can also find wine tents though they are usually smaller.
> The tents are named after the brand of beer sold inside
> I say tent – it's basically a warehouse
I pictured Oktoberfest with lots of tents on muddy grass, in reality it was a concrete carnival ground, with buildings for tents.
> How to Order
As you can probably imagine, it gets confusing trying to exchange orders with the waitress in the tent surrounded by hundreds of other people.
Hold up your thumb for 1 beer
Hold up your pointer finger for 2 beers
> Beer is typically €10 and there is a €2 deposit on the glass you're given
> Most meals are usually around €15
> What food options are there?
Pretzels
Roasted chicken – are either ordered as a half or a whole.
Pork knuckle
White sausage
Potatoes
Egg noodles (usually served with cheese) – similar to mac and cheese
> Usually you have to ask for the English menu
Usually on every table there is a food and drinks menu, though for an English version, the waitresses/waiters keep them on their person.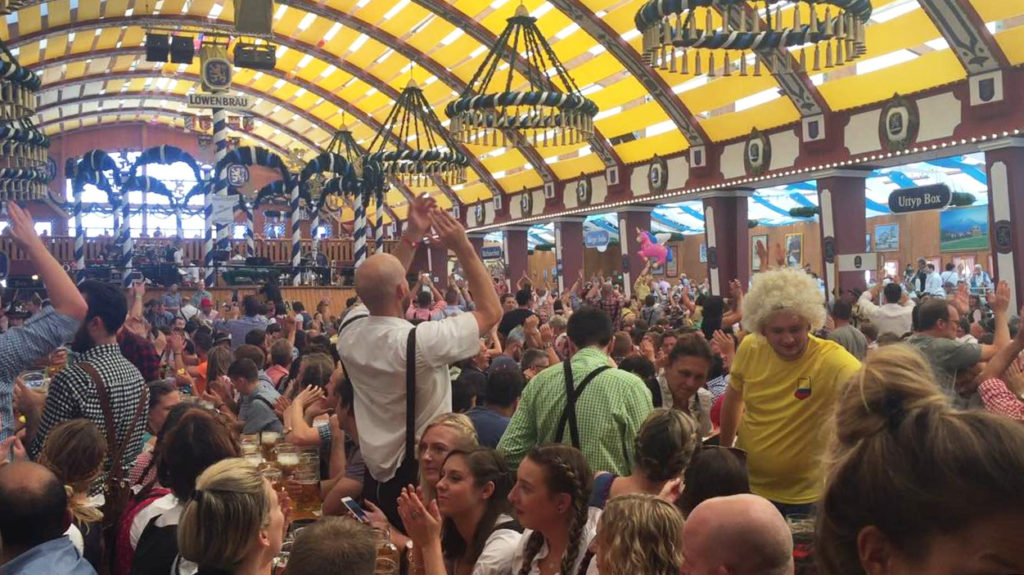 > Gingerbread heart cookies are like a Valentine's Day Card
Very popular at Oktoberfest, fairs and Christmas season, these are traditionally decorated with icing sugar and are inscribed with messages – intended for someone you care about. The messages range from affectionate to even some obscene ones – but they are usually bought as souvenirs – and don't worry, they're edible!
> It's not cocaine!
Don't be shocked when people publicly start snorting a white powder Wiesn koks — which translates to Oktoberfest cocaine — is a popular Oktoberfest pick-me-up. While it looks like cocaine, is snorted like cocaine, and is called cocaine, it's really just a harmless mix of a sugar, cinnamon and menthol that's sold at Oktoberfest and totally legal.
> Reserved tables
– will read "Reservierung" or "Reserviert" at the end of the table along with their reservation time, name and number of people. Reservations are usually void if the party doesn't show up within half an hour of their allocated time.
> Reservations are not required – they are just easier
> If you don't have a reservation, show up early
– there are strict occupancy rules. You pretty much just have to sit wherever you find a space – so it's better to travel in smaller groups.
> Respect the Waitress/Waiter
Not only do they have to deal with drunken customers, they also have to be able to carry up to 10 beers at the same time!
> Outside of the tents, its pretty much a carnival
Rides, games, haunted houses and horses, it's like a drunken theme park.
> Stay Hydrated
> Know your handover cure
> Make sure you see some of the city while you're there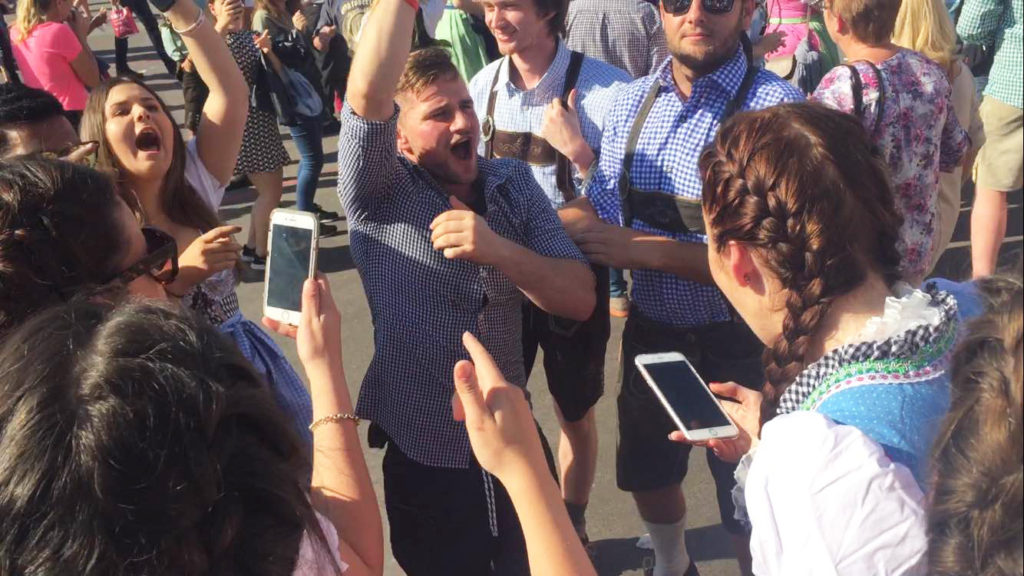 > Stick with someone
I can't even count the amount of people I saw walking aimlessly around Oktoberfest not knowing which way was up. Luckily for someone on our tour, I found one of our tour mates stumbling around, and without me he definitely wouldn't have made the bus home.
> Figure out your way home before you start drinking
> If you stand up on the table, you have to skull your drink
Otherwise be prepared for some booing, having food thrown at you and possibly being kicked out of the tent.
> General etiquette
Don't be rude
Show up on time if you have a reservation
Never dance on the tables
You need to be sitting to order a beer
Tip your server
Don't take your beer stein or glass home with you – this counts as theft
Smoking in the tents is not permitted
You can't bring in your own food and drinks
Silly Oktoberfest hats scream tourist
Do not bring glass bottles – they are not allowed
Share your table
Don't get paralytic drunk…

> Getting there
Parking is pretty much impossible at Oktoberfest and if you choose to get a taxi you should be prepared for traffic jams. The best option is to take public transport.
> Italian Weekend
This is the second weekend of Oktoberfest when all of the Italian tourists come in the thousands. So many come that the advertisements and radio stations are made available in Italian.
> Where can I get a Lederhosen or Dirndl?
Once in Munich, almost every second store you pass will be selling Oktoberfest wear. For women, the way you wear your drindl can show whether you are single or not – tied to the left = available, right = taken, centre = not looking. For men, wearing a neckerchief says you are unavailable.
The traditional dress for men is the Lederhosen. These are an essential part of the men's traditional dress, usually worn together with a checkered shirt, knee-length socks, and special shoes. For women the dirndl consists of a bodice, blouse, skirt, and apron. The name simply derives from the word Dirne, meaning 'girl'.
> Language barriers
– it won't be a problem if you can't speak German, it's just nicer if you go out of your way to memorise a few.
Oktoberfest (das) No translation required, but note that in German it is das Oktoberfest, with an article. Thus a German person would say: Das Oktoberfest findet in München statt (The Oktoberfest takes place in Munich).
Beer – Bier (das)
A beer please! – Ein Bier, bitte!
A beer mug/stein – Bierkrug (der)
Pretzel – Brezel (die)
A traditional dress for women – Dirndl (das)
Leather trousers – Lederhose (die, sing.)
Waiter and waitress respectively – Kellner (der)/Kellnerin (die)
Grilled chicken – Hendl
Beer alternate – Radler
Apple juice mixed with sparkling water is an alternative drink for those who don't want to get drunk or just aren't in the mood for beer.
A gingerbread heart – Lebkuchenherz (das)
Beer jug – Maßkrug (der), short Maß (die)
Either made out of glass or stoneware, which contains exactly 1 litre of beer. All you have to do is order a Maß.
Cheers – Prost
Another beer, please – Noch ein Bier, bitte
It's tapped – O'zapft is!
Which way is the Wies'n? – Wie komme ich zur Wiesn?
Wiesn is the local lingo for the Theresienwiese, the large field where Oktoberfest takes place in Munich named after Princess Therese, whose marriage celebration in 1810 was the original Oktoberfest.
Which is your favorite tent? – Welches Zelt gefällt Ihnen am besten?
Next round is on him/her! – Die nächste Runde zahlen Sie!
Last night s/he was a complete Bierleiche! – Gestern Abend war sie eine echte Bierleiche.
If you've had too much to drink, Munich locals might call you a Bierleiche, or "beer corpse"!
What are your tips to surviving Oktoberfest?