Now I should really refer you to my friend Emily, who has single-handedly done EVERY single shot challenge over just two days in Ios – she's a champion, and survived in style. Personally, I'm too weak for that, but that didn't stop me from having a few goes. Here's my guide to drinking your way through the party island of Greece – Ios!
In the main town of Chora you'll find a traditional Greek village with classic white and blue laneways. By night it transforms into the nightlife hub of Ios with winding streets and plenty of themed bars. Most bars start opening around 10-11pm, and close around 3am.
Depending on the time of year, entry is usually €5-€10 if not free, (though when travelling with companies like Busabout your entry is free/included while on bar crawls). 
What is a 7-shot challenge?
Throughout Ios, and a lot of other destinations across the Greek Islands you'll find these. Some have more shots (generally up to 10), and some offer full strength, or mixed, it purely depends on the bar. Generally they cost about €25-35 each, and as well as your drinks you also get a singlet/t-shirt included (assuming you can handle the shots!). Most places have a few options available for the type of shot and all 7 will be the same. 
? Fun pub
The name is PRETTY damn accurate for this one. Fun Pub is the perfect place to start your night in Ios as the bus stops right outside! Inside the pub looks just like any English bar but you can help yourselves to their 7-shot challenge, beer pong, giant jenga, and plenty more!
?Traffic
Something you'll come to love and hate when partying in Greece is how completely normal it is for people to climb up on to platforms and dance – and Traffic is no stranger to this. With a 90's street party vibe, bright decor and hip-hop blasting over the speakers you'll be dancing along to the nostalgia. The shot challenge here is a favourite because you can reward yourself a basketball singlet, one of which has a very Looney Tunes: Back in Action vibe.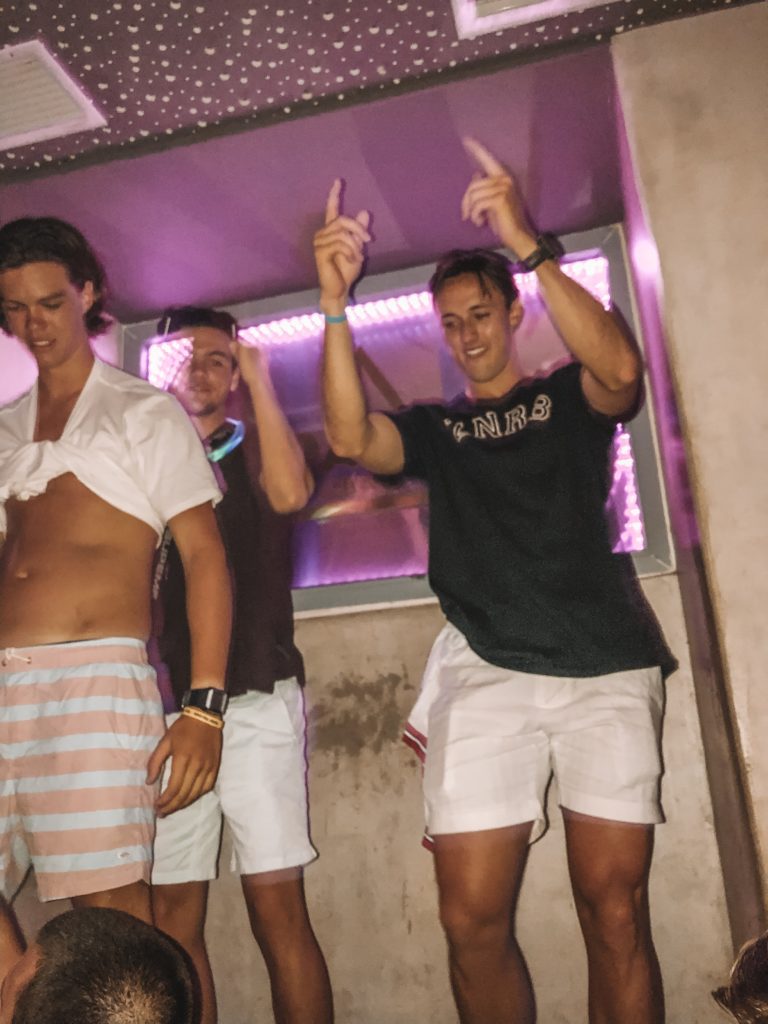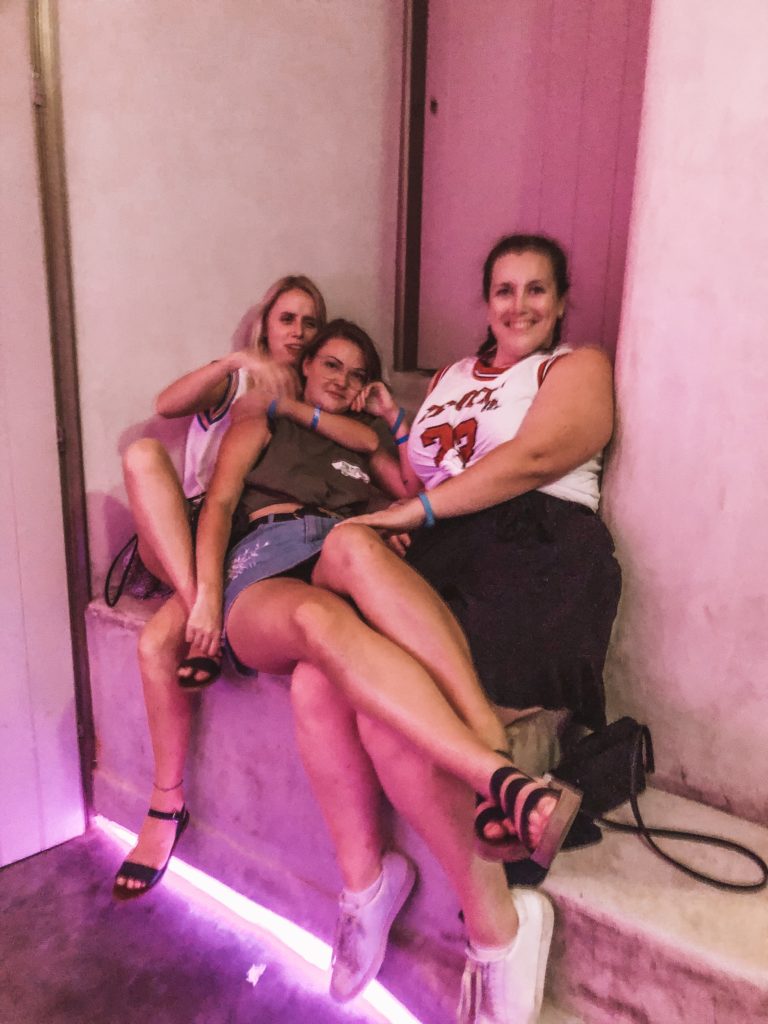 ? Lost Boys
Here's some Peter Pan vibes for all those travellers that never want to grow up – so that's everyone right?? 
? Slammer
One of the most well-known clubs in Greece, the Slammer Bar is famous for its own odd reason. The name itself, is based upon its Slammer Shot – this basically entails popping on a motorbike helmet, finishing a swirling cup of alcohol and then getting hit over the head with an object of the bartenders choice. If you add in the 7-shot challenge you can even nab yourself a singlet to walk around in glory afterwards. It doesn't hurt so much as make you a little dizzy, but there's a good chance the drink's gonna do that anyway!
? Flames
Ever wanted to pay to be slapped? No? Me neither, but apparently it's pretty popular here at Flames! As well as their famous Flaming Lamborghini cocktail, it's also a favoured experience to try the Flames Slap Shot. What is it? Simply put, it's similar to the Slammer Shot but you get a quick painful slap to the side of the face and you're marked with a lovely black and white painted handprint. So if you see someone with paint on their face, or even on both sides of their face, you know they've been through some shit tonight… haha! You can also get facepaint put on for free with your drink – if that's your vibe. 
? Coo
Blasting the best hip-hop notes till closing time! With a white-toned modern twist, Coo bar specialises in delicious cocktails using premium spirits and fresh fruits. 
? Blue Note
This disco-bar opened back in 1979 and it's still going strong! It's a landmark destination for Ios, with disco balls and music to match playing all night long. 
☘️ Sweet Irish
This is where the crowds flock to when all of the bars start to close at 3am. With a touch of Irish hospitality and dancing on tables, it'll be the biggest stop of your night! 
? Lotus
Lotus explores the fancier side of Ios. The open-air style garden with fairy lights is the perfect destination to try out some of their famous flaming absinth drinks. 
⚡ Alt (PLEASE try a Flower Shot)
ALT Bar is pretty much as the name says, you won't find another bar like this in Ios! The bar has a huge menu with over 100 specialty shots, each with their own little twist. There's the Fortune which comes with a fortune cookie (prizes detailed inside), the Campfire where you can roast your own marshmallow, or my favourite, the Flower Shot (where your face goes numb).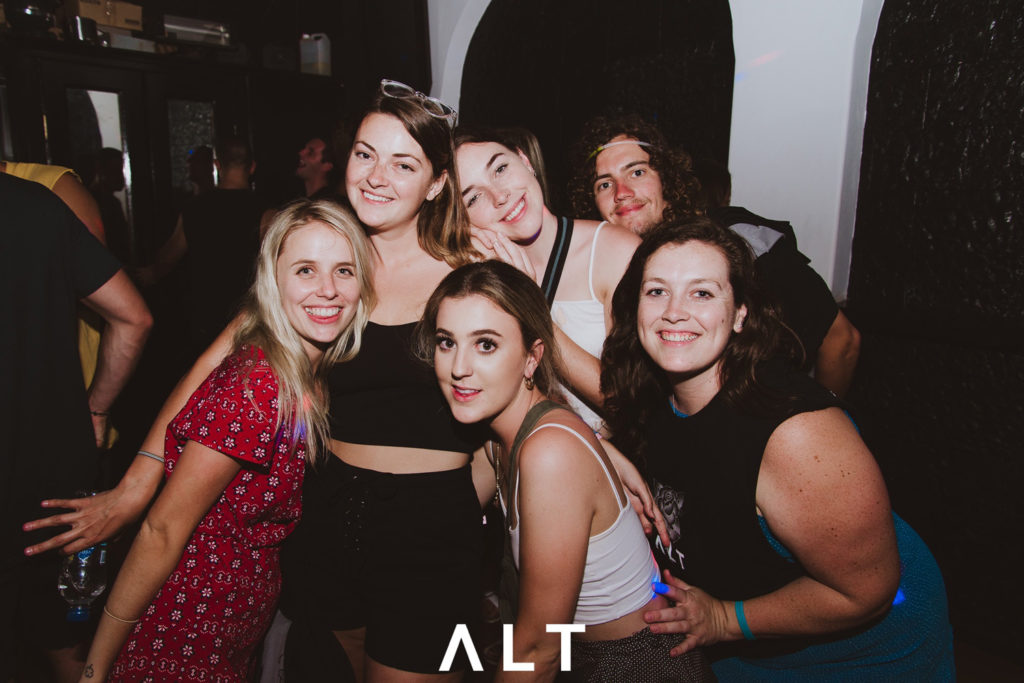 ? Shush
My personal FAVOURITE in the whole of Ios, SHUSH Bar is a silent disco. Upon entry you're given a pair of headphones with 3 settings, each offering a different genre of music – R&B, House, and Techno. With an Alice in Wonderland theme you can bet if you're wearing white you're going to be glowing, but don't let that stop you from trying out the flamingo drink. The flamingo drink includes popping a breezer into a plastic-deco flamingo and then drinking it out of the beak upside down! – and if you want to race the bartender, if you finish it before him you'll get it for free.
? Bank
Having only just opened back in 2015, Bank Bar is a great destination for bar-hoppers. Not only does it play classic nightclub tunes, but also trap, dubstep and bass!
? Circus
Circus is the perfect place to come down for some live music and great drink deals. With free entry you're guaranteed entertainment all night with some incredible circus acts – some of which you can get involved in yourself! By the counter there's a bar where if you can hang on it for longer than 2minutes you can get 50 shots or €50! (Taz and Nalin I'm still a little disappointed that you only made a minute… *she says when she didn't attempt it herself*)
? Escobar
The Escobar singlet is a favourite in Ios, who doesn't love a bit of name-play? It's one of the newest bars in Ios, and is designed to look like a cave right from the entrance! Escobar really brings out the "rave in a cave" in everyone. 
You can see more pics/clips from my trip here in my Highlights