In a place notorious for its 7-shot challenges you're bound to come across a club or five while travelling through Greece. Here's my guide on some of the best places to party while exploring on Busabout's Flexi-Hopper tour… 
?️ Paradise Beach Club, Mykonos
Located away from the centre of Mykonos, Paradise Beach Club is its own central hub for backpackers all around. With a club, accommodation (ranging from camping to luxurious), a grocery store, cafeteria and private beach there's really no need to go anywhere else! 
With the Busabout Flexi-Hopper, Paradise Beach Club is the first stop (and recommended accommodation) after your journey from the starting point in Athens. Night one on tour it's the ultimate opportunity to get to know your fellow travellers. The club hosts a full-moon party so you can get your glow-up on and dance the night away!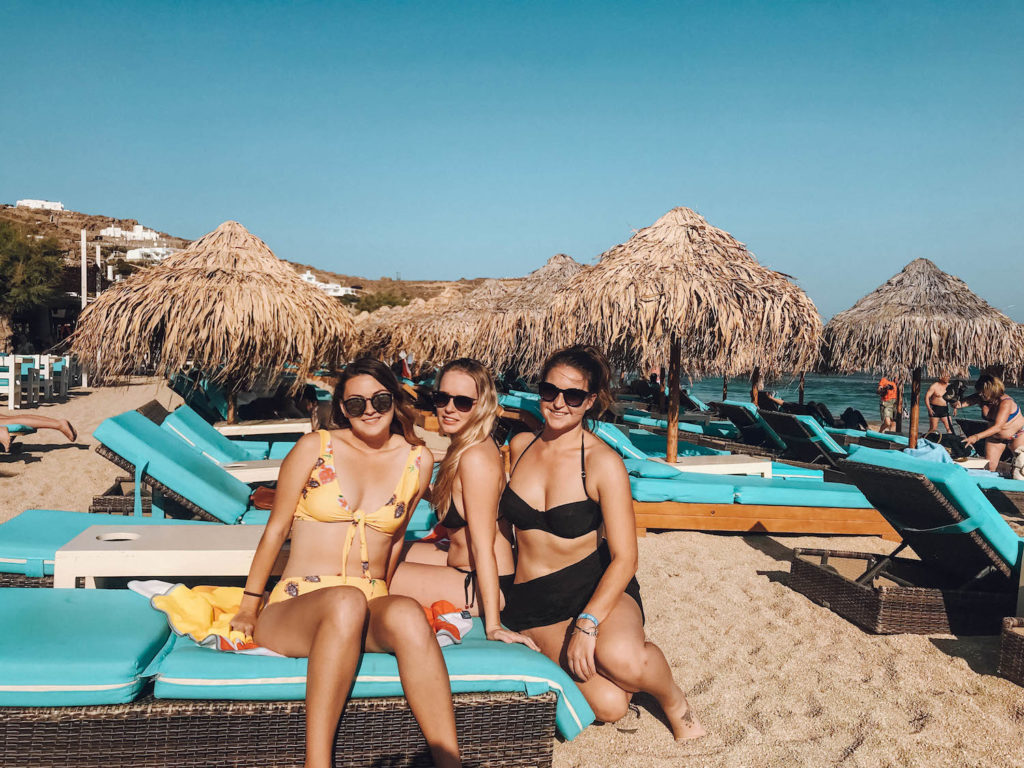 ? SHUSH, Ios
My personal FAVOURITE in the whole of Ios, SHUSH Bar is a silent disco. Upon entry you're given a pair of headphones with 3 settings, each offering a different genre of music – R&B, House, and Techno. With an Alice in Wonderland theme you can bet if you're wearing white you're going to be glowing, but don't let that stop you from trying out the flamingo drink. The flamingo drink includes popping a breezer into a plastic-deco flamingo and then drinking it out of the beak upside down! – and if you want to race the bartender, if you finish it before him you'll get it for free. 
The club isn't very big but the numbers are controlled – there's almost always a line to get inside. The other great thing about SHUSH Bar is that when you're ready to order a drink all you need to do is take off your headphones and without a doubt the bartender can hear you.
With Busabout, SHUSH Bar is one of the most popular stops on the barcrawl – no one ever wants to leave! With your wristband you are given free entry here, whereas most travellers have to pay about €8 to get inside. As well Busabout is generally given priority entry over the lines. 
? 180° Sunset Bar, Mykonos
180° Sunset Bar was actually a place my friends and I discovered through Instagram. We saw panoramic views over the Windmills, a few colourful cocktails at sunset, and we were sold. The bar offers a full cocktail list as well as a Greek and international wine and champagne menu. There's no dining menu, so it's a great aperitif stop before heading out to dinner – they do offer some light snacks. 
Depending on the date and time it can get busy – even with lines for photos in the archway. The tables beside the view are available for reservation with a minimum spend so these are best for groups. We were able to visit as walk-in guests and easily got a table a bit further back. After our drinks we just wandered around to get photos without having to pay for the table. 
The Bar is located atop a towering hill above Mykonos town so the easiest way to get there is by foot. It's a hard hike in the heat, but it's even harder on the cars and ATVs to get up the steep road.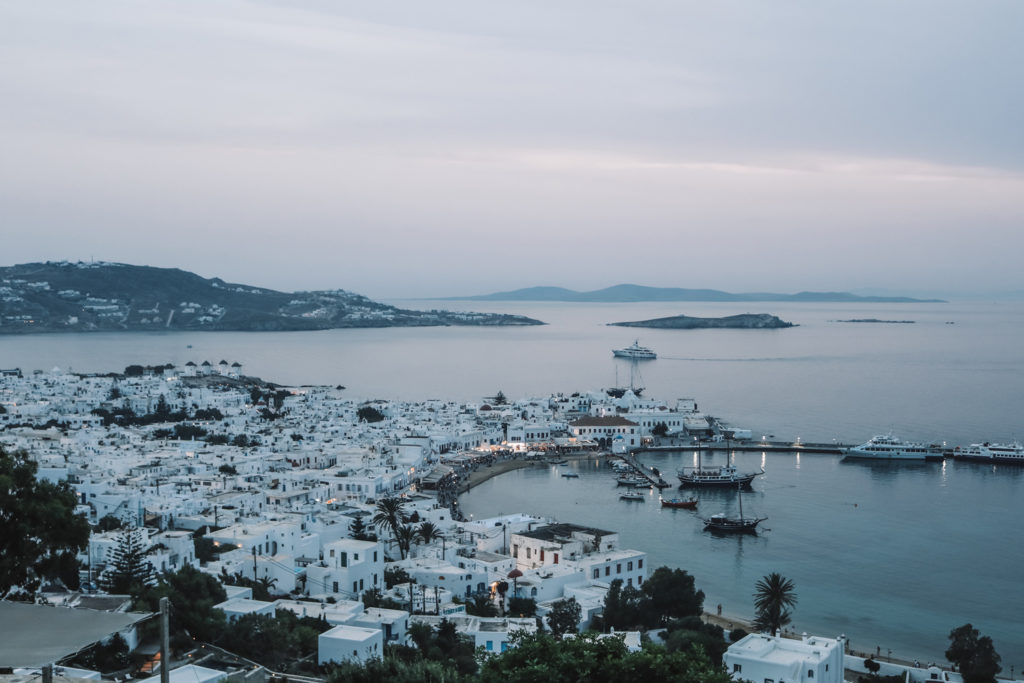 ? Slammer Bar, Ios
One of the most well-known clubs in Greece, the Slammer Bar is famous for its own odd reason. The name itself, is based upon its Slammer Shot – this basically entails popping on a motorbike helmet, finishing a swirling cup of alcohol and then getting hit over the head with an object of the bartenders choice. If you add in the 7-shot challenge you can even nab yourself a singlet to walk around in glory afterwards. It doesn't hurt so much as make you a little dizzy, but there's a good chance the drink's gonna do that anyway!
I myself have done this 3 times throughout my journeys through Ios (yes Dad. 3 times). I've been hit with a skateboard, a mallet and a fire extinguisher – but there's also milk crates, chairs and whatever the bartender really fancies. 
With Busabout the Slammer Bar is one of the stops on your bar crawl around Ios. 
? Town Club, Santorini
One of the best clubs in Fira, although small it's a favourite for backpackers that want to dance the night away. Throughout Summer it's not uncommon to have some DJ appearances when the club stays open into late hours. As well as a dancefloor and cage, there is also a large patio area out the back for those wanting to chill out. 
With Busabout you are given free entry into Town Club. Normally you would be charged entry with an included drink. 
?? Tropical Bar, Santorini
Tropical Bar is one of my favourites to visit while in Santorini. Despite its simplicity, it has one of the best views around. It sits on the cliff-top facing out to the caldera with a comfortable open balcony area with plenty of tables and seating. I should mention it's also very popular with the Aussies as it serves VB!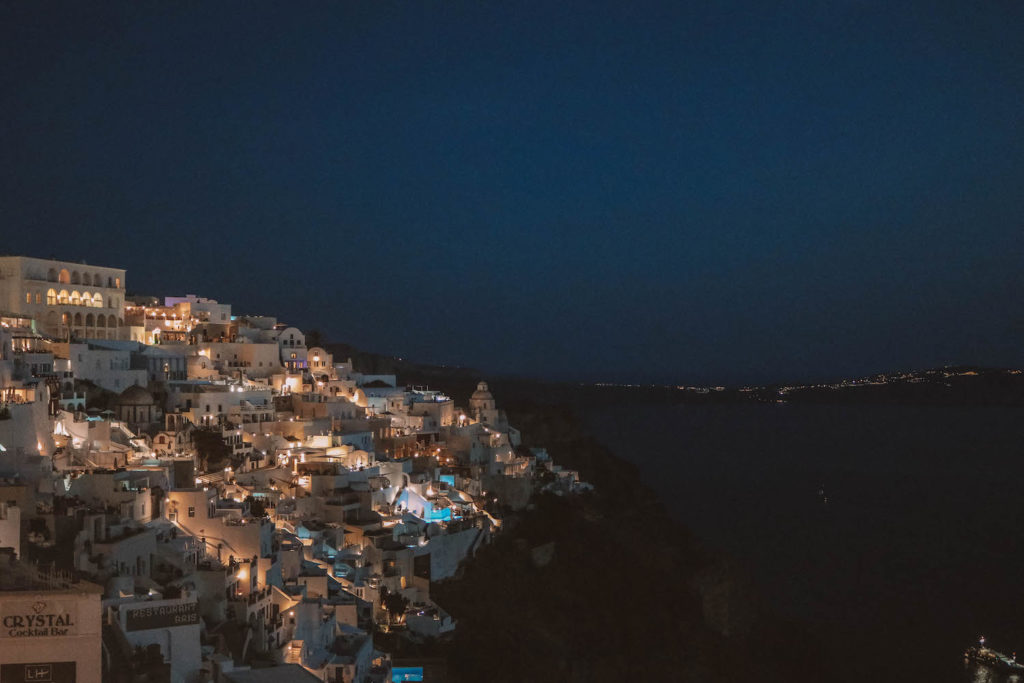 ? MoMix Bar, Santorini
MoMix Bar in Santorini is a place of experimentation. Not to say that most Greek Bars aren't, but MoMix is called so due to its "molecular mixology". To get a little try of everything, the best option here is to take a look at their "set menus". The set menus allow you to choose one of each of their specialties, so you can start with a cocktail (usually bubbling in some form of dry ice), and then try out an A Bubble, a test tube, and a syringe.  
With Busabout this is your first stop after your family dinner overlooking the caldera in Fira. The bar crawl is optional but this night is the best opportunity to go out as everyone will already be together. The second night in Santorini won't be guided if you want to go out clubbing. 
? Santo Winery, Santorini
While exploring Santorini it's hard to miss the many many fields of grapes. With the unique climate and volcanic soil, growers use a unique system called koulara. Koulara is the process where as the vines grow, they are woven into baskets. This way as the grapes fall they land safely in their own little nest. These nests make Santorini's grape vines appear as lots of little shrubs rather than the typical rows of vines we're used to. Because of this, Santorini is known to have some of the best wine in Greece. 
Santo Winery sits a short drive up from Thira Port, overlooking the panoramic caldera and the town of Fira in the distance. Founded in 1947, today Santo Winery is the largest cultivator on the island of Santorini with a selection of wines ranging from whites to reds, and rosés to dessert wines.
Santo Winery is the first stop after your lunch break on Busabout's optional Sun-tour-ini tour. Upon arrival you're welcomed inside for an included tasting of a selection of wines and some tasty breadsticks. After the tasting you're allowed free-time to enjoy some more wines outside beside the unparalleled views of the caldera before being picked up for your next stop.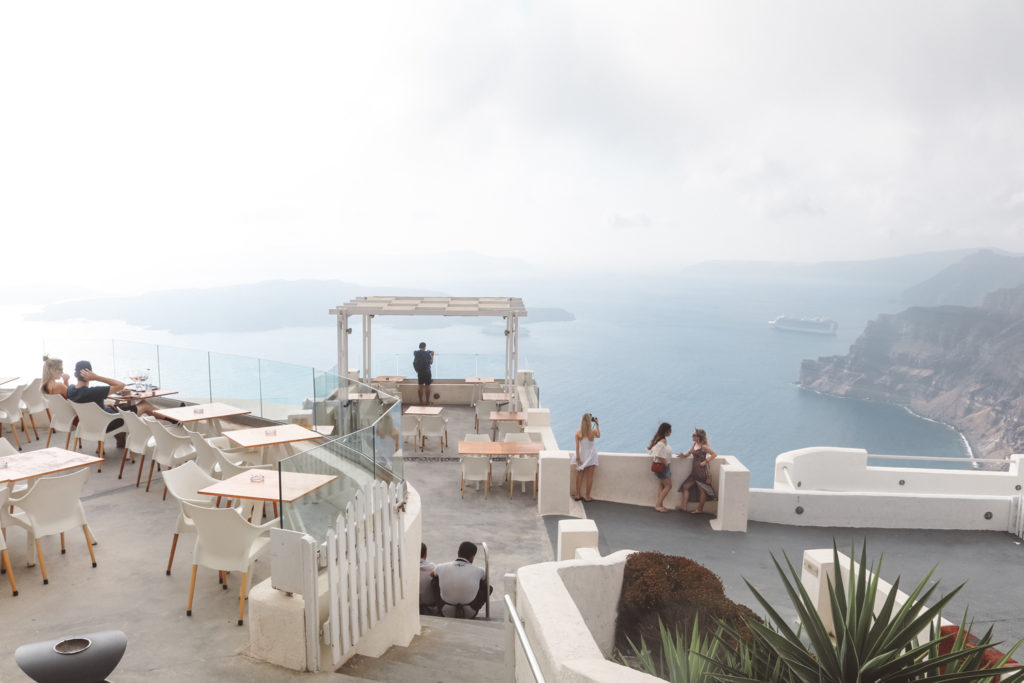 ? Highlander Bar, Santorini
Maybe the first Scottish Bar I've ever come across, Highlander is the perfect place to try a shot challenge if you haven't already. At Highlander Bar it's a race against time to get on the scoreboard, and with 10 shots to get down! What happens at Highlander Bar stays in Santorini! (At least that's what the singlet says). 
Believe it or not the current champion with the fastest time to finish the 10 shots is my Busabout Guide Ellen! With under 10seconds down we were very quick to try and beat it, unsuccessfully… 
? ALT Bar, Ios
Not going to lie I've purely put ALT Bar in here because I'm obsessed with their Flower Shot. But it does deserve to be on this list! ALT Bar is pretty much as the name says, you won't find another bar like this in Ios! The bar has a huge menu with over 100 specialty shots, each with their own little twist. There's the Fortune which comes with a fortune cookie (prizes detailed inside), the Campfire where you can roast your own marshmallow, or my favourite, the Flower Shot. 
For the Flower Shot you're given a small bud which you chew. It doesn't taste very nice, and with no explanation it is a bit weird the first time around. Once you've finished that you have your shot, and your mouth goes tingly for about 5minutes! It's MAD. I tried to ask what makes the tingling sensation but my only response was "the flower" Haha. 
ALT Bar is also one of the few clubs in Ios that have their own photographer – these can be found on their Facebook page soon after.
This is another stop on one of your Ios bar crawls with Busabout.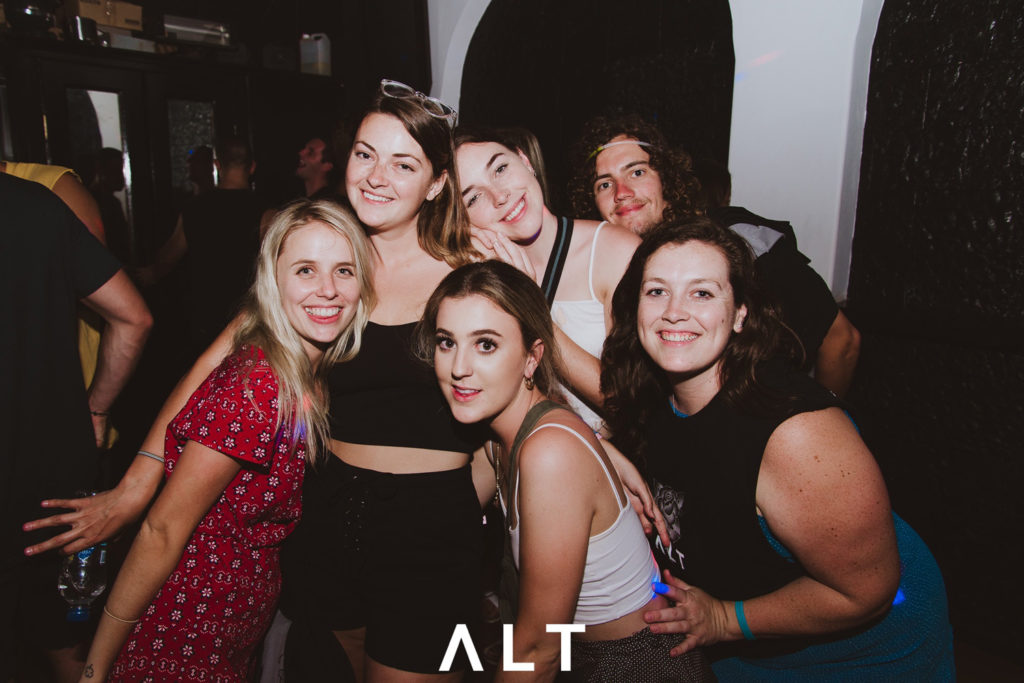 ? Fun Pub, Ios
The name is PRETTY damn accurate for this one. Fun Pub is the perfect place to start your night in Ios as the bus stops right outside! Inside the pub looks just like any English bar but you can help yourselves to their 7-shot challenge, beer pong, giant jenga, and plenty more!
This is the first stop on Busabout's bar crawl in Ios for both nights. With some included shots it's hard not to feel welcome! 
?️ Paros Plate Smashing Dinner (My Big Fat Greek Night)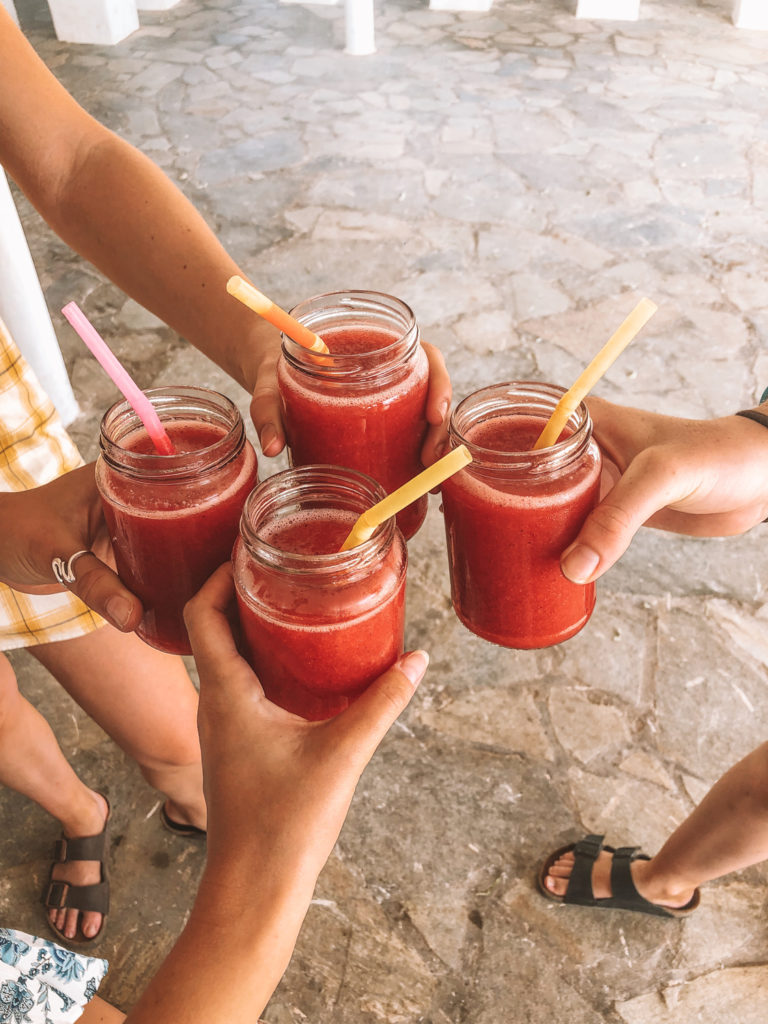 The Paros Dinner is an unincluded optional available for those on Busabout – and it's one of the most popular nights throughout the trip. With included transfers your group is reserved tables right on the waterfront with a 4-course traditional Greek Dinner. Afterwards you can have a Greek dancing lesson and of course some plate-smashing to finish off! 

Note: they have the BEST strawberry daiquiris I've EVER had. 
You can find out more about this experience here.
? The Dubliner Irish Bar, Paros
I hope you've got your singing voice ready because this is the place to get karaoke-ready. Dubliner Irish Bar is a part of a 5bar complex all connected by a large courtyard – great for chilling out away from the crowds. The bartenders are incredibly friendly and may even show you up on the mic!
The Dubliner is the last stop on your optional bar crawl through Paros with Busabout. 
? Safestay Athens Rooftop Bar
Safestay (previously Athenstyle) is the recommended accommodation before heading off to Mykonos with Busabout's Flexi-Hopper. It's the perfect hub both before and after your tour to chill out with your tourmates with INCREDIBLE views of the historic Acropolis!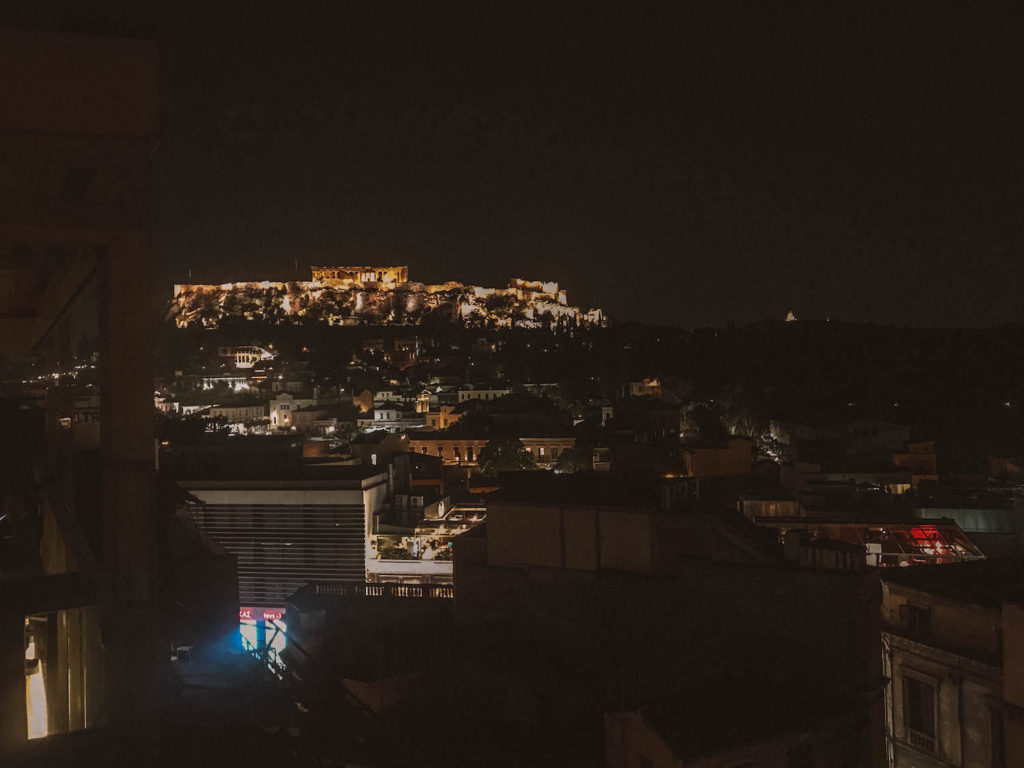 ? Saloon D'Or, Paros
I bet no one's ever asked you if you wanted a muff diving shirt right? WELL. If you feel like that's what's missing from your wardrobe, this is the place to get one. Paros itself isn't a huge town, so if you're heading out for the night, it's very likely you'll find yourself at Saloon D'Or. The clubs 10shot challenge is one of the few in Greece that include full-strength shots, each a different kind (which can be altered on request) and have the grand prize of a muff diving t-shirt. 
The club has an outdoor seating area and sheesha, a small bar dedicated mostly to the shot challenges, and a seemingly-hidden club out back. The club is barely noticeable from the outside, but there's a main stage with dancing cages and poles, more bars, and a large open dancefloor. 
With Busabout this is the first stop on your night out in Paros. A space is reserved specifically for Busabout groups and you're welcome to join the group or do your own thing. Depending on the crowd you'll either have everyone doing the shot challenge or just a few. I've had half and half experiences as some people want to save their challenges for Ios, but others want to make the most of it. I personally haven't tried the 10-shot challenge, but it's pretty clear that they do a good amount of damage! You won't need anymore drinks after that haha!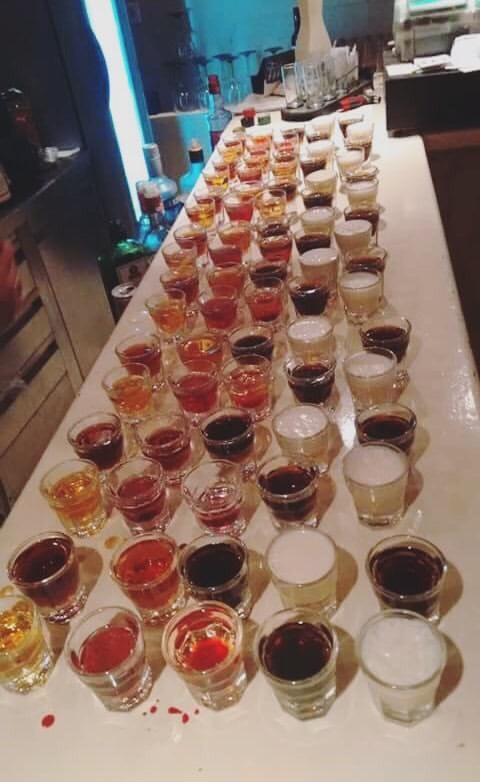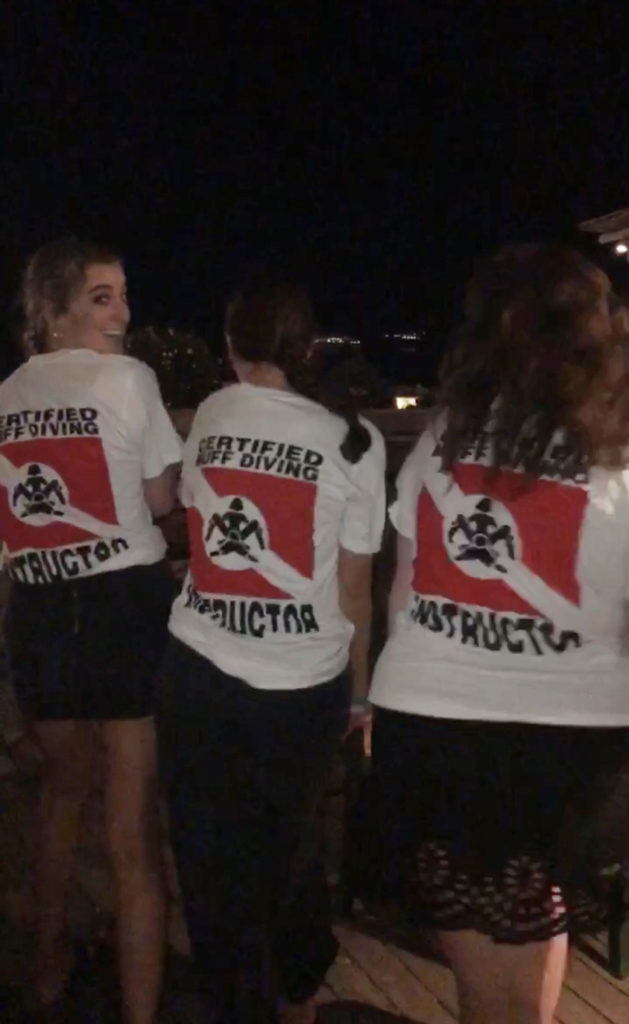 There's SO many other bars and clubs in Ios, but that deserves its own list! Watch this space. 
You can see plenty from this journey on my Instagram highlights!