If you are looking for an easy 7 day itinerary for New Zealand's South Island, I got you! This blog covers the best things to see in the area, as well as the best places to grab a coffee, brekky or a beer, go for a hike, and where to watch the sunset. This is basically my entire diary of my travels around the South Island.
Disclaimer: some parts of this trip weren't a part of my most recent road trip on the South Island – I've just compiled some information from my various trips here to make sure that all of the best parts are included!
Day 1 – Queenstown & Wanaka
Queenstown is a whole destination in itself so I'm going to start this itinerary off by assuming you've started or are planning to finish here.
There is so much to do in Queenstown that I can't even wrap it up into one day – but if I HAD to give you some recommendations this is where I would start…
For hiking you're spoilt for choice. There's plenty of short walks, half-day walks, day walks and multi-day walks all accessible from right in the centre of town. If you're after something easy I would recommend just strolling around the waterfront and the botanical gardens, but if you've got a couple hours to spare – then why not get your bearings from the summit of Queenstown Hill?
Being the adventure capital of New Zealand, this is where thrill-seekers come to explore and have fun. It's also where Bungee Jumping became popularised as an extreme sport, so lot's of travellers find it as a right of passage when passing through Queenstown! Would you give it a go? I sure didn't, ha! Some other adventurous activities in Queenstown include; jet boating, skydiving (and indoor skydiving), parasailing, paragliding, and zip lining.  
Next, we head to Wanaka. The drive takes about an hour over the incredibly scenic Crown Range. Before long we had made it to Wanaka just in time for the perfect sunset and a full moon to welcome us. For dinner we cooked something up in the YHA and tucked in for an early night.
Note: the YHA's across the New Zealand announced their closure at the end of Nov 2021. There are plenty of other hostels available across New Zealand however I don't want to recommend anything that I haven't personally experienced!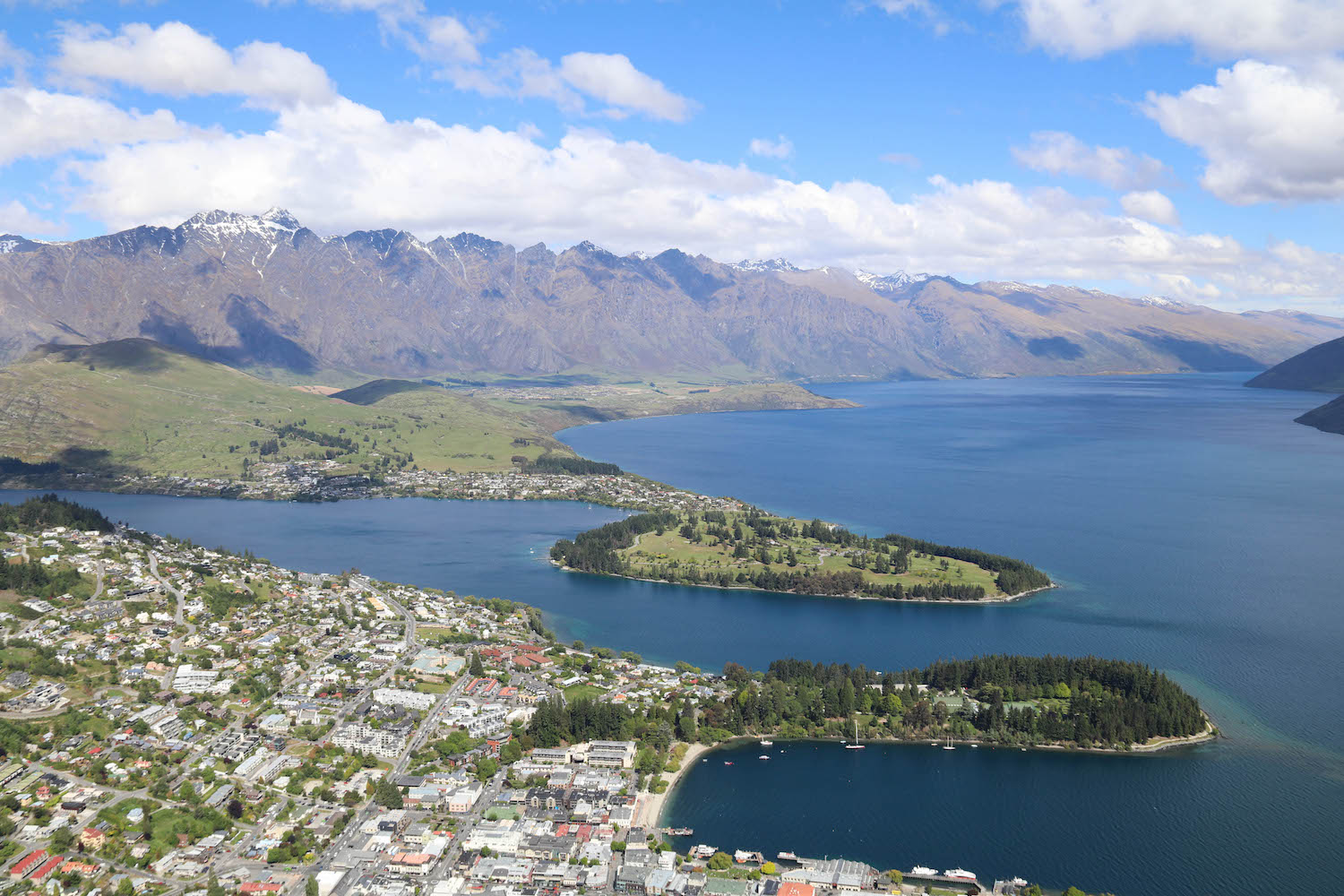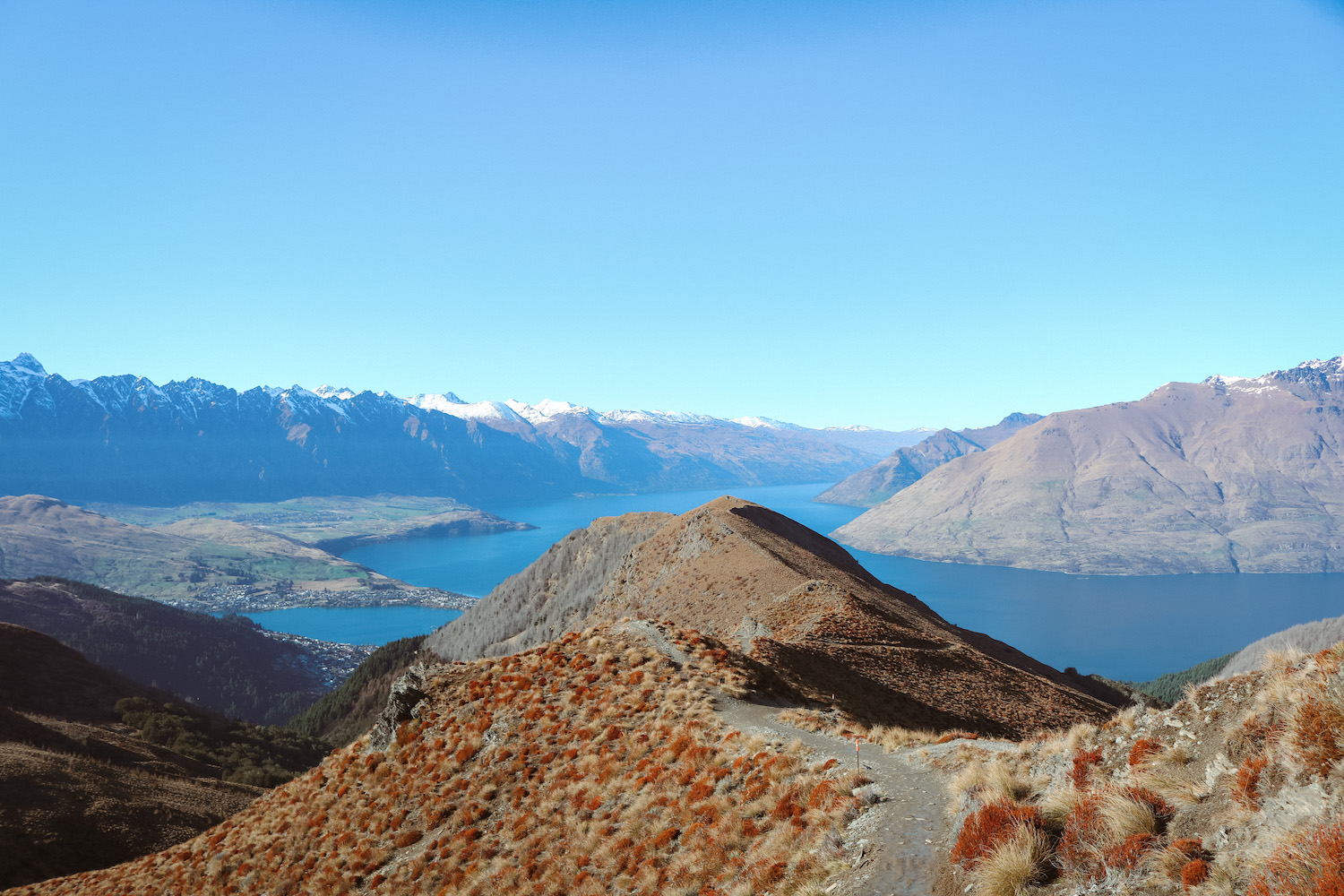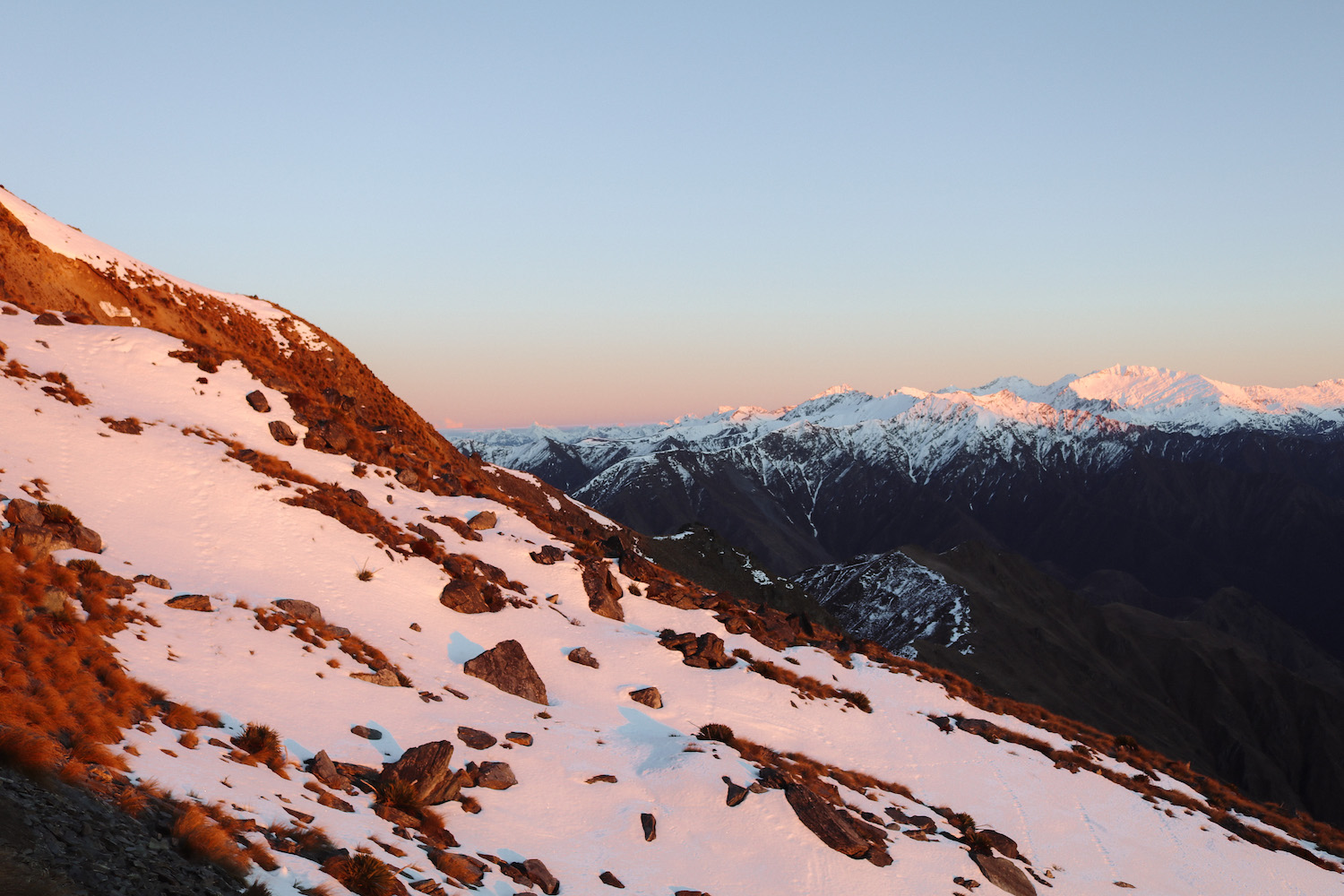 Where to Eat in Queenstown?
There are soooo many options for food in Queenstown that you won't know what to do with yourself. Queenstown is famous for its Fergburgers which were named one of the planet's best burger experiences in a ranking published by Lonely Planet. After becoming a local to Queenstown I made it my mission to try all of the best foods that I could find. Brunch being my absolute favourite, you can find my list here;
Otherwise, here are my recommendations for all meals of the day;
Brekky;
Lunch;
Dinner;
When visiting Queenstown on a budget you should 100% look into First Table – it's a booking program used to offer tremendous discounts on food for those who are willing to eat at more irregular times. First Table essentially gets its name by offering the first table of the night (usually 5pm) for 50% cheaper. The discount applies only to food – but it's a really easy and cheap way to try some of Queenstown best cuisines at a discounted price. There are also other similar services such as Last Table and Book Me.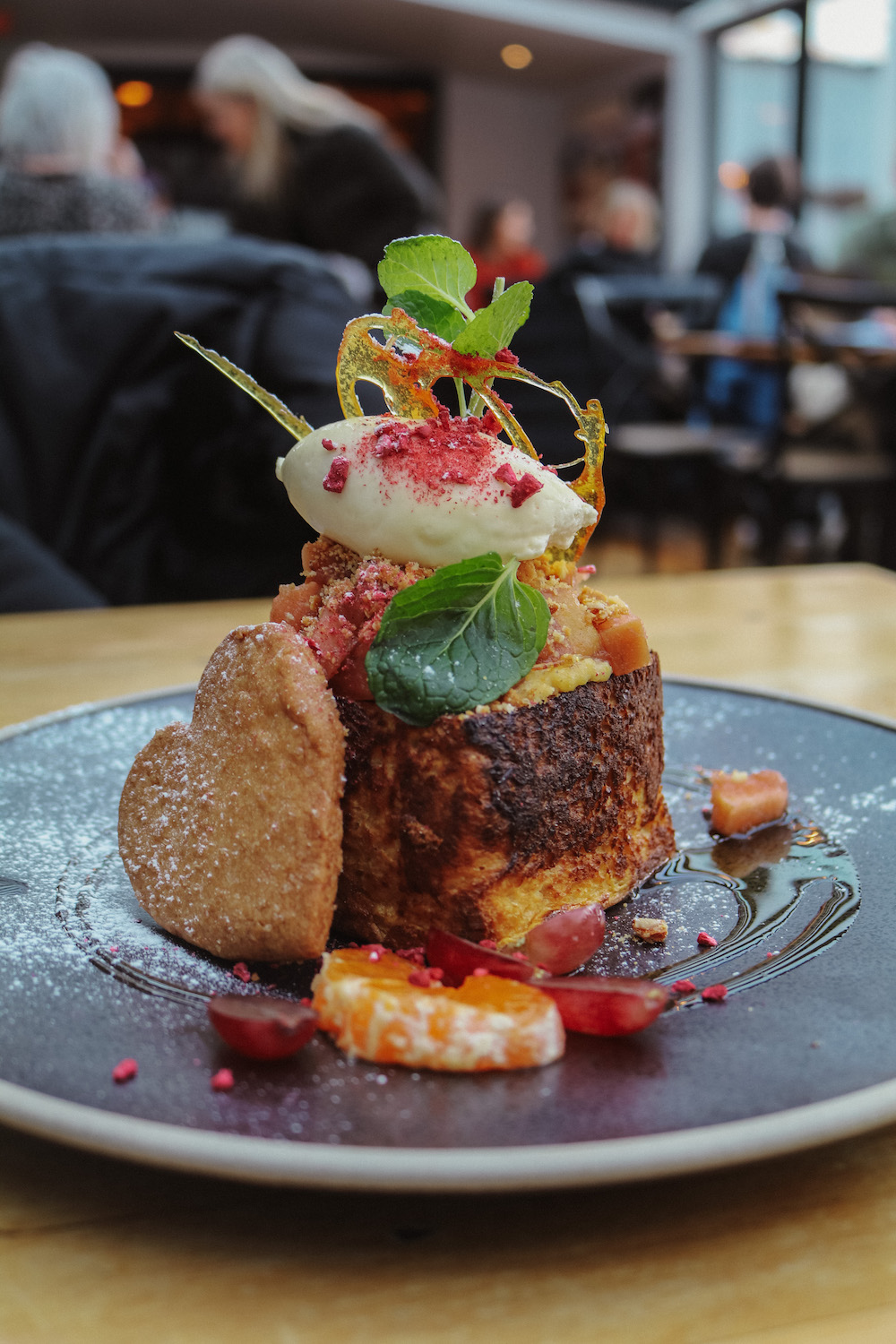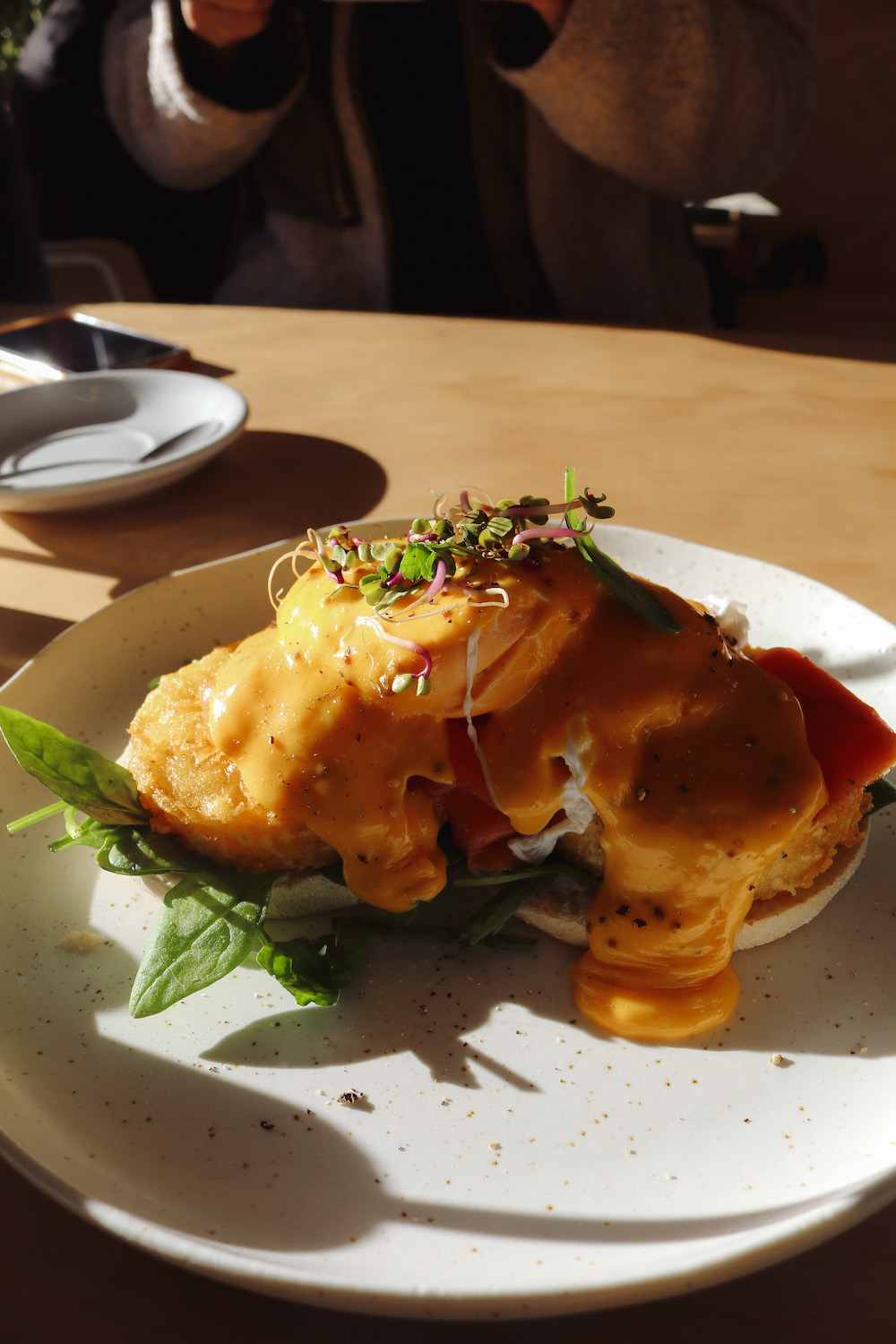 Day 2 – Wanaka & Mount Cook
"Coffee, coffee, coffee, coffee, coffee, coffee! Cappuccino, java, YES!"
Our morning started off pretty easy. I stopped by the Coffee Shack for a morning cup of java – which was built into a converted garage. The interior was decorated with polaroid covered walls, each with a snap of the cute furry puppies that had made their way to the cafe. Outside there was a cute seating area over astroturf, and next door a little waffle/crepe place. 
We wandered down to the Wanaka Tree – which if you haven't heard of it before, your Instagram feed probably has! #ThatWanakaTree simply put, is a crooked willow tree that sits alone, growing directly out of Lake Wanaka. It has become one of the most photographed trees in the WORLD. And even though yes, it is just a tree, it is still pretty unique. 
The drive to Mount Cook took about 2-3hours with a couple of stops along the way – the supermarket, Lake Pukaki and Mount Cook Lookout. Mount Cook Lookout sat along the freeway after turning off of the main highway (Tekapo-Twizel Road). I'd recognised the location from its iconic road photos on Instagram, so we stopped here to take in the views and take advantage of the public bathrooms. The carpark provided a large open space to overlook Lake Pukaki, one of the South Islands most iconic lakes. It's vibrant and glacial blue colour sitting beneath New Zealand's largest mountain. 
We arrived at our accommodation with some time to relax and make lunch. Before losing anymore daylight we headed straight for the Hooker Lake Track. 
Aoraki Mount Cook National Park offers plenty of opportunities for avid hikers, trampers, and climbers. Our intention when visiting Mount Cook was to hike up to Mueller Hut – so we weren't in the mood to use up all of our energy. The Hooker Valley Track we had heard to be easy and we found this to be very true. The trail took about 2.5hours and was entirely flat with a few swing bridges. At the end of the walk you'll reach Hooker Lake which is an iceberg speckled lake beneath Mount Cook's base.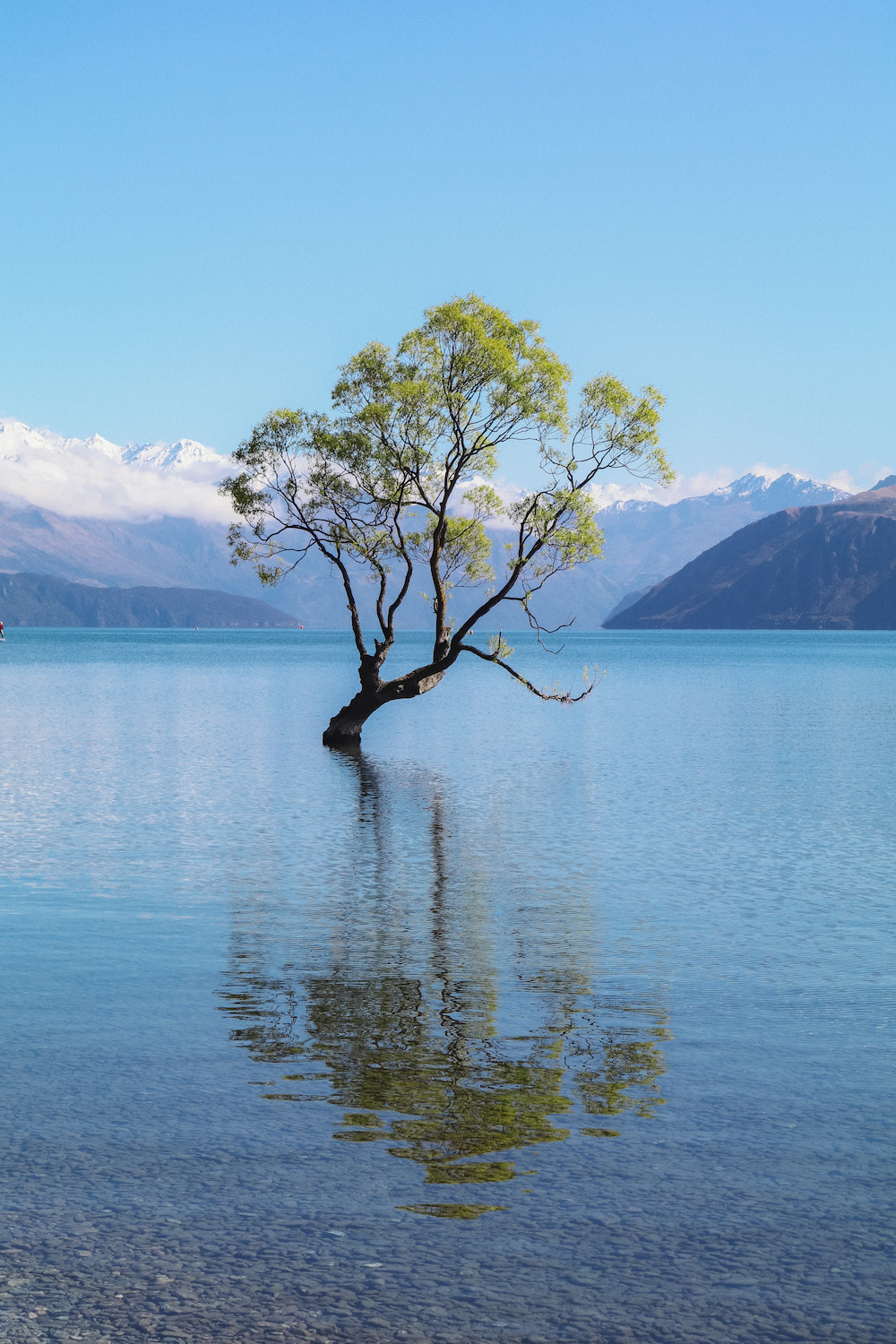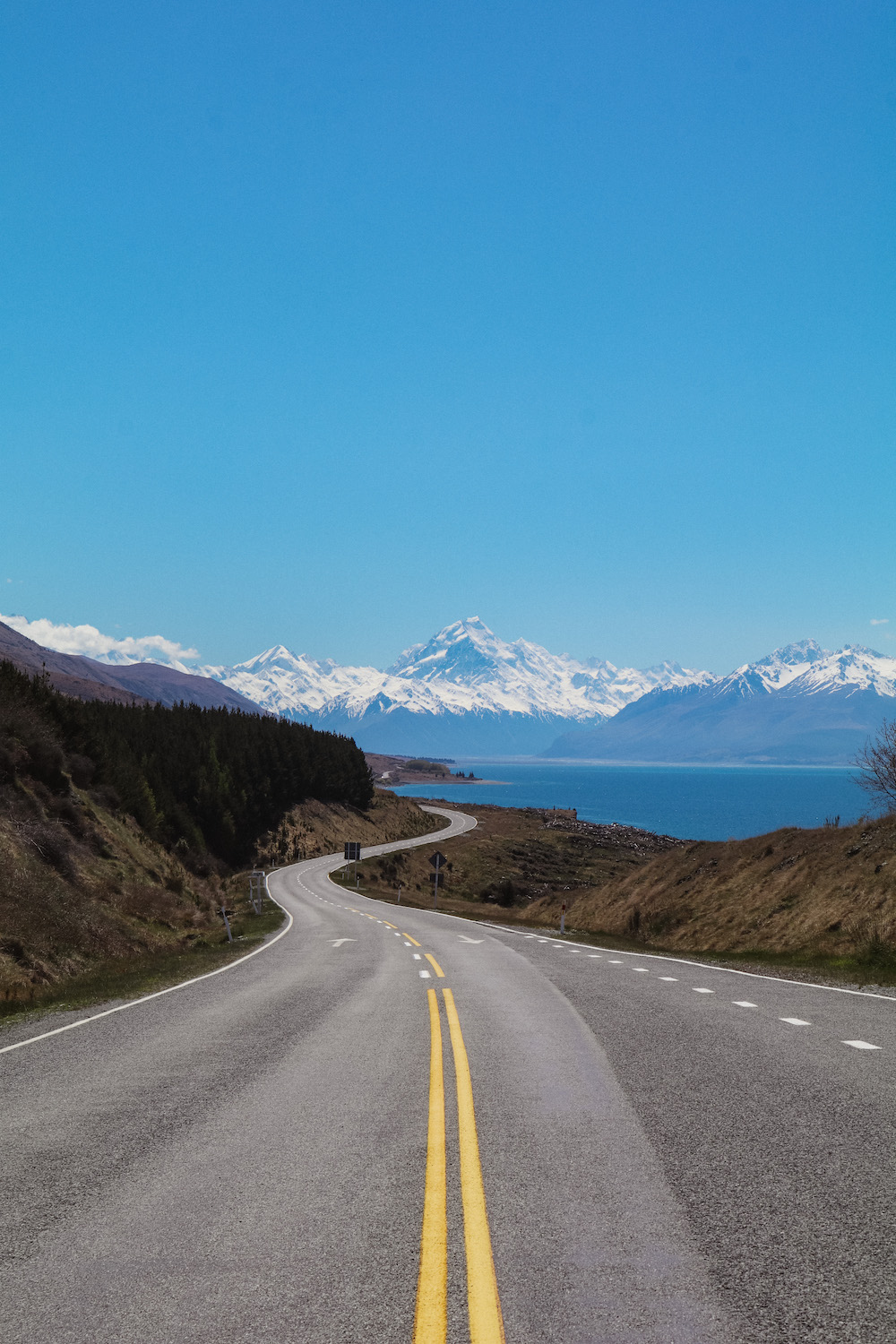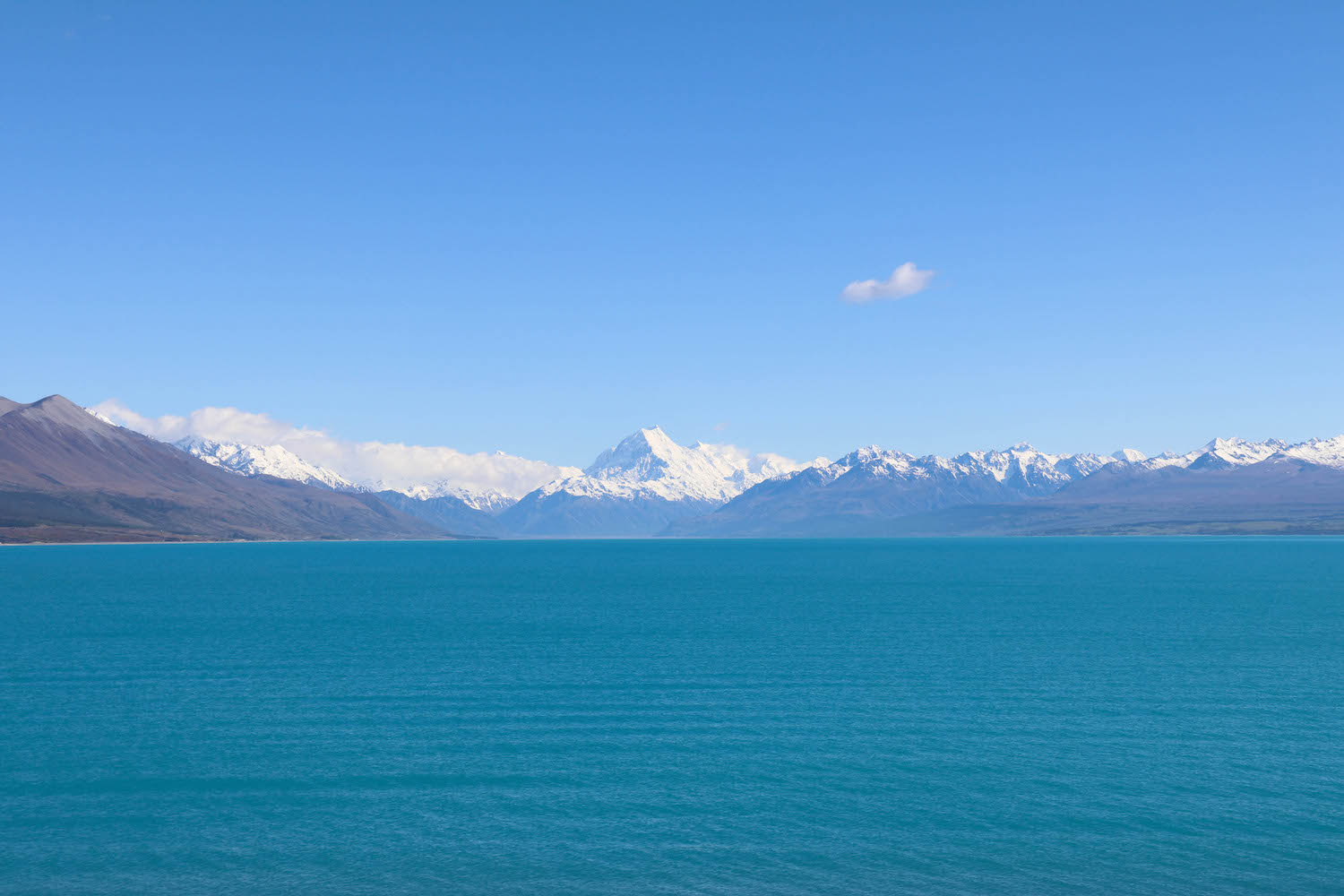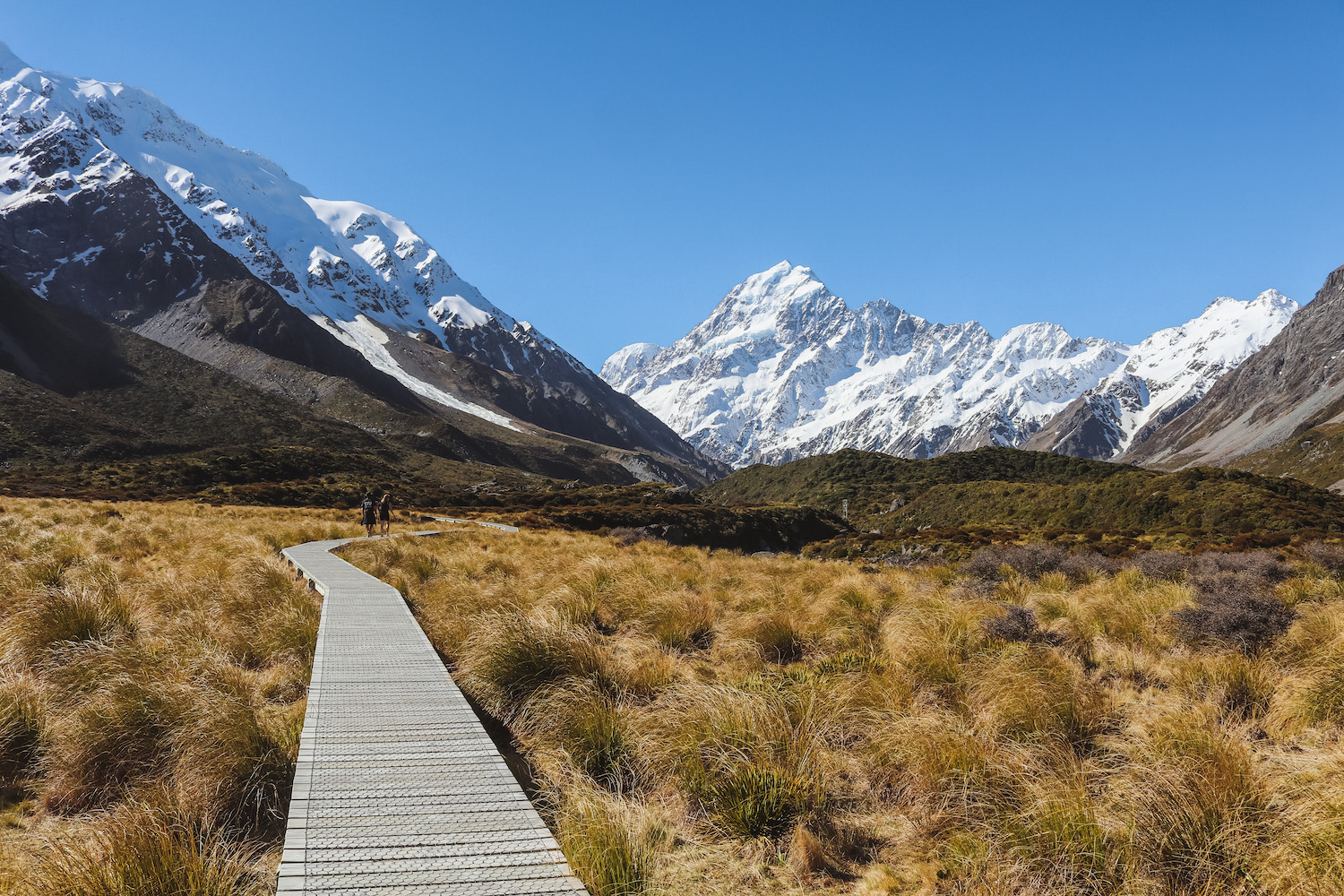 Day 3 – Mueller Hut Hike
I'll be honest this was one of the hardest days of my life – and I'll put that down to inexperience, no gear, no idea, and an off-season climbing trail. I wouldn't recommend doing this hike off-season unless you are ACTUALLY prepared for it. 
After cooking up a hearty breakfast at the YHA we made our way to the DOCs building. That's the Department of Conservation – this is where you pay for your stay in the trail huts and let them know that you're walking the trail. Unfortunately for us, it was off-season for hiking at Mueller Hut. Mueller Hut is serviced from mid November–30 April (bookings required) and as we were visiting at the end of October we knew we could book once we arrived. Though the lady turned down our booking, we were determined to give it a go. (Why did she turn it down? She said that the snow was shoulder-deep and that they were only recommending it to people with avalanche equipment/experience)
We did tell her that we would see how far we would get, and in hindsight I do wonder a lot why she wouldn't have taken down any of our details just incase. 
So what is the Mueller Hut Walk?
"At 1800 metres on the Sealy Range, Mueller Hut provides a 360-degree panorama encompassing glaciers, ice cliffs, vertical rock faces and New Zealand's highest peaks"
The Facts; 
4hours (return)
5.2km (return)
Medium fitness required
Gradient – uphill. Starts with over 2000steps and then rock scramble
Elevation gain: 1800m
As we started the walk we passed two heli-skiers on their way down. They said the snow was about ankle deep – so that was enough to send us on our way!
For us, the walk was hellish. If it wasn't just the 2000 stairs to start, climbing through the snow while listening to the nearby avalanches was enough. We followed a more experienced tramper with his crampons, and ended up reaching the hut in under 4hours. For the remainder of the afternoon we sunbathed surrounded by snow, watched avalanches, sunsets and explored our new home for the night. An arguing couple from Czech had a very messy breakup on the mountain and that provided the rest of us with some unexpected "entertainment" for the evening. But honestly, as soon as the sun went down we went straight to bed from pure exhaustion. 
Note: On a normal day while hiking without the snow – this trail would be a complete rock scramble up to the hut.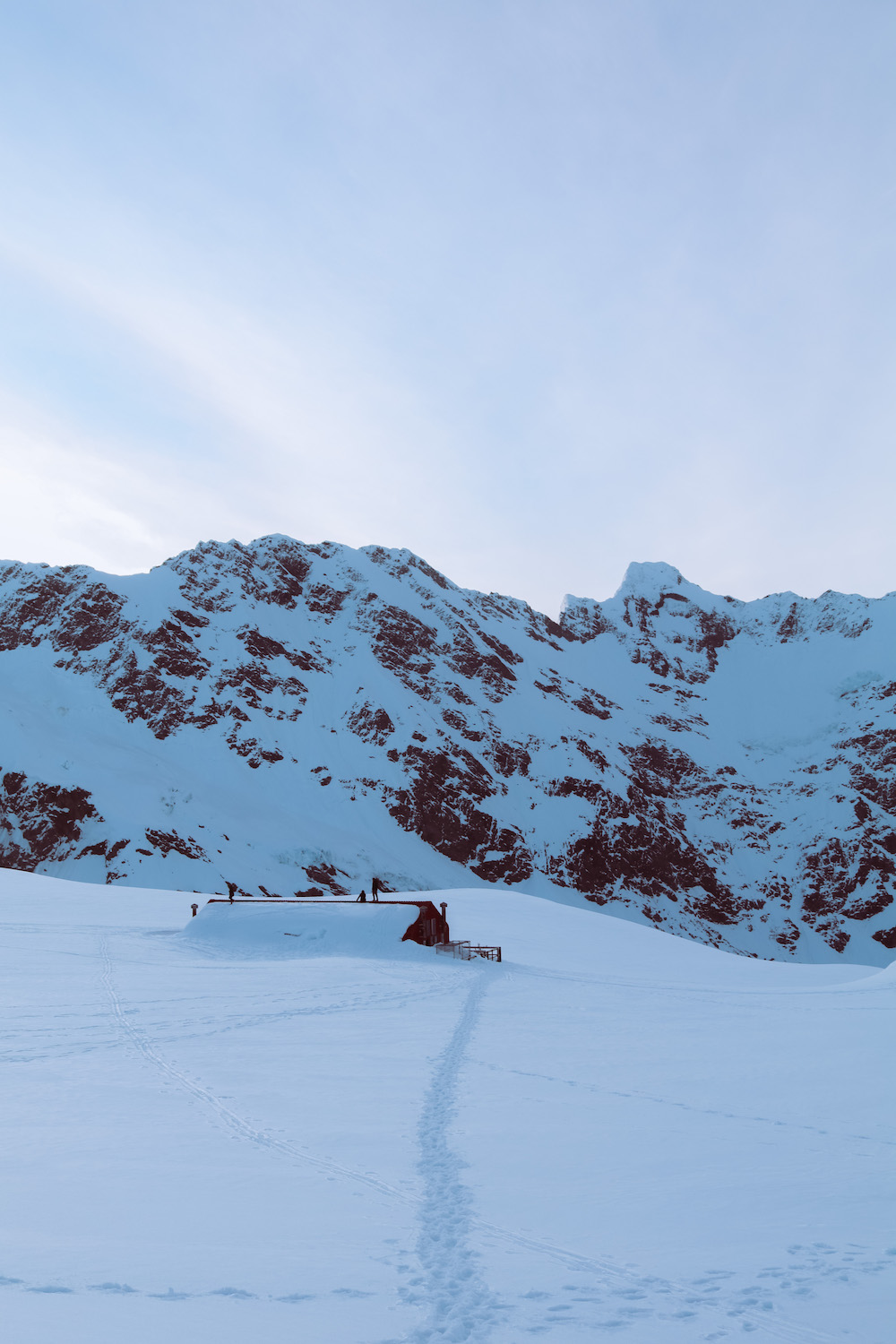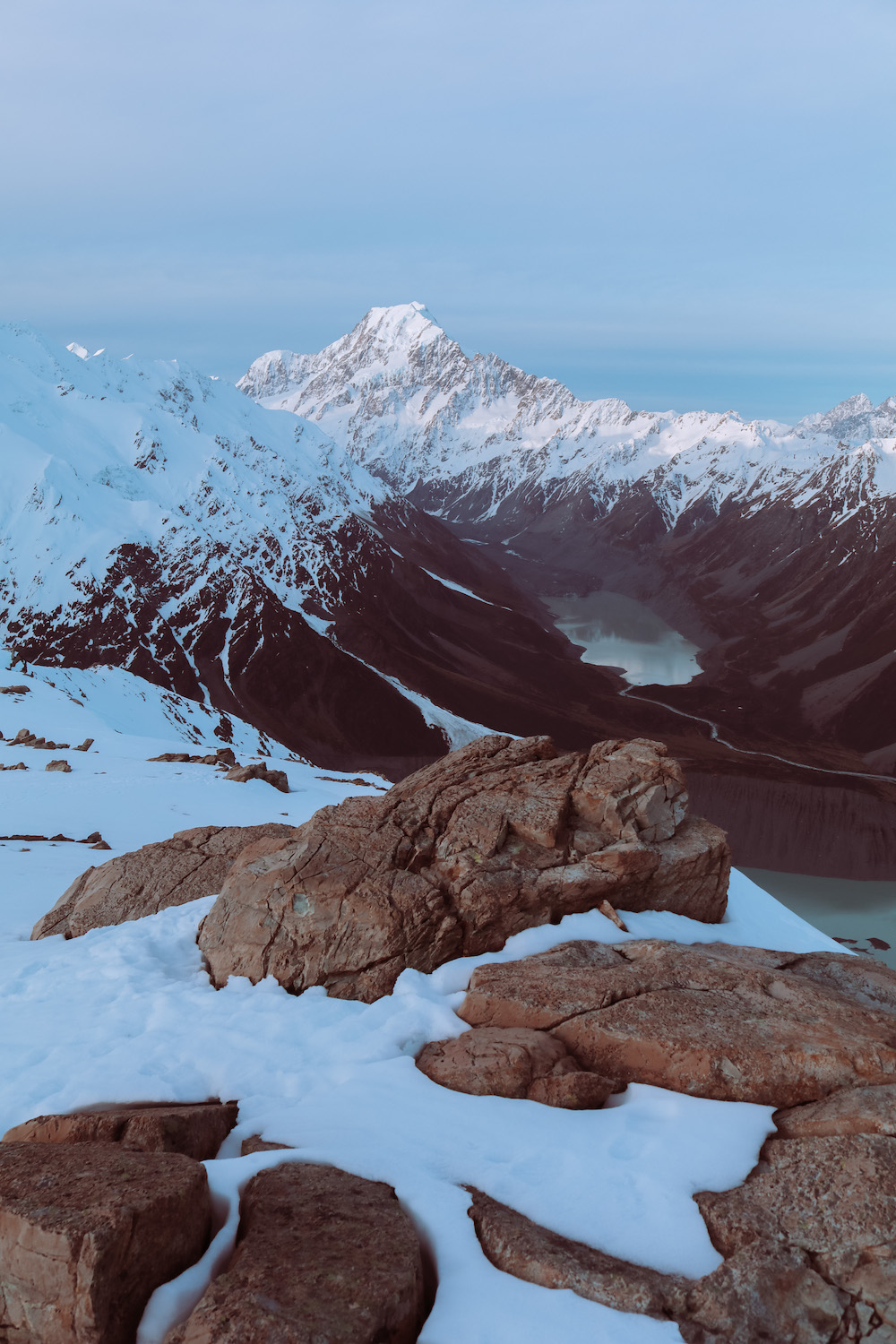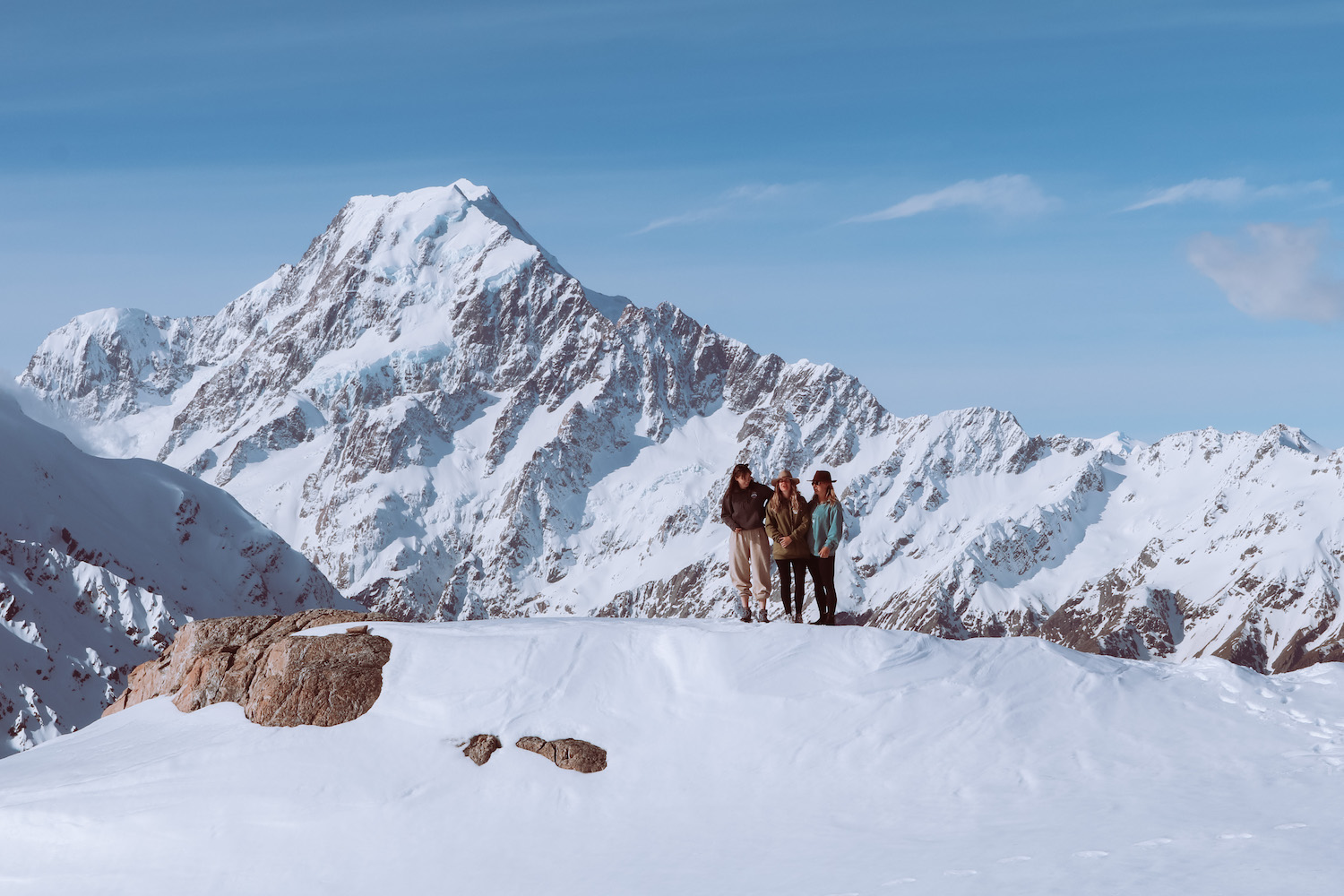 Day 4 – Mueller Hut & Tekapo
As soon as we woke up we made our way straight back down the mountain. Though the snow was hard and crisp from the overnight temperatures it was still a very difficult and slippery journey down. 
Next, we head to Tekapo. The drive was a short 1hour, and from then we kept the day pretty relaxed. Although it wasn't the correct time of year during this trip, Tekapo is famous for its colourful lupin flowers that bloom by the lakeside. Their flowers spread all around the Church of Good Shepherd and across the waterfront of Lake Tekapo. 
Tekapo is also a great place to enjoy the local hot springs and stargaze. The amazingly clear skies of the Aoraki International Dark Sky Reserve make for the perfect place to enjoy the ultimate stellar experience.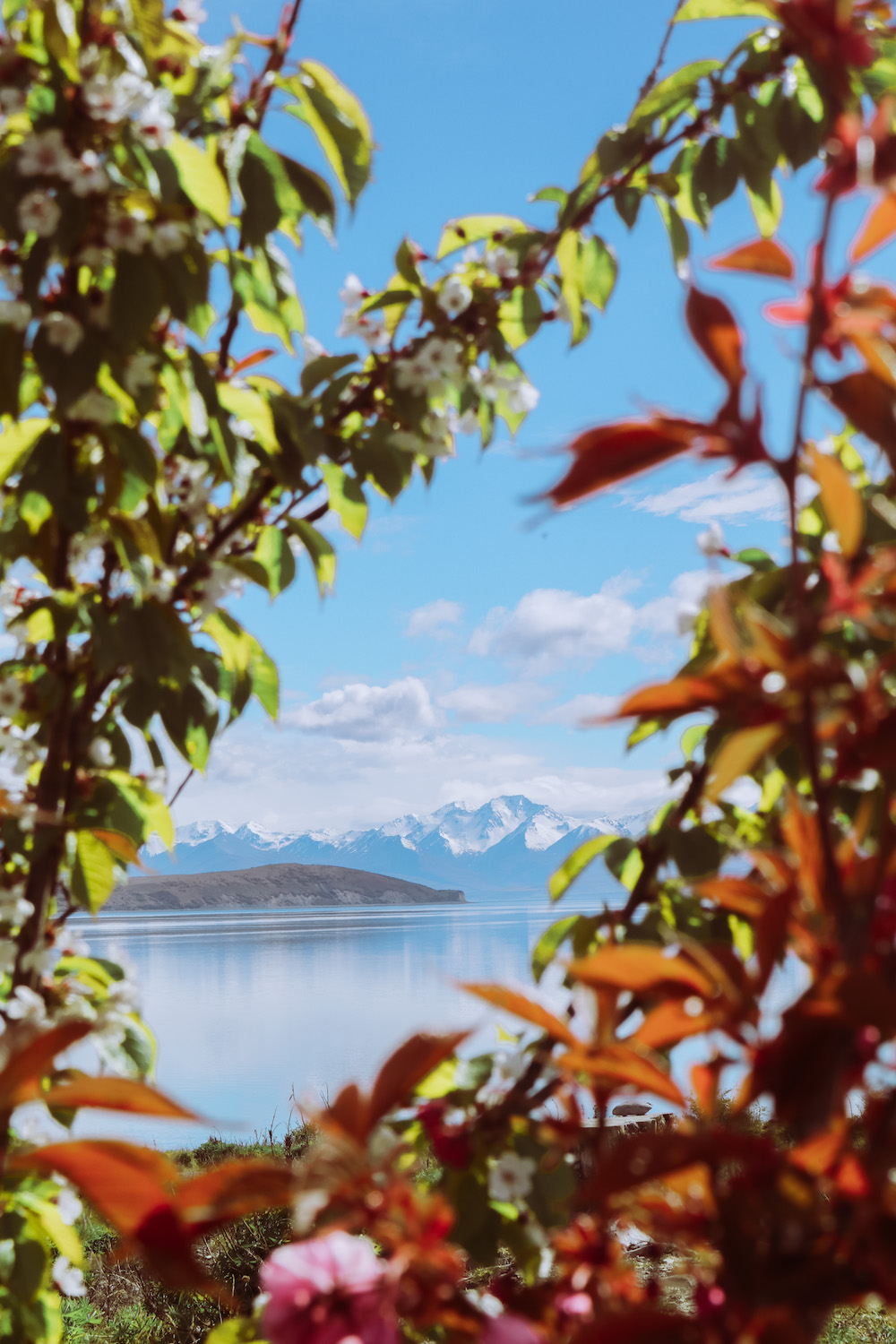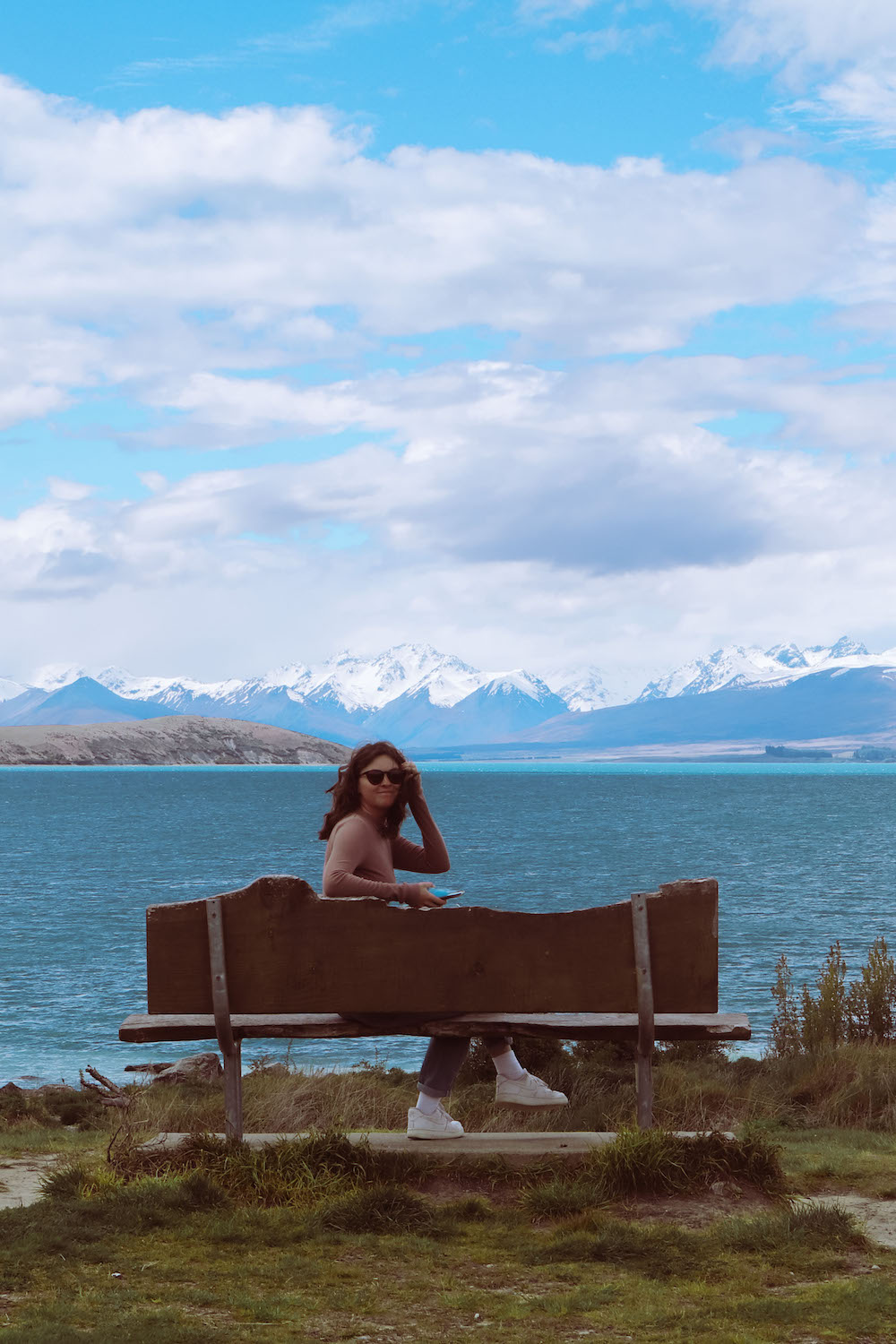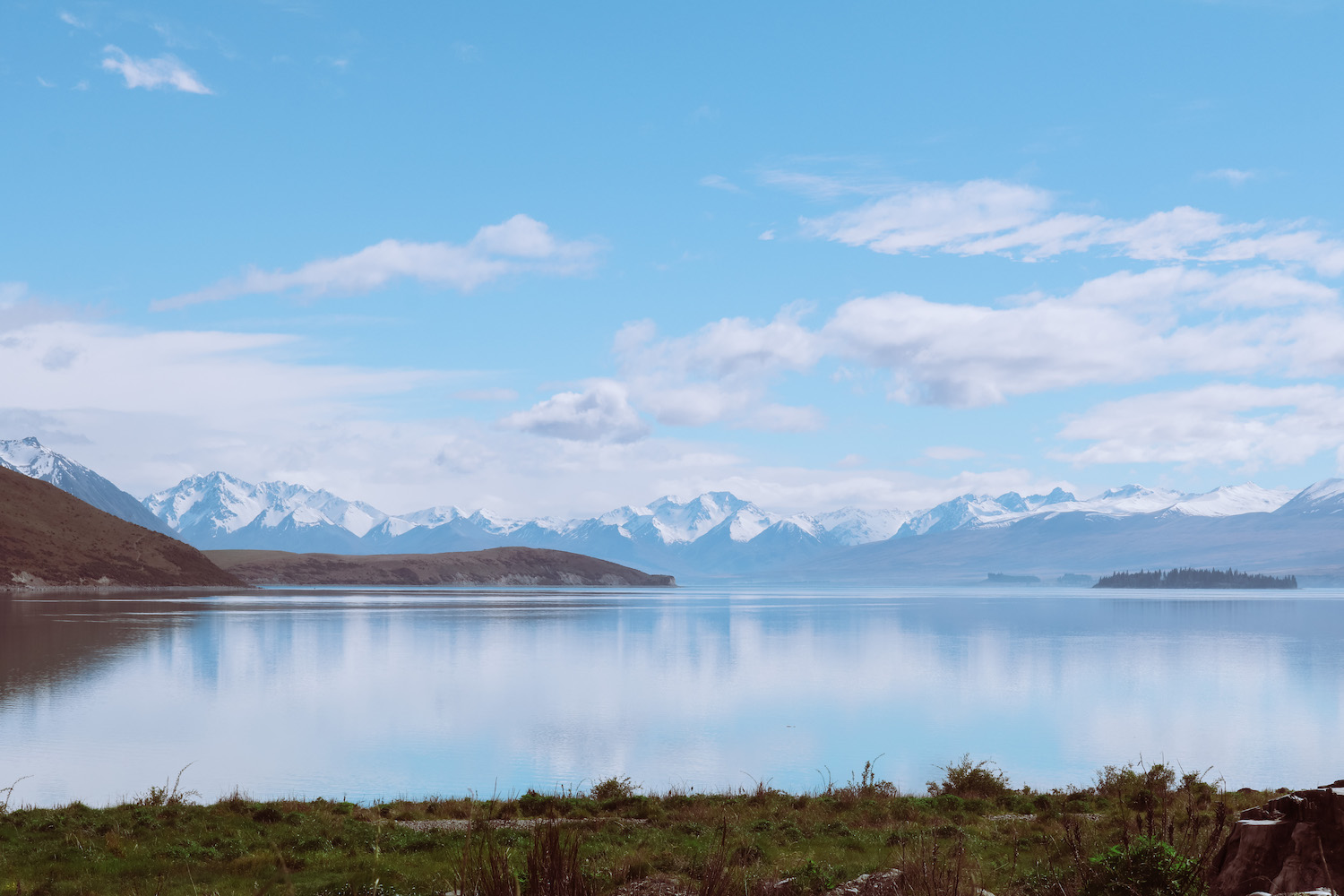 Day 5 – Tekapo & Akaroa
The drive to Akaroa is the longest of our journey so far, taking 3.5hours. Akaroa is a town on the Banks Peninsula, southeast of Christchurch where Hector's dolphins swim and the Pohatu Penguins roam. This small town was once a French settlement and is the perfect place for a quiet and picturesque day on the harbour. 
Akaroa is a quaint little town and this is evident in its shops, French street names, and antique shops. It's the perfect place to grab a coffee in one of the waterfront cafes and just enjoy the peace and quiet. 
In the evening we jumped onto a nature tour where we were able to view the elusive Pohatu Penguins naturally in an undisturbed environment. Pohatu is the largest Australasian Little Penguin colony on mainland New Zealand – the largest of its kind. The experience starts with a 4wd up the side of the crater with stops to viewpoints along the way. After a feeding with the loud and adorable sheep that live on the farm, you can take a look at the monitoring program of nesting boxes – maybe even spot a nearby seal swimming by!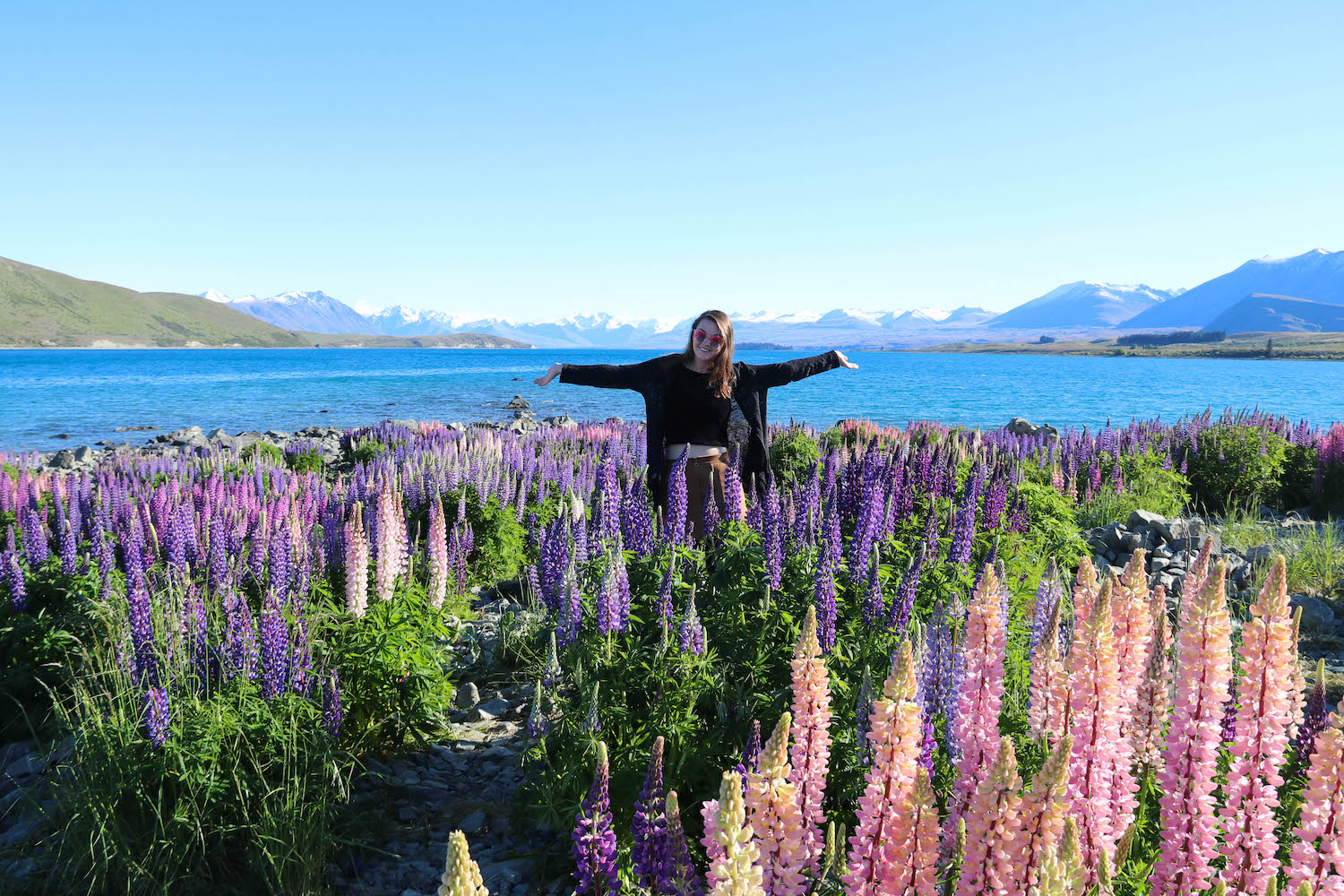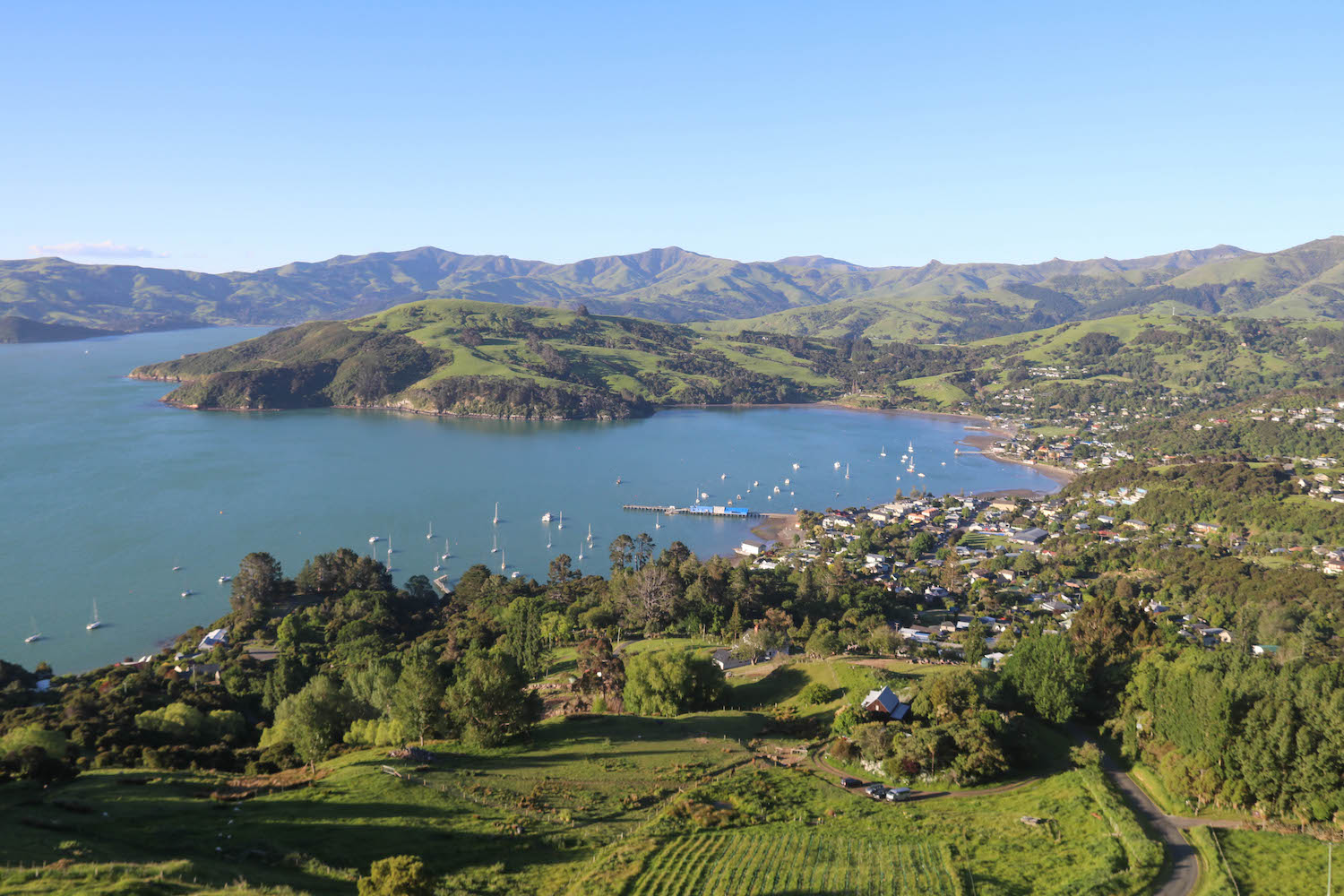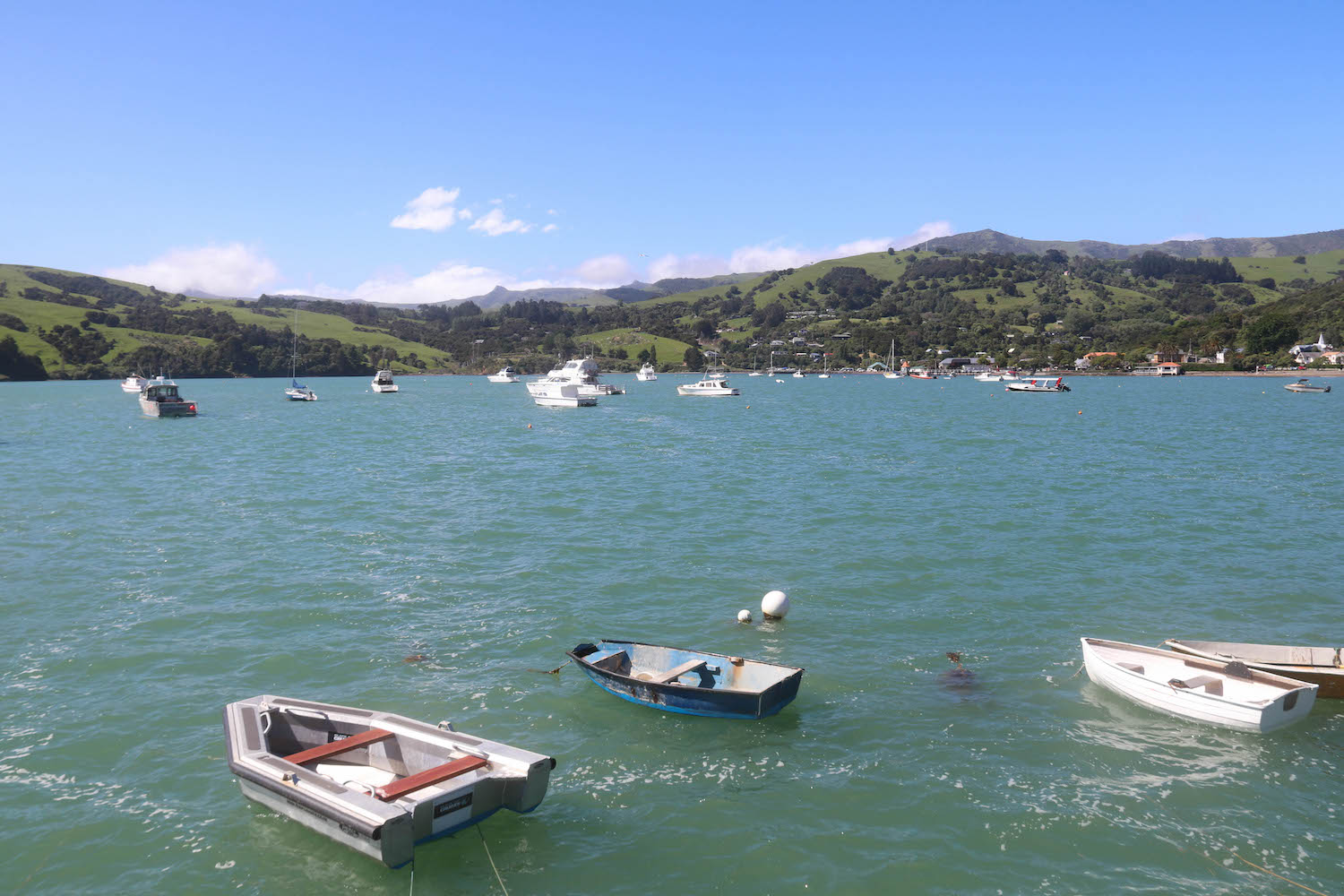 Day 6 – Akaroa & Christchurch
For those who are ready to take advantage of our first time near the ocean, there's the opportunity to swim with the smallest dolphins IN THE WORLD. With Black Cat Cruises you're given an incredibly warm and buoyant wetsuit, booties and a snorkel to meet some of the friendliest and rarest dolphins.
The experience starts with photos by the waterside, and then the skippers and guide give you some information about the Dolphins. From there you are free to roam about the boat and look out for the mammals – they are unfed and unmonitored as they are protected in the Akaroa Harbour, so the experiences are completely up to the dolphins. As you let the dolphins swim around you, the skipper keeps the boat at a close distance and point them out when they are swimming nearby in the picturesque bay.
In the afternoon we made our way to Christchurch, which takes just over an hour to reach the city centre. Located on the east-coast, Christchurch is the largest city in the South Island of New Zealand. Brimming with contemporary culture and stunning views it's the perfect stop on a journey down under. 
Day 7 – Christchurch
Christchurch personally isn't my favourite destination on the South Island, but it's still worth visiting to get an idea of some of the Islands notable history. Since the 2010-11 earthquakes the city has been rebuilding and restoring, getting bigger and better than before. 
If you are up for an early morning, why not get your bearings with ballooning Canterbury? With the largest balloon operating in New Zealand, Ballooning Canterbury starts in the early morning, and offers panoramic views across the Canterbury plains to the Southern Alps. You are able to float over the ever changing landscapes and spot Christchurch from afar with interesting commentary about the history of the area and the surrounding farmland – with champagne and breakfast to top it off!
For those who want to know a bit more about Christchurch's history, I would start with the 185 Empty White Chairs memorial. It's a somber memorial recognising each of the lives lost in the 2011 earthquakes. Each chair comes from one of the souls lost during the earthquake and is a truly moving message.
Canterbury is a region of the South Island in which you'll find Christchurch. Additionally, it is also where you'll find some popular filming sites for franchises such as Narnia: The Lion the Witch & the Wardrobe, and the Lord of the Rings. At Castle Hill you'll find the Narnia battle grounds, and at the remote Mt. Sunday you'll see where the capital city of Rohan, Edoras was located in the LOTR films.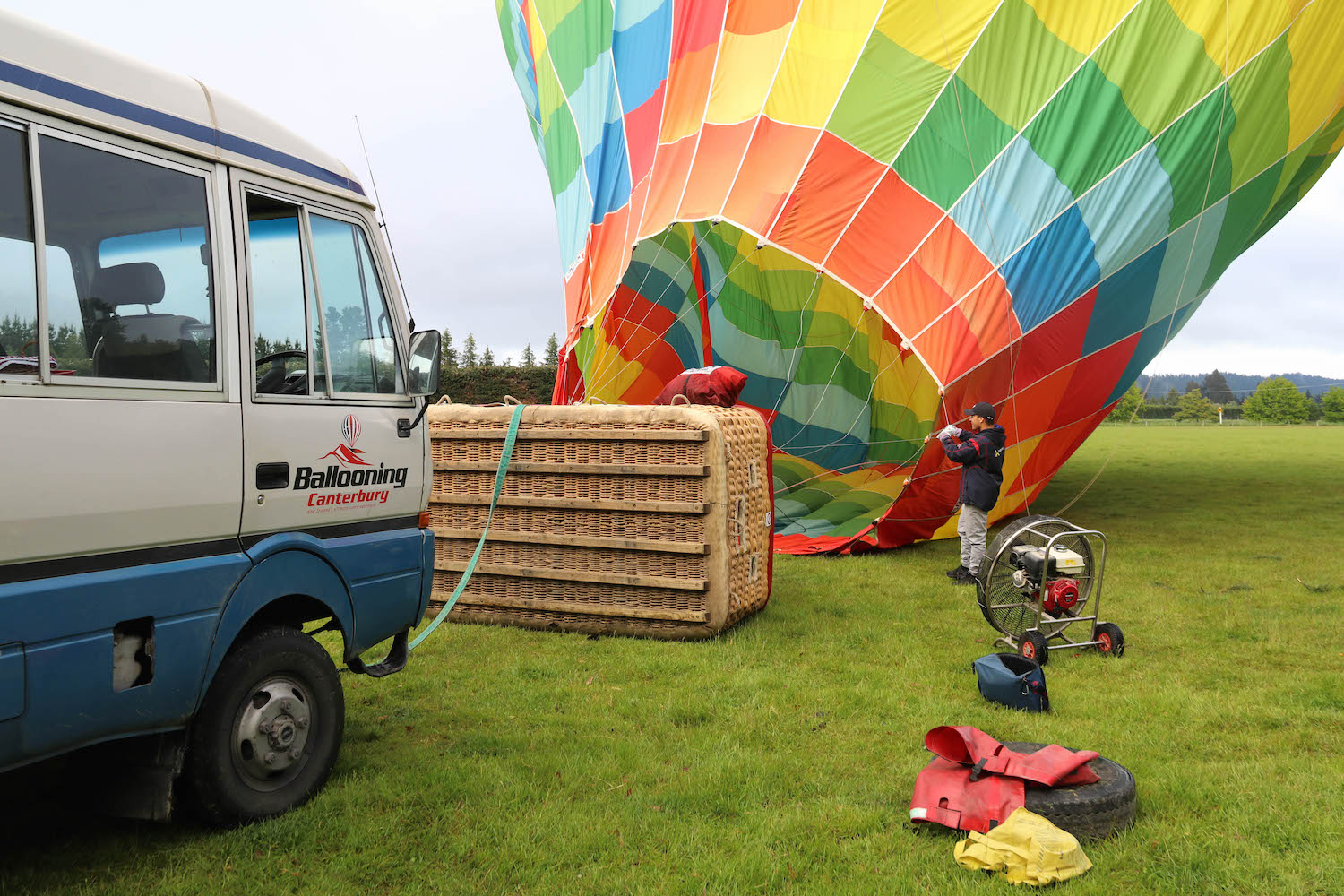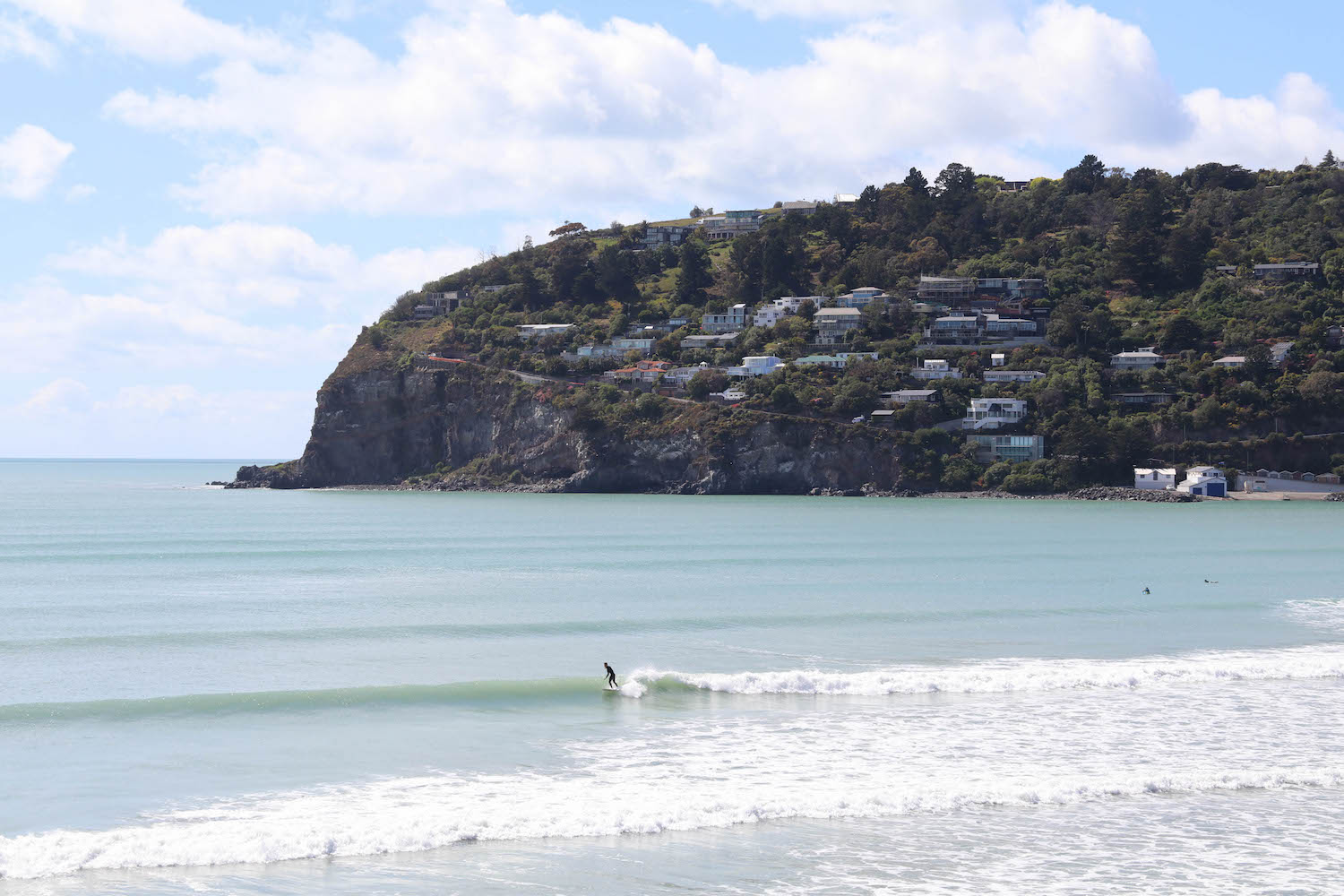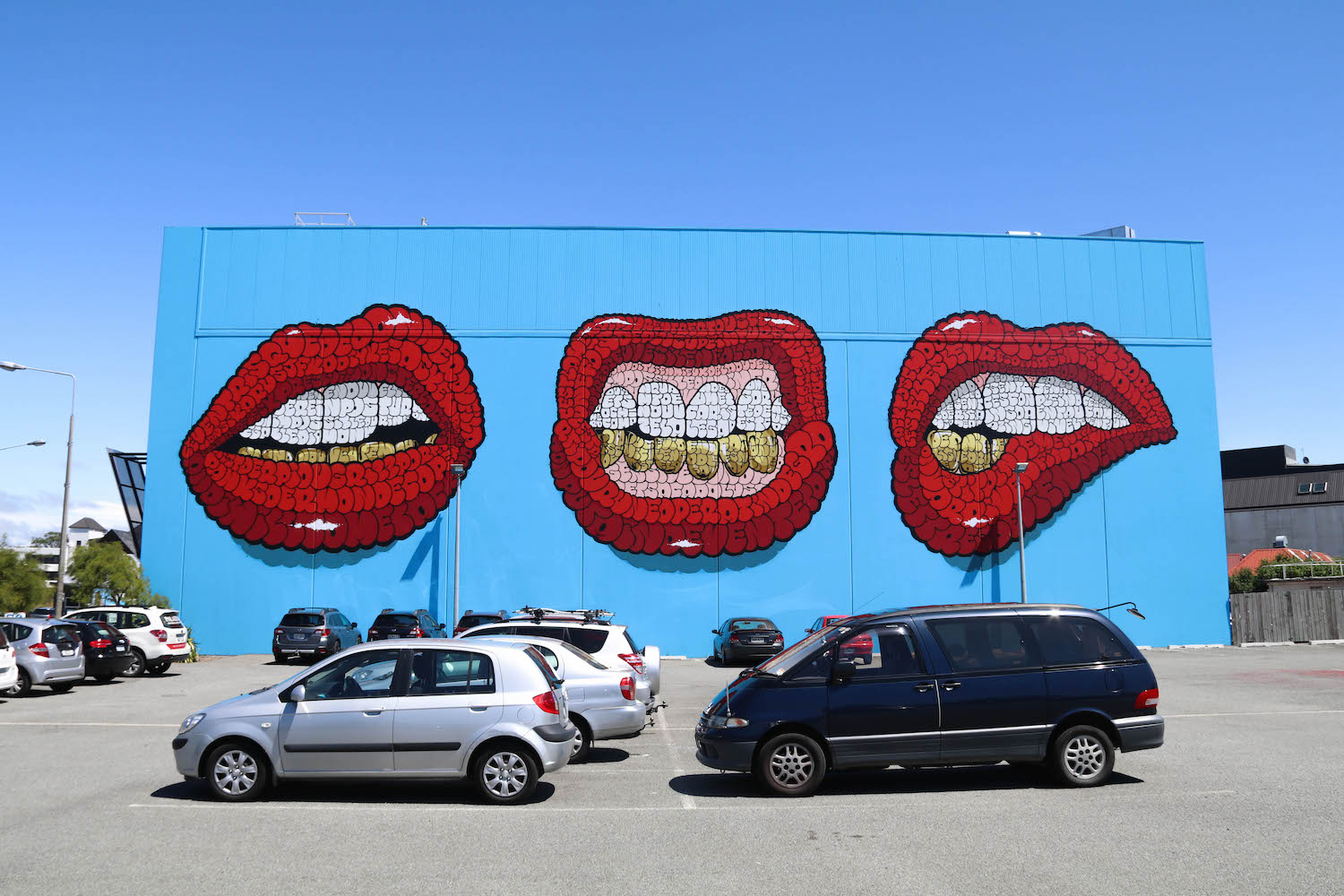 And that was the end of my 2021 South Island road trip! What would you add to a journey to the South Island? Let me know in the comments or DM me on Insta!