As you probably all know by now, I am obsessed with breakfast. I'd happily eat it as every meal, every day. So of course I have brought this love to my new home in Queenstown. To make myself feel better about my expenses I'm calling this research. So I've compiled a list of the best places to grab brekky around Queenstown – let me know your recommendations!
Halo Forbidden Bite
Halo became my favourite place for breakfast within a week of living here. Not only did I find what I think to be the best coffee in town, but the food is both extravagant and simple. Outdoor tables extend into the gardens of the St Peters Parish next door, so it's a really cute place to go for breakfast with a classic Southland stone wall church behind you. Most of the menus in Queenstown have plenty on offer for vegetarians and vegans – and Halo is no exception. The café is located on the edge of town so on busy weekends, it's usually got a lot more space than cafes in the centre of town.
In the few times I have been here I enjoyed a Veggie Brekky – beetroot hummus, rosti & chickpeas, yes please! Another more "lunchy" dish is the Tempe Hash. Roasted potatoes, brussel sprouts & smokey tempe – yum!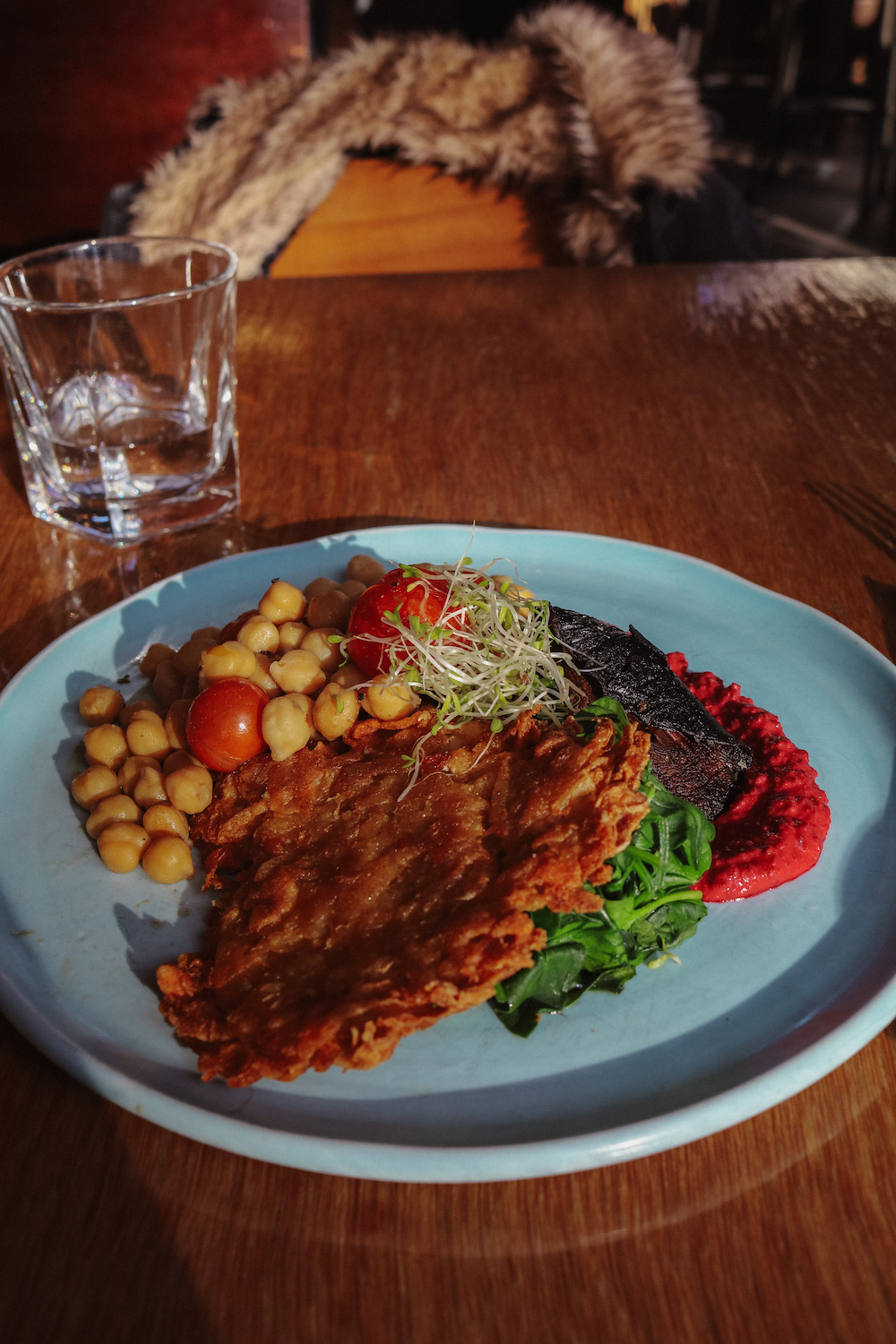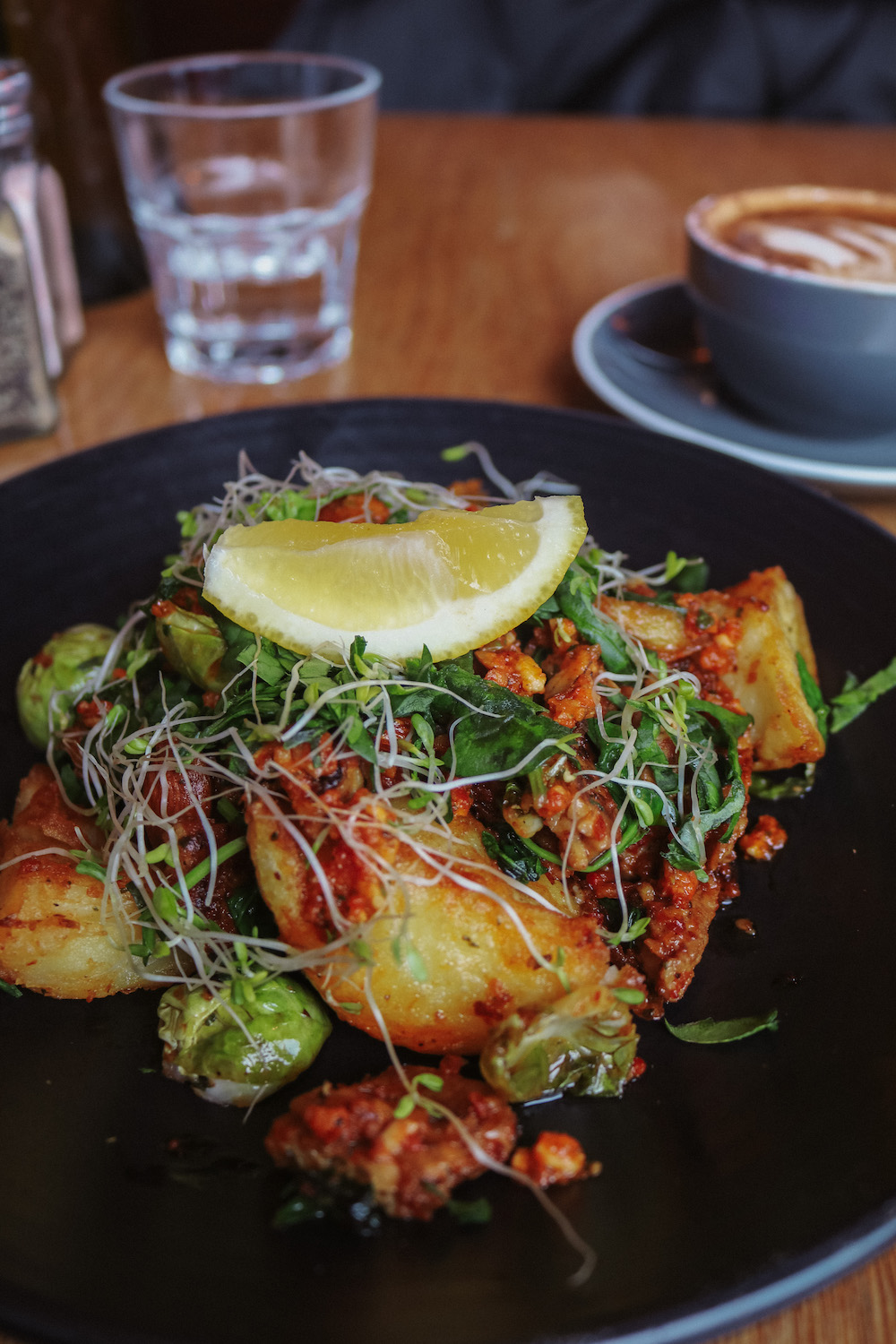 The Boatshed, Frankton
The Boathouse is a little way out of town, but a very short $2 bus journey. It sits over the water on a jetty, with incredible lakefront views. The interior has a rustic boat house vibe, with large glass windows and a wood fire. In the garden on a good day you can also enjoy alfresco dining on the grass.
I got an Apple Pie French Toast dish. It was delicious, very sweet, but each elements complimented another. It seemed to be a mix of apple pie, crème brulee custard, fresh fruit, and a large square "loaf" of French Toast.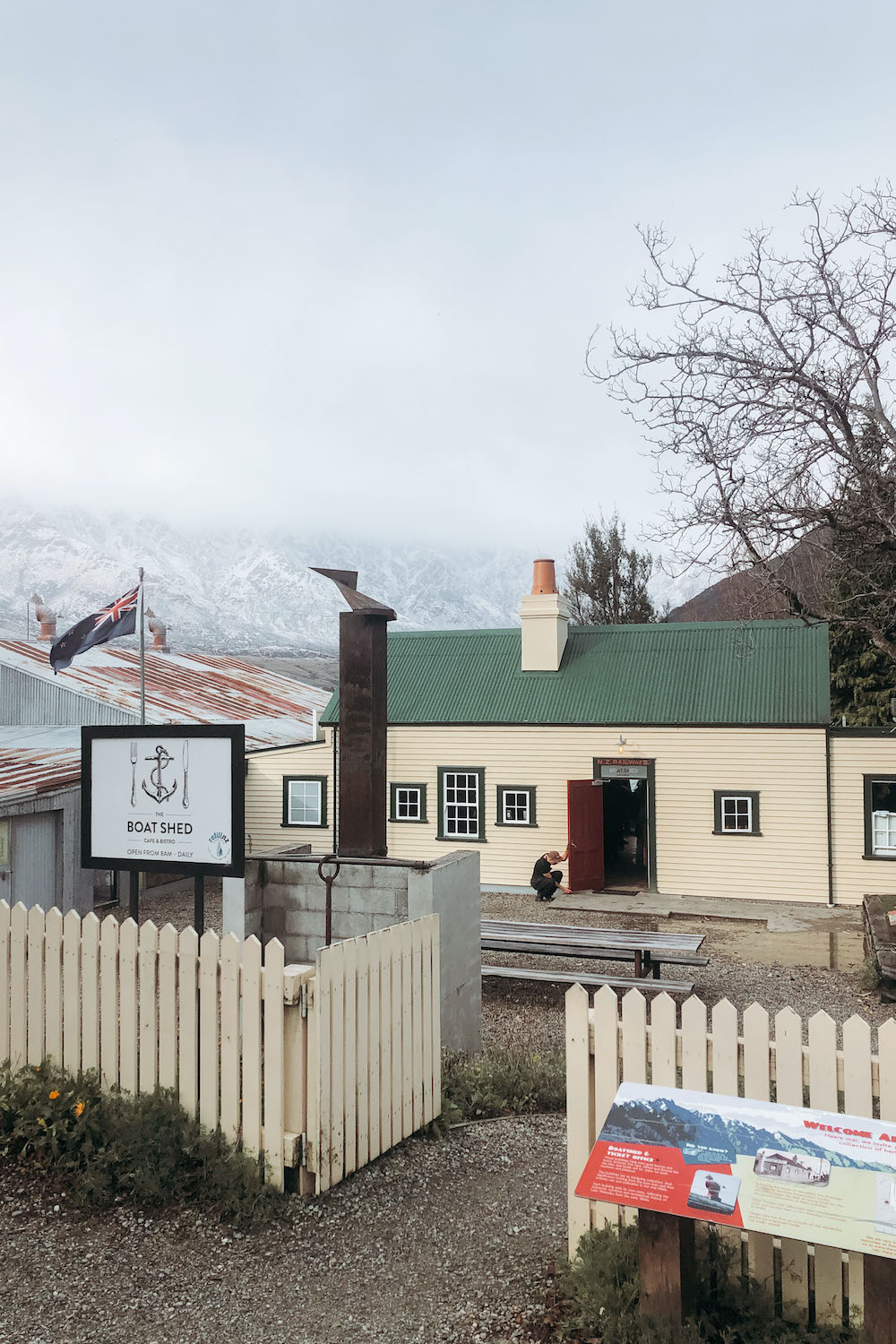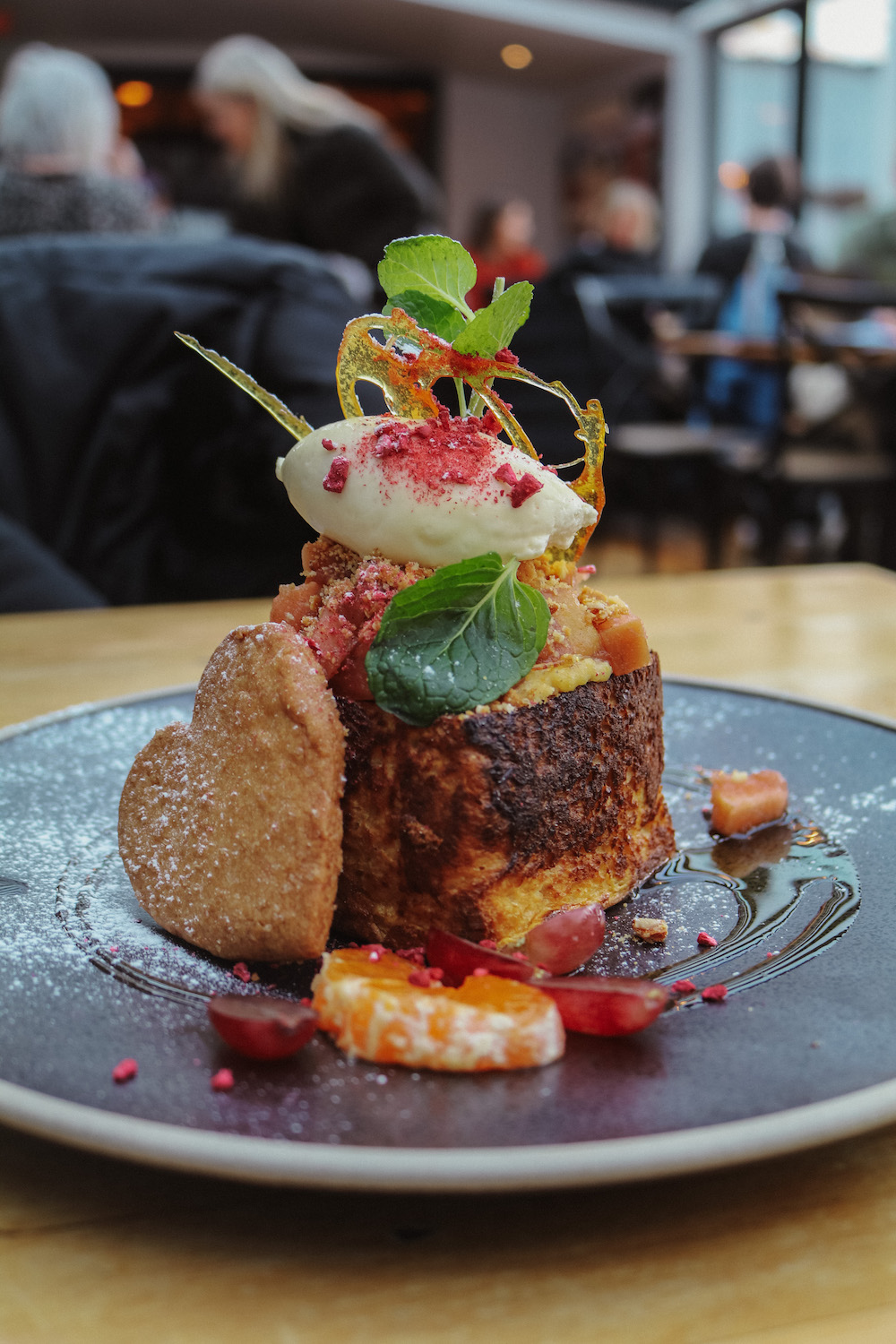 Provisions of Arrowtown
This café was recommended to me by a new workmate, and I was very happy to find out about it. Upon arrival I could see that outside they had a large garden with alfresco picnic tables and a cozy interior. Arrowtown itself is a short drive out of town – so for those without a car (like myself), it's a 45-minute $2 bus ride.
I got a classic Eggs Benny with salmon, and I was so obsessed with the pumpkin bread that I asked later where it was sold – turns out they bake it fresh on site!
Bespoke Kitchen
Bespoke Kitchen (previously sister cafe with Vudu) has one of the most colourful cake cabinets you'll find in Queenstown. It's hard to look at them all and not deviate from your original order while you wait in line. I have tried quite a few dishes at Bespoke, and they are really great at putting together seasonal dishes.
My first time to Bespoke I was a little overwhelmed by choice, so I went for a Veggie Brekky Board. It came with avocado on toast, a shot of kombucha, and a raspberry chia pot. They were all really tasty and it gave me the perfect little overview of what Bespoke has to offer. Once I saw the Raspberry Chia pots in the cake cabinet I couldn't really say no to one… ha ha!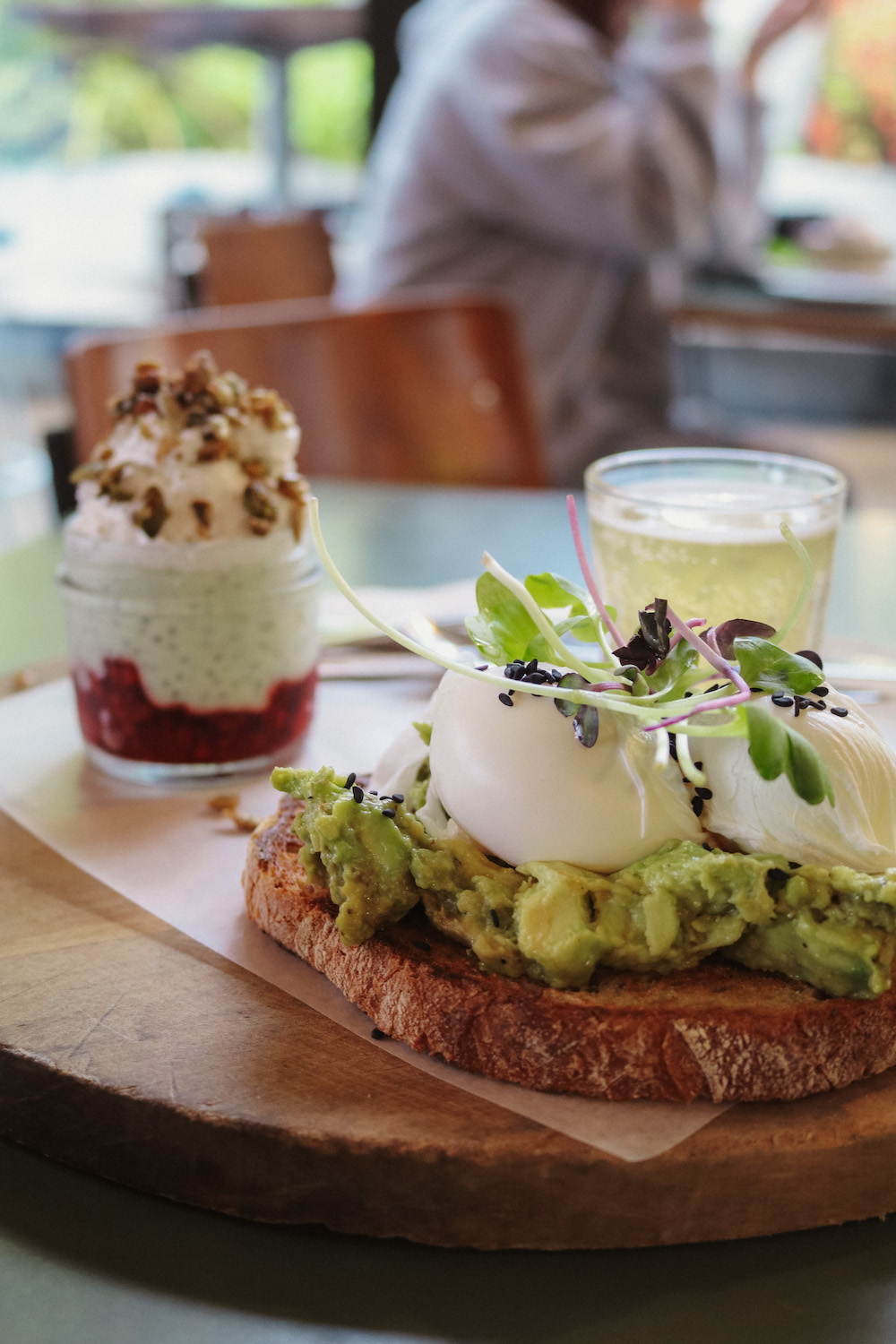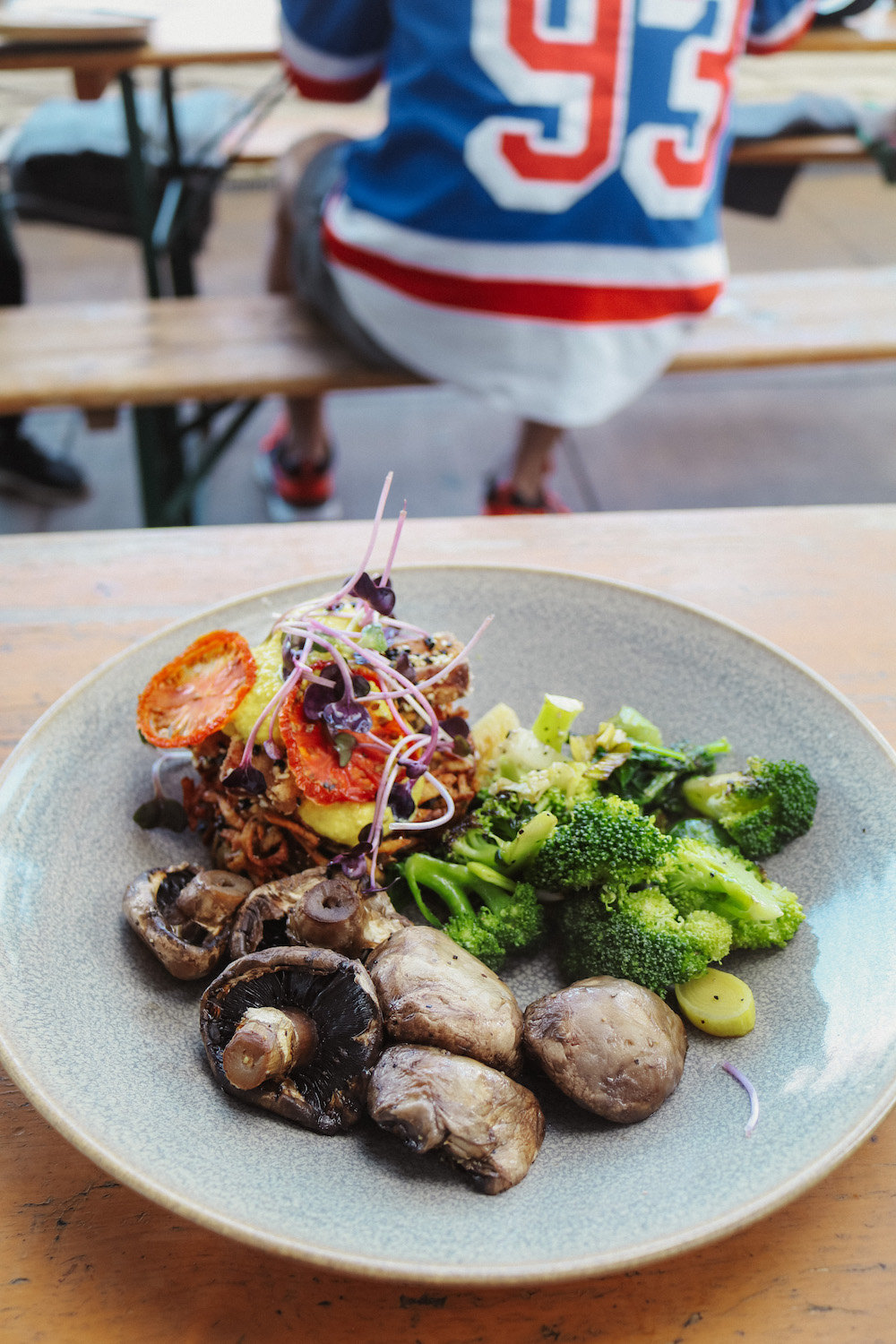 Vudu Café & Larder
Vudu has an extensive (and possible over the top?) vegan menu, but I'm not mad about it. Vudu is usually one of the busiest cafes around town, purely because of it's central location and reputation. With an entrance both on the main street in town and right on the lakefront, I sat beside the birds and watched the waterfront.
One of my favourite dishes here was the Autumnal Hash. It wasn't super breakfast-y but it was very weather appropriate. It came with seasonal roast veggies, fried eggs, brussel sprouts and crispy kale.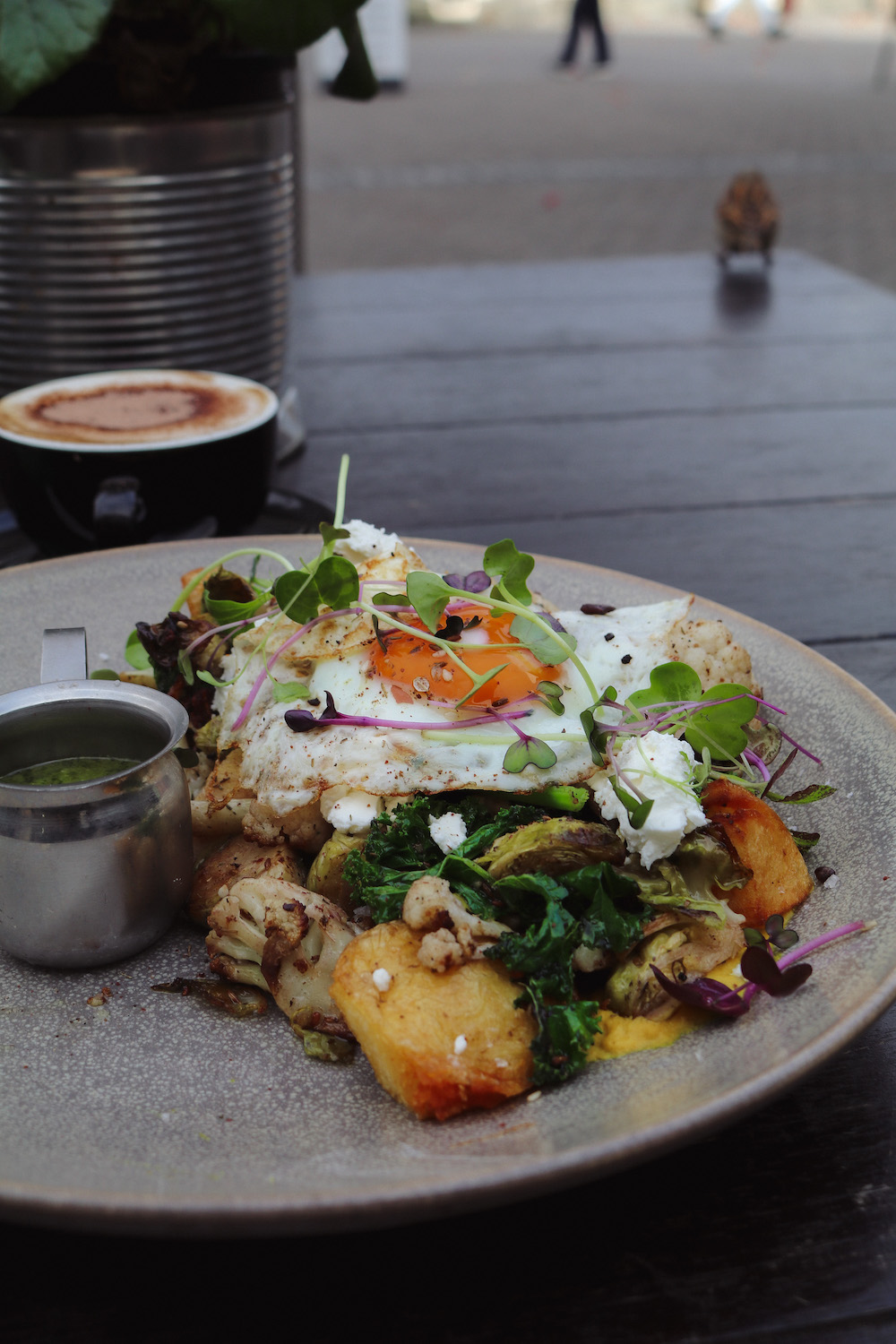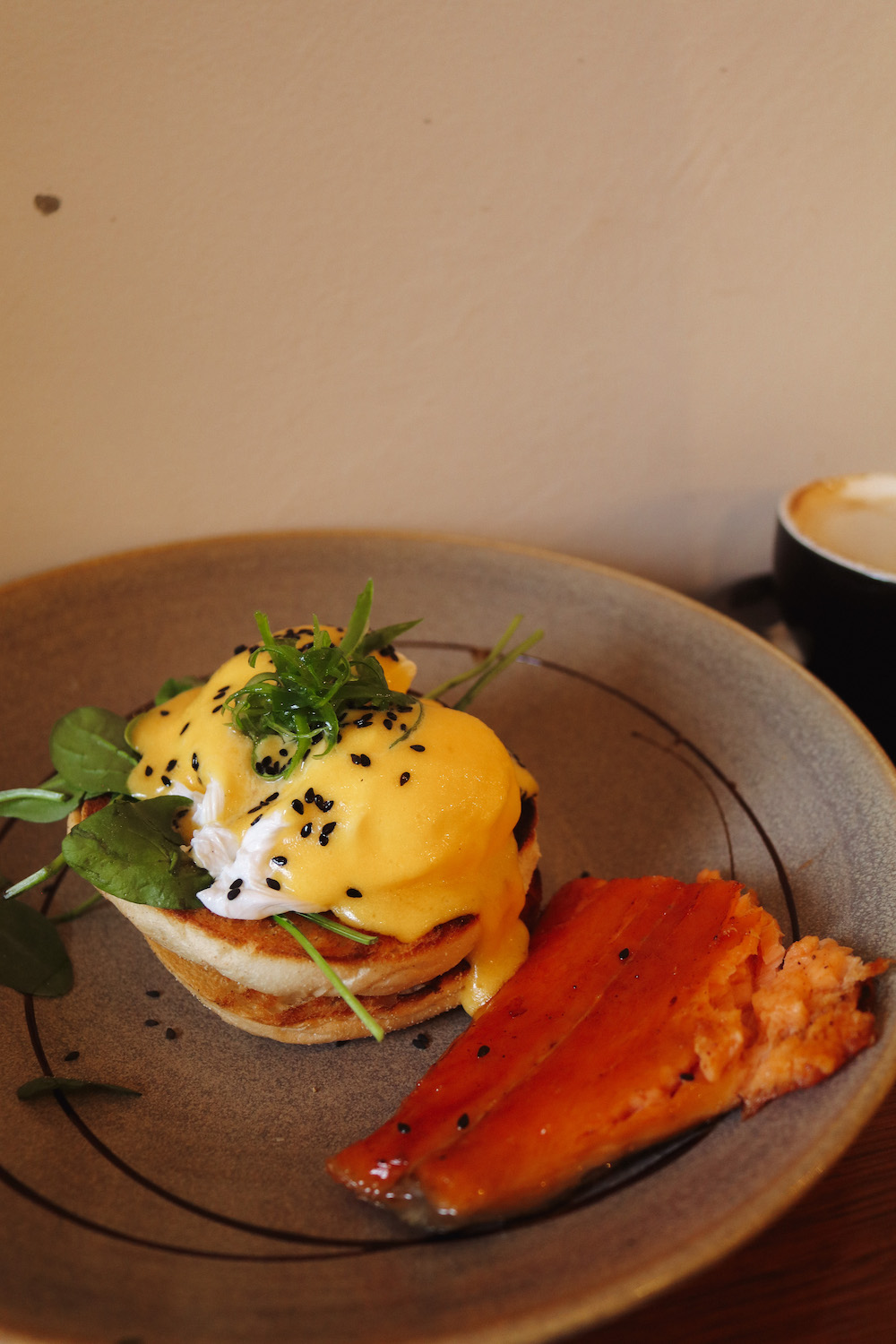 Yonder
Yonder is one of the first things that will come up when you're searching for somewhere to get breakfast in Queenstown, and for good reason. Yonder is popular any time of day, and it was where I chose to go for my very first brekky.
I sat inside by the fireplace and ordered the blueberry & lemon pancakes. Elements I've never put together myself, I soon wondered why. It was the perfect way to enjoy pancakes while still feeling quite healthy about it. Their corn & jalapeno fritters are also delicious!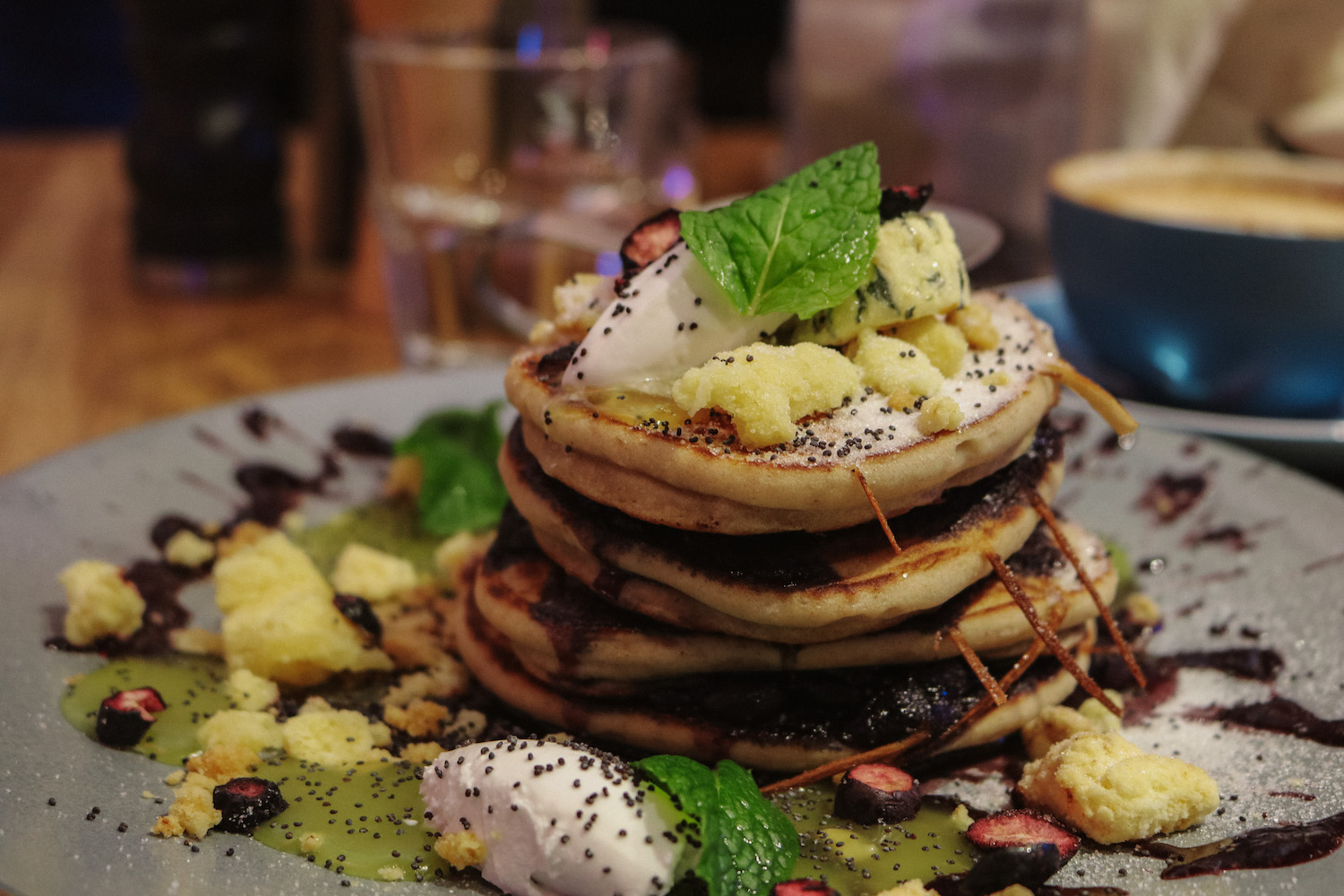 Goldie Café, Arrowtown
Though the menu here isn't extensive, they make up for this in flavour – I mean it makes sense, the less menu items, the more they can focus on making the minimal that much greater. Located on the main drag in Arrowtown, it's easy enough to find but somehow still slightly hidden.
I got the Eggs Benedict with potato rostis and it was delicious. The salmon was fresh and the hollandaise was perfect.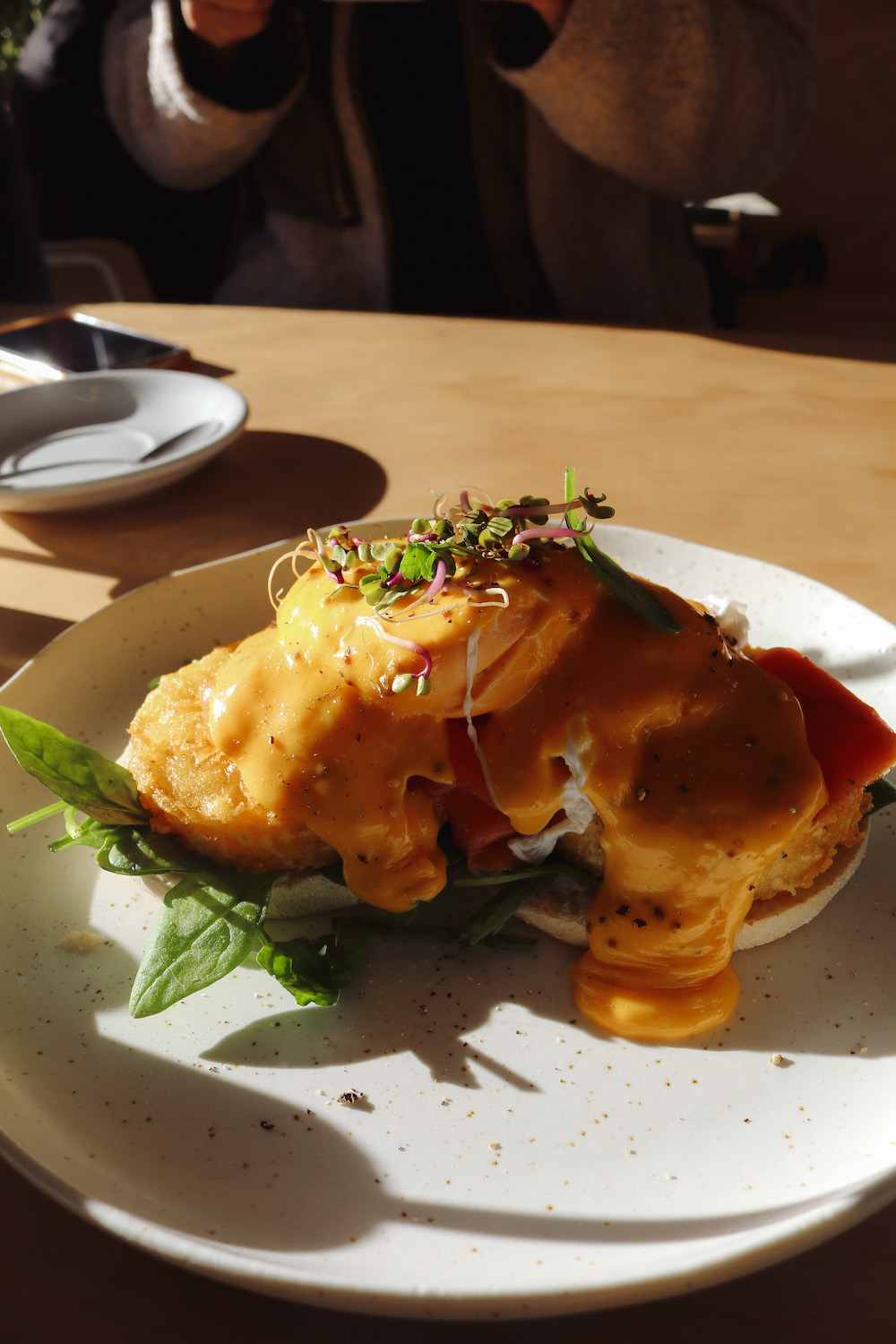 The Exchange
The Exchange is the perfect spot to go for brekky on a busy weekend because it's so underrated. It looks smaller from the outside, but once you head inside there's plenty of indoor and outdoor seating space.
Surprise surprise, I got the Eggs Benny again – I mean if you know what you like why not?! Served with potato rostis, I liked that they offered the option of roasted tomatoes rather than the usual spinach, salmon or ham.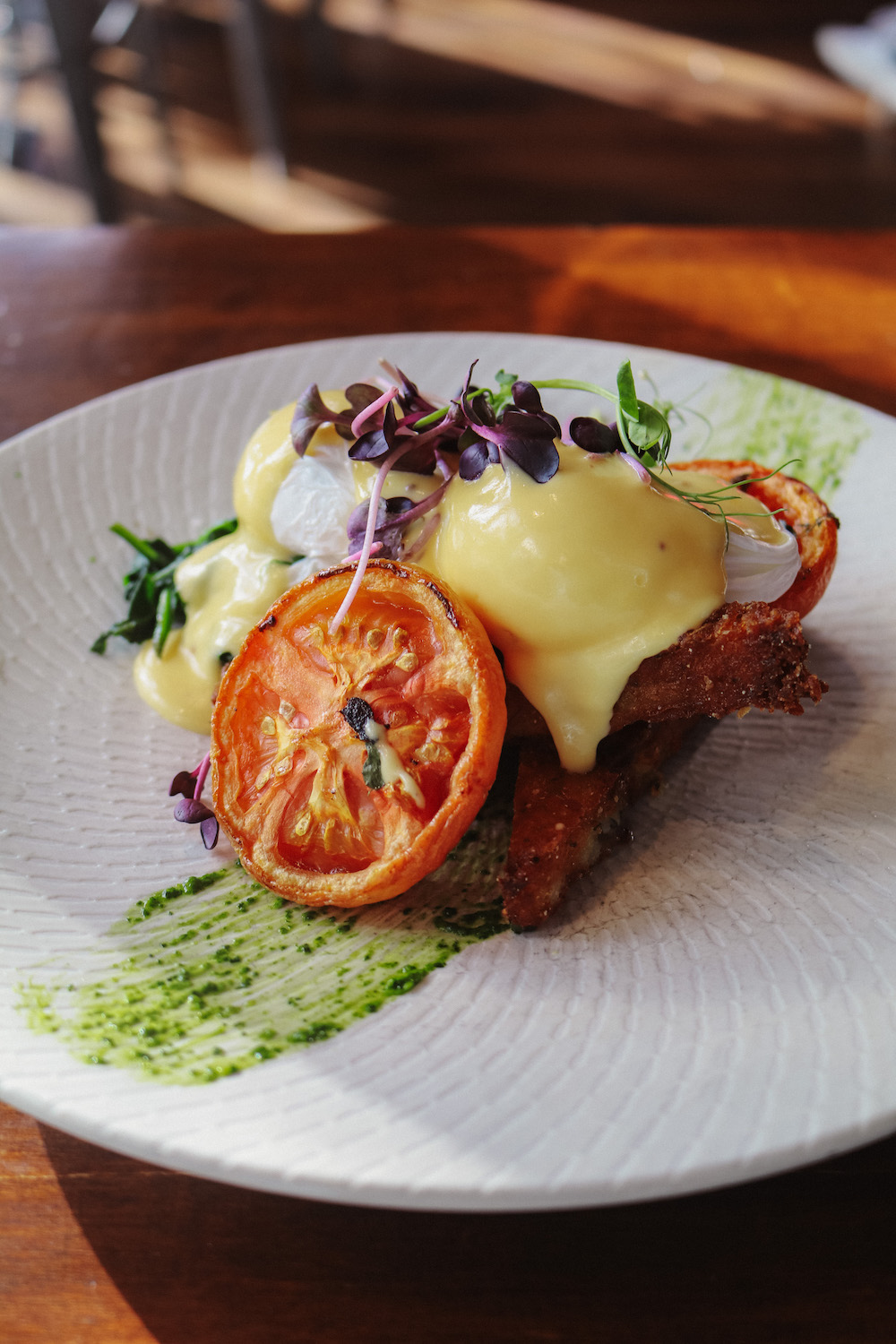 The Bathhouse
The Bathhouse is probably one of Queenstown's most recognised cafes, and situated right on the beachfront, it's hard to miss. While the interior is quite traditional, it has large glass windows that look out over the beachfront and the mountains – the view is amazing. The menu isn't too extensive but they've got all the classics like Eggs Benny, Scrambled Eggs and Pancakes. The outdoor alfresco seating area is also the perfect place to relax and kick back with a coffee – you can take in the views with your hot cuppa and then head off before you get to cold, ha ha!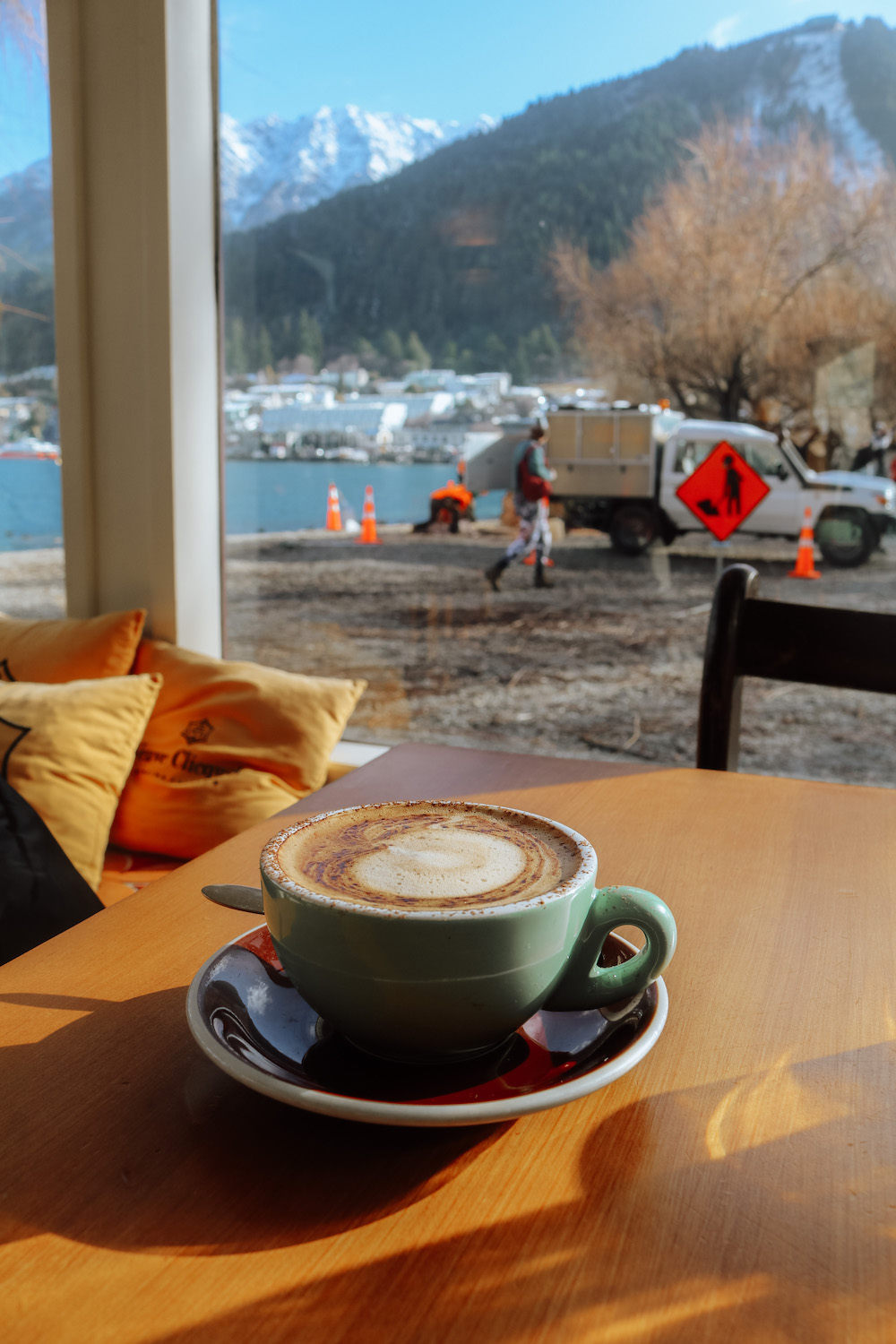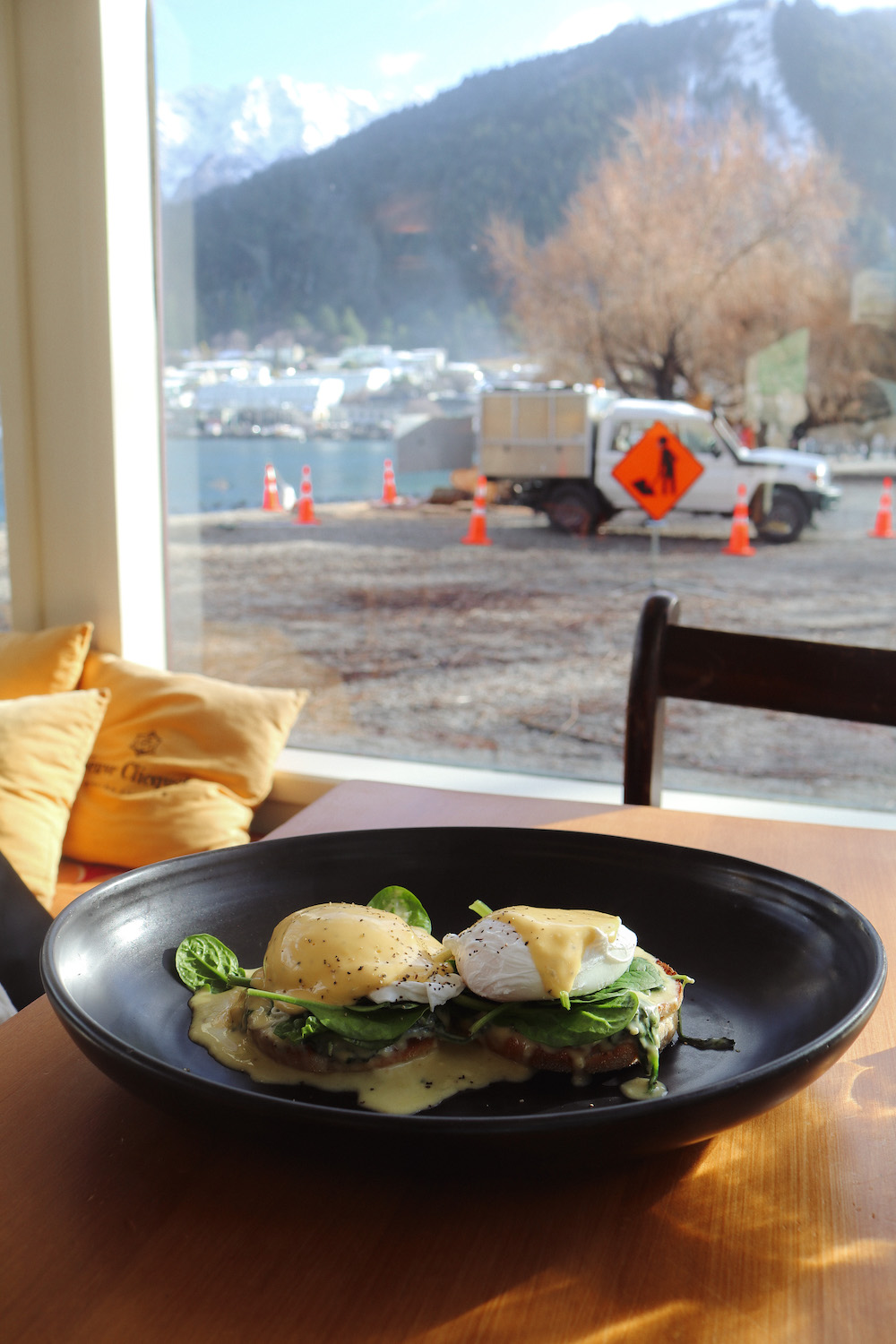 Captains Rest
Located right in the town 'square', Captains Restaurant is the perfect place to go when you're in the mood for a classic fry up / full English.