A quick weekend away in Adelaide can feel a little daunting when you're trying to figure out how to fit everything in, but with such a small city I managed to explore all of the best spots in just two days. Here's my itinerary for how to spend a weekend away in Adelaide…
To break it down;
Day one – exploring the City
Day two – venturing out to the McLaren Vale Wine Region & the Fleurieu Peninsula
Day one can all be done by foot! For Day two you'll need a vehicle or a rental car – we managed to pick one up from Budget Direct around 11am on Day two and still fit everything in without having to rush around. Paying on the day can cost a lot more than booking in advance – so I would recommend doing this ahead of time!

Day one; Exploring the City
Brekky at Peter Rabbit
After a little Instagram sleuthing of course I found some delicious looking cafes in Adelaide. The first ones I came across were a wee-bit out of the city center, so I opted for Peter Rabbit which boasted avo on toast, smoothie bowls, and an outdoor garden area with actual pet rabbits. We dined on a smokey avo smash & a boujee baguette with some oat capps.
Art Gallery of South Australia
This gallery was recommended to me by the lovely receptionist at the YHA, and I thought out of this or the Australian museum, the gallery was probably the spot where I would see something new. Honestly some of the art was very disturbing to me, two horses stitched together, a miniature nazi concentration camp with mutants? But it was intricate and elaborate so I could see why it was there. Art is art, and it did get me thinking a lot. The room that stood out to me the most was the red string room, an entire room filled with a blood orange web of strings that you could walk through and explore. The gallery really was something to see, not at all what I was expecting.
Free entry
Paid additional exhibitions
Adelaide Botanic Gardens
This was probably my favourite thing we did while exploring Adelaide's city Centre. While usually most botanic gardens seem to be the same, I found myself taking endless pictures. By the entrance you can help yourself to a map of the gardens, and in the late afternoon the gardens were almost deserted while we visited. We started by the greenhouse; Cactus and Succulent Garden, and then trailed around to the Economic Garden, the Amazon Waterlily Pavilion, Simpson Shadehouse… you name it, we went there. My favourite ended up being the Dahlia Garden which was filled with vibrant rounded flowers – they reminded me of Trufula Trees from The Lorax, haha!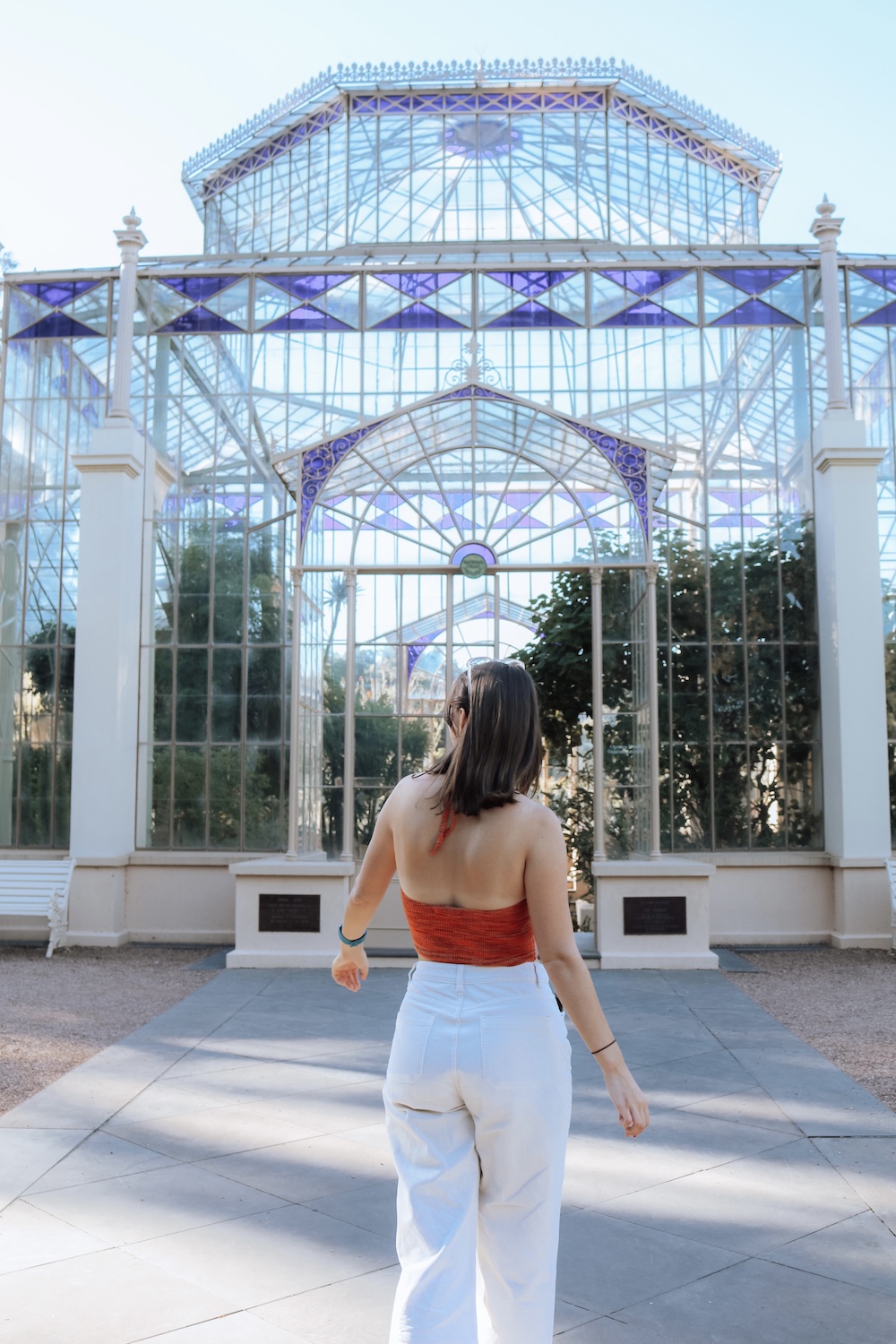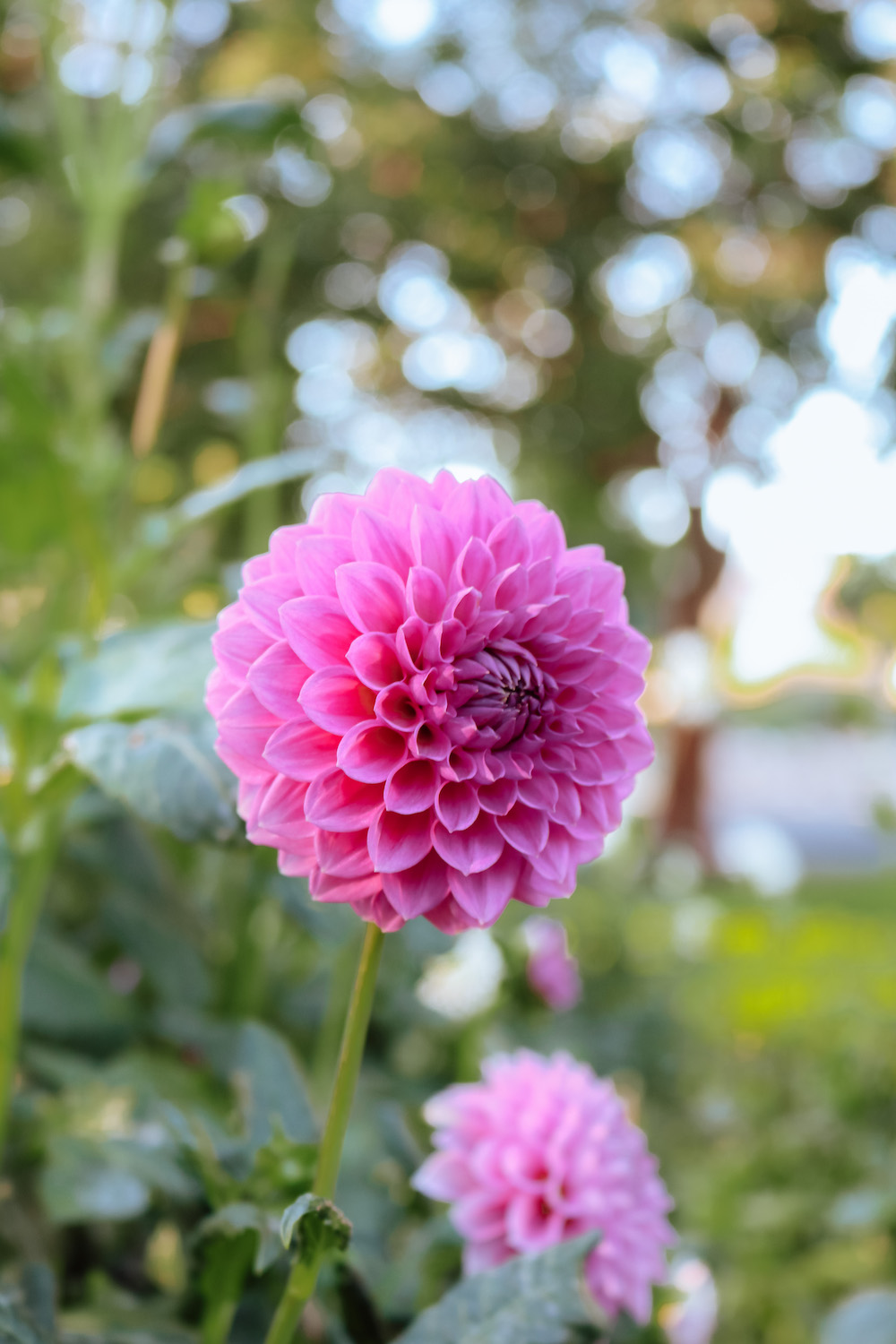 Rundle Mall
Rundle Mall has the general set up of most Westfields you'll find in Australia – the corso to walk through, and the shops on either side of you. The occasional busker doing a street show, and flower markets popping up here and there. Rundle Mall is also filled with lots of street art and sculptures, one of the most iconic being the brand new pigeon. This $174,000 pigeon statue was brought in with the hopes of attracting more visitors. It is certainly different from the norm!
Dinner at Velvet Blue Artisanal Pizza & Pastry Lab
A quick google search and the headline "Adelaide's Best Pizza's", was enough to lead me to Velvet Blue. No1 on the list of Adelaide's Best Pizzas, it was also one of the only places open on a Monday (which happened to be when we were there). The pizza dough was incredible, we started with some garlic slices & from there we knew we would be expecting some amazing pizzas later. They served us freshly made chilli oil on the side and I soon became obsessed with the taste of chili without the heat. I put it on everything, haha! For mains, I got a classic caprese pizza, and my partner went with Tuna – a European love of his. The entire experience tasted as good as we had hoped for.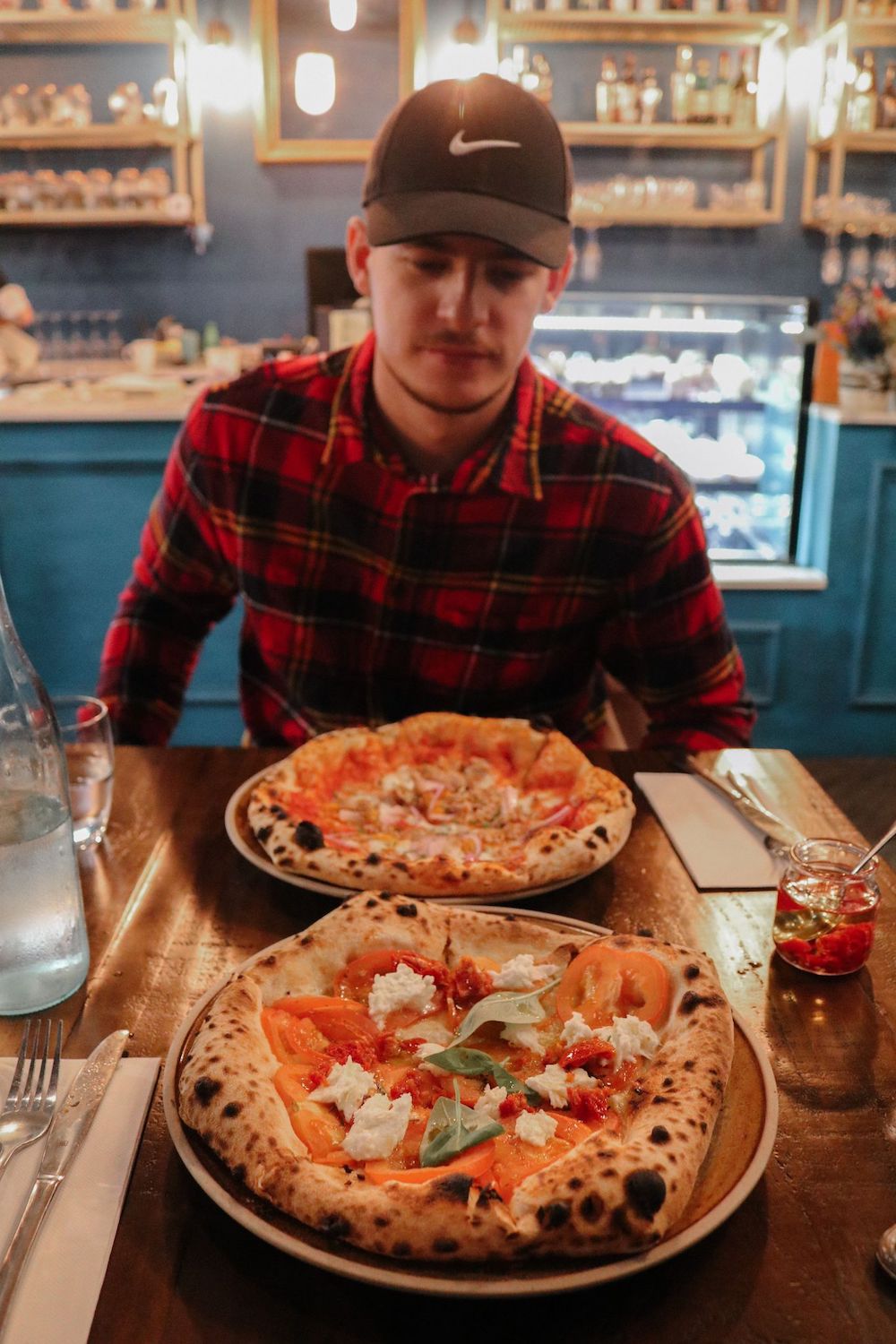 Day two; Venturing out to the McLaren Vale Wine Region & the Fleurieu Peninsula
Brekky at Adelaide Central Markets 
Adelaide Central Markets are one of the most highly rated things to do/see while in Adelaide. The locals love it, and it didn't take long during my visit for someone to recommend it to me. From the YHA where I was staying, it was just around the corner. As a Sydneysider I saw a resemblance to Paddy's Markets, but I loved how they implemented cafes and eateries into the market centre. You could wander around the fruit markets, fishmongers, butchers, and bakeries, and then stop for a coffee and a snack – all made with the fresh product surrounding you.
I had a delicious Big Veggie Brekky from The Big Table – avo on toast, fresh pesto, crispy kale, baked beans, halloumi, need I say more…? My partner opted for something more homemade, he picked up some fresh bread at the bakery, some sausages, and made himself a sandwich. There's a little bit of everything to cure that hunger!
d'Arenberg Cube
Just a 45 minute drive out of the city, d'Arenberg is easily the most recognised winery in South Australia. It's rubix-cube style building mixes art with the tasteful pairing of wine. Entry into the cube is $15 per person, though this includes a tasting inside and entry into the ground-floor Alternate Realities Museum. At the time of my visit there was an additional Salvador Dali exhibition on a separate level of the cube – this was an extra cost to visitors. The wine tasting offers up to six tastings – four of which equate to a standard drink. I tried a variety of wines – some being their specialties, and some of different prices and ages.
But if you can't decide, there is an interactive spinning wheel that can help you make your decision for you!
Down The Rabbit Hole Wines
Visiting both d'Arenberg and Down The Rabbit Hole gives you a really interesting insight into the different worlds of wineries. D'Arenberg feels a lot more commercialized and developed, whereas Rabbit Hole is a lot more homey and relaxed. They both offer completely different experiences – and delicious wines!
Down the Rabbit Hole Wines was about a 15minute drive away from d'Arenberg. After following the creator on Instagram for so long, I was really looking forward to seeing the winery in real life. The winery is probably most recognised by its big blue bus. The story behind this being that the creators Dom and Ellie, went travelling by van once and on a trip that was intended to be short, lasted years. Once they opened their winery they wanted to incorporate this story so that everyone can feel like they are travelling with them. They also created a poem which you can find on the back of every bottle, and each of their wines has their name featured in this poem.
As someone who generally doesn't enjoy drinking red wine, even though most of the tastings were red – I enjoyed all of them!
Afterwards we relaxed in the picnic area, on Fridays they do live music events which we were sad to miss out on. I enjoyed their cocktail special which was made with their Chardonnay and some kombucha.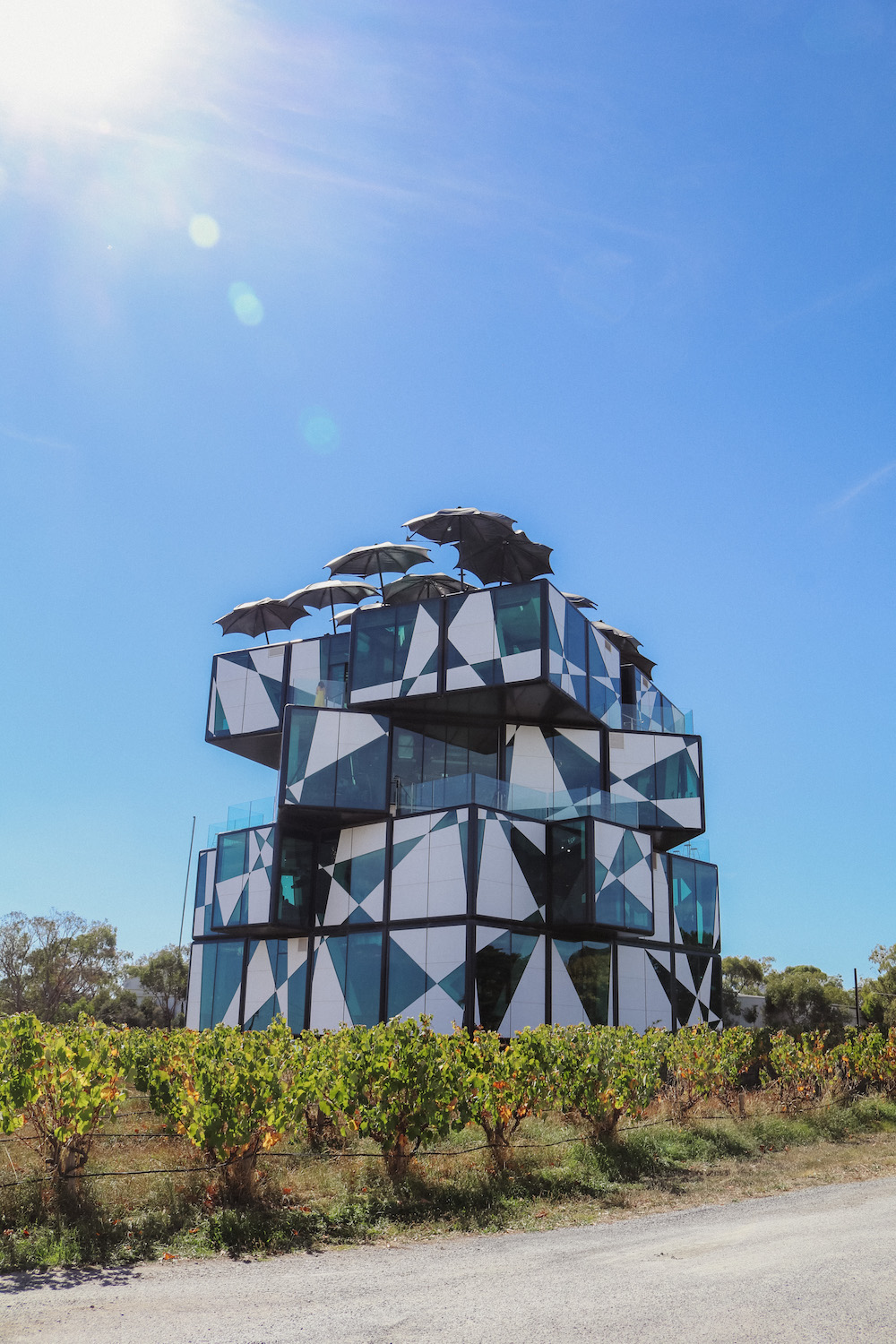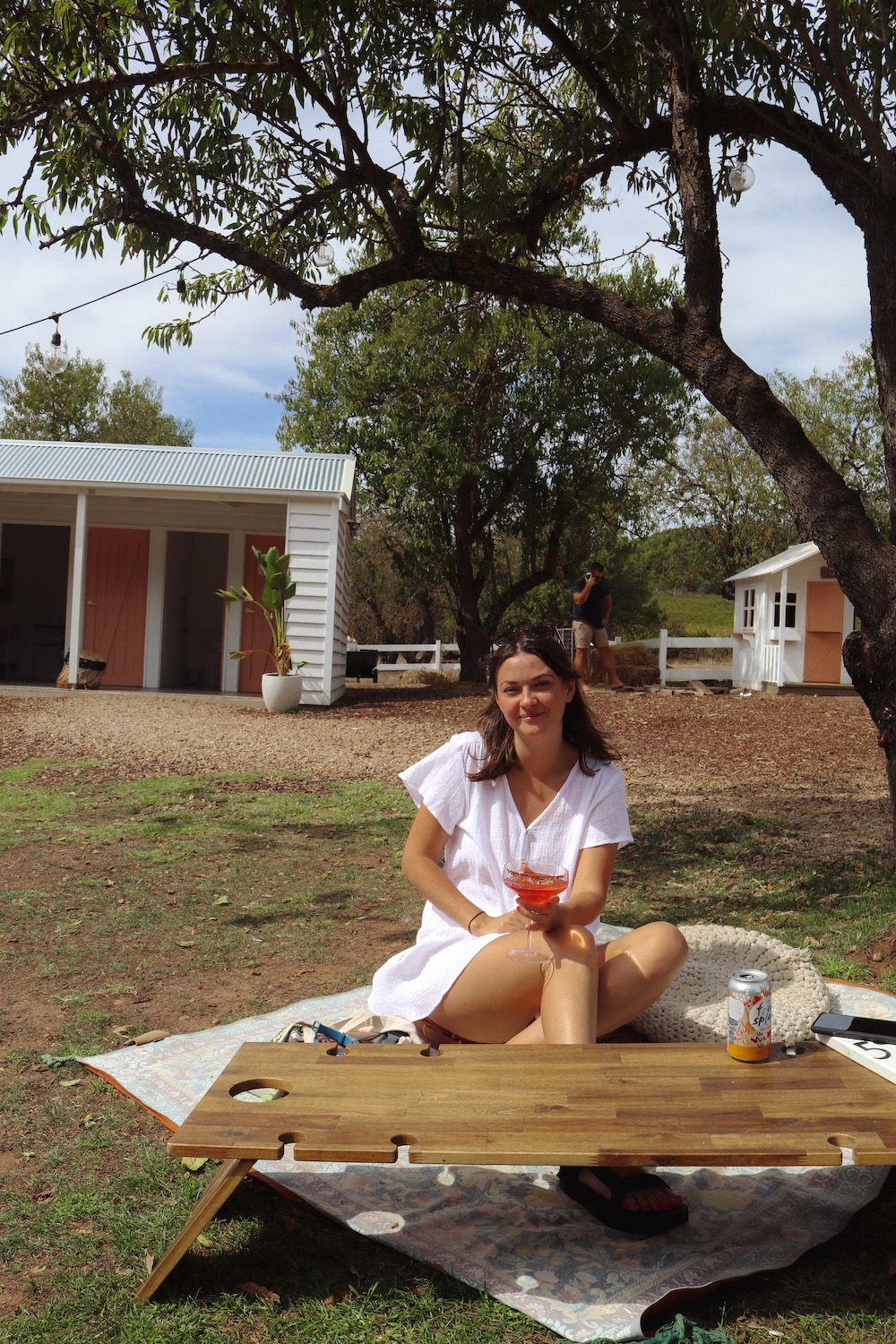 Sellicks Beach
Our next stop was in the Fleurieu Peninsula – Sellicks Beach. We got there at the perfect time as well, the sun was shining over the water, and we people-watched as a group of boys took out their 4wheel drives and played cricket on the sand. At the time I wished I had thought to bring swimmers with me because it really was the perfect day for it.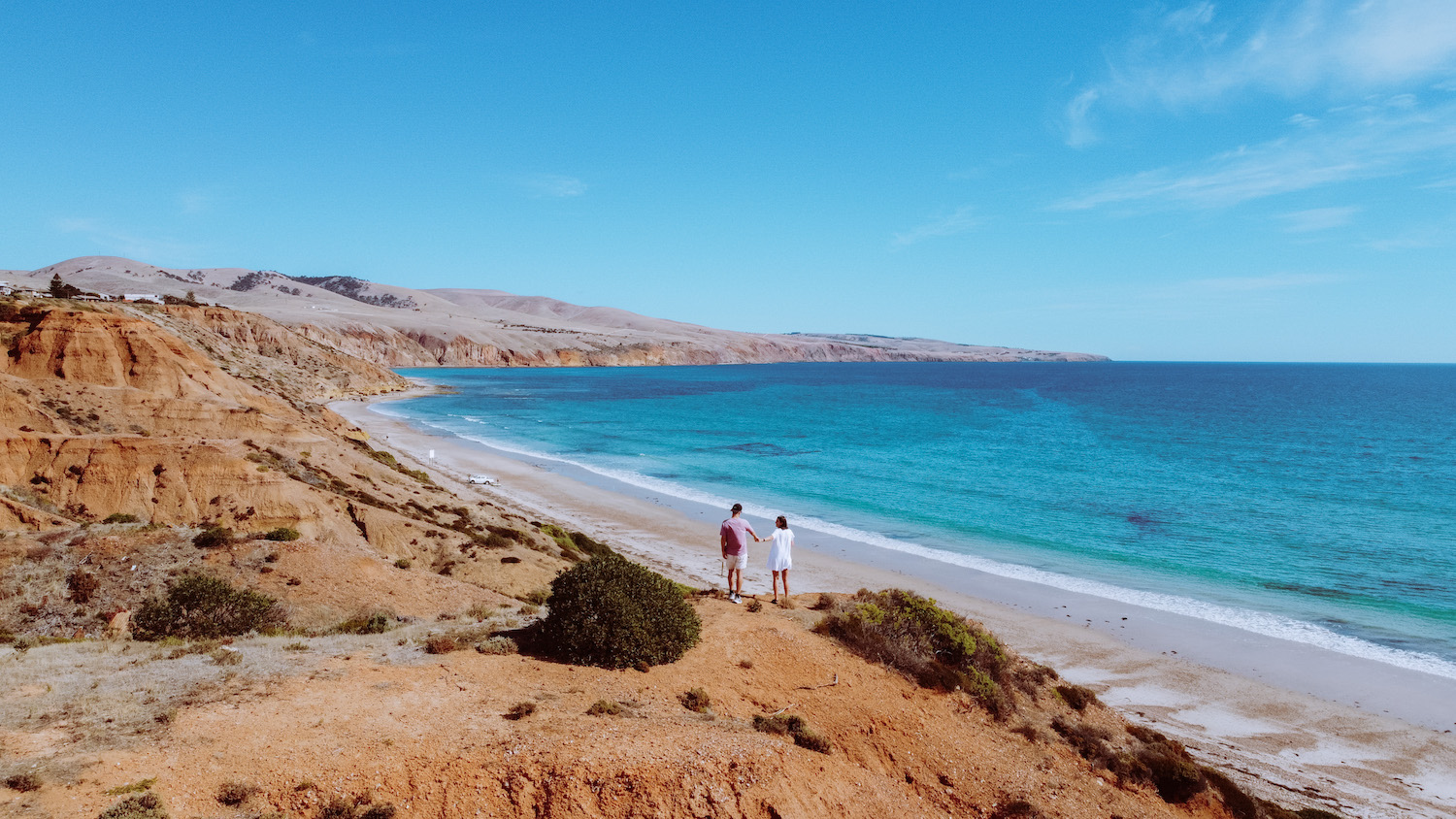 Port Willunga Beach Caves
Less than 10minutes away from Sellicks Beach we walked down to Port Willunga's Beach Caves. We explored the caves and had a look at the interesting wooden pylons that stood out of the water. We had heard that nearby there was a Shipwreck Greek Love, but we couldn't spot it. There was an incredible BBQ spot up the top near the carpark that over looked the ocean. If we'd known this ahead of time we probably would have brought some dinner with us!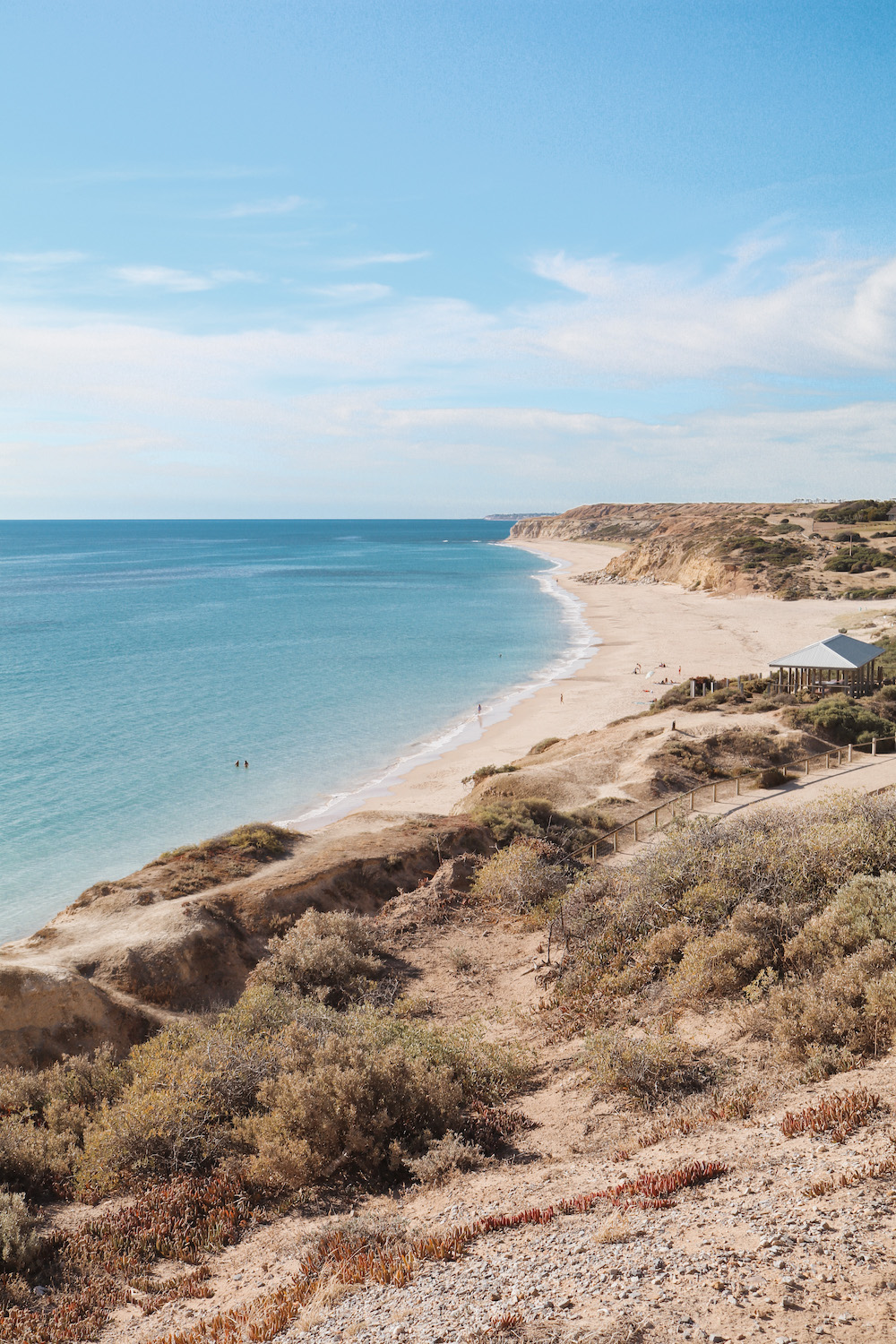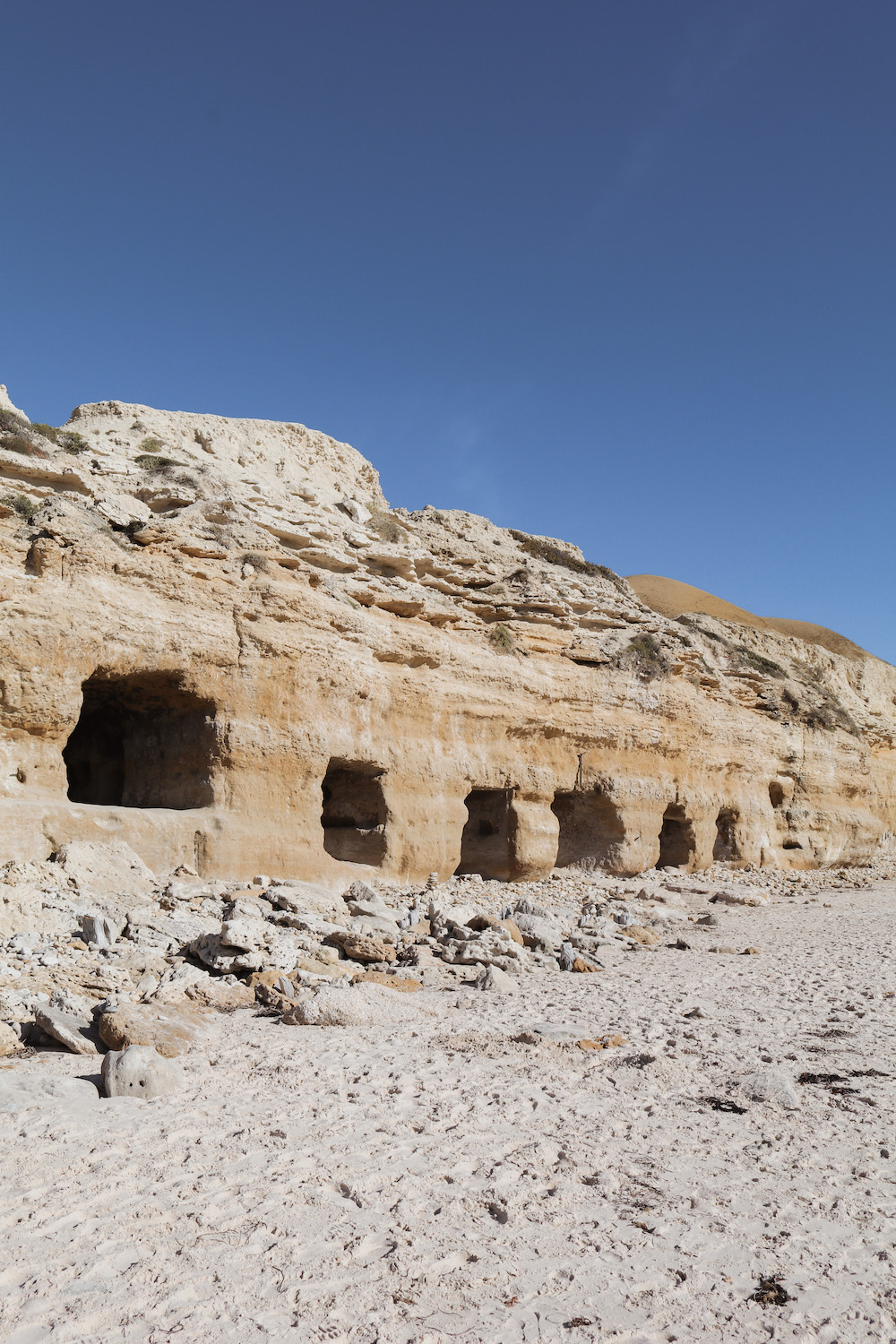 Sunset at Mount Lofty Summit
For sunset we headed to Mount Lofty Summit and the spot was incredible. There weren't any clouds but the whole sky turned yellow – it almost felt like we were walking out into the sky…
Dinner at German Arms in Hahndorf
Willkommen! Hahndorf, is South Australia's first German Village established in 1839, and is filled with German restaurants, bakeries, butchers, and shops. It's European-style (Fachwerkhause) houses and streets are lined with vibrant red/green leaves and vines, so it's like stepping into the other side of the world. For food you're spoilt for choice. We chose to dine at the German Arms where we indulged in a vegan crumbed eggplant parmi, pork knuckle and pretzels. Add a couple of steins and you've got the night covered, haha!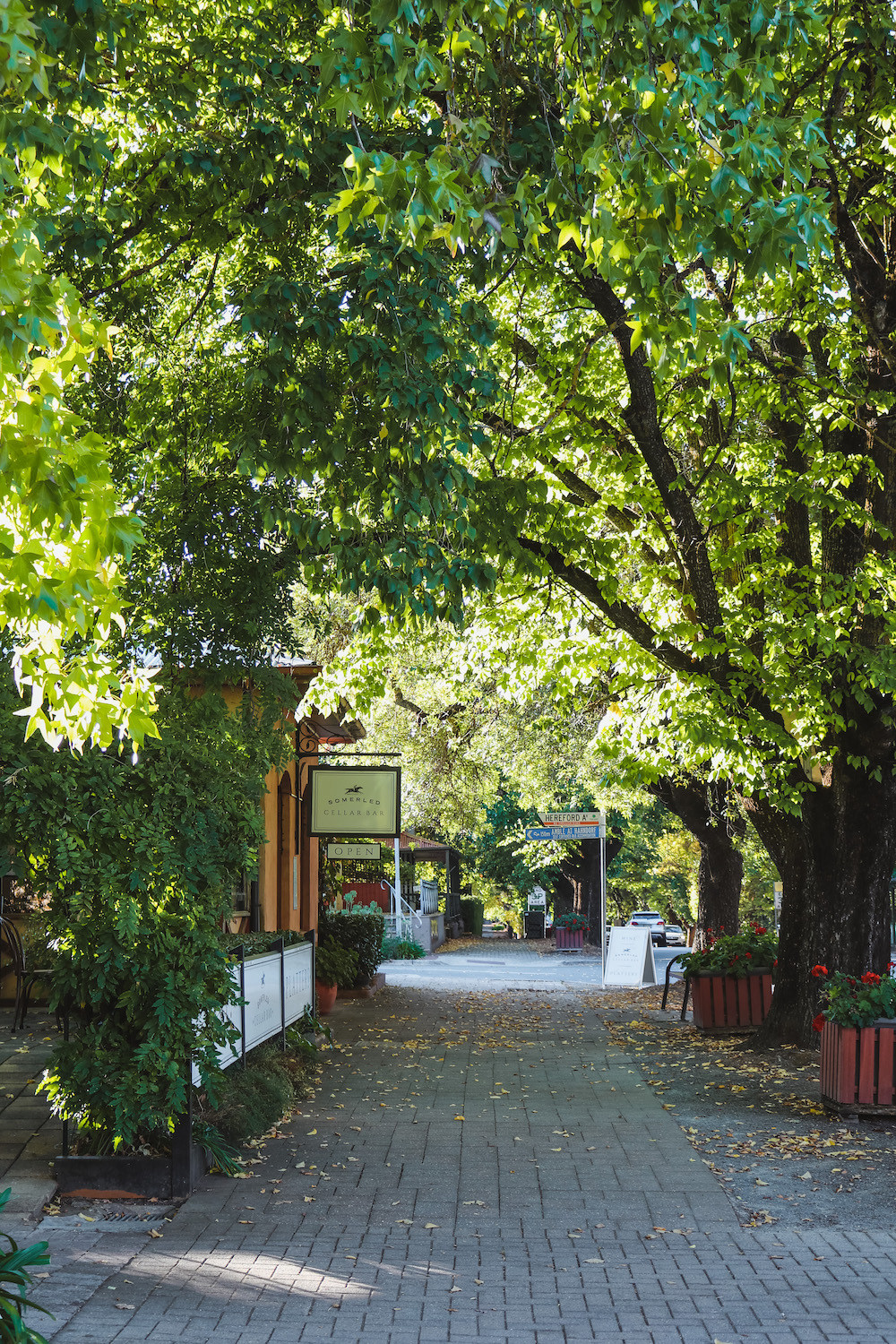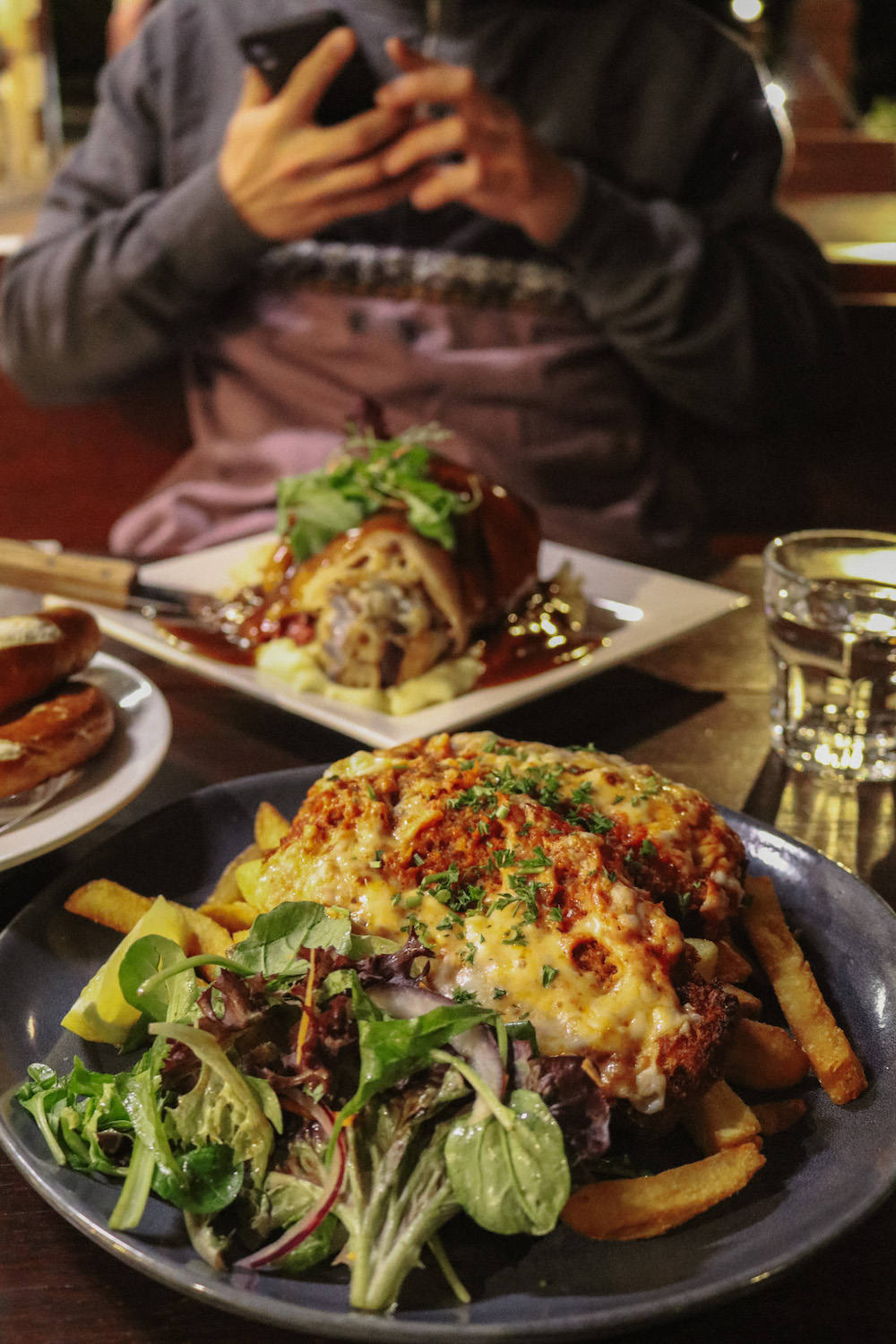 And that's about it! What do you think I missed? Let me know in the comments of DM me on Insta!