We all know how 2020 went, but I'm forever grateful that I got to experience live music and travel overseas before the world locked down due to the spread of Coronavirus.
But here's a list of all of my favourite moments from the year… I tried more foods, travelled domestically, and walked… a lot!
1. Brought in the new year at Field Day Festival and saw Snakehips, Hayden James, Skepta, Tyler the Creator, Rl Grime, Pnau, Dom Dolla, and others live…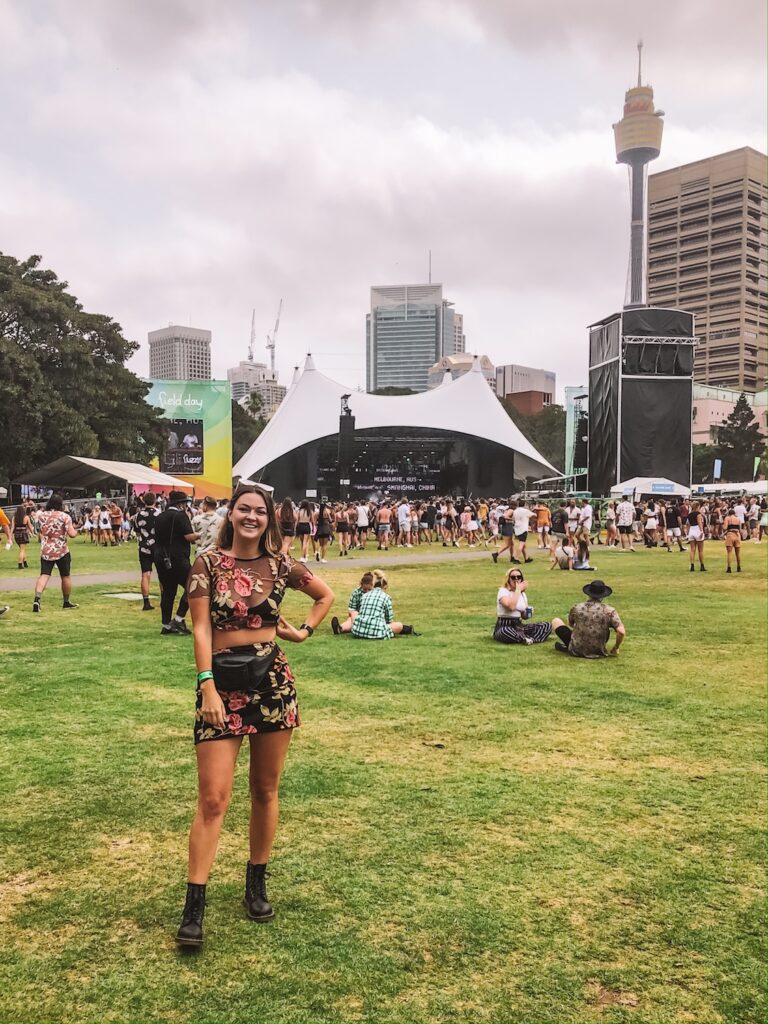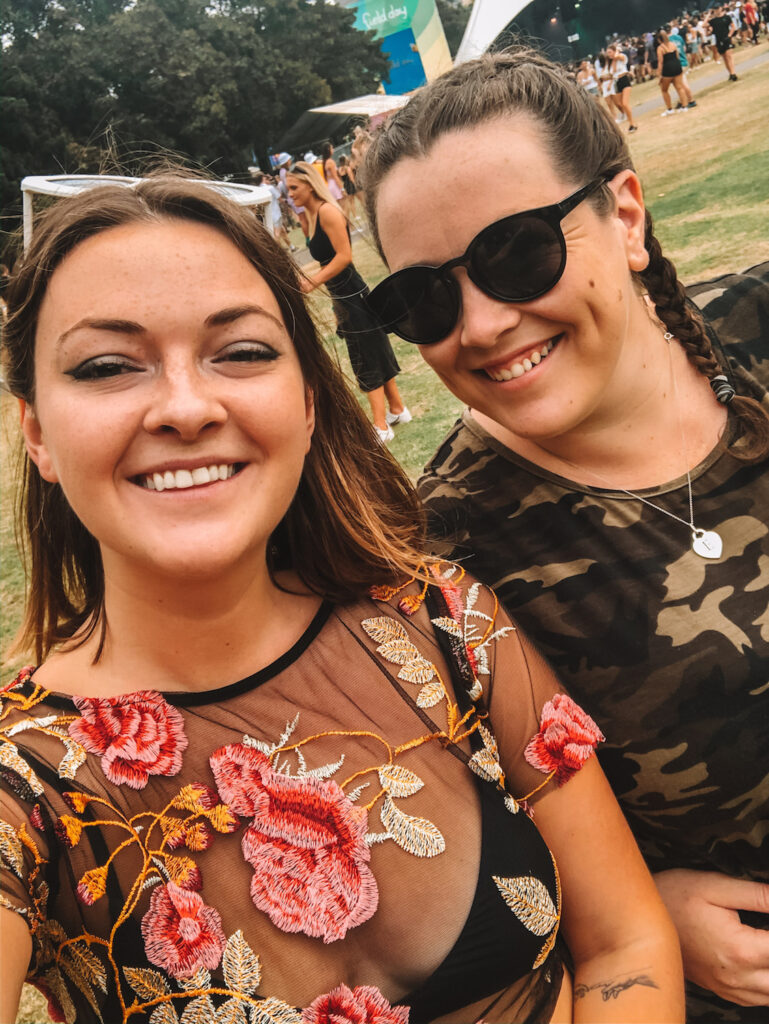 2. Saw Eagle Eye Jones (again I know haha)
3. Saw Eagle Eye Jones again at my friends themed 25th Birthday – shit vinnies fashion 
4. Got back into rock-climbing at my local rockhouse
5. Spent my 25th Birthday at my new job, but they surprised me with gifts, a banner and cake! Then I went down to the beach with my friends before grabbing some delicious Greek Food for dinner. 
6. Spent my Birthday Celebrations at Laneway Festival and saw Spacey Jane, Pist Idiots, Oliver Tree, Benee, Tones and I, Hockey Dad, DMA's, Ruel, Ocean Alley, King Gizzard & The Lizard Wizard, Charli XCX, and The 1975 live. 
7. Flew to Phuket, Thailand for a Busabout media trip (you can read about it here! or here!)
8. Went out for dinner at Naughty Nuri's for happy hour and dancing waiters
9. Wandered down Patong Beach
10. Went for a Rejuvenating Oil Massage
11. Spent the afternoon at our hostels pool party before going down to the beach for sunset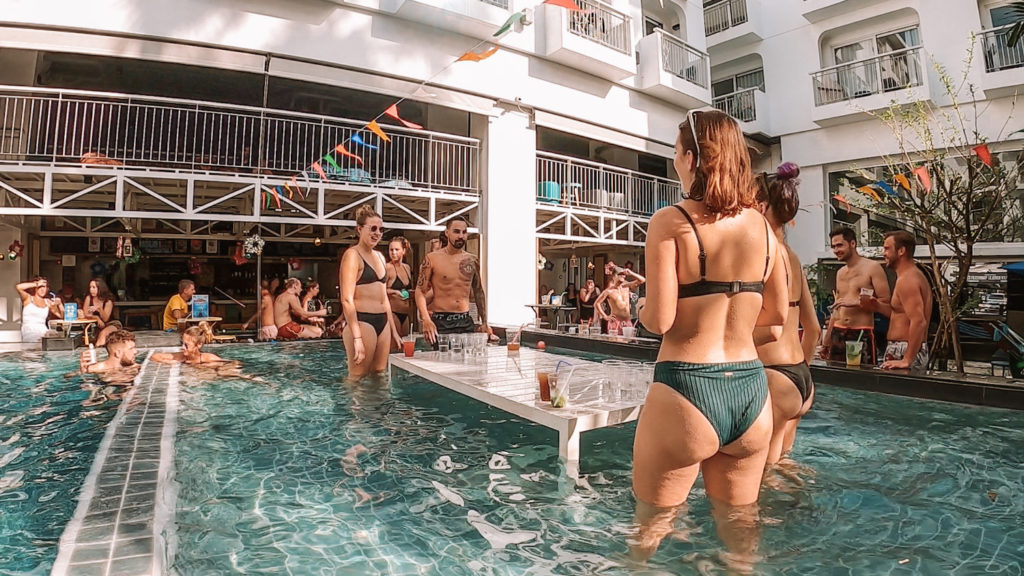 12. Explored Bangla Road and Illuzion Club
13. Got the ferry over to Phi Phi Island and swum in our infinity pool overlooking the beach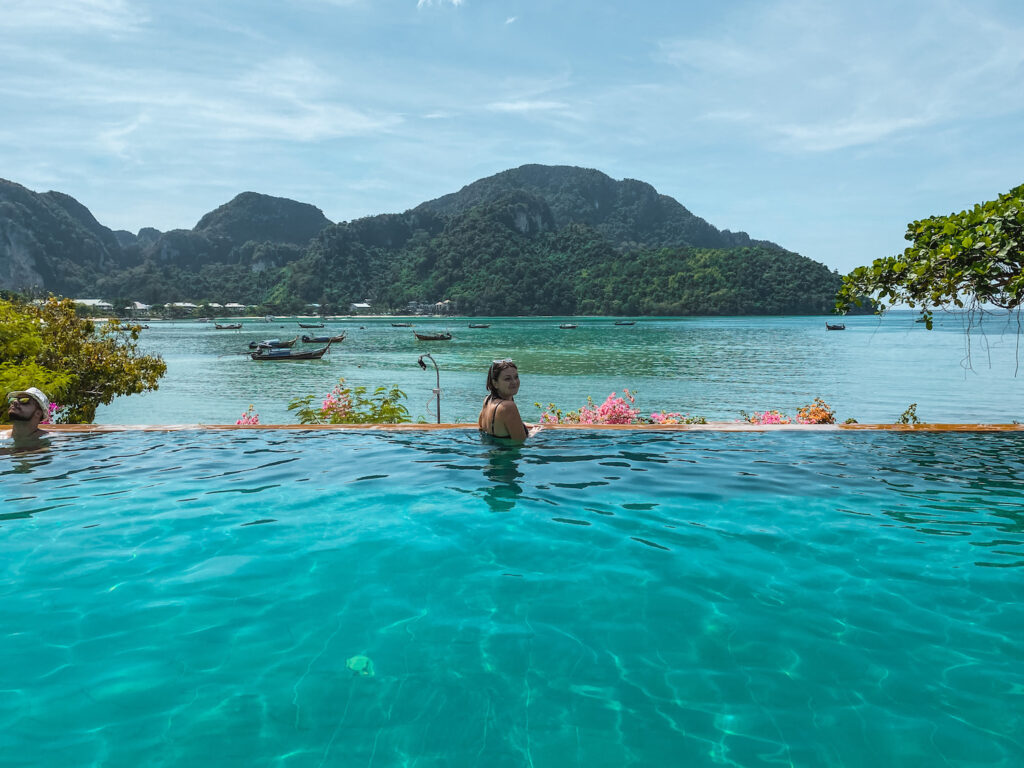 14. Stayed at Phi Phi Viewpoint Hotel and had the most amazing view from our room
15. Hiked up to Phi Phi Viewpoint and watched the sunset 
16. Went out for dinner and drinks before wandering by the beach clubs
17. Found some delicious vegan green curry!
18. Went out to the beach clubs for sunset drinks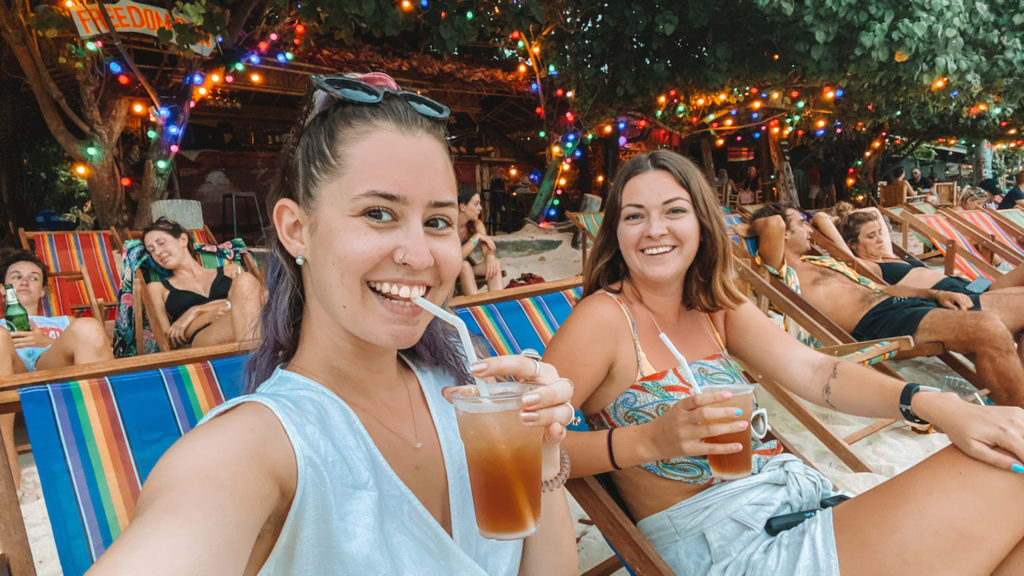 19. Ran into some friends from Phuket and went out clubbing
20. Went to a Mai Tai Bar to cheer on one of our friends in the ring!
21. Checked into our private villas at Koh Lanta
22. Met up to watch the sunset over the beach, and then had dinner out on the sand. We then enjoyed a fire show from our dinner table
23. Jumped onto a 4 island boat trip and stopped to go snorkelling
24. Swum through a pitch black cave with jellyfish to the Emerald Secret Lagoon
25. Stopped by another island for lunch and climbed some trees
26. Hung out on the front of the boat before going snorkeling again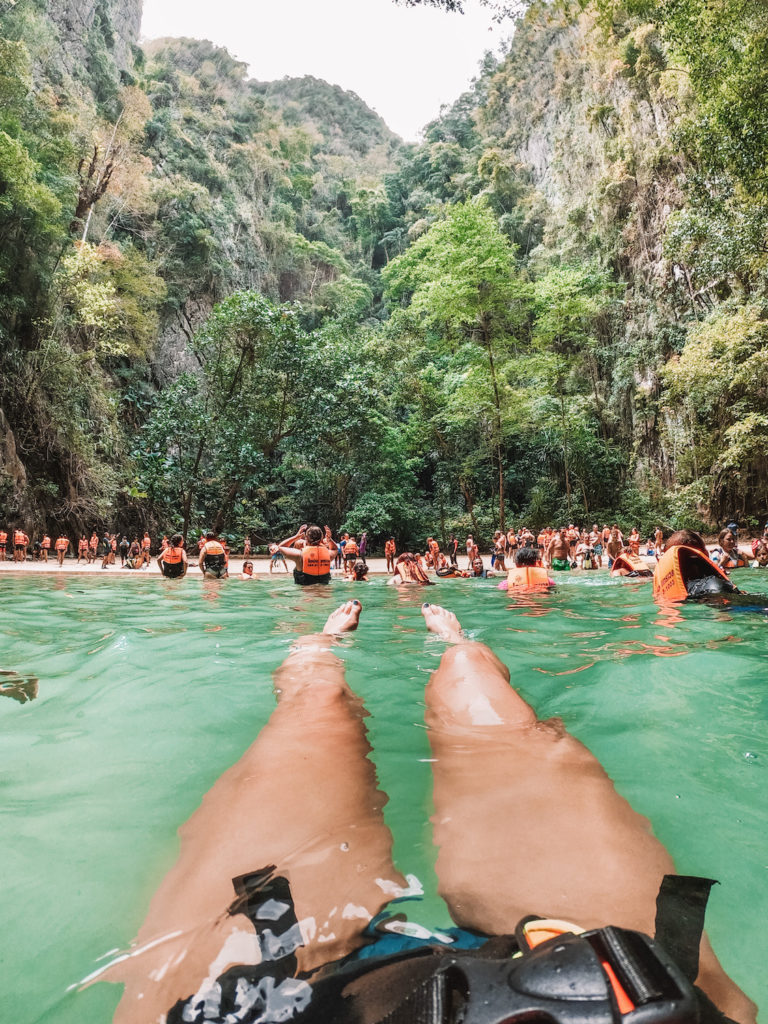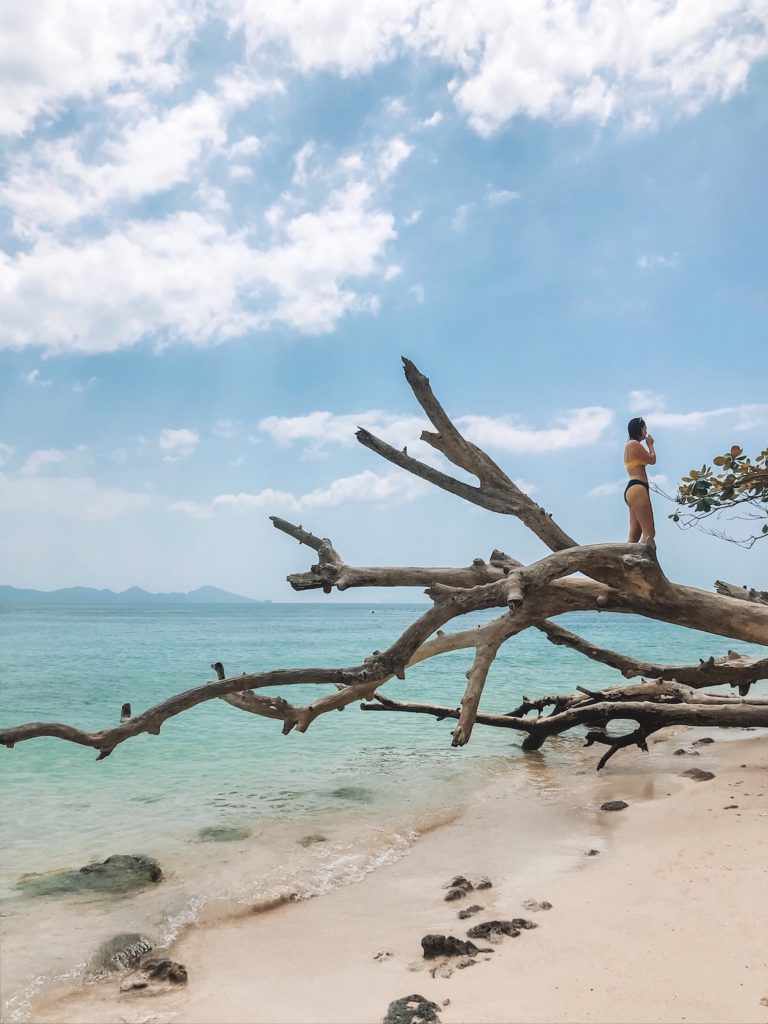 27. Went out for some cocktails to watch the sunset over the beach again
28. Jumped onto a Tuk Tuk to go grab some dinner
29. Made our way to Krabi and wandered around the beach
30. Got a longtail boat over to Railay Beach (it was amazing!)
31. Spotted some monkeys 
32. Enjoyed a drink and a waffle in a Reggae Bar built into an old boat
33. Sunbathed while telling stories about 'The Beach' on Railay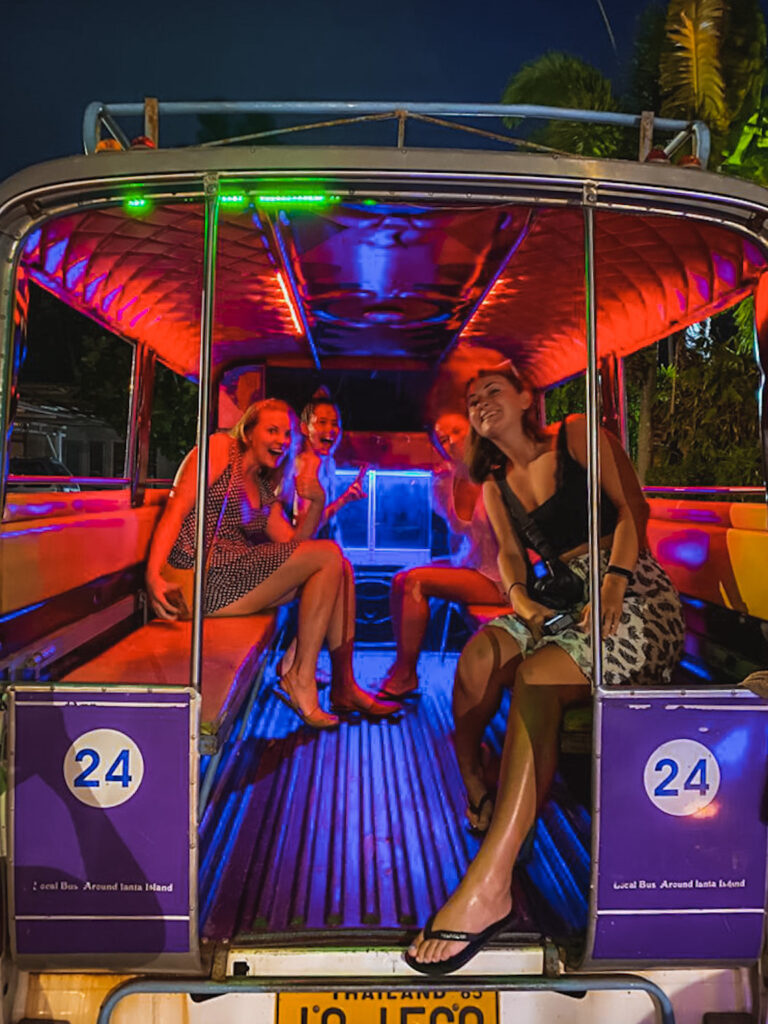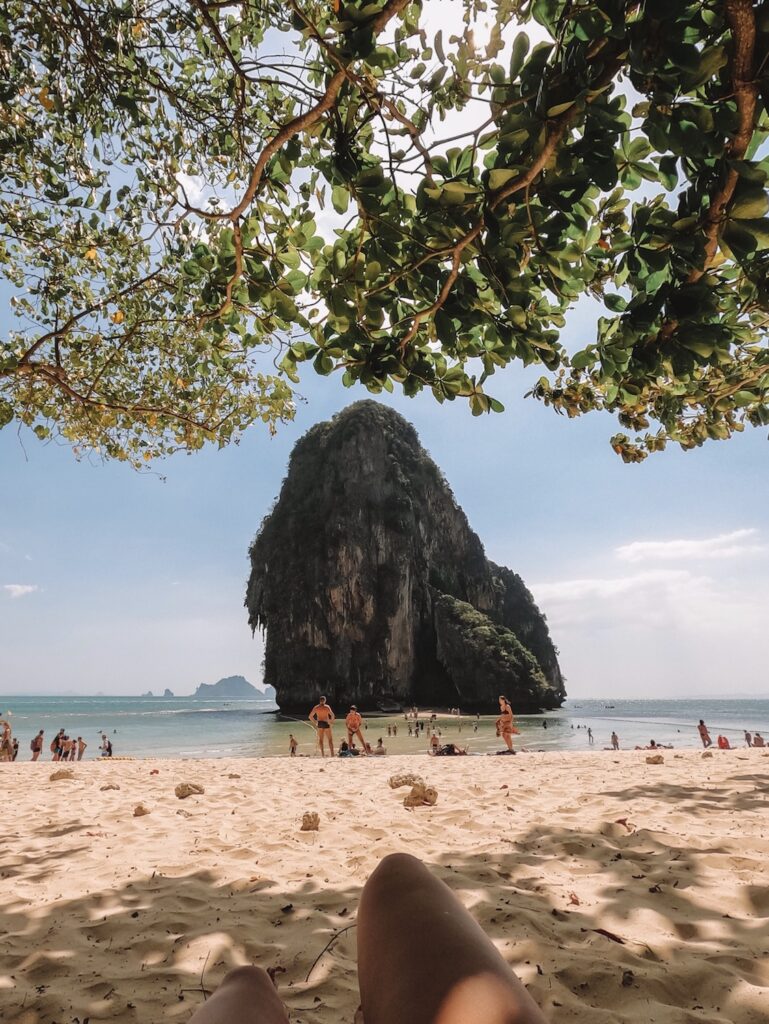 34. Got a longtail boat back to Krabi during the sunset
35. Climbed the 1,237 steps of Tiger Cave Temple – the view from the top was amazing!
36. Tried to not get attacked by monkeys while hiking back down haha!
37. Visited the Emerald Pool for a tranquil swim
38. Relaxed in the cascading hot springs in Krabi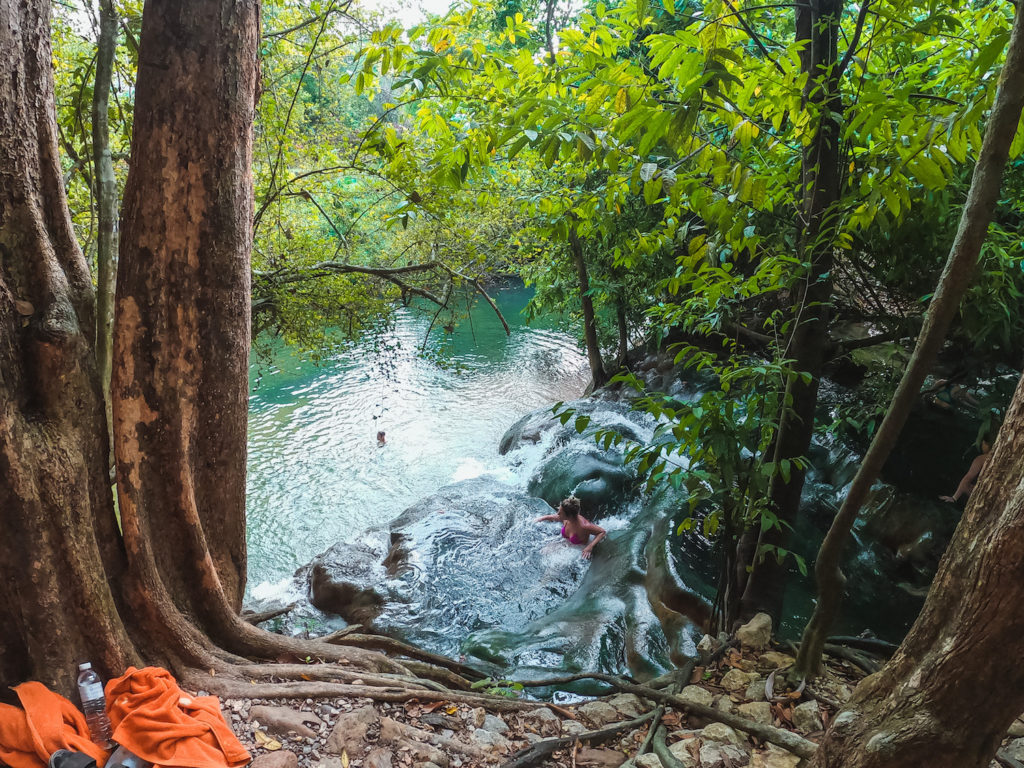 39. Tried some unique Thai treats at a local food market
40. Went out clubbing in Krabi and played some beer pong with the other backpackers 
41. Travelled back to Phuket and reunited with some friends we'd met earlier
42. Played volleyball at another pool party
43. Went out for dinner and drinks to watch the sunset over Patong Beach
44. Spent another night out on Bangla Road and then flew home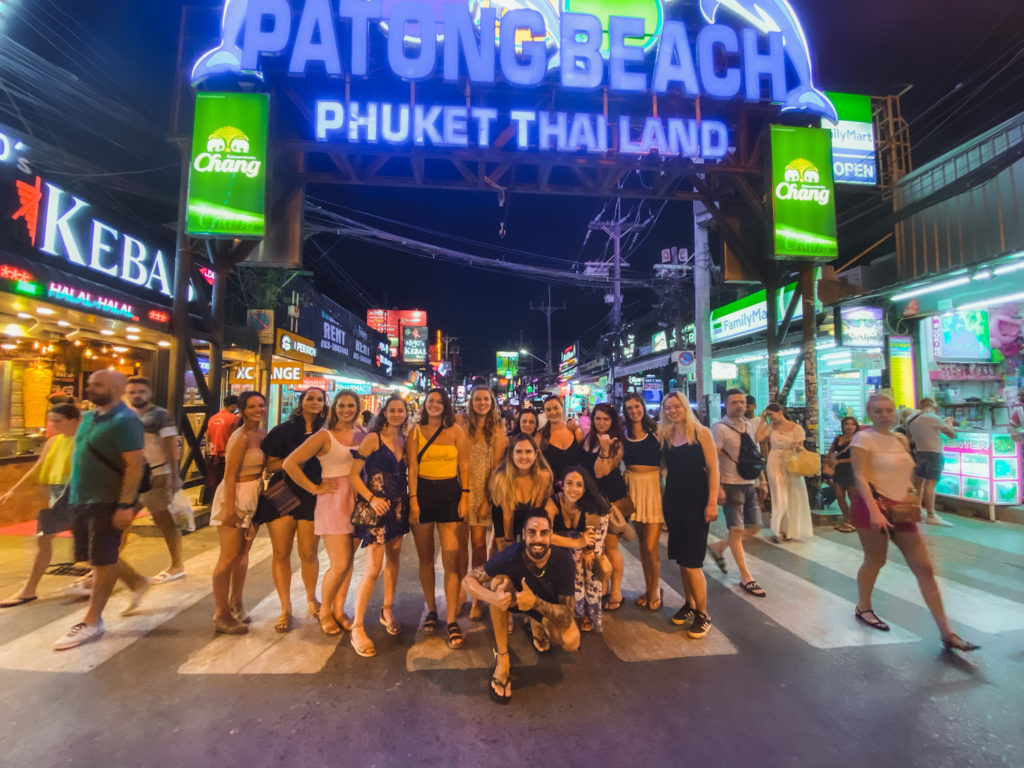 45. Had a couple sleepovers at my new backpackers (workplace) and had family dinner with everyone
46. Went and saw Julia Jacklin perform at the Enmore
47. Went out clubbing with some of the backpackers from work
48. Went out and saw Bones & Jones, and Ultra Crush live in Newtown
49. Went out for date night at Pocket Pizza
50. Enjoyed dinner at opening night at Freshie Mex restaurant 
51. Enjoyed one last gathering at Colin's Flat before one of my besties had to return home to Czech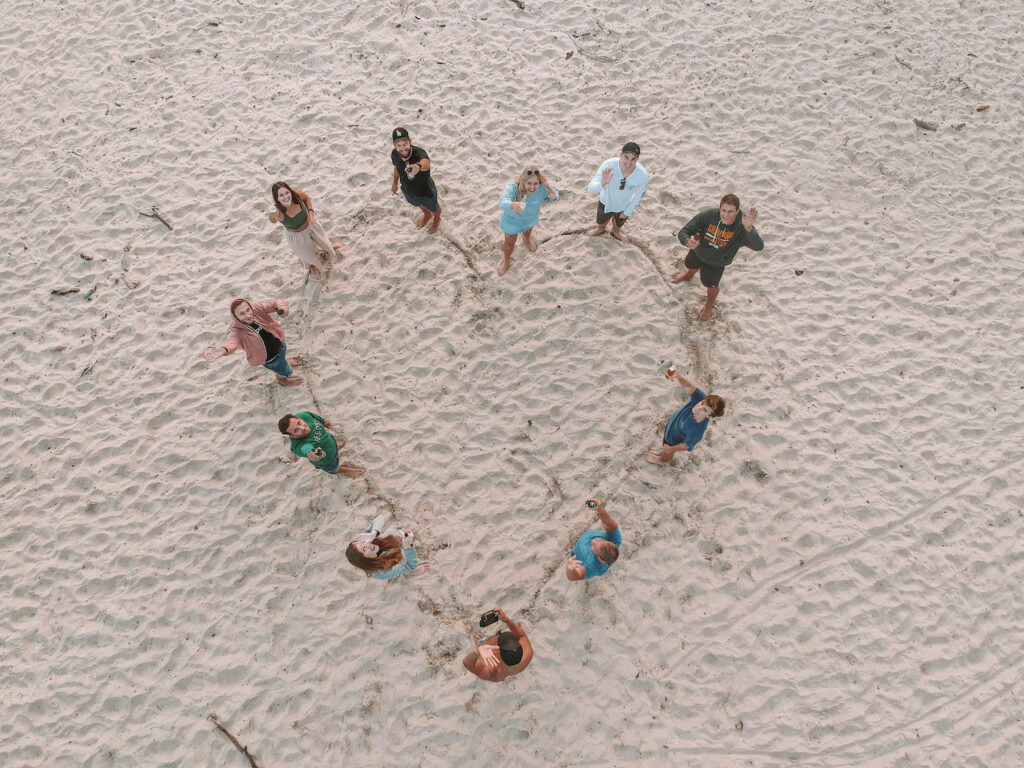 52. Went for a coffee date and walk around Collaroy Beach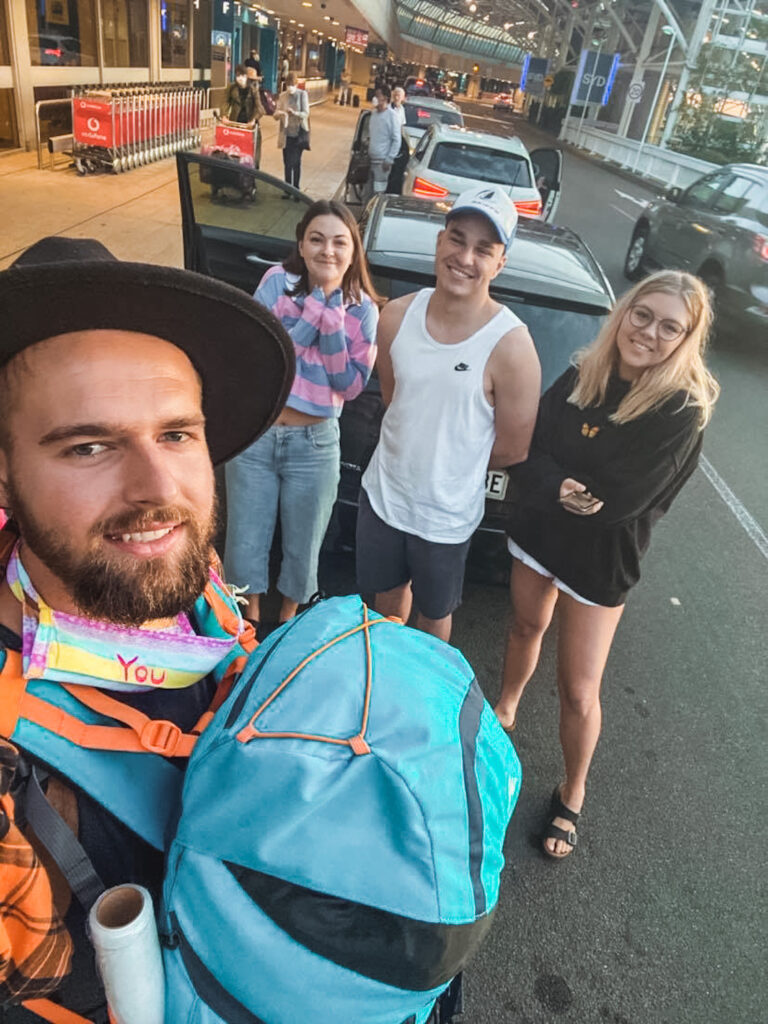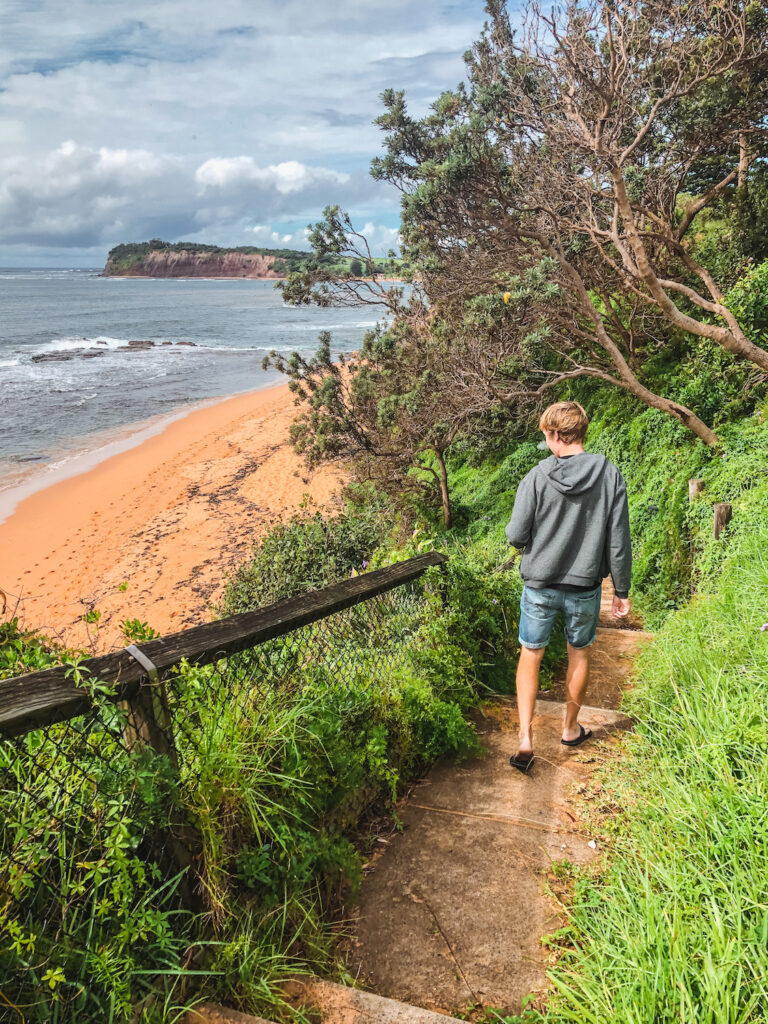 53. Went for weekly social distancing walks around the Northern Beaches
54. Started doing the Spit > Manly walk each week (you can read about Sydney's best coastal walks here!)
55. Ordered in käsespätzle with my new German friend from the hostel
56. Explored Narrabeen Lagoon
57. Went out to Narrabeen Beach for sunset
58. Went to Sydney Harbour YHA's "end of iso" rooftop event for drinks & nibbles
59. For the first time since isolation I went out for dinner at Freshie Mex, and got a tap beer from Manly's 4Pines
60. Took a long weekend trip to the Blue Mountains with my German backpacker, we ordered in pizza to our private dorm room and had a movie night
61. Watched the strawberry moon rise over the Three Sisters from Echo Point
62. Drove out to Wentworth Falls and did the several hour hike down to the bottom of the falls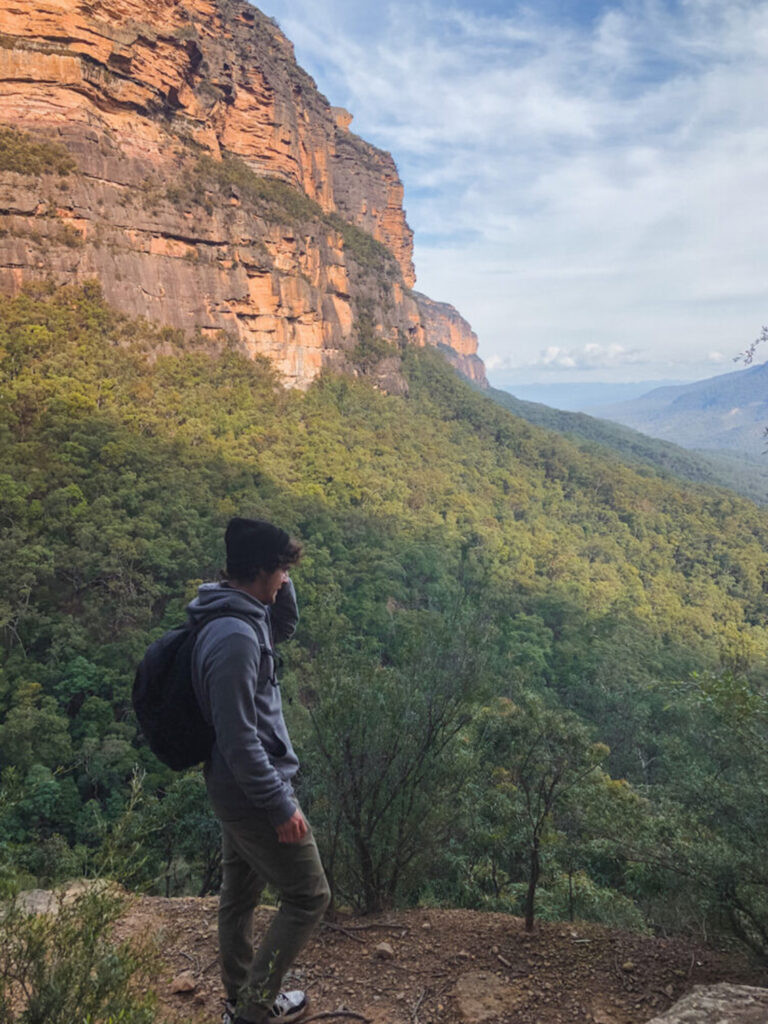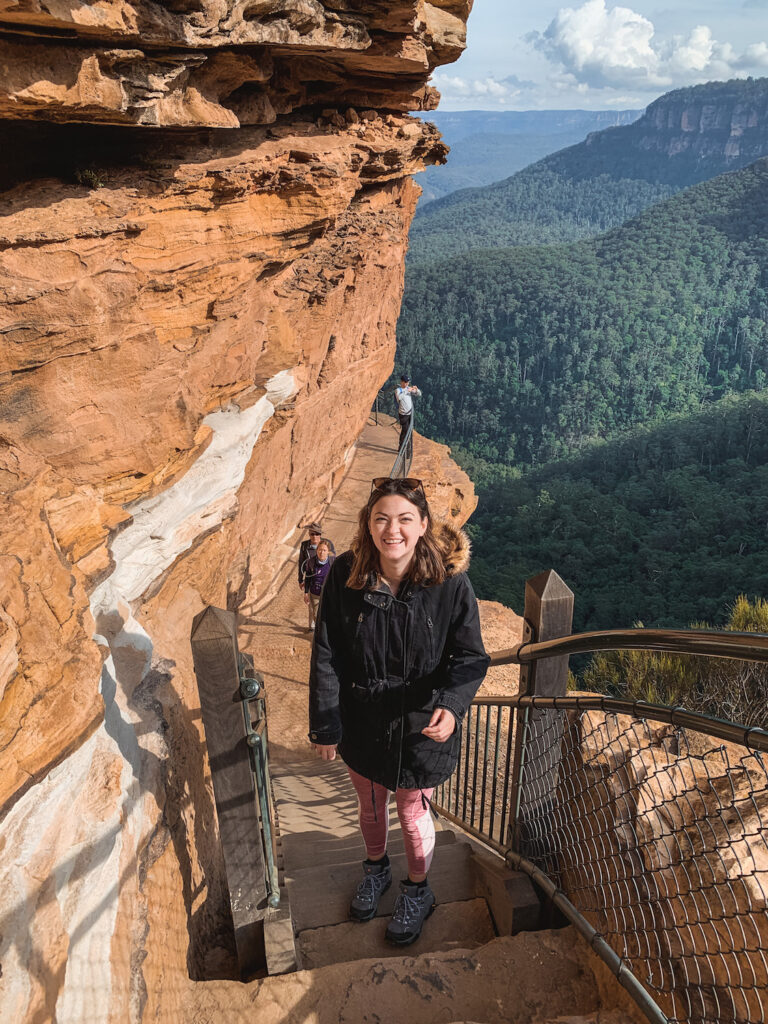 63. Took some camping chairs out to Eagle Hawk Lookout to watch the sunset over the Three Sisters 
View this post on Instagram
64. Had another movie night and wandered around the foggy town of Katoomba by night – spooky!
65. Drove out to Blackheath and did the several hour Grand Canyon Walk – we got to see some of the restoration since the bushfires, lots of the trees were already blooming and green!
66. Went out to Lincoln's Rock for the sunset – the perfect end to our trip
67. Went out to Narrabeen rock pool for sunset before going out to dinner at Zeus Greek Street Food
68. Made my way into the city for the first time since isolation to visit my friend in Surry Hills – we wandered the streets which were filled with colourful Autumn leaves and street art, and then got lunch at Four Ate Five
69. Went out to Manly's secret bar The Cumberland for my first cocktails since isolation and then bar-hopping along Manly's corso (check out my guide to drinking in Manly here!)
70. Watched the sunset from Shelly Beach Headland
71. Went for the most amazingly orange sunset at Palm Beach before it started to rain – there was a rainbow, and then we went for some fish&chips
72. Had a little picnic and watched the sunset from Mona Vale Headland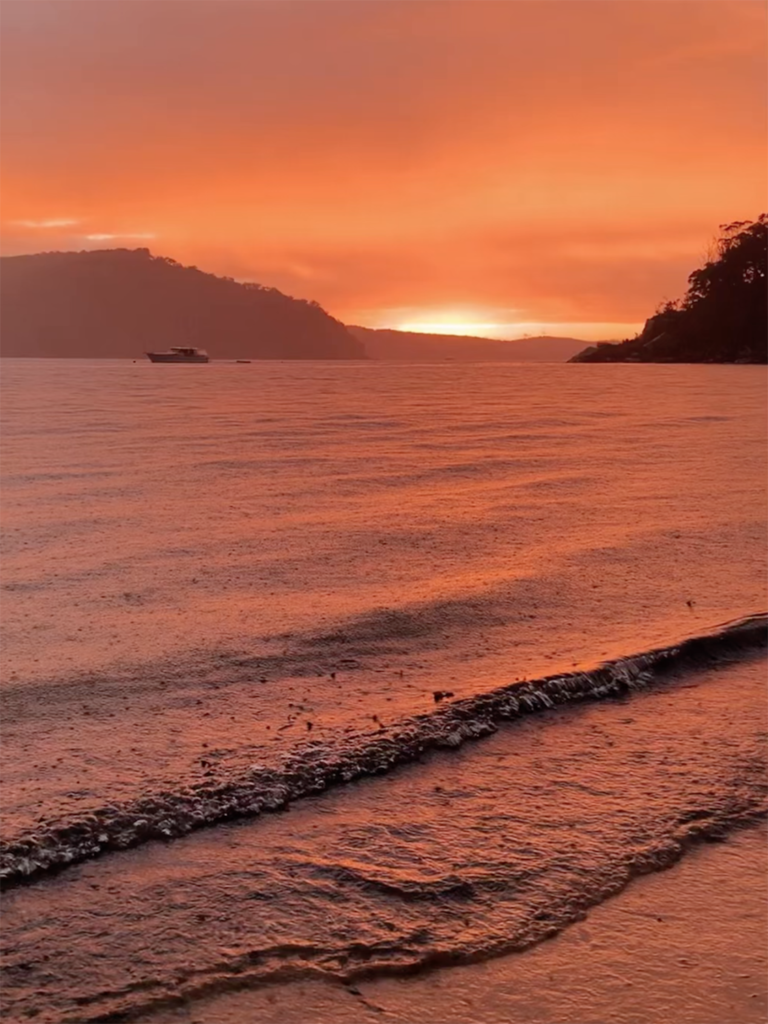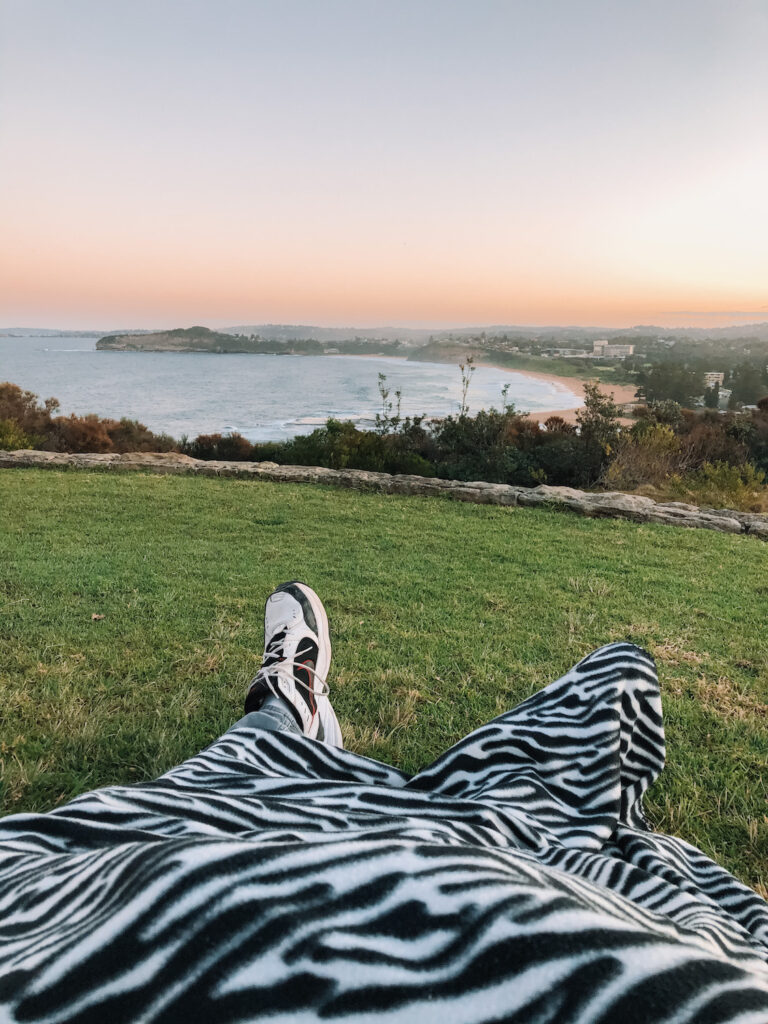 73. Went out clubbing again for the first time since isolation
74. Went for sunset at North Head and then wandered around the Artillery Lookout
75. Date night at Ironbark for some fresh crusty Italian pizza
76. Enjoyed Upper Crust pies (my German's first pie since coming to Australia!) 
77. Played mini golf in Narrabeen before hitting it off at the driving range
78. Went out with everyone from the hostel to Dee Why RSL
79. Did the Bondi > Bronte Walk with the most amazing sunset over the ocean
80. Had a pizza picnic down by the beach to farewell one of our friends from the hostel
81. Played soccer down at the ovals after watching my Dad play
82. Tried the fluffy Instagramable pancakes from Gram in Chatswood
83. Picked up the house keys to my new flat, and moved in with two of my oldest friends. Then I went IKEA shopping for my new room
84. Started doing the Manly > Shelly Walk regularly now that I live close to it! 
85. Caught up with an old friend at the Collaroy – we hadn't seen each other since we worked together at Maccas in High School haha
86. Went out to the Beach Club for regular catch ups with the guys from the hostel
87. Met up with my friend living in Surry Hills and went for a long walk around Centennial Park
88. Started working for Freshie Mex – social media style, my fave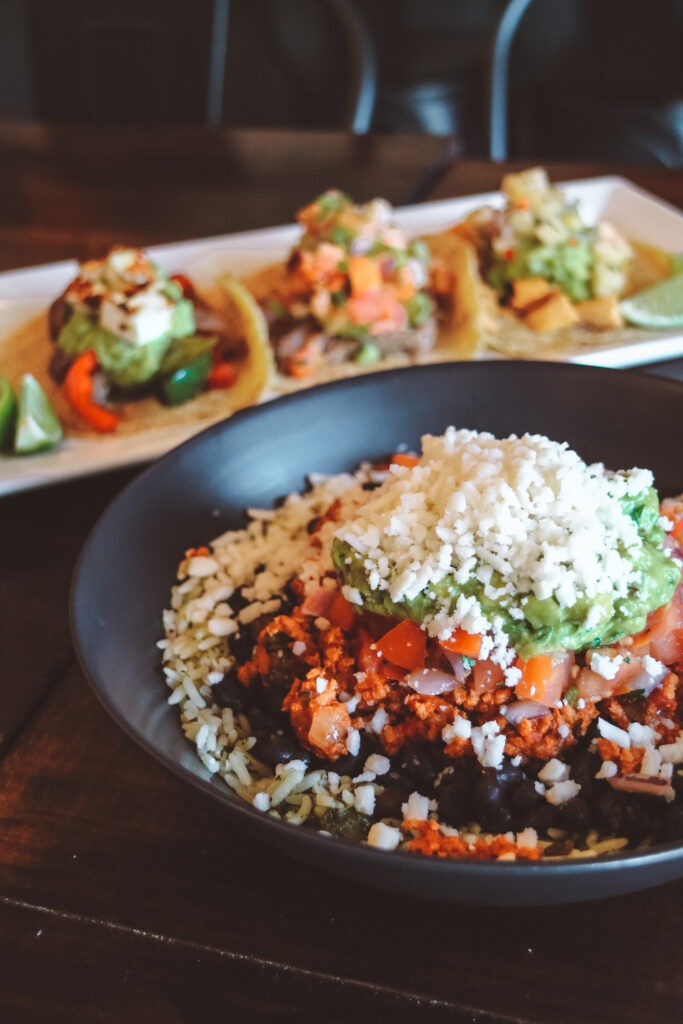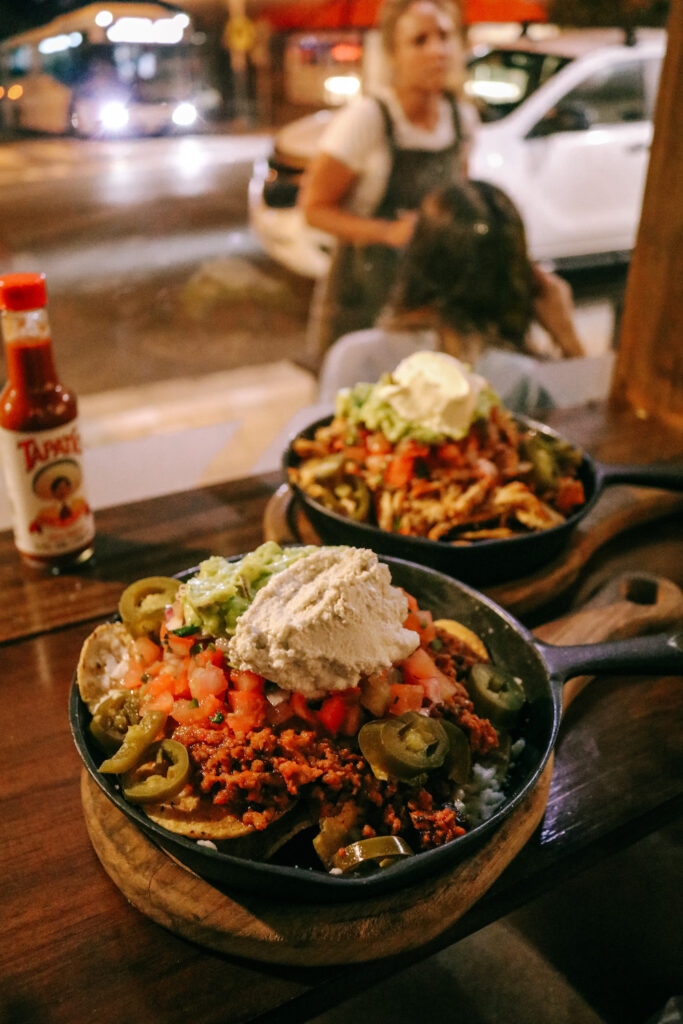 89. Went out for drinks with a new friend from the hostel in Narrabeen
90. Got some beers for sunset at Shelly Beach
91. Went for sunset at Church Point
92. Flew up to Byron to meet my German for a roadtrip 
93. Checked into Dixies Guesthouse – a lovely granny flat Airbnb in Byron Bay
94. Went for sunset at Main Beach and enjoyed the live music and bongo drums 
95. Had some drinks at The Northern before having dinner and margs at Miss Margarita 
96. Went for brekky at Byron Fresh
97. Did the hike up to Byron Bay Lighthouse via the most Easterly Point on Aus mainland – we spotted so many different pods of whales and dolphins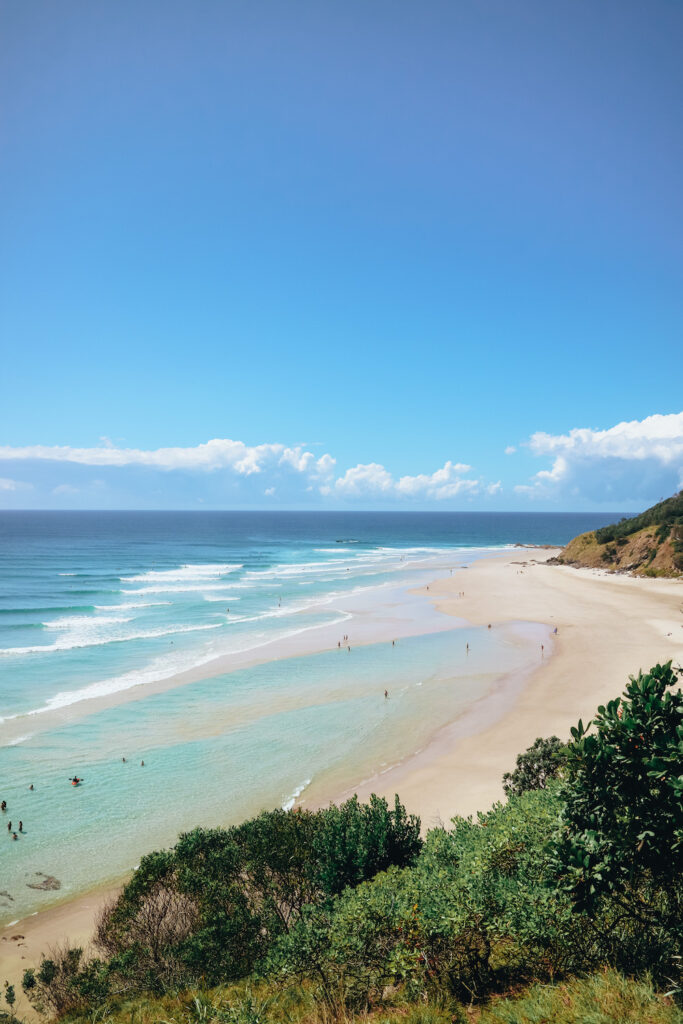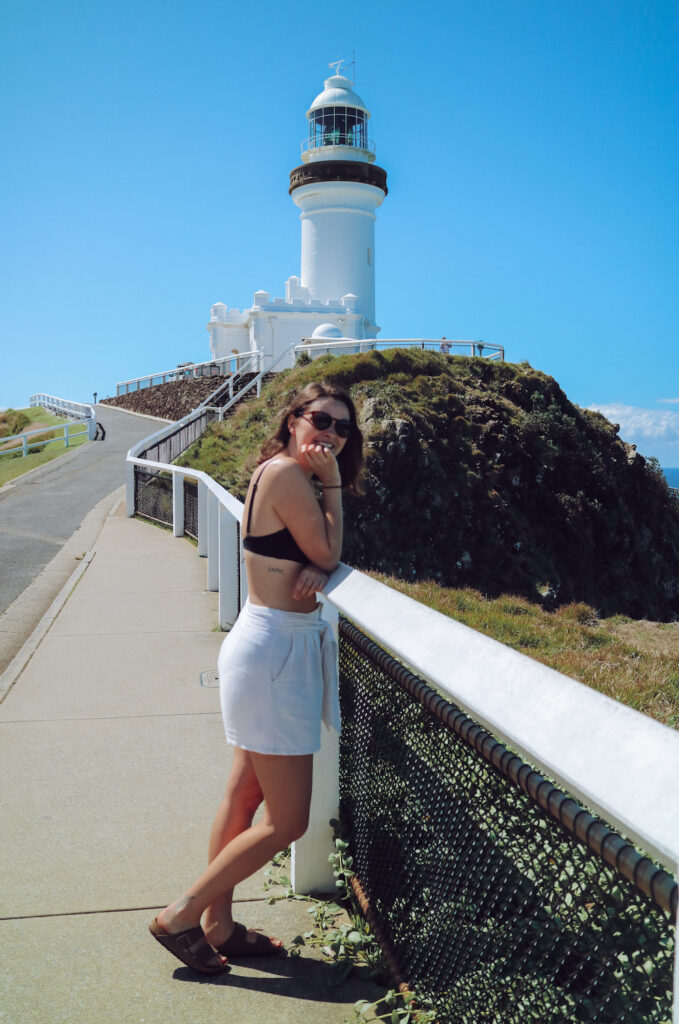 98. Relaxed on Main Beach
99. Went for dinner and live music at Byron Hotel
100. Went for brekky at The Farm, and then wandered around the grounds meeting all of the farm animals – baby piglets, and scottish cows! Then we went by the bakery for some fresh bread and Portugese Tarts
101. Bucketlist item! Stone & Wood brewery! I did a 5x tasting and bought some socks 
102. Orgasmic Falafel! Tried a falafel pita pocket and it was so good I went back again for seconds
103. Set up a picnic blanket and went for sunset up at Byron Bay Lighthouse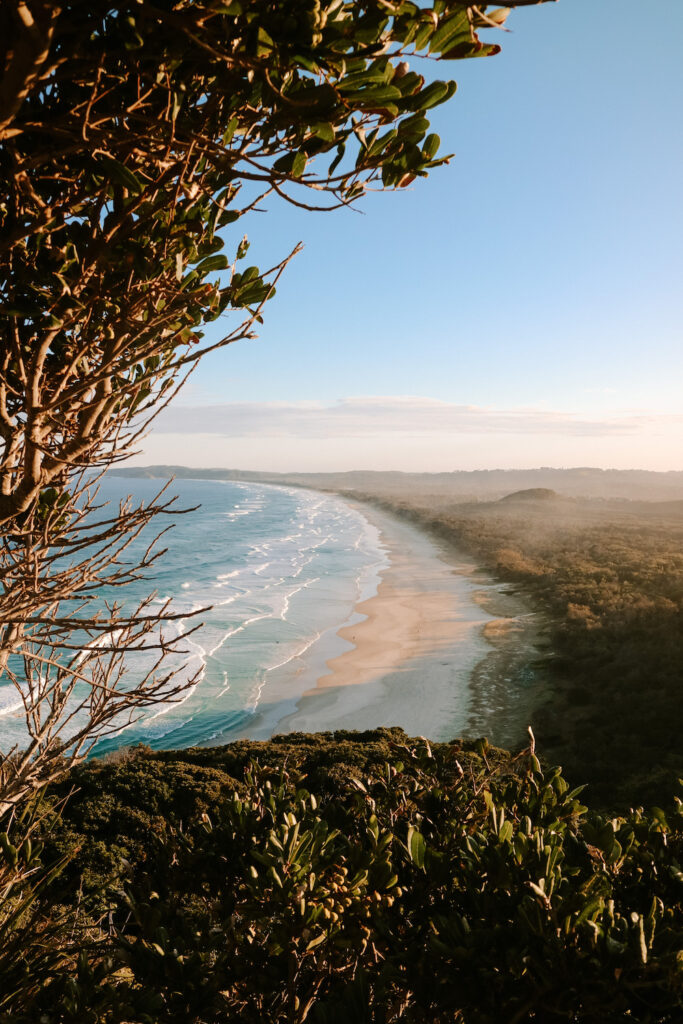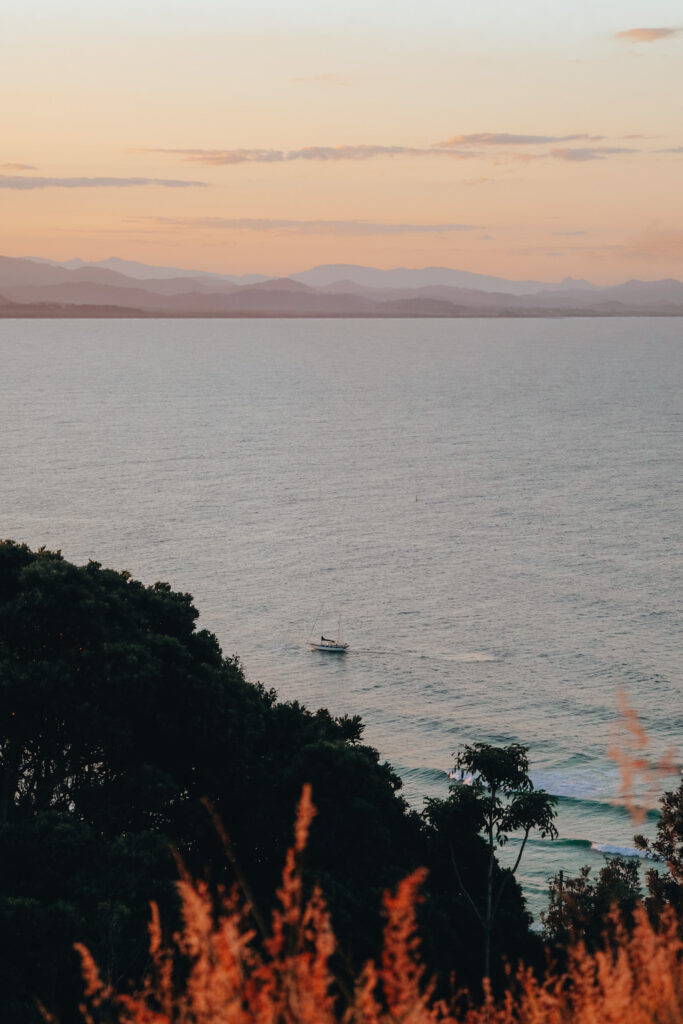 104. Dressed up fancy for dinner at The Balcony 
105. Walked by Wategos Beach and The Pass Beach while on the way up to Fisherman's Lookout
106. Drove out to Ballina's Big Shrimp and then headed to Coffs Harbour
107. Checked into Aanuka Bay Beach Resort and walked out to the beach
108. Went for a walk over Muttonbird Island just in time for sunset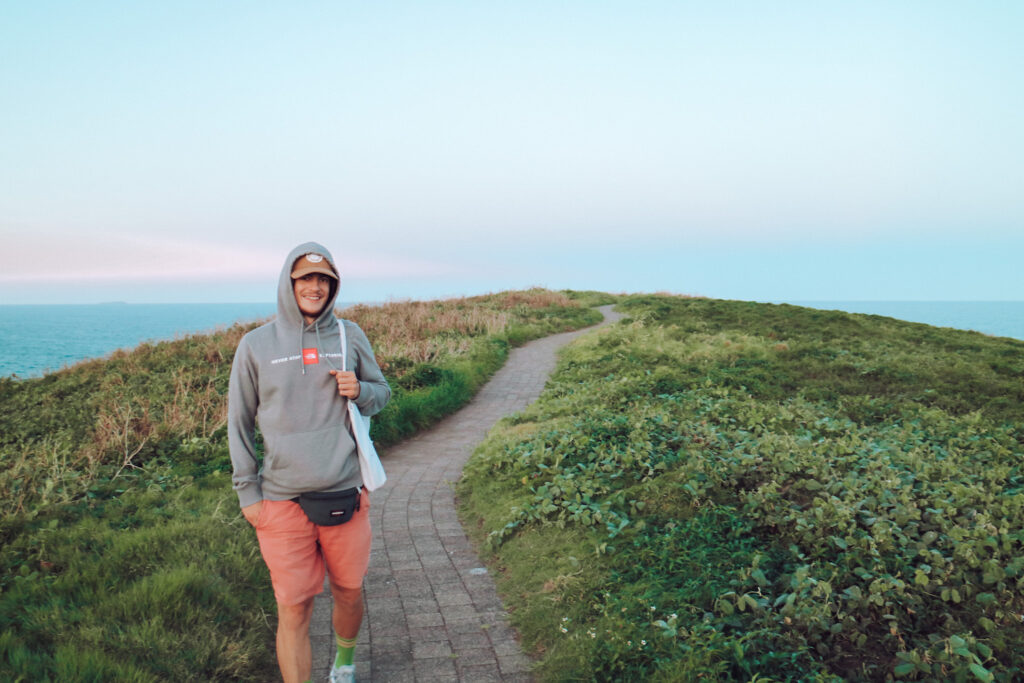 109. Got a delicious brekky at the Big Banana – grilled bananas, pancakes, honeycomb cream and praline with maple syrup…. Yum!
110. Drove out towards Bellingen and to Dorrigo Rainforest Centre for the skywalk
111. Went for a bushwalk out towards Crystal Shower Falls
112. Next stop – Dangar Falls
113. Drove to Port Macquarie and went out for dinner at Maki Moto
114. Checked into the Ozzie Pozzie Backpackers – Port Macquarie YHA and played some air hockey and table soccer. Now that I work in a backpackers it's always super interesting to me to see how other ones operate
115. Brekky at the Social Grounds
116. Walked around Tallow Lighthouse and down to Lighthouse Beach
117. Went bushwacking by Little Bay
118. Went grocery shopping out in Forster and then made our way to Seal Rocks Treachery Camp
119. Picked out a nice spot at the camping grounds and cooked up some dinner before listening to the rain over the tent to send us to sleep
120. Cooked up some pancakes in the morning
121. As the campsite emptied out on Sunday we moved spots right next to the sand dunes
122. Set up a campfire and played some Monopoly Deal in the sun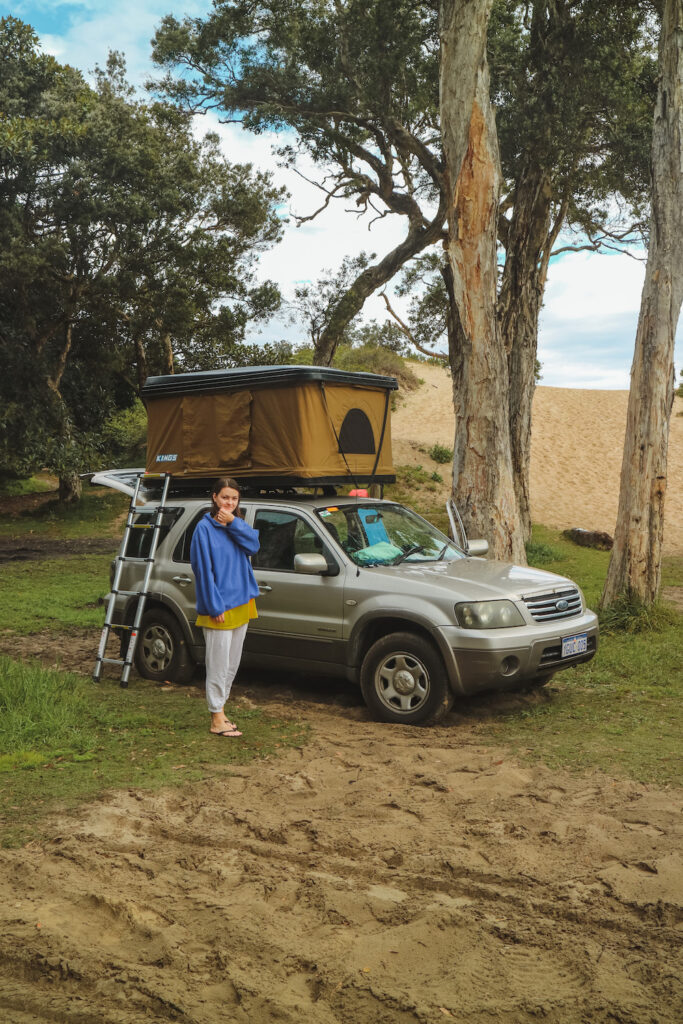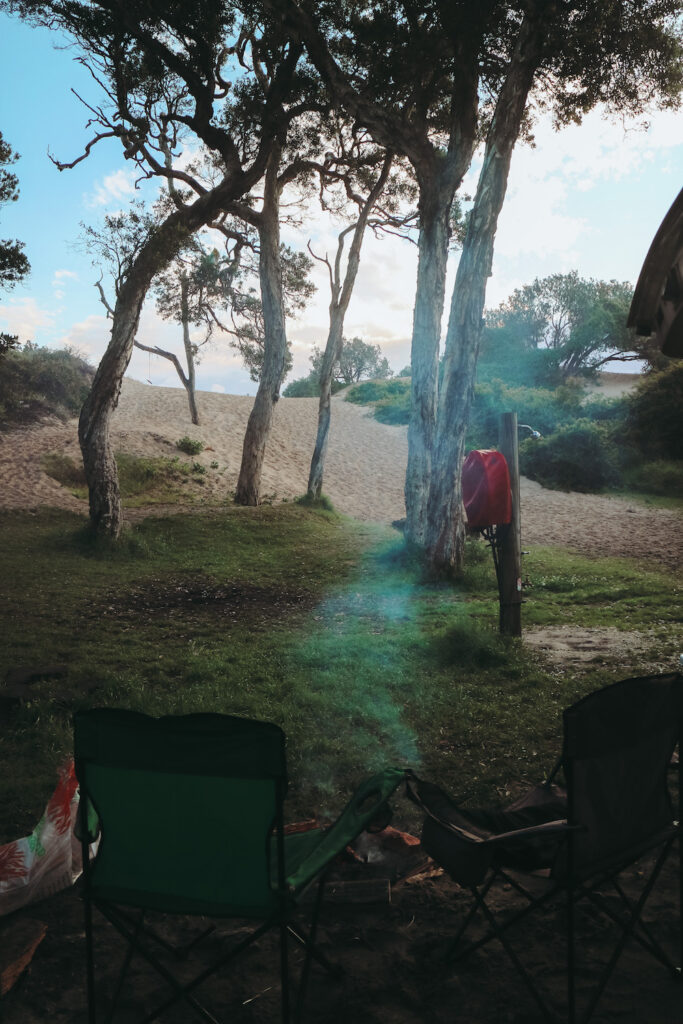 123. Went and played soccer on the beach – which was completely empty!
124. Cooked up some burgers for dinner and sat around the campfire
125. Went down to the beach in the morning before leaving our amazing campsite spot
126. Got a quick brekkie at Bulahdelah Bakery 
127. Checked into our Airbnb in Nelson's Bay – right in the centre of town!
128. Went up to Nelson's Bay Lighthouse and then down to Little Beach Reserve to watch the sunset from the jetty
129. Grabbed dinner at Shoal Bay Country Club – yum!
130. Went for brekky at Little Nel's – was highly recommended
131. Took in the views from Gan Gan Lookout and admired the spring cherry blossoms
132. Went out searching for the Champagne Spas – the unique blue ocean pools hidden in Boat Harbour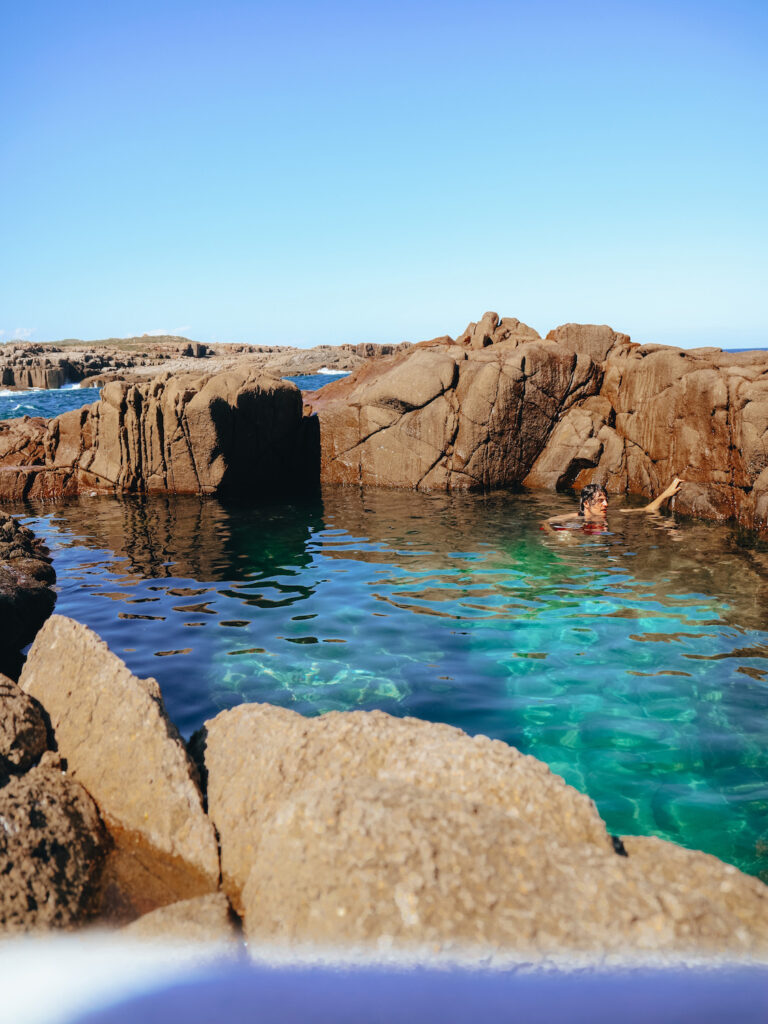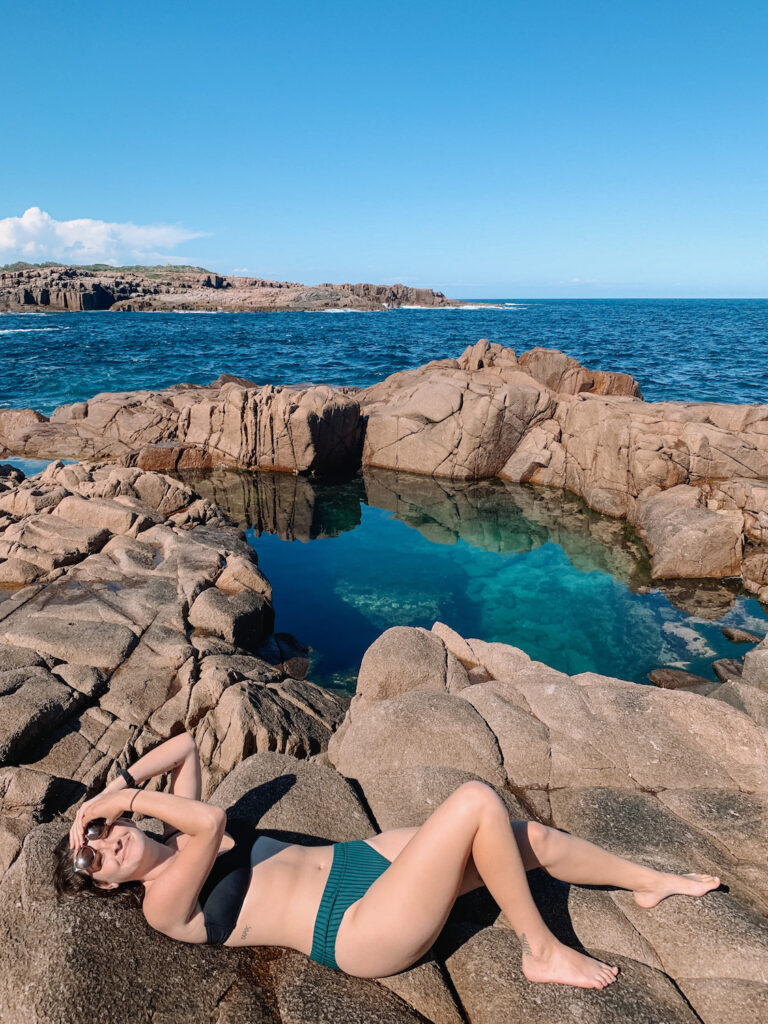 133. Went out to Birubi Beach for ice cream – right next to the largest moving sand dunes in the southern hemisphere! 
134. Went for sunset at Sunset Beach at Soldier's Point
135. Started our day with Tomaree Mountain Hike – and what an amazing day and walk! An amazing view surrounded by fresh yellow wattle trees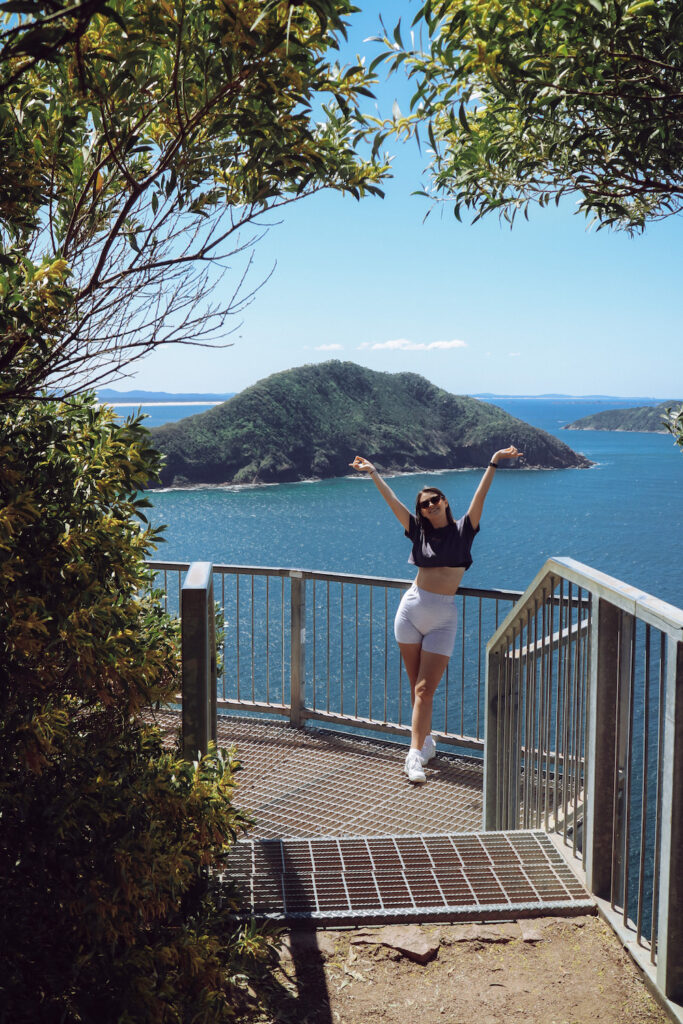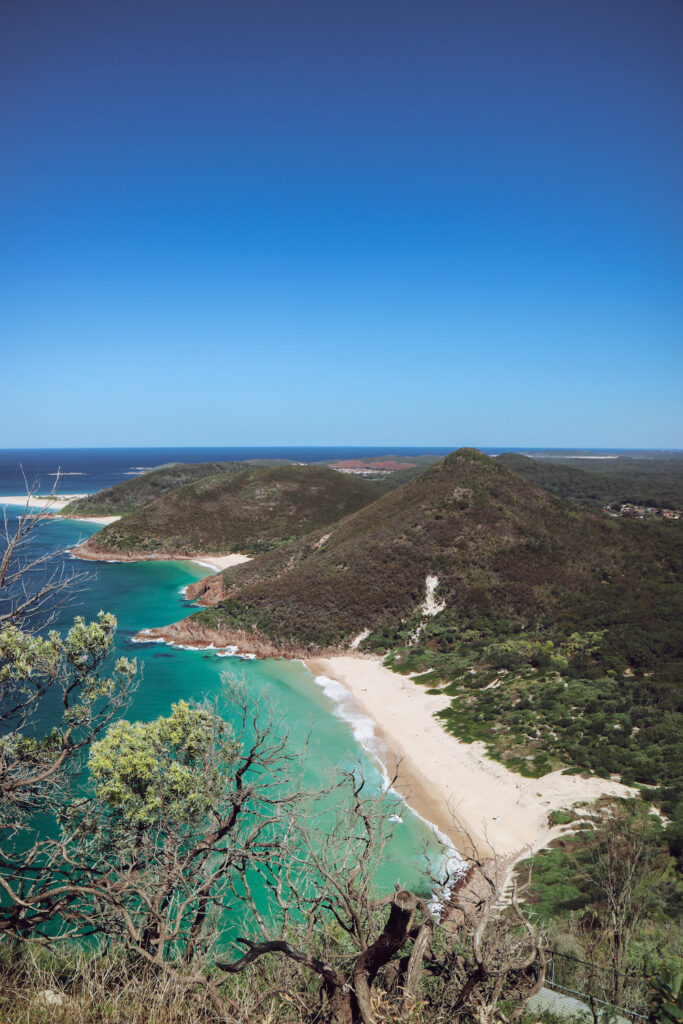 136. Tried a vegan bacon&egg roll at Son of a Sun in Newcastle
137. Wandered around Nobby's Beach and the Ocean Baths
138. Went for dinner at Merewether Beach Club
139. Enjoyed coffee in bed at the Newcastle YHA
140. Went for the ANZAC memorial walk out on the cliffside 
141. Went down to The Grotto – it was too cold to swim, but I wish I had now!
142. Whale watching in Newcastle – we saw soooo many whales, some of which wouldn't stop slapping their tails, we couldn't stop watching! 
143. Went for another quick road trip to the Blue Mountains, and first things first – The 3 Sisters
144. Went for sunset at a new spot – Cahill's Lookout, it was incredible!
145. Went for parmigianas at Savoy for dinner
146.Did the Hanging Rock Hike – which looked very different than before the bushfires. There was still a lot more greenery than I expected, but the blue hue from the eucalyptus trees was barely there…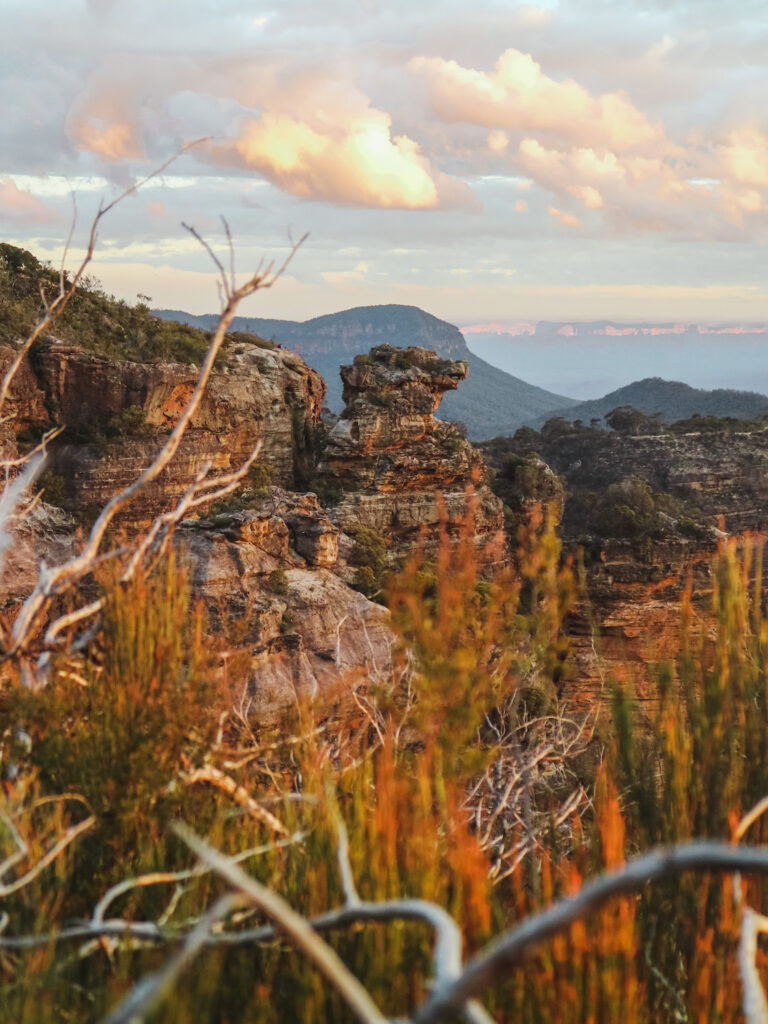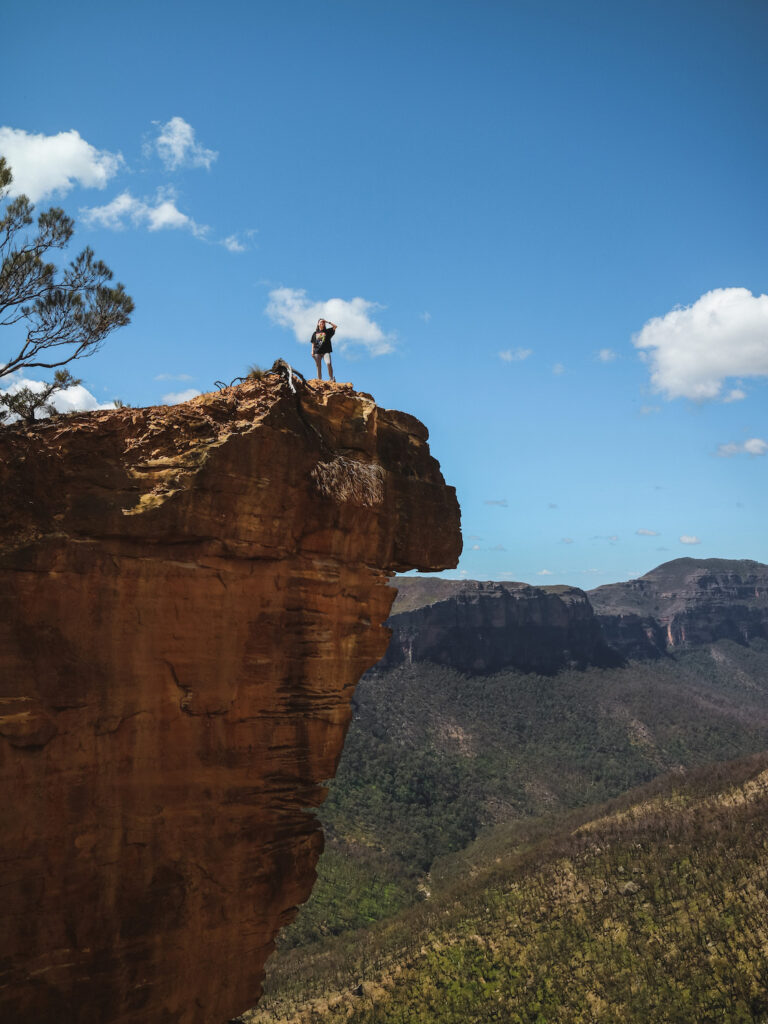 147. Went to the Van Gogh Exhibition – which I'm so glad made it to Sydney! It was amazing
148. Went to the pop up Alice in Wonderland bar – it was so fun! You had to solve riddles to get the ingredients for your teapot 
149. Went to the Harry Potter Potions Class pop-up bar, again you had to solve riddles to collect the ingredients for your cocktail "potion". 
150. Went to the Kit-Kat pop-up Chocolatory Bar and made our own chocolates
151. Tried some baogers at Belly Bao – yum!
152. Wallabies vs All Blacks at ANZ Stadium!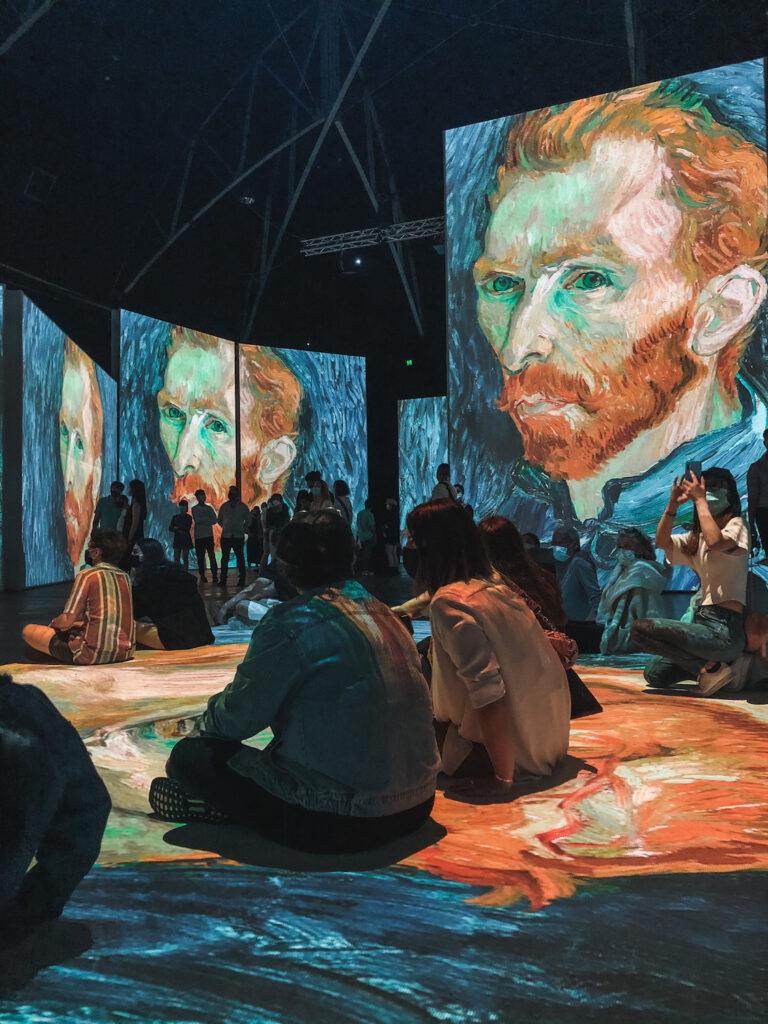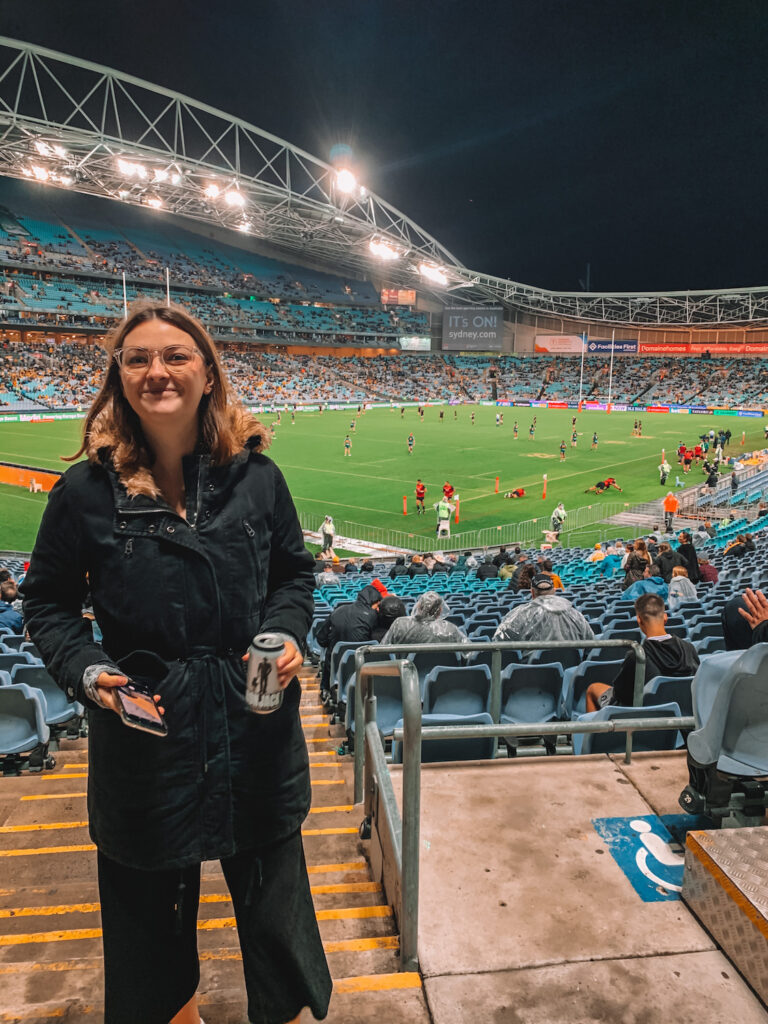 153. Tried a sandwich at ToastieSmith
154. Went Bar Hopping around Sydney Harbour; Opera Bar, Squire's Landing, & Belmore Hotel
155. Stayed in the city for the bf's birthday, rooftop harbour views!
156. Explored Tower Eye (Centre Point Tower), and watched the sun set over the city
157. Found a colourful cafe, Speedos in Bondi, sooo yum!
158. Spent the day in Bondi watching the lifeguards – it was in the high 30s!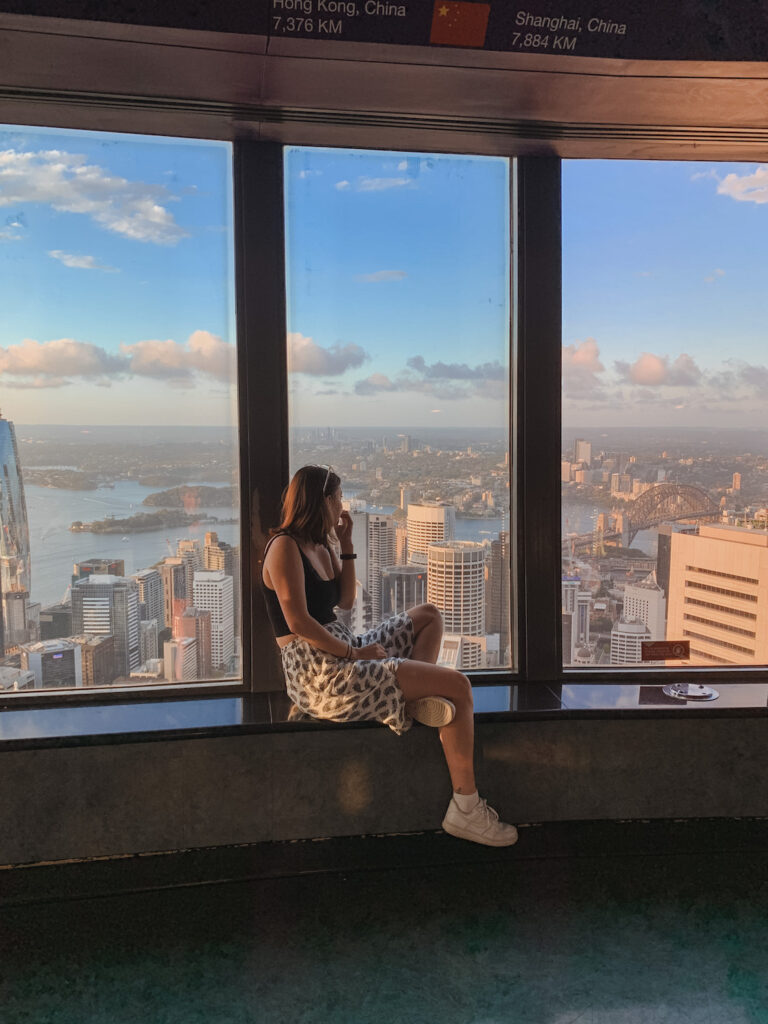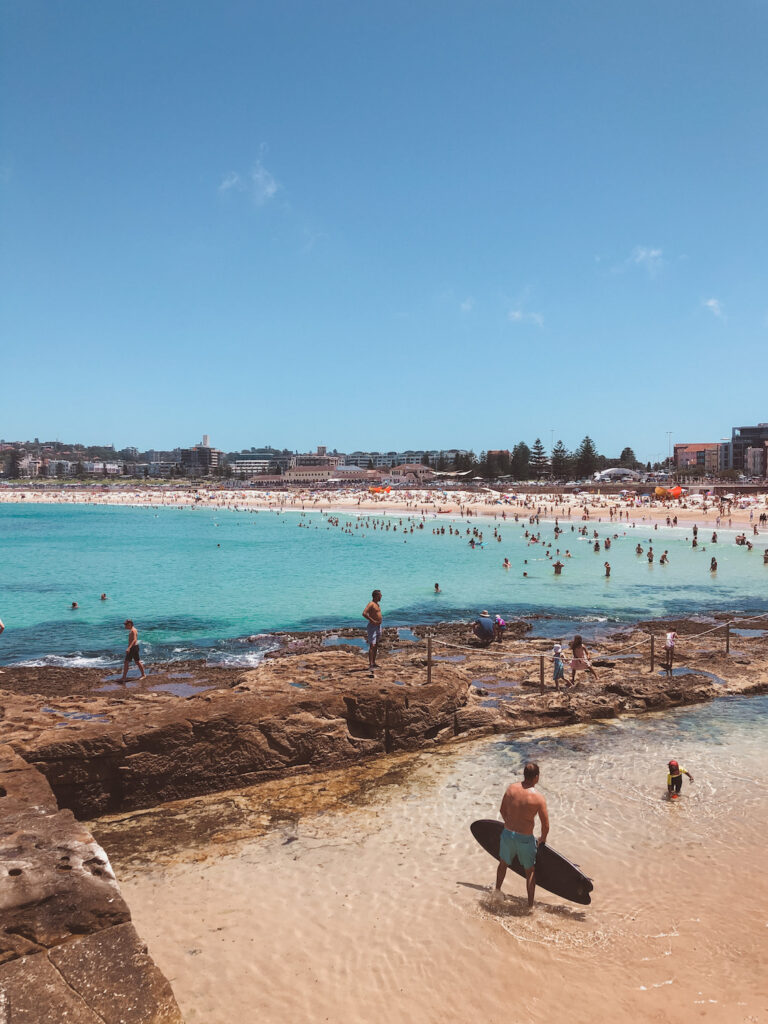 159. Celebrated the  Loi Krathong Festival at the Thai Consulate General's Residence – we made our own lanterns, had a 4-course meal, and watched traditional dances 
160. Went bushwalking to Willunga Lookout in Ku-Ring-Gai Chase National Park
161. 40degrees! Spent the day relaxing in the shallows at Collin's Flat Beach
162. Hiked down to Resolute Beach from West Head Lookout and spent the day on the secluded beach (you can read about it here!)
163. Tried the new Kazzi Greek restaurant that opened in Manly – I've missed Freddos!
164. Spent my work Christmas Party on a rooftop overlooking Sydney Harbour
165. Moved apartments again! Now I'm living in my hostel as a Night Manager
166. The Northern Beaches went into lockdown, but I was still able to enjoy Christmas Dinner with my family for Christmas Eve. My Sister spent the night at my work, and then we all spent Christmas morning with my colleagues and friends at the hostel playing card games. Then we went over to our Mums tiny home to have Christmas lunch with our cousins that we haven't seen in years!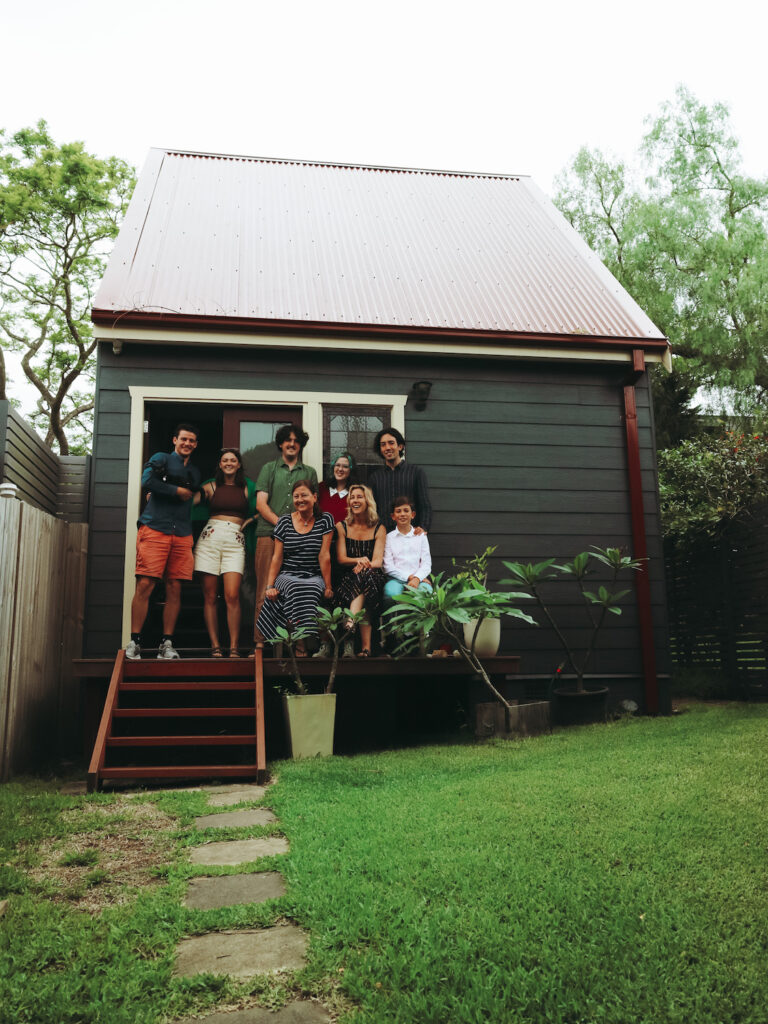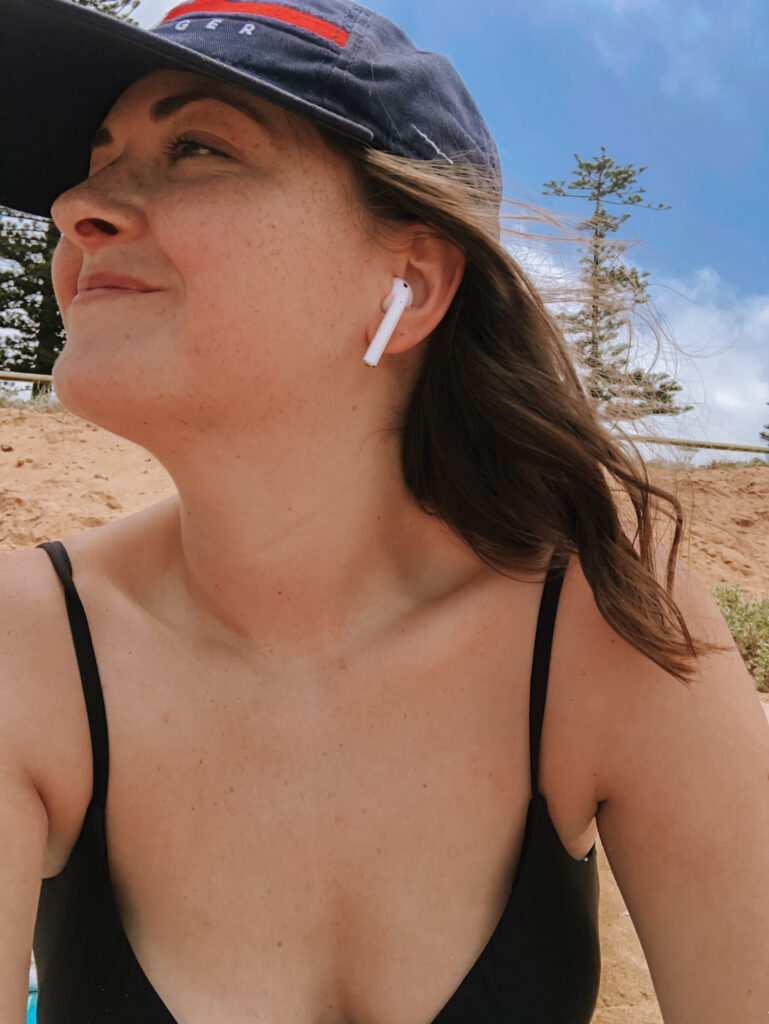 167. Spent Boxing Day weekend on the beach across the road from my new staff flat  
168. Unfortunately had to postpone two trips away but were still able to spend NYE with my best friends & boyfriend for a BBQ, drinks, and games
If you made it this far I'm genuinely impressed – generally I just make these lists for my future self ha! You can see a lot more from these moments on my Instagram Highlights here!