Finally decided to put my abundant knowledge to good use…
As a Manly local I've been around a bit, and this isn't even every place you can go to Manly… these are just my favourites. So here's the best places to party in Manly – from me, a local.
? Hotel Steyne 
Otherwise known as; The Steyne, or "Drain"- eg: "meet you at the Drain?"
This is my local, I'm there way too often and I'm pretty sure the staff recognise me. If I'm not there for a few chill beers and a catch up it's usually the first stop before heading out for the night. The Steyne is the main spot in Manly where you know you're going to run into people – and with the perfect beer garden it's the ultimate destination for Summer vibes and Sunday seshs. 
The Steyne is largely popular for sporting events because of the large screen they have overlooking the beer garden. As well throughout the week they host ping pong tournaments and have discounted hearty meals.
The Steyne has been open since 1859 and is one of the oldest buildings in Manly. It's basically a historical landmark. By day you can visit for a tasteful pub lunch across from the beach, or on it's several floors you can find a few different opportunities. The GlassHouse offers rooftop views over the Corso and is the newest and most modern addition to the pub. It specialises as a Gin Bar, but you can also find some more delicate meals here. 
Henry's Rooftop (previously Moonshine), is great for live music, though since its refurbishment it has transformed from dark and grungy to something much more sophisticated. This side of the club also offers rooftop views over towards the beach. 

? Daniel San
Otherwise known as; DanSans
Daniel San has started to get its come up this year. It started off as a successful and modern Japanese restaurant, but now on the weekends you can find lines circling towards the Novotel just to get inside. By night this restaurant transforms into a nightclub, with the tables and chairs out of the way it makes the perfect space for a dance floor – and it's the largest one you'll find around!
? Sugar Lounge
Not only Manly's number one spot for a salsa on a Thursday night, Sugarlounge is the perfect spot for a dimly lit cocktail hour beside the beachfront. With a tiki-style vibe out the front, it goes from a restaurant to a nightclub with local DJs and a cosy dancefloor. Downstairs you can also find the dark BRKLYN Bar which has a large pool table, a large whiskey collection and American beers. 
? New Brighton Hotel (or Sharkbar)
New Brighton itself is one of the most recognisable buildings along Manly Corso. It hosts some of the best views over the entire esplanade. Throughout the day the lower level operates as a classic pub with sports screens and relatively cheap eats. Its second floor as a larger restaurant area with balcony overlooks. By night the third floor, or Shark Bar operates as a nightclub – largely popular over the weekends and as a final stop on Tequila Tuesdays. The rooftop garden bar is quite new – it has limited spacing but comfortable day beds, private cabanas and tasty cocktails. 
? InSitu
Cocktail heaven! Insitu is the place where my friends and I head to whenever we're feeling thirsty for something a little special. As well as a delicate tapas menu, they also offer a delicious cocktail menu. It ranges from Signature Cocktails to Staff Creations – our favourite being the creamy Apple Crumble!
⛵ Manly 16ft Skiff Sailing Club
Otherwise known as; The Skiffies, The Skiff Club
Now this might be a little biased because I work here, and have for almost 3 years now – but this place is amazing.  
Just a 5-10minute walk around from Manly Wharf, the Skiff Club is a members club with some of the best ocean views over Manly Cove. As it's a registered club, guests need to have photo ID to sign in (which I mean, fair enough). For those that live locally, they either need to be a member themselves, or have one sign them in. Other than that they have some delicious cocktails and delicious meals. The Skiff Club is the perfect sunset spot to start your night out before heading out into town. 
PS; the Strawberry Caipiroska is AMAZING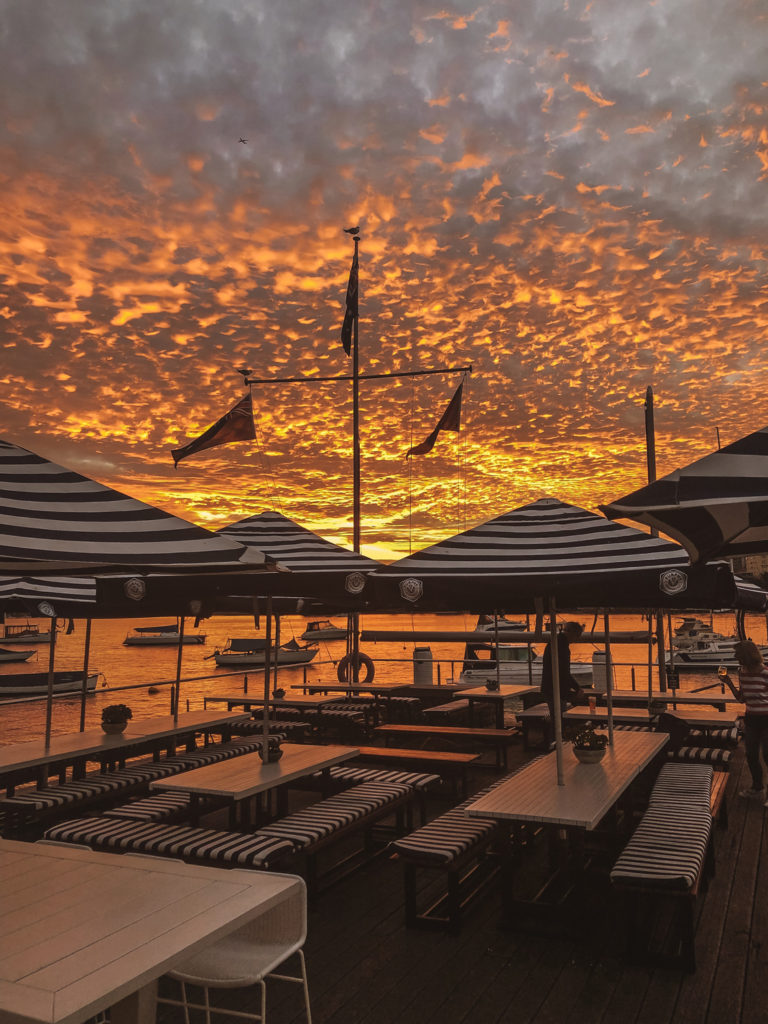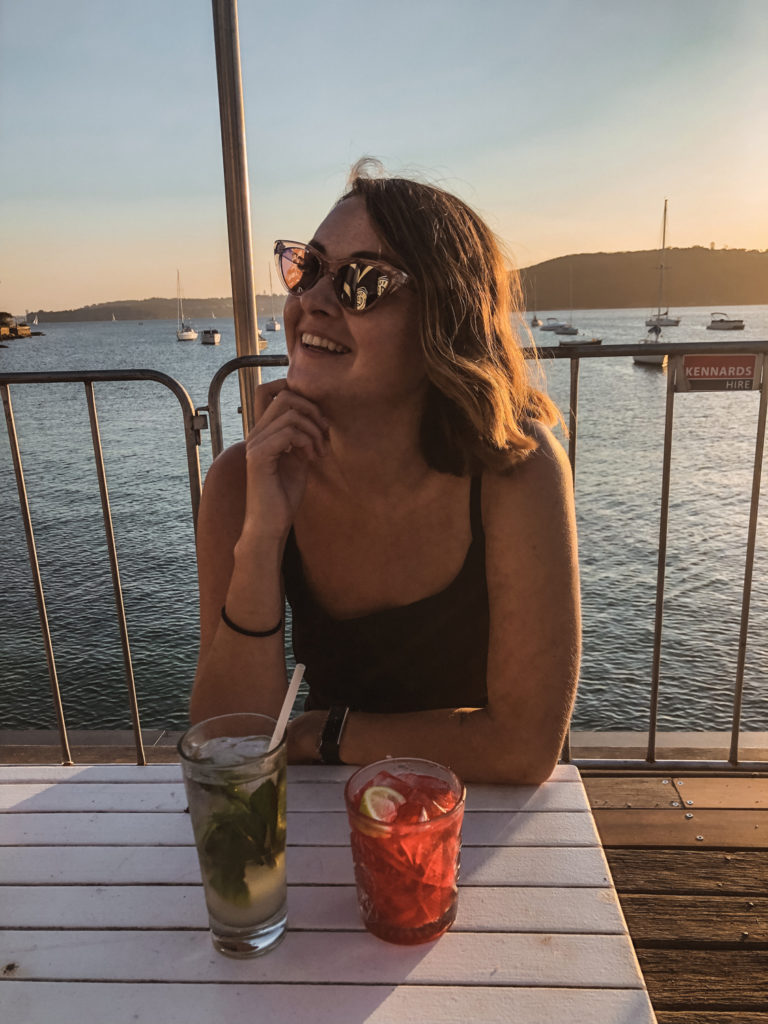 ⛴️ Manly Wharf Hotel
Otherwise known as; Wharfy or Wharf Bar
This is probably Manly's most well-known bars purely because of its location – but it also offers some of the most amazing waterfront views. With an award winning Jetty Bar it's an iconic spot for tourists to indulge in a long lunch or a drink over the waters edge. Offering a sports bar, a cocktail bar, weekly live music, and a seafood-heavy menu, there's plenty to experience throughout the week. 
? Donny's
"New York Loft Experience" is right! Donny's is a great place to head down to for some live music in a warm and homely but rustic environment. The food includes Asian share plates alongside a fruit cocktail menu – the freshly made apple juice is delicious!

? The Cumberland (secret bar)
Having only just recently opened I went down to discover this hidden bar earlier this week – and it did not disappoint! Through the back door of a deli you make your way down a spiral staircase into the Cumberland. With brick wall interior and an elaborate menu of whiskeys, its candlelit tables are the perfect environment for a date night. It's a small but intimate setting, so this means that sometimes there may be a line to enter. If you come in during the week the quieter atmosphere is all the more inviting. The deli upstairs is also more than just for show – it actually serves up Spanish style tapas and share boards for anyone feeling particularly peckish. 
The bartenders are more than happy to explain the history involved in the creation of the cocktail menu – each page representing a different period of Australian history – and flavours like dandelion root to match. The signature and most popular drink is the Cumberland – Wood & Smoke, which is served covered by a large glass dome – when lifted it releases a cloud of honey and smoked cherry.

? 4 Pines
Another amazing place that I can call myself a regular at – 4Pines peers over Manly Wharf and brings a more authentic homely feel to its guests. Having a local brewery just a short drive away, 4Pines has very quickly become one of the most popular craft beers around. 
? The Bavarian 
Otherwise known as; The Bav
I mean, what more can I say – you can't really go wrong with a Bavarian Bier Cafe can you? 
? El Camino
Also great for a Tequila Tuesday, El Camino has $2 Taco Tuesdays and the frozen margaritas are a favourite!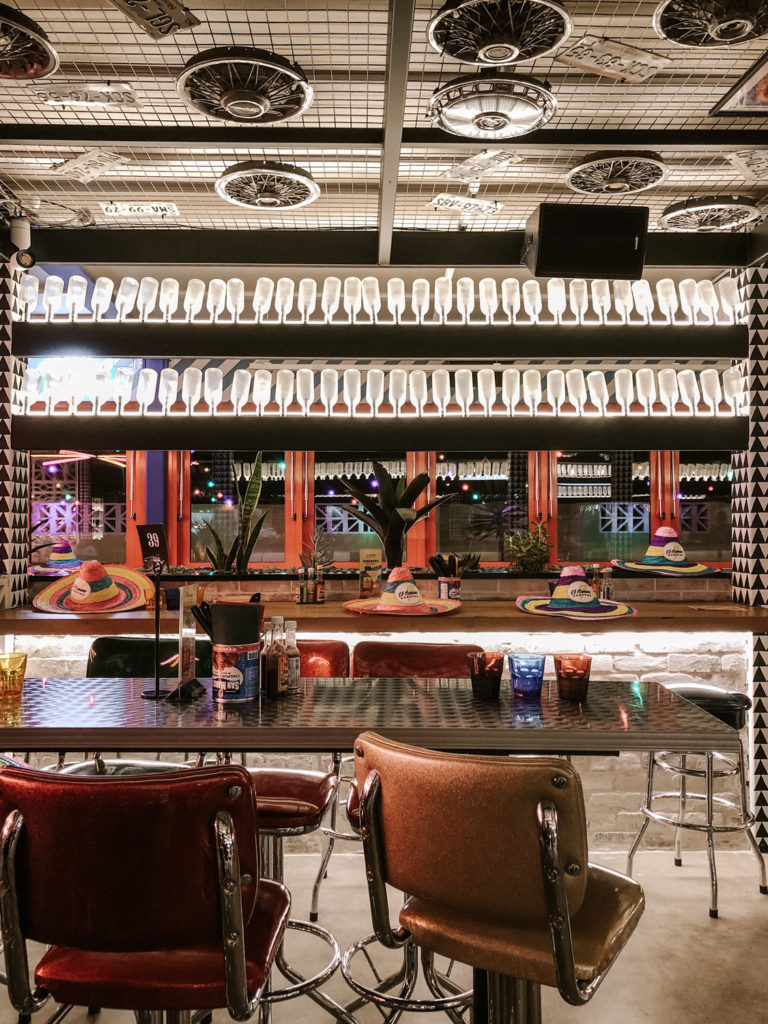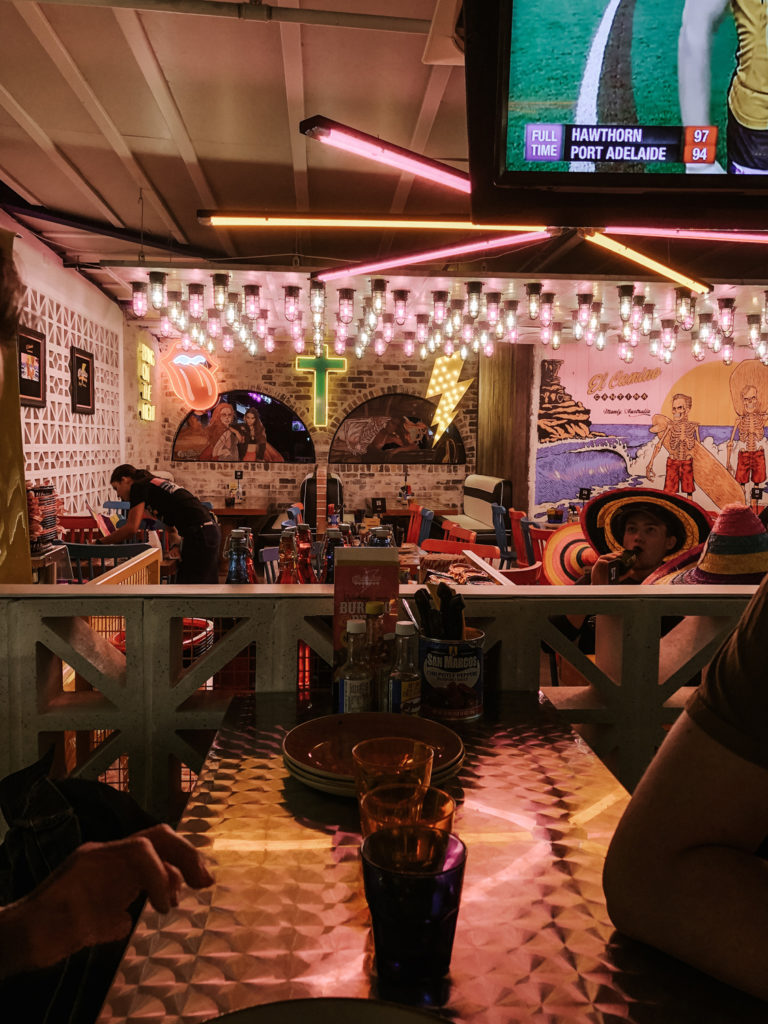 ? Havana Beach
Otherwise known as; Havana Bar
This one is a favourite between me and my friends, because we love mojitos, and we also love guac. Havana Bar is just a short walks away from the centre of Manly, and offers plenty of Mexican dishes with fruitful cocktails to match. During Happy Hour on some nights you can help yourself to $5 Mojitos!
? The Hold
Now I've put this one last because Tequila Tuesdays here still give me PTSD, but The Hold is one of Manly's most unique places to grab a drink. (That being said it hasn't stopped me from going back). With a pirate ship inspired interior and cocktail menu it's definitely worth trying. On Tuesdays all the hospitality workers head out for $5 tequila shots, and tecate beers – but if this isn't your style the entire food menu can also be served as a vegan alternative.