It's a long but comfortable flight from Sydney to Jakarta and I sprawl my legs across the entire row that I've been gifted as well as the window seat. When we land, all I know is that I'm supposed to take the exit to the left and look out for a sign – there's no sign, but a group of people who have gathered together looking as confused as I am. A group of fellow journalists, YouTubers and radio hosts all brought together for one purpose – to see what Indonesia has to offer outside of Bali.
Towards the end of April, we were all invited by the Ministry of Tourism of Indonesia to make our way around Indonesia's unknown beauties. We manage to fit seven locations into eight days on little-to-no sleep, exploring sights above and below water, and making new friends along the way – even a sea turtle!
There are so many islands in Indonesia, that if you were to visit a new one every day, it would take you over 50 years to see them all. Made up of over 17,000 islands it is the largest archipelago in the world, with about half of the islands being populated with the kindest humans ever. The islands are fascinatingly rich in culture, history with a great diversity of religious beliefs and ways of life.
Basically my point is, of these 17,000 islands, there is a whole lot more to see than Bali – very few Australians have visited the areas I'm about to explore. And what is great about that (and why you should head there NOW) is that these destinations are completely unspoilt by the tourism machine. You can imagine that this is probably what Bali looked like many years ago.
MANADO
Manado is the provincial capital city of the North Sulawesi province of Indonesia and definitely wears its title "The Hawaii of Indonesia" well, as I could see more Palm Trees than people before I'd even stepped off of the plane. Manado is the gateway to scuba diving in Sulawesi, as it is home to some of the most spectacular underwater landscapes and marine life in the world.
Tonado Lake
Tonado Lake is the largest lake in North Sulawesi, sitting 600 metres above sea level. An impressive 4,000+ hectares, it's the perfect place for a lunch stop. With a lush mountain backdrop, the serene Tonado Lake is a great place to get a sample some freshly caught and grown produce. We stopped at Astomi Restaurant, a wooden framed stilt house sat above the colourful vegetation and flowers that slowly float downstream.


Hill of Love
Bukit Kasih or the Hill of Love is located in the Minahasa Regency of North Sulawesi and is where people of different faiths can gather and worship together. The hill has various walking trails amongst the billowing sulphuric smoke, but the one it is best known for is the 2435 step trek that leads up to the top, offering panoramic views of the tropical Sulawesi.
Though the smoke will have you wanting a nose plug, the views will keep you happily distracted. Best visited in the cool of the afternoon, the walk then trails around to the five houses of worship: a Christian church, a Catholic church, a temple, a mosque and a Hindu temple. It is believed that the Minahasan ancestors originated here and there are multiple faces carved into the rock walls.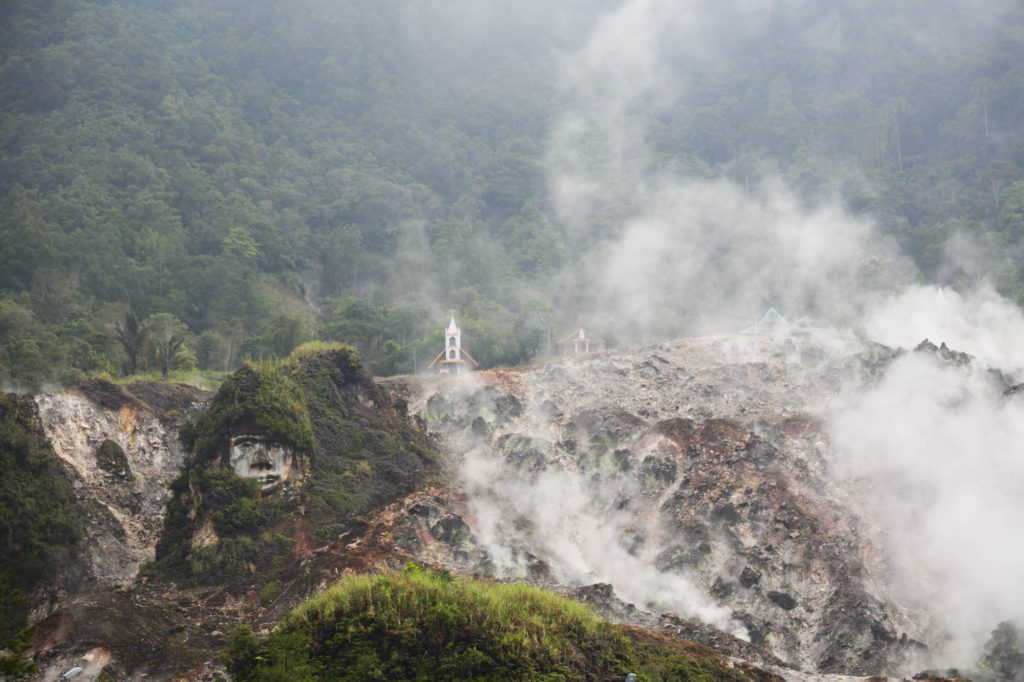 Waruga Stone
Probably not your first thought when planning a trip overseas, but Waruga Stone is a historical attraction and UNESCO World Heritage Site filled with above ground tombs. Waruga are a type of sarcophagus used by the Minahasans of North Sulawesi. Made of stone, they resemble a small house with carvings on the outside depicting the deceased's characteristics, such as; their livelihoods and cause of death. A now out-dated practice, the bodies were placed facing north towards their ancestors, in a fetal position that has them "kissing" the knees.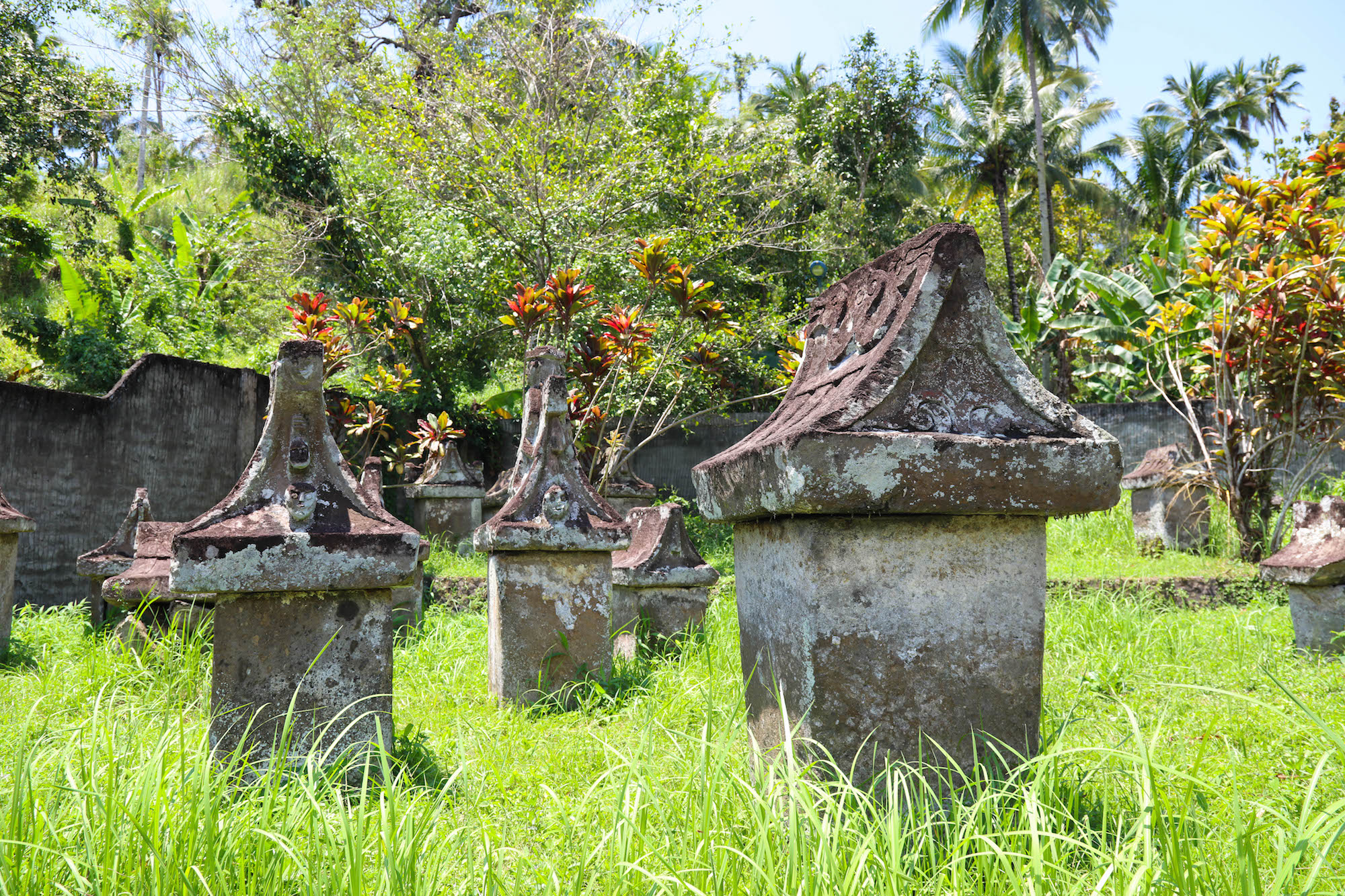 Bunaken Island
Bunaken Island is an island of 8 square kilometres inside the Bunaken National Marine Park, located at the northern tip of Sulawesi. It's known worldwide by scuba divers for its beautiful coral gardens and walls. We took a motorboat from the Harbour Marina and soaked in the sun for the 40-minute journey while dining on some Pisang Goreng (fried bananas with a side of chilli sauce). Taking in the views of Manado City getting smaller and smaller in the distance, and the sea gardens open up below us, we sat there silently just taking in the moment.
There are 13 separate reefs within the Marine Park, but the prettiest is the steep vertical sloping coral wall that plunges down 40-50 metres. As one of those few people you find that are a bit intimidated by the ocean, swimming down to this drop-off was one of the most incredible things I've done to date. I strapped on my snorkel and gracefully plopped into the warm water flippers first and began searching for sea life. I discover that more than 70 per cent of all the known fish species of the Indo-western Pacific could be found here – as well as seven of the eight species of Giant Clams that occur in the world. With a high diversity of corals, fish, echinoderms and sponges, there was enough to keep us underwater for hours.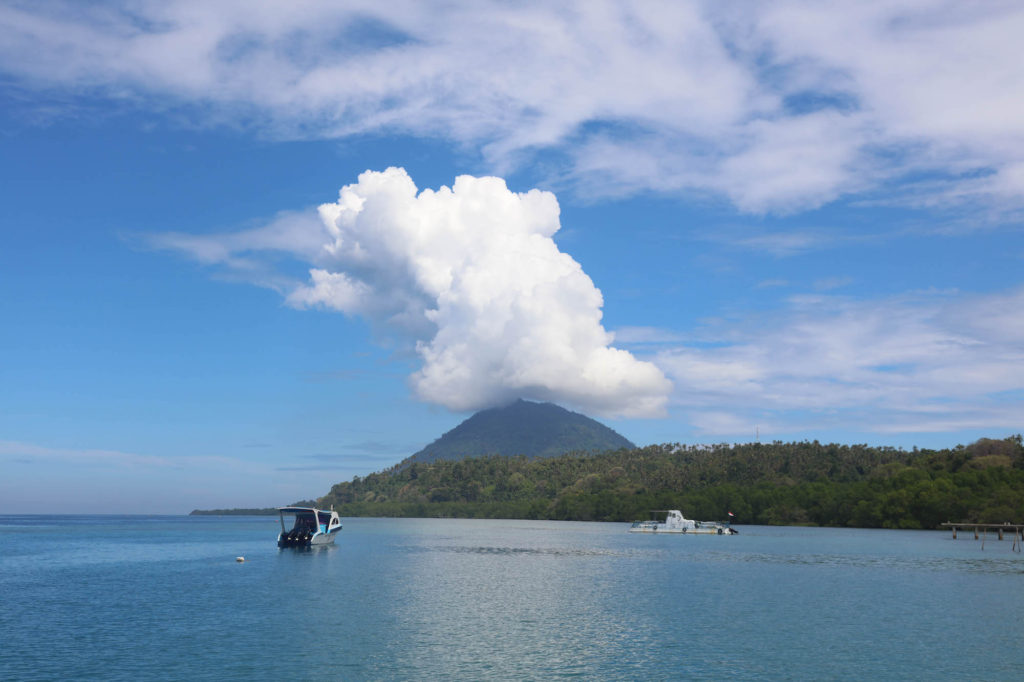 Tangkoko National Park
Did you ever hear about the federal lawsuit that had PETA (People for the Ethical Treatment of Animals) fighting for a monkey's rights to a selfie? Tangkoko National Park and one nearby island, are the ONLY places in the world where you can see these creatures.
Tangkoko National Rainforest is a flora and fauna conservation area on Mount Tangkoko in the district of Bitung, North Sulawesi. From Manado it takes about 2 hours to get to the rainforest, and the route will have you swerving along slim mountain roads. Upon arrival we douse ourselves in bug repellent and tuck our pants into our socks to deter mosquitos and leeches. From here we're walking, and when I had heard "rainforest trek" I definitely wasn't picturing a stroll down a dirt road, but our guide soon turns into the rainforest and it is bushwacking from here.
It doesn't take us long before we reach a large social group of the tame endangered Black Macaque Monkeys. These are a pleasant alternative to the Brown Macaque Monkeys in Bali that steal your belongings. They barely notice our presence, and we're able to get quite close. They are happy to just roam around us and pose for the camera.
Way back when, a Black Macaque Monkey became fascinated by its reflection in a camera lens, and managed to start taking photos on a photographer's unattended camera. This became the famous "monkey selfie". In the end, the case ruled that the photo was un-copyrightable because animals can't own copyrights, so the selfie is now a matter of public domain.
After all that monkey business (yes I went there), we went looking for the next best thing. The smallest primate in the world, Tarsiers are about the size of your fist and are shy nocturnal animals that live in small tree holes, so the best time to visit is dusk. This park is also renowned for bird watching, being home to various species including Maleo birds and Hornbills.
From here it's the perfect time to take in the sunset, and where better than the Black Sand Beach that sits right beside the rainforest?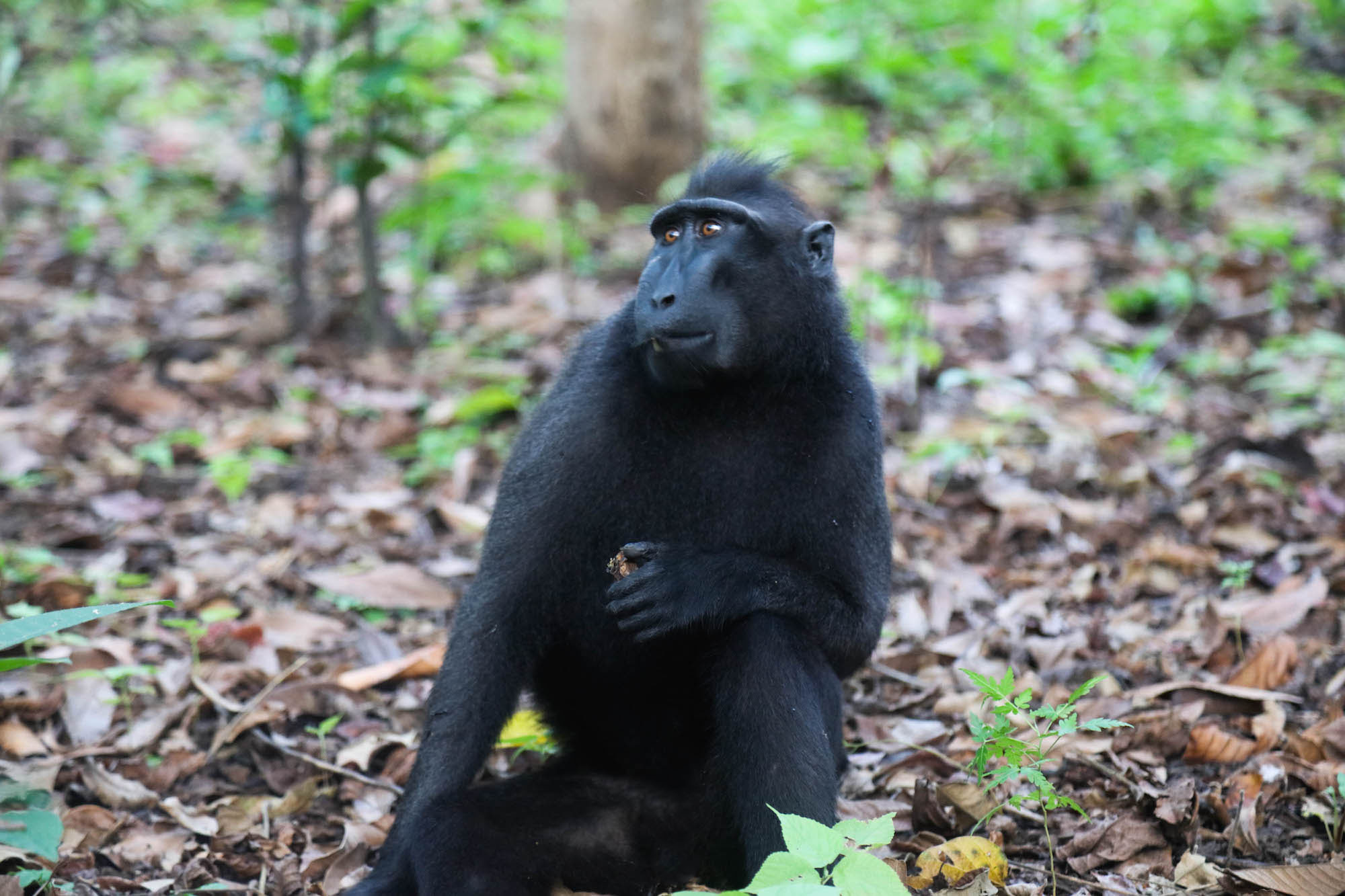 STAY – Mercure Manado Tateli Beach Resort
AMBON AND SAPARUA ISLAND, MALUKU
Ambon and Saparua are two of a group of islands within the Maluku archipelago and are nicknamed the "Spice Islands". The islands are some of the most serene and peaceful places I have ever visited, yes there is the occasional beep of a scooter racing by, but the islands have yet to be touched by massive development.
There are plenty of domestic flights from Jakarta to Makassar, so it's fairly easy to get here. Clove and nutmeg were the islands' most profitable product and the cause of a few wars just a few centuries ago. Then known only to grow in these areas, the British since decided to smuggle some seeds out so the Spice Islands title is now just historic. While they still grow spices here, fishing has become a major source of revenue.
The island is three hours east of Sulawesi, and our journey begins on a prop plane into Ambon. Also known as 'Ambon Manise' meaning beautiful/cute/pretty, it is the main city and seaport of Ambon Island, and the capital of the Maluku province. It is one of the main cities in Eastern Indonesia and surrounded by lush greenery, rolling mountains and charming coastal villages.
Namalatu Beach, Ambon
Greeted by grinning children, we step off the air conditioned bus and make our way to an open-air stage by the ocean. With a breathtaking backdrop, the children who are all dressed in traditional costume, start to show us the Sahu Reka Reka dance, known to bring people together. A 30-minute drive south of Ambon city, we discover a pristine beach, crystal clear water and pretty corals. It is one of the few beaches on the island that is accessible by public transportation.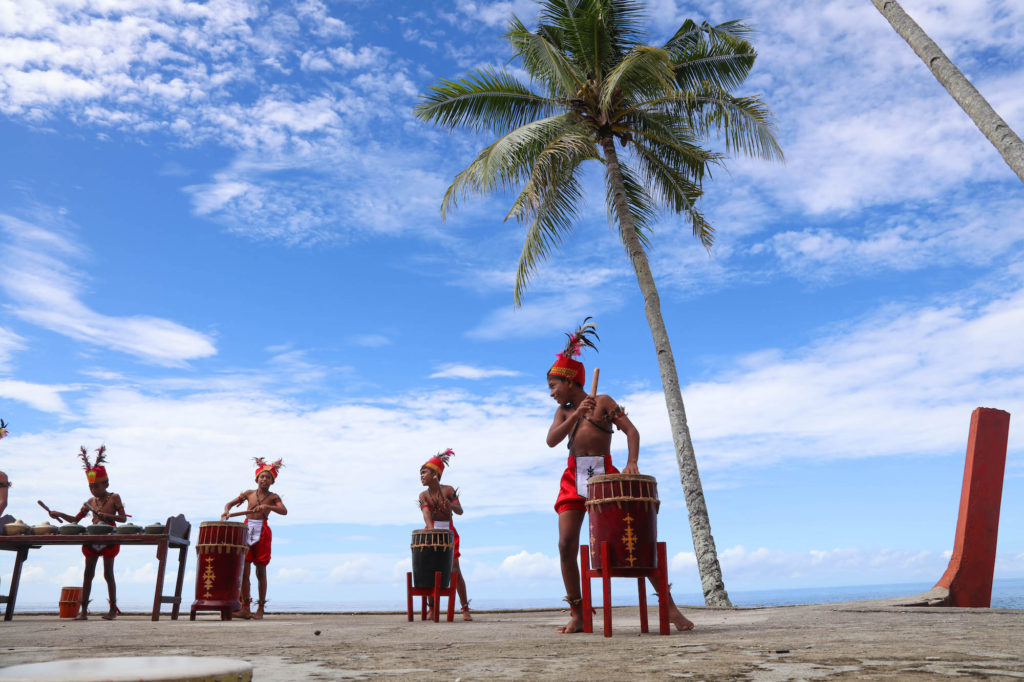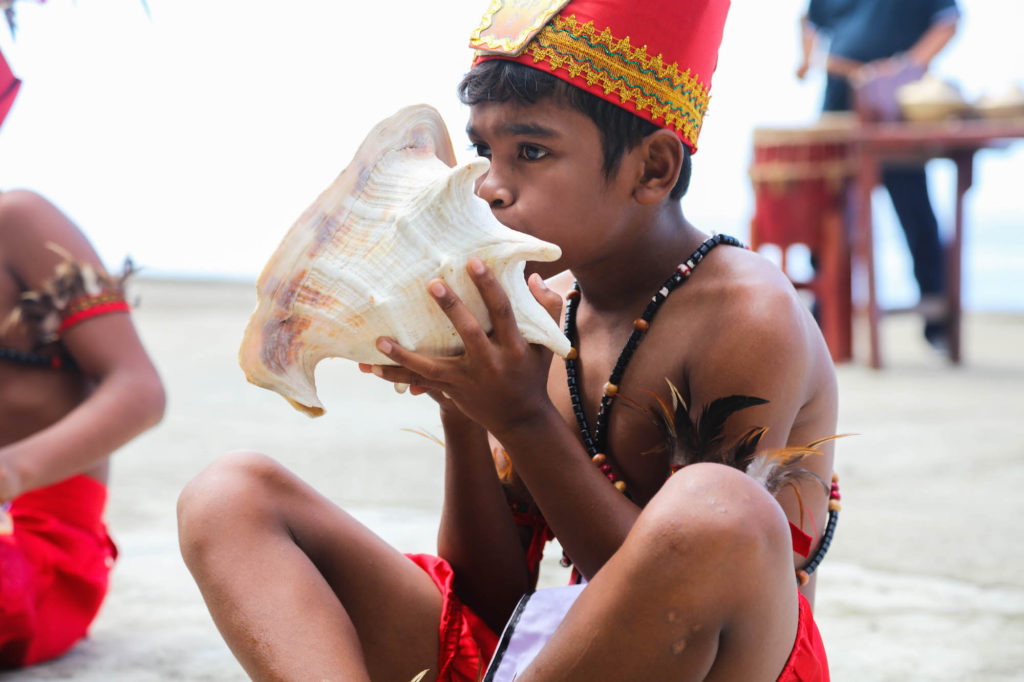 The Ambon War Cemetery, Ambon
Ambon War Cemetery is shaded by the most beautiful trees I have ever seen – I could sit here for hours staring up at them. During WWII there was a Japanese invasion on the island and this is where many of the men, mostly Australian, were laid to rest.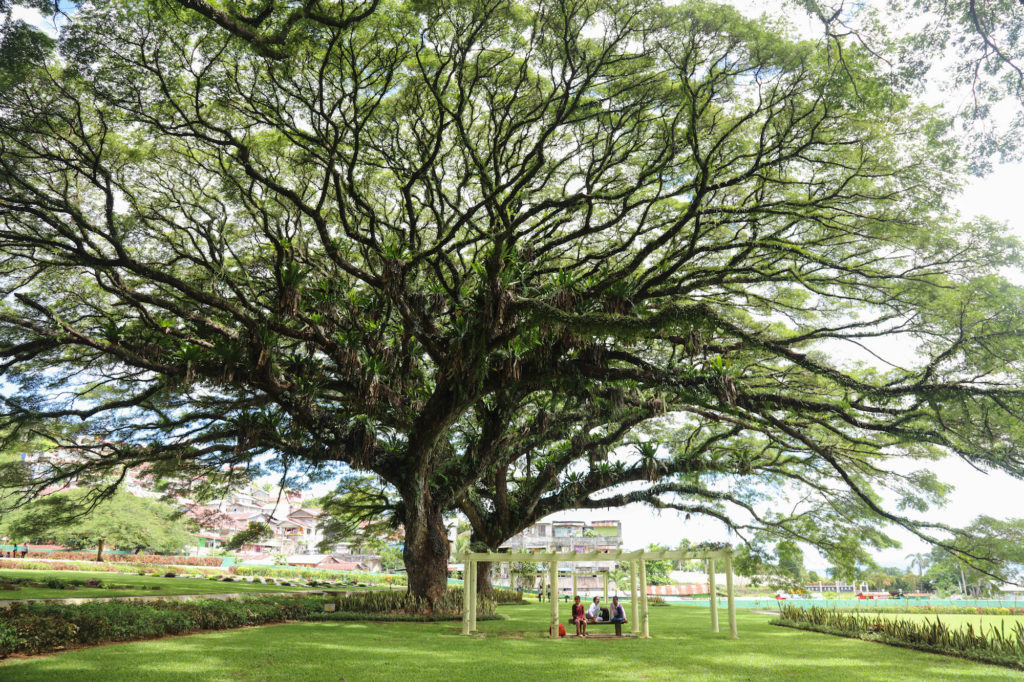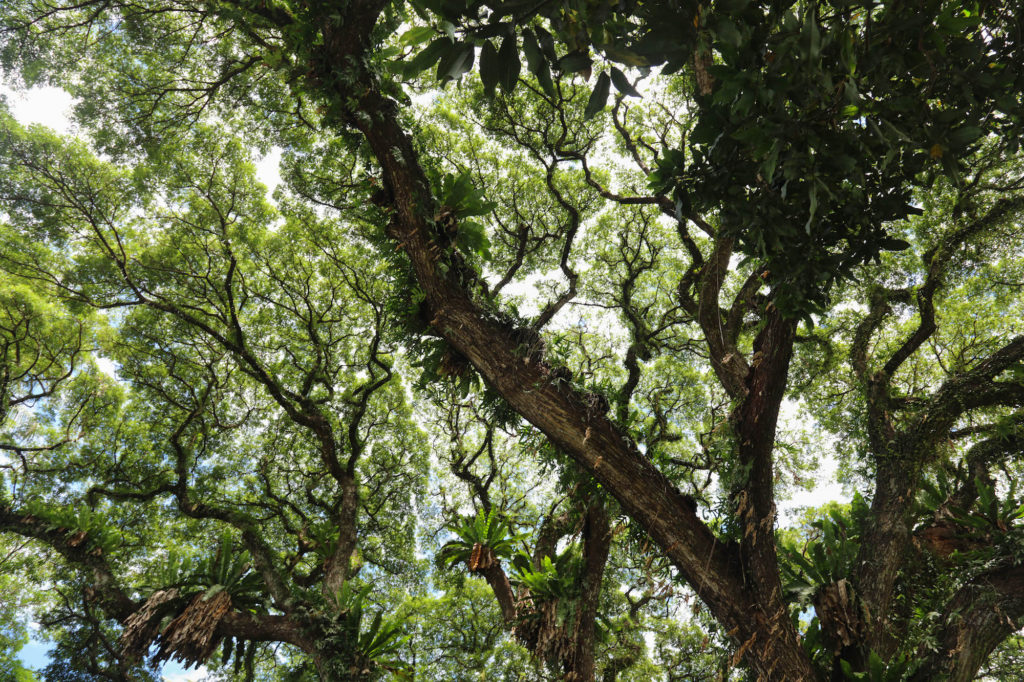 Martha Christina Tiahahu Memorial, Ambon
Martha Christina was a young warrior that joined up with the soldiers and Pattimura the local leader, in their fight for independence against the Dutch. Her statue stands to recognise the freedom fighter and overlooks the ocean in a beautiful garden setting.
Liang Beach or White Sand Beach, Ambon
We were taken to Liang Beach to see a demonstration of the strange Bambu Gilla dance, an incredibly unique thing to witness. In the words of Garrett, The TravelHuman "Bambu Gilla or crazy bamboo is a mystical dance performed on the Maluku Islands, Indonesia. Where a group of strong men struggle to tame a bamboo trunk that is possessed by an unseen power. In the picture the flame wielding shaman yells mantras and blows incense smoke in order to tame the spirit possessed bamboo".
The beach is a great place to cool off and have a snorkel.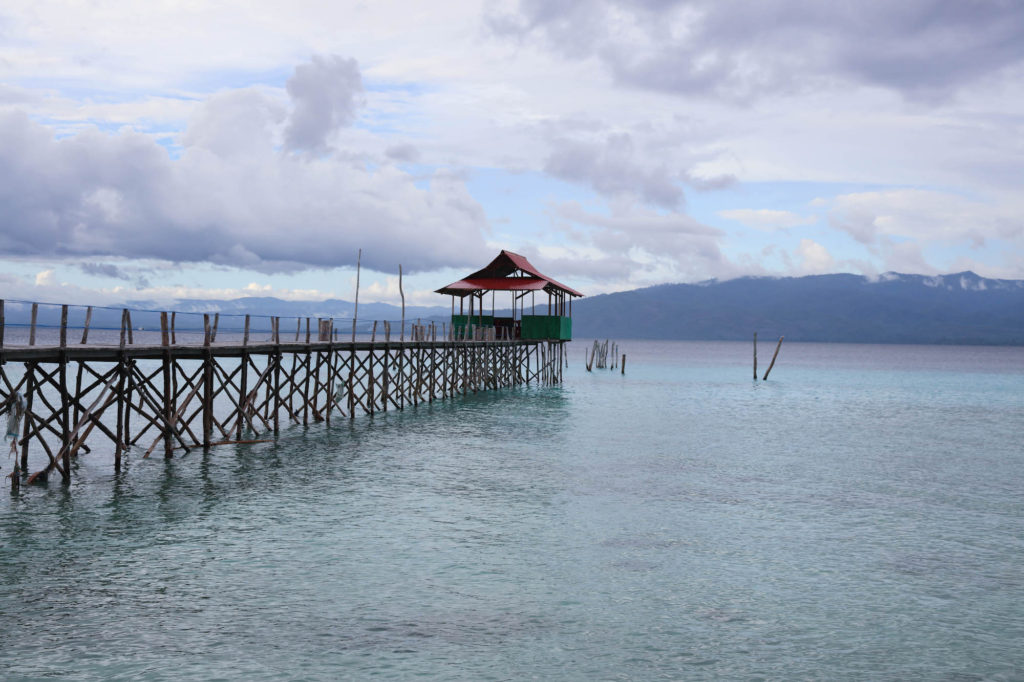 Sapurua
The journey to Saparua from Ambon takes 1.5 hours by speedboat. There are boats available in the morning and early afternoon from Tulehu, Ambon to Saparua daily. We arrive at the Haria Village port and make our way to the markets in Haria Village.
Haria Markets, Saparua
As we approach the market, a man waves us over and digs his hands into a big bag of cloves – this is a great place to meet the locals. The market is overflowing with colour and friendly faces as well as interesting fresh produce that you should definitely give a go. If you're game enough, try the sweet-tasting but foul-smelling local favourite, Durian, if not, perhaps a taste of the sweeter-smelling rambutan or mangosteen.
Saparua has daily markets in the town centre, but it gets much busier on the weekends when visitors come from neighbouring islands.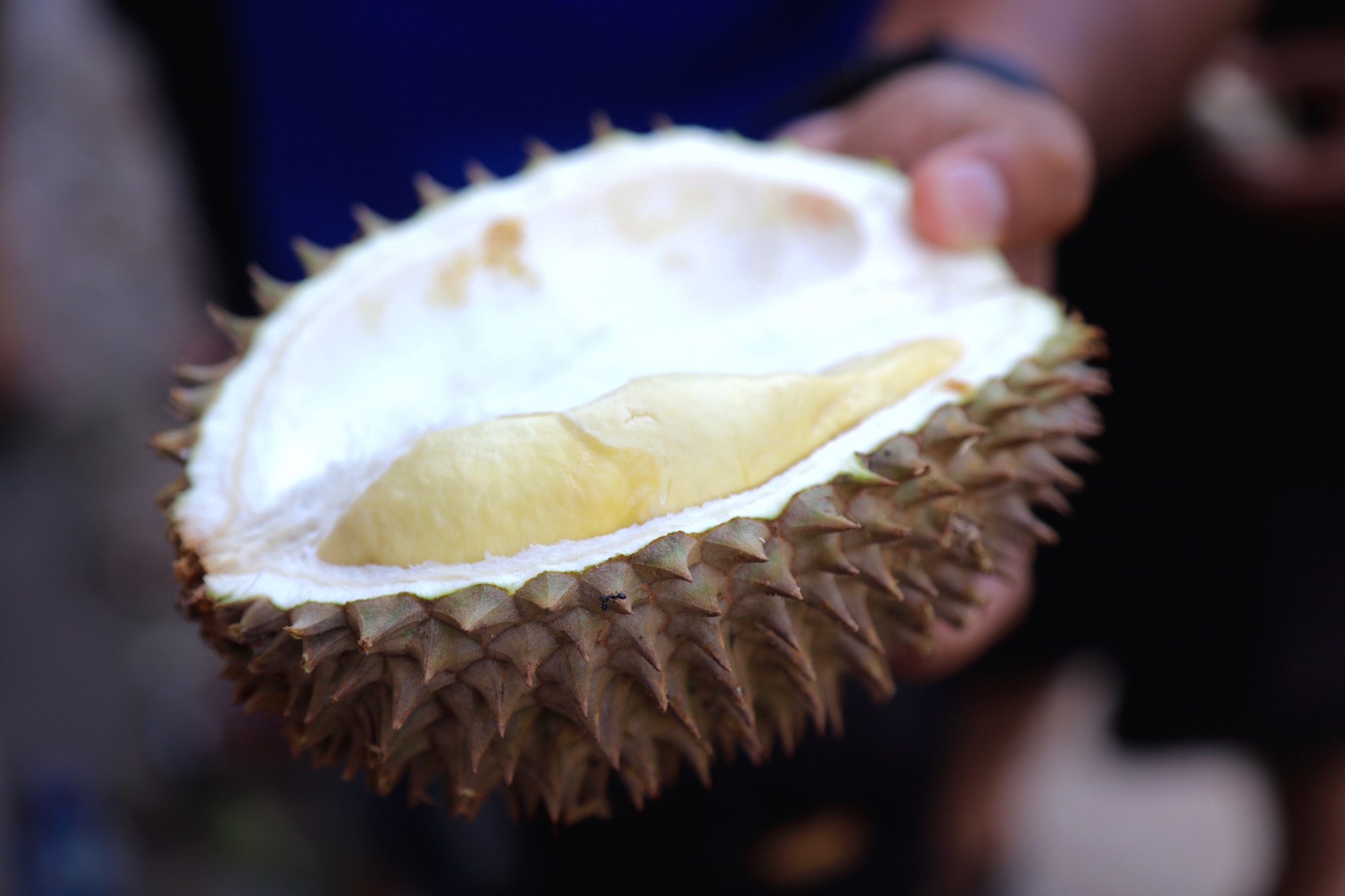 Duurstede Fort, Saparua
Duurstede Fort is a restored 17th century fort that sits on the shoreline overlooking the ocean. For an insight into the history of the region, next door is a small museum with a selection of dioramas that tell the story of the fort's history and it feels strange to be somewhere so beautiful, knowing what a bloody past the place has had. We spend quite a while here just to take in the views overlooking the sapphire-blue water.
iMLi Eco Tours – 'I Love Moluccus Indonesia'
As these areas aren't well-known, a great way to get around is with iMLi Eco Tours as they have an endless knowledge of the area and its history. We are joined by Haical Ab and his team, who live on the islands. Because the areas aren't quite prepared for bulk commercial tourism, he's prepared to help you with anything you want/need.
STAY – The Natsepa Resort
Note: at The Natsepa Resort you are able to rent a scooter for about AU$10 for 3hours!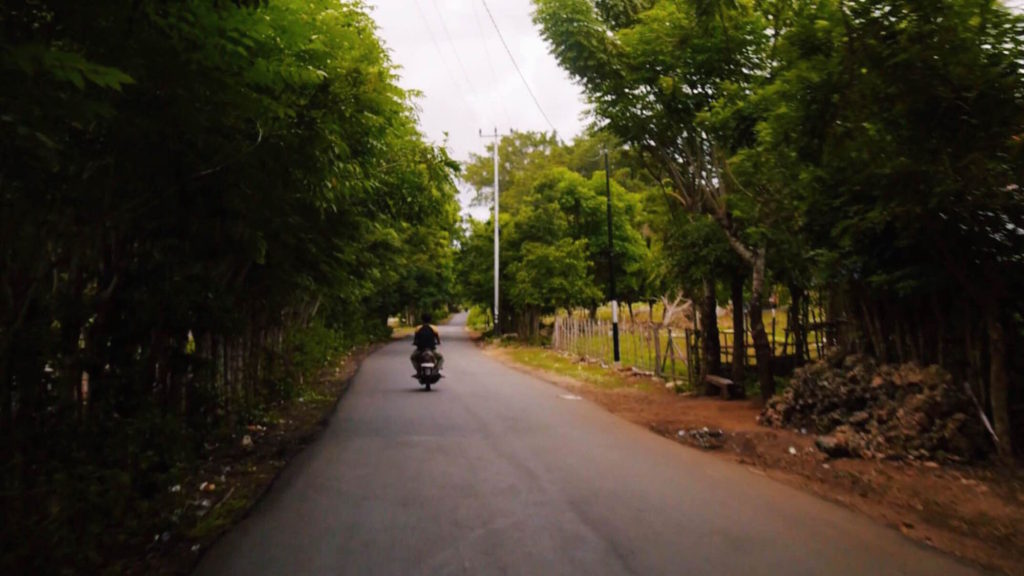 PALU
Palu is a city in central Sulawesi, located at the mouth of Palu River. The capital of Central Sulawesi, we start our exploration of the city taking in the sunset over Talise Beach. The view is spectacular and we also run into plenty of locals that are strolling around nearby.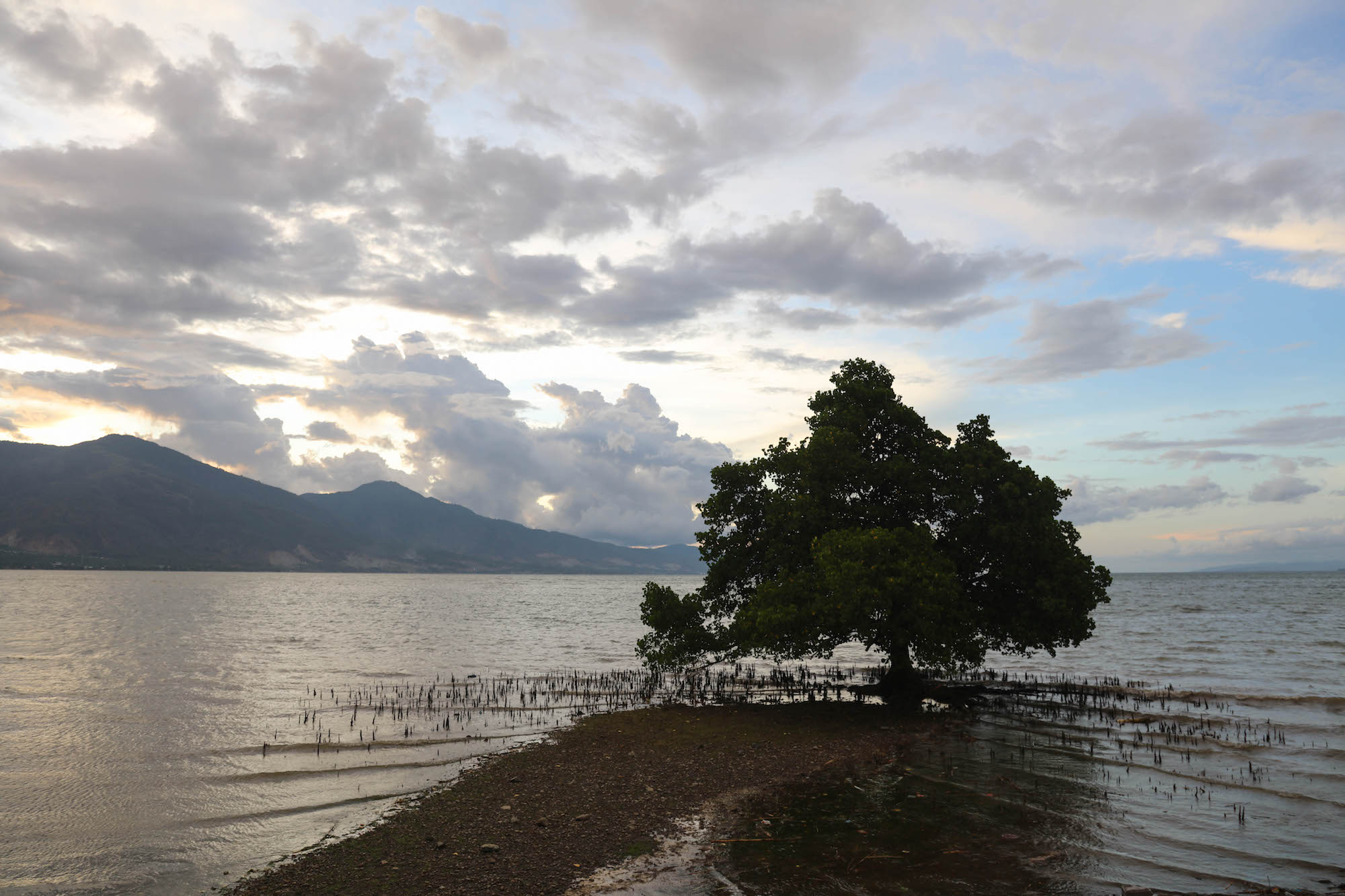 Tanjung Karang Beach
Located in Donggala, about 40km west of Palu this beach is home to some of the most amazing scenery in the region, as well as nearby snorkelling and dive sites. A great spot for sunbathing, the Prince John Dive Resort is the most popular spot. The reef is close to shore, but there is a selection of boats able to take you out further for a snorkel.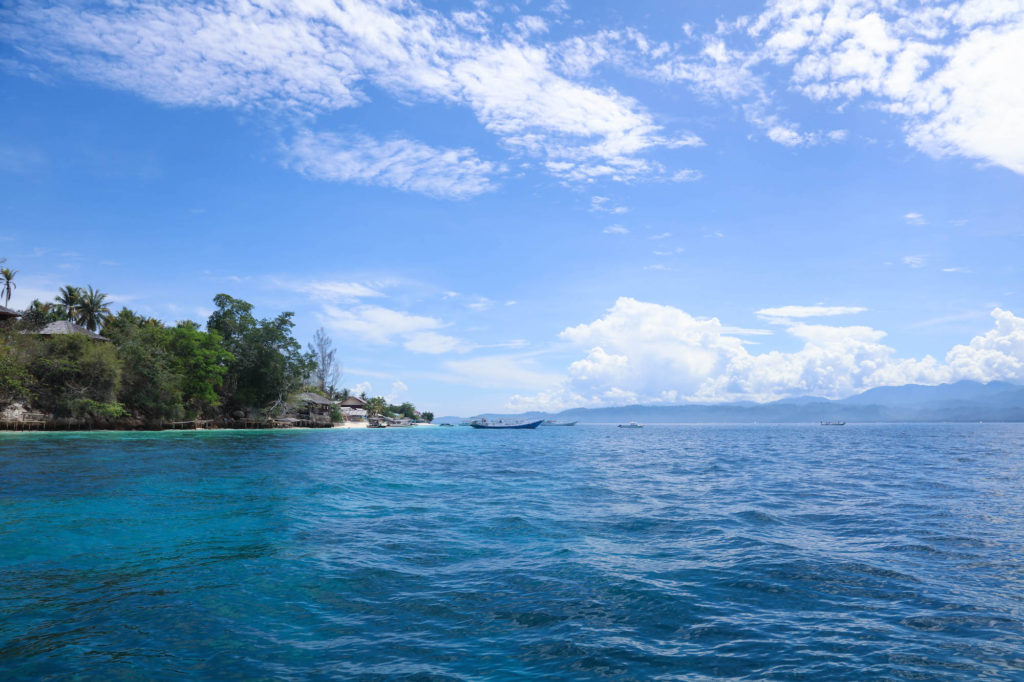 STAY – Hotel Santika Palu
In this week we were able to discover underwater coral walls, local endangered creatures, fresh produce on the spice islands, and cobalt blue waters. Bali is popular for a reason but these destinations should be on your list to visit before the rest of the world discovers these hidden gems and the Bintang singlets arrive. So what do you think, would you explore Indonesia beyond Bali?
For more images of this trip check out my Instagram @holly_osullivan or my April gallery! This trip was courtesy of the Ministry of Tourism of Indonesia, my opinion is my own.