Darwin is the coastal capital city, situated along the western shoreline of the Northern Territory. It's the most common starting point for travellers in the NT, and for good reason! While the city itself has plenty to explore, just a short drive out of the city you'll find some of Australia's most incredible landscapes and wildlife. 
Despite being a relatively small city, there are actually plenty of things to do. So how to fit it all in without feeling too rushed?
While travelling around the Northern Territory I passed through Darwin a couple of times, so I've managed to fit all of my favourite parts into the perfect weekend itinerary for you…
To break it down; 
Day one – The Crocs & the Waterfront
Day two – Litchfield National Park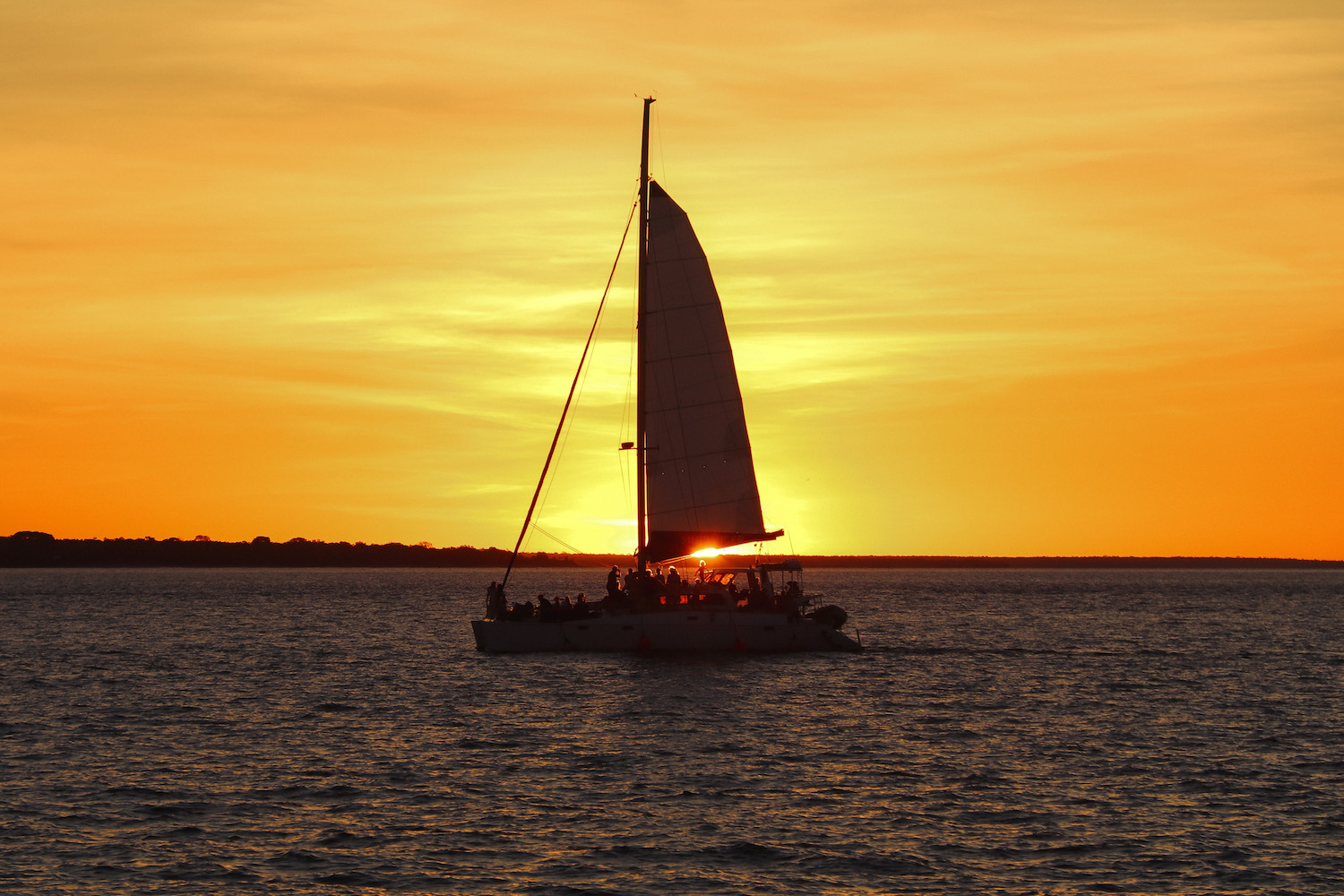 Day 1 – Darwin
Brekky at Ray's Patisserie
Located in the heart of Darwins CBD, Ray's offers a delicious menu full of fresh croissants and smooth coffee. The interior is modern, cool and colourful, with a large alfresco area for those brave enough to bare the heat. 
While the freshly baked goods were incredibly tempting, I went for the Loaded Croissant (spinach, beetroot relish, 2 poached eggs, halloumi & hollandaise on a freshly baked croissant). 
It was really delicious & super fast service!
Get up close with the Crocs
Next up, Crocosaurus Cove! If there's any place to get up close to a Crocodile, this is the place. Not only home to Crocodile Dundee's famous croc Burt, but this park also has an aquarium, reptile rooms, and the famous Cage of Death experience. If you have the time you could also go out for a Spectacular Jumping Crocodile Cruise down the infested Adelaide River.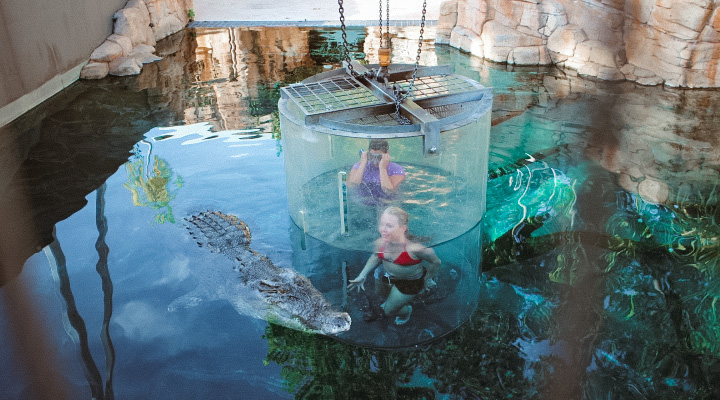 MAGNT
If you want to take a step into some history (and air conditioning), the Museum and Art Gallery of the Northern Territory (MAGNT) is just walking distance from the CBD and waterfront. While the entire Museum isn't that large, you're welcome to wander around the different exhibitions completely free. Some of the installations you'll find include;
Some yr12 HSC works
The GIANT croc sweetheart and her history in the NT
Local fauna

 

Boats and their history with Darwins harbour
Wander along the Waterfront
For a walk you can wander down to Darwin Waterfront and explore the various restaurants, the harbour, and if you feel like it – a swim in the famous wave lagoon.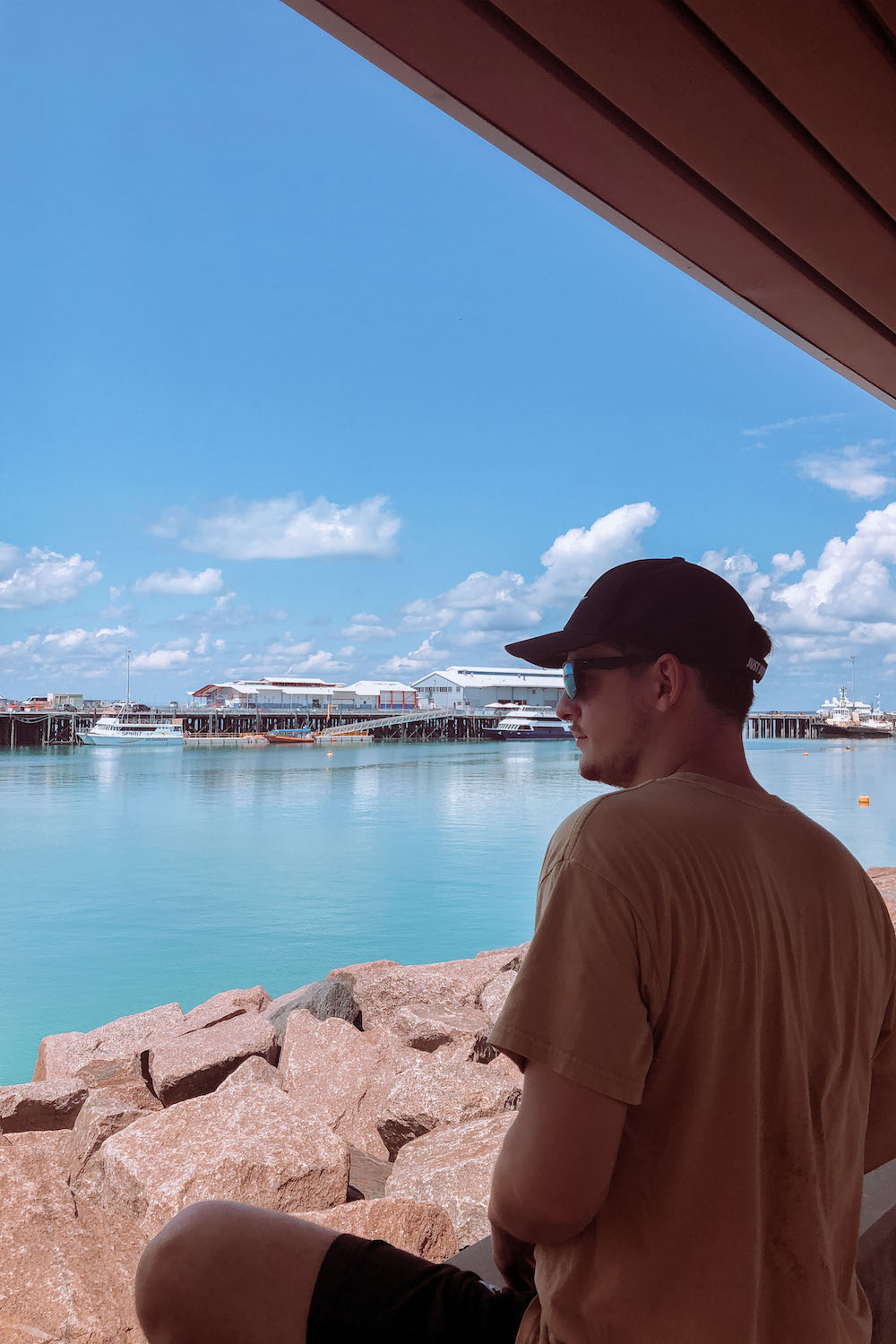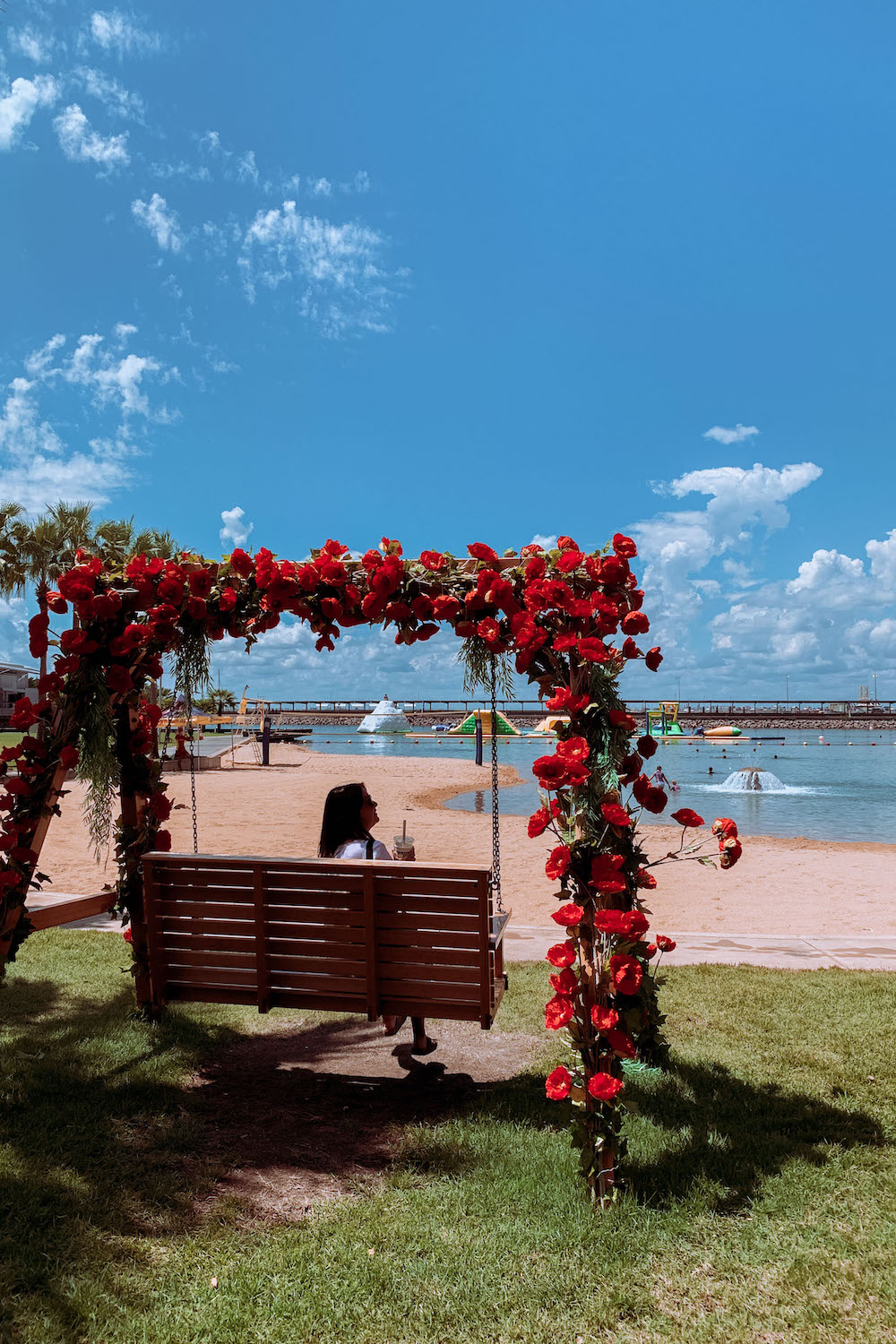 Cape Adieu Sunset Cruises
With Cape Adieu cruises you can opt to just cruise, cruise with a prawn platter, or have a full buffet dinner. We opted for the cruise and then we were able to help ourselves to the onboard bar and included chips and dips. For those choosing this option you are also welcome to bring your own food on board.
The view over Darwin's waterfront for sunset is incredible. The entire sky lights up a bright pink colour as the sun falls down over the horizon. I had already done this cruise once before, but I knew I wanted to do it again. Darwin has sunsets unlike the ones I ever see from the East Coast of Sydney!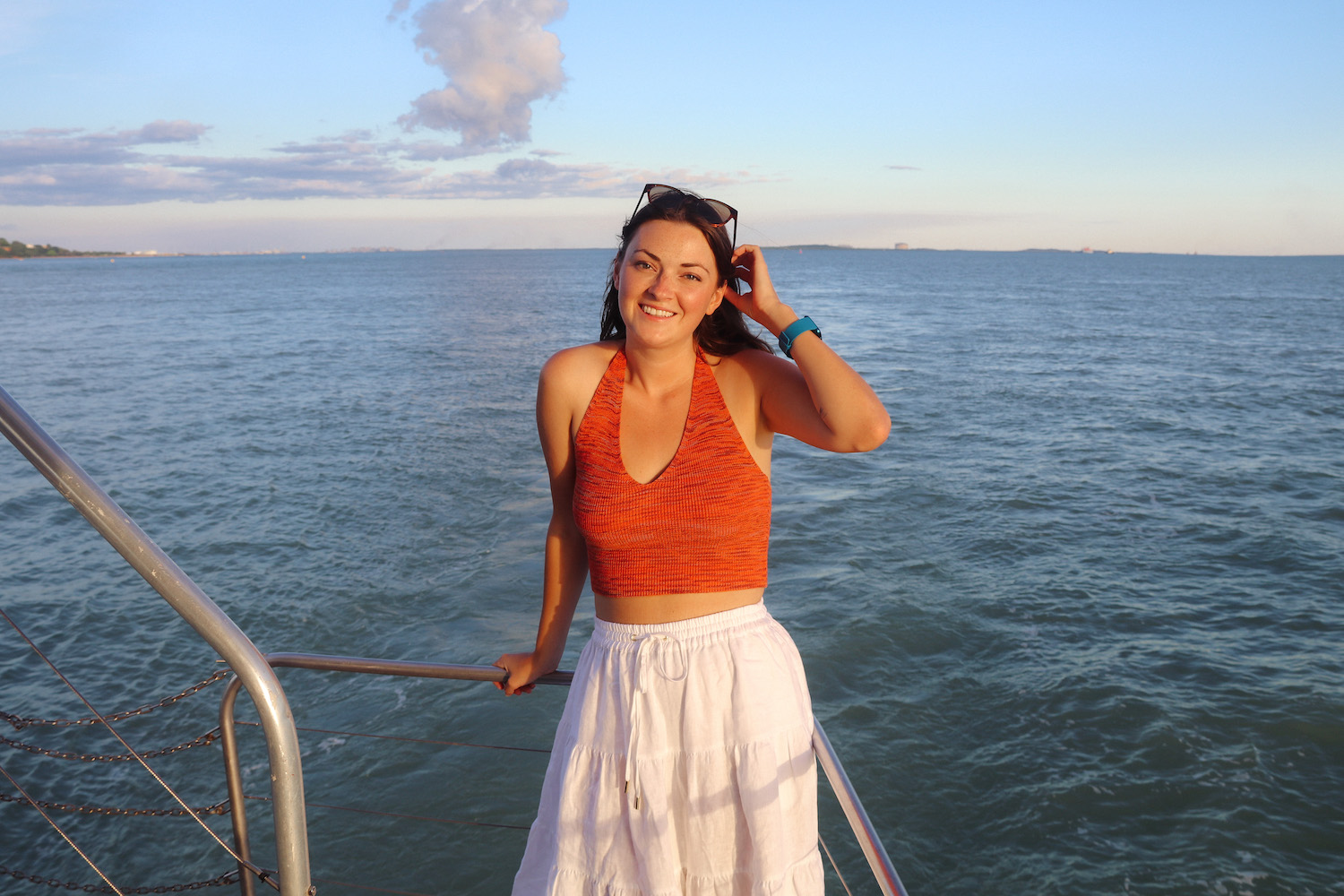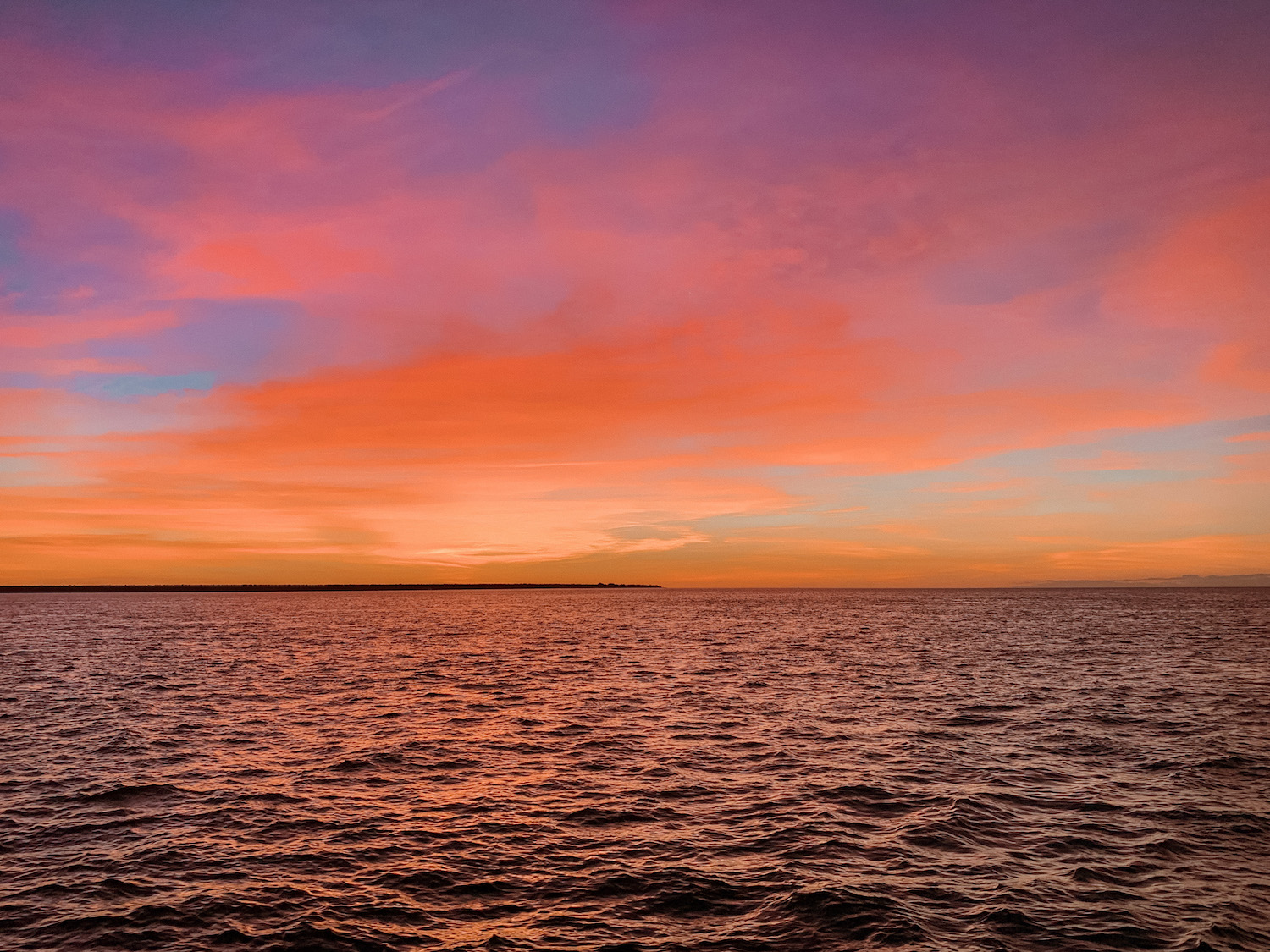 Explore the Nightlife on Mitchell St
This is probably the loudest street you'll find in Darwin. It's filled with backpackers hostels, pubs, karaoke bars, and restaurants. For those after a night out on the town, this is where you'll find all of the nightlife. All of the bars play blasting music, almost as if to compete with each other! This is also where you'll find some great dinner deals and happy hour drinks. If you've ever wanted to try your first taste of some crocodile, emu or kangaroo, some of the restaurants here include these on their menus.
Mitchell Street itself is fairly short, so even if you aren't in the mood for a night out, it's just a short walk to have a wander up and down to check it out. 
Day 2 – Litchfield National Park
Brekky at Dukes Cafe
I'd heard of Dukes through local recommendation – my friend who previously lived in Darwin said it was her absolute favourite, and the Dukes Benny was a MUST. So that's exactly what I got, and it really is a MUST. My partner became so obsessed with their brekky burgers that we actually returned 3 TIMES! OB-SESSED.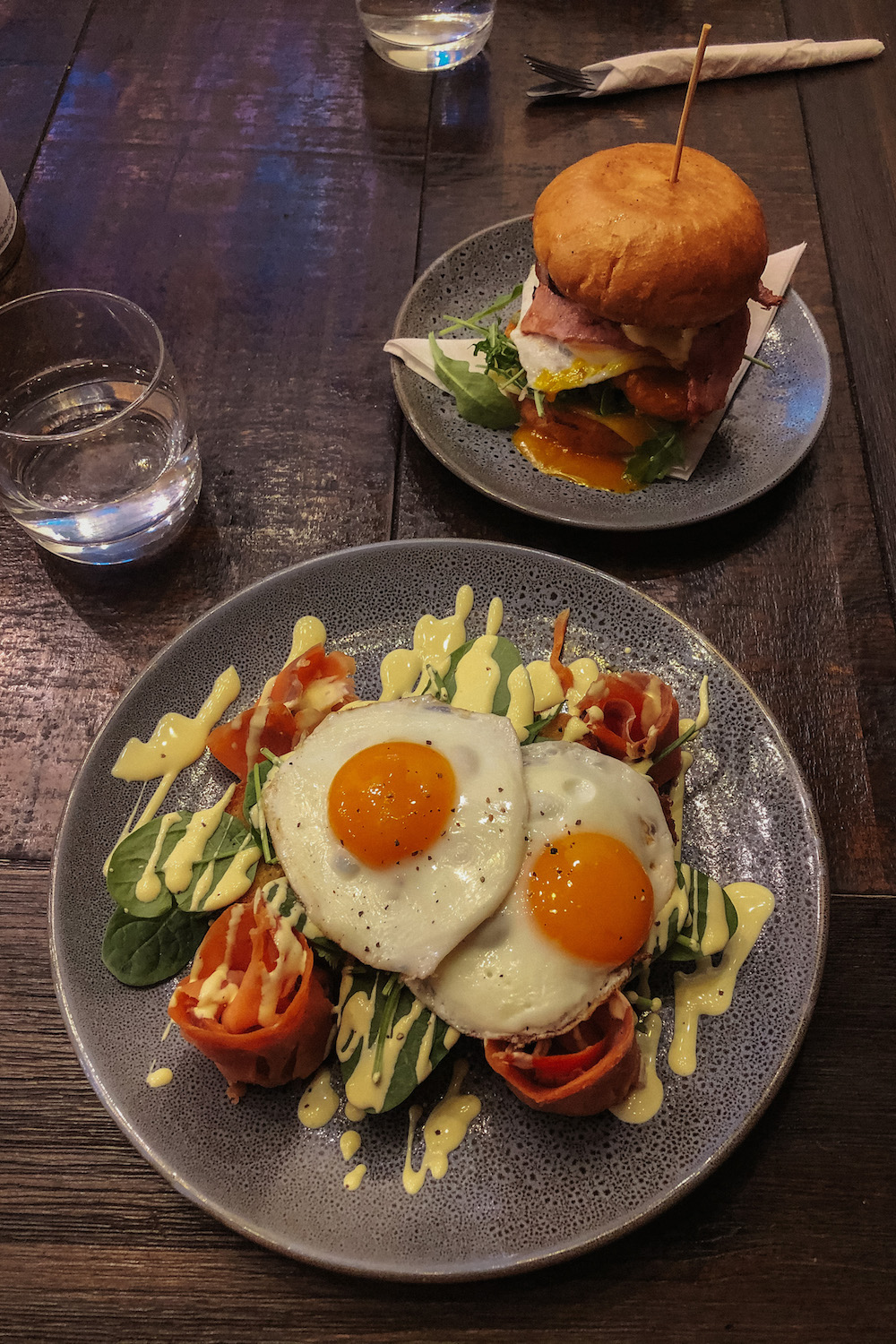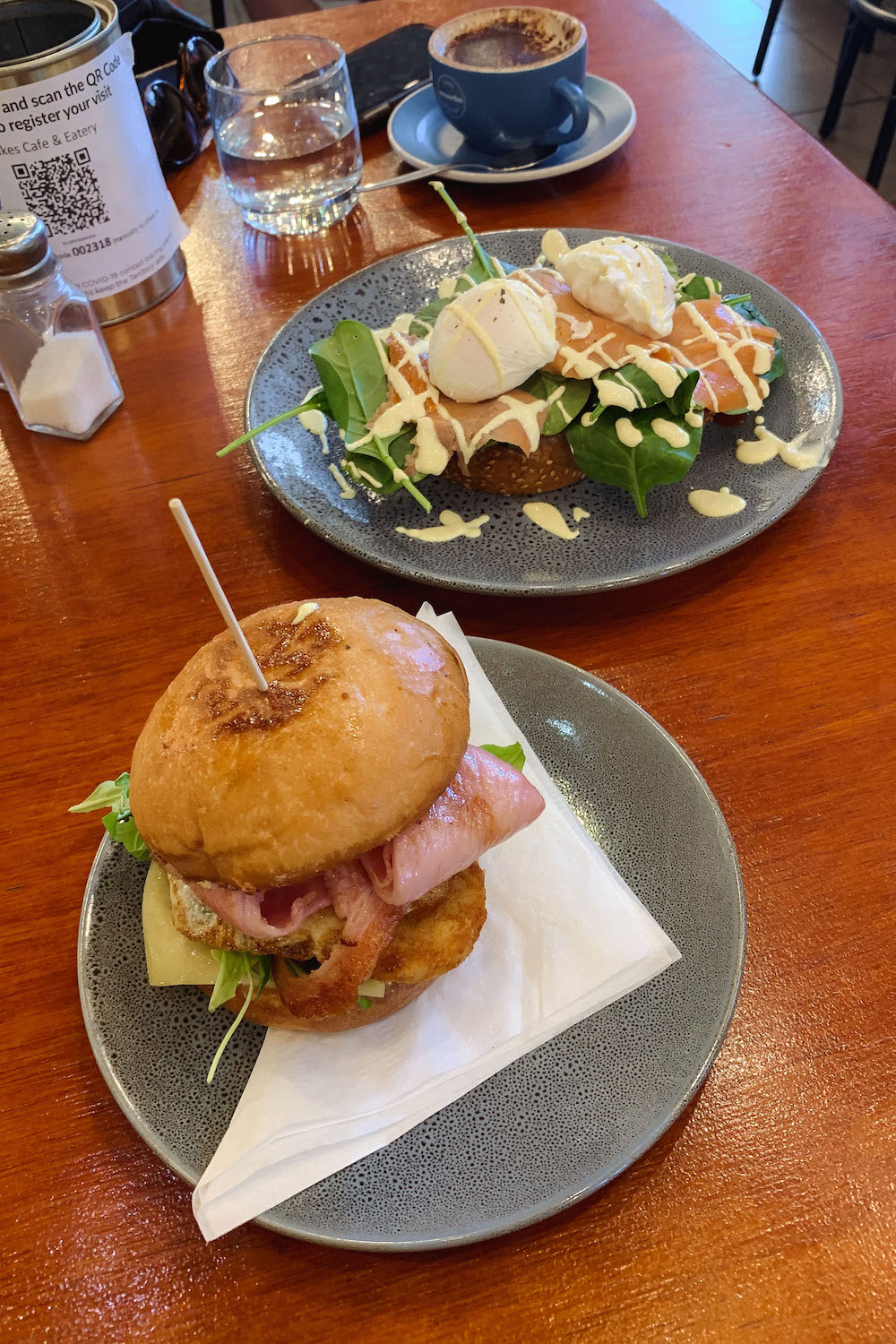 Exploring Litchfield National Park
Now it's time to start exploring the Top Ends wildlife! Litchfield National Park is just over an hours drive from Darwin and through the township of Batchelor. It's home to several stunning waterfalls, swimming holes and is the perfect example of the Top Ends landscapes and bushland.
First up is the Magnetic Termite Mounds. Honestly it's like a bunch of tall rocks – but the intricacy about them is pretty interesting. These huge compass-like nests are all built so that their broader sides face east-west. This thermo-regulates the mounds for the termites inside who prefer a higher humidity. 
By this point it's already boiling, so it's time to cool down – the closest spot is Buleys Rockhole. A series of shallow flowing pools, it's the perfect place to sit down and let the water rush over your shoulders.
Florence Falls was our favourite stop of the park. It's the most popular designated swimming area and it's not hard to see why. We stayed here for hours, and we could've stayed even longer!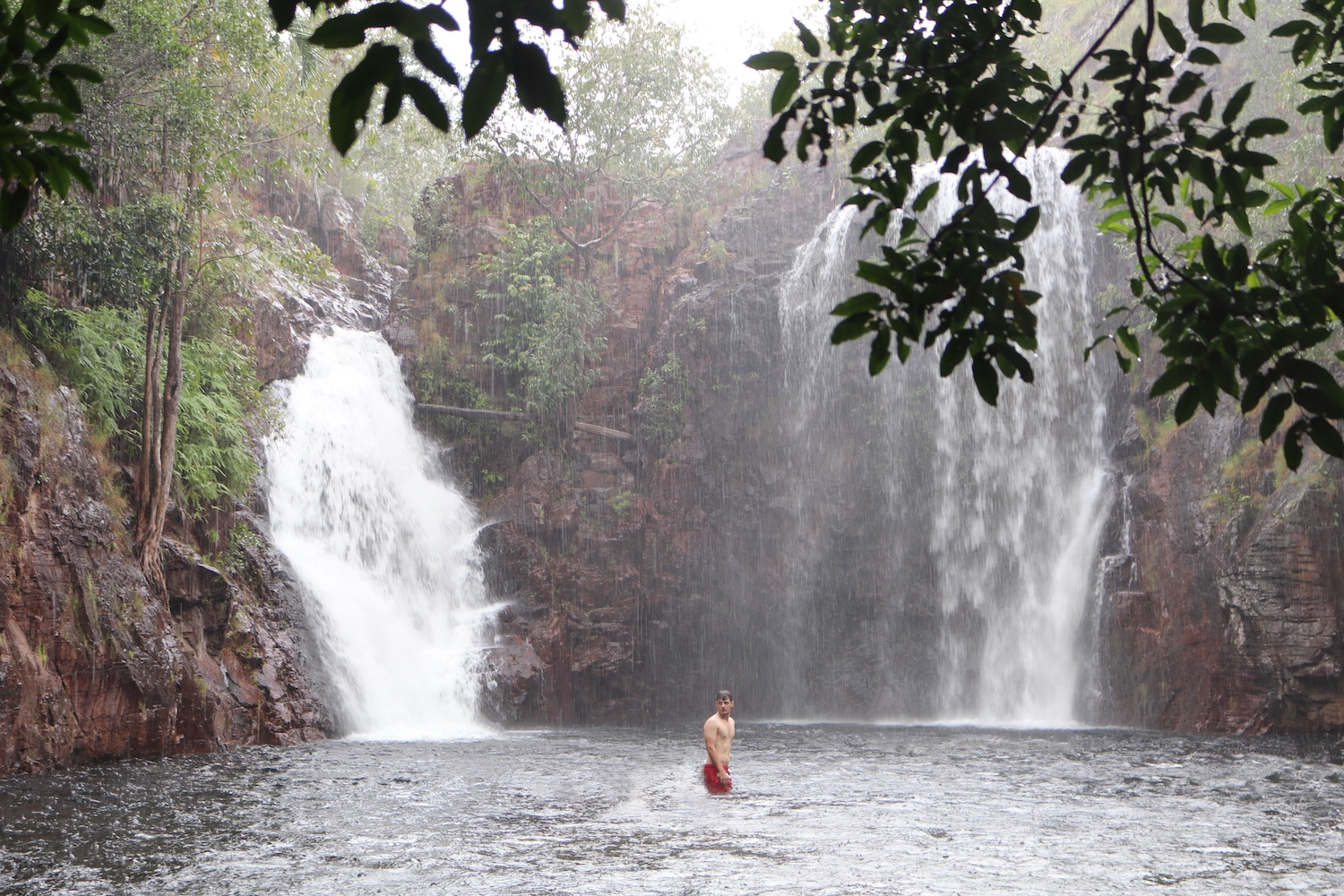 Wangi Falls and the waters edge was prohibited when we visited, but the falls were all the more spectacular to view while deserted. Crocs are known to explore this area unmonitored so keep an eye out and you might spot one – we did! 
Our last waterfall was Tolmer Falls. Also a sanctuary for the fragile population of Ghost Bats and Orange Leaf-nosed Bats – you can see the caves from the Falls viewpoint.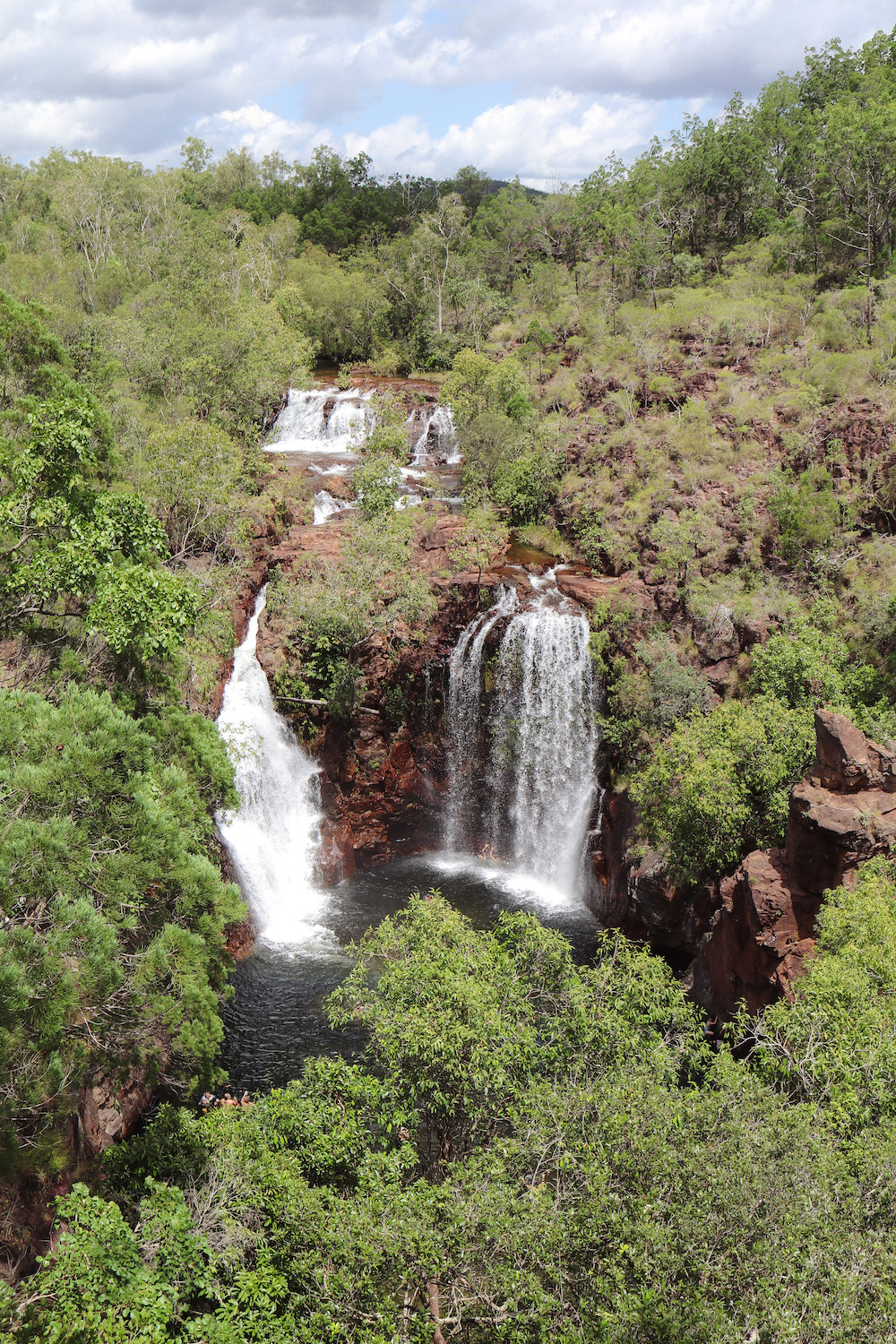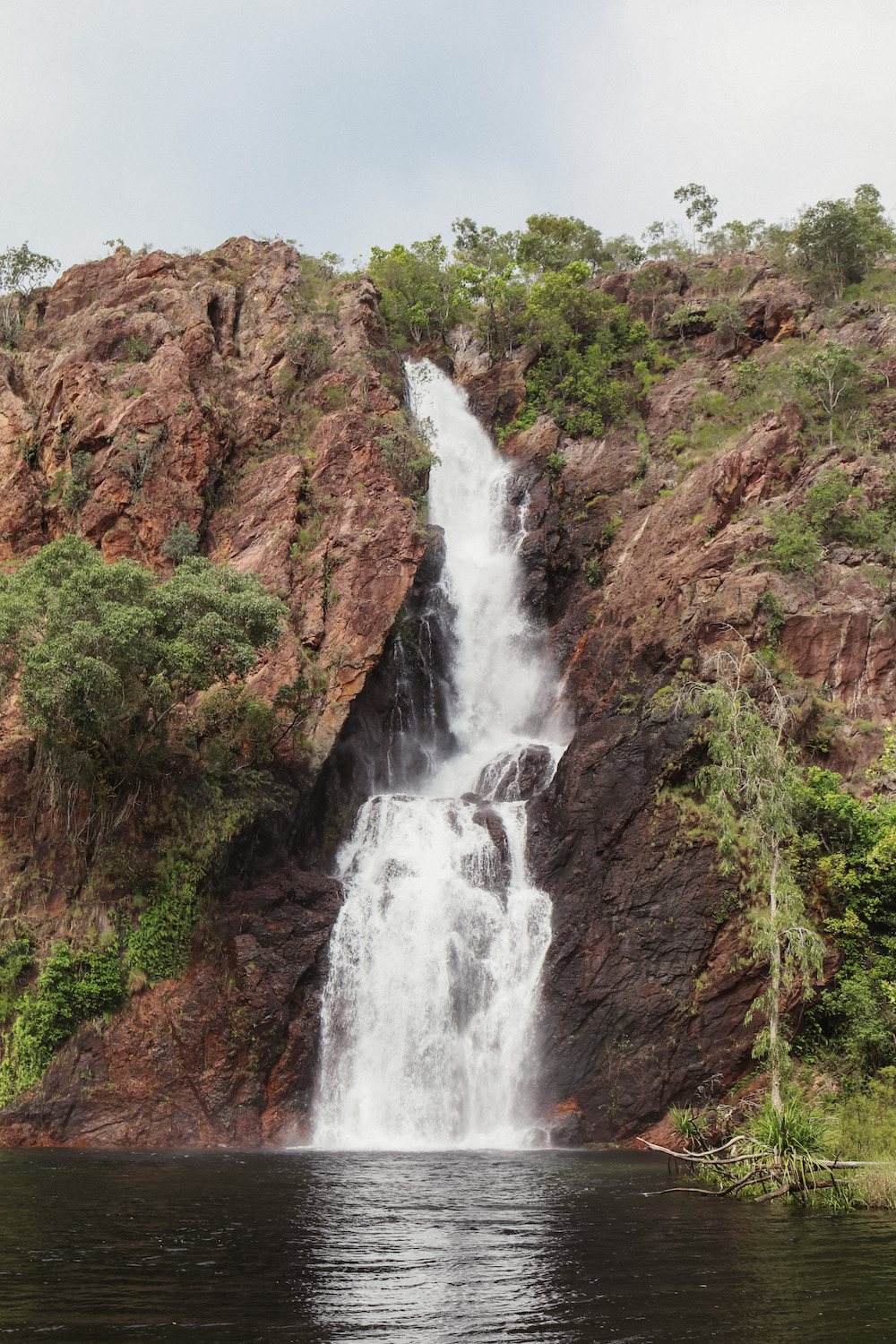 Dinner at Meraki Greek Taverna
It's dinner time, and in Darwin we are spoilt for choice! While Mitchell Street is loud and bustling, Smith Street is a little more relaxed. If you are after some completely authentic and traditional Greek food, you should find my absolute favourite – Meraki. It is the place to go!  With some delicious cocktails (with creative names) and plenty of share plates the menu has a massive selection to choose from. 
Me and my partner both shared Greek salad, trio of dips with pita bread & halloumi. For our mains Luis got chicken skewers & I got some veggie stuffed peppers. And a tip: Get the halloumi. Just get it.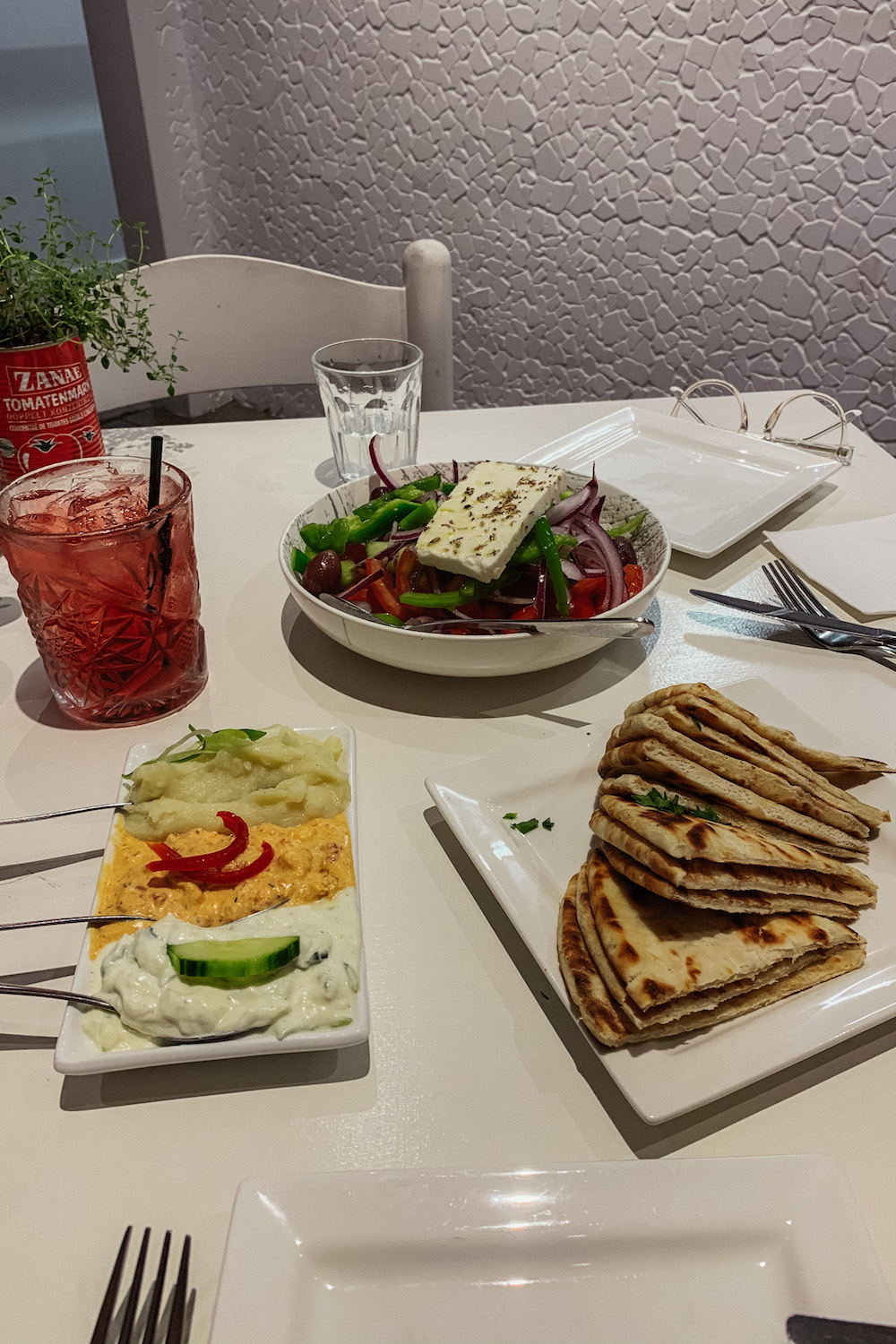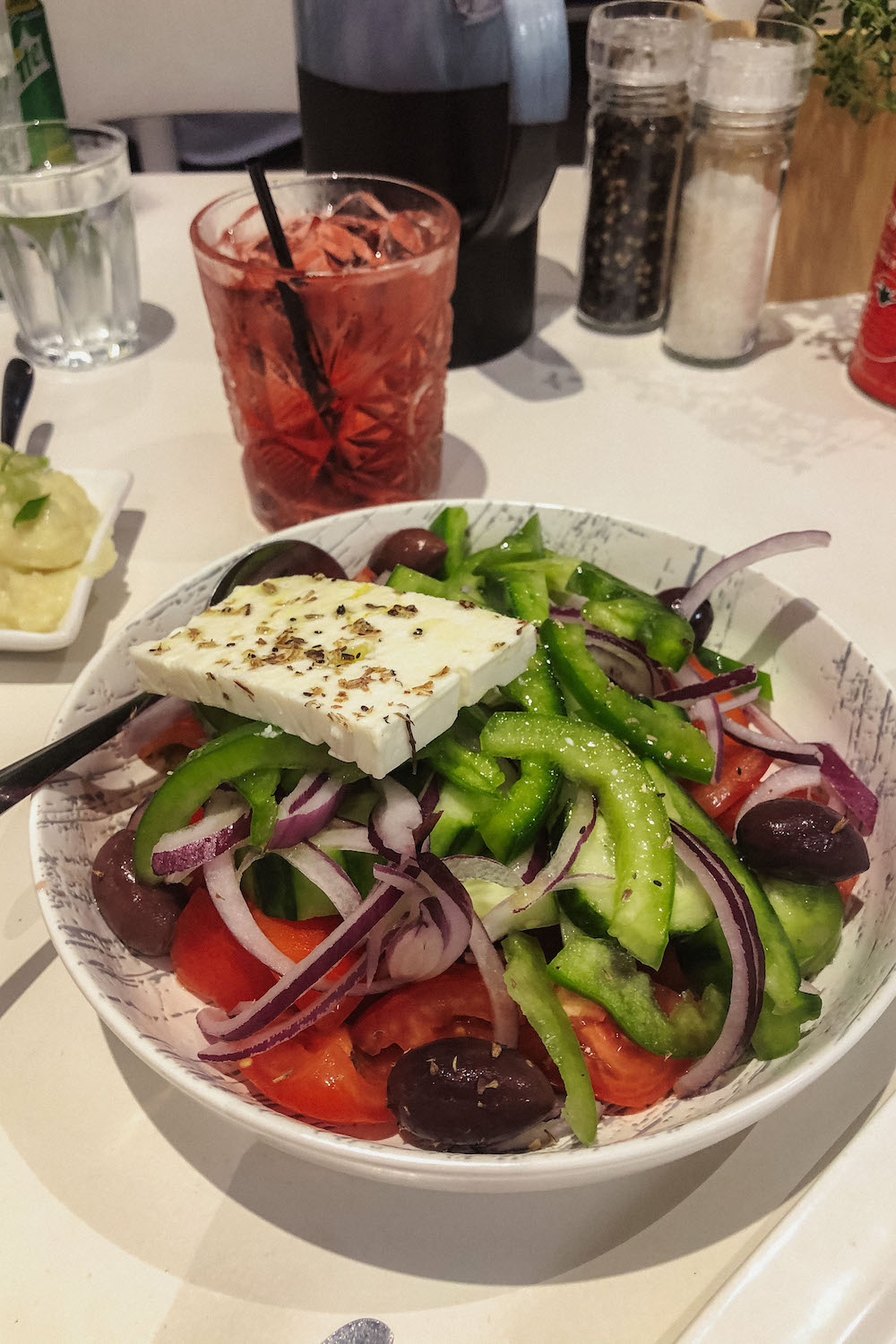 Sunset at Mindil Beach
With one google of "best sunset spots Darwin" Mindil Beach is always the no1 result. The area is more well-known for its market stalls, but if you can't make it for the markets, you can always visit for sunset! The beach is one large long strip of sand so it's pretty popular for other locals and picnic-goers.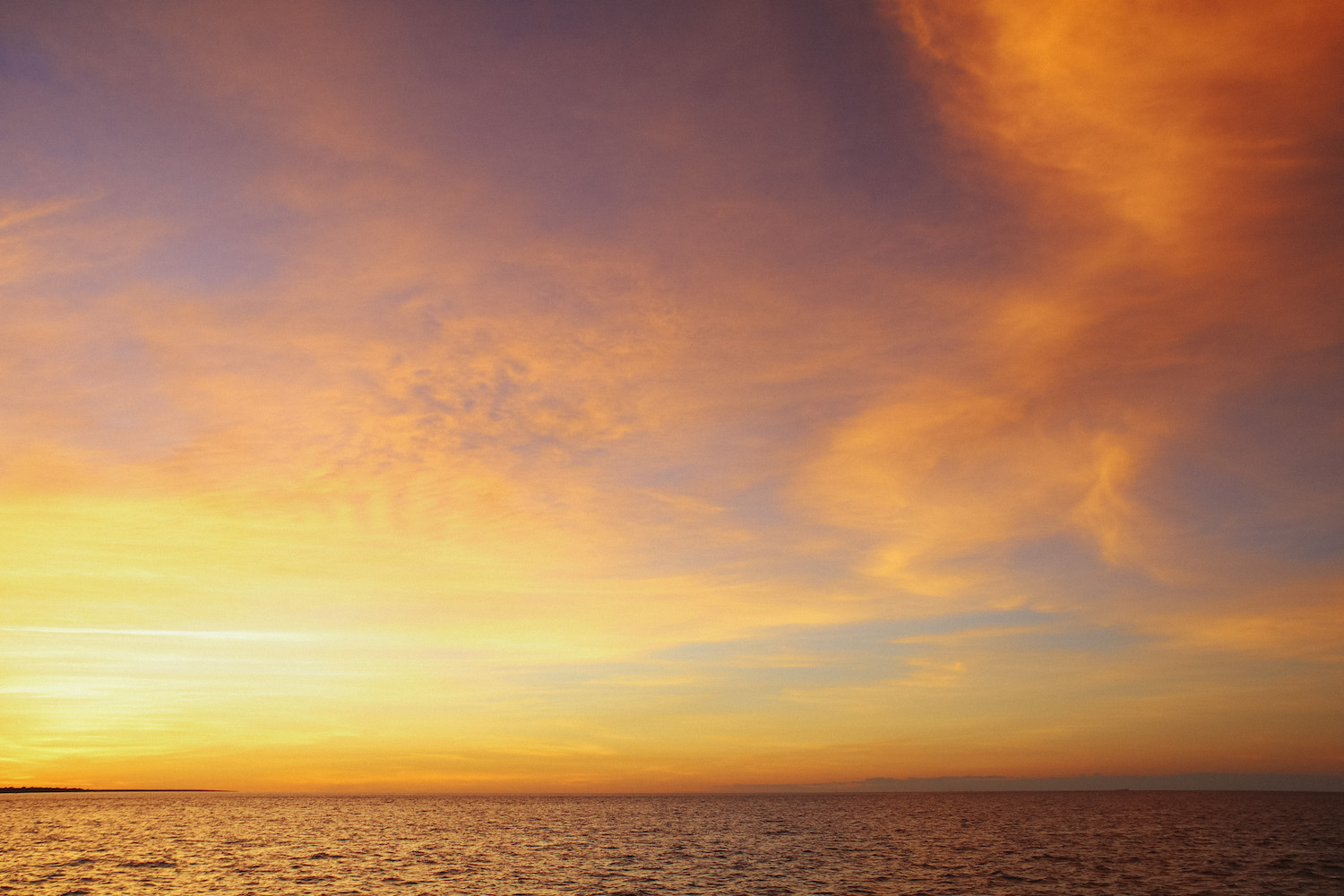 Where to Stay in Darwin
Darwin has a little bit of everything when it comes to accommodation. On Mitchell Street you'll find a lot of the backpackers hostels – the YHA has just reopened! I stayed in the Youth Shack, which had really nice private rooms, but I would probably only recommend it to those who want to party. A little further from Mitchell Street you'll start finding some of the nicer budget hotels and resorts – H on Smith, Novotel, Vibe.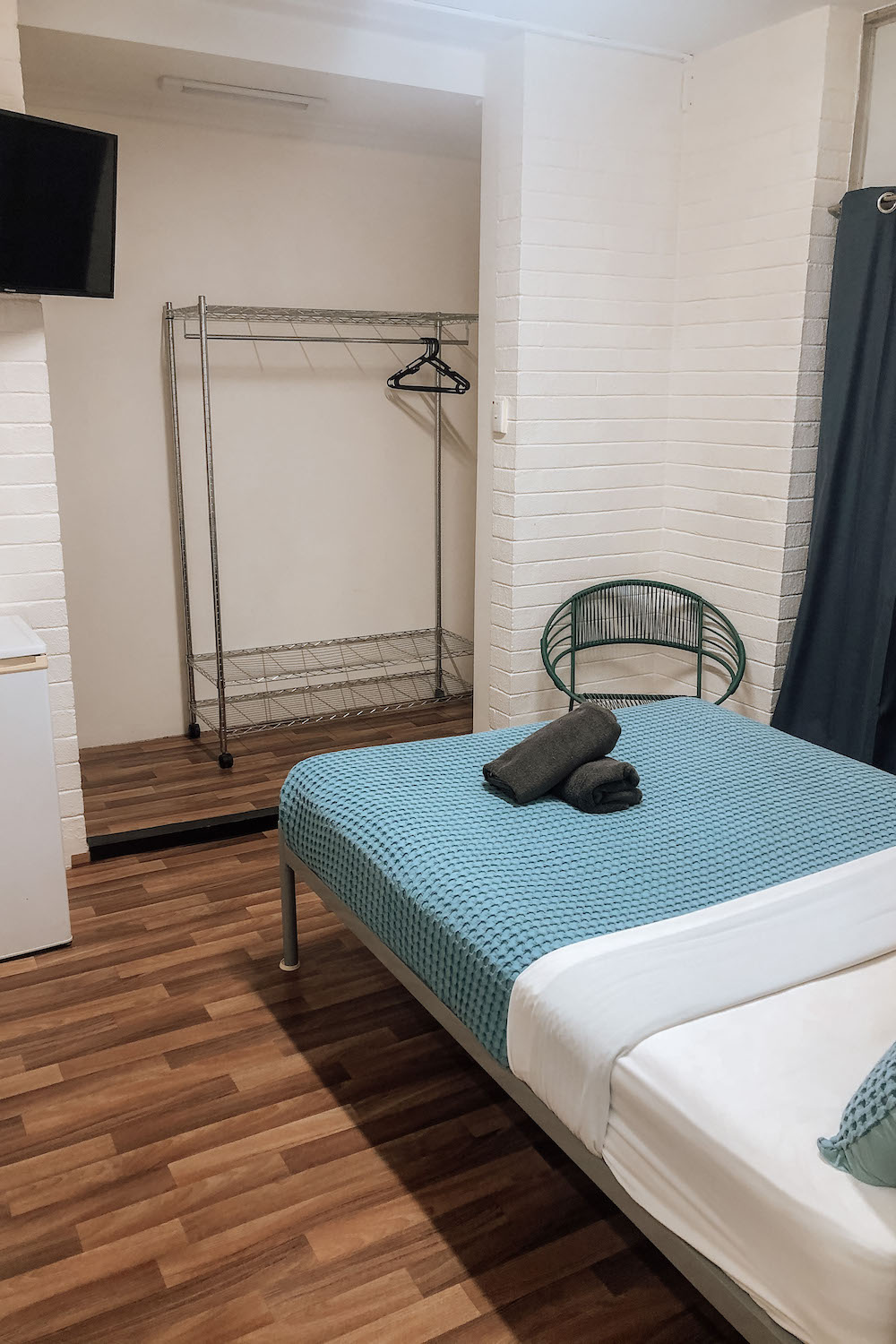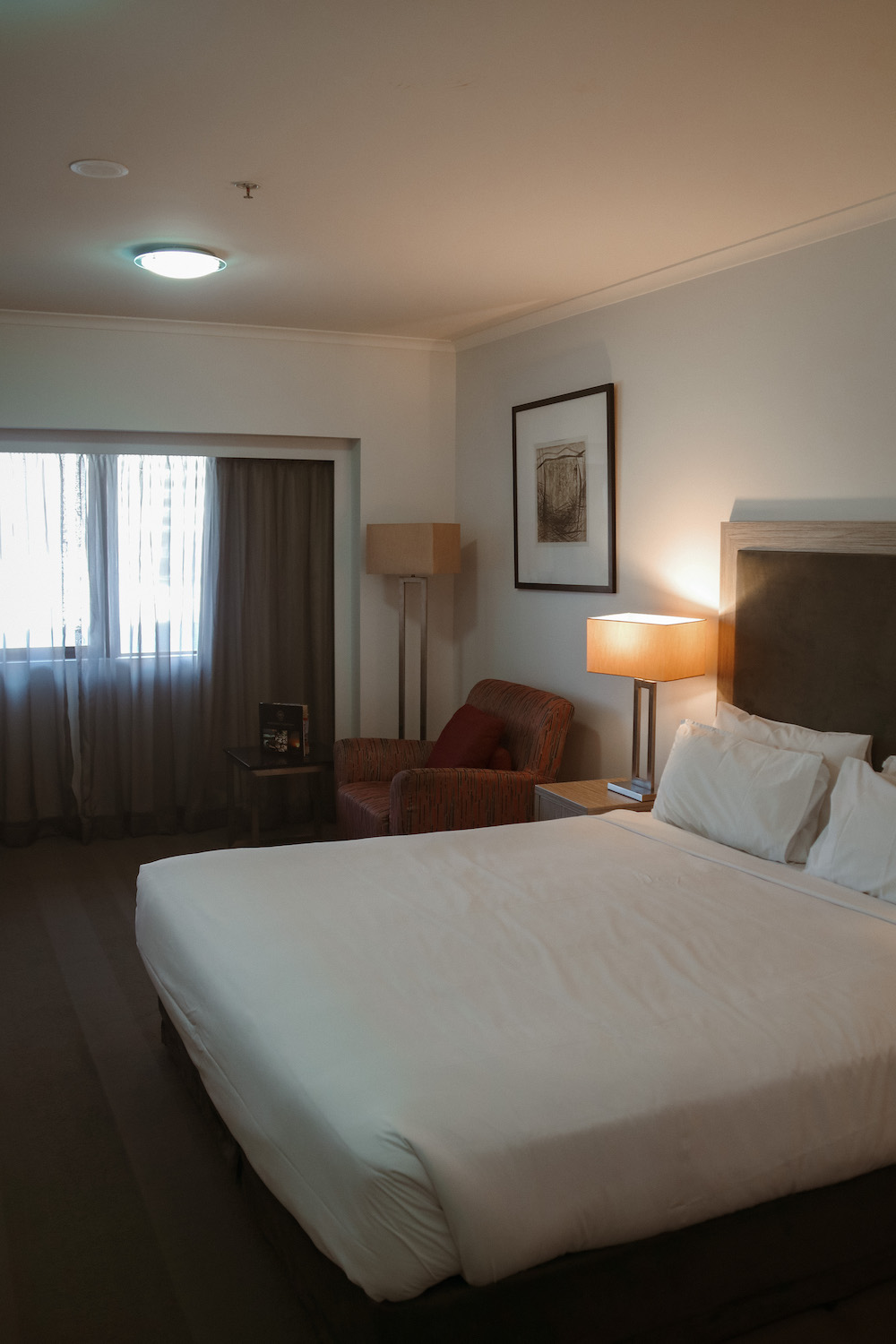 What would you add to your trip around Darwin?!