This is a little late, but 2016 was without a doubt one of the best years of my life. I travelled to 14 countries, about 40 cities/townships, made countless new friends and spent about 4months away from home in total.
While some people argue that travel keeps me from living my "real" life, travelling is my favourite part of life.
So yes I may have pushed my uni degree back a bit more, but here's 100 memories that no one can ever take from me. You can see everywhere that I travelled here.
1. Sitting on the edge of Lincoln's Rock in the Blue Mountains, NSW
2. Swimming over a 40-50m drop-off at Bunaken Island, Indonesia
3. Spotting the rare Black Crested Macaques in Tangkoko National Rainforest
4. Hiring a scooter and exploring Ambon Island, Indonesia (with LostNorFound)
5. Witnessing the Sahu Reka Reka dance in Ambon, Indonesia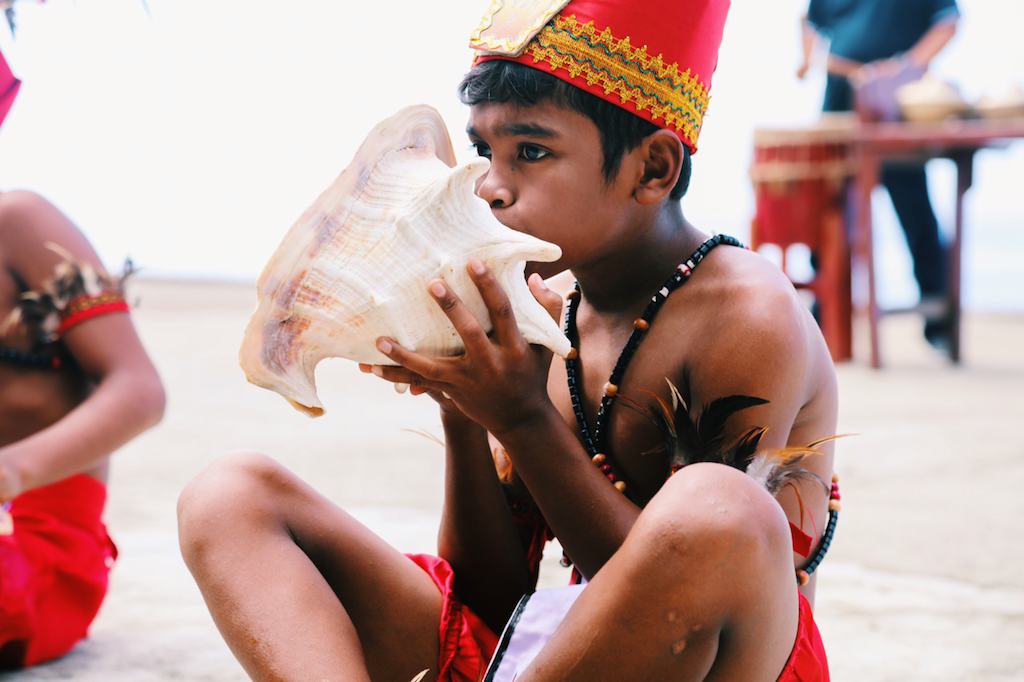 6. Swimming with Manta Rays at the Cleaning Station, Raja Ampat
7. Dancing with the children at Sawinggrai Village in Raja Ampat, Indonesia
8. Almost passing out while climbing up to the breathtaking Piaynemo
9. Exploring Walking Street in Pattaya's red-light district, Thailand
10. Walking off-track to Belmore Falls (with ItsWorthAShot)
11. Started a European Inspiration Contiki Tour
12. Cruised past the White Cliffs of Dover
13. Tried space cakes in Amsterdam
14. Saw a live sex-show in Amsterdam (that was weird!)
15. Saw the collection at the Van Gogh Museum, Amsterdam
16. Climbed the iamsterdam sign
17. Rode a bike through Edam, the Netherlands
18. Sat beside Amsterdams canals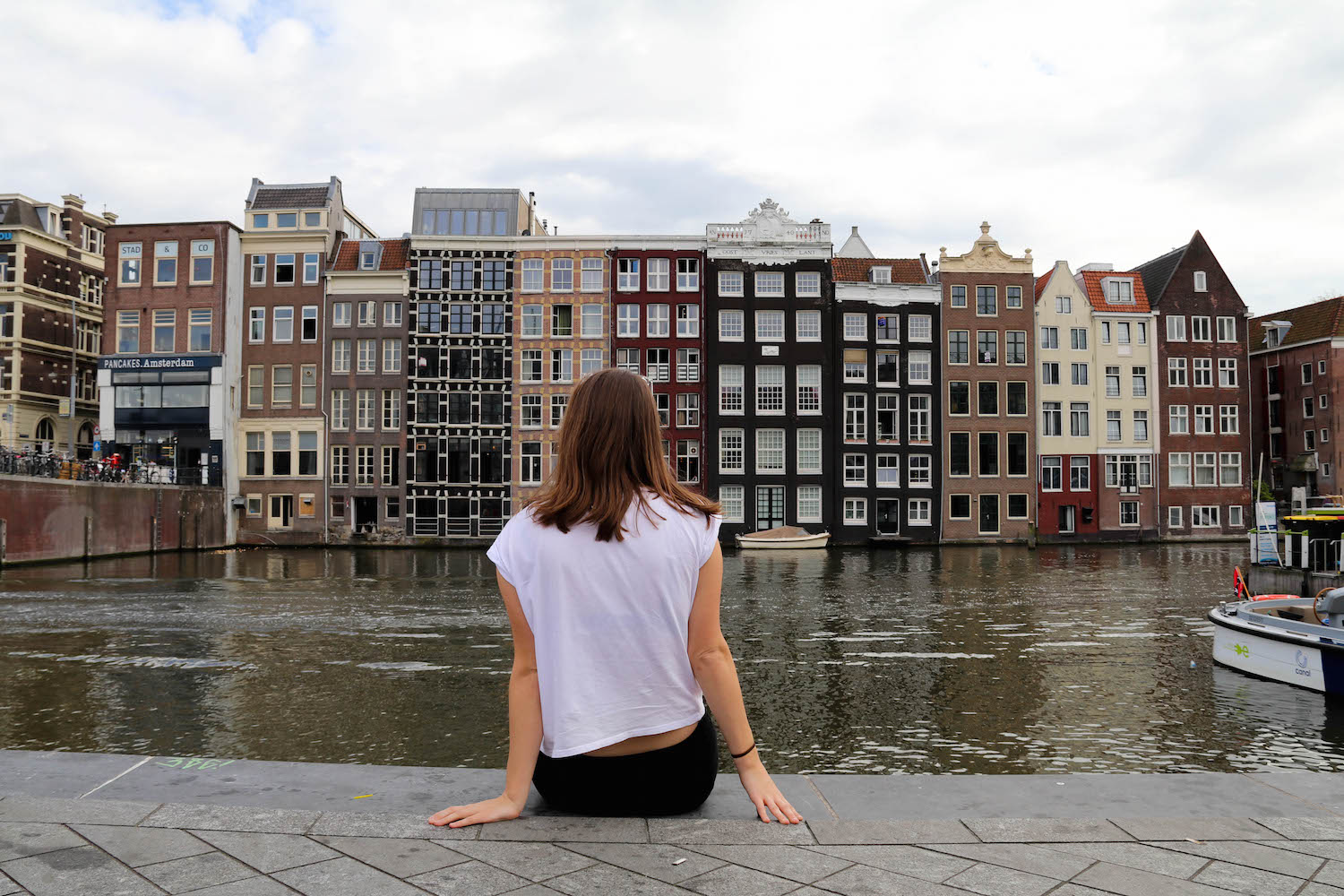 19. Walked through Brandenburg Gate in Berlin
20. Saw the Berlin Wall
21. Strolled around Dresden, Germany
22. Strolled through Prague by night, Czech Republic
23. Took in the panoramic views from Pragues Astronomical Clock Tower
24. Walked the Charles Bridge, Prague
25. Took in some history at Dachau Concentration Camp
26. Bought myself a dirndl for Oktoberfest in Munich, Germany
27. Spent the day drinking Steins at Oktoberfest in Munich, Germany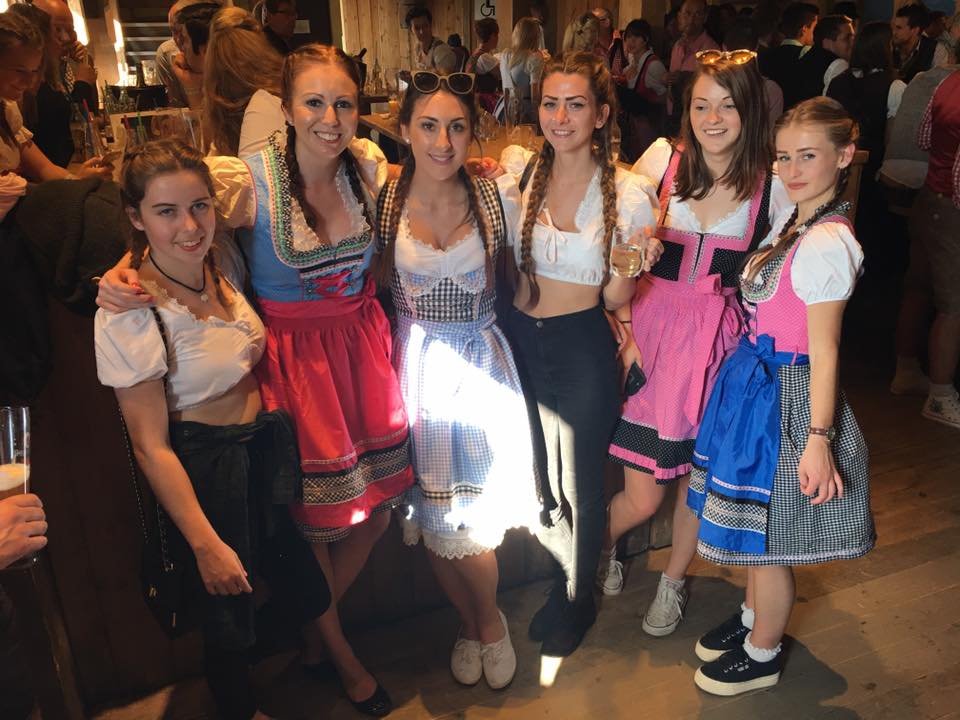 28. Went whitewater rafting in Austria
29. Took a gondola ride in Venice
30. Tried pizza, pasta, gelato and coffee in Italy
31. Took in the views from the clocktower in Venice, Italy
32. Got lost in Venice
33. Watched the sunset on Burano Island, Venice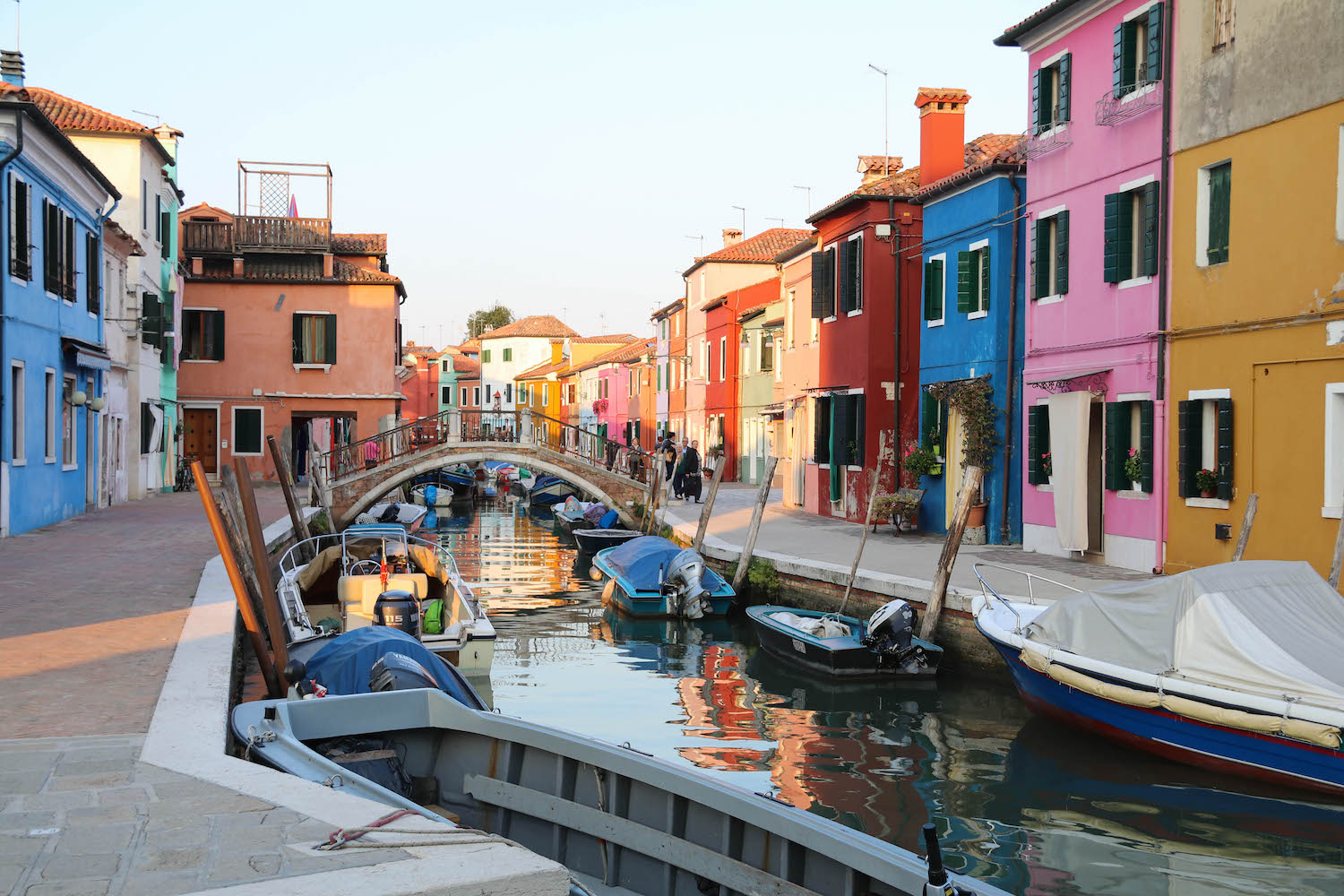 34. Ate pizza beside the Colosseum, Rome
35. Threw some coins in the Trevi Fountain, Rome
36. Entered the smallest country in the world, Vatican City
37. Saw the Creation of Adam in the Sistine Chapel, Vatican City 
38. Took a tour of the Roman Forum and the Colosseum, Rome
39. Watched a European football game in Rome – Roma vs Astra Guirgiu 
40. Tried wine in Tuscany
41. Saw where Michelangelo and Galileo are buried in Florence, Italy
42. Got dolled up for a traditional meal and a view at Piazzale Michelangelo
43. Saw the incredible architecture of the Duomo, Florence 
44. Visited Space Disco in Florence, Italy
45. "Leant" on the Tower of Pisa
46. Saw a flashmob of drummers at Lucerne's carnival – Switzerland
47. Went to the top of Mount Rigi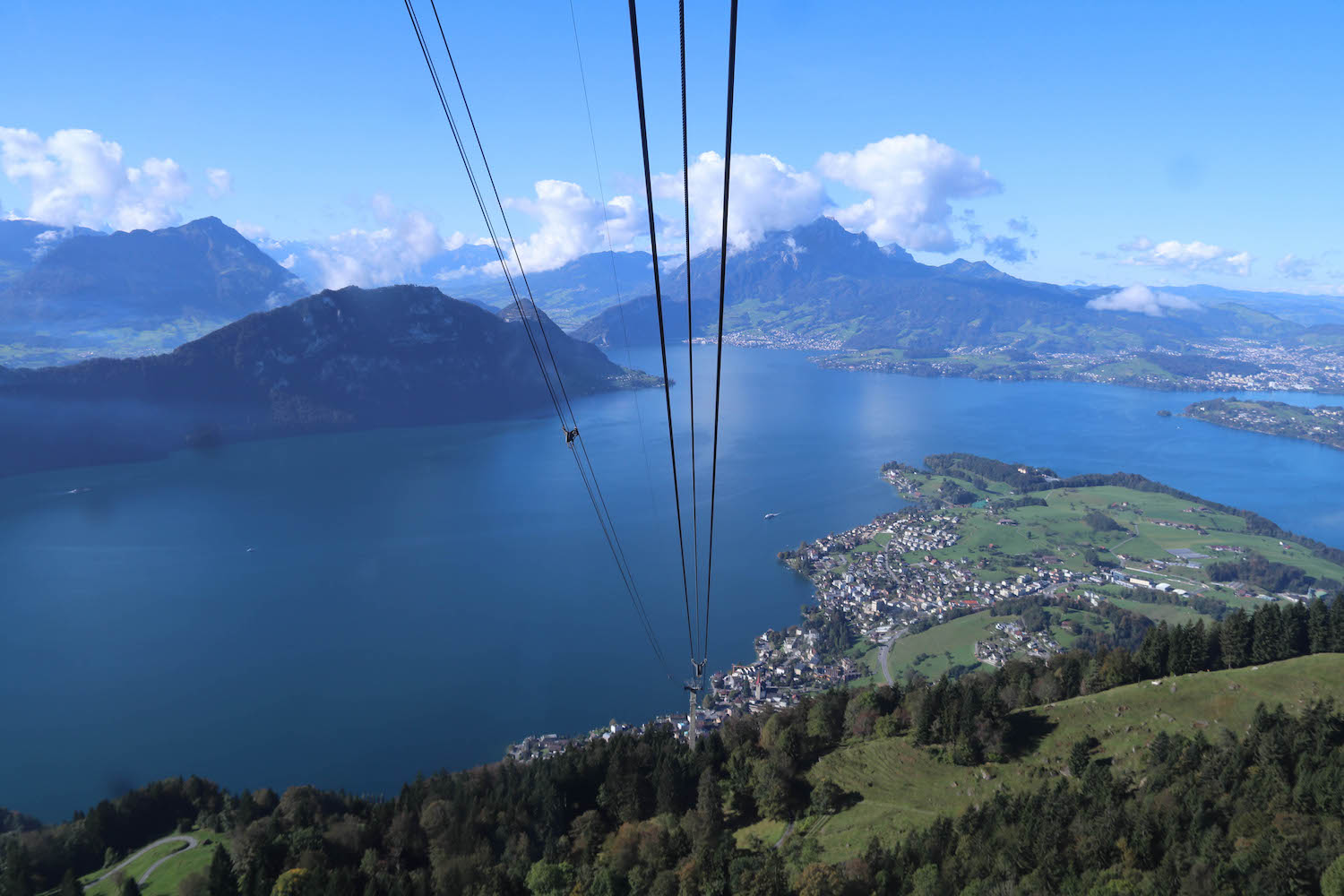 48. Took the cliched topless shot in Switzerland
49. Tried fondu in Switzerland
50. Went on a cruise through Lake Lucerne, Switzerland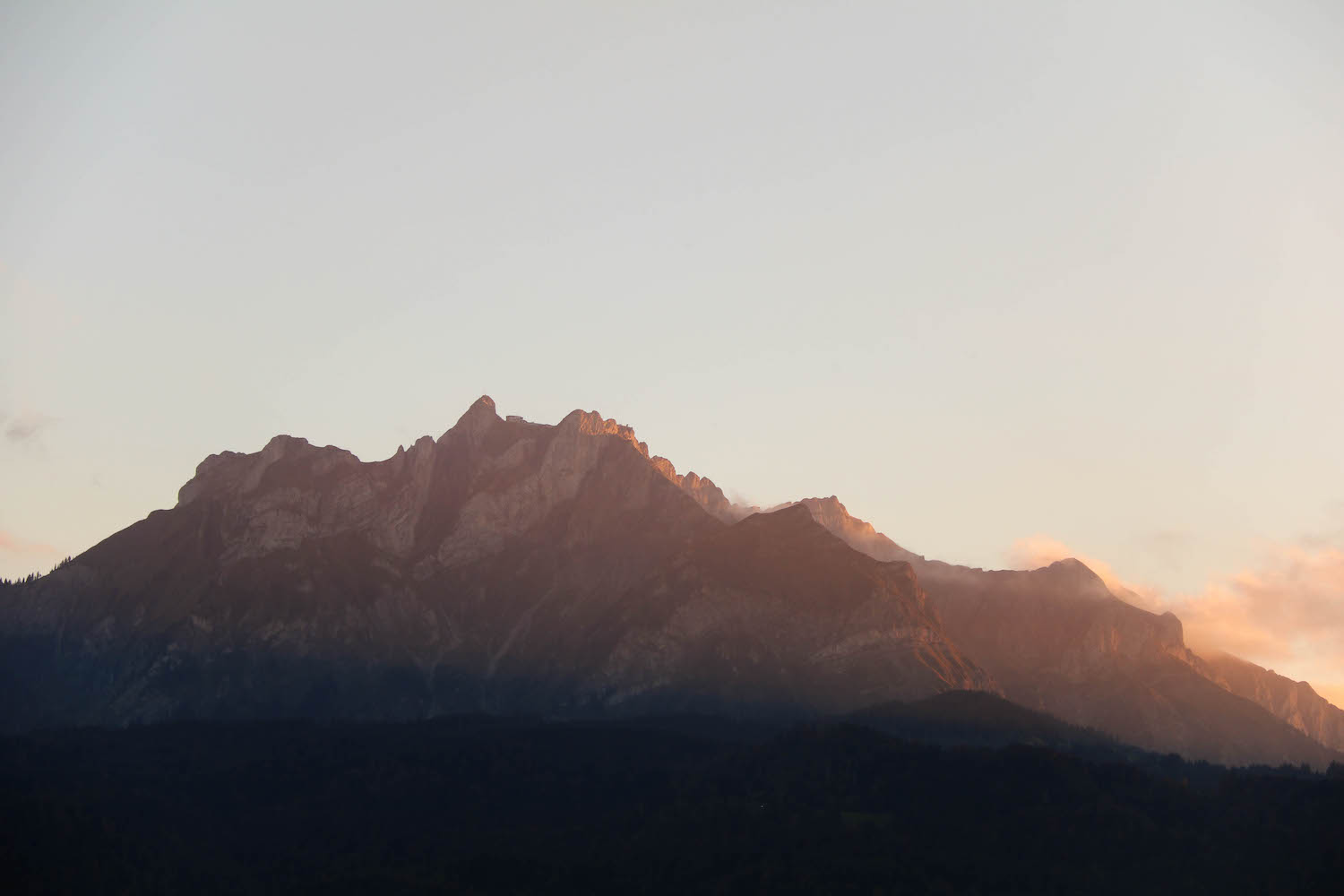 51. Saw the flower bridge in Lucerne, Switzerland
52. Saw Paris light up at night
53. Got a kiss on top of the Eiffel Tower
54. Climbed the spiral stairs to the top of the Arc De Triomphe
55. Tried macaroons on the Champs Elysee 
56. Dinner and a show at the Moulin Rouge, Paris
57. Drank with my Contiki family at O'Sullivans next to the Moulin Rouge, Paris
58. Caught up with my relatives in London, England
59. Caught up with my relatives in Ludlow, England
60. Caught up with my relatives in Edinburgh, Scotland
61. Climbed Arthur's Seat, Edinburgh, Sotland
62. Caught up with my relatives in Manchester, England
63. Saw the Manchester derby game
64. Went out on the town with my cousins and cut my hand open (whoops)
65. Got my first x-rays in Manchester
66. Went hot air ballooning over Canterbury
67. Saw where the battle scene in Narnia was filmed (Castle Hill)
68. Went on a Hassle Free LOTR tour of Edoras
69. I jumped on a 7-day Haka Tour and met some amazing people
70. Surrounded myself with Lupins at Lake Tekapo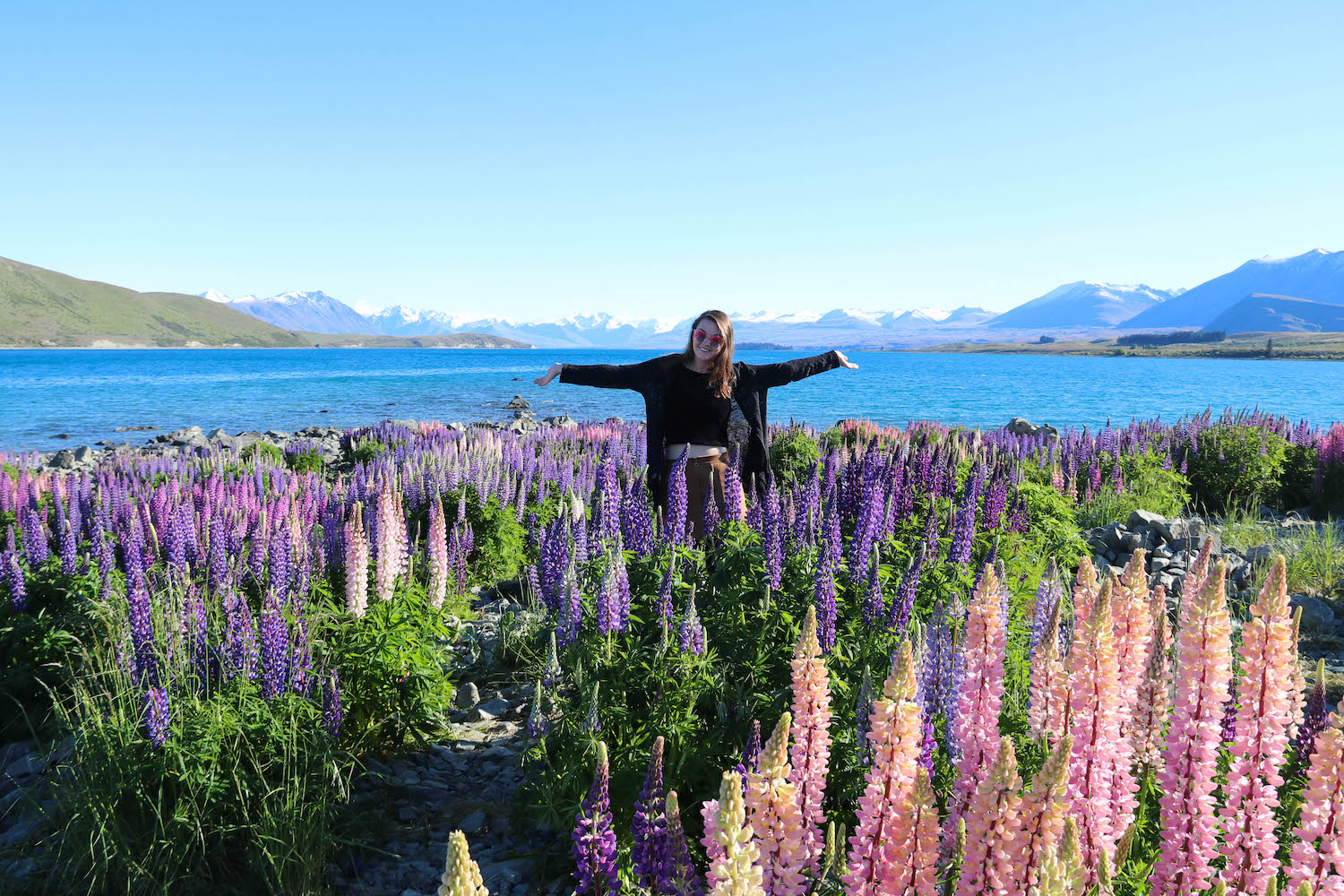 71. Sat in the hot springs overlooking Lake Tekapo
72. Took in the view of Mount Cook at Lake Pukaki
73. Took the Queenstown Gondola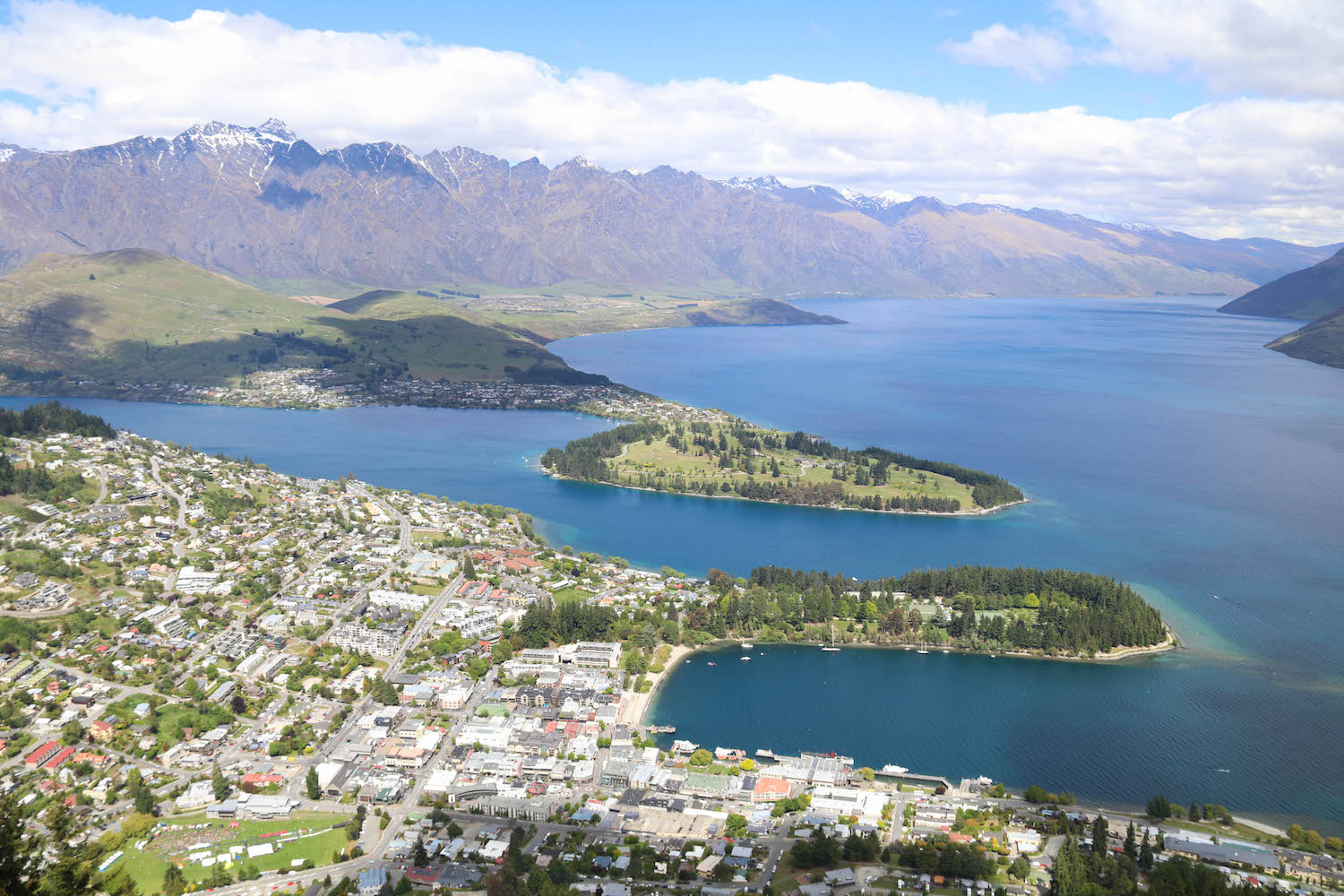 74. Chilled out at an Ice Bar in Queenstown
75. Drank until morning with an Irish Cowboy at Pog Mahones, Queenstown
76. Flew in a 6-seater plane to Lake Tiano
77. Took a cruise through Milford Sound 
78. Tried "the worlds best burgers" at FergBurgers in Queenstown
79. Saw a Kiwi in Queenstown
80. Watched the sunset over Wanaka Waterfront
81. Got a shot of That Wanaka Tree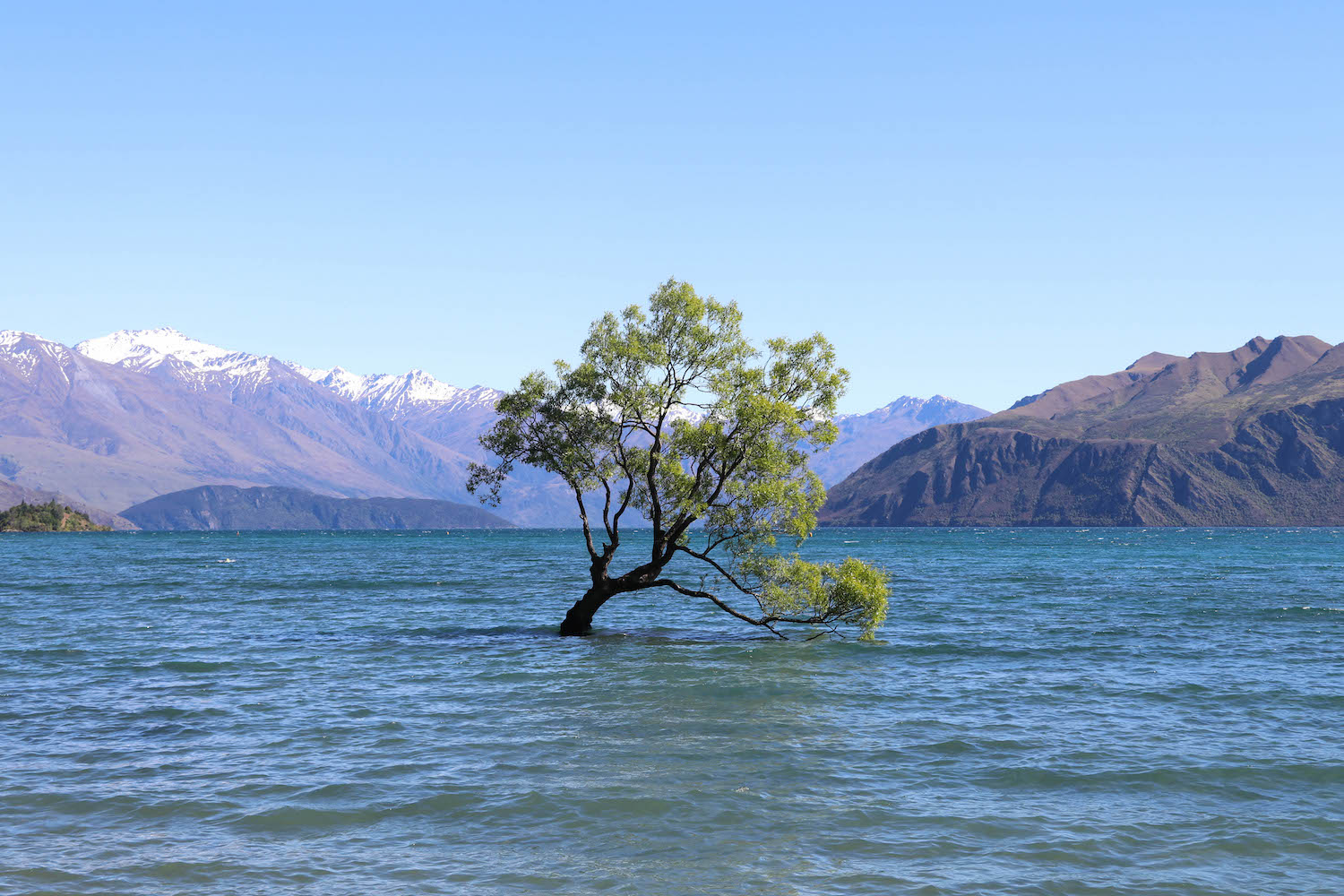 82. Stopped at waterfalls on the way from Wanaka to Franz Josef
83. Went glacier kayaking in Franz Josef
84. Relaxed in some hot pools in the misty Franz Josef
85. Tried Haka Bombs and Karaoke at Blue Ice in Franz Josef
86. Swam with the world smallest dolphins in Akaroa
87. Watched pohatu penguins in Akaroa
88. Relaxed in the Polynesian Spa hot pools in Rotorua – as well as a mud wrap!
89. Visited The Redwoods in Rotorua
90. Ran into strangers I'd met in Franz Josef on a whitewater rafting trip in Rotorua
91. Whitewater rafted the largest commercially rafted drop in the world – 7metres!
92. Went ziplining through Rotorua's canopy
93. Went zorbing in Rotorua! (OGO)
94. Caught up with Contiki friends in Hamilton for Crate Day
95. Shot a gun for the first time – I even hit some clays!
96. Visited Hobbiton in Matamata
97. Caught up with my Haka Tour friend and did Auckland's Sky Walk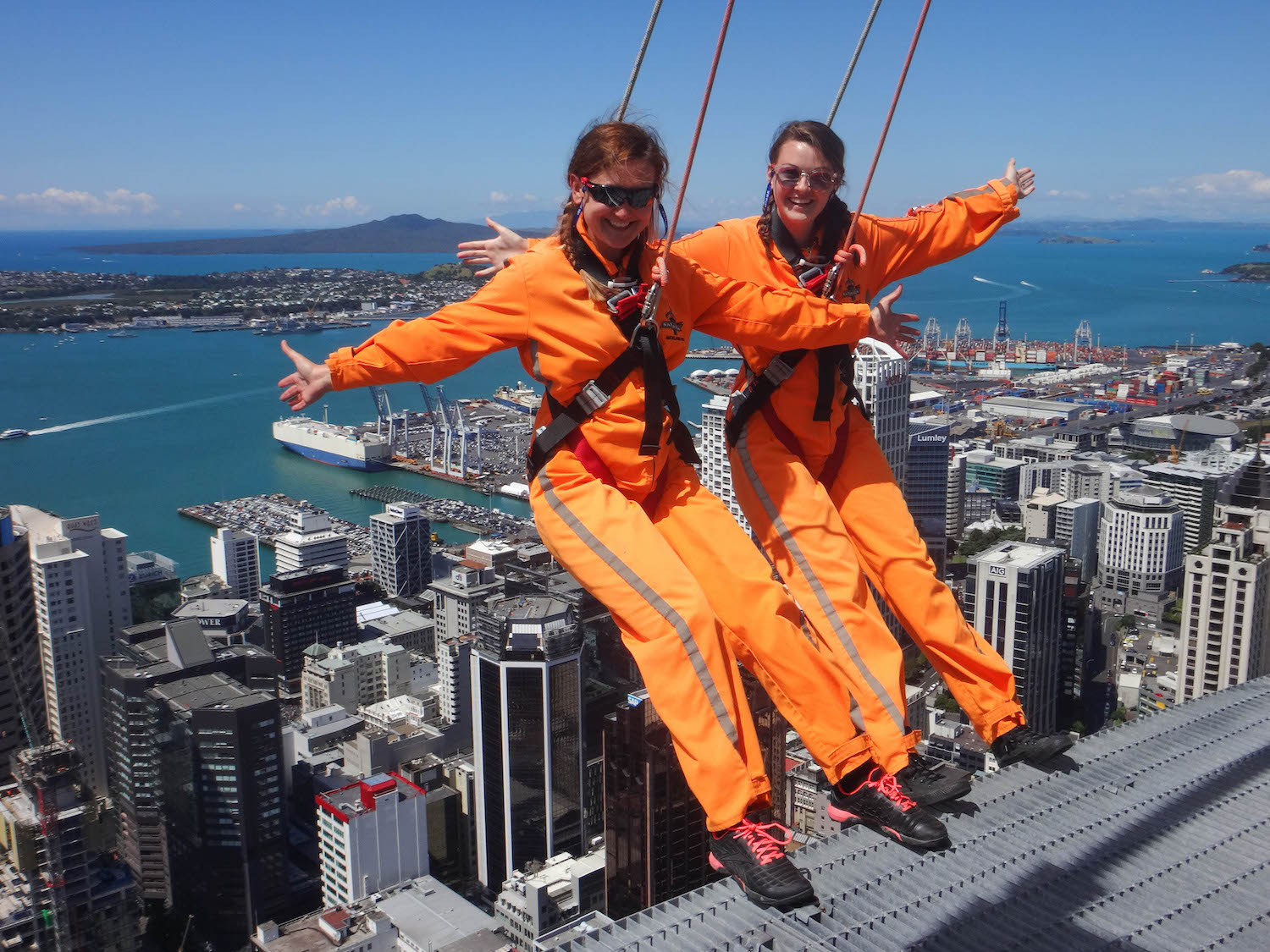 98. Climbed Mt. Victoria in Devonport
99. Hiked Rangitoto Volcano, Auckland
100. Stayed with friends in Christchurch
You can watch most of these journeys on my YouTube channel here.