It's early in the morning and I slowly slip into the cool water. The waves are slightly choppy but the clarity is clear as day. A dark looming shadow drifts in front of me and suddenly I'm terrified. Something's touching me. I scream. What is it?
Oh wait,
It's Mark?
I'd been so surprised by the face to face encounter I'd just dropped into, that I'd accidentally swum up and now Mark was casually perched at my back as we waited for the peaceful creature to continue gliding by. What was it? It was an 8-metre whale shark, gape-mouthed, swimming right beside us.
But let's start from the beginning…
Here's my guide on swimming with Whale Sharks in Oslob
– and WHY it's okay to.
I'll admit despite how incredible I thought the experience would be, my first thought was how ethical it was. How were the whale sharks treated? Was the exploitation for tourism bad for their habits and migration? Was this the Philippine equivalent of getting a selfie with a tiger in Thailand? So I looked into it. I sent a message over to my Mum the eco-marine warrior and she forwarded me these two articles;
How whale sharks saved a Philippine fishing town and its sea life
Oslob whale sharks: unnatural encounter or successful conservation program?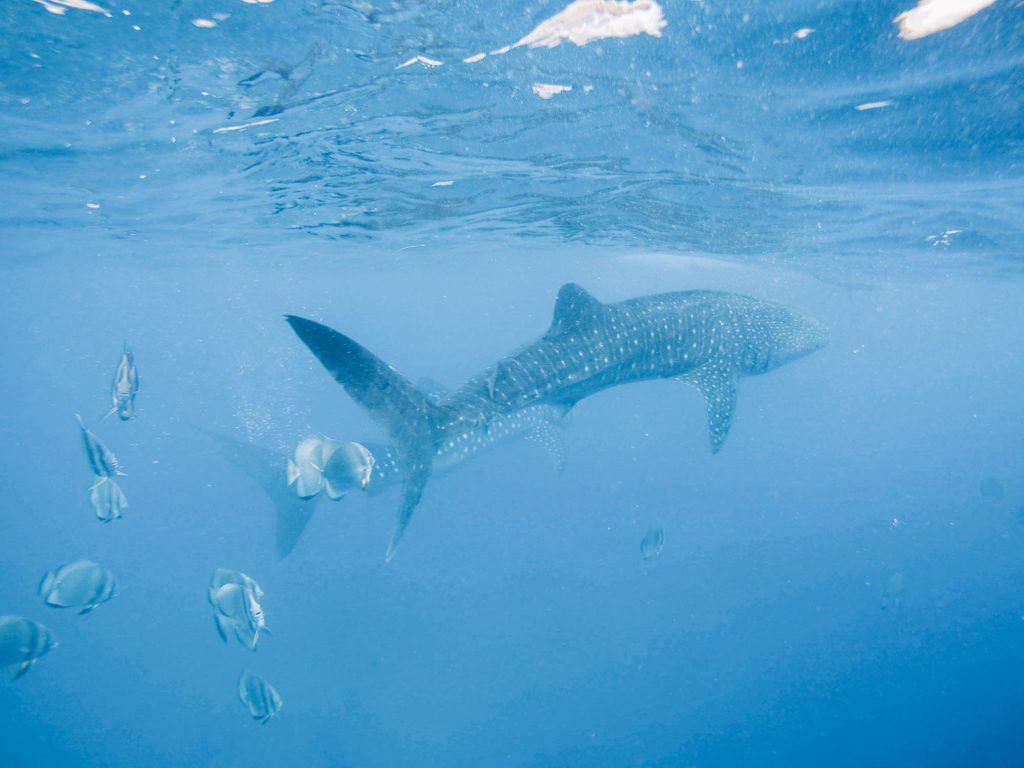 The attraction hasn't gone without controversy, but here's the rundown:
Whale Sharks are protected by law in The Philippines – the hunting of the species was outlawed in 1998. Despite hear-say, it is not unnatural for whale sharks to spend time in shallow water and feed facing upright. The giant fish are not harmed by propellors; small wooden, hand-powered (paddled) traditional 'Bangka' Boats are used for the swimming tours. Historically the area faced overfishing and the destruction of coral reefs. This practice has lifted the coastal community out of poverty – it has improved food security, healthcare and education.
"While 60% of the business is owned by the fishermen and 10% by the local village of Tan-awan, 30% of the profits go to the local authority which uses the funds to employ sea wardens who protect the coastal region from poachers or those using destructive fishing practices."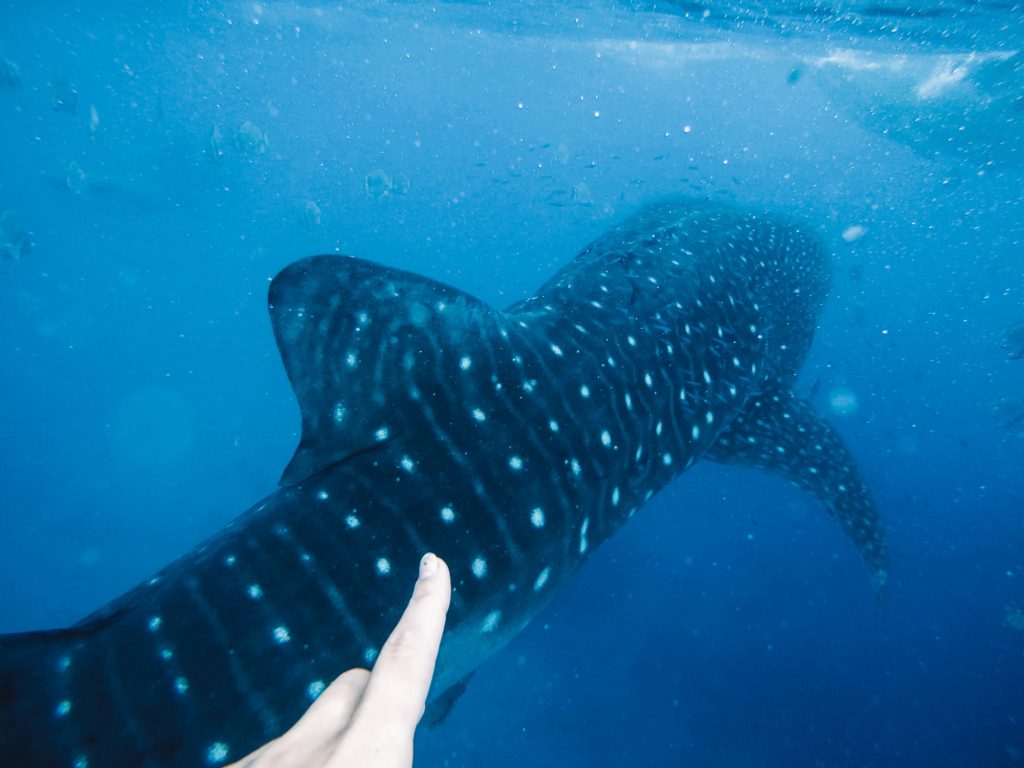 ?So now let's get into the actual experience…
Whale shark sightings are guaranteed year round
The experience runs all year (except for Holy Week)
The experience is only available between breakfast and lunch from 6am – 12pm.
Upon arrival there is a briefing area, changing rooms, showers, bathrooms and space to relax overlooking the water and other boats. I was very surprised at how many people were in the water. From what I could see there was a queue of boats making their way around in a semi-circular direction.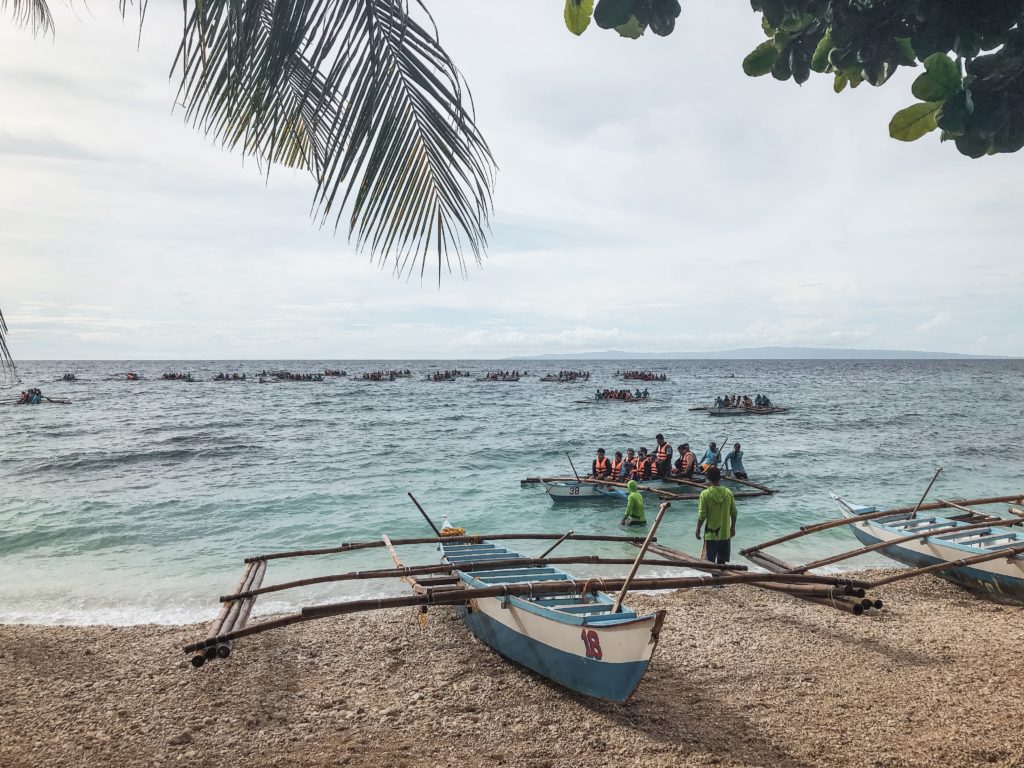 Firstly we got to understand what it was that we were about to do. We were equipped with a life jacket and snorkel and we made our way to our Bangka Boat. We sat in rows of two, and drifted out quickly. Bangka Boats resemble a deep dug-out canoe with two wooden outriggers on each side. Made of bamboo, on rough seas the outriggers add stability.
The first tail-fin I saw chopping through the water terrified me – IT WAS HUGE. It slapped about and then drifted below a boat as I heard a mixture of laughter and screams from the surface above it.
Then it was my turn.
Our boat pulled up to a buoy and we were told that we could then go into the water. Some opted to stay and observe from above, but the rest of us made our way into the water to take a look from below.
This experience was unlike anything I've done before. It was incredible, their size astounded me. From the small glance I'd gotten at some aquarium in Singapore (many years ago) I had the impression that everyone had made them out to be much bigger than they really are – but they weren't lying. They are massive, up to 10 metres long and I looked tiny in comparison.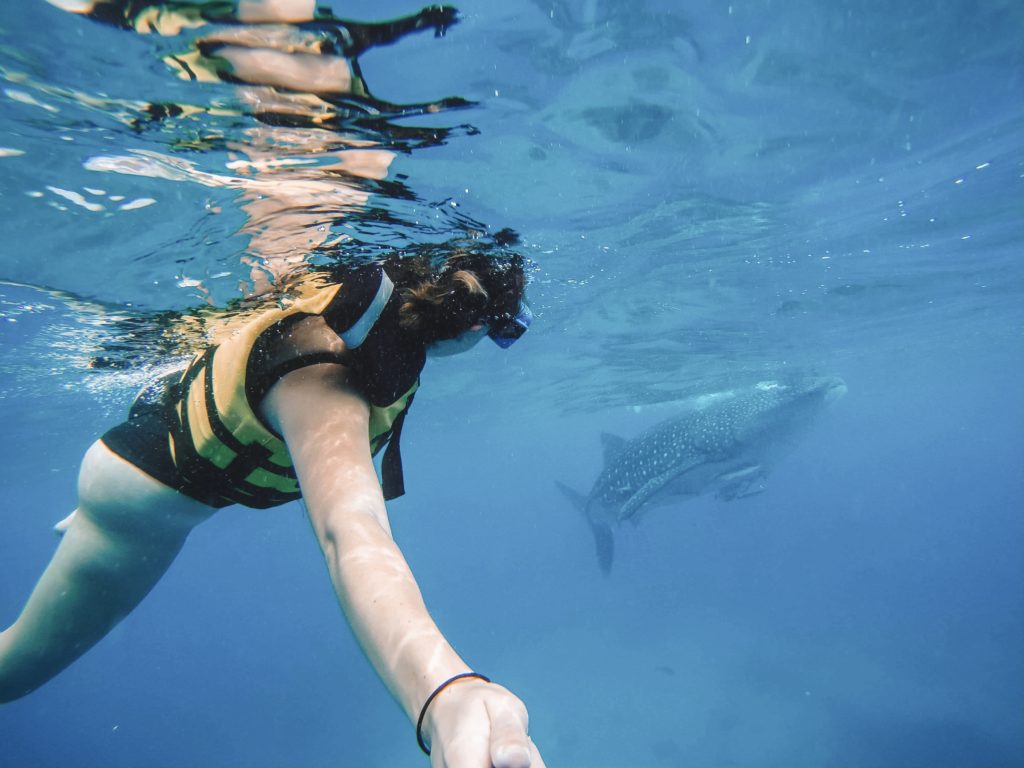 The fishermen float within the semi-circular area and feed the whales, so the tranquil creatures would glide across the line of boats.  
The allocated time slots gave us 30 minutes to be out on the water – and this was plenty. Once we were in the water you didn't even notice any of the other boats around you. The water was clear enough that you could see the whales perfectly, but the other swimmers further away were blurred out of vision. The water was choppy during our visit, but even with the life jackets you are free to hold onto the outriggers of the Bangka Boat.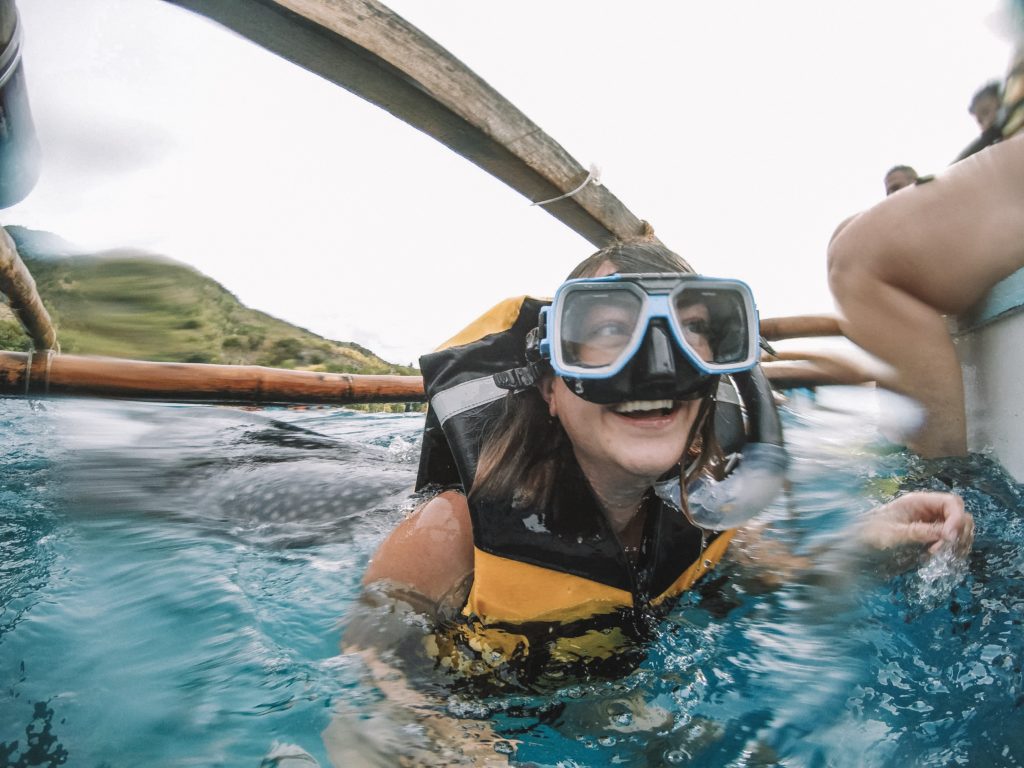 Once we were ready to get out of the water we were able to hop back onto our boat easily with the attached ladder.
?Rules and need-to-knows:
No sunscreen is allowed on during the encounter
They can get very close, but you are NOT allowed to touch them
Only bring on the boat what you are okay with getting wet
?Getting there; Cebu to Oslob –
The Oslob swim is in the Tanion Strait, this is the Philippines' largest marine-protected area spanning at 161 km long.
Travelling from Cebu, the journey takes about 3-4 hours by car (dependent on traffic). The roads are particularly windy but not too overbearing. If you aren't travelling with a private tour company or organised transport, public buses are available from Cebu South Bus Terminal by Elizabeth Mall.
Departures start from as early as 1am
Fare varies from 150 PHP to 155 PHP
Non air-conditioned and air-conditioned buses are available.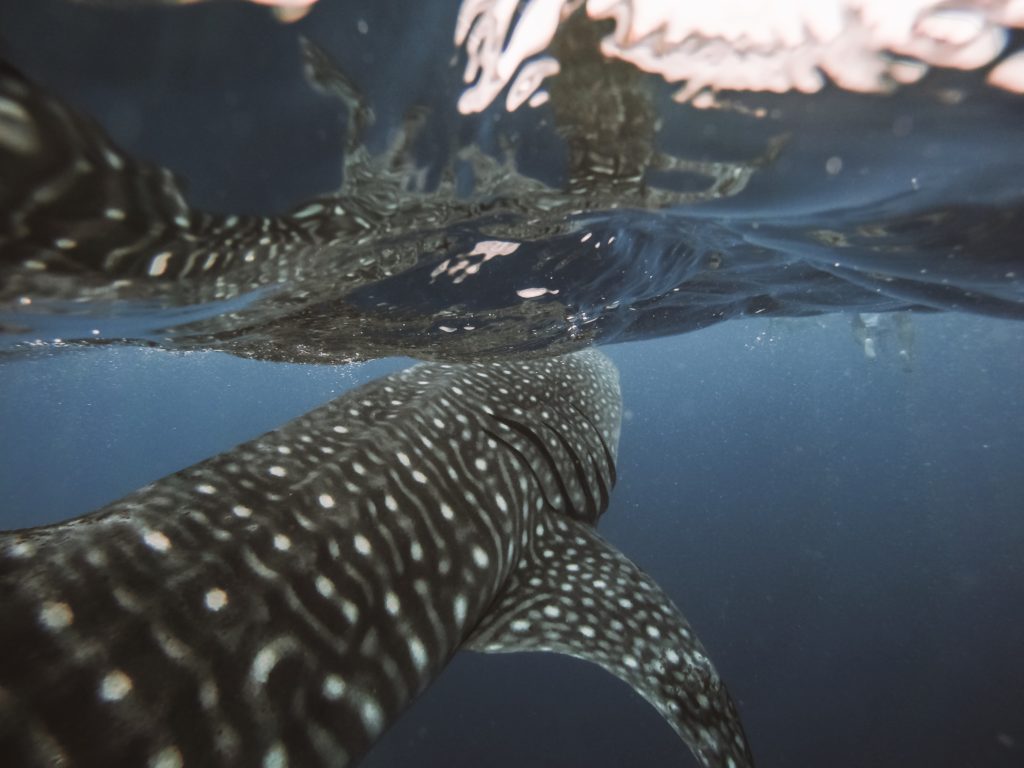 THATraveller visited Oslob thanks to the Tourism Authority of Thailand and Philippine Airlines. My opinion is my own.