Phi Phi Island is the ultimate island destination in Phuket, and is just a 2-3hour ferries ride away from Phuket. Here's my destination overview – where to go, where to stay, where to eat, and more!
The top 10 attractions;
1. Maya Bay, 'The Beach'
Maya Bay is well known from Leonardo DiCaprio's 'The Beach' 2000. In the film, the beach is depicted to look as if there is no entrance via the ocean and I is one big circle of rock formations – in reality, boats are able to access the beach easily and make their way to the shore where you can hop off.
Note: Maya Bay is a beautiful swimming spot, but there is no point for snorkelling as there is no coral.
Note: Maya Bay has an additional entry fee cost of 200TBH as it is a national park ($7.78) – so take CASH!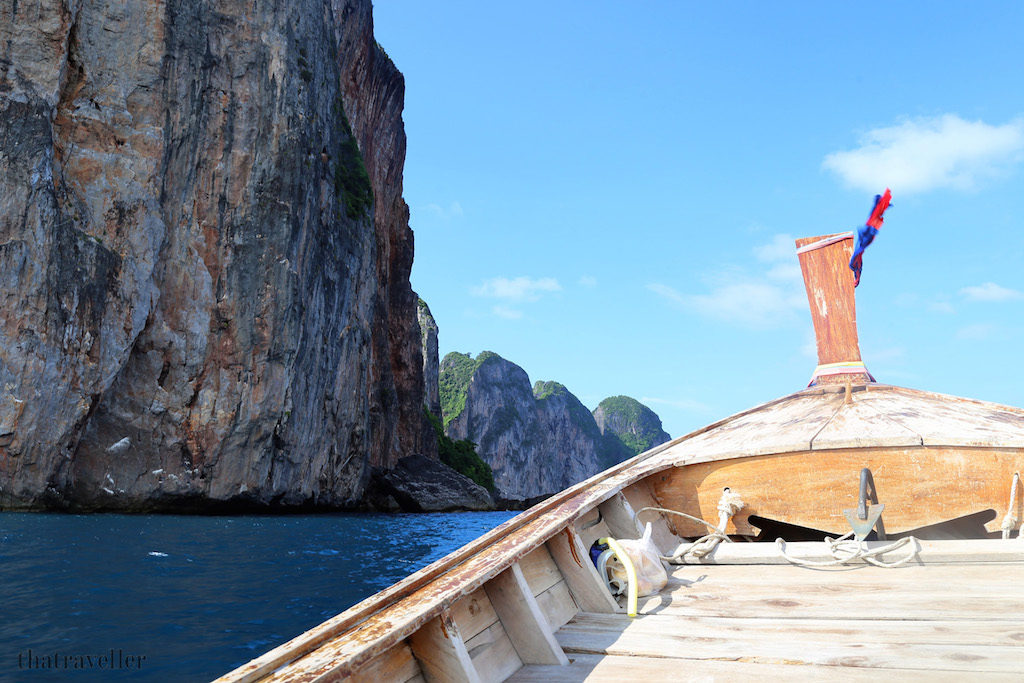 2. Loh Sama Bay
Not far from Maya Bay, Loh Sama Bay is best visited through a Phi Phi Islands tour, as the only access is via boat – and there are no sandbanks. Loh Sama Bay is generally visited for swimming, and most tours take their guests here to let them enjoy jumping off the boat into the deep water.
Although Loh Sama Bay is generally only good for swimming (there is no coral for snorkeling) it is one of the prettiest places in Phuket – while swimming around you are able to look up at the lush green rock formations that surround you.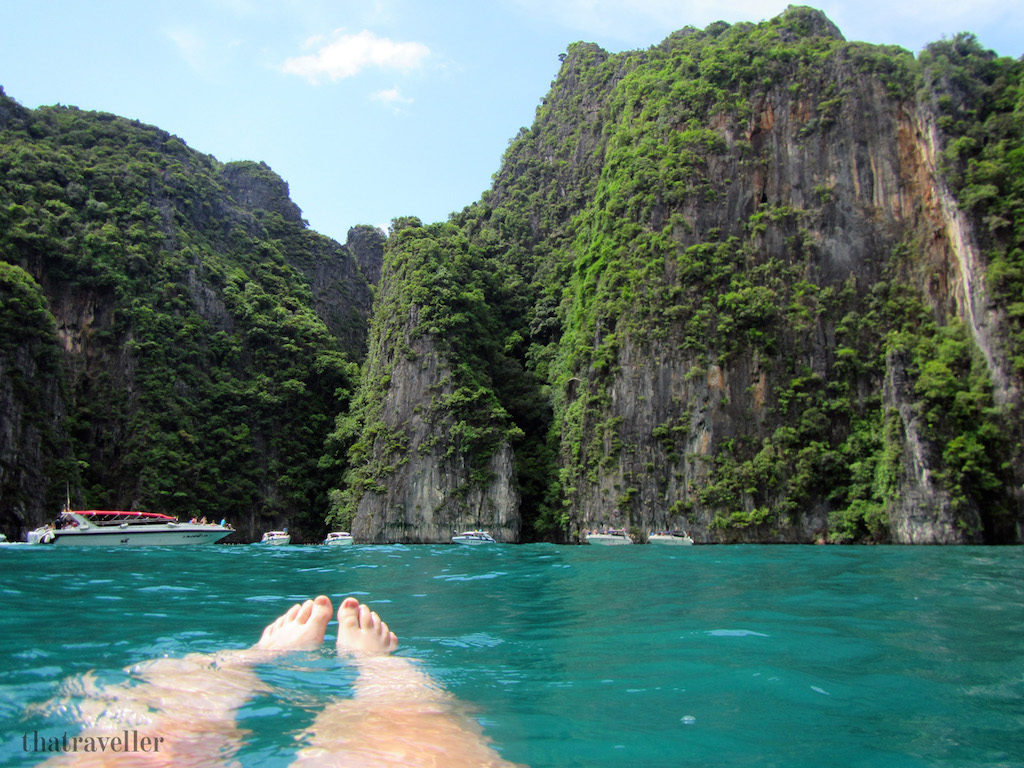 3. Phi Phi Island Viewpoint
Phi Phi Viewpoint provides the best outlook of Phi Phi Island. Despite the stairs and winding paths to get there, the view is worth the walk. Most opt to go in the afternoon when it is slightly cooler, but at the top there is a café where you can delve into some cold water and snacks. Getting to the viewpoint is as easy as following the signs as you pass two other viewpoints. Creatively named, the first is Viewpoint 1, then there is Viewpoint 2 and Viewpoint 3 is Phi Phi Viewpoint.
4. Scuba diving and Snorkelling
Throughout the island there are various establishments and companies that provide scuba diving or snorkelling tours. Some of the best places to take advantage of the snorkelling spots are; Bamboo Island, Phi Leh Bay, and Mosquito Island.
Some hotels have snorkels available for hire, though they are also sold at many of the stores and stalls in Tonsai.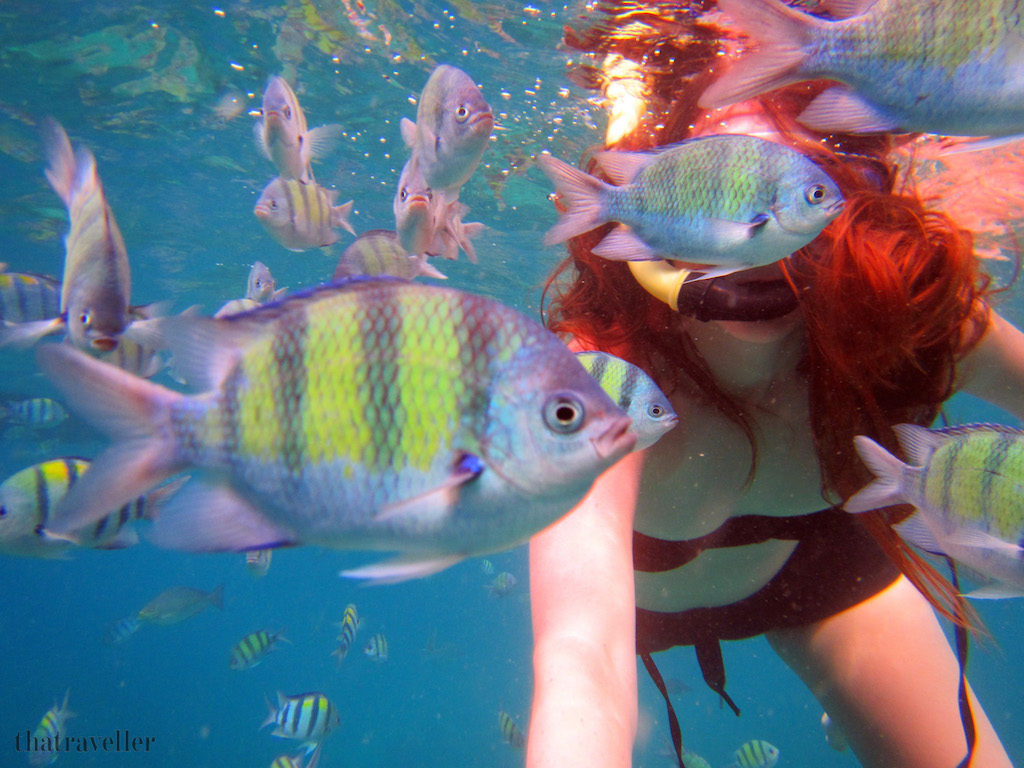 5. Bamboo Island
Bamboo Island is one of the top islands to stop at when at Phi Phi Island. Accessible through various island hopping tours or via longboat taxi, Bamboo Island is great for stopping for a few hours to enjoy the sun, swimming and snorkelling opportunities.
6. Tonsai Bay and Village
Tonsai Village is like one big market. The streets are lined with stalls, restaurants, cafés and stores. Tonsai is the best place in Phi Phi Island to get some souvenirs as well as book tours and stop for meals.
7. Mosquito Island
Thankfully I have been assured that despite the name, Mosquitos will not attack you upon arrival – unless its night time. Mosquito Island is unique in shape and has cliff sides and barely any shorelines. Mosquito Island is best for snorkelling and is barely a 10minutes longboat ride away from Bamboo Island as the two sit beside each other. Mosquito island is best accessible via longtail boat or on an island hopping tour.
8. Phi Leh Bay
Just around the corner from Maya Bay, Phi Leh Bay is one of the most popular spots in Phi Phi Leh for snorkelling. It is ONLY accessible by boat, as the only shore is about 10metres in length – and doesn't go inland.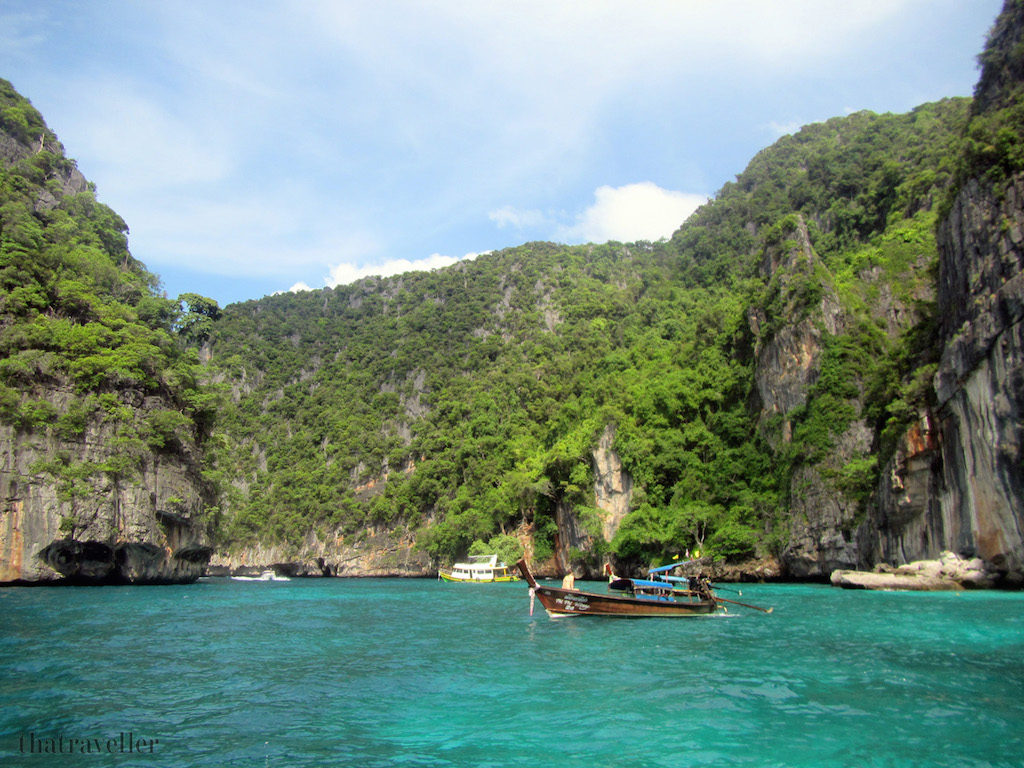 9. Viking Cave
This cave is located in the east coast of Phi Phi Leh and is just around the corner from Phi Leh Bay. Access to the cave is free, however most people just pass by in boats as there is not a lot to stand on.
"The Chinese are fond of swiftlet nests (a bird of the family of swifts often confused with swallow), which are supposed to boost virility. These birds roost away from predators, protected in high caves. To reach the nest, gatherers are using fragile bamboo scaffolding."
10. Monkey Beach
Just as the name states, Monkey Beach is a hidden cove towards the western side of Tonsai – and it's the perfect place to spot monkeys.
For more about island hopping tours in Phi Phi Island, click (here)
Where to eat;
Le Grand Bleu

Pum Thai Restaurant

Papaya Restaurant

Unni's Restaurant
Where to stay;
Holiday Inn Resort Phi Phi, click (here)

Zeavola Resort

Maney Resort (hostel)

Phi Phi Chang Grand Resort (hostel)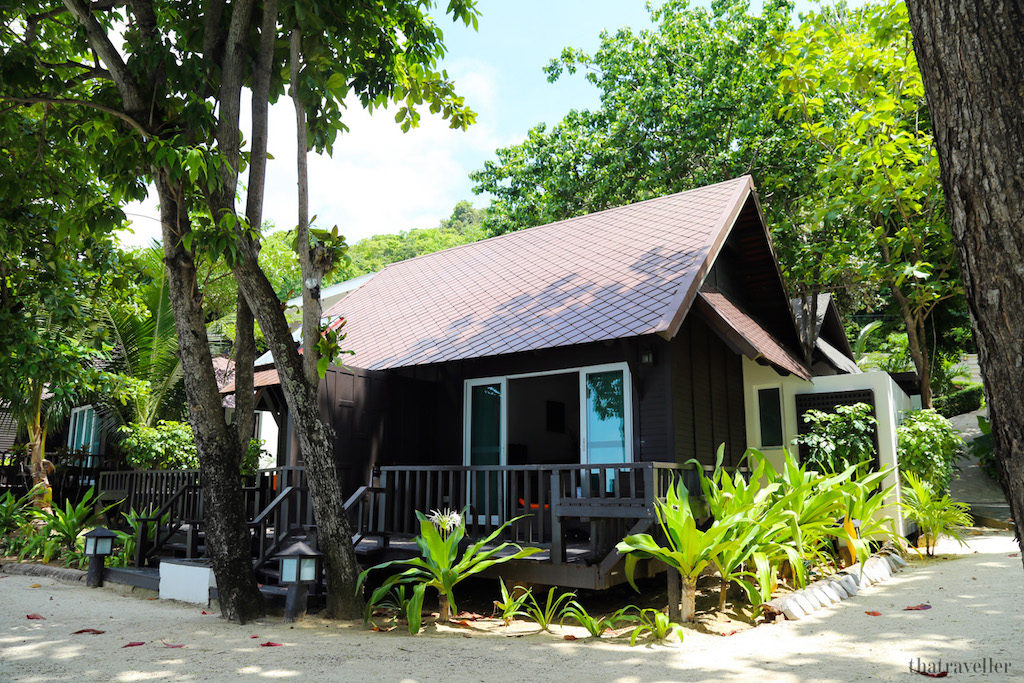 Nightlife;
Carpe Diem

Phi Phi Reggae Bar

Slinky Bar

Rolling Stoned Bar
Getting there
With Andaman Wave Master, it's a relaxing 2-3hours ferry ride to Phi Phi Island. The first stop is Tonsai where most backpackers stay, and then the other stops are to the more secluded resorts around the northern side of the island.
If you are staying at somewhere like Holiday Inn Resort Phi Phi at the Northern side of the island, there are workers onboard who take care of your luggage – as there is no wharf, from the ferry you get into long tail boats and are taken to shore. This way, you don't have to worry about getting your baggage into the boats – it goes straight to your hotel room.
As it is a bit bumpy, hold on tight to your handheld luggage when stepping onto the long tail boats – you don't want to loose them in the water!
Andaman Wave Master runs from Phuket at 8:30am and 1:30pm and return journeys run at 7:30am and 1:30pm. First class? Features include;
Lounges

Slanted due to the shape of the boat, but is better for relaxation

Plenty of room to lie down – as most travellers opted to sleeping

Quieter surroundings

View from the front of the boat

First class is also unbothered from the roaring sounds of the engines

First class is also guaranteed better views as some of the standard seating's windows are blocked (unless you decide to go outside).

Both classes have;
Free coffee, tea and snacks

Movies playing with audio and subtitles (alternates languages)

Bags taken to the luggage room