The islands of Thailand's Andaman Coast, from Phuket to Ko Phi Phi, Ko Lanta and Krabi, have plenty to offer those with an adventurous, fun-loving agenda in mind. One of the best ways to explore them is on a Busabout Tour with like-minded travellers.
? Take the Plunge at LUB D's Famous Pool Party in Phuket
On a Busabout tour, your adventure begins with a pool party, LUB D hotel's famous pool party, so getting to know your new travel family is as easy as it can be. A popular hub for backpackers, LUB D is also a great place to meet new people that you'll likely run across again on your Thailand travels. Once the jetlag has worn off, you can chuck on your swimmers and join in on some of the many games; beer pong in the pool, volleyball, ring toss, and so much more – all with exciting and tasty prizes! (hint: it's alcohol, usually in the form of a bucket). 
Note: if you're brave enough you can even represent your country and get a tally up on the board for the "Olympic Shot"! 
Those of us that hadn't already met on the flight to Phuket could introduce ourselves to the other Busabout travellers just by spotting our coloured wristbands. From there, it was easy. After a few games and a few drinks, our new collective group and everyone else there decided to wander down to the beach for the sunset before getting ready for a night out on Bangla Road…. It's the perfect introduction not only to your new travel family, but to the entire adventure itself…
From here, it's a dive deep into Phuket's nightlife on Bangla Road, which transforms by night into one big hectic walking street. There's bars of all shapes and flavours, some a little more risqué than others, and some just like your classic Aussie pub.
While travelling with Busabout, your nights out on Bangla Road can be both guided and free-spirited. Usually on the last night of the tour your guide will take you to the best spots, but any other night is free for you and your friends to explore and discover on your own.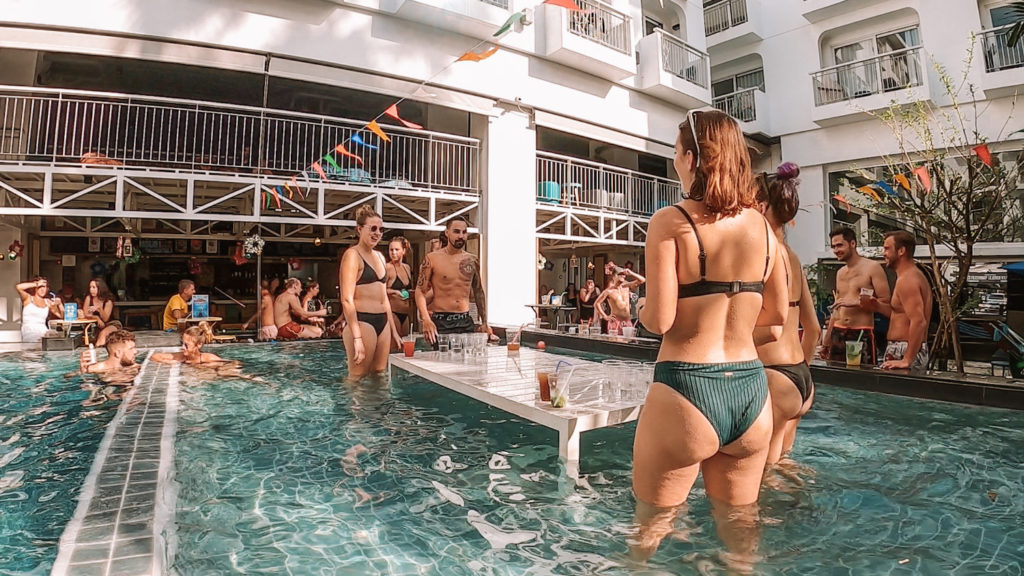 ? Cocktails or rock climbing at Railay Beach, Krabi
Surrounded by high limestone cliffs, Railay Beach is only accessible only by boat – the best way to get here is on a traditional long tail boat. The cliffs attract rock climbers from all over the world, so if you're feeling active, head for the cliffs, or if you'd rather chill out, head for one of the beautiful white sandy beaches or grab a frozen cocktail at one of the beach-side reggae bars.
After a short (but sweet) transfer to the beach, our group congregates along the white sand, and we're then taken on a guided tour. What at first I thought was one busy beach is actually so much larger than it first seems. Dotted with reggae bars made from bamboo, driftwood and old boats, there are several beaches here – some less occupied than the others. After a short walk to show you around, we're given free time to relax and take it all in. The guide provides a ticket for the longtail boat home and you can leave whenever you like! ("whenever you like", but before the last longtail boat leaves, usually about 6pm). 
View this post on Instagram
? Go on a Bar Crawl on Phi Phi Island
Off the coast of Phuket, Ko Phi Phi may be a small island, but it sure packs in the nightlife! Its a great meetup place for backpackers, with beach bars, fire shows and plenty of free-pouring.  Start your evening in town with a tasty Thai dinner and cocktails and bar hop your way down the alleyways towards the beach. 
Your first night in Phi Phi starts with a Busabout family dinner and then a guided walk around the streets towards the beach clubs. It's up to you how long you stay out, remembering you have second night to explore as well. I would recommend starting your night along the sandy streets – take in a Muay Thai match or two, and then make your way towards the fire shows and black light parties dotted along the shore. Alternatively, you could start by the beach, and by the time you've filled yourself up with plenty of free-poured beverages you might adopt the courage to jump into the ring yourself!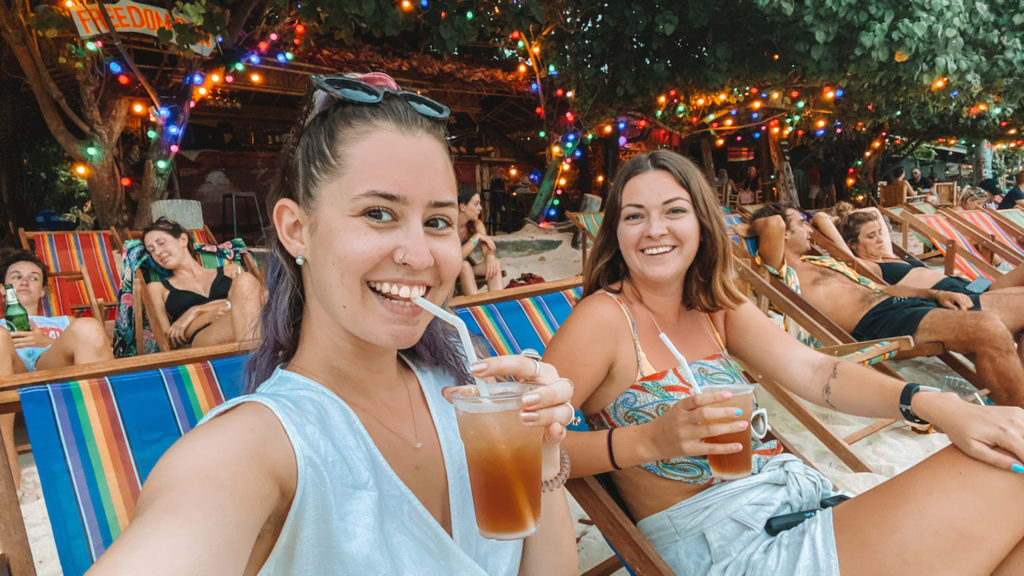 ? Swim through an Emerald Cave on a 4-Islands tour in Ko Lanta
A Four Islands tour from Ko Lanta takes in the islets of Ko Muk, Ko Kradan, Ko Cheuk and Ko Ngai. The tour starts on a high on ko Muk, as you float through the enchanting Morakot (Emerald) Cave into a secret hidden bay, a white sandy beach shaded by rainforest canopy. From this enchanted cave, it's on to more island hopping the turquoise waters and white sandy beaches of Ko Kradan, Ko Cheuk and Ko Ngai.
This activity is not included on the Busabout itinerary, but it is one of the best – well worth adding on! With plenty of stops, and places to swim and snorkel, it's a great way to spend the day out in the sun. The boat is comfortably sized with seating out the front and in the shade – it also has an onboard bathroom (not that you'd really want to use that…). After some snorkelling stops, you're given some free time to enjoy the delicious lunch (included – and with great veggie alternatives too), and from there the adventure continues.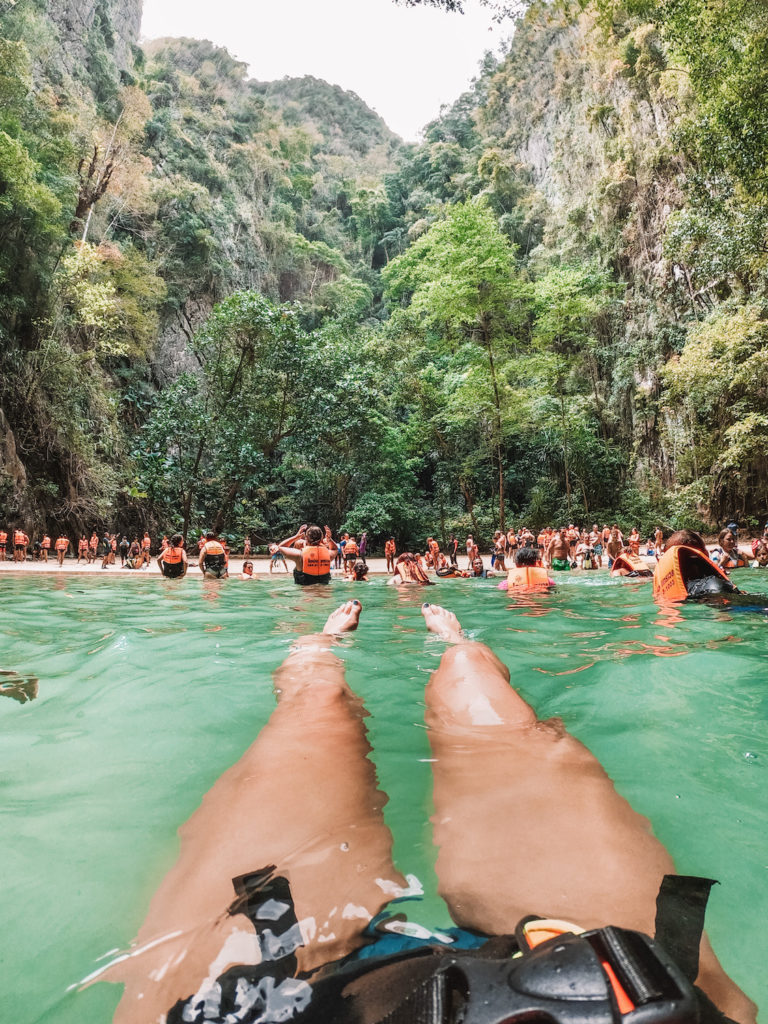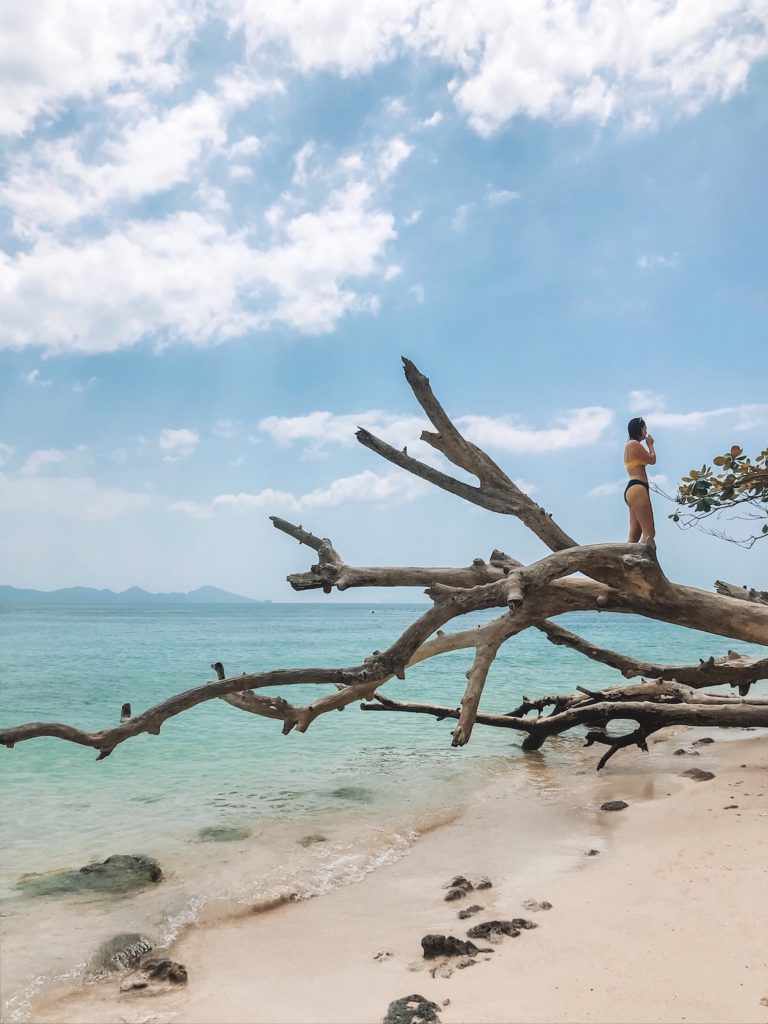 ☀️ See the famous Beach at Maya Bay, Phi Phi
While you may not have heard of Phi Phi Island, you've probably heard of 'The Beach', made famous in the 2000 Leonardo DiCaprio movie. Based on the best selling novel by Alex Garland, is about a guy travelling through Thailand who follows a trail of rumours to find a solitary beach paradise. Maya Beach itself is closed to tourists, for an indefinite period of rehabilitation and regeneration but until it is reopened visitors can explore the bay by boat. 
Busabout has two day trip options for Ko Phi Phi, both including visits to Maya Bay. One option is a boat party which slowly explores the popular sites while you mingle with other explorers, the other a more intimate (and traditional) longtail boat trip
⛰️ Hike up to Ko Phi Phi Viewpoints
If you're looking to exert yourself beyond the cocktail bars and white sandy beaches of Ko Phi Phi, spend a day hiking the Viewpoints. There are a total of three viewpoints to hike to, which can be climbed in succession. If you want to see all three viewpoints at a relaxed pace, you'll want to allocate an entire day for this activity. The hike to the top can be tough, but the reward, the scenery and the views make it well worth the trek. 
Top Tip: early morning and later afternoon are the best times to escape the heat, as it is all uphill and staircases. Aim to reach the top in time for the sunset and grab a cool drink at the summit cafe.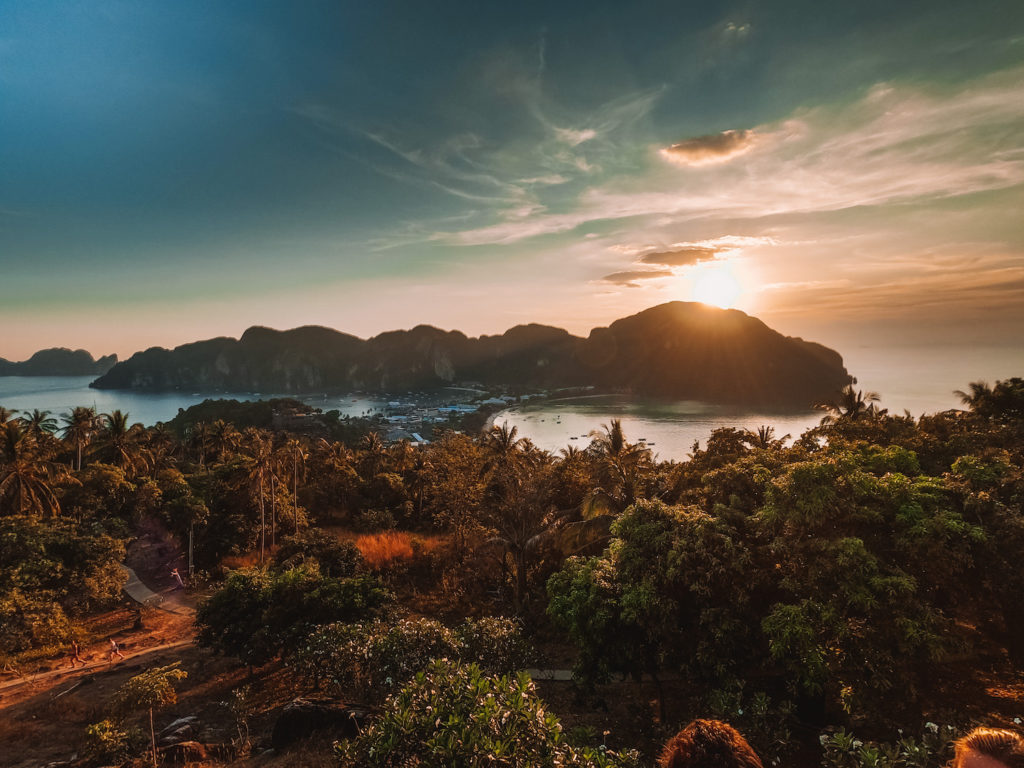 ? Climb 1237 Steps up to the Tiger Temple (Wat Tham Suea), Krabi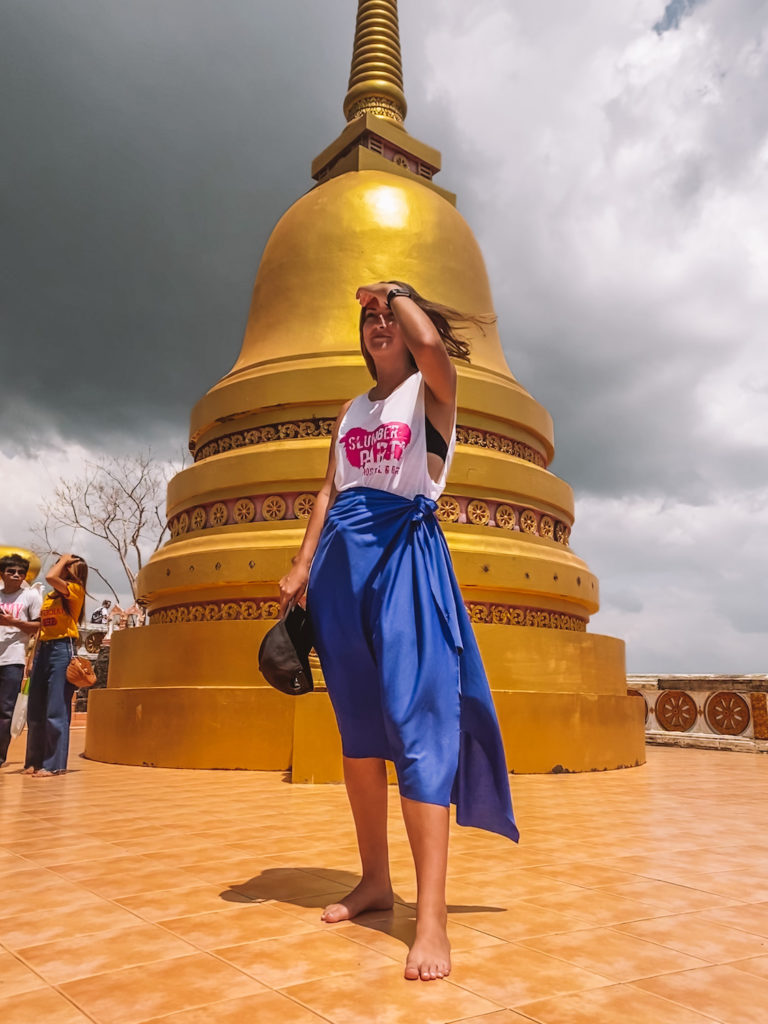 1237 steps in the heat of the Thai tropics is not easy, but worth it to see the panoramic views over Krabi's mountainous landscape. The temple complex is a maze of natural caves, with the main temple atop a rocky outcrop overlooking the town below. The walk takes about 30 to 40 minutes uphill, and after a rest at the top, the walk down takes about half that. 
The starting point for this walk is an experience in itself, as you pick your way through some cheeky resident monkeys. From here it's mainly uphill, but the trail flattens out every so often, and there's plenty of space at each corner to take a break in the shade.
Note: As a place of worship it is respectful (and required) to be modestly dressed. If you are wearing shorts you can rent a sarong at the entrance. 
While on your tour, the trip to the Tiger Temple is part of one big day tour that also includes a visit to Krabi's Emerald Pools and Hot Springs, and then an evening spent at the food markets. It's an all-day venture, and is optional, but is a great way to immerse yourself into some of the local culture. Krabi has a unique landscape in comparison to the other stops on the Busabout trip, so this tour shows you a whole new side to Thailand.
? Relax in Krabi's Emerald Pools and Hot Springs
The mineral-infused hot springs of Krabi's Hot Springs are said to have healing qualities, and they certainly provide a relaxing tranquil atmosphere, under a shady rainforest canopy. Make your way through a sequence of small pools of varying temperatures, gradually cooler as you make your way from the top down. 
A trip to the nearby stunning Emerald Pool, in the Thung Teao Forest National Park, is worth it simply for the photo opportunity. A 2.7 km trail takes you through beautiful virgin rainforest before reaching the crystal clear lake for a refreshing dip.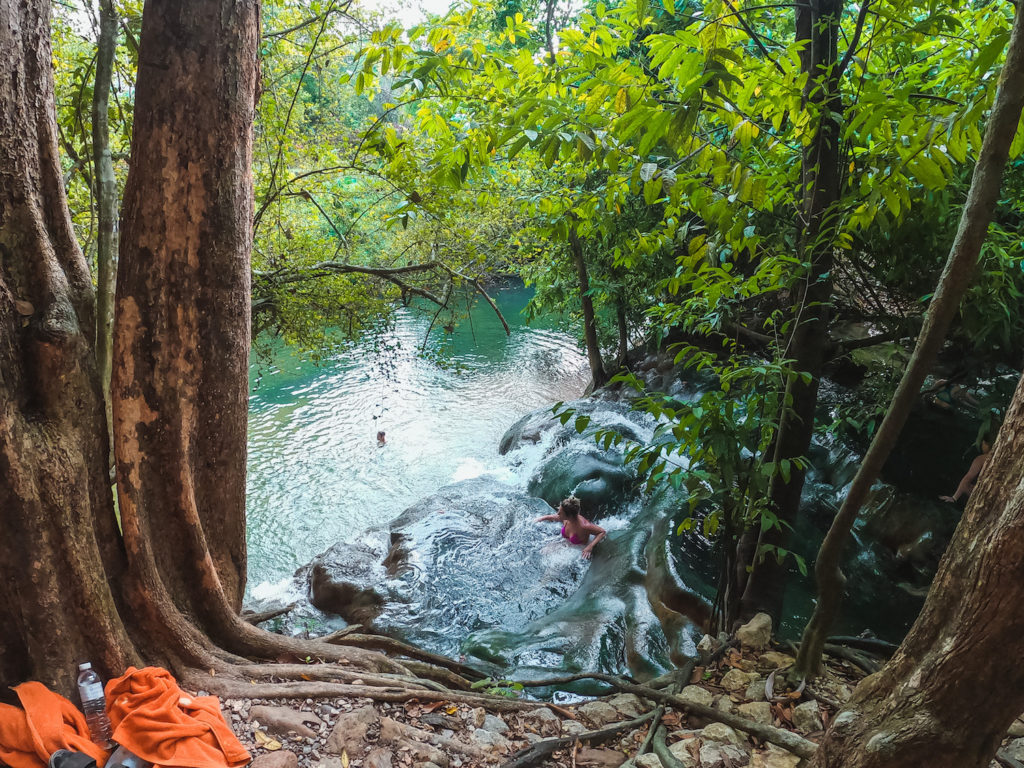 ? Take part in a Muay Thai Boxing Comp
On Ko Phi Phi there's a dedicated Muay Thai boxing bar where you can compete against each other and win prizes. If you're not the competitive type, simply take in a few games over a beer or two. The Thai combat sport is also known as the 'Art of 8 Limbs' as it uses a combination of fists, elbows, knees and shins. The sport can be traced back to the 18th century but it became more popular in the late 20-21st century when introduced to the wider world. 
Every major city in Thailand has Muay Thai venues, and if you don't just happen to stumble across one while walking down the street, the bars advertise by driving vans around each day announcing the time and place.
? Eat your way through Thailand at Krabi's Street Food markets.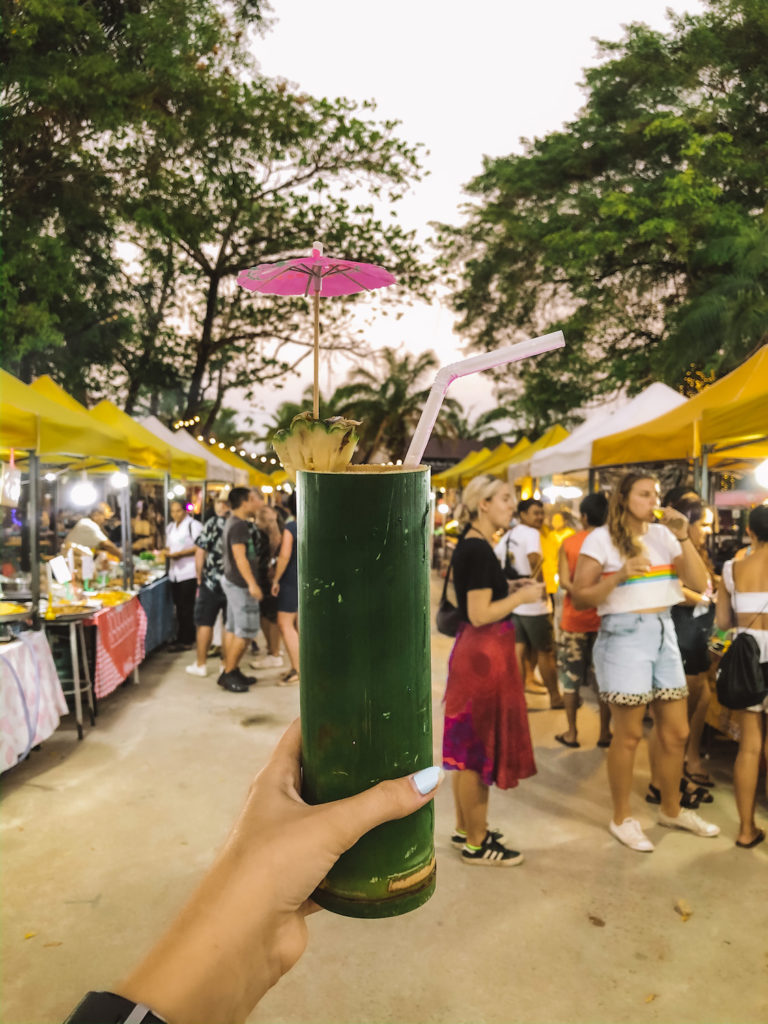 There are two daily night markets in Krabi Town. The first (and best) is opposite City Hotel on Soi 10 Maharat Road, with excellent street food stalls serving everything from pad thai to catfish curry, salads, soups and sweets. It's also a good place to buy fresh fruit. 
Note: just look for the giant grab statue and you're there!
The second night market is more like an open air food court. A series of small restaurants with plastic tables and chairs on Khong Kha Road, next to the old Chao Fah pier. Between them, they serve a huge variety of dishes, and you can mix and match and sit down at any available table to feast.
What would you add to the list?!
THATraveller was welcomed to Greece thanks to Busabout. My opinion is my own