The Lewis & Clark Expedition began in 1804 when the United States President Thomas Jefferson tasked Lewis with exploring the newly acquired lands west of the Mississippi River.
Along the way they confronted harsh weather, unforgiving terrain, treacherous waters, injuries, starvation, disease and both friendly and hostile Native Americans. Nevertheless, the approximately 8,000-mile journey was deemed a huge success and provided new geographic, ecological and social information about previously uncharted areas of North America. (source: History.com)
1. Keelboat Park – Bismarck
Keelboat Park sits alongside to Missouri River and is a good place to start a Lewis & Clark adventure, being packed with information about their journey.
The park is home to giant Lewis and Clark figures, a large Thunderbird sculpture, and a 55-foot full-scale Keelboat replica similar to the one used by Lewis and Clark.
Docking at the Port of Bismarck on the Missouri River, the 100-foot Lewis and Clark Riverboat is a fun place to spend a summer evening dining on buffalo and walleye and enjoying the memorable view. Stroll along the east bank of the Missouri River at Keelboat Park. 
2. Steamboat Park – Bismarck
Also next to Missouri River, Steamboat Park has a 60-foot-long replica of the steamboat "Yellowstone"
At Keelboat & Steamboat Park you can climb aboard the replica boats and check out the metal sculptures of Lewis, Clark and Sakakawea, as well as a sculpture of Thunderbirds created by United Tribes Technical College students.
 3. Lewis and Clark Interpretive Center – Washburn
Outside the Lewis and Clark Interpretive Centre the first thing you'll see are giant steel statues of Lewis and Clark with Mandan Chief Sheheke. There are three sections within the Interpretive Center: The Lewis and Clark Expedition wing, the Fort Clark wing, and the Berguist Gallery, which features the artwork of Karl Bodmer. 
Karl Bodmer's works are very popular throughout North Dakota as he is considered the most reliable eyewitness account of the Upper Missouri Indian Cultures and he depicts this through his artworks.
The museum is filled with unique artefacts owned by Lewis and Clark and information about their journey and expedition. The Interpretive centre also had a room dedicated to the first farmers. We also had a look at the newer expansions to the centre – the conference room, library and deck.
From the deck you can see where Fort Mandan is located.
The Lewis and Clark Interpretive Center has an extensive collection of artefacts and materials from the early 1900s or older and state-of-the-art interactive exhibits.
4. Fort Mandan – Washburn
"The intrepid duo spent more consecutive days at Fort Mandan than any other place along the Lewis and Clark Trail. They constructed Fort Mandan as their winter camp in 1804-1805 near the Missouri River and present-day Washburn"
Fort Mandan is just a few minutes' drive away from the Lewis and Clark Interpretive Center. We collected our wristbands from the Interpretive Centre front desk when we first arrived so that when we got here we could make our way straight in. The visitor centre has some more information about the area and includes other smaller exhibits about Fort Mandan. From here we are escorted to the Fort, for a guided tour through each of the rooms.
The Fort is a complete replica of the original fort that Lewis and Clark stayed in winter during their long expedition. We went into each room of the encampment, starting with the two bunk bedrooms. Then on to the room that Lewis and Clark shared. Their room was looked slightly more comfortable than the other rooms, with single beds, more room, and space to do their journal entries and mapping. There were also storage rooms, blacksmiths and second stories. We weren't able to go on the second floor but we were able to look up and see what it would have been like.
Fort Mandan, a full-sized, furnished replica built in 1972, is comprised of 7 rooms surrounded by walls that climb to 18 feet high on the outer edge. It is constructed entirely from cottonwood trees.

5. Indian Hills Resort and Campground – Garrison
Indian Hills Resort and Campground sits on Lake Sakakawea and has a variety of accommodation choices, from tent and RC campsites to rustic camping cabins and large contemporary-style cabins big enough for the whole family.
It's a great place for all sorts of outdoors activities including fishing, hiking, horse riding and mountain biking along the Nux Baa Ga Trail.
6. Fort Abraham Lincoln State Park – Mandan

On-A-Slant Indian Village, Earth Lodge
On-A-Slant Indian Village near the confluence of the Missouri and Heart rivers south of Mandan was one of the traditional Mandan villages.
The On-A-Slant Mandan Earth Lodges are a short walks away from the visitor's centre. The Lodges are circled around what's called the "Ark of the Lone-Man" and on one side of it there is a much larger fort that was used for all of the people to gather in.
Building the fort was the women's responsibility, They are held up by a frame of cottonwood logs and covered with layers of willow branches, grass, and earth. The men helped to place the centre columns but the rest was for the women to do whilst the men hunted and gathered food.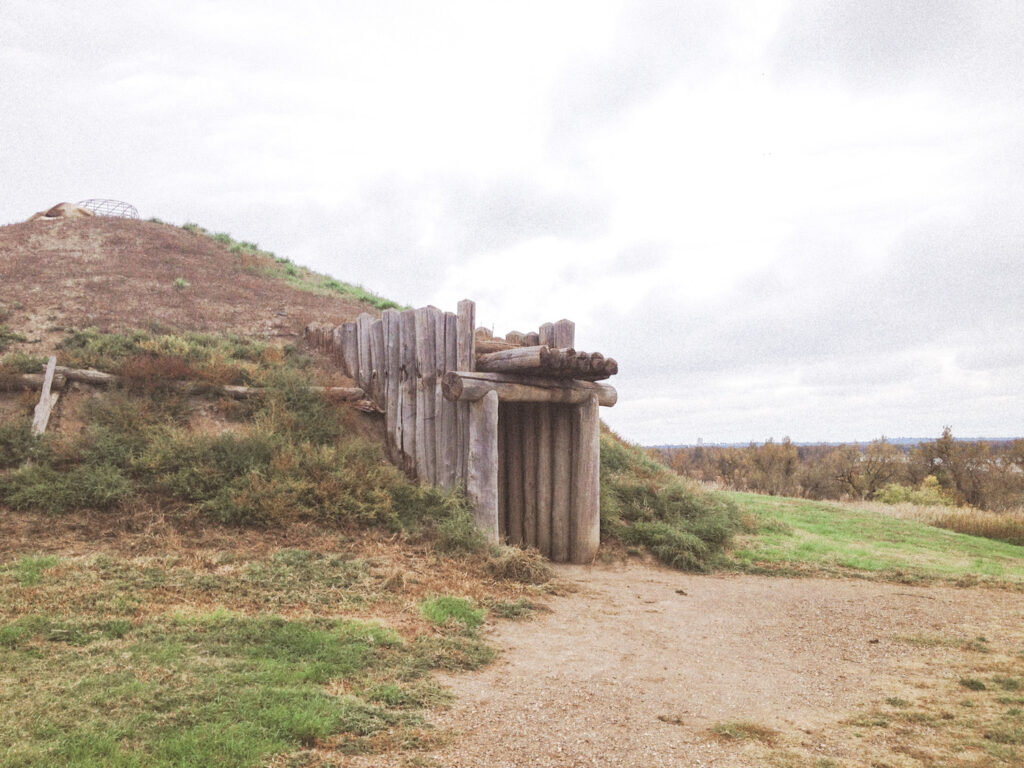 General Custer's House
The 75-acre Fort Abraham Lincoln State Park features General George Custer and his wife, Libbie's home reconstructed to its 1876 appearance. It also has reconstructed barracks, a commissary store with gift shop, infantry blockhouses, stables and soldiers' cemetery.
George Armstrong Custer and his wife Libbie lived on Fort Abraham Lincoln until 1873 when Custer died in the battle of Little Big Horn. Custer's House was rebuilt in 1989, furnished with items owned by the couple and with necessities that were popular within the 1970's.
Our guide was dressed in period costume and acted as she walked us through the house, as if we were visiting it when Custer actually lived here, and pointed out each item that Custer and Libbie owned without suggesting that they were no longer with us (very entertaining).
7. Knife River Indian Villages National Historic Site – Stanton
This site was once home to several villages of Hidatsa and Mandan Indians, with a population of 3,000 – 5,000 people. This is where Lewis and Clark were able to obtain the help of Sakakawea and her husband. There are visible remains of earthlodge dwellings, cache pits, fortification ditches and travois trails are in an extraordinarily fine state.
The Museum contains many exhibits featuring Indian artifacts and crafts, an orientation film and a full-sized earth lodge.
8. Lewis and Clark State Park – Epping
Lewis and Clark State Park sits on one of the upper bays beside Lake Sakakawea. The rugged buttes of the North Dakota Badlands display a towering backdrop to one of the state's best recreation areas.
The Corps of Discovery explorers Lewis and Clark camped nearby in 1805 and an interpretive trail marker has been placed in the park to commemorate their historic journey through North Dakota. Lake Sakakawea is great for fishing and boating – some rare fish species can be found in some parts of the lake. 
9. Lewis and Clark Trail Museum – Alexander
A visit to The Lewis and Clark Trail Museum is a great way to learn about their expedition, as it includes the story of the entire epic journey, beyond North Dakota, from Washington DC to the Pacific Ocean.
"Lewis and Clark's great journey west begins in Washington DC and zigzags along the eastern seaboard encompassing the states of Delaware, Maryland, Virginia and Pennsylvania; then proceeds through Ohio, West Virginia, Kentucky, Indiana, Illinois and Missouri. The trail then meanders through the great plains of Kansas, Nebraska, Iowa, South Dakota, North Dakota and continues through the mountains and the valleys of Montana, Idaho, Washington, Oregon, concluding at the Pacific Ocean. The Lewis and Clark Trail is a cultural destination that covers over 4,600 miles, crosses four time zones, and showcases some of the most beautiful and rugged areas of America" 
10. Reunion Bay – Near New Town
Since dividing in 1806, the explorer's Lewis and Clark had been exploring separate routes.
"Captain Lewis and nine men went to pursue a direct route to the Missouri, then explore Maria's river. Captain Clark and the rest of the party went a new route to the Jefferson River, then descended to the Three Forks and proceeded with a detachment party to explore the Yellowstone, while Sergeant Ordway, with nine men, descended the Missouri"
The separated parties were reunited at this bay.
Bonus: Theodore Roosevelt National Park – Medora
Meriwether Lewis wrote of "Immense herds of buffalo, deer, elk and antelopes" By the end of the century, bison were nearly extinct.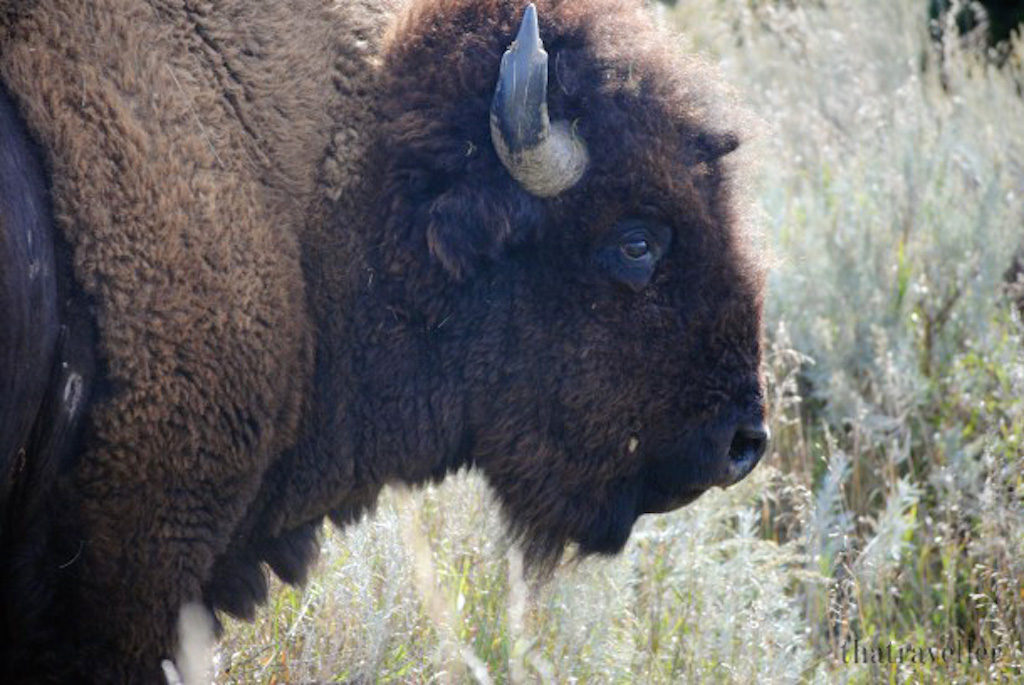 Enter the park at the Watford City Entrance or from Medora.
This park has two distinctly different units. The South Unit, accessed through the historic town of Medora, has a 36-mile scenic loop through buffalo herds and prairie dog towns. The North Unit on U.S. Highway 85 south of Watford City has deeper canyons and forested areas.
Start your exploration of the park at the visitors center, where you can get an entrance pass if needed. You can also get an idea of the wildlife and history of the park, as well as visiting Theodore Roosevelt's Maltese Cross Cabin – Theodore Roosevelt first visited North Dakota's Badlands to hunt Bison. The cabin that he stayed in is just steps away from the visitors center and easy to access. You can get a good idea of how Roosevelt used to live.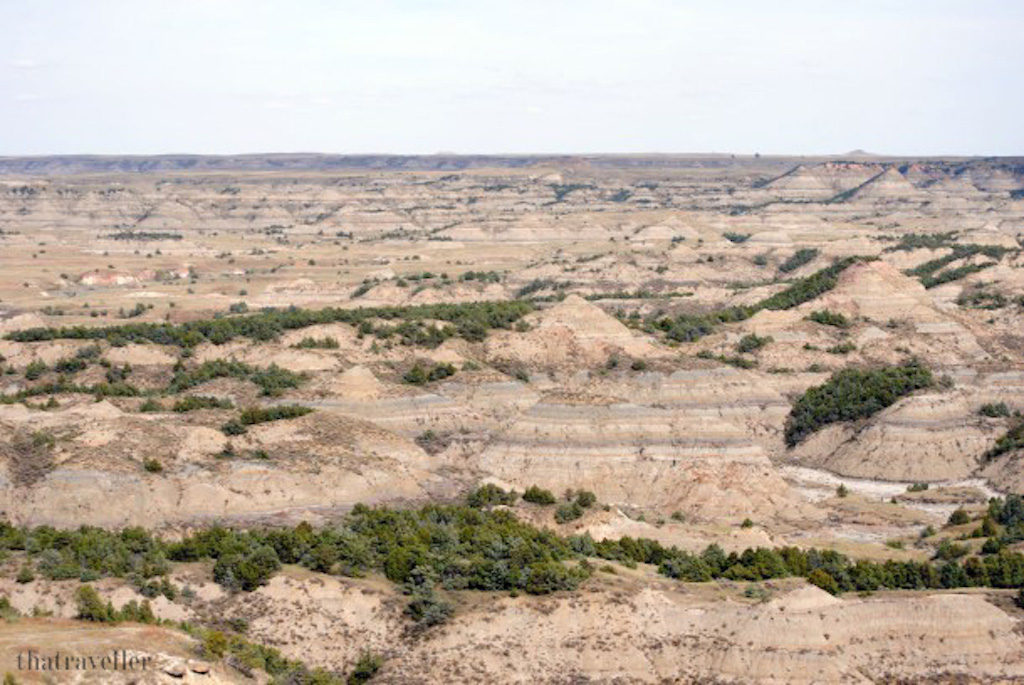 From the visitor's center, collect a visitor's newspaper, which contains information about the park, a map of each unit, and park rules. It also contains information about the hikes within the park and their level of difficulty.
The South Unit of the park features more than 80 miles of marked horse trails, and countless unmarked trails. Riders are permitted in all areas of the park except for camping and picnicking areas and nature trails. A horse campground is available in the South Unit by reservation, and backcountry horse camping is allowed. Horse rentals and guided trail rides are available.