After visiting last year, Greece has easily become one of my absolute favourite destinations across Europe – so much so that I'm going back this year.
Unlike anywhere I'd been to before, travelling the Greek islands with Busabout gave me an easy and flexible itinerary along with the perfect travelling family. Here's the top 10 experiences I found across Greece…
? Have a couple drinks on a rooftop bar in Athens
It was surprising to me how many incredible rooftop bars were spread throughout Athens, all offering panoramic views of the Acropolis, but what was even better was that our very first stop was one. After checking into the recommended accommodation, we made our way up to the roof to meet the rest of our new Busabout family – and the view was unbeatable. Unlike any view I'd seen before, we helped ourselves to some simple meals, discounted happy hour drinks and got the rundown of how our next few days would go.
I highly recommend staying at Safestay (previously Athenstyle) as the ferry to Mykonos leaves very early in the morning and this accommodation is the meeting point to get the shuttle. The private rooms are spacious and not too expensive so it's a great place to collect yourself before heading off on tour.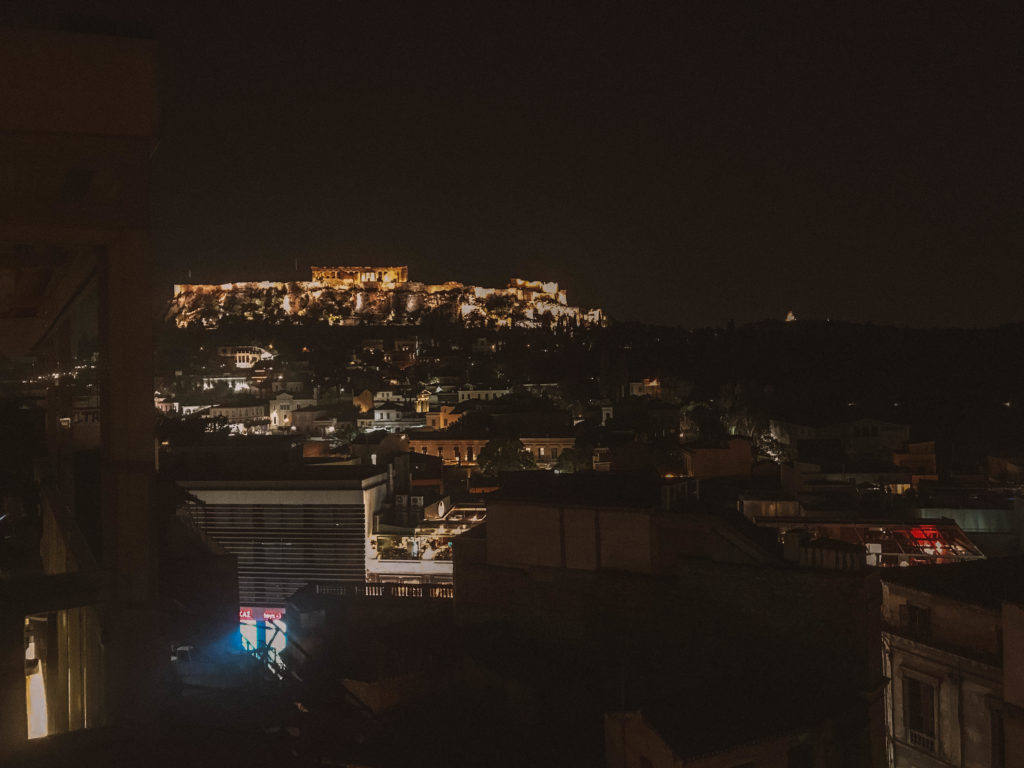 ? Explore the Acropolis in Athens
Understandably a UNESCO World Heritage Site, the Acropolis of Athens is recognised as some of the greatest architectural and artistic monuments to derive from Ancient Greece. What was once a thriving Citadel located above the city of Athens, is now home to various ancient buildings that still hold significant historical value – the most well known being the Parthenon. Some of the remains include;
The Parthenon

Old Temple of Athena

Erechtheum

Propylaea

Odeon of Herodes Atticus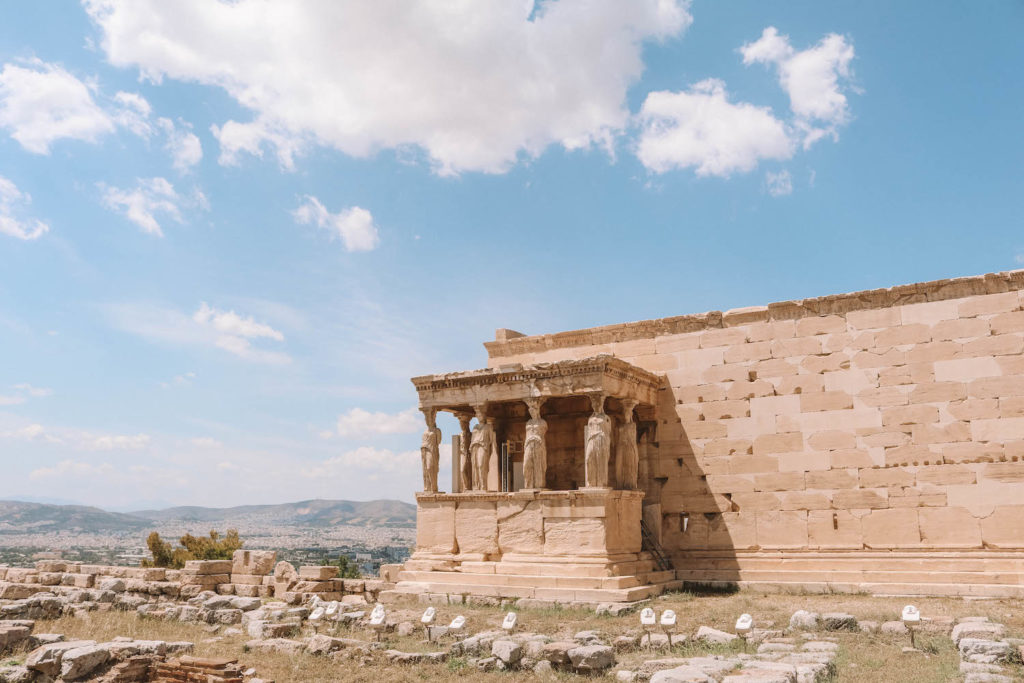 ? Hit up Paradise Beach Clubs full moon party
First stop, two for one drinks and some body paint! The recommended accommodation and the pick up/drop off points for the tour – Paradise Beach Camping is a hostel/hotel, a club and a beach all in one. With its own restaurants and cafeteria, you really have no reason to leave other than to explore inner-Mykonos.
I recommend staying at this accommodation as is it located quite far from the town of Mykonos. Though there are regular buses between the two, it becomes its own central hub where you are your Busabout family can hang out, party, and lounge around at the beach.
? Wander the picturesque streets of Mykonos
You can't visit Greece without exploring the undeniably unique cobblestone streets of Mykonos. With blue doors, vivid white walls and windmills it's unlike anywhere else in the world. Also the perfect place to find yourself some traditional gyros, you can wander around to the famous Windmills and down to Little Venice – you may even spot the famous pink pelican!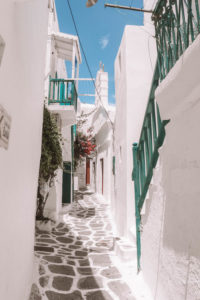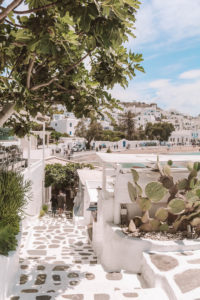 ? Have a traditional style Greek dinner along with plate smashing and dancing
One of the Flexi-Hopper optional experiences allows you and your friends to join in on a traditional Greek dinner on the beach along with some plate smashing and dancing. A short shuttle bus ride away from the accommodation, you're first welcomed by a towering view over Paros, and then by the time sunset is approaching you can wander around the private beach. Cocktails and shots are plentiful, and are available as soon as you step off the bus to greet your hosts.
The meal consisted of a few courses, all using locally sourced ingredients and recipes. (Note: as a vegetarian, my meal was different to the others, though the hosts were very accomodating to my diet).
After dinner it was time for some plate smashing. Plate smashing is said to originate from Ancient Greece and is a long-standing tradition that can still be seen throughout Greece, most often at wedding receptions. The meaning is a little lost in time… some believe that it is to ward off bad spirits, but others believe it is to symbolise Kefi – the spirit of joy, passion, enthusiasm, and good spirits.
Just an FYI… the plates are not edible. I went to the bathroom during the "orientation" of the plate smashing, and very gullibly believed that you could eat the plates… they only told me once they realised I was actually about to swallow some haha! (Tasted plastery)
Once our food had settled and we'd gotten a few more special cocktails in, it was time to learn some traditional Greek dancing. A very old tradition, the dance that we learnt was from the 19th Century – kalamatianos – and involved dancing in a circle while holding hands. It's probably the most well known of traditional Greek dances, however most are very similar, just with their own interpretations and styles. Each are commonly named after the villages or areas that they originate from, and each has formed it own choreography.
? Swim in the turquoise waters of Anti-Paros on an all-day boat cruise
Before I had even arrived in Paros, I'd heard floods of comments from other travellers telling me how great this optional activity was – and rightfully so. The day started with a shuttle bus to the wharf, and we waited for our boat to dock. We were told that the size and exclusivity of the boat would depend on how many people chose to do the optional – so travelling in a shoulder season meant our group was quite small. We shared our boat with other travellers and families, but our entire Busabout family managed to secure the top deck so we were able to spend the day together.
We set sail across the unbelievably clear blue waters of Anti-Paros, and made stops throughout the Aegean to jump ship, swim through natural caves and discover hidden beaches. Snorkelling gear was provided, and for the less confident (or tired!) there were also noodles that you could float around with.
After that it was lunch time. We pulled up to shore by a private beach, and the crew pulled out some plastic chairs and tables and set up right on the shore. We sat with the water cooling down our feet and enjoyed a buffet BBQ feast before heading back to Paros.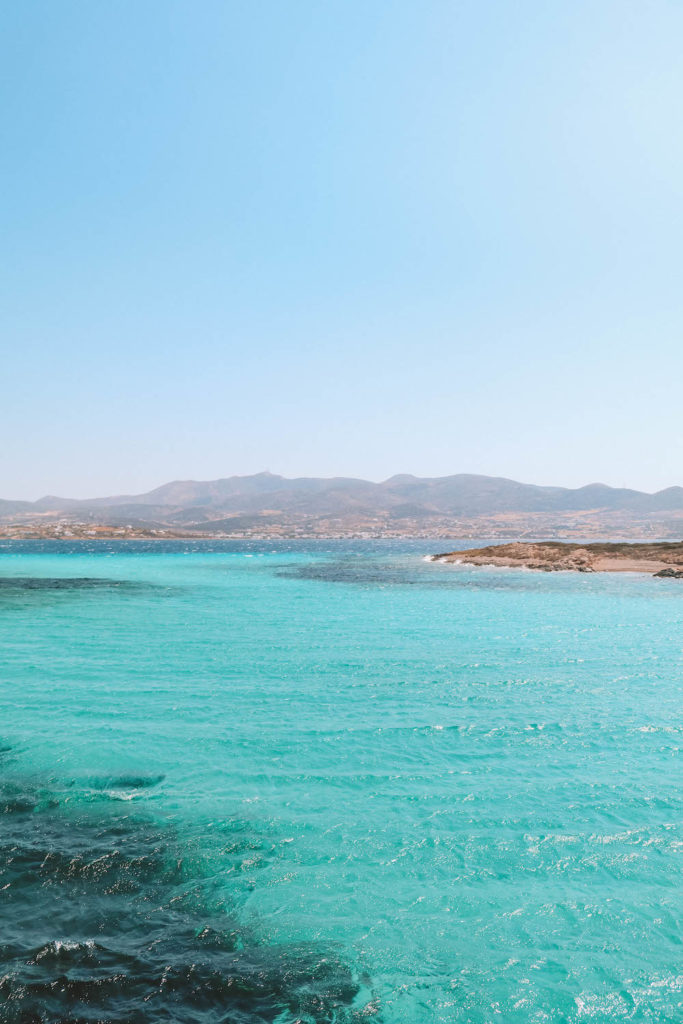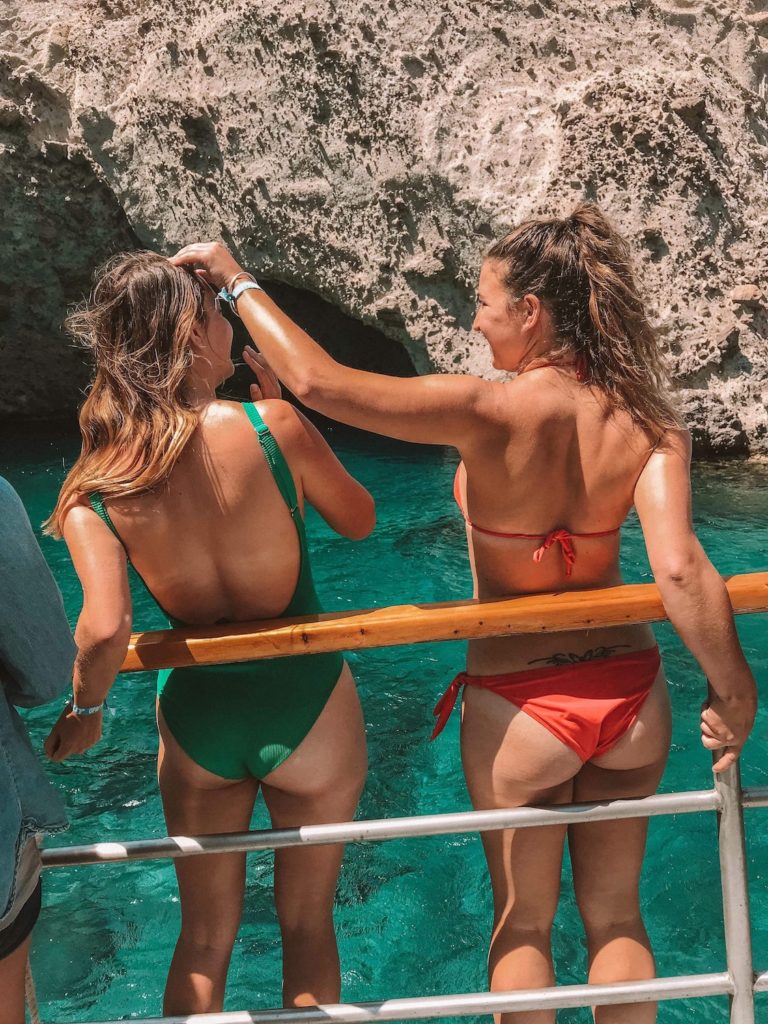 ? Explore Santorini's colourful beaches
With only one day to explore Santorini, there's so much to see and not enough time. When it comes to beaches, Santorini is plentiful, but the most well-known are the not-so-creatively named Red Beach, White Beach and Black Beach.
Red Beach was the only beach I managed to fit into my schedule, and me and my Busabout family only chose it as it seemed the most peculiar of the three. We'd seen black sand beaches in Mykonos and white sand beaches in Paros, so it was the odd one out.
Red Beach is simply called as such due to its red-hued sand and volcanic rusty rock faces. To reach the beach we caught a public coach about 10kms from the city of Fira, and then it was a short walk downhill. Due to a semi-recent rockslide, the path has now been recreated atop the landslide – though it isn't a challenging walk. The beach was unsurprisingly popular, and its red rocky sand was lined with beach umbrellas, sunbeds and the occasional kiosk.
Our guide also mentioned that it was a very popular snorkelling site due to the interesting rock formations and marine life that surrounded the beach.
The cove right next to Red Beach is where you would find White Beach, and other than by boat it's the only way to get to it. The two are very similar, just the surrounding cliffs are a vibrant white colour. Paired with its turquoise blue waters it's one of the most beautiful beaches in Santorini. Due to its secluded location it is also noticeably quieter than Red Beach.
Black Beach (also known as Perissa/Perivolos Beach) is probably the busiest of Santorini's Beaches. It's much larger, and has more facilities and watersports available throughout the strip. Also located in the south of the island, Black Beach is mostly popular for its party atmosphere and occasional celebrity sighting. The colour of the beach is only different due to the shade of the surrounding cliffs.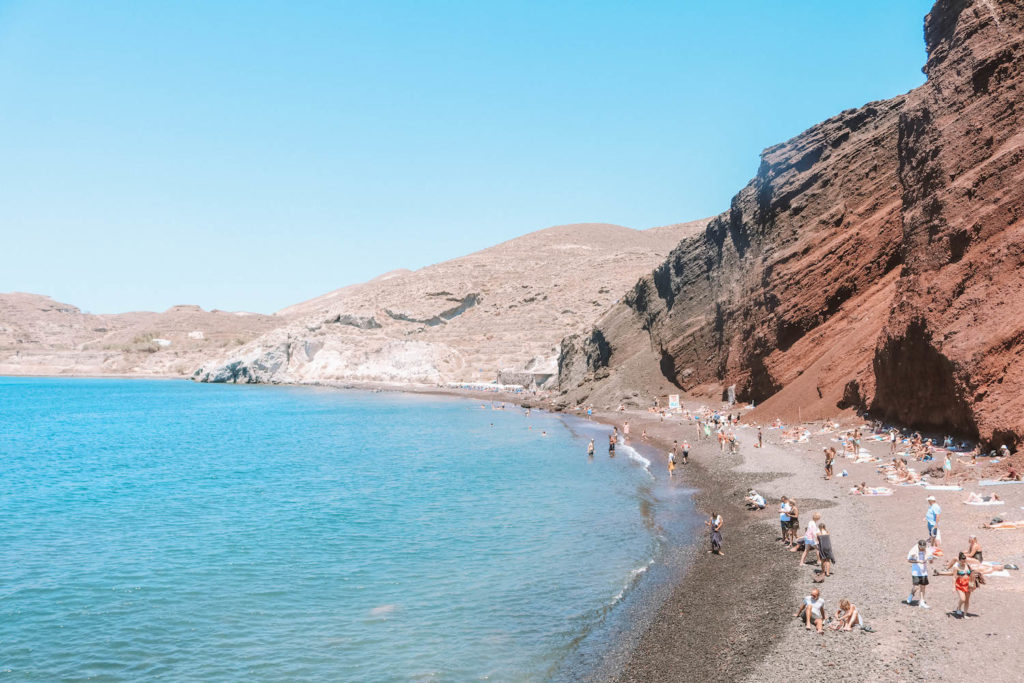 ☀ Get the best view of Oia's famous sunset
Probably the most exciting view of the entire journey, Oia's sunset meets every expectation. Oia is a coastal town full of whitewashed houses and sweeping views of the caldera – it's one of the most photographed spots in Europe. Home to a maze of souvenir shops and quaint houses, Oia is located on the north-western tip of the island.
The photo spot itself is located atop the Byzantine Castle Ruins. To a sort-of-unexpected surprise the castle ruins became its own sort of mosh pit once it was almost time for sunset. People were scrambling for a spot, and it became quite difficult to get a photo without tourists blocking your view.
Luckily for us, our Busabout guide spotted a secluded spot for us to perch. It was only accessible with a small climb over a barbed wire fence, so we realised that's why no one else had gone down to the spot. We passed on this tip to other Busabout travellers, and everyone seemed to enjoy the exclusivity of the spot (with the exception of some cats).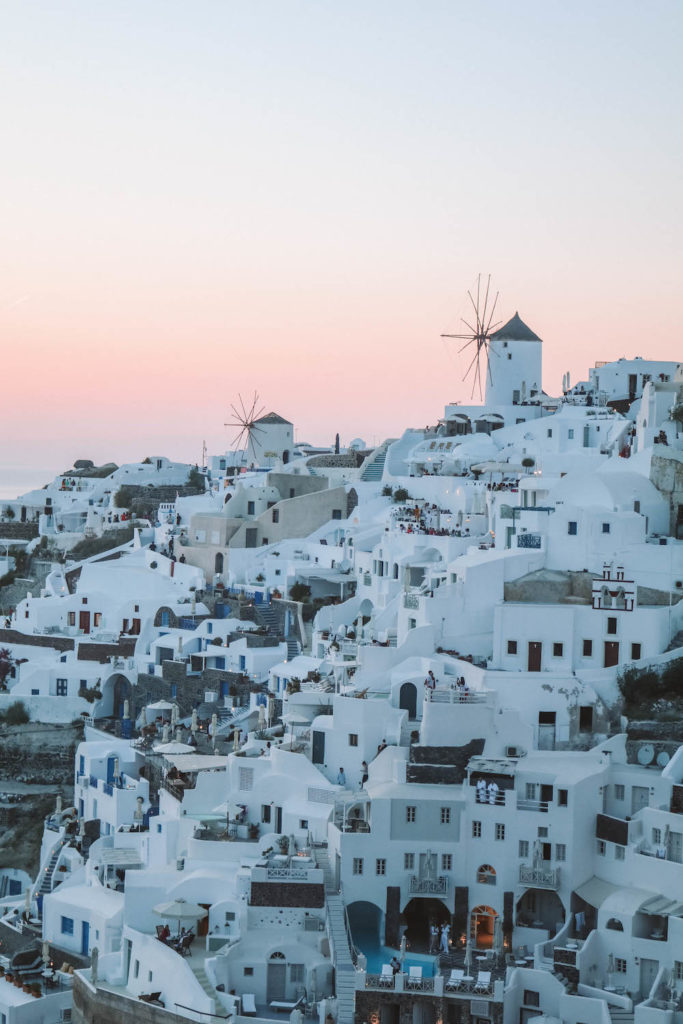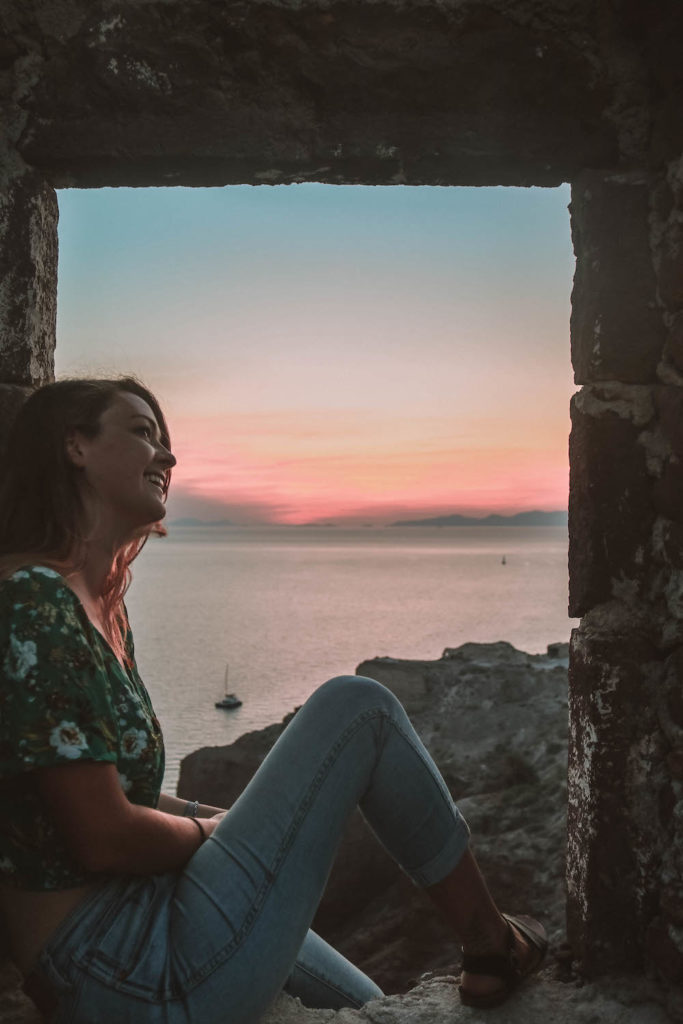 ? Hike up to Nea Kameni's craters on Santorini's active volcano
In Santorini it's really up to you what you decide to do with your day, though there are usually optionals planned in the afternoon and evening. Our Busabout guide recommended to us the boat trip that took you over to Nea Kameni for a walk around the craters, and then to the natural hot springs formed by the active volcano. It was a trip that we knew we'd not only enjoy just for the adventure, but to learn a bit about the unknown – the caldera itself.
The tour we went on totaled up to 5hours, though there were many longer ones available. The boat took us over to Nea Kameni, and we were allowed to explore with the guide, or wander around ourselves. We were allocated a certain amount of time – and it was no shock to us that people often got distracted by the incredible views of the main island across from us.
After that it's a short trip over to the hot springs. As the boats are too large to get up close to the springs, you're welcome to jump off into the chilly water and swim towards the muddy shallows. Then you have free time to take advantage of the therapeutic elements of the rusty coloured water, and it's back to the Port. Read more about this experience here.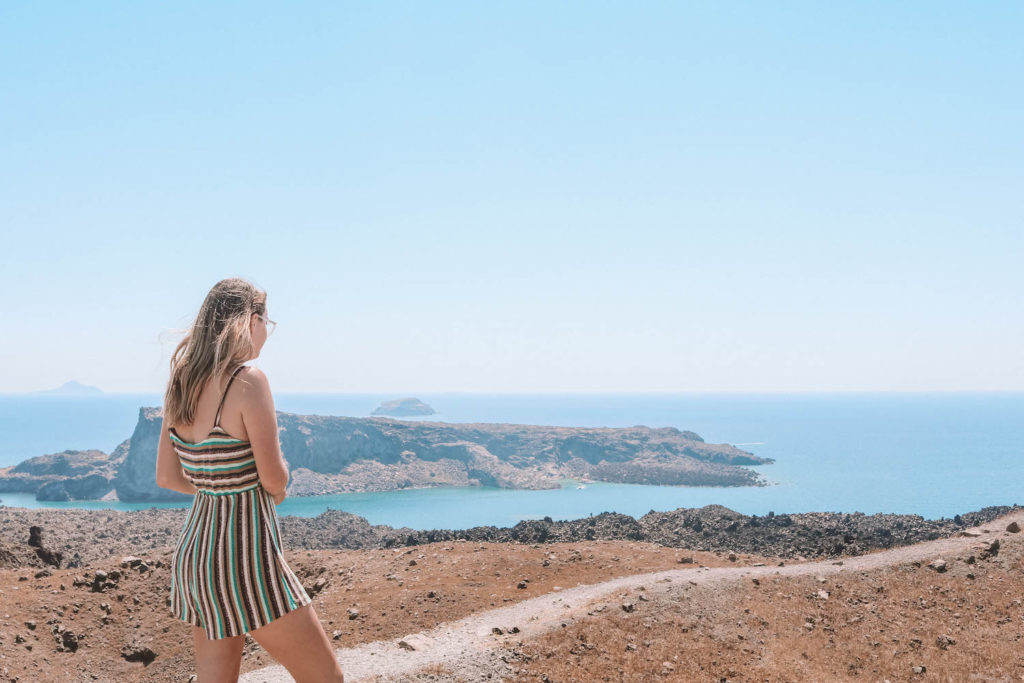 ? Head to the Slammer Bar in Ios, time for a Slammer Shot!
It's probably exactly what you think it is – the Slammer shot simply put, involves popping on a helmet, skulling a cocktail of your choice, and then being slammed across the head with an object of the bartenders choice – usually varying between a skateboard, a fire extinguisher, or even a crate. It sounds a little unnecessary, or even *barbaric* but this and the famed 7 shot challenge has become a popular "right of passage" for partiers in Ios.
I hope you guys enjoyed this list… What would you do while travelling in Greece?