My first time stepping onto the African Continent, and my first trip of 2023, Morocco was unlike anywhere I've ever been! It was honestly like walking through a movie… there was SO much going on!
While you can travel to Marrakech solo, I felt more confident heading to this spot with a friend. The city itself is very overstimulating so it's nice to have a friendly face with you to experience it together! Brooke and I flew straight to Marrakech, landing around 10am, so we got straight into the day! This is how we spent our weekend;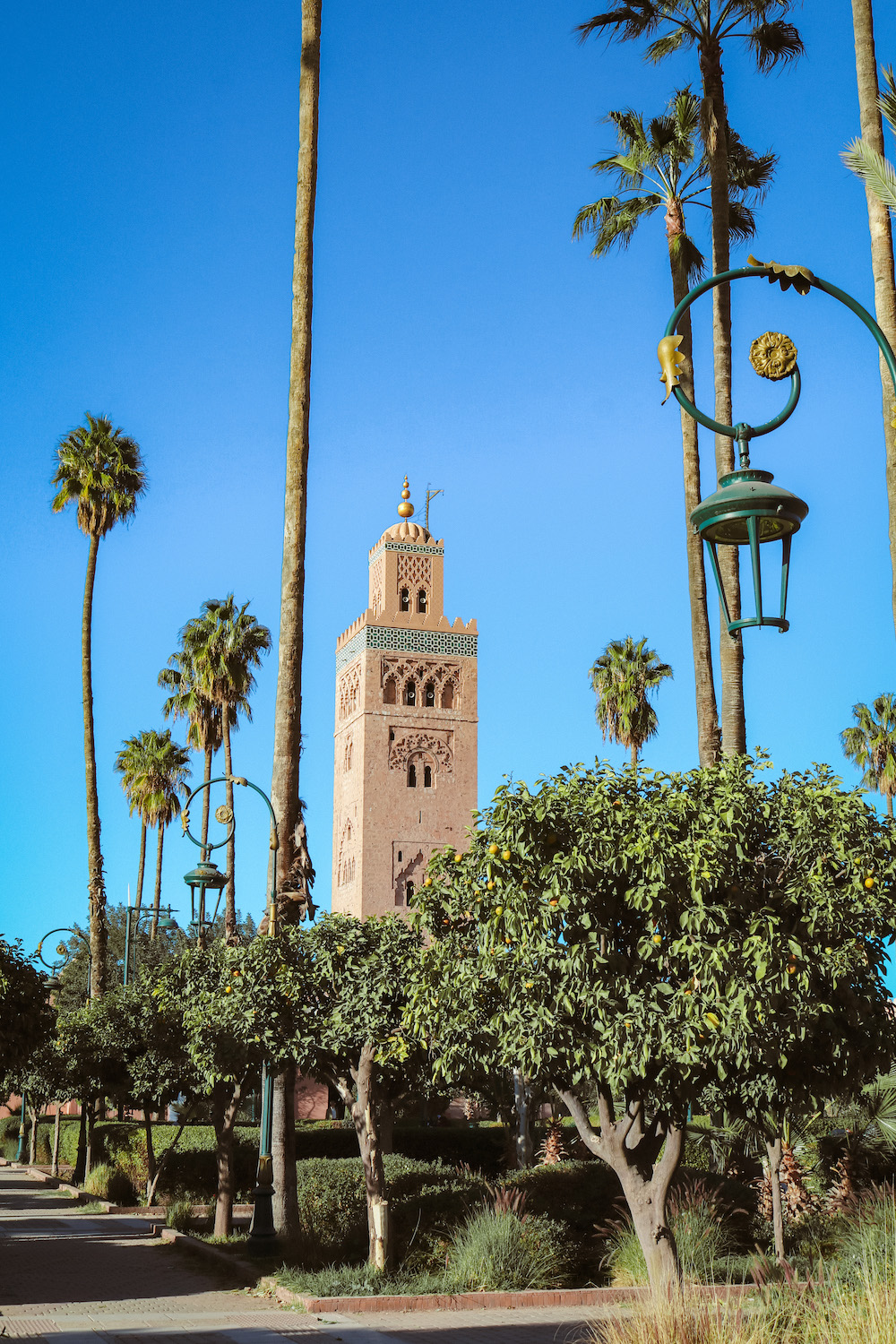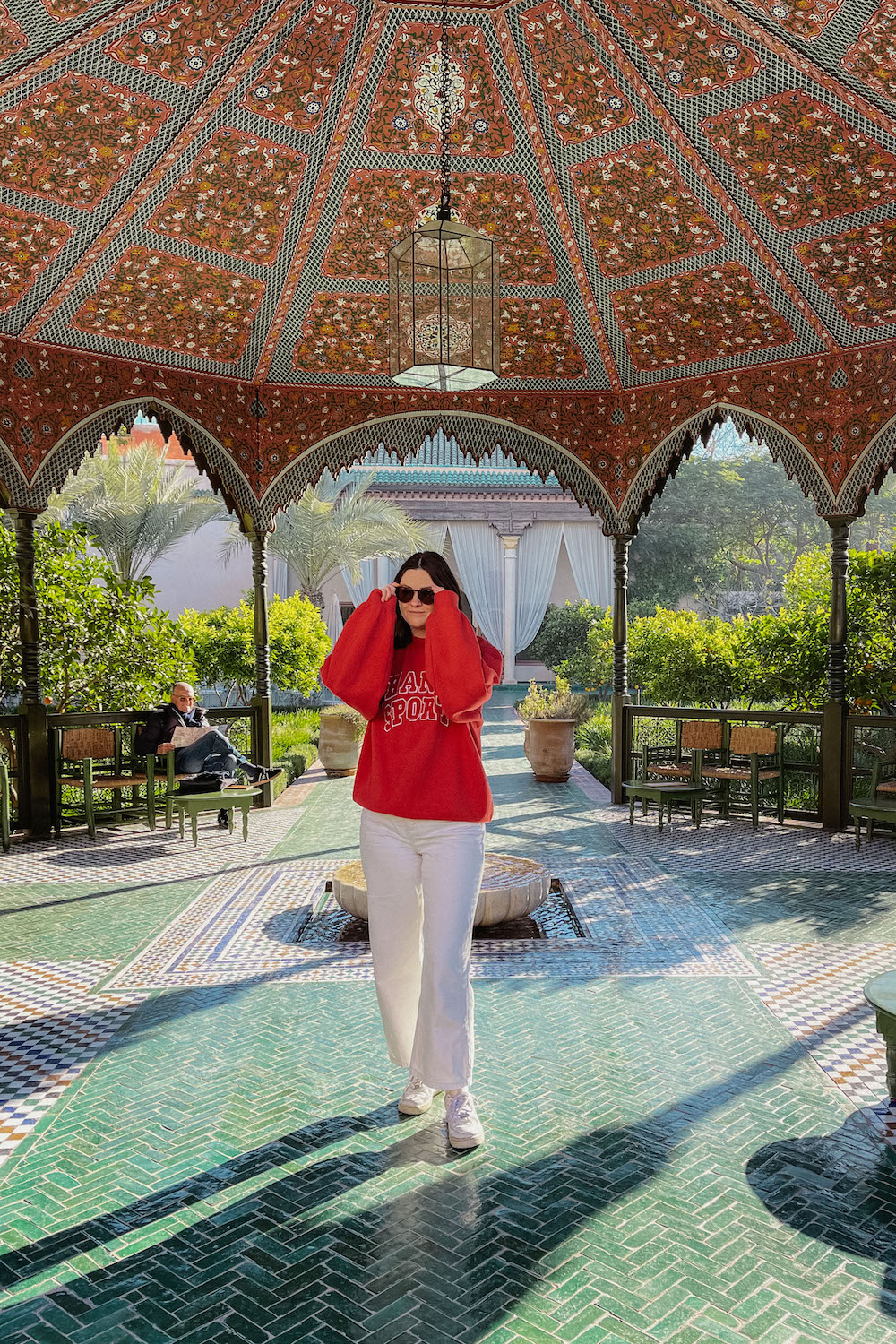 Day 1 –
?
Brekky at Atay Cafe (rooftop restaurant)
We're really starting off strong with this one. My trip to Marrakech was a few weeks ago now but we talk about the food we had here ALL the time. It was our favourite of the trip, and given some more time we definitely would've gone twice.
Atay was conveniently located just around the corner from our hostel (Grand Central Medina), so it was an easy choice for us after just landing. We were too early for check in so it made sense to grab a bite and then head back.
We headed straight up to the rooftop and we were lucky enough to grab a nice sunny table with a view right over the Medina. For lunch, we shared some vegan cous cous (which came with veggies), quinoa tabouli (which came with avocado), and cheese briouates (like cheese puffs but creamier). I of course helped myself to some tea – I wasn't quite ready to try the mint tea so I started with ginger, and it was delicious. Brought me the perfect kick to my morning!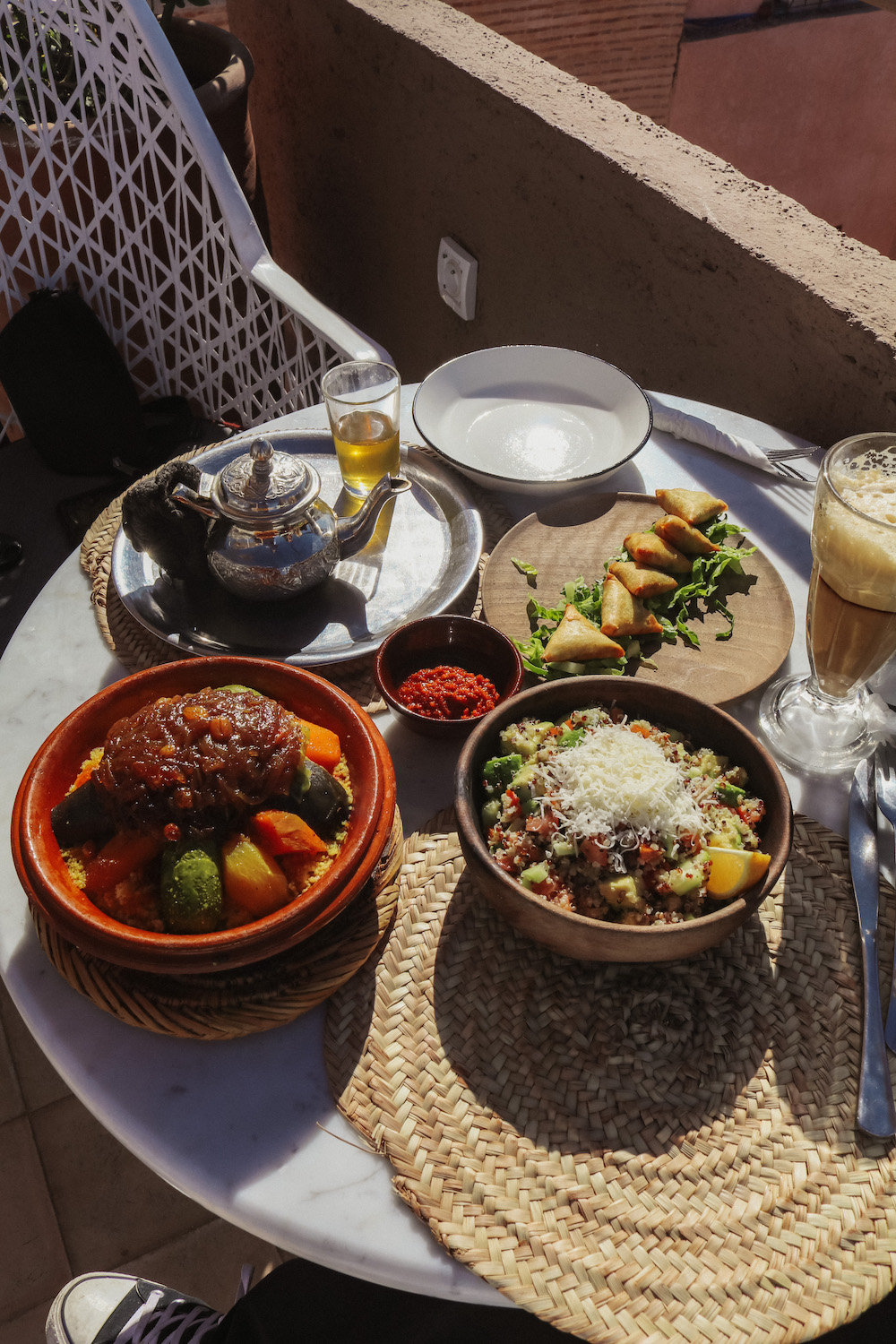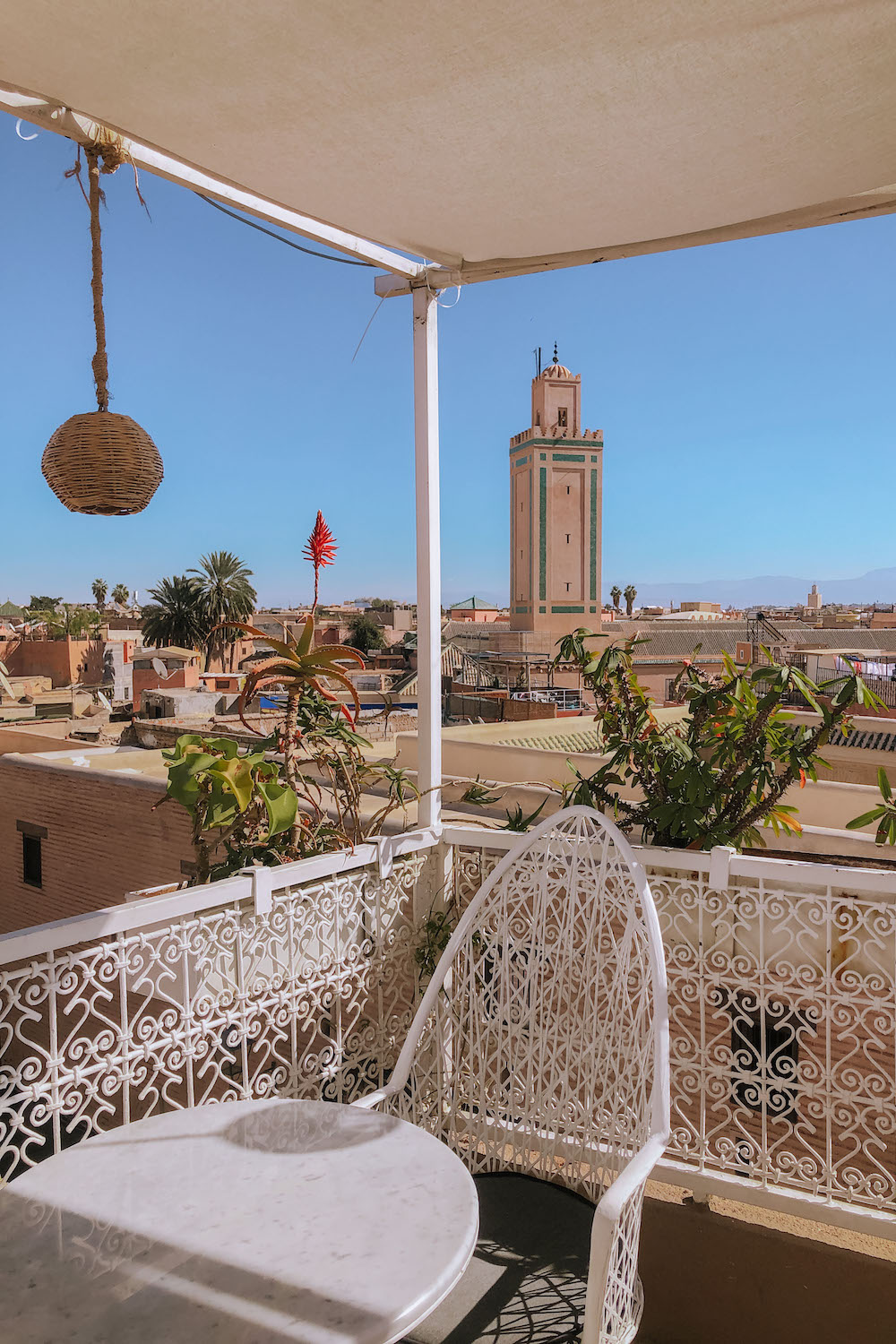 ?
Wander around Jemaa el-Fna
Jemaa el-Fna was not quite what I was expecting, but it is the central market place in Marrakech. What I was expecting – fruit markets and food stalls. What I was not expecting – monkeys in clothes and on chains, and cobras all over the floor moving to the sounds of the flute. It's definitely daunting, and there is a bit of hassling, but it really is worth wondering around to get an idea of this brand new environment.
See the end for *scams to avoid*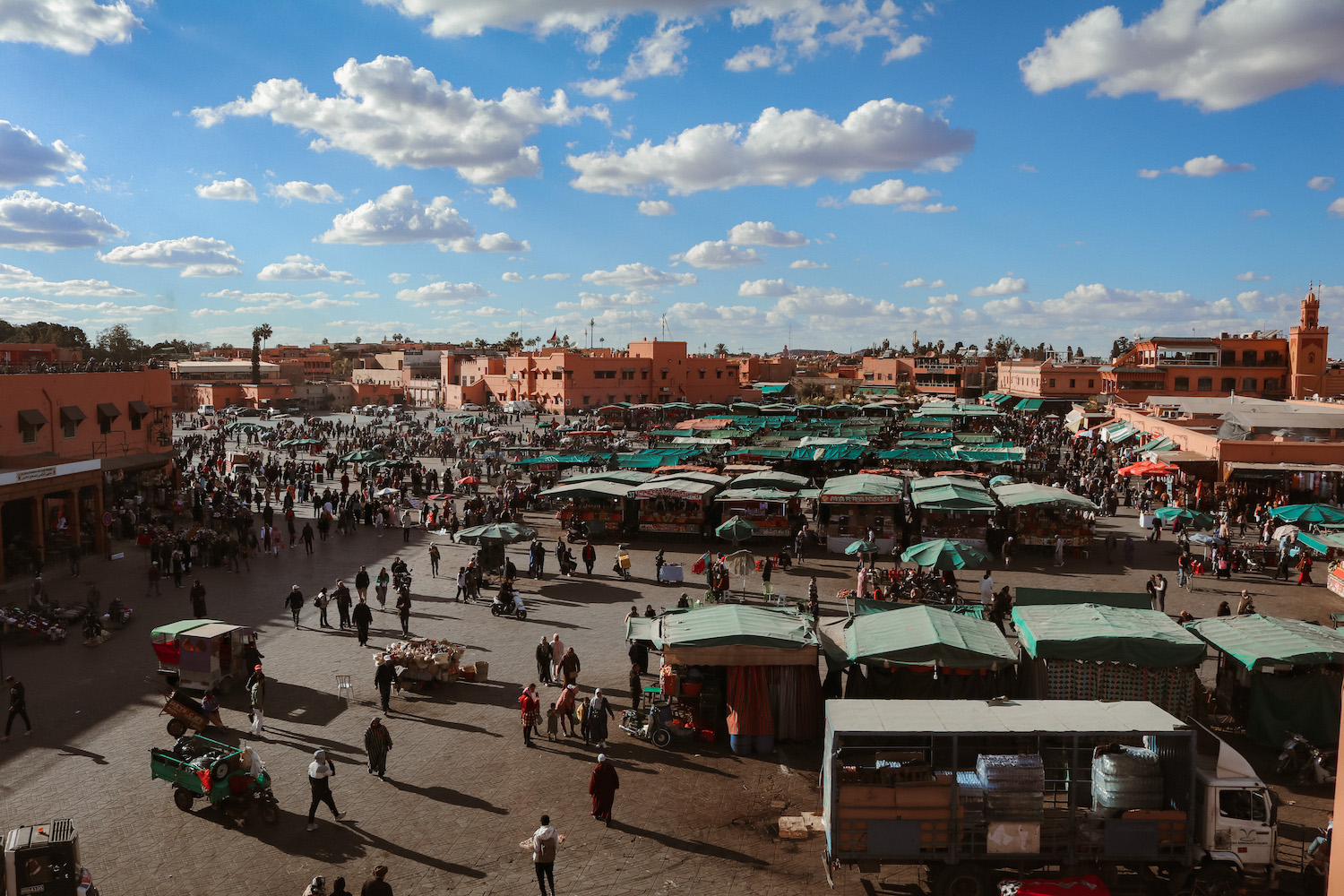 This was one of the first things we wanted to do while in Marrakech as we knew the henna would take a little time. The henna tattoos you can get in the market squares are a lot cheaper, and smaller, but after a few recommendations we knew this was where we wanted to go. It was more, but still not expensive, more professional, and more options for the style we wanted!
Once we entered we were run through the instructions on how to care for your tattoos, as well as a read through. And then we were given booklets where we could choose what henna tattoo we wanted.
I was incredibly surprised by how quickly they just started free-handing the tattoos immediately after pointing out our reference photos. They were done in probably 15-20mins, and then we sat by a heater to let it set.
Something worth keeping in mind is that you have to keep the dry henna on for 6-8hours afterwards until you can wash it off. It can get a little uncomfortable as it dries – and for us it was very cold to keep our forearms out of our jumpers. But that night before bed we washed it off and the orange-tinted tattoos revealed themselves! The tattoos come out differently for everyone – ours stayed on for a little under 10days, which is exactly what we were expecting.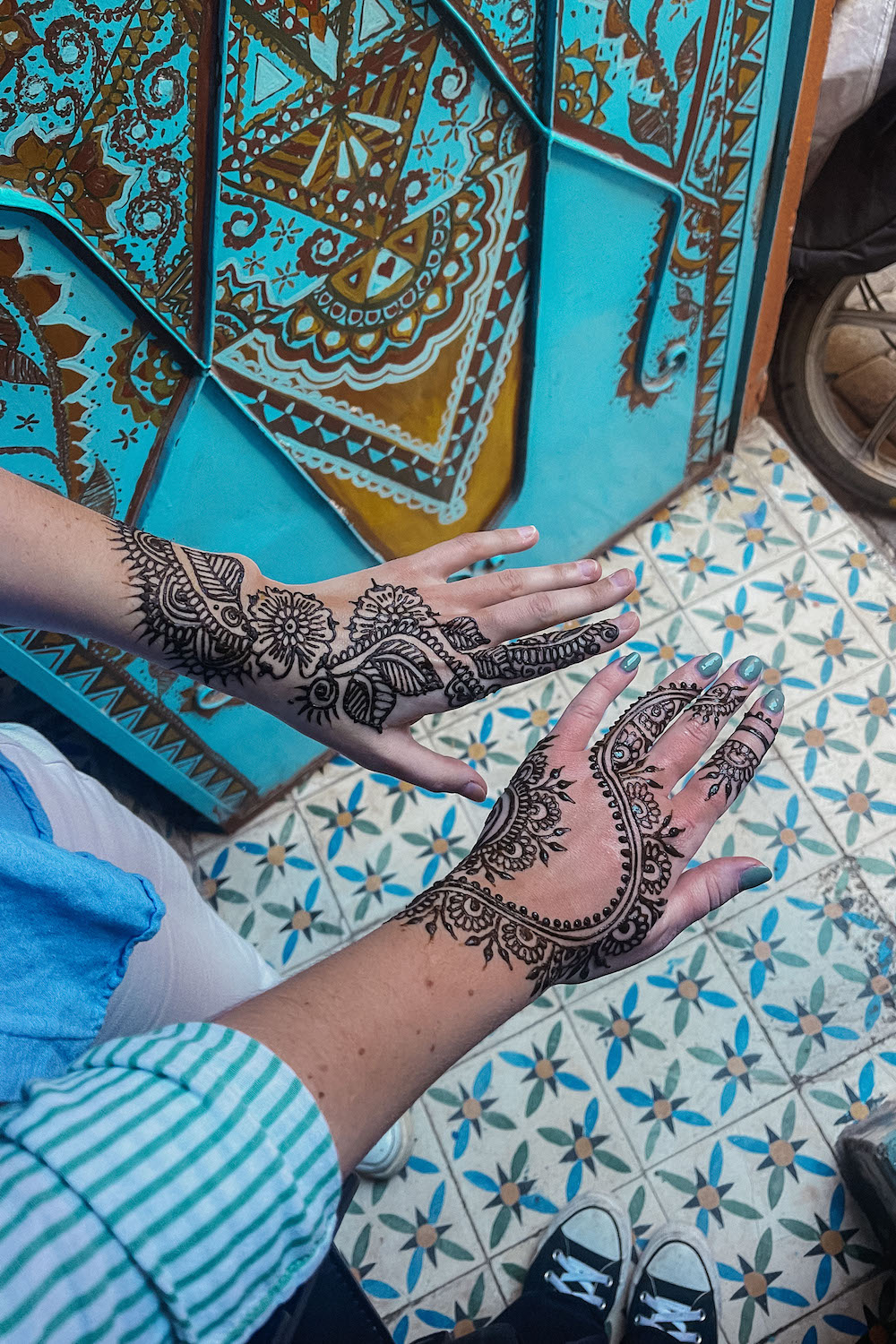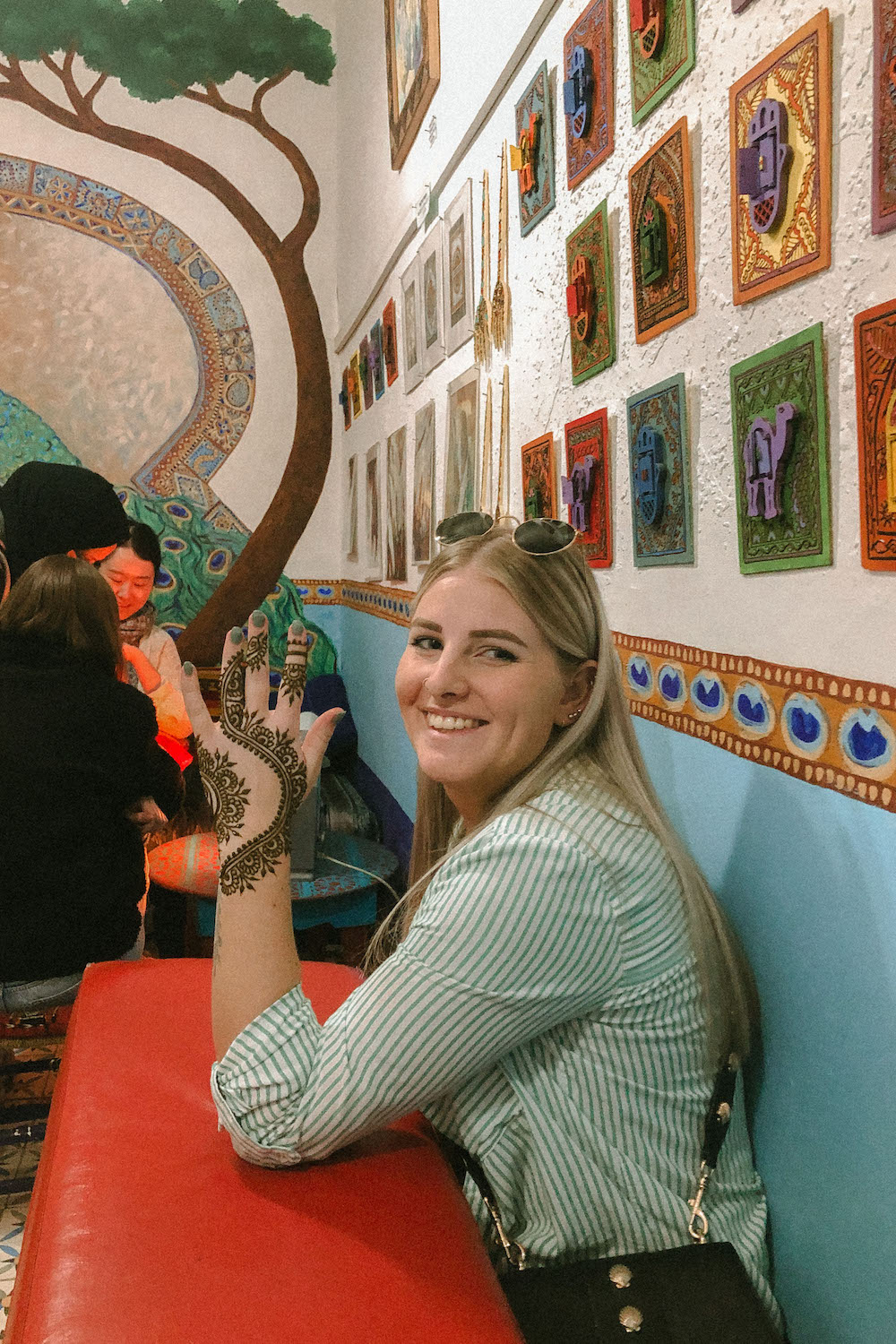 ?
Wander around Koutoubia in Parc Lalla Hasna
Koutoubia Mosque (or Kutubiyya Mosque) is the most iconic monument in Marrakech, and you can see it towering over from most spots in the city. Koutoubia is the largest mosque in Marrakech, and is surrounded by beautiful parks and the nearby Jemaa el-Fna. The Koutoubia meaning "The Mosque of the booksellers" gets its name from the location – having once been the souk of the manuscript merchants.
While it is the most famous monument of Marrakech, Non-Muslims can't go inside the Koutoubia Mosque or minaret.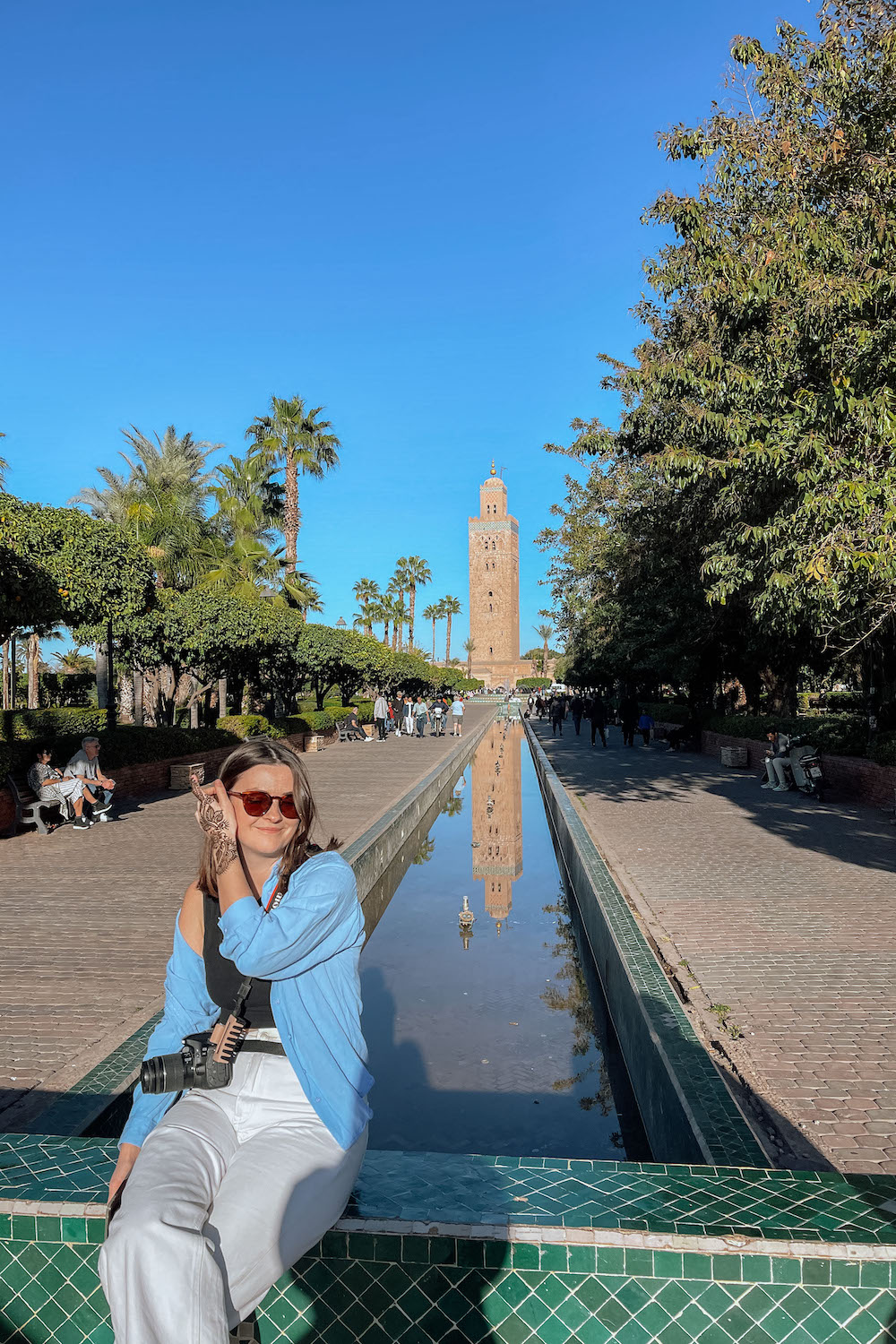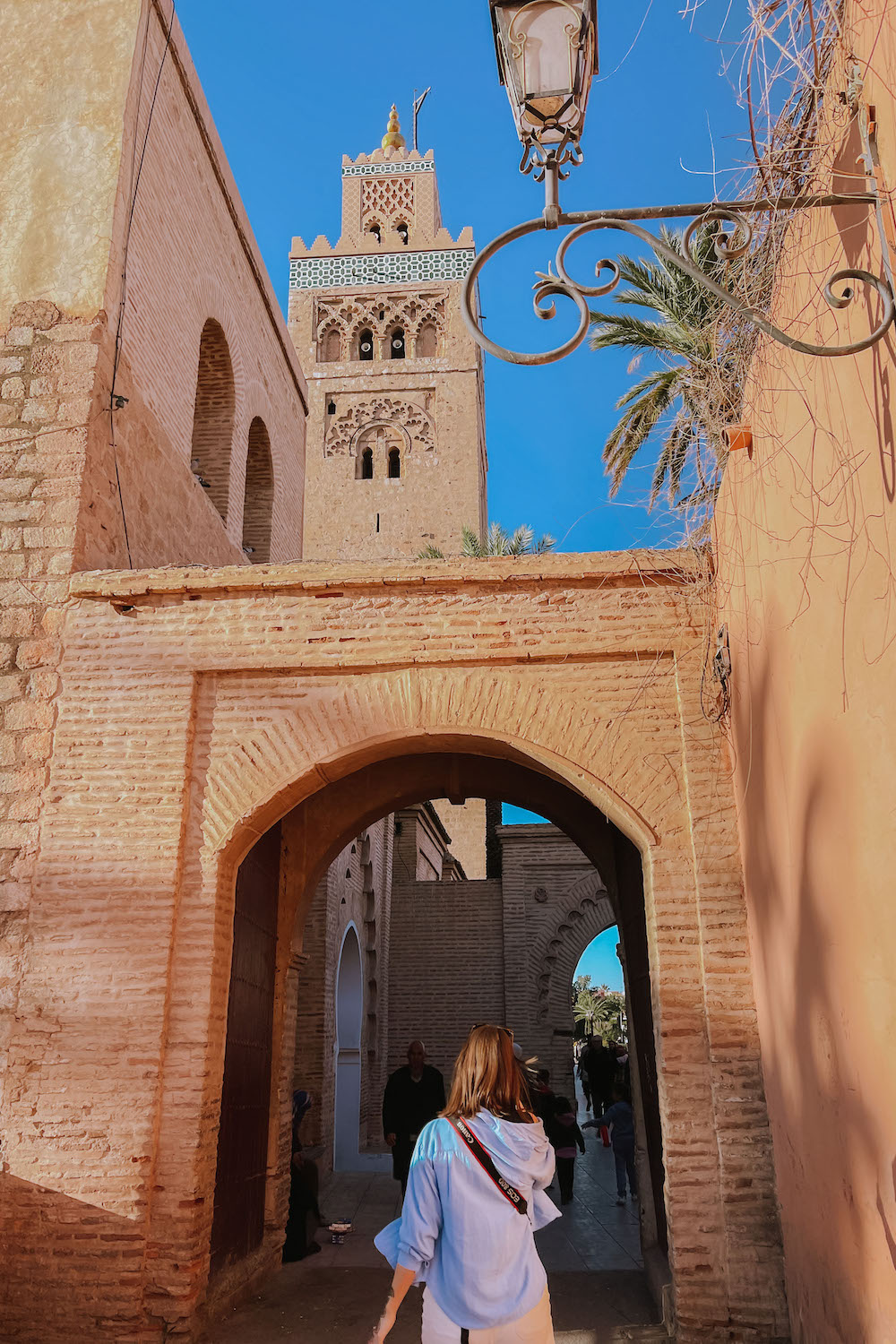 ?️
Wander around the Medina (markets)
Wandering around Marrakech's Medina is honestly like walking through a movie. There were so many scenes running through my head – Prince of Persia, The Mummy, so on.
When you're first settling into this new location, it's quite easy to get lost in the Medina – I wouldn't let this intimidate you, it's almost all the fun of it! As long as you have a general idea of the direction you're heading, just let yourself wander around and explore all of the different markets. I was actually surprised how quickly we got familiar with where we were walking!
?
Souk Semmarine (markets)
The markets around Marrakech really have a bit of everything – and a lot of it! The markets range from colourful clothing & fabrics, antiques, food & spices, fruits & veggies, souvenirs, so on…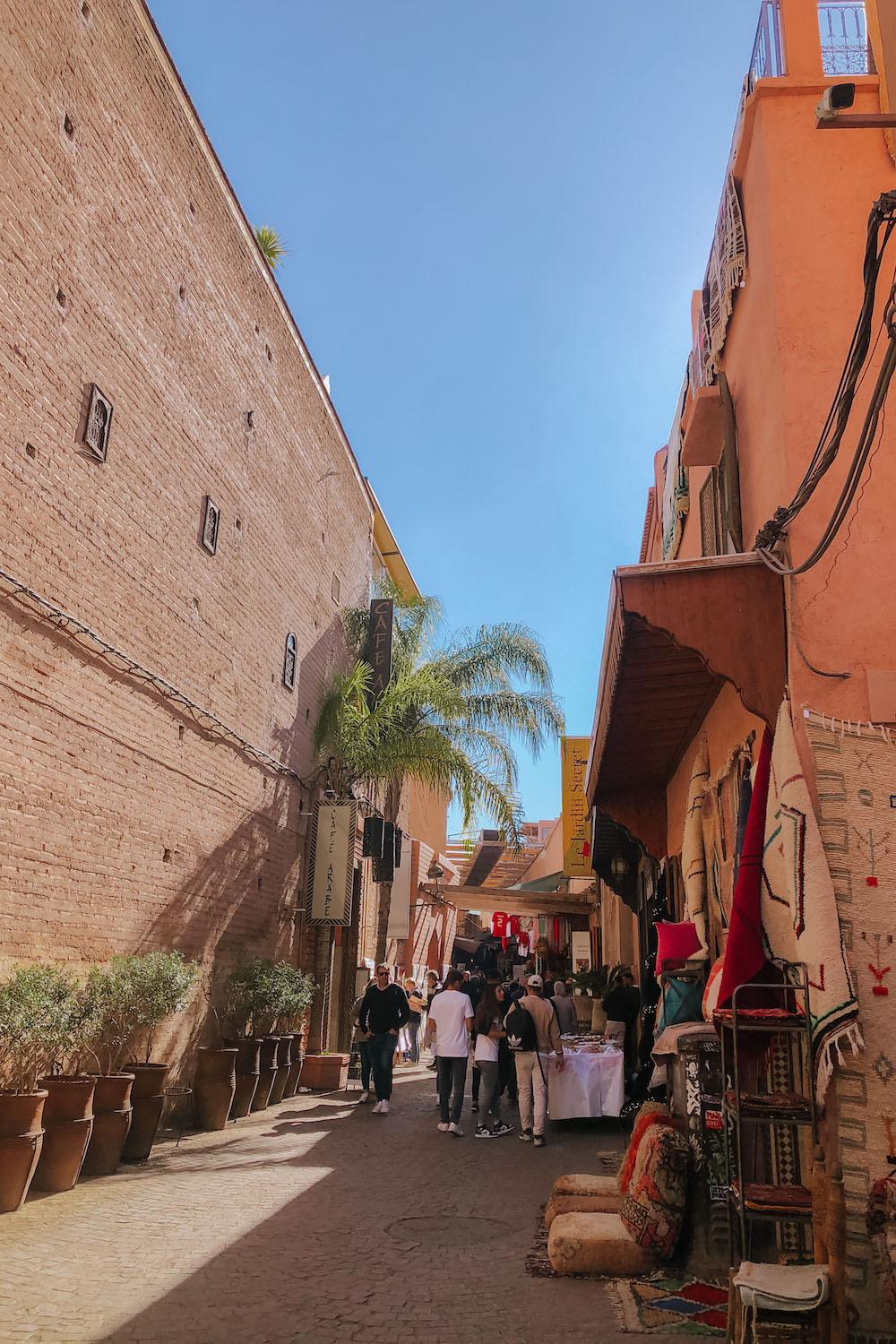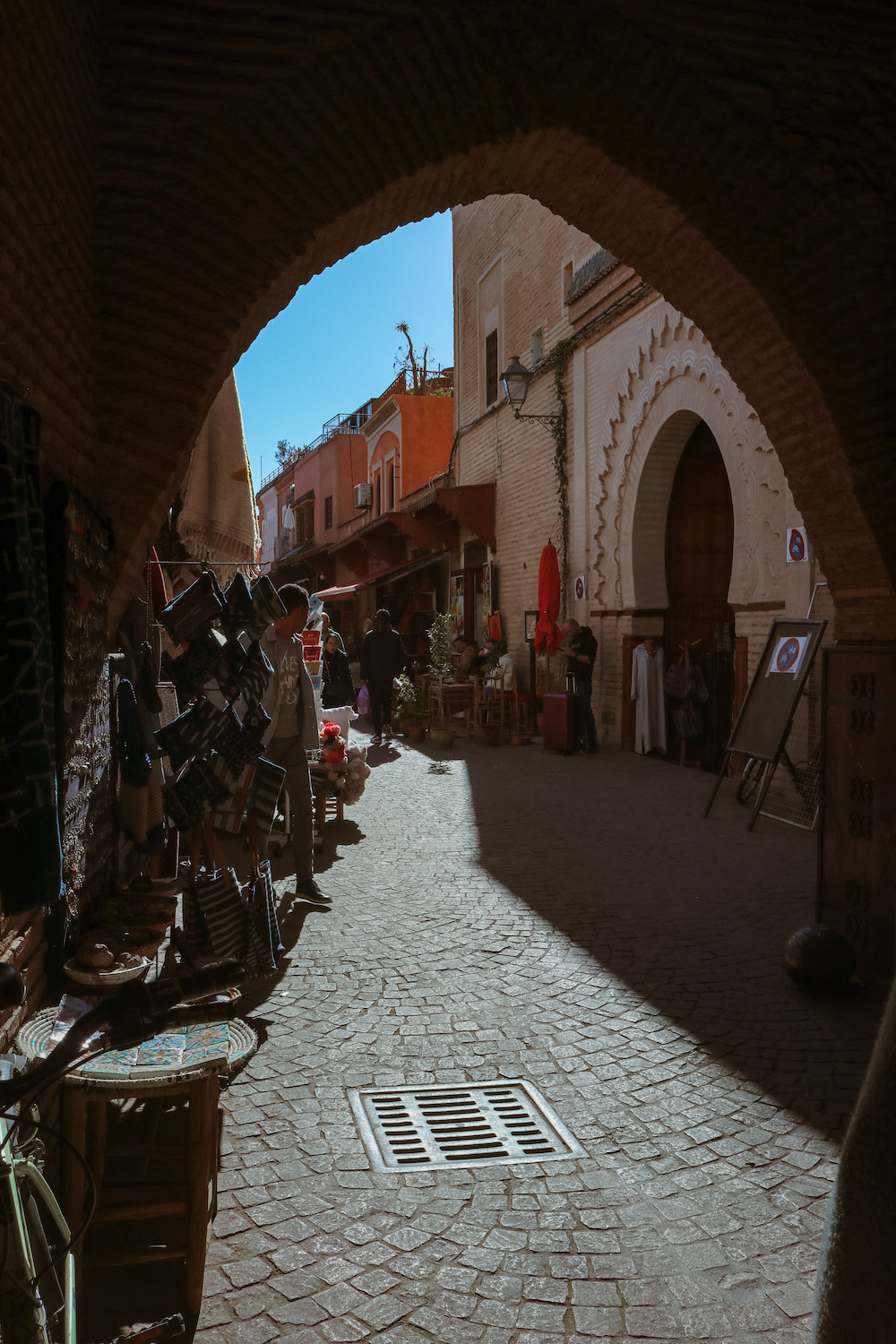 ??‍♂️
Relax at a Riad
Staying at a Riad is a MUST while in Morocco. A Riad from the Arab word 'ryad' (meaning 'garden') is a traditional Moroccan and Andalusi interior garden/courtyard associated with house and palace architecture. In general, a riad is a building with rooms and common areas around a central courtyard – most popularly with a pool in the centre.
During our time in Marrakech we stayed at the Central Marrakech Medina.
While you could find some incredibly cheap hostel stays in Marrakech ($8 for a dorm bed), we wanted to spend a little bit more so that we could still have a riad experience – and it still wasn't that much! We paid about $30 for an 8-bed dorm and the rooms were really nice and spacious!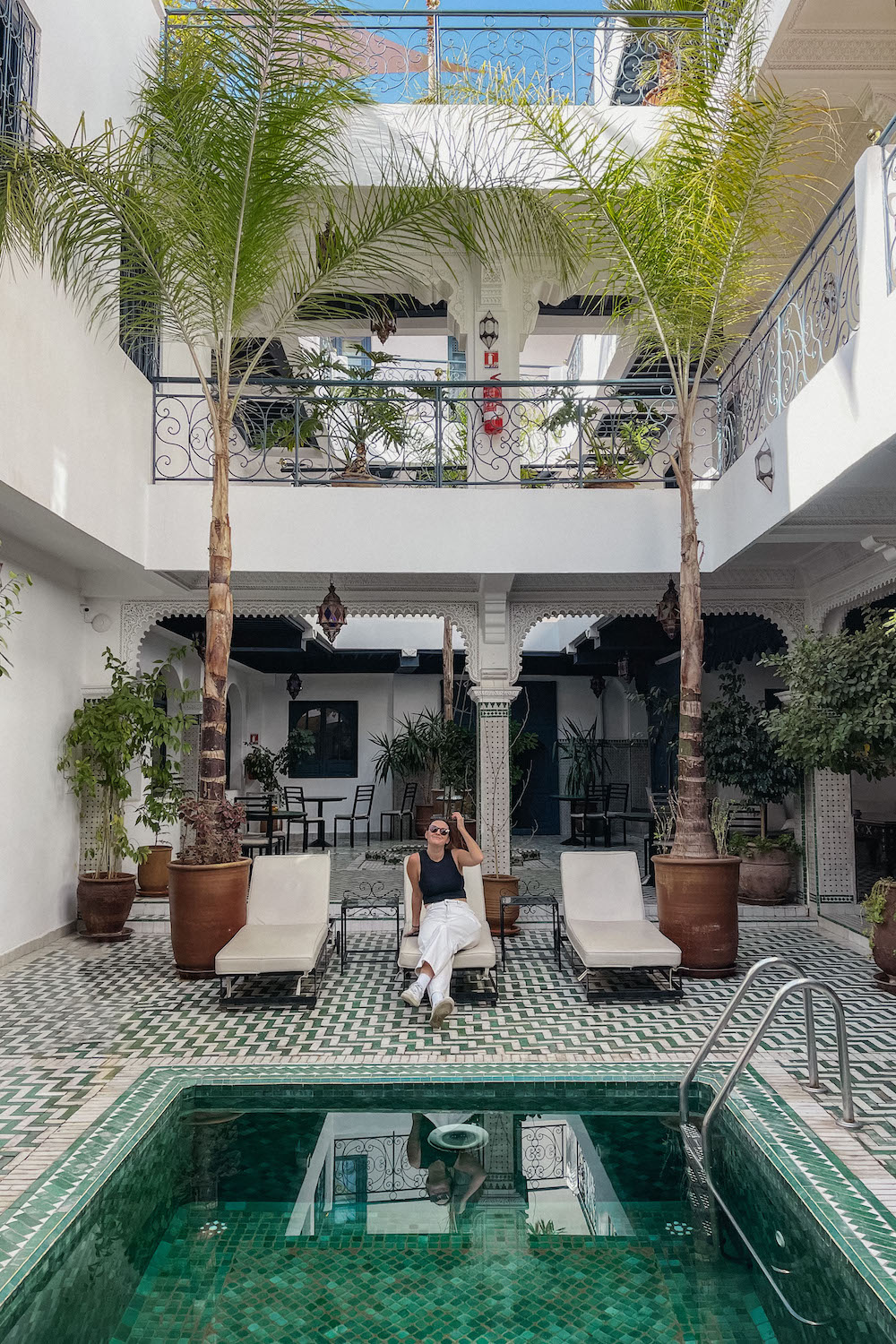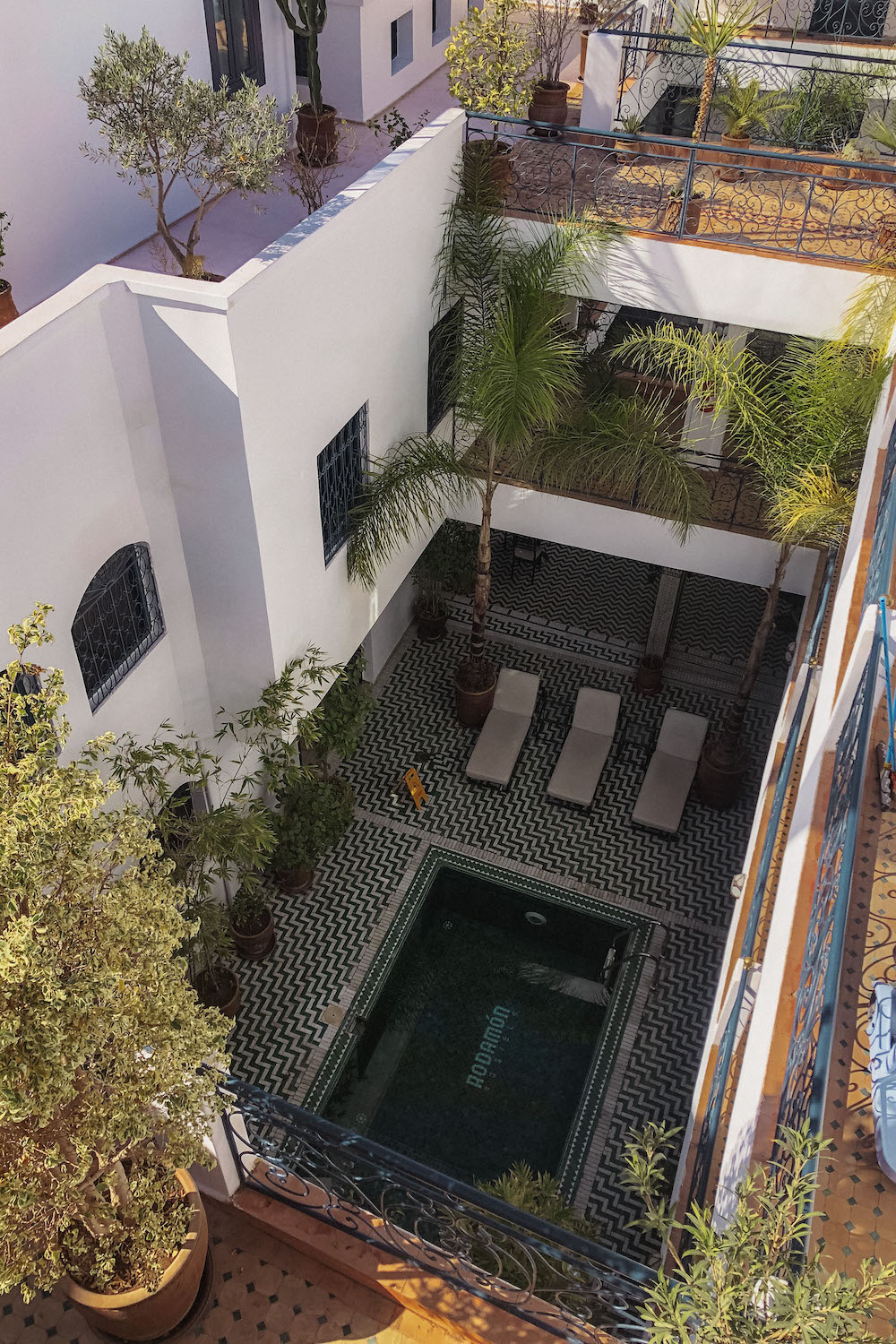 ?
Rooftop drinks at Taj'in Darna
Something that I think quite a few people forget is that alcohol is very scarce in Marrakech. Being an Islamic country, Muslims are forbidden to drink alcohol.
Alcohol is served in licensed hotels and bars. However, drinking alcohol in the street and anywhere other than a licensed restaurant or bar isn't allowed and could lead to arrest.
Most restaurants do not serve alcohol, but almost everywhere offers mocktails. At Taj'in Darna we tried some non-alcoholic mojitos to get some of that fresh Moroccan mint. Essentially we were there for the atmosphere and the view – not the drinks! Taj'in Darna looks over hustle and bustle of Jemaa el-Fna and you could people-watch for days!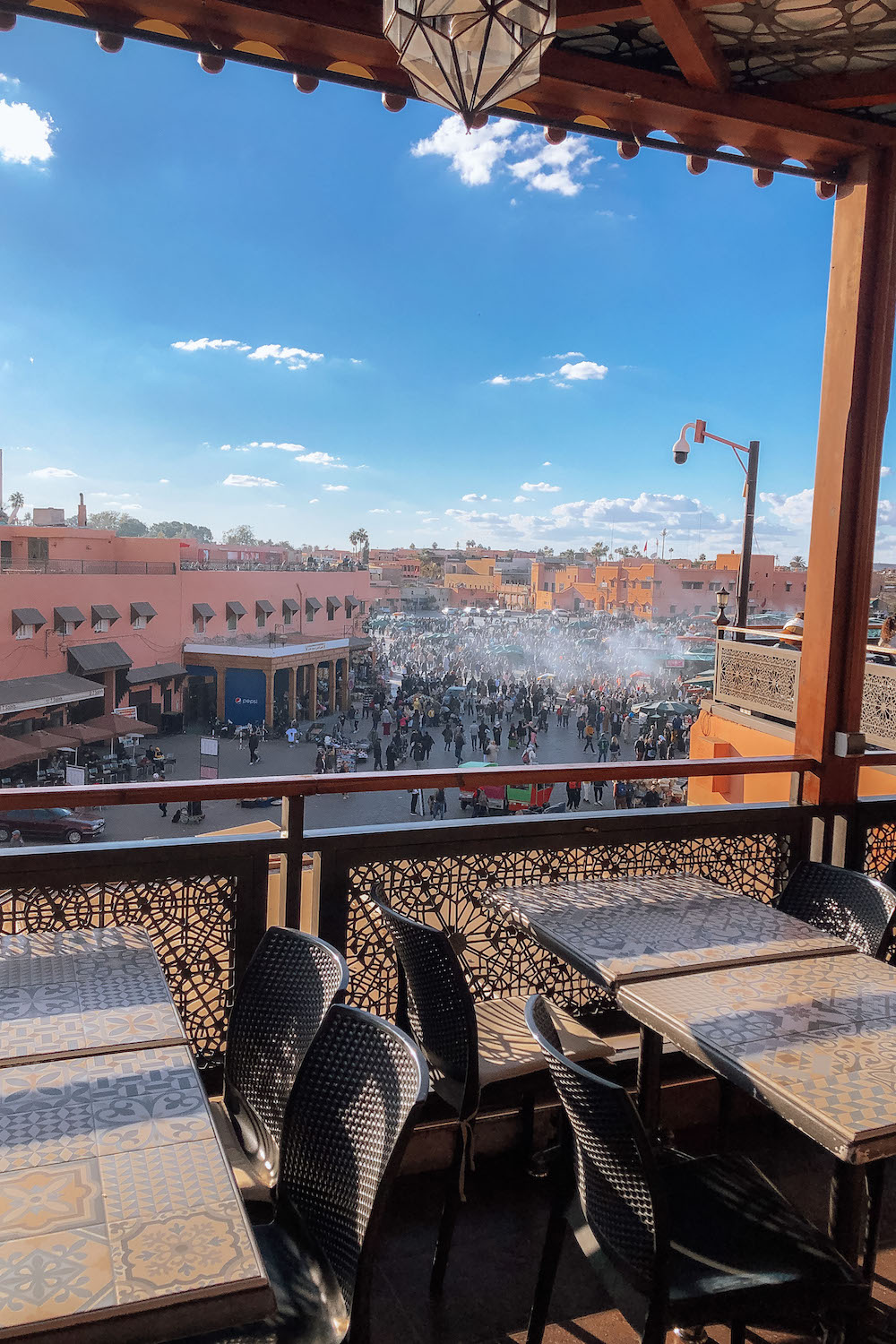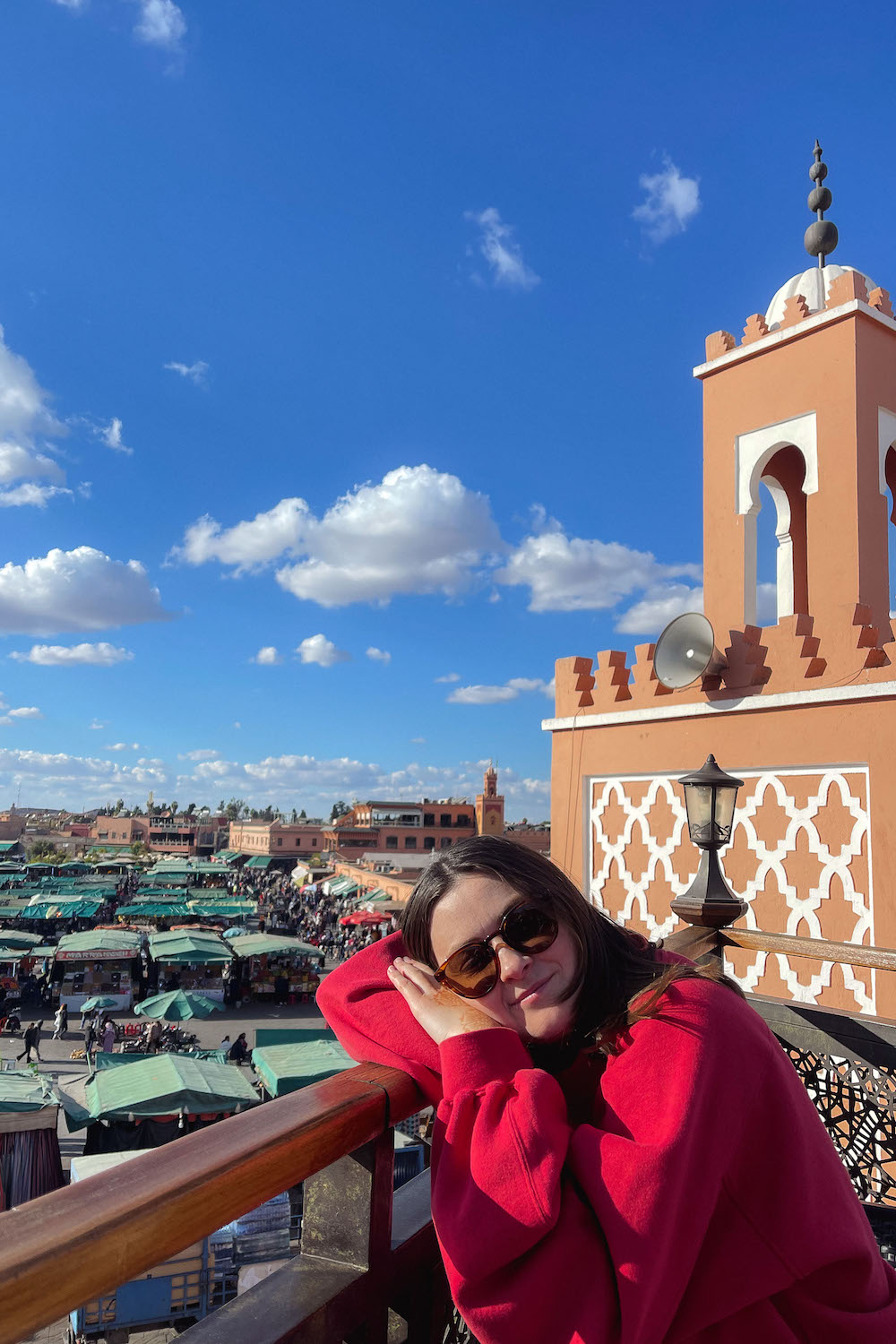 ?
Dinner & Sunset at L'Mida (rooftop restaurant)
We got to L'Mida in perfect timing, the sun was setting over the horizon and the clay and orange tinted buildings only add to the experience. We tried the vegan cous cous (with veggies), the hummus and pita, cheese briouates (again of course), and Burrata & taktouka mechouia.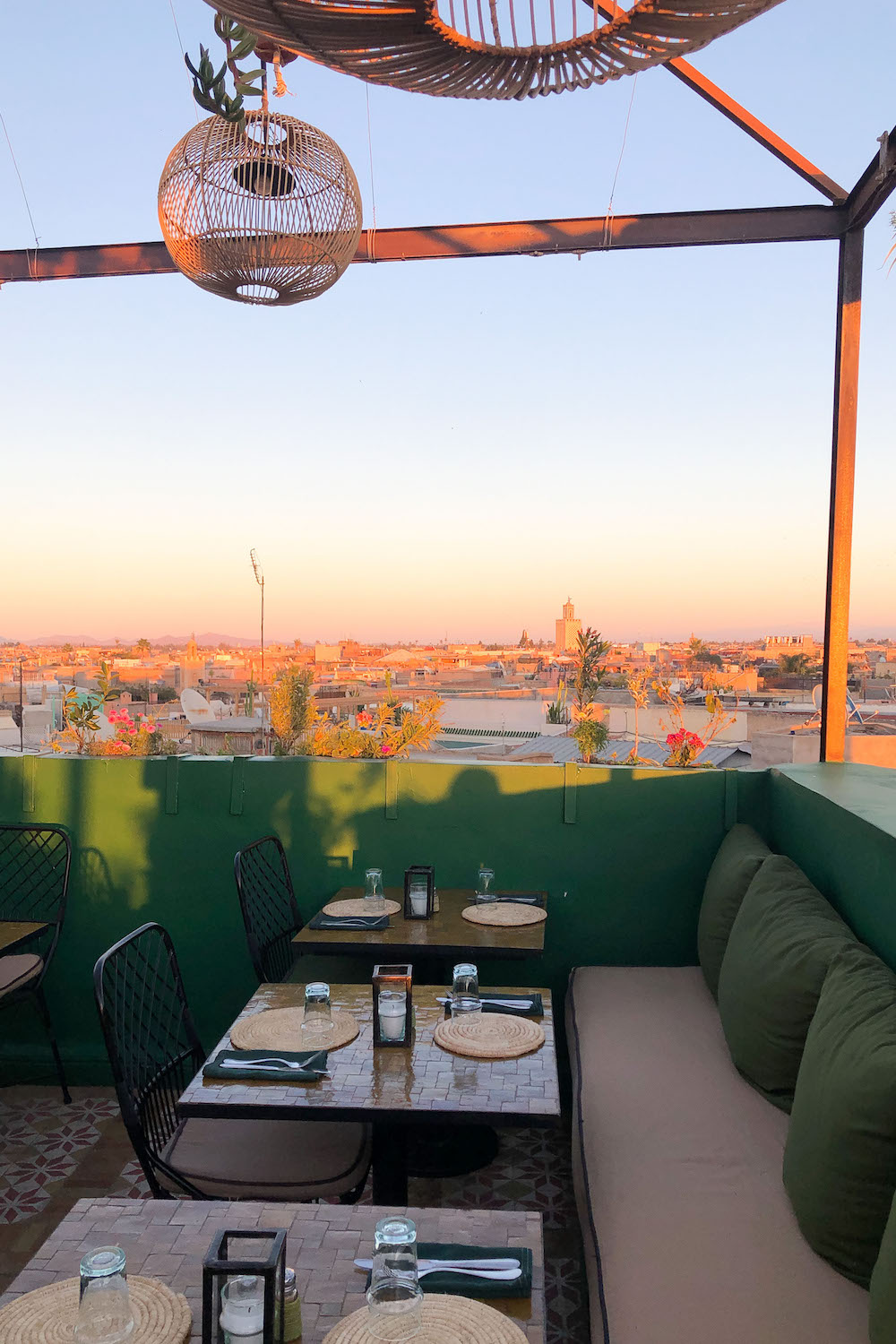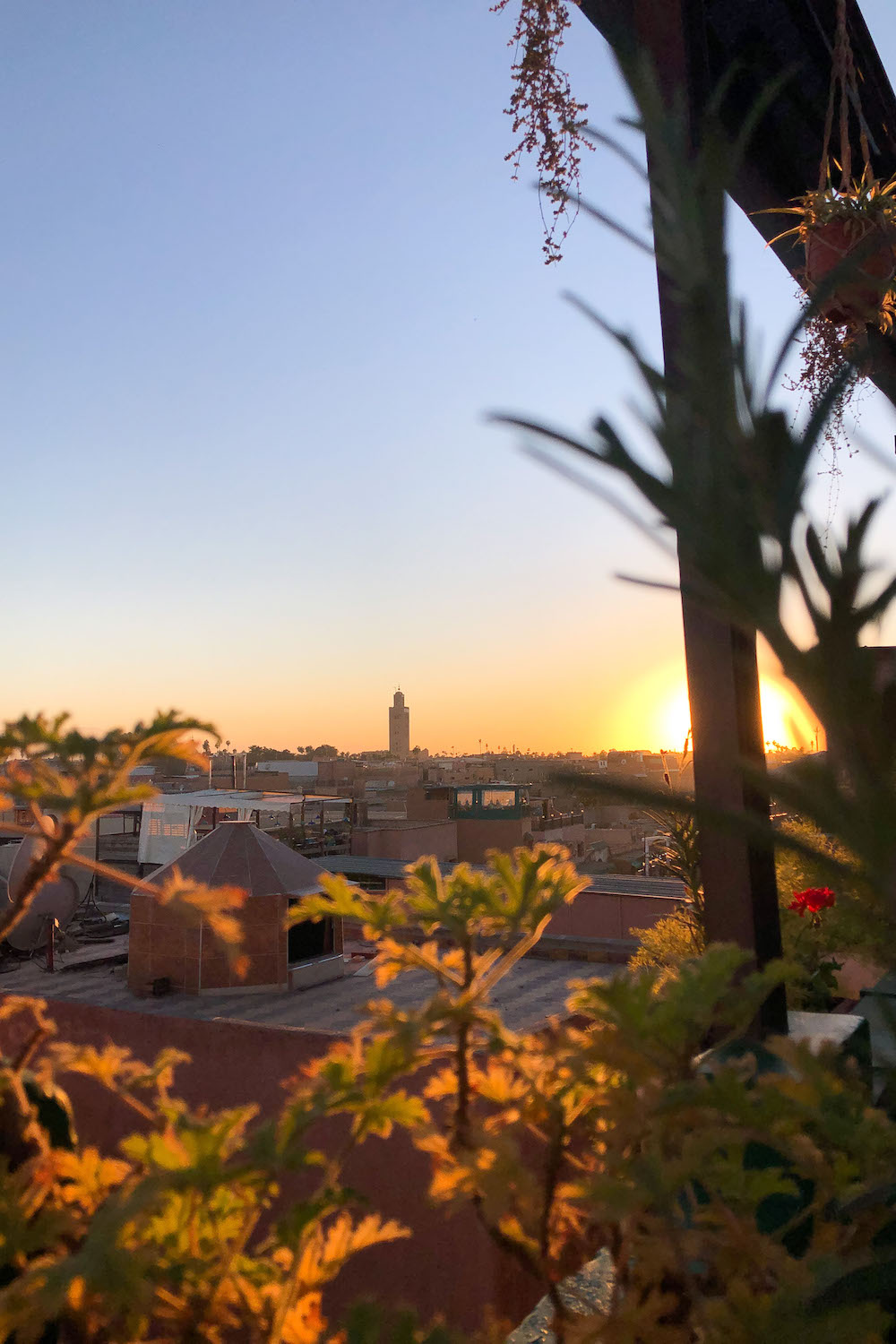 Day 2 –
?
Le Jardin Secret
Le Jardin Secret is an elegant 19th-century palace complex with traditional Islamic gardens. The origins of the complex date back to the Saadian Dynasty, more than four hundred years ago. It was rebuilt in the 19th-century and has been the home to some of Morocco's most important political figures.
Today, visitors are able to wander around the grounds and appreciate the ornate complex and peaceful garden-scape. It's a great example of Islamic art and architecture, especially for non-Muslim tourists who cannot enter some of the other complexes around Marrakech.
Le Jardin Secret also has a cafe which sells plenty of delicious teas.
I recommend visiting early in the morning as it's quieter and more relaxing to wander around before the other tourists make their way there. Also better for photo-ops!
Café Des Épices was one of the cheapest brekky's I've had in a long time! We found the spot whilst wandering around and it happened to be surrounding the colourful and fragrant spice market. It also has a rooftop terrace, but we chose to sit down on street level and people-watch.
For brekky we chose the Moroccan breakfast which included; moroccan crepe, flat bread, barley bread, amlou, harcha, olive oil, honey, butter, strawberry jam, omelette, fruit salad, tea or coffee and fresh orange juice. And all that for around $10!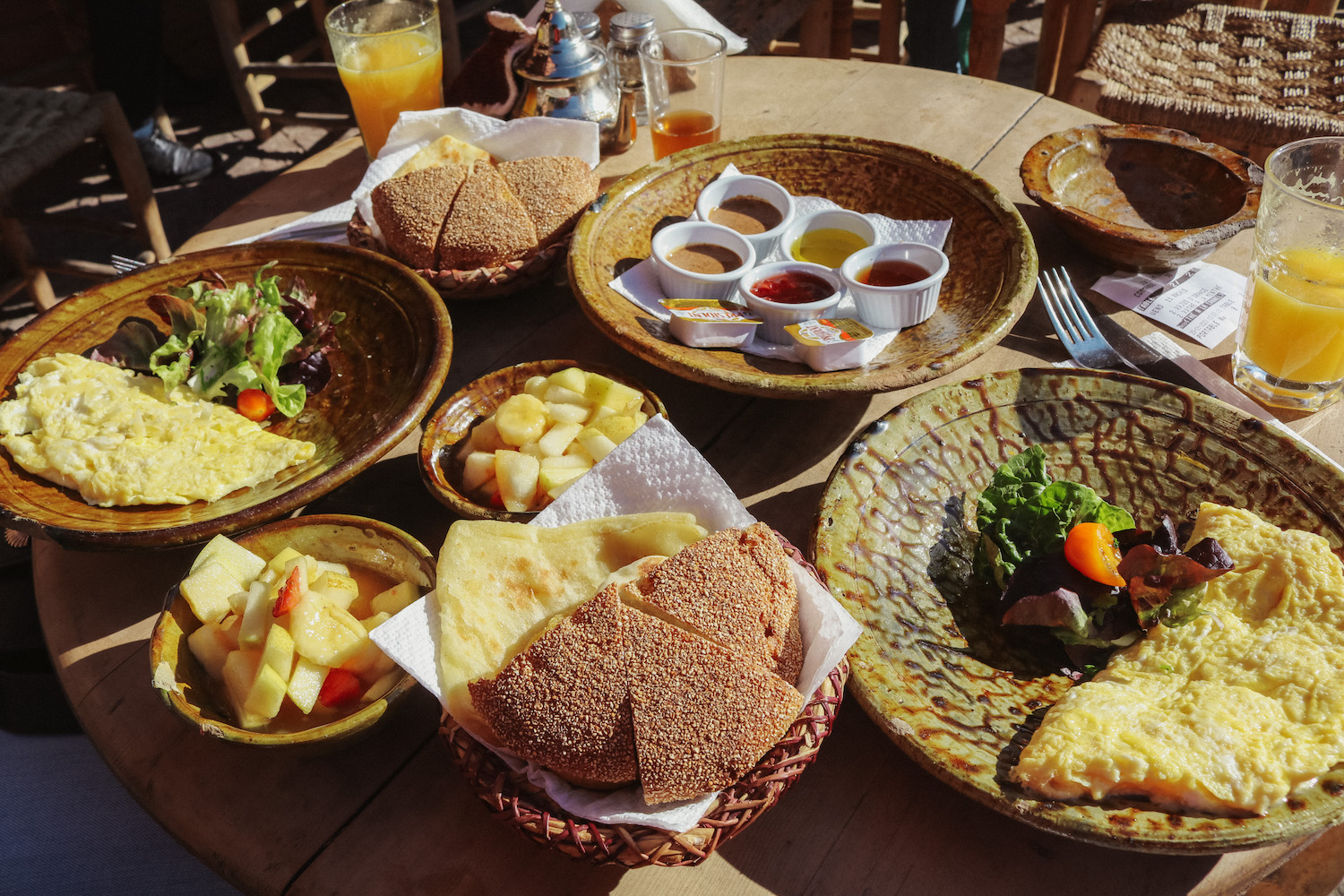 ?️
Wander around Places des épices (Spice Market)
Marrakech's Spice Market is a vibrant and colourful addition to the Medina and Souks that trail around the city. It's a nice sunny escape from the sheltered and shaded vendors that surround it. I would definitely recommend wandering around and saying hello to Lady Gaga the chameleon!
??‍♂️
Step outside the old city walls
The Walls of Marrakech were constructed from sand and stone in the early 12th century. They were created to defend the city and keep the historic Medina district enclosed inside.
While on the way to Jardin Majorelle-Yves Saint Laurent Mansion, you'll step outside the old city walls and through the fresh fruit&veg markets that are laid out outside.
?
Jardin Majorelle-Yves Saint Laurent Mansion
Jardin Majorelle-Yves Saint Laurent Mansion is the famous blue and yellow mansion that we all see in pictures of Morocco. In 1980, Yves Saint Laurent and Pierre Bergé purchased the Jardin Majorelle to save it from its destruction. Today, it's one of Morocco's most stunning example of unique architecture and gardens which visitors are welcome to explore and wander around.
"For many years, the Jardin Majorelle has provided me with an endless source of inspiration, and I have often dreamt of its unique colours." – Yves Saint Laurent
As of January 30th 2023 tickets are only available online.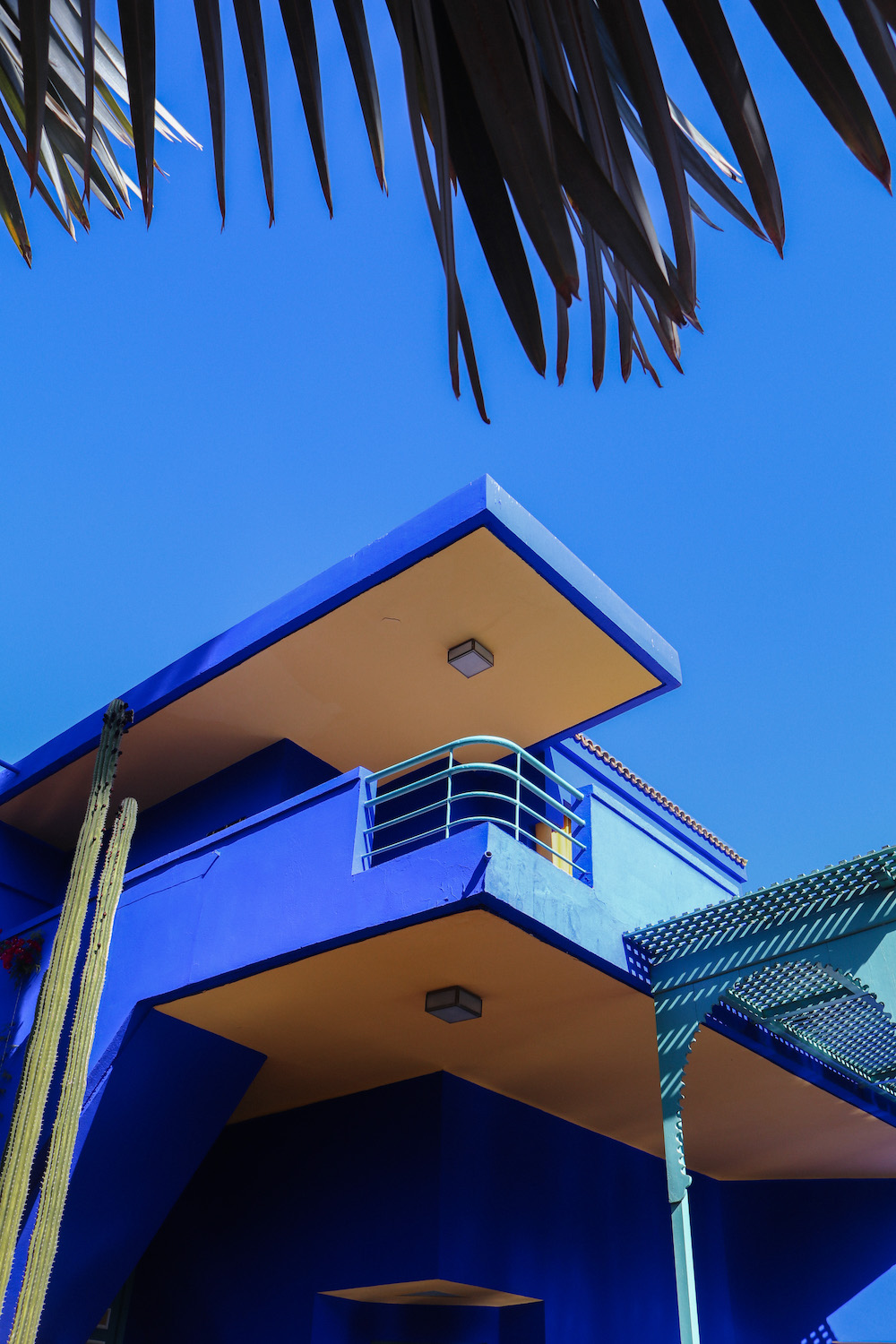 ?
Bahai Palace
The Bahai Palace is a 19th century building consisting of several rooms and gardens decorated with ornate mosaics, paintings and flora. At the time of its creation it was intended to be the greatest palace of its time, and personally I think that still stands!
Whilst it can get busy, the Bahai Palace is a great example of some of Morocco's art and architecture for those that can't enter the Mosques.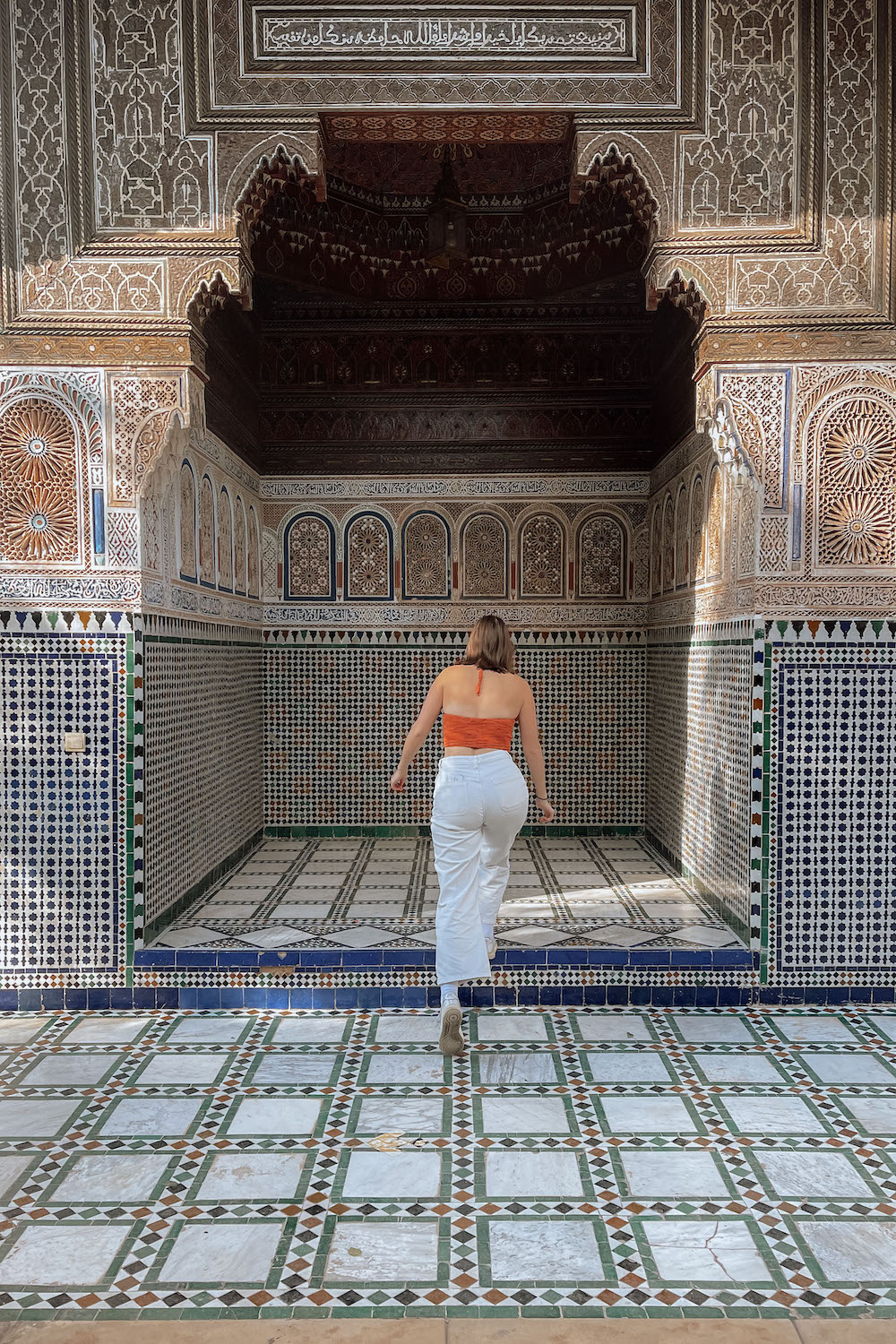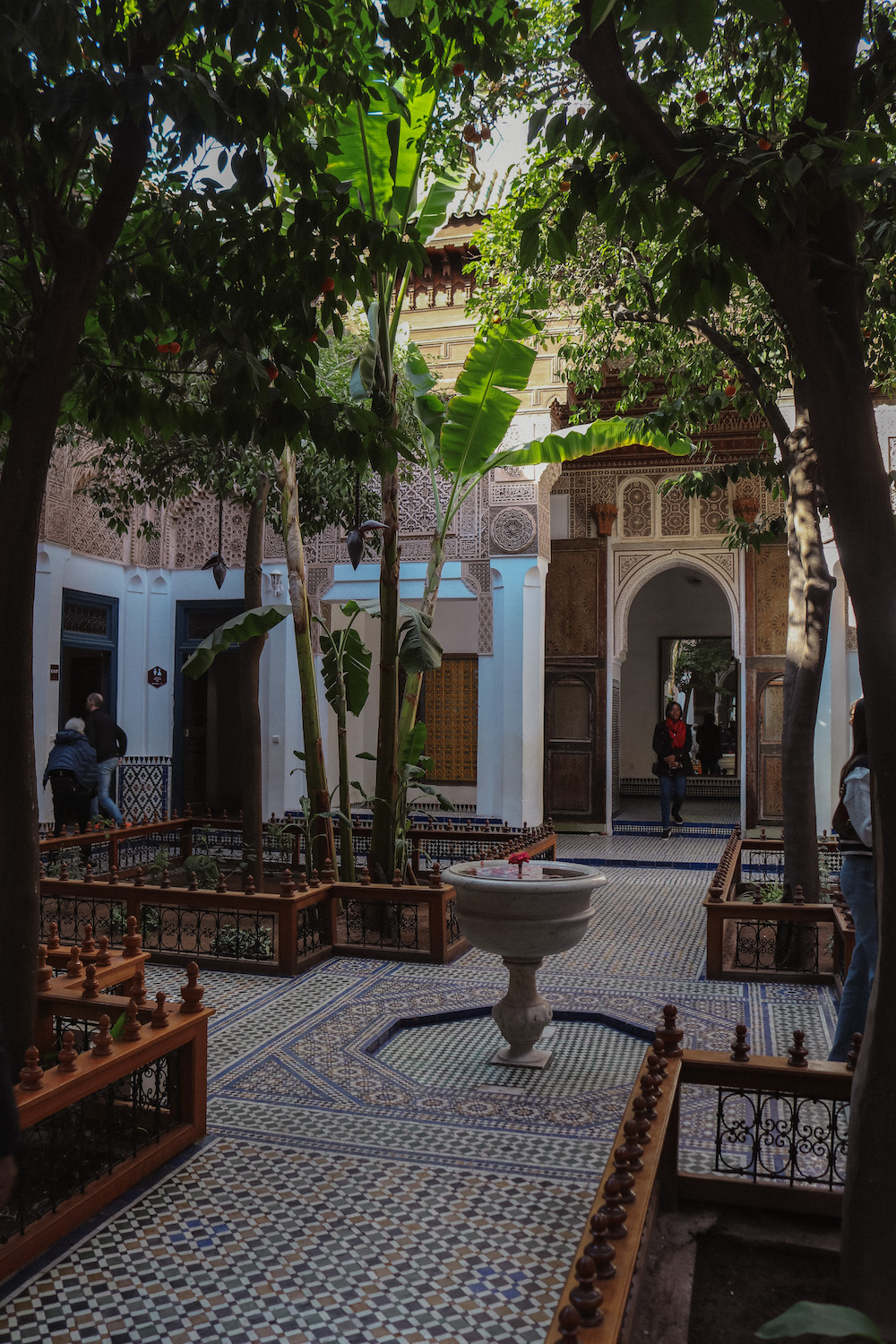 ?
Dinner & Sunset at NOMAD (rooftop restaurant)
NOMAD was recommended to us multiple times before we made it to Marrakech, and rightfully so! NOMAD is a stunning rooftop restaurant that overlooks Places des épices – the perfect view for sunset.
For dinner we shared the Mezze plate, roast chermoula and harissa cauliflower, and zucchini & goat cheese fritters. For dessert we shared the lavender and Atlas Mountain honey panda cotta and the Safron date cake – they were all delish!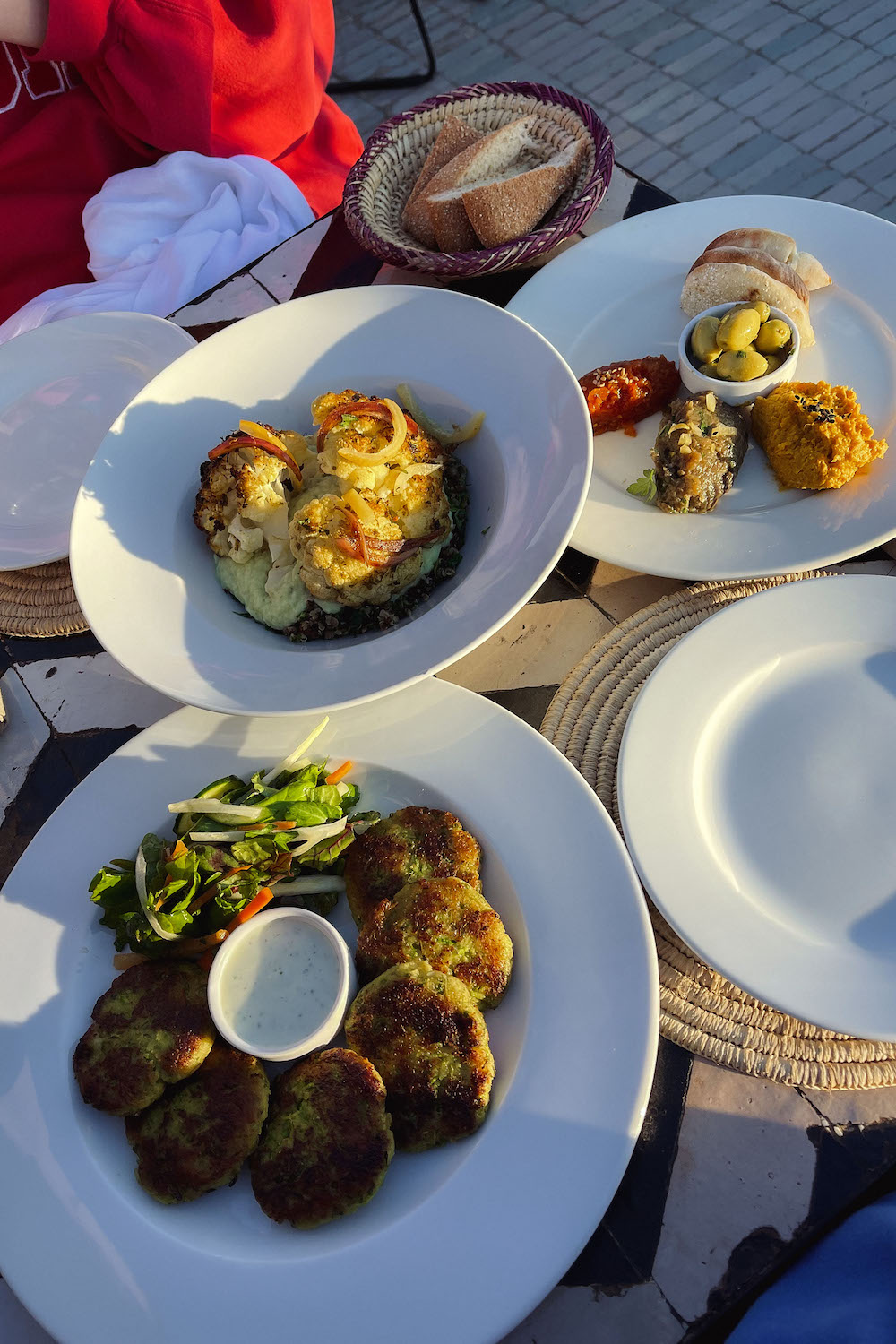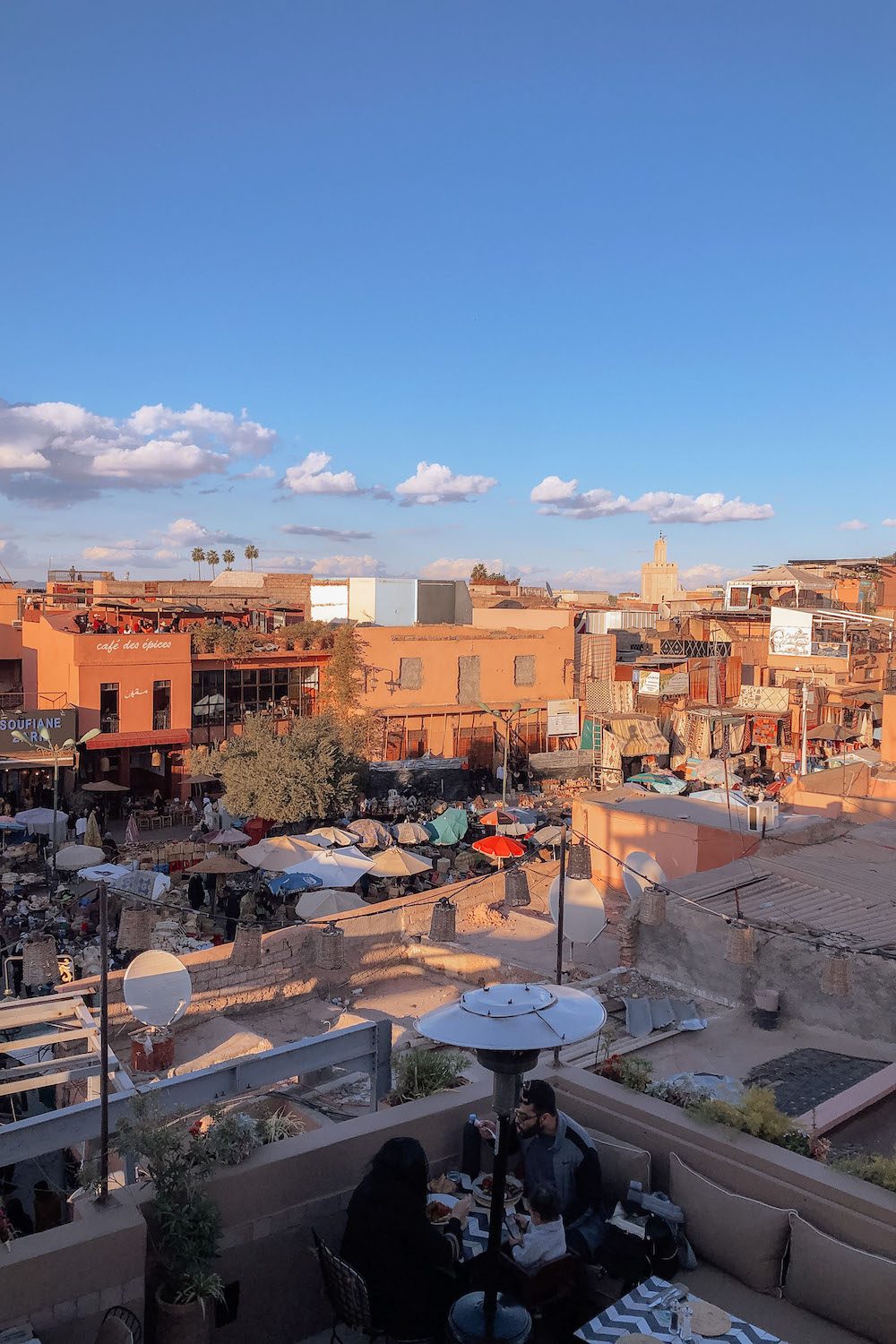 ?
Rooftop drinks at La Pergola Jazz Bar
We chose La Pergola Jazz Bar for some drinks – we tried the Morocco Mule which tasted even better with all of the fresh mint and other Moroccan ingredients. We just chatted till the sun went down and then the Jazz band started playing around the riad at 8pm. By the pool there is a more sit-down fancy restaurant, but we opted for the more cocktail style upstairs.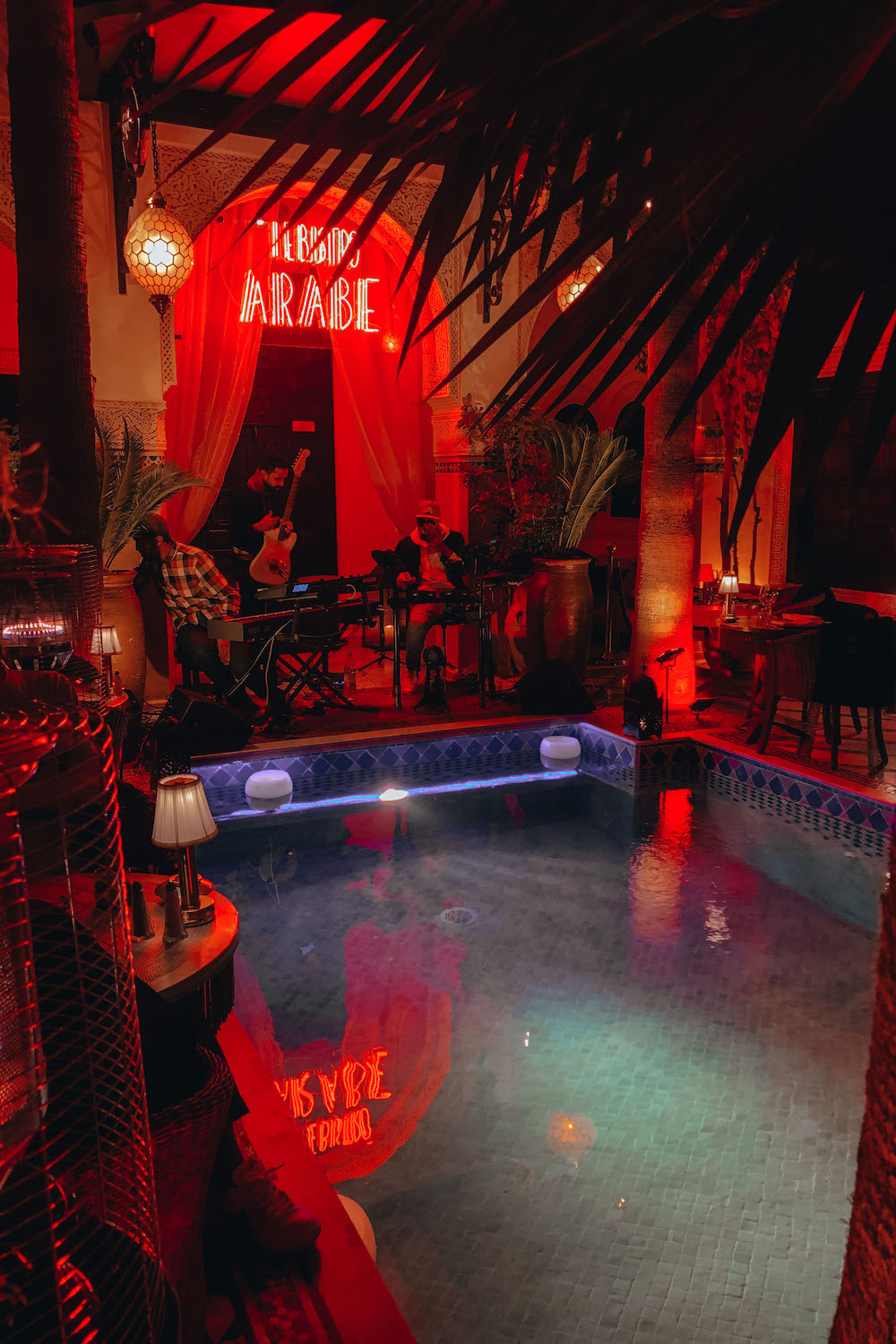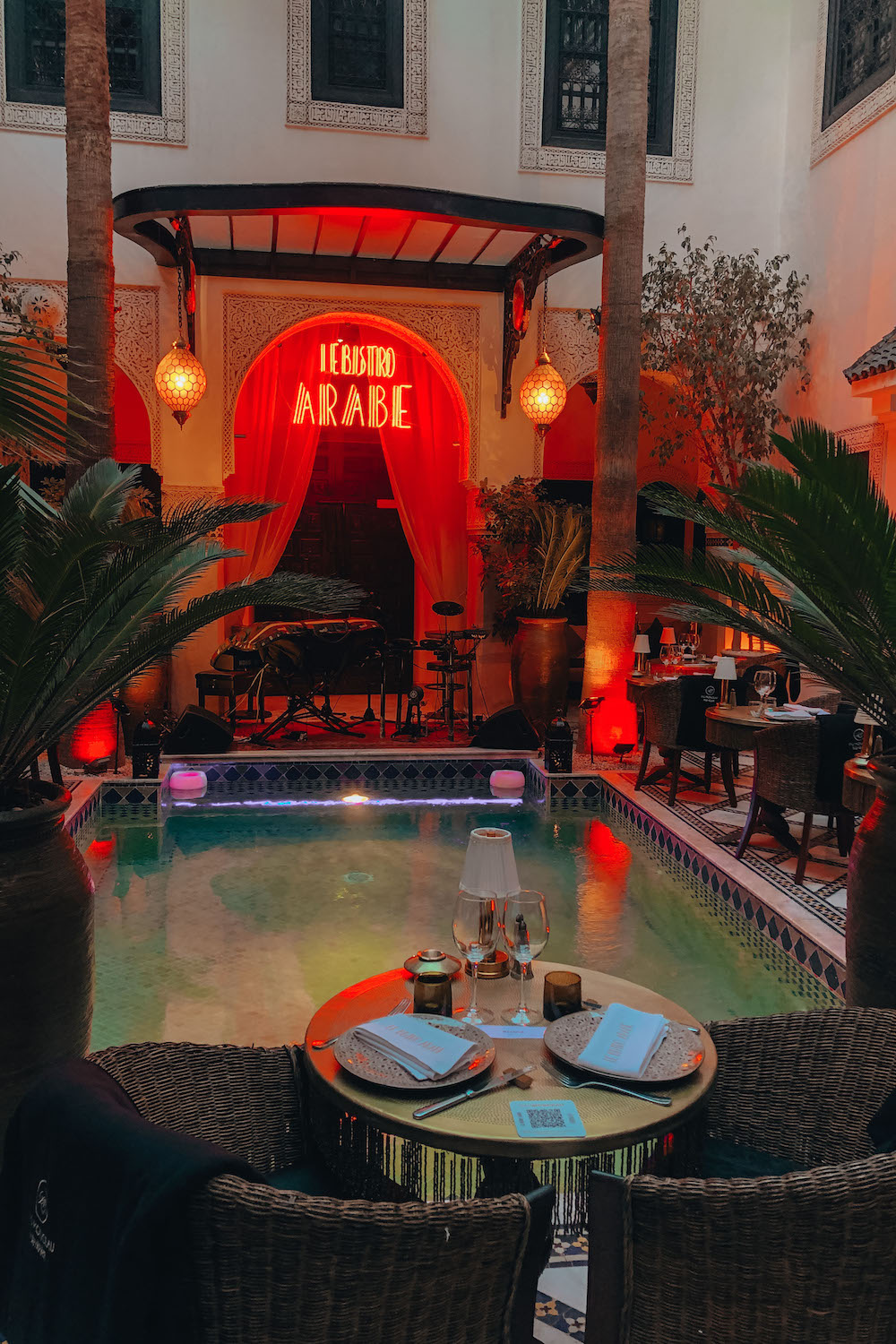 Some tips for Marrakech;
Carry cash, most markets etc don't accept card

Always haggle the prices in the markets

I would recommend taking the airport transfer
Scams to avoid;
At Jemaa el-Fna;

they will put the snakes over your shoulders and then ask you to pay. They will ask you to pay if they see you coming up to take photos. Same for the monkeys.

The ladies with the henna will offer a small tattoo for free, then will ask you to pay.

People will try and tell you that you're going the wrong way and offer to guide you – then ask for money. Often then not they will just take you a random route.
And that was the end of our short but sweet trip to Marrakech! If you have more time, I would recommend heading out into the Sahara or out into the Atlas Mountains for some more Moroccan landscapes.
What would you add to your bucketlist for Marrakech?
✨
Is Marrakech on your bucket-list?
✨
➡
️
Follow for more travel tips!