For those who love baroque architecture, Dresden is somewhere you could explore for days on end. But for some, we only have a weekend – so what should we make sure to see/do?
This iconic German city was one of Europe's most beautiful – dubbed the "Florence on the Elbe" for its lovely Baroque architecture along the winding Elbe River. What's not to love?
Dresden itself though, is not as ancient as it appears. Despite looking like it was built within another century, the city was restored and rebuilt after being flattened by WWII bombings in 1945. Thankfully the blueprints of the city remained, so it was rebuilt it the same fashion and for some – using original materials.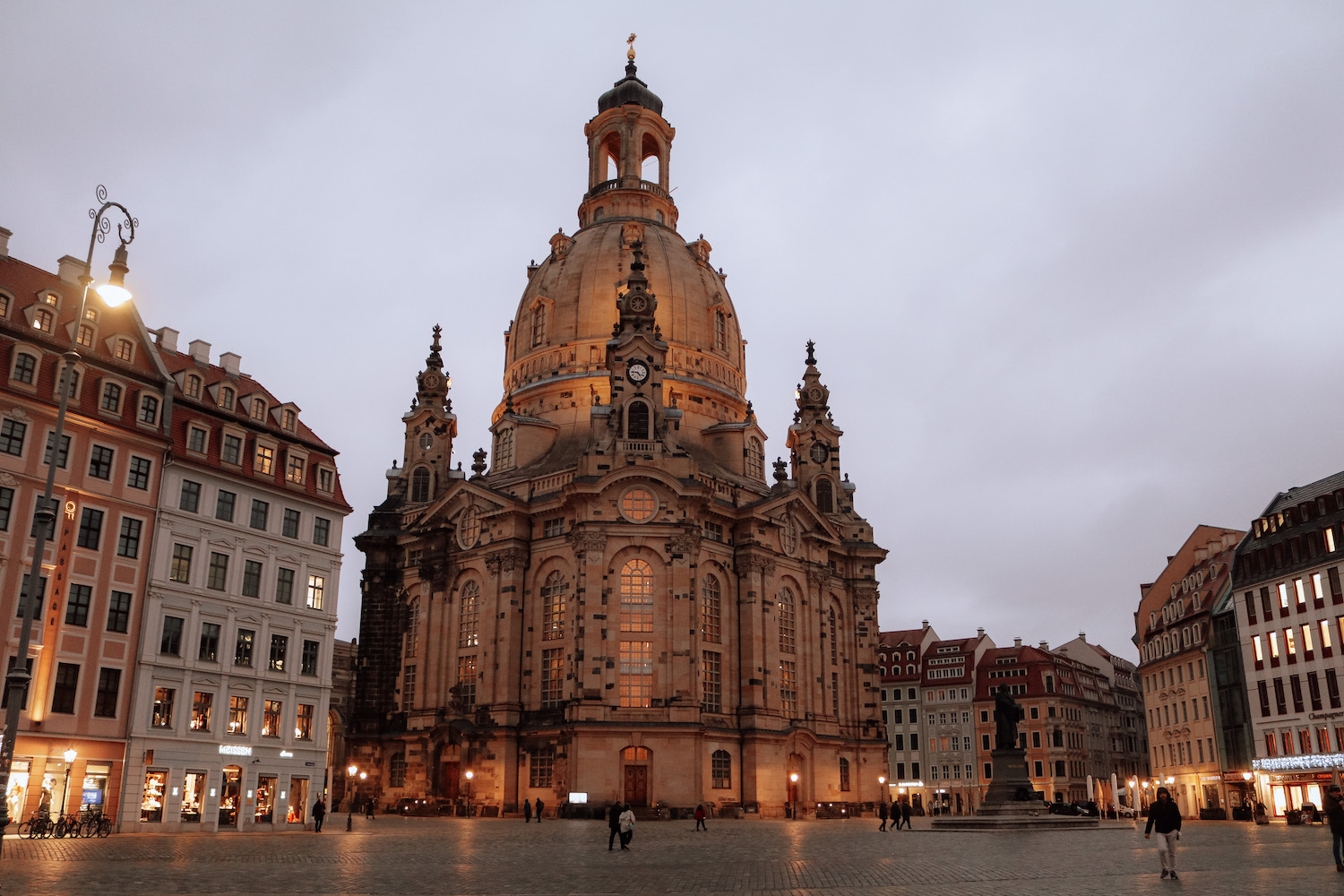 Late January I made a trip to Dresden for a few days, and whilst looking for the perfect photo spots, I also discovered all of the best things to do in Dresden. So, I've compiled the perfect itinerary for you…
Day 1 – Altstadt & Sunsets
Brekky at the Bäckerei
While we all know I love a good avo on toast or an eggs Benny, while travelling Germany I rediscovered the love for fresh baked goods. Because they are everywhere! And SO cheap! My favourites to choose from have proven to be the käsecroissants and pastel de nata – yum!
Check out Frauenkirche, The Church of our Lady
The most impressive building in Dresden, also known as the Church of our Lady, is Frauenkirche. It sits in the centre of Dresden Altstadt about a 20minute walk away from the central station. It was originally built in the 18th century, and after its destruction its ruins served as a memorial to the war. Come 1994, they began its reconstruction which finished in 2005. 
Neumarkt is where you'll find the Frauenkirche. It's the centre of Dresden's historic district and was designed in a very German baroque style with light pastel colours, cobble stone streets, and water fountains. 
This is also usually where the walking tours all kick off from. Each will give you a bit more detail on where to meet them – and a coloured umbrella is usually the common way to spot them!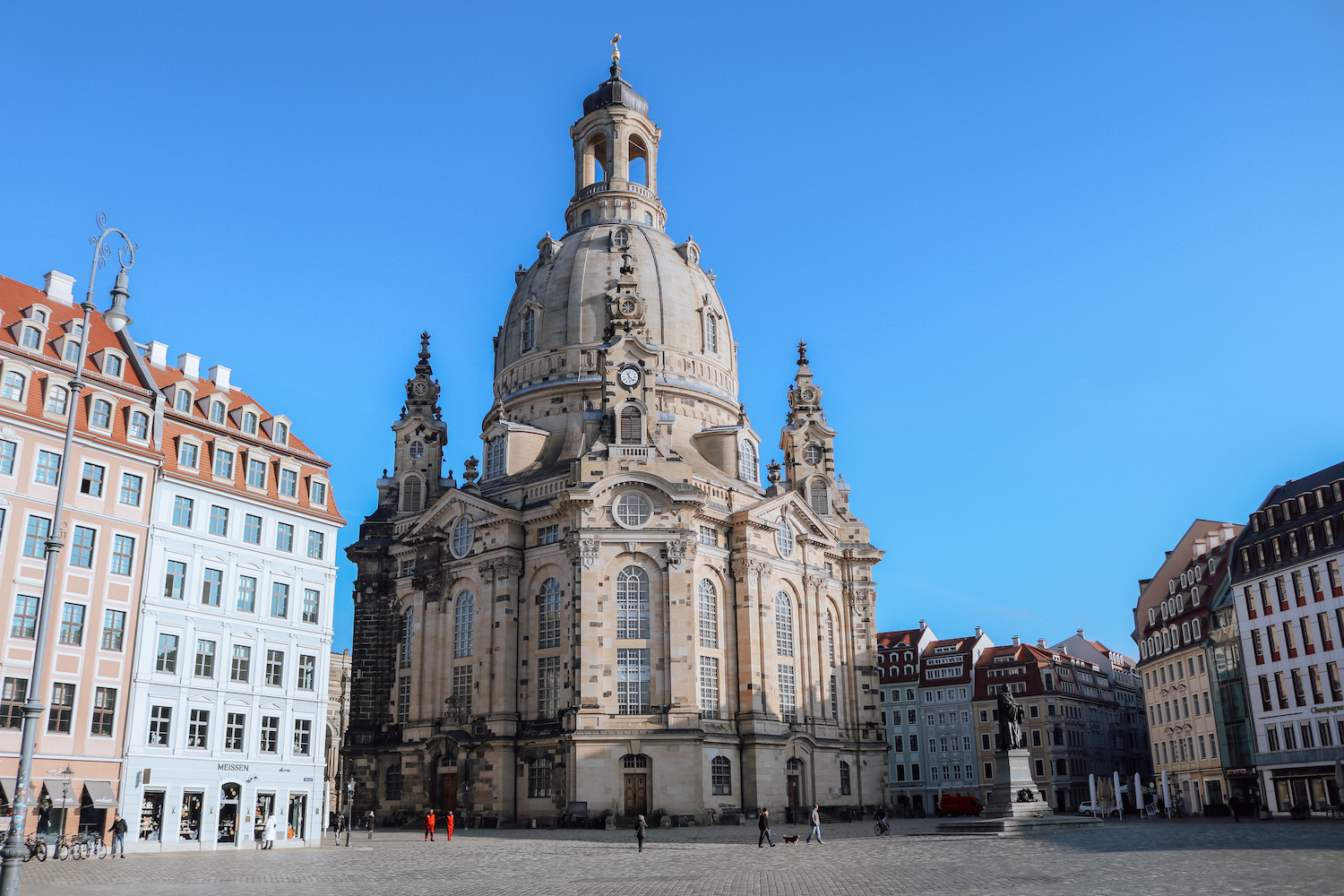 Get your bearings on a Free Walking tour
Walking tours have become my new favourite thing to do when I'm arriving in a new city solo. It's a great way to get your bearings whilst actually learning a bit about what's around you. I also love the idea of getting a guided walk around to scout possible photo spots that I can come back to later. Here are some great walking tours;
Free tours will usually include places such as;
Frauenkirche
Brühl's Terrace
Fürstenzug
Semperopera
Zwinger Palace
Catholic Court Church
Royal Palace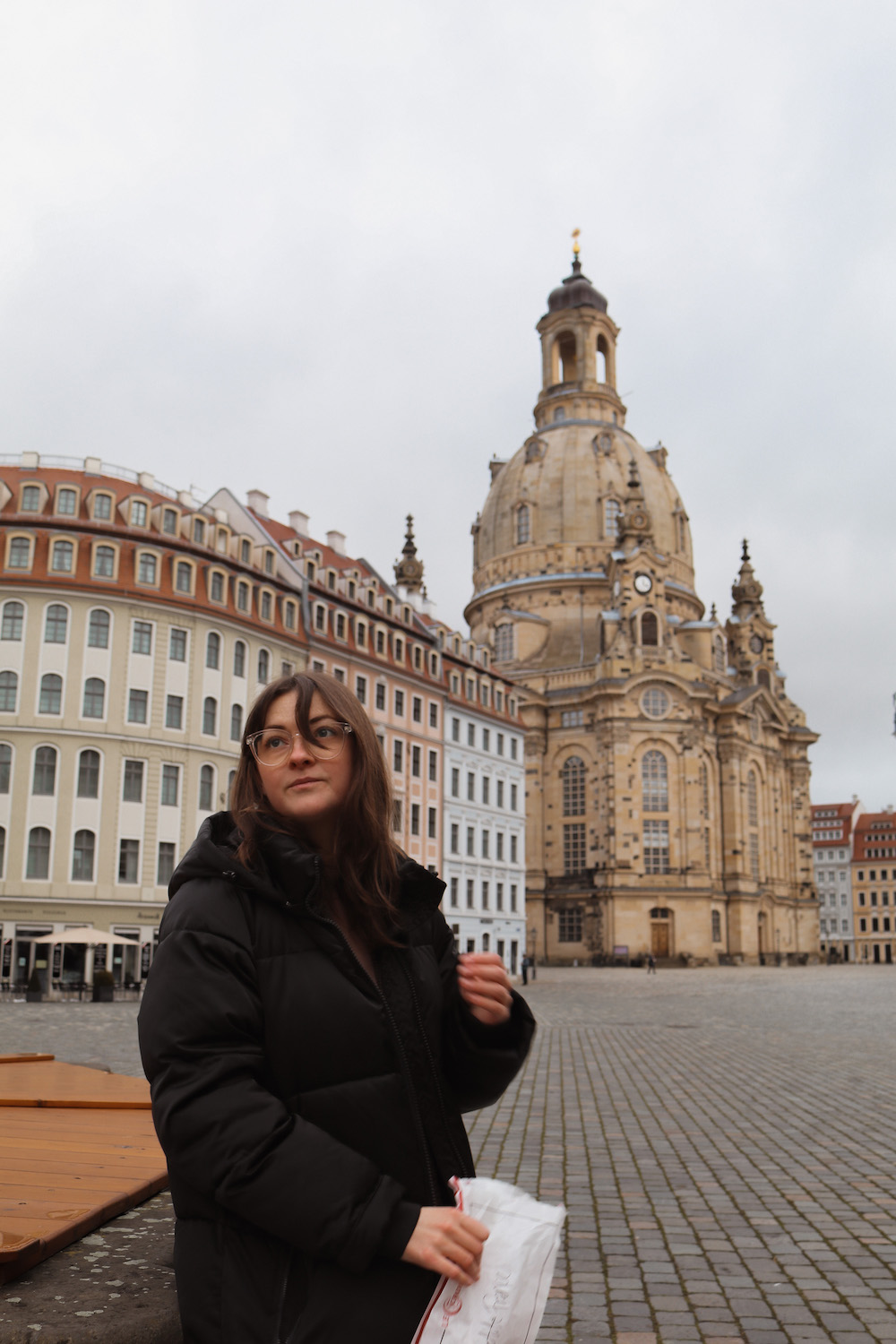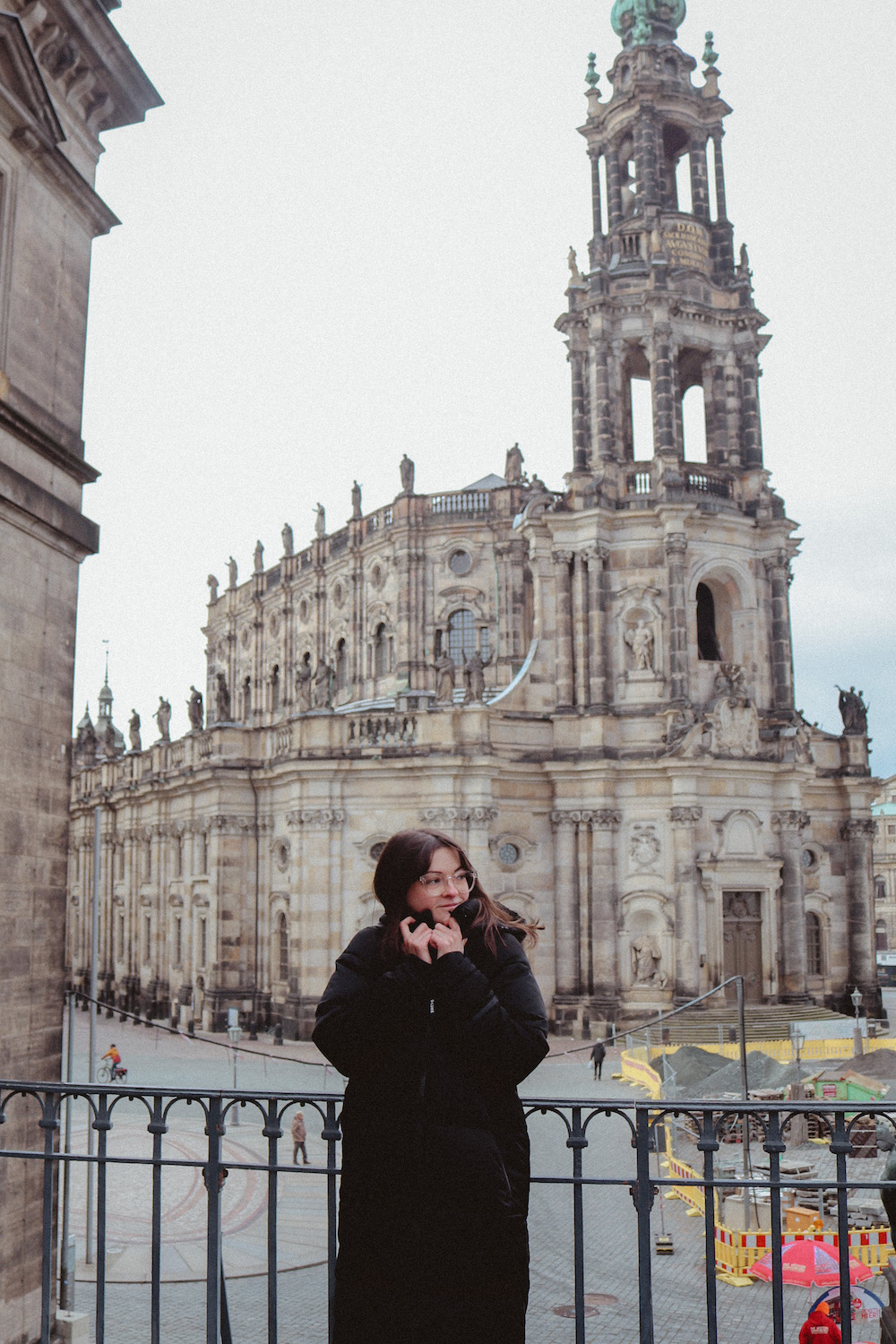 Wander along Brühl's terrace
Brühl's Terrace is known as the Balcony of Europe. It is an enormous platform that stretches along the shores of the Elbe River. While it was once used to protect the city from invaders, during Dresden's rebuild it was transformed into a picturesque promenade for visitors to explore, stroll around, and enjoy the vibrant flowers during the spring. 
It's also a popular spot for the Christmas Markets (Weihnachtsmarkt) during the festive season!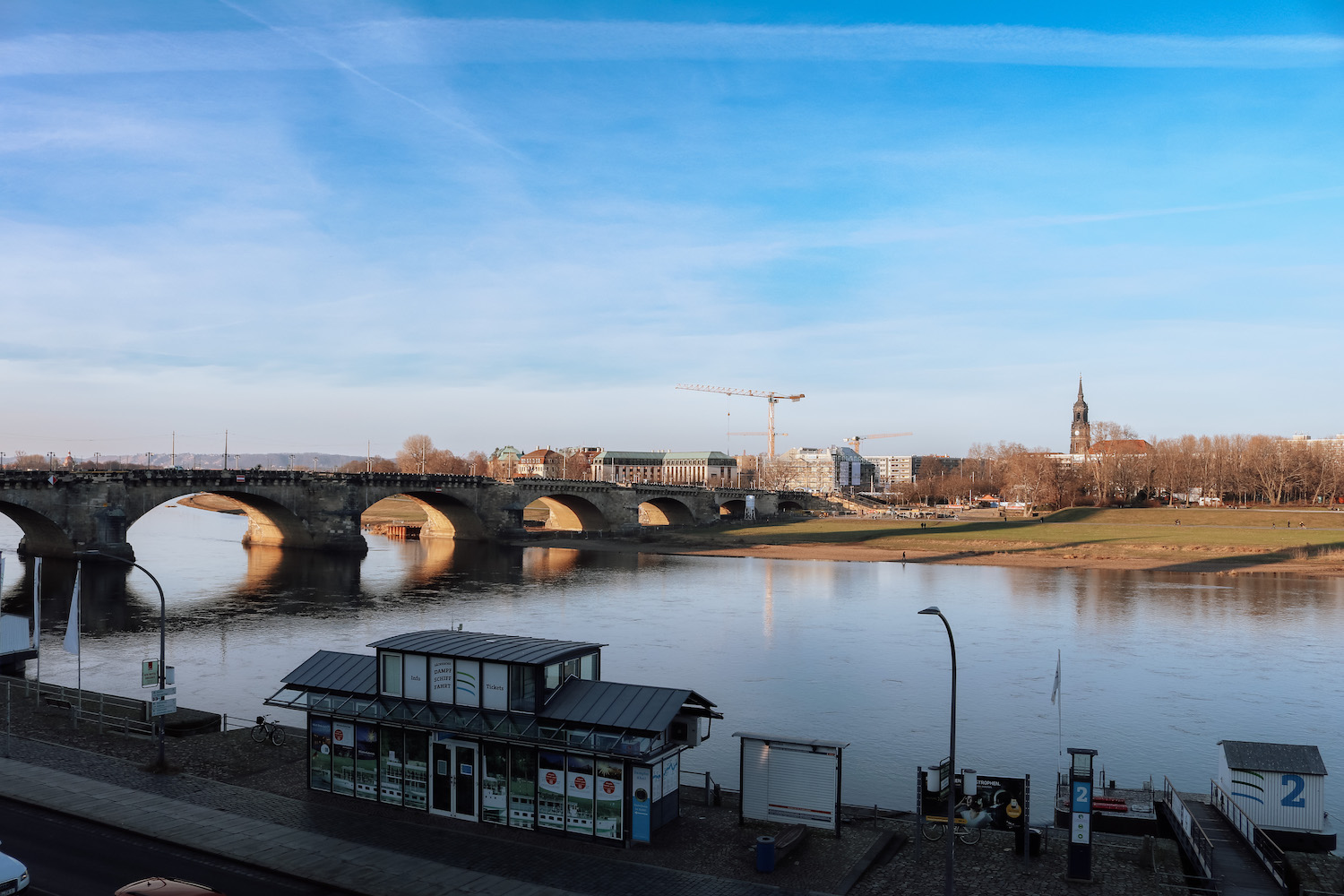 Spot Fürstenzug
Along Schloßstraße, you'll find one of the greatest remnants of old Dresden, Fürstenzug, also known as the Procession of Princes. Surprisingly, this mural survived the bombings of WWII and suffered minimal damage. Today, it's the world's largest porcelain artwork and was first installed in 1871 after taking five years to complete.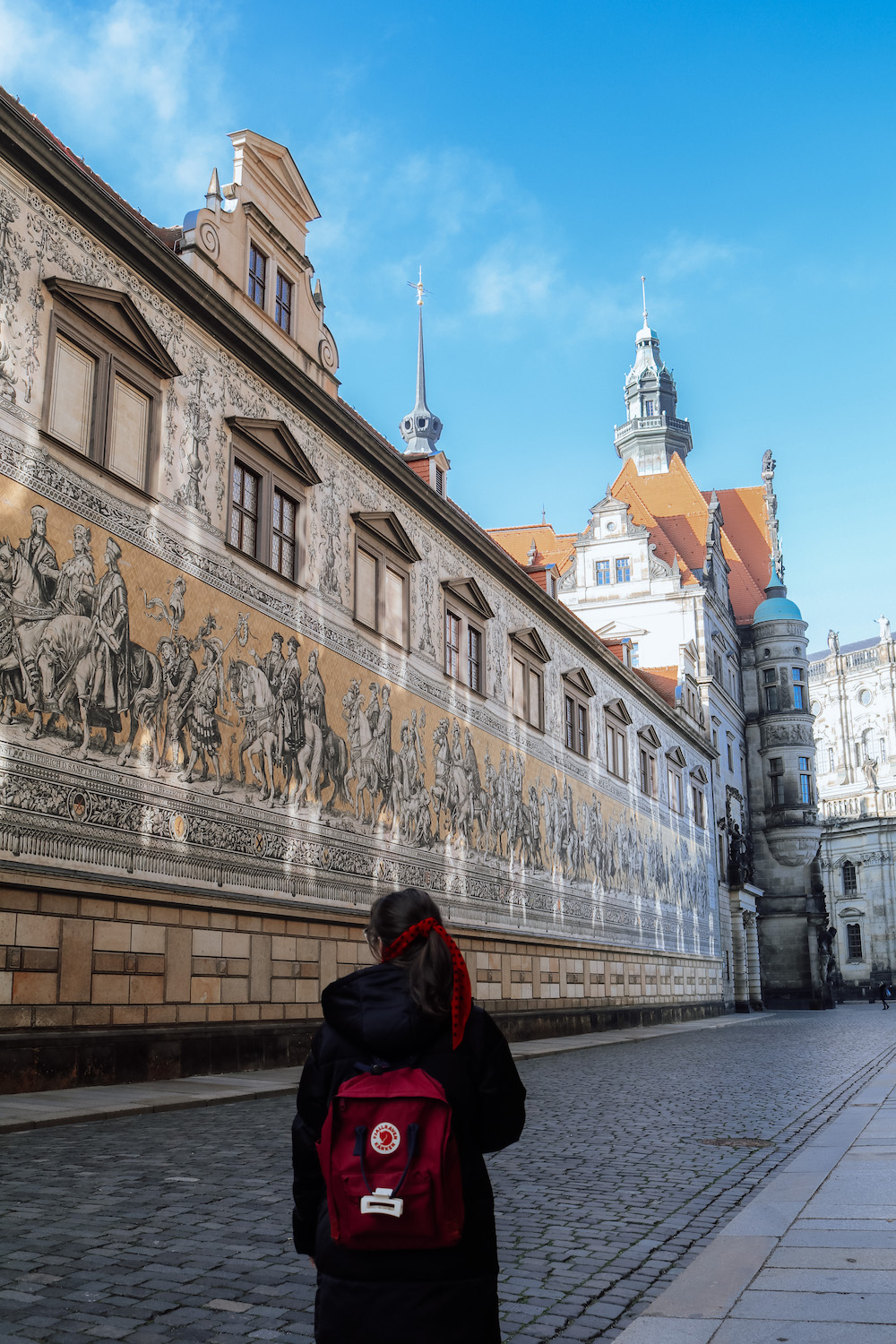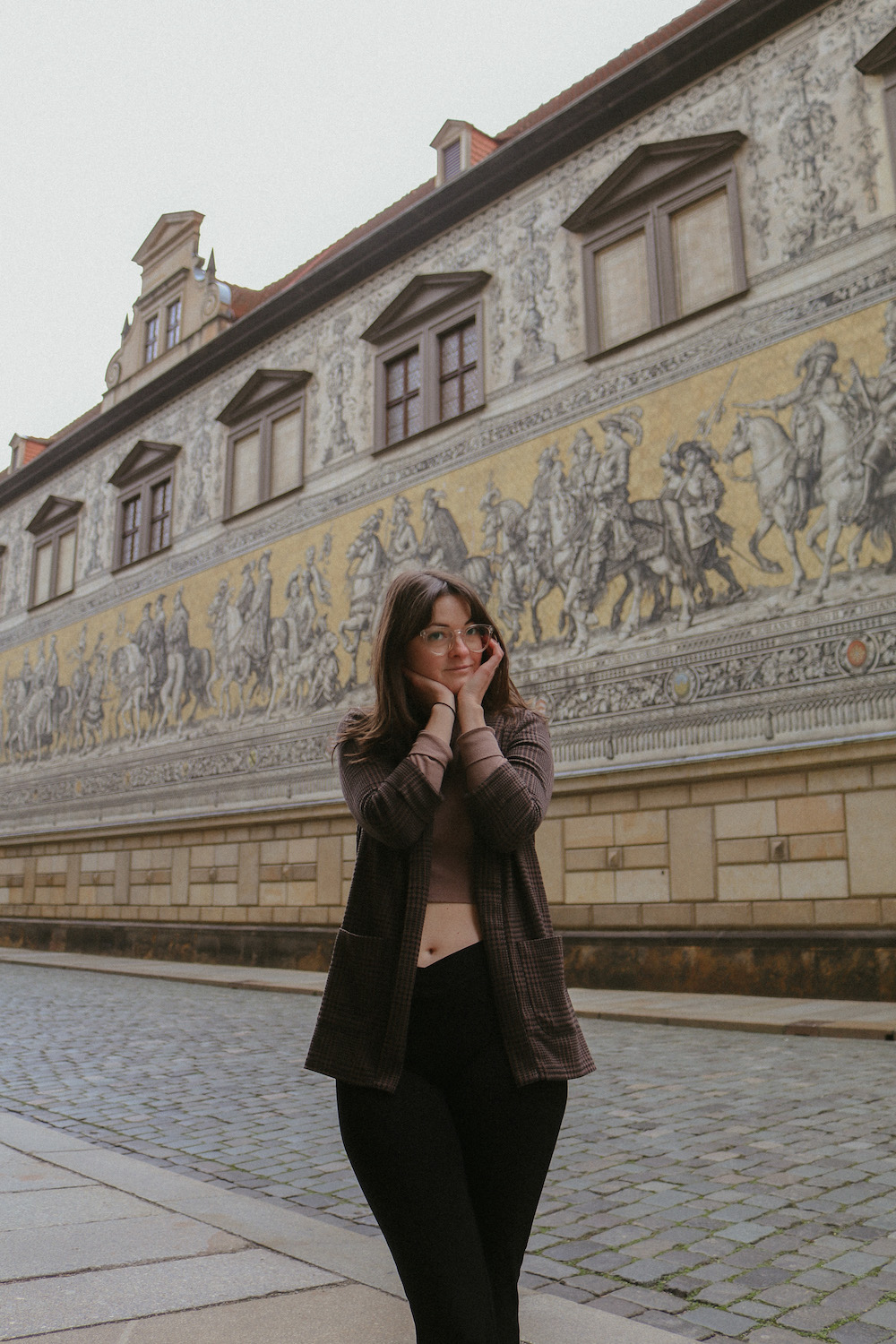 Semperoper
Located between the Zwinger and the Castle, the Semperoper (Opera House) can be found towards the end of Brühl's Terrace. It's the home of the Saxon State Opera, the Orchestra, and the Ballet. It's yet another building that mostly destroyed during WWII and rebuilt. 
Today you can visit the inside either by enjoying one of the shows, or by guided tour.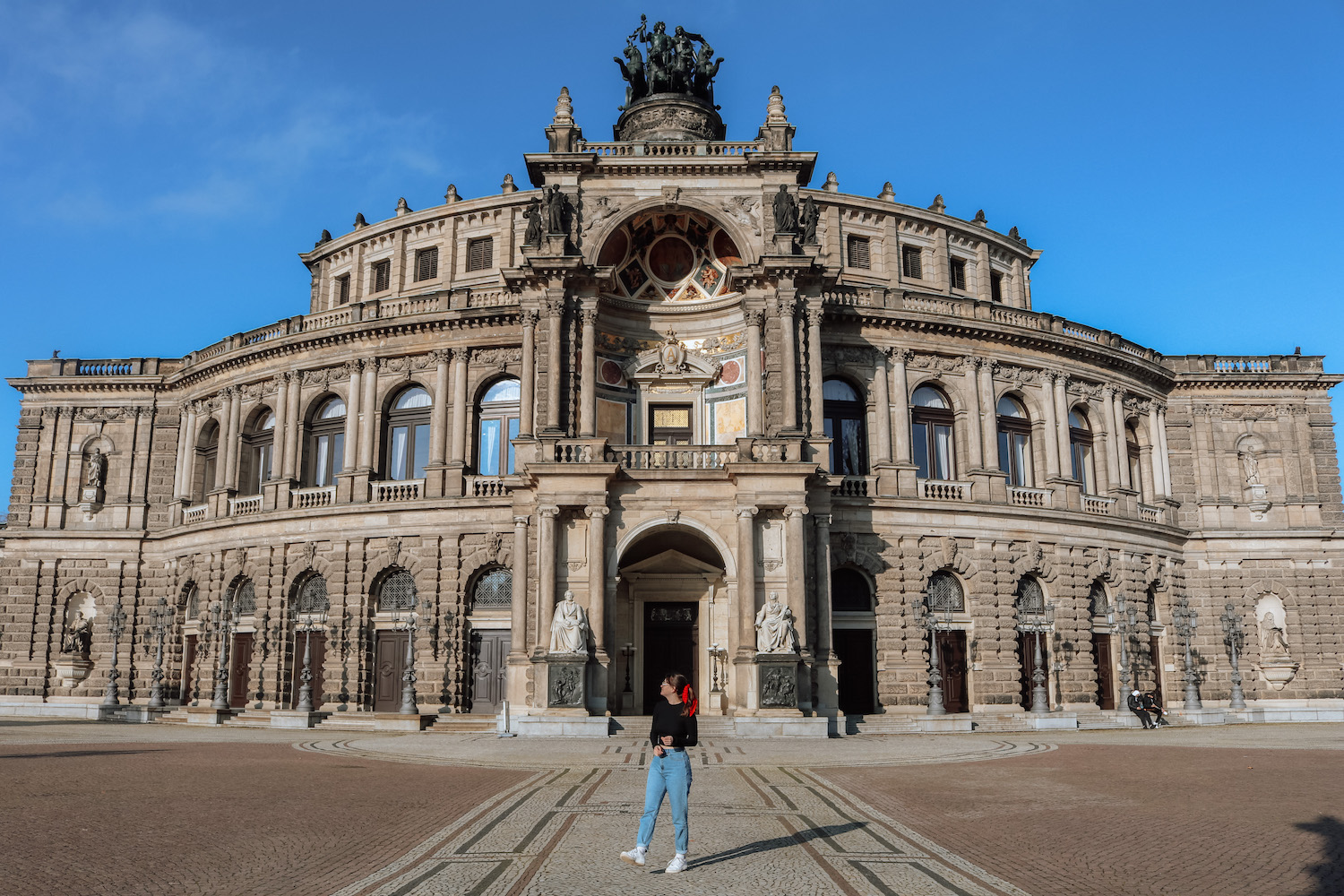 Zwinger Palace
Zwinger is a palatial complex full of gardens and is completely free to enter and walk around. It was built for Augustus after a visit to his new court of Versaille. He loved it so much that he wanted to create similar elaborate palace for himself in Dresden.
Wander over to Elbwiesen for sunset
If you head across Augustusbrücke you'll reach a park that stretches along the Elbe waterfront parallel to Brühl's terrace. In the summer months I can imagine laying along the sandy banks here in the sun. Elbwiesen or 'Elbe Meadows' is the perfect place to watch the sunset as it sets over the top of Frauenkirche in the distance.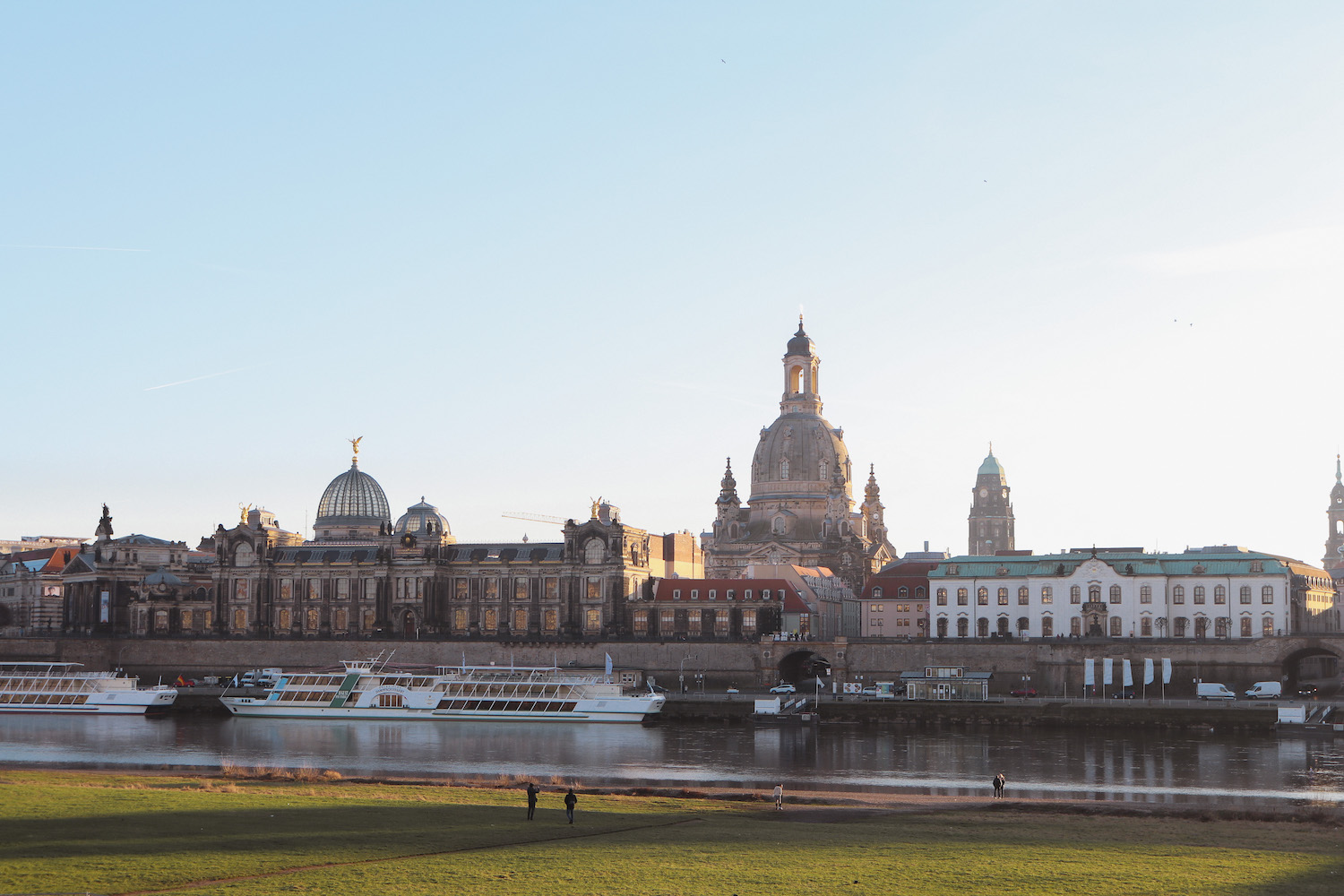 Day 2 – Saxony Switzerland & Neustadt
Coffee at Oswaldz
Serving specialty coffee in Dresden since 2013!
Saxony Switzerland
Saxon Switzerland is a national park around the Elbe valley south-east of Dresden in Saxony. It's Saxony's only national park, and is a popular hiking and climbing destination for visitors from both Germany and Czech which sits on the Southern side of the park. To get there, it's just 30kms away from Dresdens town centre. 
Bastei is the most popular day trip destination in the park, and it's likely because it's one of the few viewpoints that you can drive right up to. From here you can spot the Elbe River and the panoramic landscape of the surrounding cliff faces. 
The Bastion Bridge, or Basteibrücke is the most famous rock formation in Saxon Switzerland and has been a tourist attraction for over 200years. In 1824, a wooden bridge was constructed to link several rocks together, and then in 1851 this was replaced with the sandstone bridge that we know today.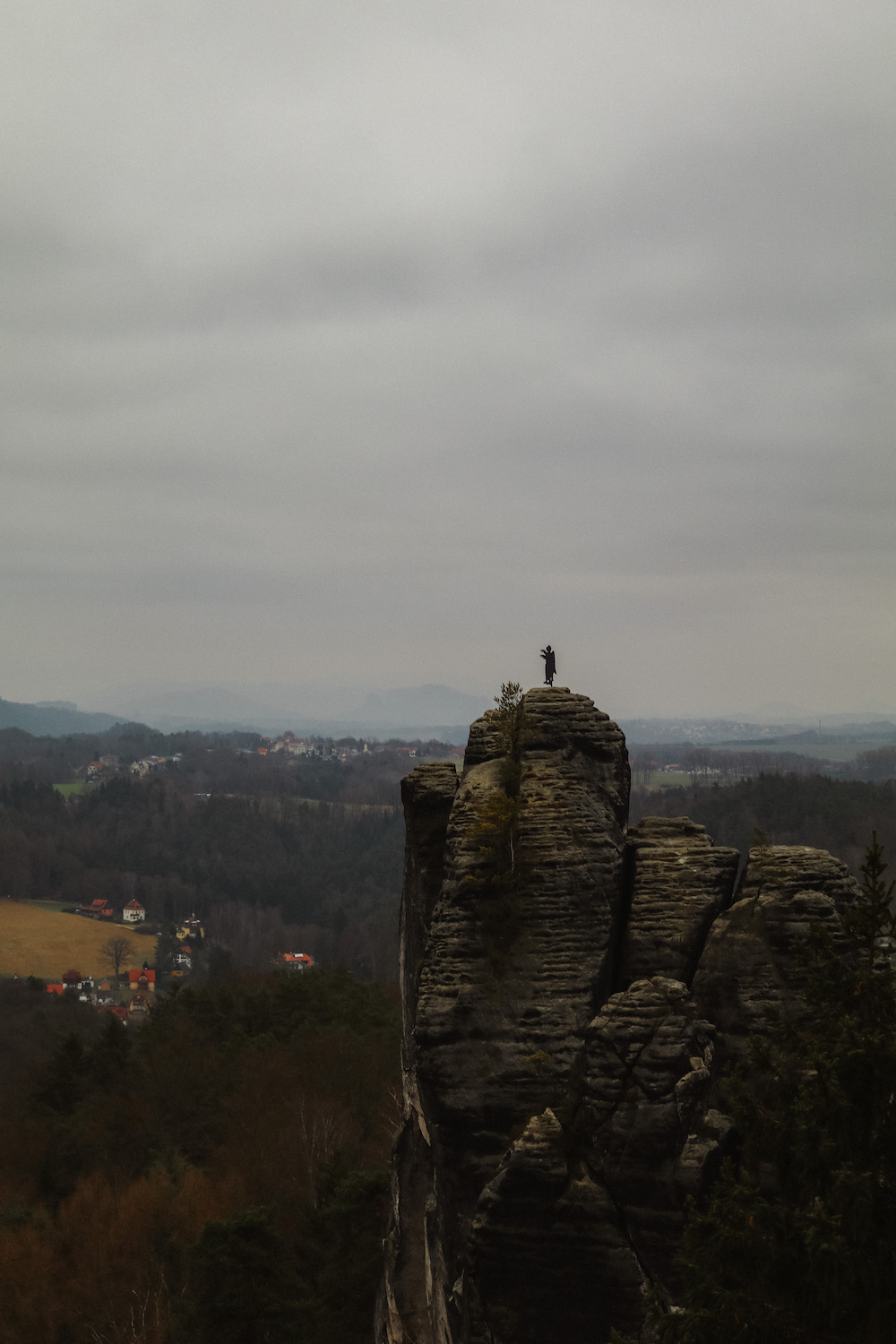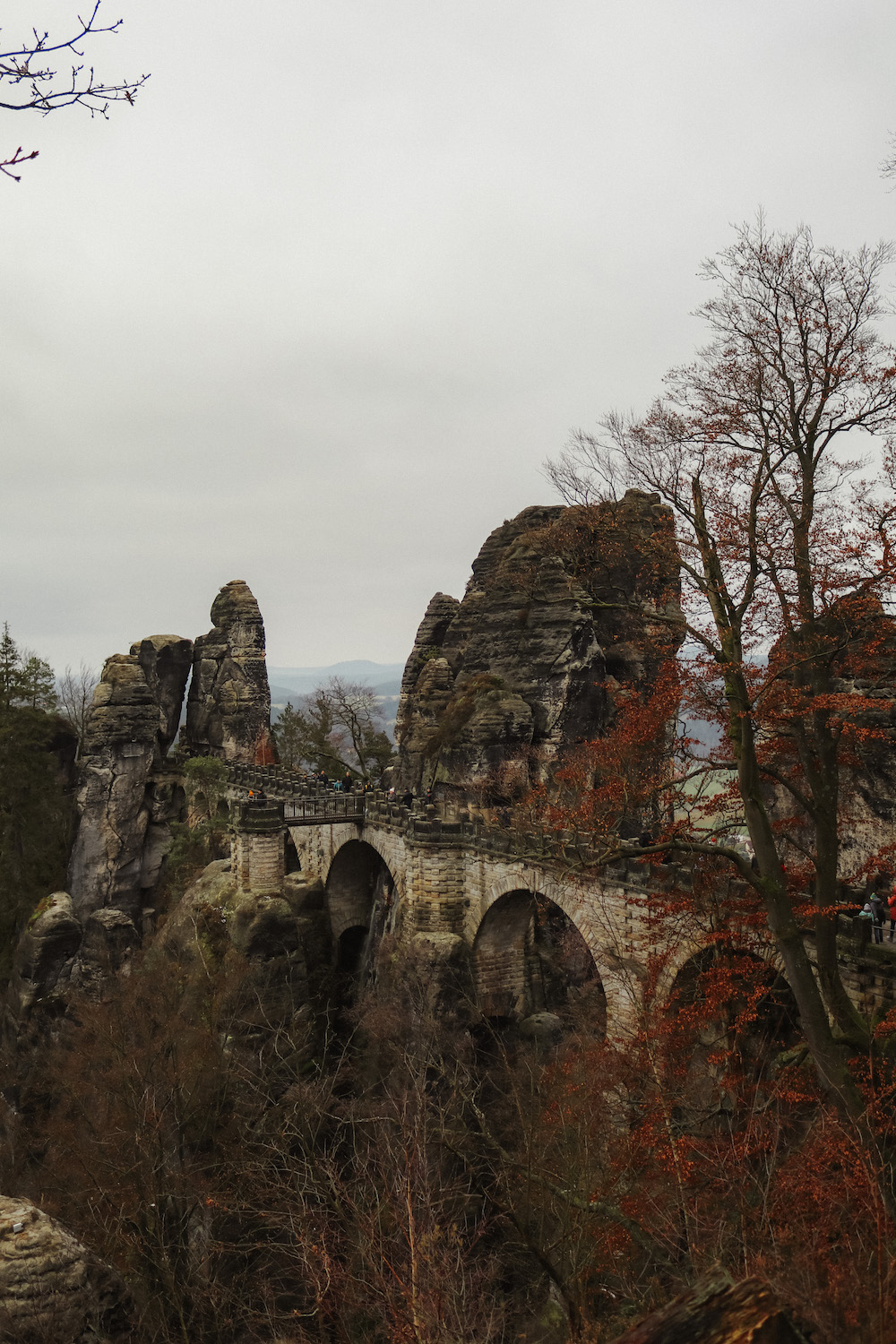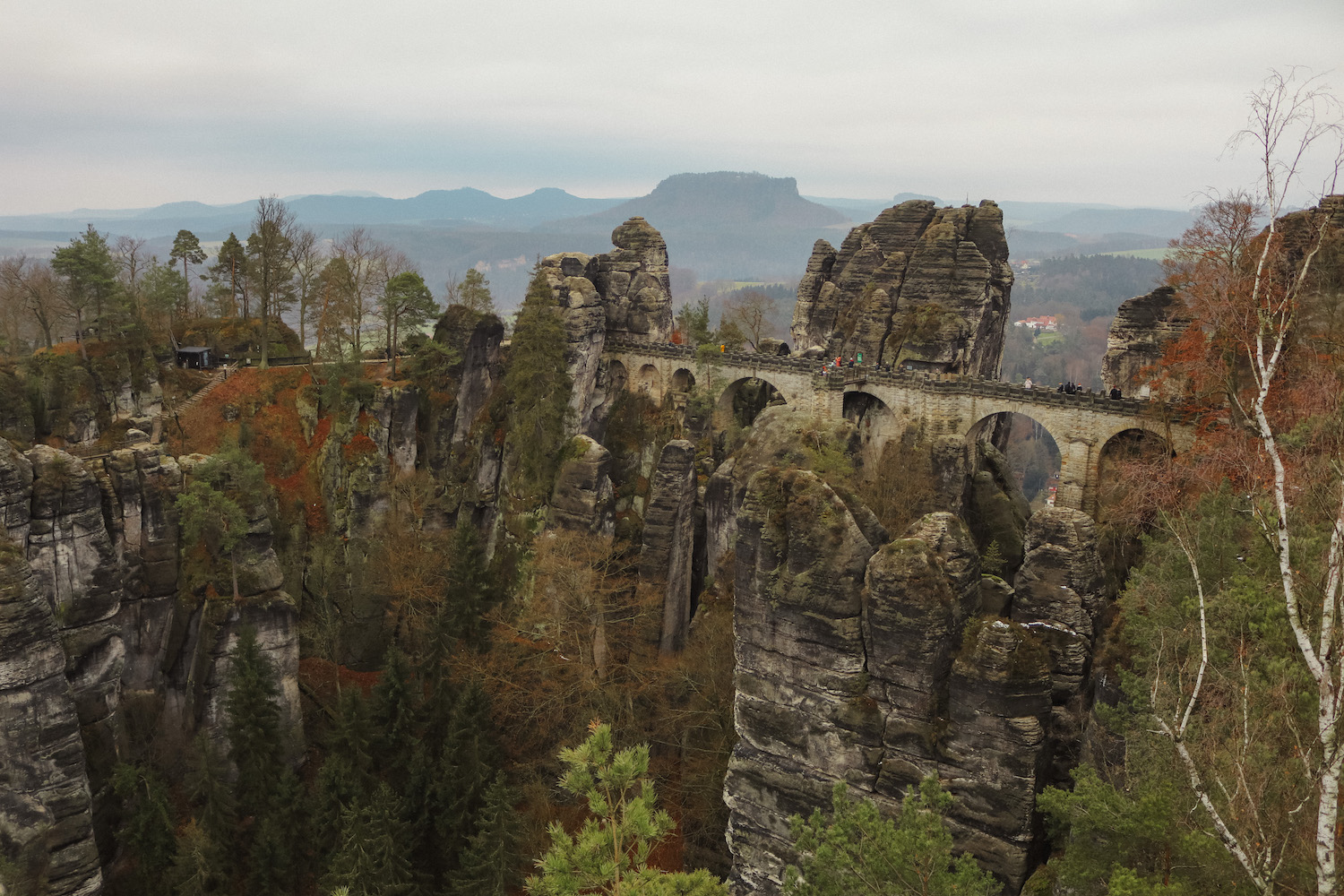 Kunsthof Passage
While exploring Neustadt you'll find the Kunsthof Passage, the result of many Dresden Artists creativity. There are four different themed courtyards to visit; Elements, Animals, Light, and Metamorphoses. The most famous of these is the Rube Goldberg Machine which turns rainfall into music – it's also a very popular photo spot!
And that's the weekend done! We fit a lot in there but I'm sure there was more that we missed. What would you add to your weekend in Dresden?!
Check out more pics and highlights on my Instagram here!