Lesser known than Milford Sound but arguably more beautiful – Doubtful Sound is an untouched fiord located 2-3hours out of Queenstown.
The most popular way to visit the Fiordland is by day or overnight tour from Queenstown. As Doubtful Sound sits on private land it is only accessible by organised tour groups. For those curious what these tour include, keep reading! These tours are run all by RealNZ, previously named Real Journeys which you can still see printed around Queenstown & onboard the boats.
During the quieter months we would jump aboard the same bus heading to Milford Sound at 6:55am. In peak seasons these journeys would be done separately – so be sure to check you are on the right bus before departure.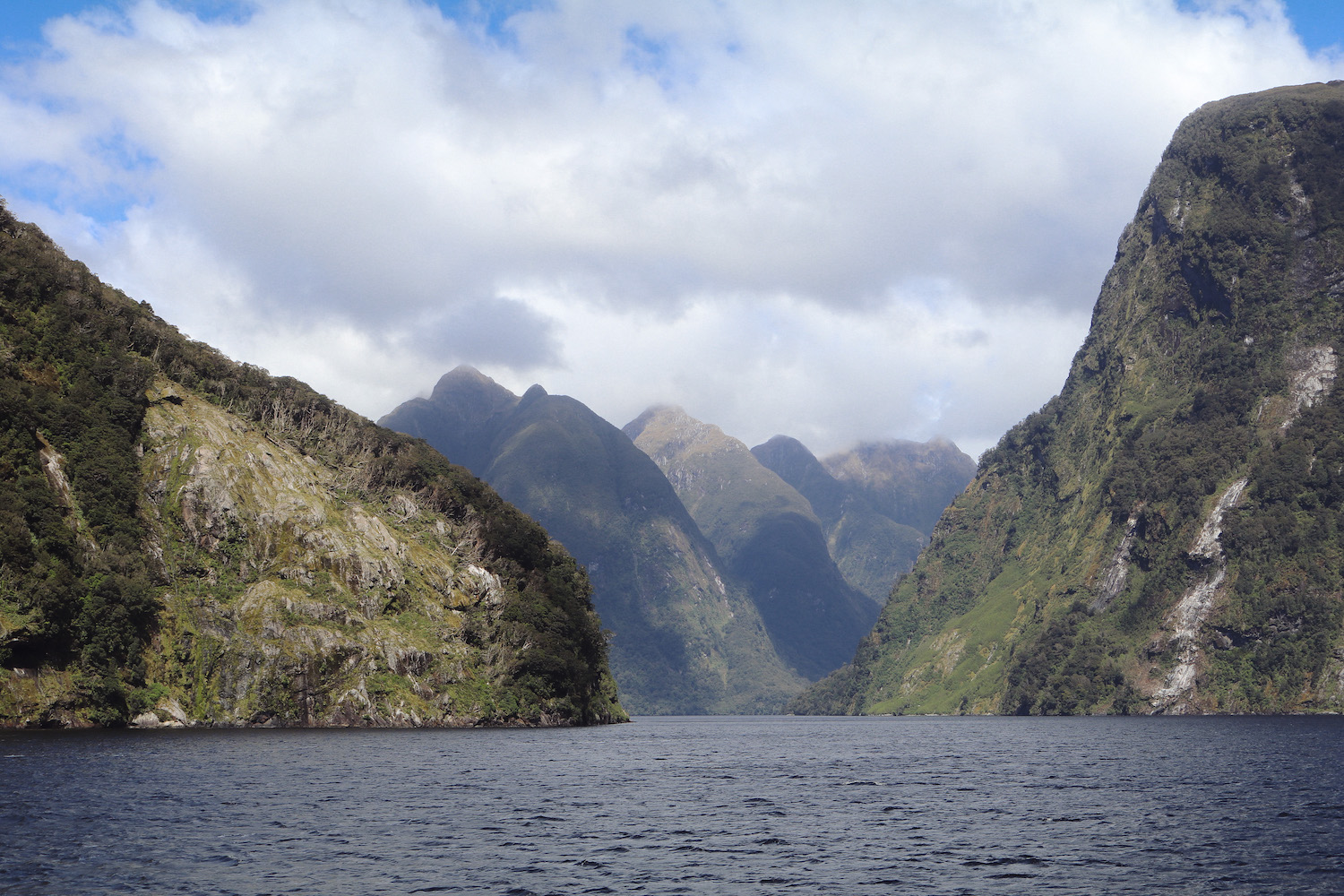 Queenstown to Manapouri 
The journey to Doubtful begins in the small town of Manapouri. The drive takes about 3hours with ongoing commentary from the bus driver – this goes into detail about some of Queenstown's history, geography, wildlife and Māori legends. The coach has reclinable, outward facing seats, and a large glass roof overhead.
If you wanted to drive, you would only be able to get as far as Manapouri (unless you wanted to pay to barge across the Lake and the additional fee to use the Wilmot Pass Road). Alternatively you could start a tour with RealNZ from the Manapouri Visitors Centre.
Manapouri
Once we were dropped off at the Manapouri Visitors Centre we could check in for our tour. I would recommend doing this first as the new COVID-19 measures make this process a little more time consuming than usual. As there is no internet access out in Doubtful Sound the cafe/kiosk operates on a bar tab system (they take down your CC details and charge your card upon return). Usually they would accept cash only but this depends on the lockdown requirements. If you have preordered a packed lunch this is also where/when you would pick it up.
It's about 9:15am when we're dropped off in Manapouri, so we're given 30-45mins to relax before boarding. Nearby the visitors centre you can find a short bushwalk – The Old Coach Road Walk. It's said to take about 20minutes however I noticed in a few areas the trail was blocked off or redirected due to erosion from the lake.
I wandered down to Manapouri Cafe & Dairy and was pretty disappointed to leave with a regular oat cappuccino for $7 and not even with any chocolate in the top… There is a small cafe downstairs of the Visitors Centre which I would recommend instead. You'll also find public toilets nearby here.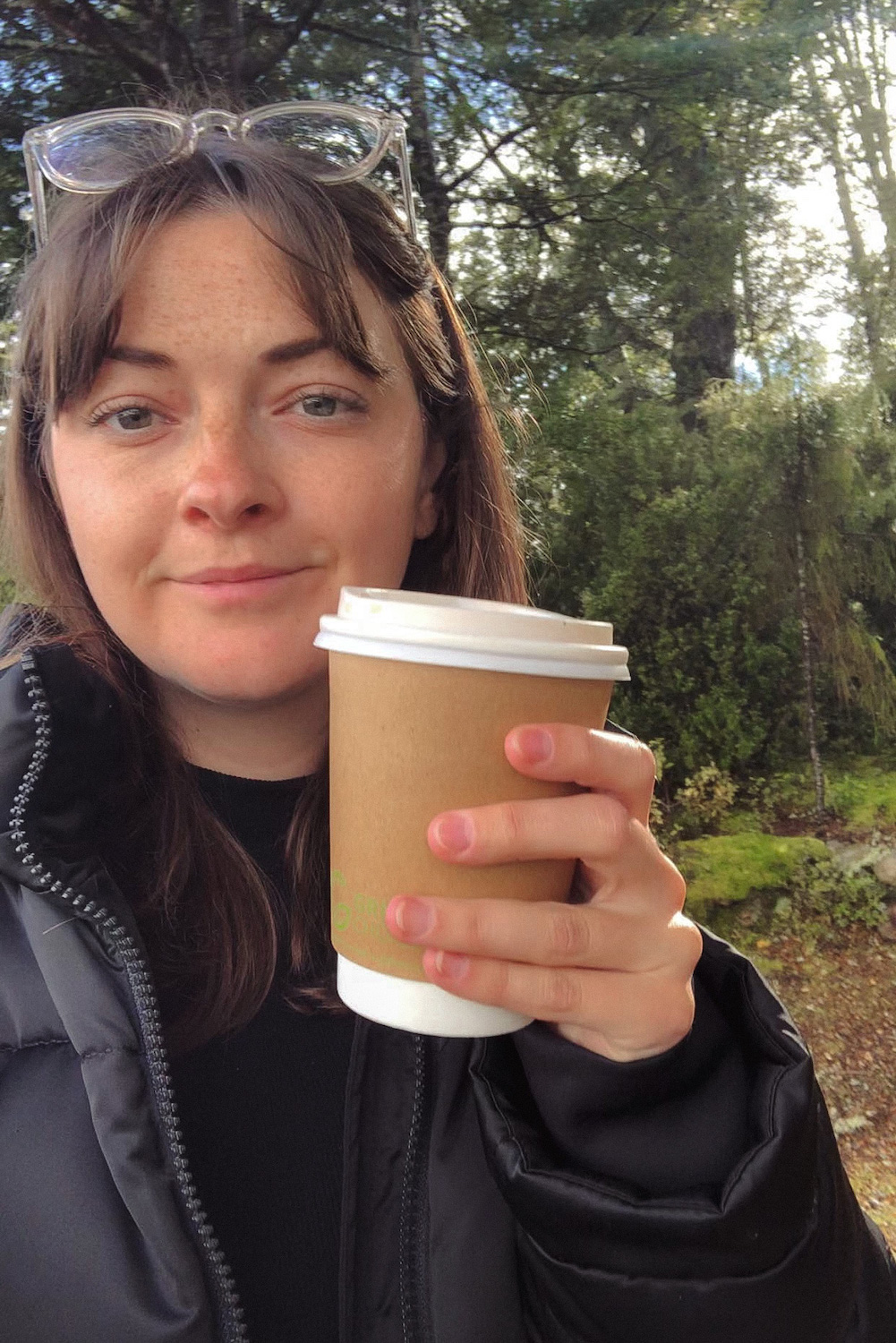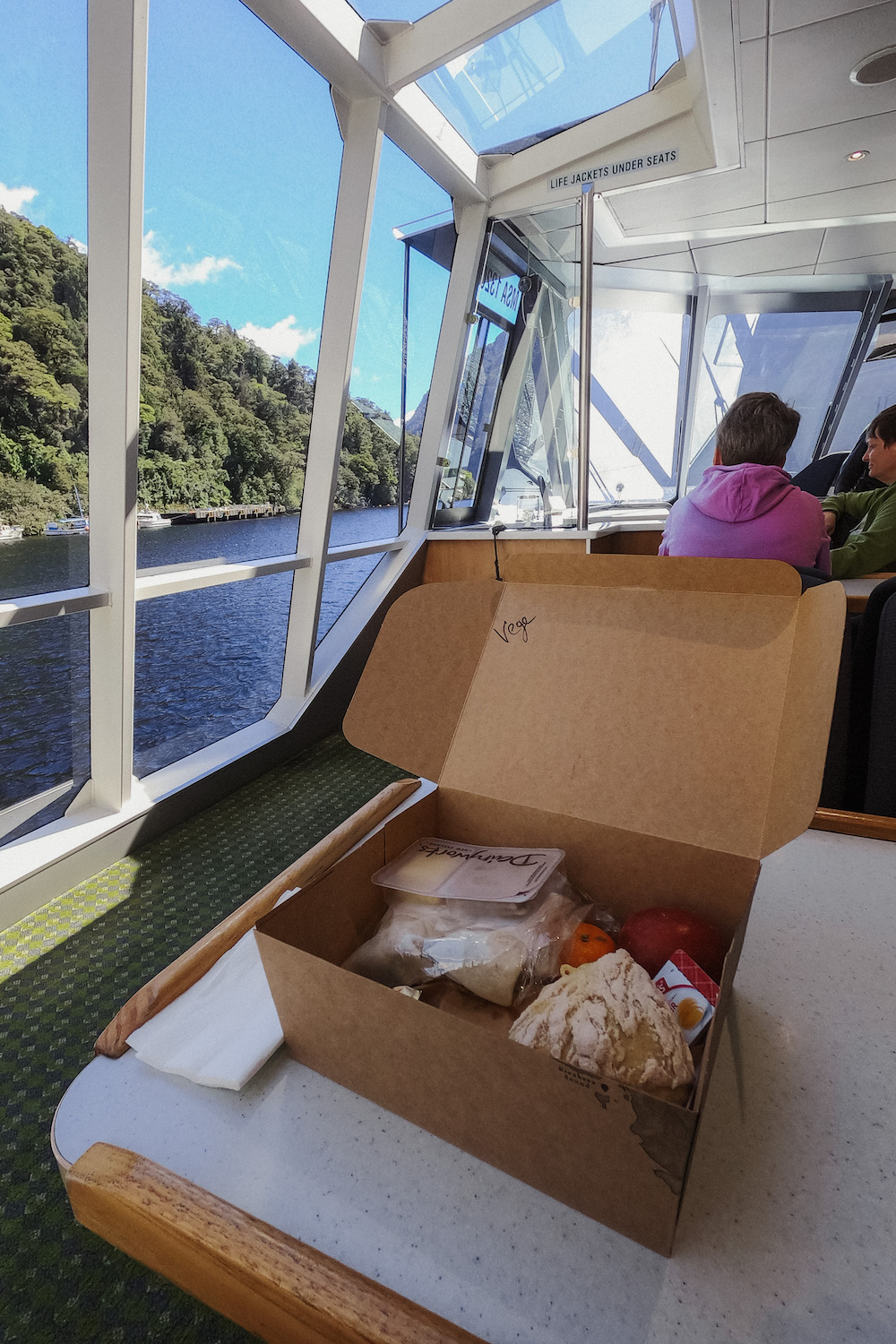 Lake Manapouri
We board a little before 10am and begin cruising towards the power station. For about 45mins we're welcome to the onboard cafe, indoor and outdoor seating, and panoramic views over the glassy prehistoric-looking lake and mountains. If we weren't still heading to Doubtful Sound I would have thought this attraction was the destination itself! The water is so I disturbed that the only ripples are from our own boat. On the top deck it is very windy so we all move up and down as the views change.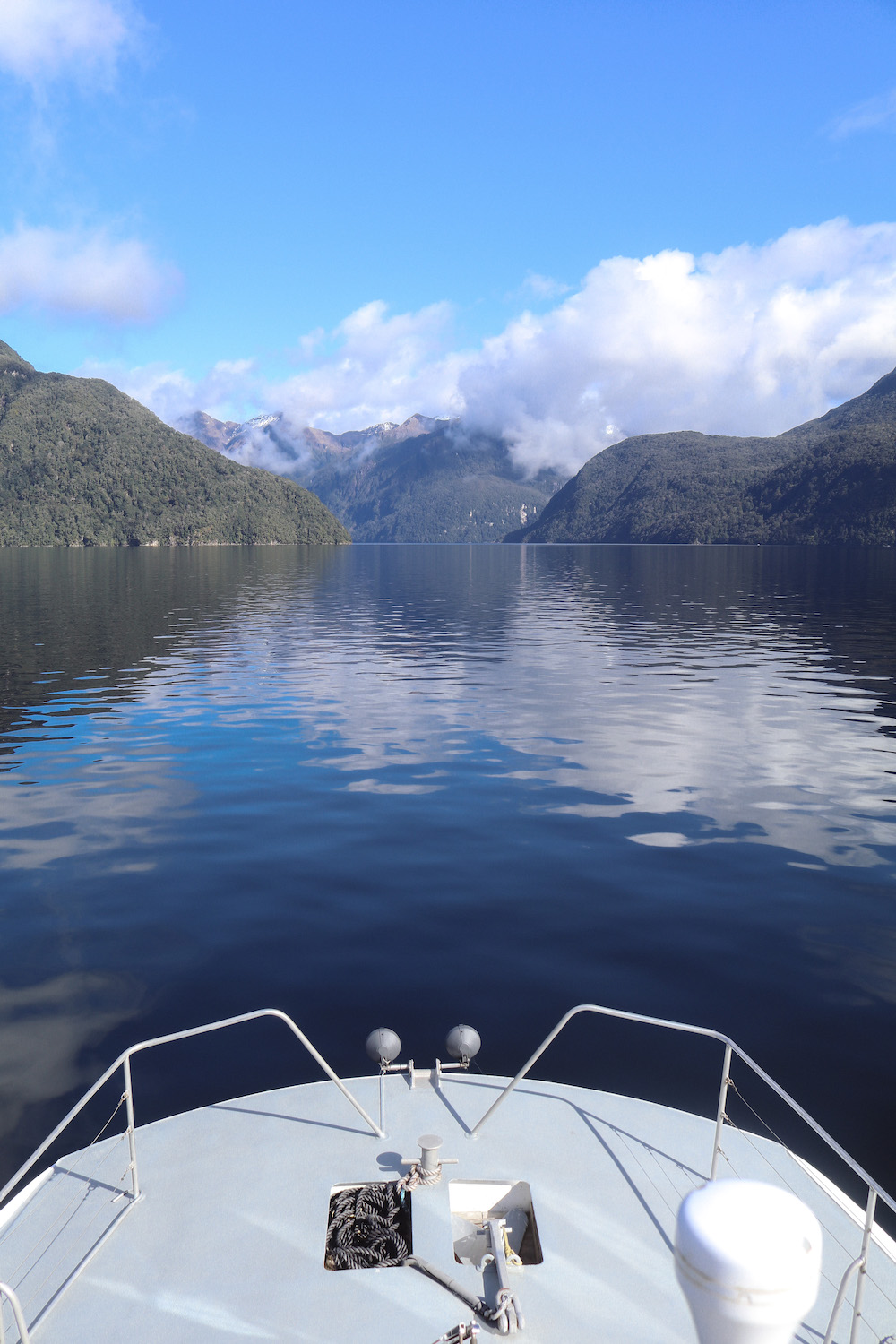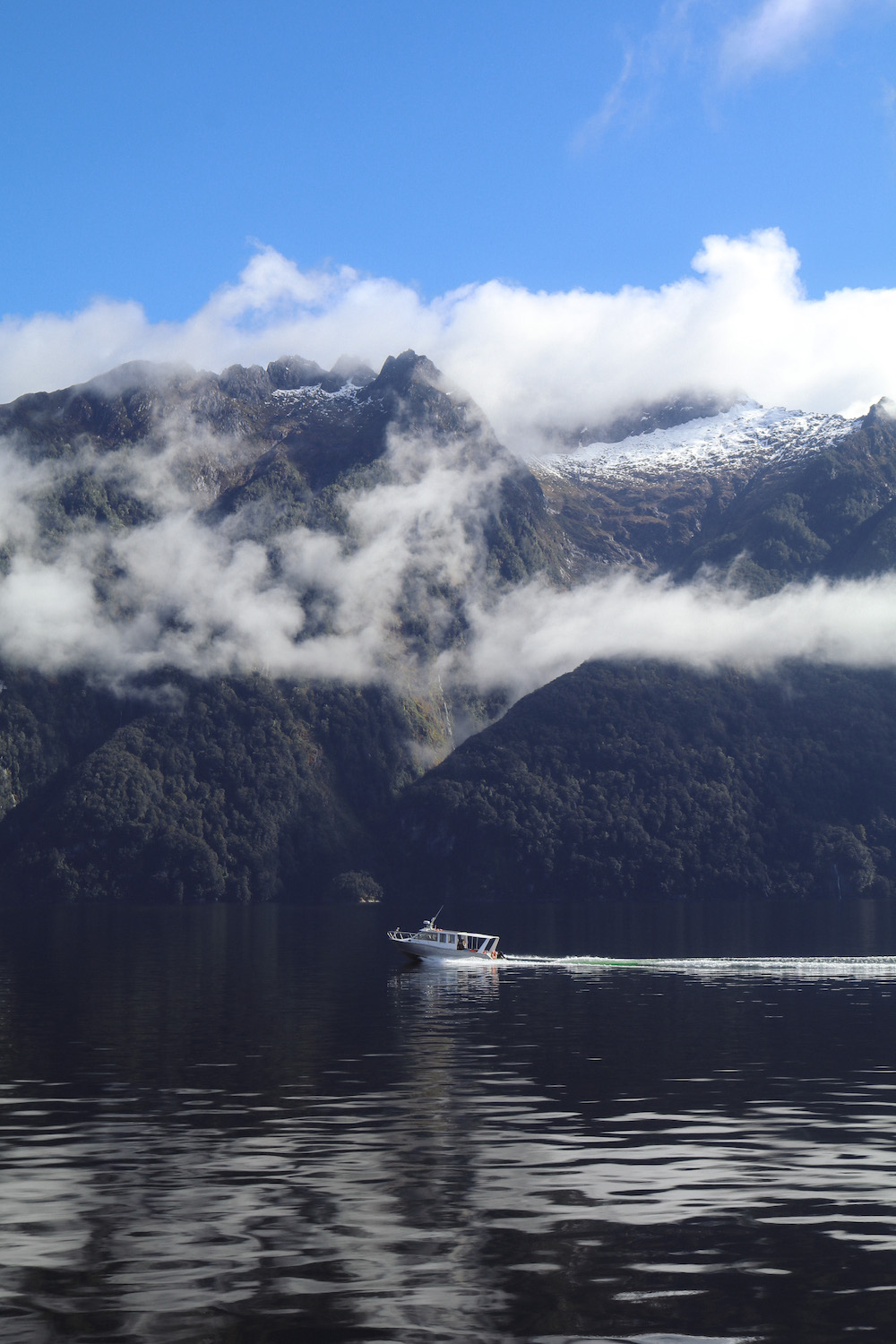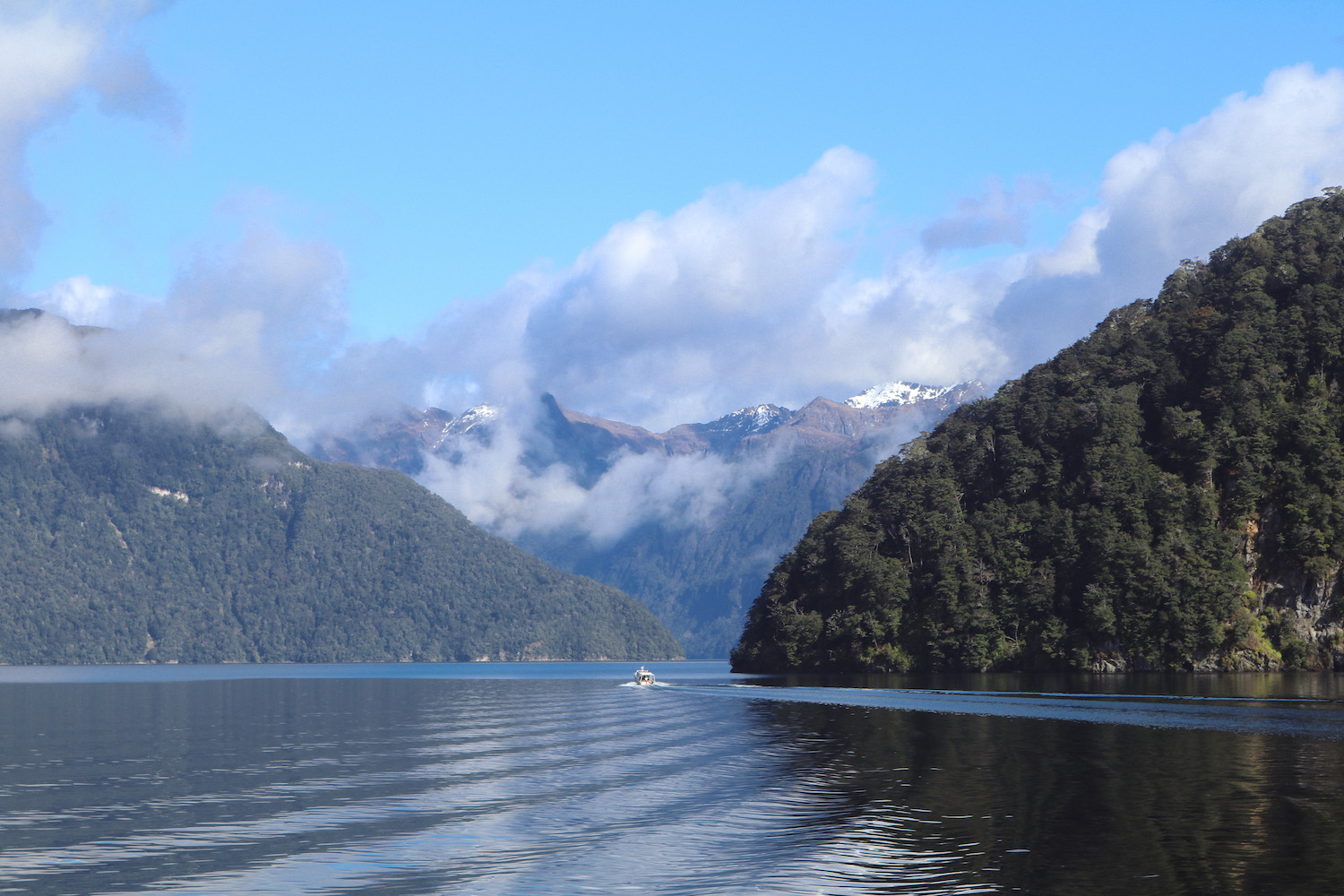 Power Station
We arrive at the power station at about 10:50am. In the visitors centre you'll find public toilets and plenty of information about the power station and the surrounding wildlife and history; for example, the creation and construction of the Wilmot Pass.
Note: I got a little confused here. There were various groups passing through the visitors centre at the same time so I didn't know where to go. Eventually I found someone in the RealNZ uniform and ended up being the last person to board the coach. It turned out we were getting onto the same coach that another group had just departed. 
Wilmot Pass
Wilmot Pass is a 671metre high pass on the main divide of New Zealand's South Island. It lies between Mount Wilmot and Mount Mainwarning and connects Lake Manapouri to Doubtful Sound on the West Coast. This 21km unsealed road was constructed in 1963-65 to accommodate heavy equipment transporters and is said to be the most expensive road to be constructed in New Zealand.
Departing the visitors centre at 11am we headed up the Wilmot Pass to our first stop – Spey Valley. The drive climbs up to the summit of Wilmot Pass where there is another viewpoint overlooking the entrance to Doubtful Sound.
Note: the left side of the bus had the best views, but the driver makes photo stops at each place anyway.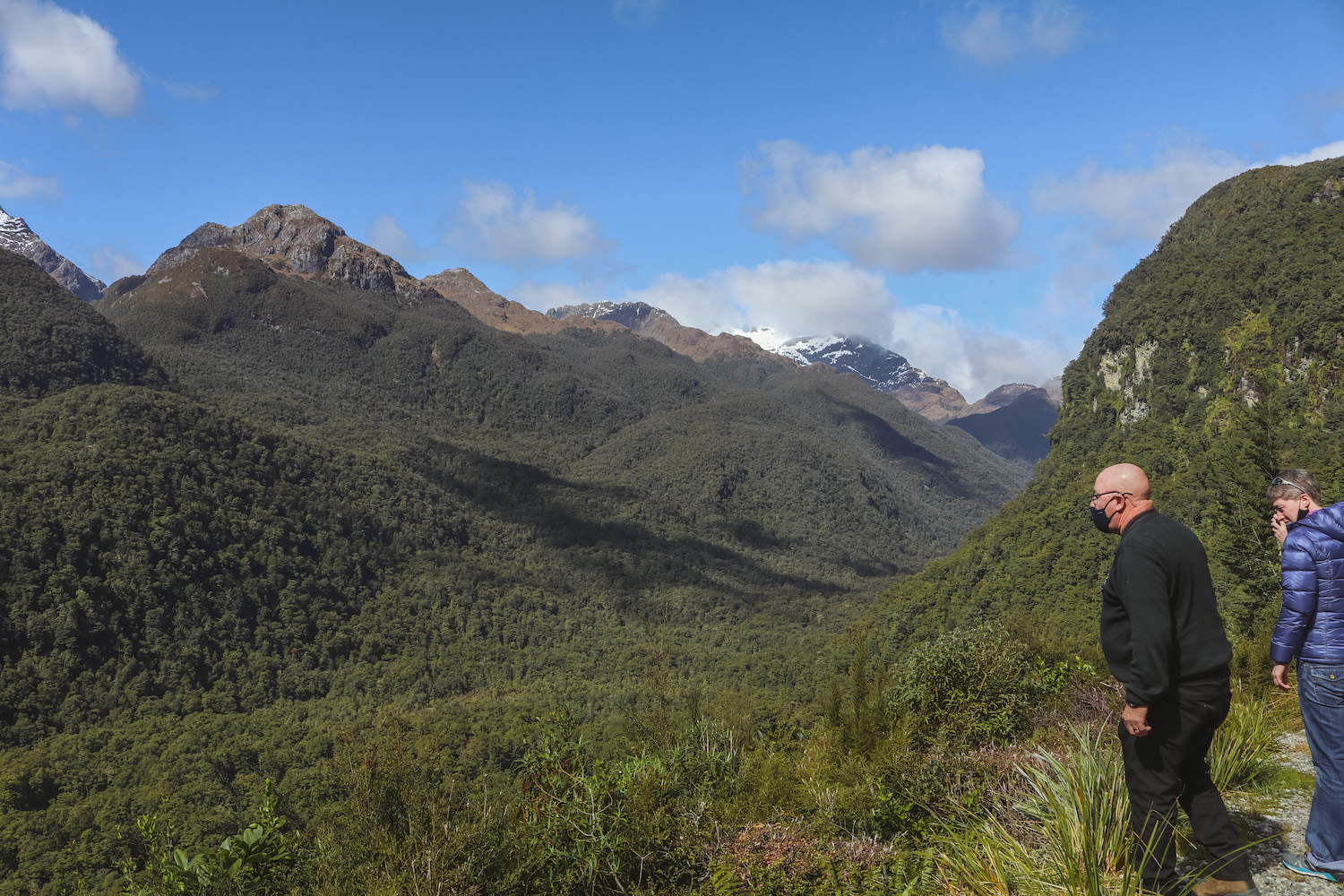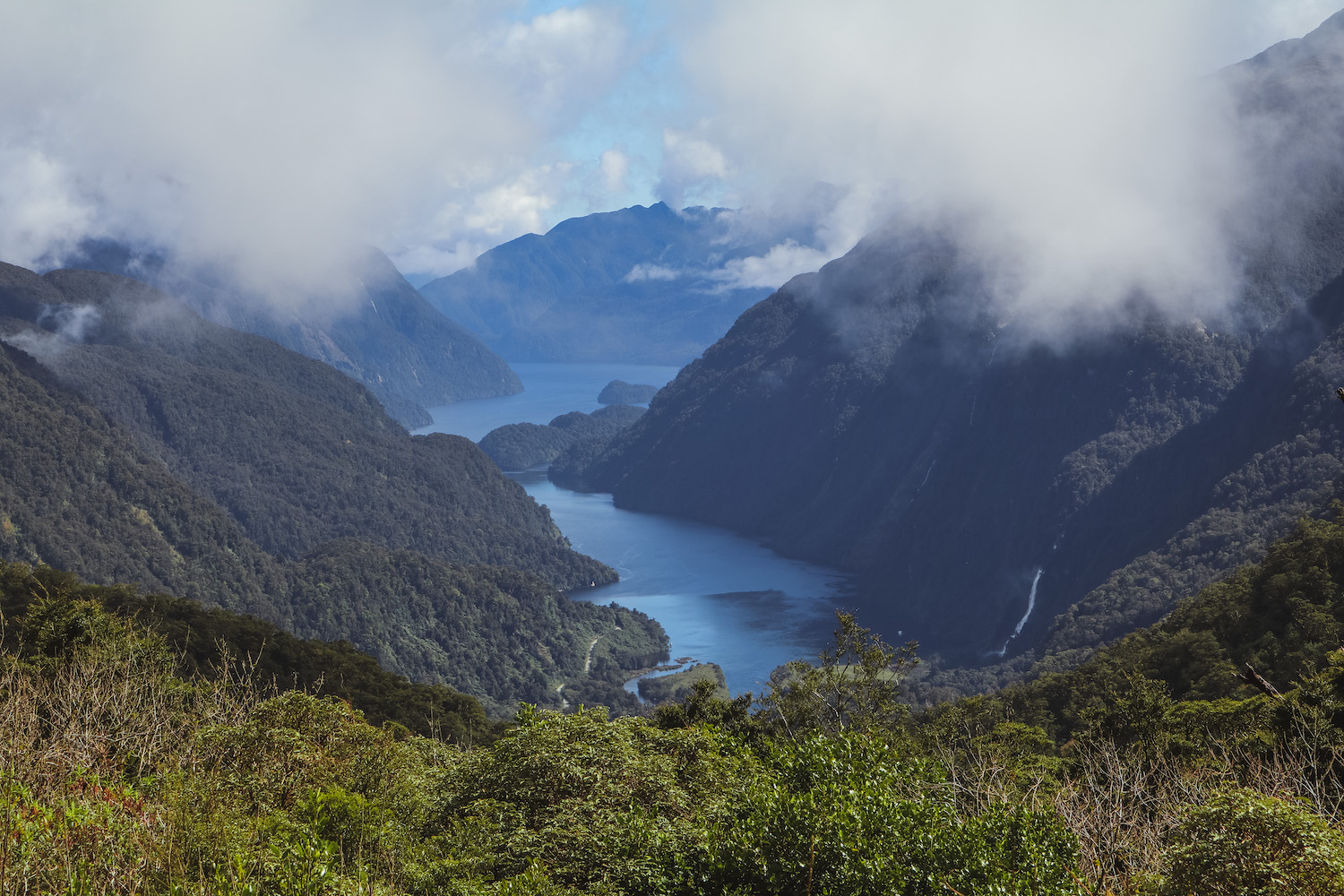 The drive down into Doubtful's Deep Cove takes an hour with photo stops, but with the commentary and some of the best views of the day, the time passes quickly.
Doubtful Sound
Doubtful Sound is in fact a fiord. Similar to Milford Sound it was misnamed upon discovery and these names just stuck. A fiord is an underwater valley carved by glaciers, with steep mountains on either side. Though it was originally named Doubtful Harbour by Captain Cook, it was incorrectly renamed Doubtful Sound by early whalers and sealers who lived here.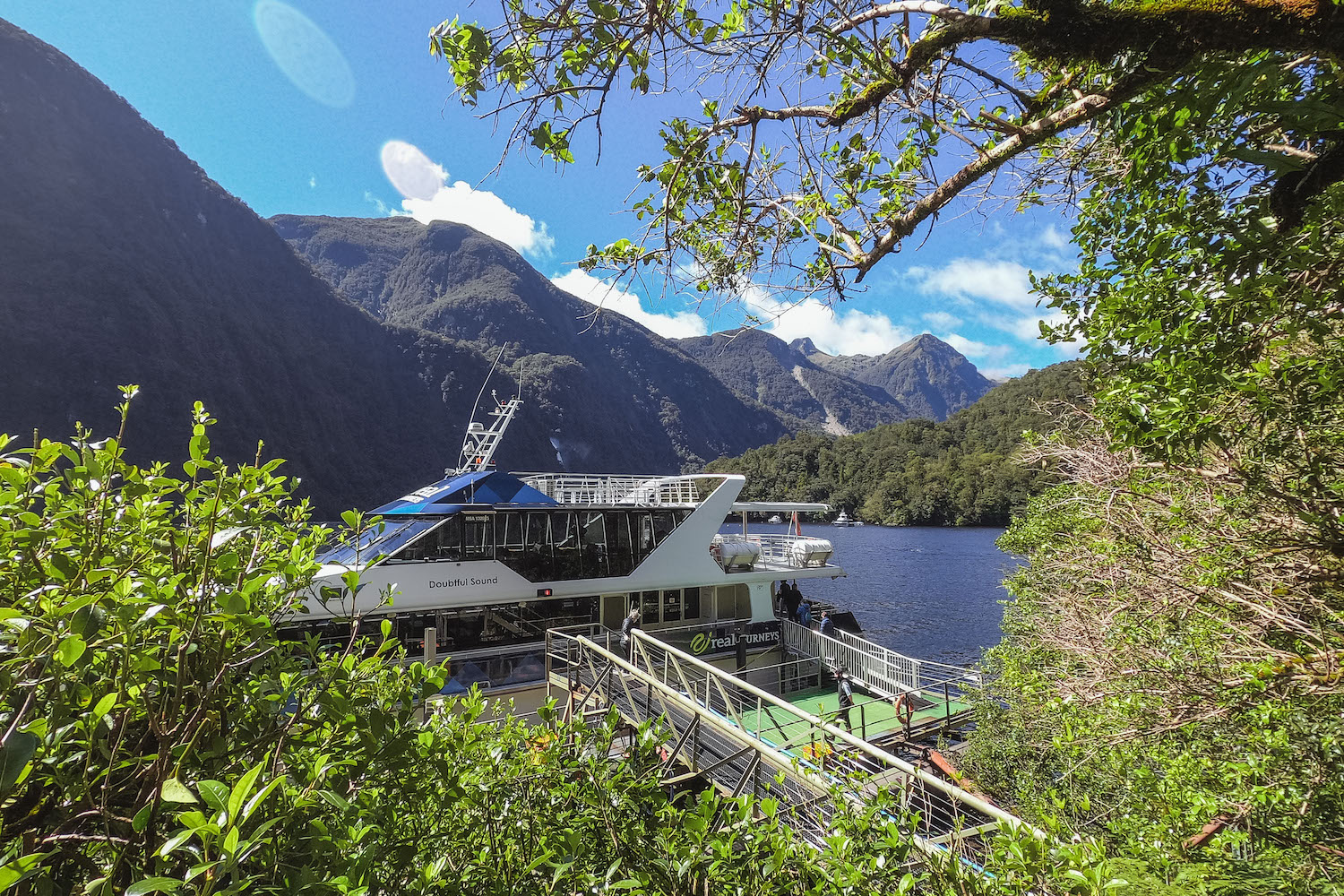 Deep Cove is the harbour where all of the boats depart and return. This is where we are dropped off by the coach.
At 12pm our 3hour Doubtful Sound cruise departed. There was no planned route for the cruise, they just cruised along while stopping at some points of interest. We headed towards the Tasman Sea for about an hour and this is when most people choose to eat their packed lunches and get coffee from the kiosk. I was pleasantly surprised by my packed lunch – it had so much! My veggie lunch came with; veggie wrap with potato rosti, cheese scone, cheese and crackers, an apple and mandarin, Whittaker's chocolate, a muesli slice, and a water. It also had napkins and cutlery (the usual price for this is about $18).
Note: I would recommend eating before or after reaching the Tasman Sea as the open water is much more rough and rocky. I got a bit seasick! 
Doubtful Sound is approximately 40kms long, so about 3 times the length of Milford Sound. With all of Doubtful's twisting Arms the surface area is about 10 times larger. Not only this, but we were the ONLY boat out in the fiord making it all the more special that this vast glacial valley was practically untouched by man. It is not surprise that Jurassic Park originally wanted to film here. They came here for several days with all of the crew but it rained so often that they went to Hawaii instead.
Doubtful Sound is known as one of the wettest places on earth at sea level. It gets approximately 9metres of rainfall every year. 
And can you believe the weather I got! I'll let these pictures show you…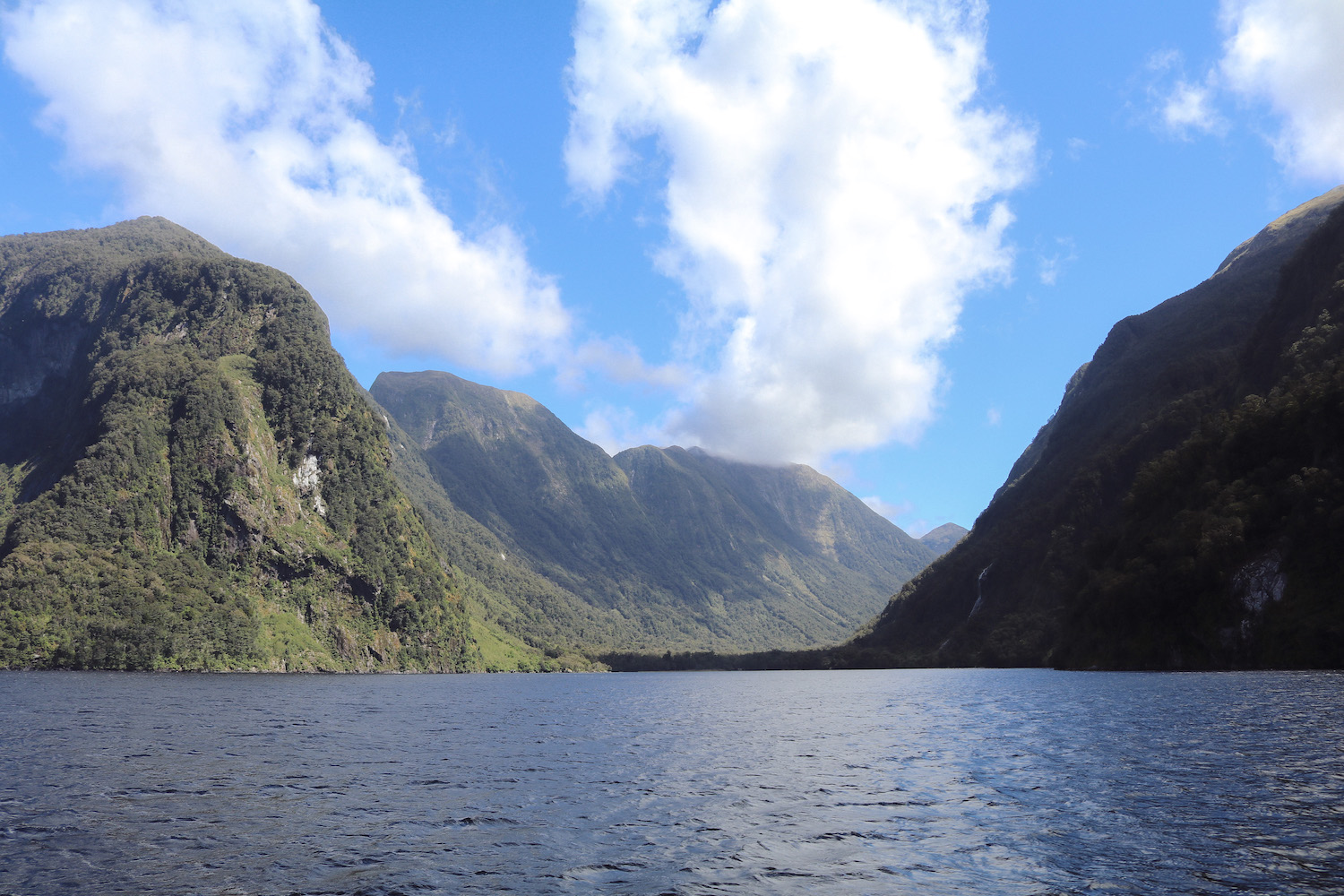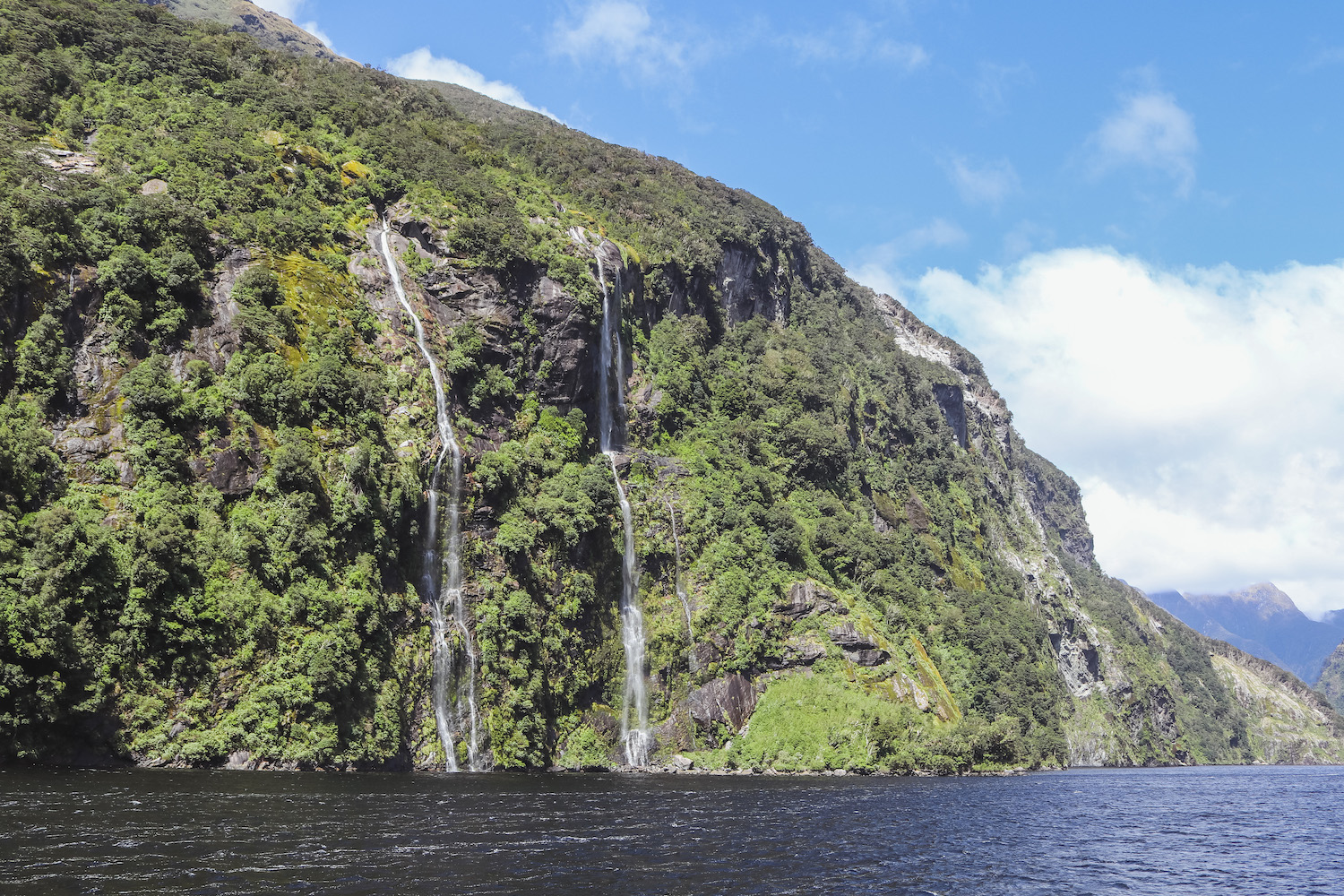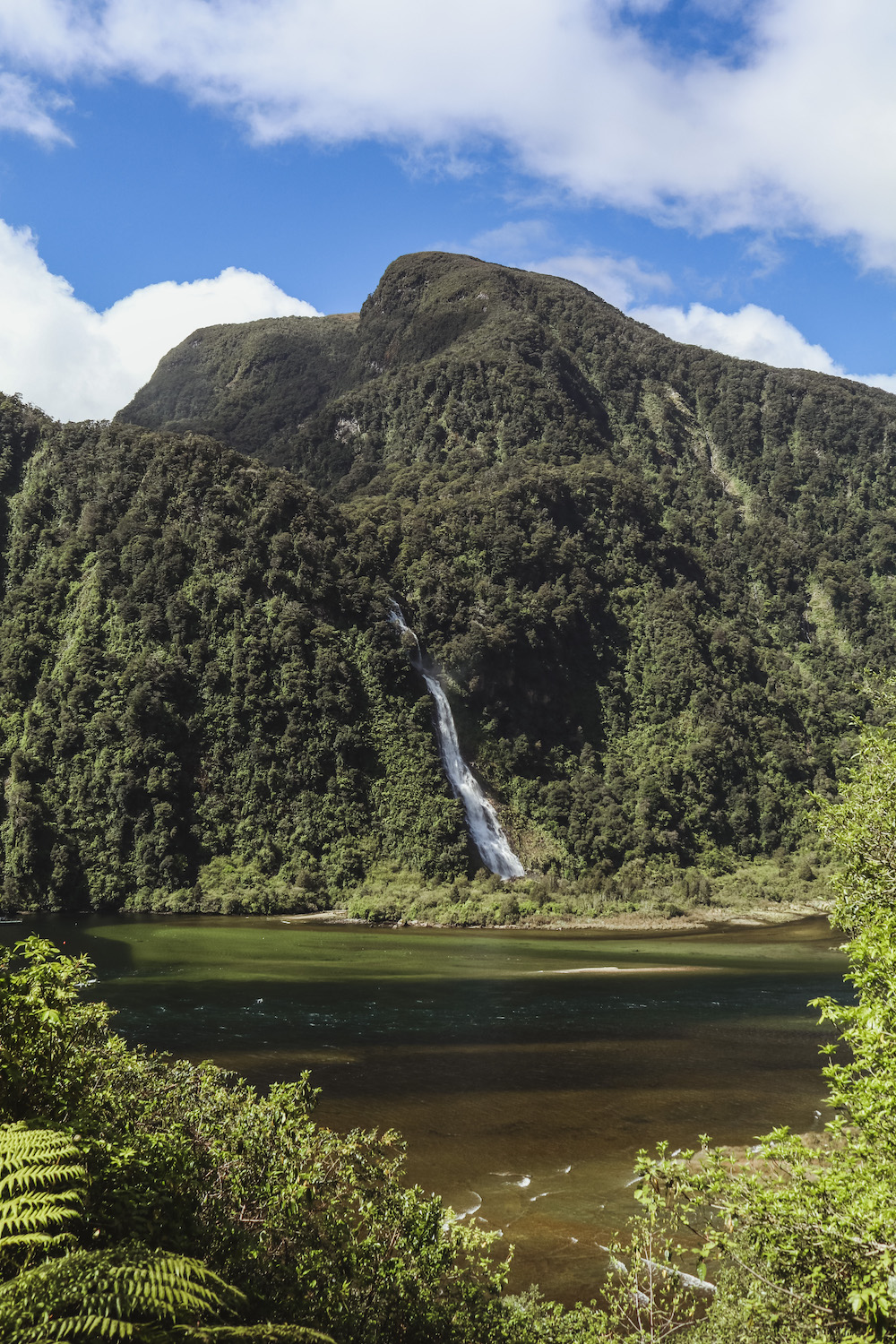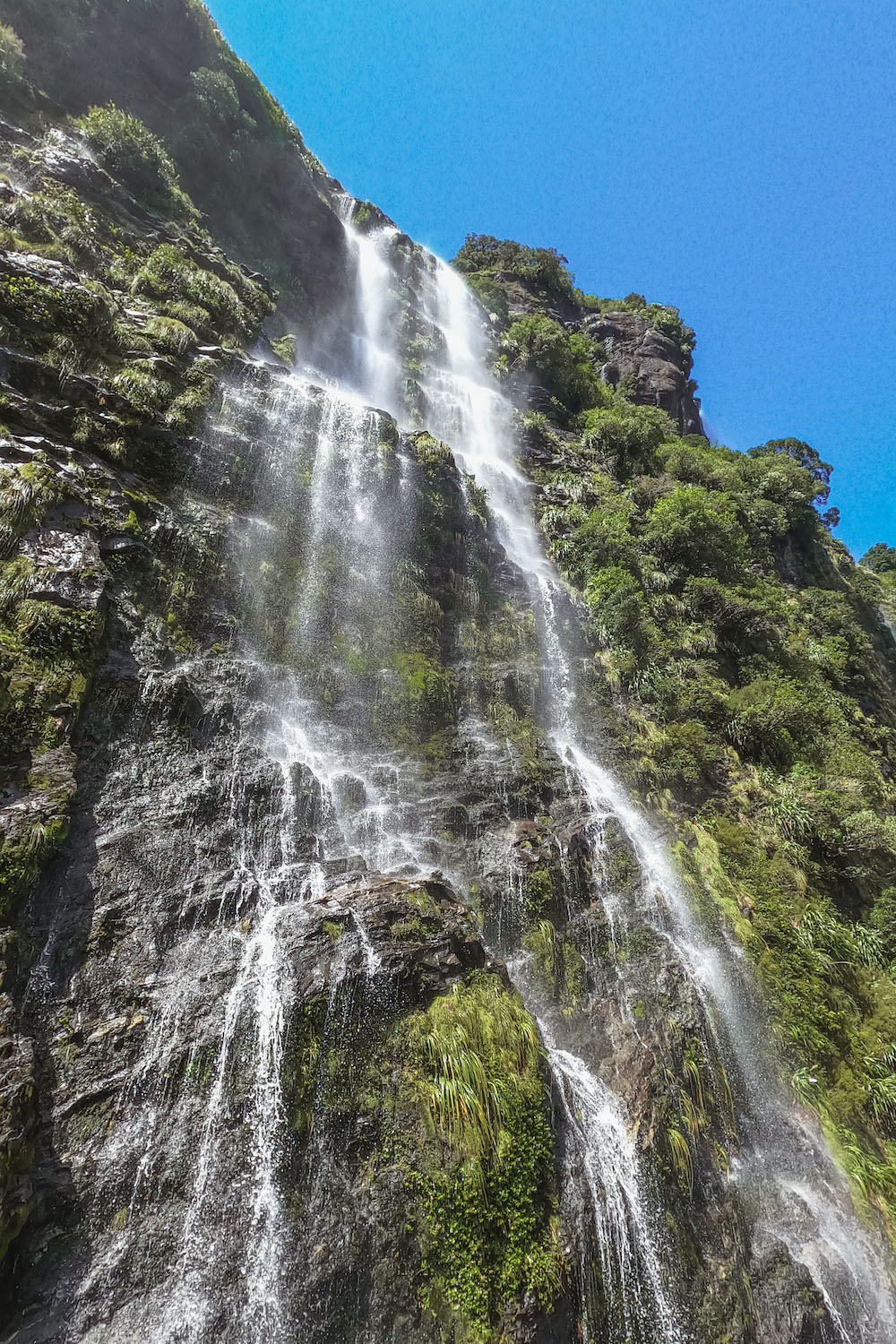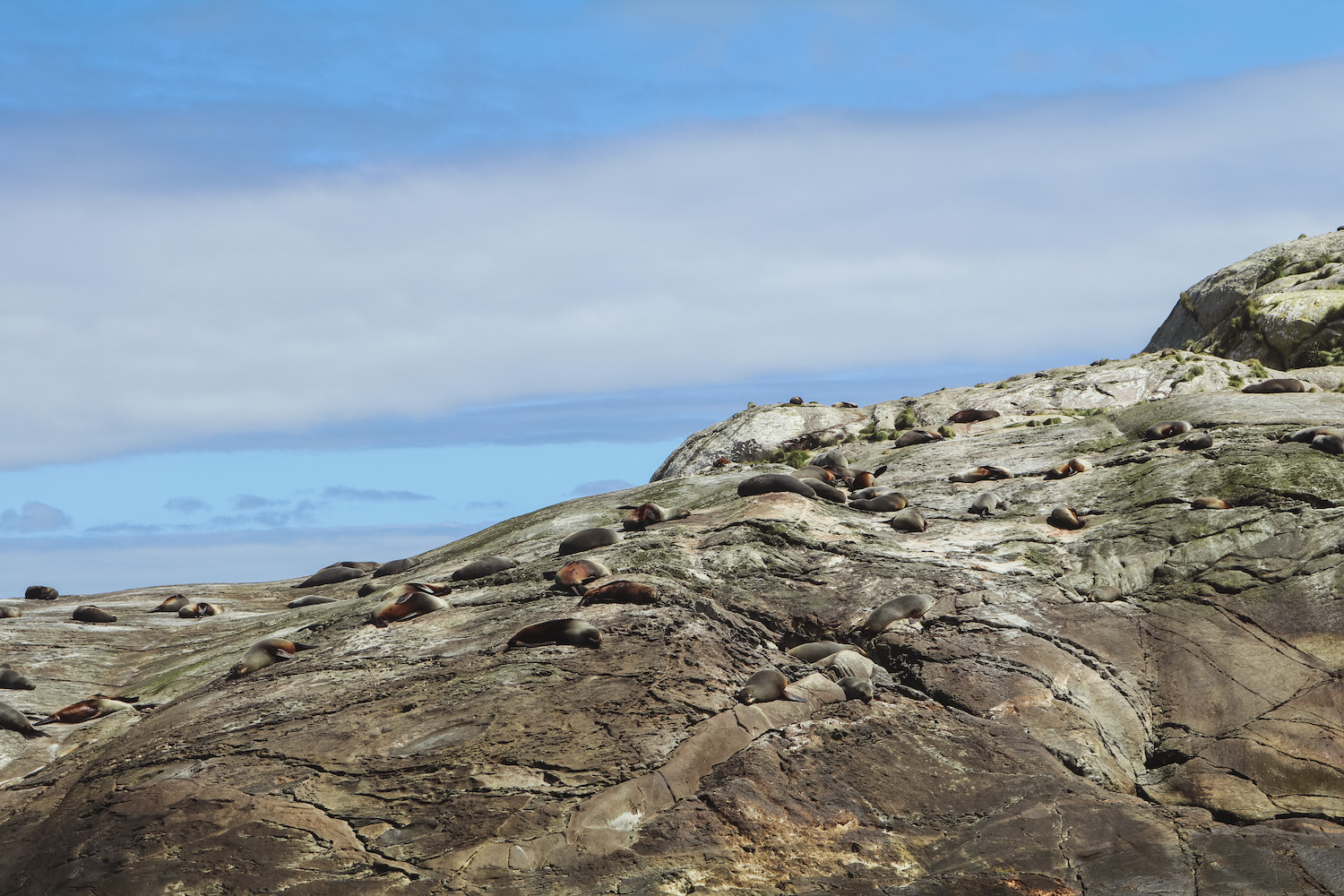 Once we reached the open water we found the popular resting place for sea lions, and not far from them we saw a couple of Fiordland crested penguins.
The isolation of the Sound was my favourite quality. Once we reached the Hall Arm we did what realNZ call the "sound of silence" experience. Everyone picked a spot to stand in complete silence, and then the skipper turned off all of the engines. All that you could hear was the many flowing waterfalls and the birds.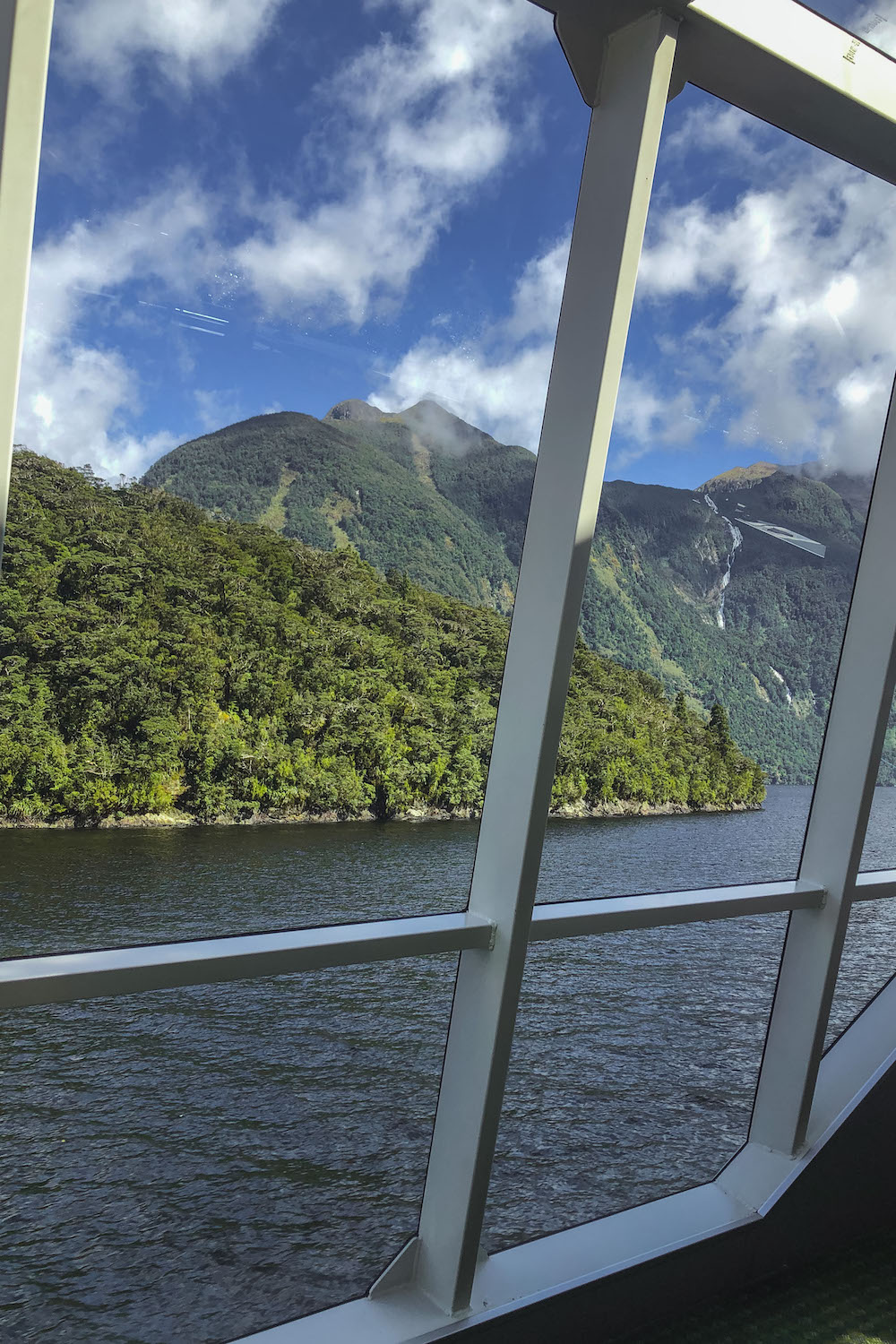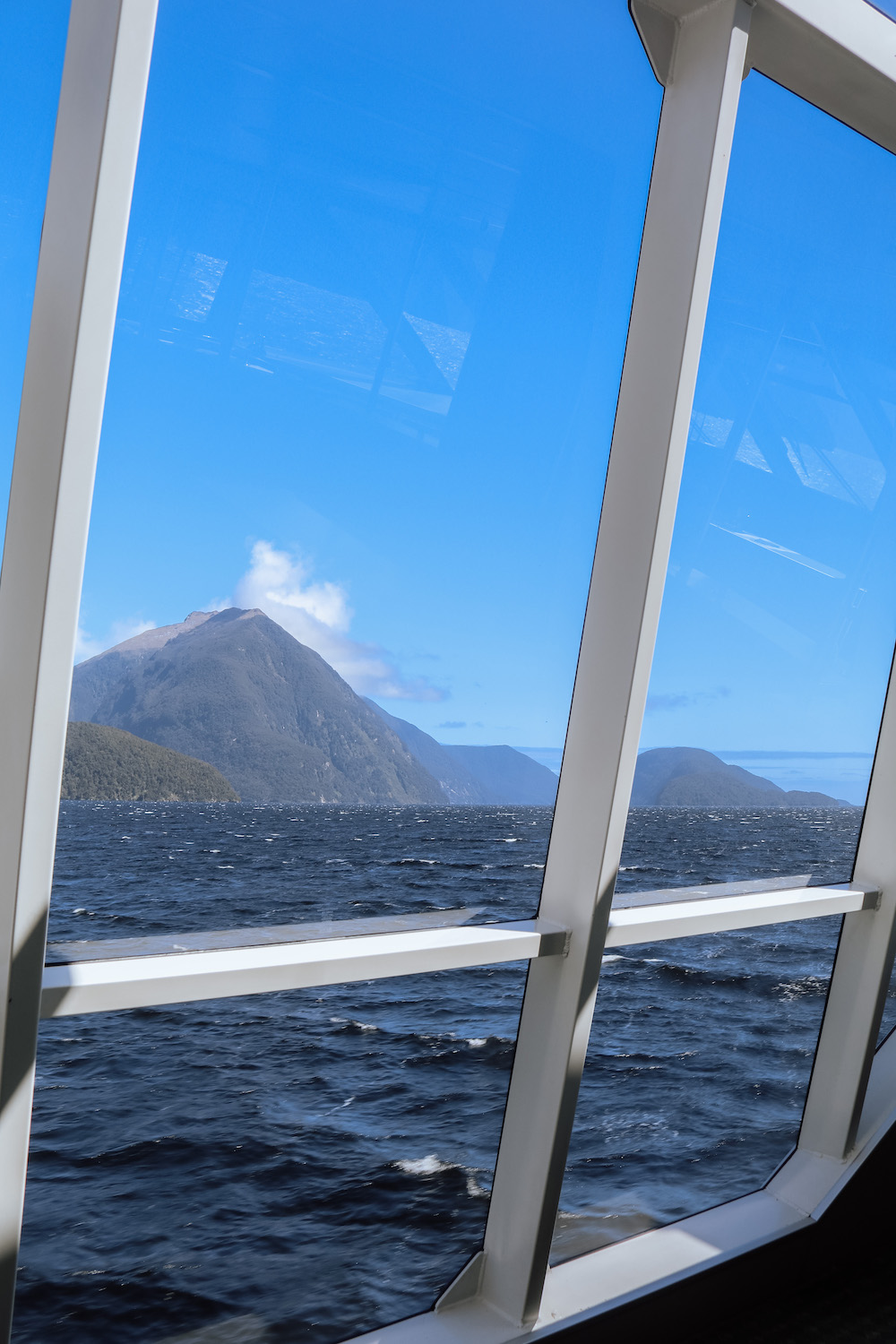 Note: if you want to take pictures through the large glass windows, do it at the beginning of the cruise. Once you reach the wavy open water they get covered in the salt water and are no longer as clear to see-through. 
Back to Queenstown
The return journeys were made without commentary. We made a few more photo stops on the Wilmot Pass but by this point everyone was pretty tired. We headed back to Manapouri the same way that we came, and then jumped on a minibus. This drove us out to the highway where we reunited with the Milford Sound coach for the journey back to Queenstown. We arrived back in the town centre just past 7pm. You can also organise to be dropped off at your accommodation on route or in Frankton.
What to bring;
Bug spray
Lunch (the only food options out there are the onboard kiosks which only really sell drinks and snacks)
Water (as above)
Cash (get this in Queenstown before departure. There are no ATMs or EFTPOS facilities)
Camera
Wet weather gear (it will most likely be rainy)
Hat & sunscreen (for all of the time spent outside & on the top decks)
Has this pretty much convinced you that you NEED to visit Doubtful Sound? Let me know what you think!
THATraveller visited Doubtful Sound thanks to the Real NZ. My opinion is my own.