Looking for the best way to explore Mt Vesuvius and its untimely conquest, Pompeii? Let me break it down for you… 
If you're anything like me, you love a good taste of adventure – anything that sounds the slightest bit risky, adrenaline packed and bucketlist contending. And Mt Vesuvius has always been that for me.
Mt Vesuvius and Pompeii, everyone knows them. Why? Because they were home to one of the largest natural disasters recorded in a time where we couldn't have known any better. 
I remember studying Pompeii at uni, and the draw to dark tourism. A place of morbidity, somewhere historically associated with death and suffering or tragedy – why are we attracted to these places? Pompeii was buried by the 79AD eruption of Mt Vesuvius but it's now one of Europe's most compelling archaeological sites and Italian destinations… is it on your bucketlist? It was on mine! 
Mt Vesuvius erupted in 79AD, and was one of the deadliest eruptions in European History. It's estimated that 1,500-2,000 people died in Pompeii and the city was preserved under layers of volcanic ash. The ruined city remained buried until it was rediscovered in 1748. Nowadays Pompeii's destruction has been represented in multiple movies and TV shows worldwide, only adding to the destinations popularity. I mean if Kit Harrington's been there… why wouldn't I?
The most popular way to explore Pompeii and Mt Vesuvius is by day tours, so that you can fit both into one day including the cost to travel between the two destinations.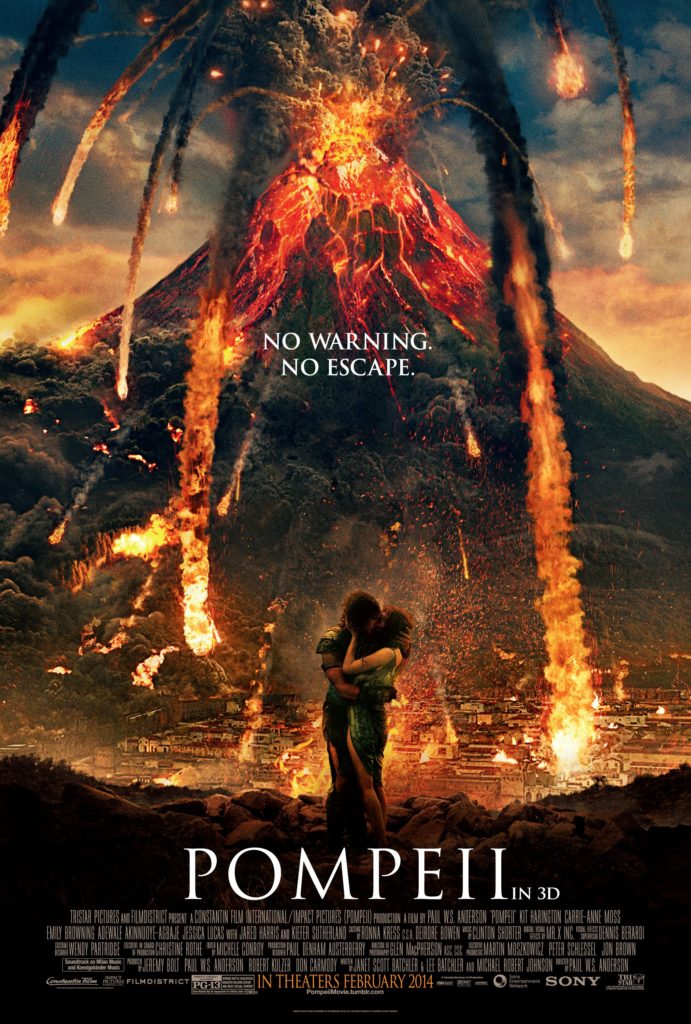 ?

The Tour;

The tour that I took part on I found on GetYourGuide, which I found to be quite popular in Italy. I chose a full day tour (7hours) called; From Naples: Pompeii Ruins & Mount Vesuvius Day Tour. 
It included;
Coach transfers and pick-up/drop-off

Entrance to Pompeii and Vesuvius (worth 16€ and 10€ respectively) 

Pizza lunch and drink 

Tour guide 
A breakdown of the day;
? Pick up transfers by large coach from Naples to Pompeii
? A guided tour of Pompeii – the guests on the coach were divided into language groups, and given an appropriate guide. 
? After the tour we were escorted to a restaurant across the road. In the tour description I was expecting only pizza, but we were also given a choice of pasta or lasagna. I opted for pizza and they were quite generous in size. One drink was included with our lunch, but extras were reasonably priced.
? From lunch the coach was split into groups of who was continuing on to Mt Vesuvius, and who was returning to Naples. After a short drive we reached the top carpark, only coaches can come this close to the start of the hike. 
? From here you are allocated a time to return and can wander up at your own pace.
?  After returning to the coach the guests are all dropped off at their desired stops. 
? What you'll need;
Hat & sunscreen ~ the destinations offer very little shade

Good walking shoes

Water (though there are various stalls outside Pompeii and at Mt Vesuvius)

Packed lunch (if not included)
?️ The Ancient Ruins of Pompeii…
Today, Pompeii has UNESCO World Heritage Site status and is one of the most visited sites in Italy. So the question stands, is it worth being one of the 2.5 million visitors per year? Absolutely yes, the ruins of Pompeii are unlike any around the world. Though crowds are usually a deterrent at any destination, in Pompeii it can offer you a glimpse into how life once was in this booming ancient city. 
Pompeii is best visited with a tour guide, that way you can get to know a bit about the history without wandering around aimlessly. To the naked eye it's hard to identify what landmarks and rooms are surrounding you, but with a guide you can get an insider's education. They can point out the old bakeries and the wagon groves that are trailed along the streets.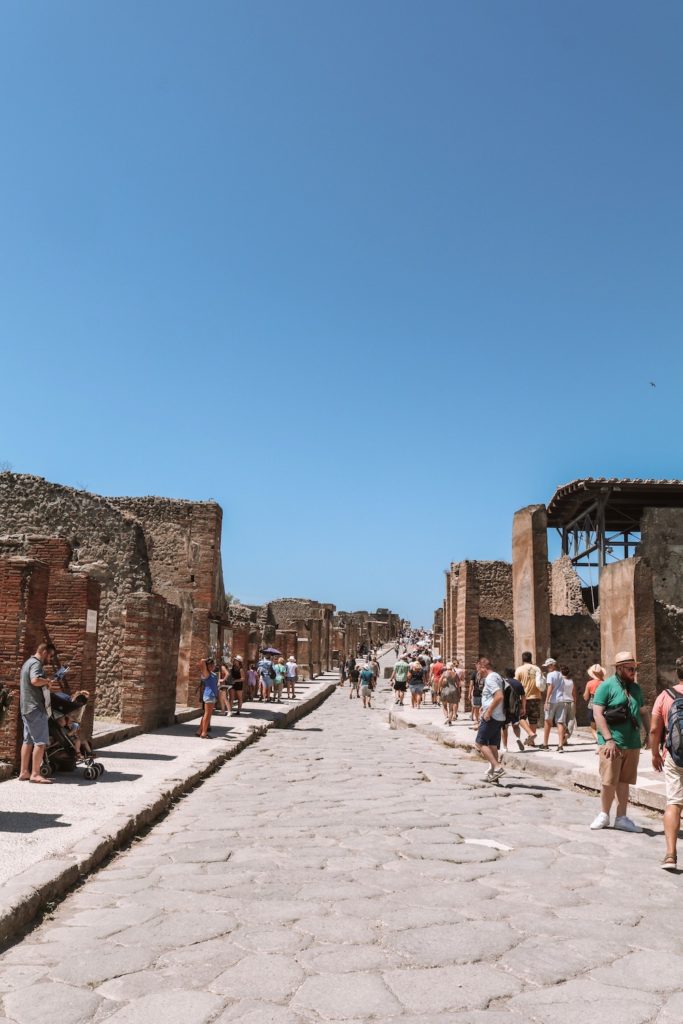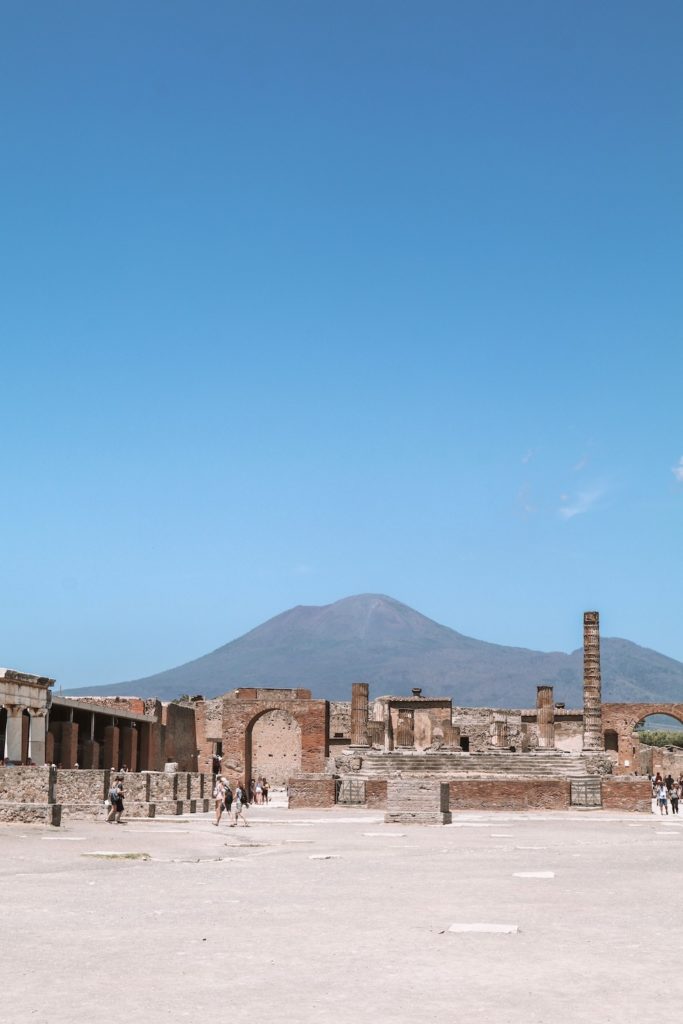 Various important buildings can be found by the main square including; 
Jupiter's Temple,

The Temple of Vespasian,

The Building of Eumachia,

The Basilica,

House of Vetti,

Piazza Anfiteatro; one of the oldest and most well-preserved amphitheatres in the world. It seated up to 20,000 people and was a popular spot to watch brutal gladiator fights. 
Then you are able to see some of the people and artifacts that were preserved in time by ash. The casts are one of the most remarkable sites within the ancient city – though slightly daunting at the same time. 
As Pompeii was buried, bodies were encased in layers and layers of hardened ash. When it was discovered that the deceased bodies left voids, they poured plaster inside, creating plaster casts of whoever was once inside. They are touching reminders of the people that lived and died here in Pompeii. Frozen in time, the plaster casts show figures in the position that they died. With small indications like an ankle chain, archaeologists have been able to identify slaves.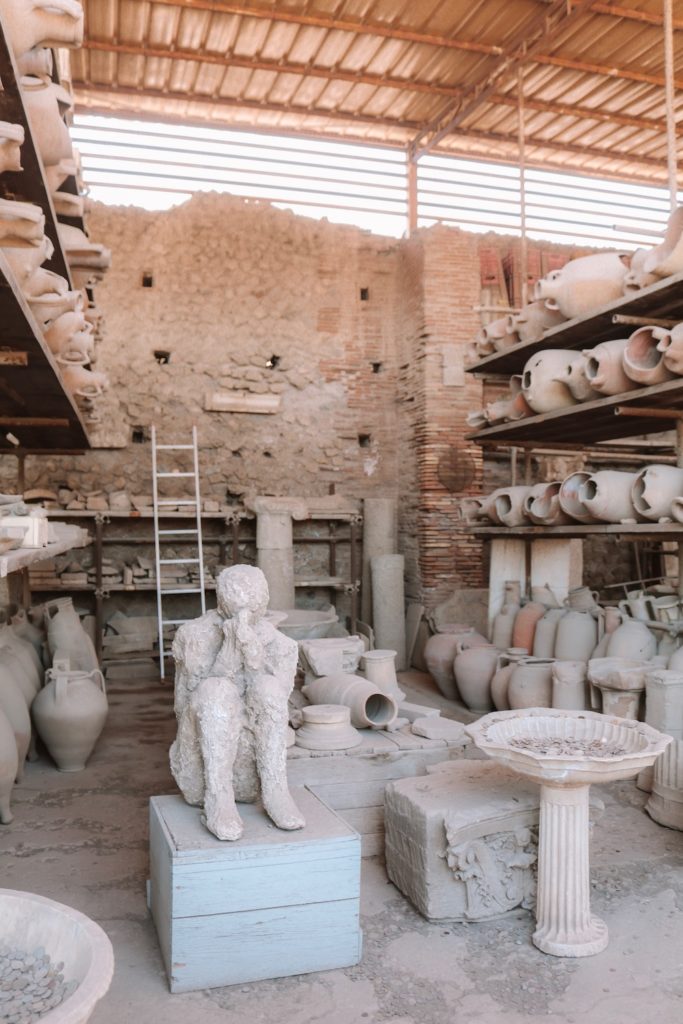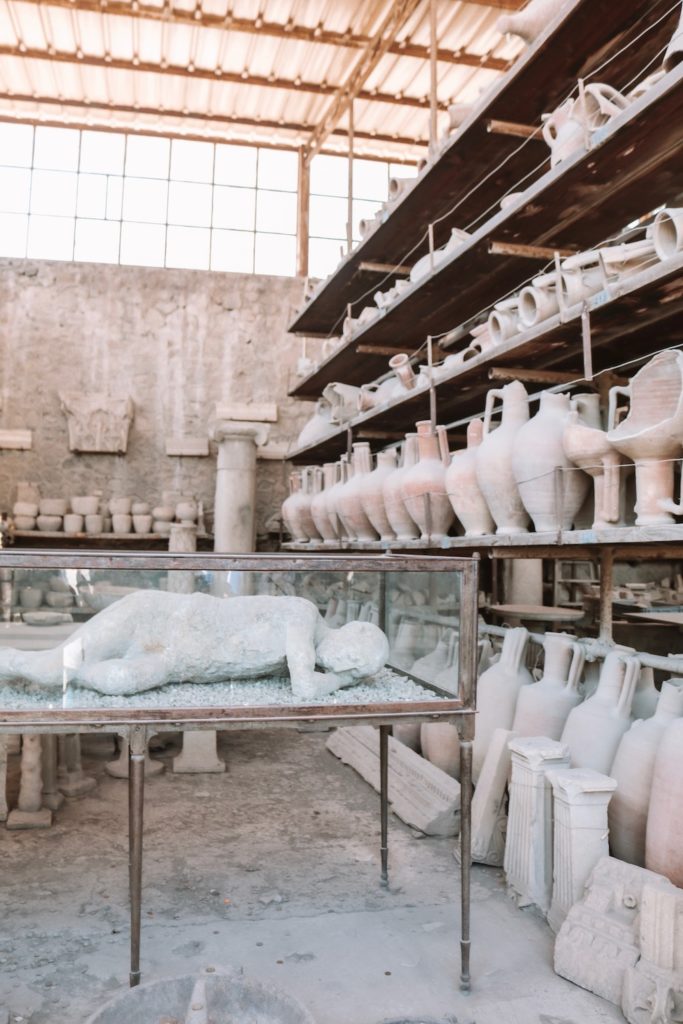 Pompeii opening hours;
From April to October, the site is open from 8:30am – 7:30pm

From November to March, the site is open from 8:30am – 5:30pm
Pompeii entrance fee; 
€15 per adult (this price is included for most tours)

Free on the first Sunday of every month
Though it should go without saying, please respect the ancient artifacts and the city itself. Do not sit or stand on the walls and monuments, and stay within the entitled areas. Take your garbage with you, and know that smoking is prohibited. It was incredibly saddening to see people climbing the walls for selfies, and even people in my tour who argued about the rules of smoking within the grounds??? 
? To Mount Vesuvius! 
Even today Vesuvius is considered one of the most dangerous volcanoes in the world due to its vicinity to Naples. Its last eruption was in 1944 and thankfully it has been dormant since then.

Though Mt Vesuvius can be explored very easily by yourself, coaches are allowed exclusive access to the car park by the start of the trek. Guests who are visiting themselves must park further down the mountain at a lower car park and walk up the road – this can be quite daunting, especially in summer with such little shade from the sun.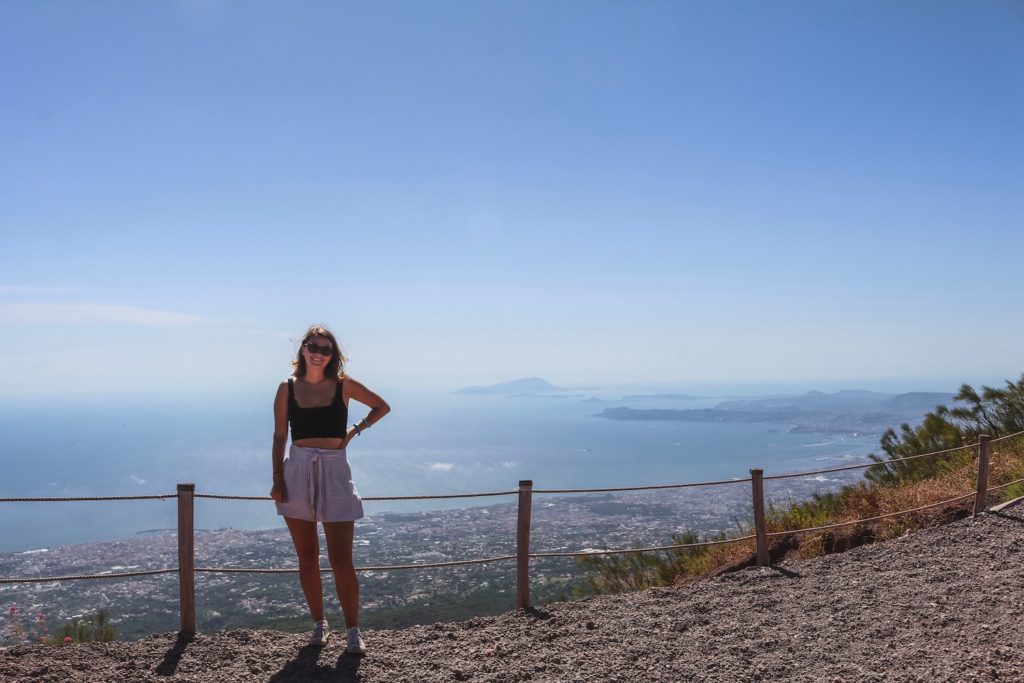 The path is really just loose rocks and rubble (skree), so it can take a little while to walk up to the top. It winds up in switchbacks, and thought the trail is quite wide, it is also steep with wooden barriers on each side. I found the trail quite hot, but easy going ~ it did occur to me that it would have been a lot harder for the more elderly people visiting. There are a few stopping points as you hike up with small huts selling souvenirs and cold beverages. These stopping points are also where you show your entry passes.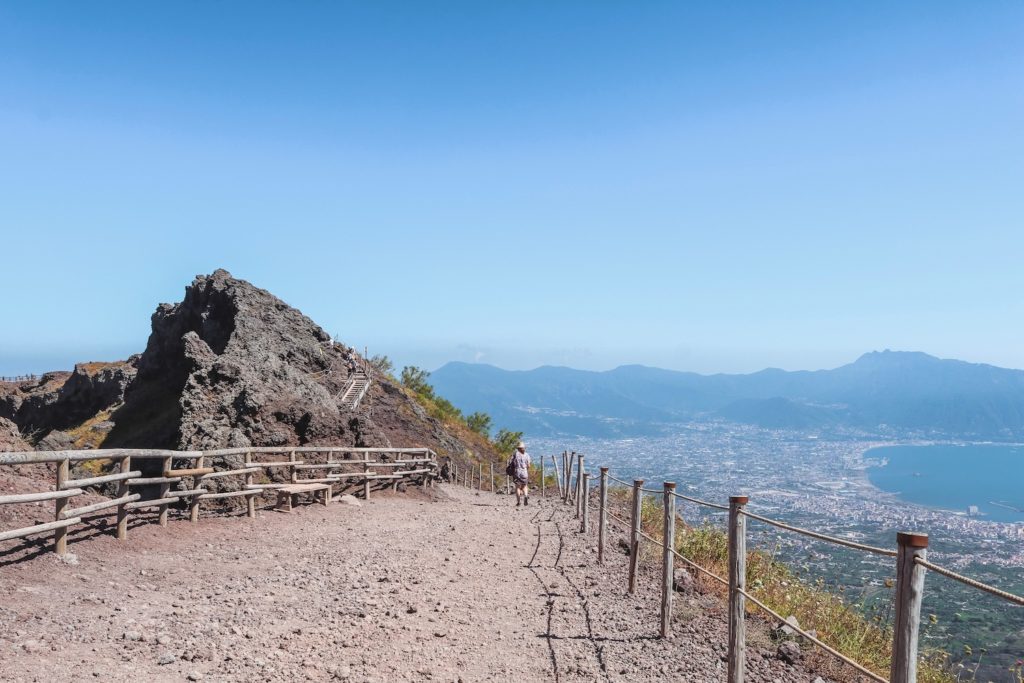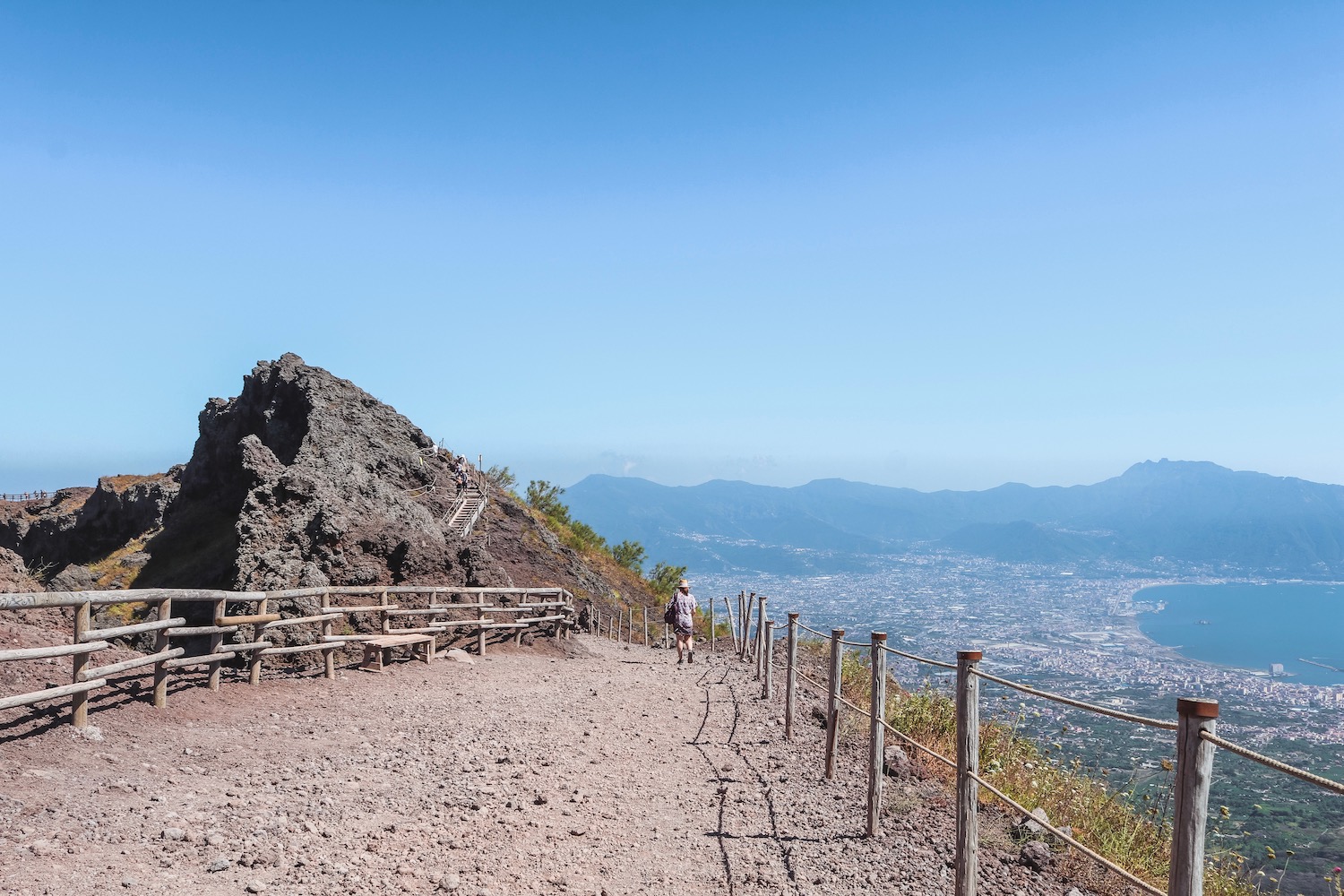 From the top you can wander around the crater, and take in the unparalleled views over the Gulf of Naples. Though now the crater appears quiet and calm, the cracks and hardened lava trails give you a pretty good idea of the events that have taken place here. 
For more info about climbing Mt Vesuvius check out my exclusive story here!

Mt Vesuvius opening hours;
Mt Vesuvius is open year round, but is also weather & volcano dependent. 
Access to the crater opens at 9am, and closes between 3pm and 6pm depending on the time of the year. See below for more details;
From November to February, 9am – 3pm

In March, 9am – 4pm
From April to June, 9am – 5pm
In July & August, 9am – 6pm
In September, 9am – 5pm
In October, 9am – 4pm
Mt Vesuvius entry fee;
€10 including a guide (optional)
? Getting around;
From Naples to Pompeii;
You can visit Pompeii from Naples via several forms of transportation. The easiest being the Campania Express or Circumvesuviana. The Express runs between Naples – Ercolano – Pompeii – Sorrento and runs regularly between March & April, and October & November. The journey takes about 30minutes. 
Pompeii to Mt Vesuvius;
Pompeii and Mt Vesuvius are only located about 10km apart, and it's also very easy to access via public transportation. From Pompeii Scavi Circumvesuviana station you can jump on the EAV bus. Tickets can be bought on board for €2.70 each way. The journey takes just under an hour, and the line runs from 8am to 3pm daily. The bus drops you off halfway up the mountain at the ticket office, and from there you must walk the additional 20-30mins up to the start of the trail. You can also get the Vesuvio Express bus which leaves about every 40 minutes. Tickets cost €20 including the €10 entry fee.
So what do you think? Is Pompeii and Mt Vesuvius on your bucketlist??