Honesty is the best policy, and I'll be honest – since moving to Germany I haven't been the biggest fan of the food, solely because being a vegetarian in a country BIG on sausages just doesn't work for me. But since discovering the German Christmas Markets, it hasn't quite been the same…
I'd always kind of heard about the German Christmas Markets, seen a couple pictures on Instagram, but I'd never properly looked into it. Or thought about it. That was until I booked my flight in late October and every second comment was "OH my gosh you HAVE to go to the Christmas Markets!" – um okay. So I looked into it, and now here I am, listing all of my favourite foods for you like I'm the Weihnachtsmarkt expert herself.
The German Christmas Markets (Weihnachtsmarkt), is essentially a street market associated with the celebration of Christmas during the four weeks of Advent. These markets originated in Germany around 1294/1296 and now take place all around Europe and even world-wide. Today, during the four weeks of Advent, any sizeable town within Germany has at least one Christmas Market.

To make sure you don't miss the best parts, here I've compiled a list for you of all of the best sweet treats, snacks and bevvies that you MUST try at least once to make the most of your Weihnachtsmarkt adventures!
Savoury
? Bratwurst & Currywurst
Whether you're at the markets or not, wurst is a must-try while in Germany. As a vegetarian I haven't been so lucky to try some of Germany's most popular cuisines, but if you love a sausage then you can't miss these! 
The origin of the currywurst dates back to 1949 when a German housewife made a trade with some British soldiers. The trade resulted in the dish – German sausage or wurst, sliced and doused in ketchup and sprinkled with curry power. The bratwursts origins are still not entirely known, but most believe it to have originated in Germany several hundreds of years ago. Wursts have gone from being a means of survival, to a suitably-priced delicacy and are enjoyed all around Germany. You won't struggle to find them around town or in the grocery shops, but if you're after something a bit more traditional – try the Christmas Markets! 
I was lucky enough to find a stall selling vegan currywurst with Katsu curry sauce – it was delicious!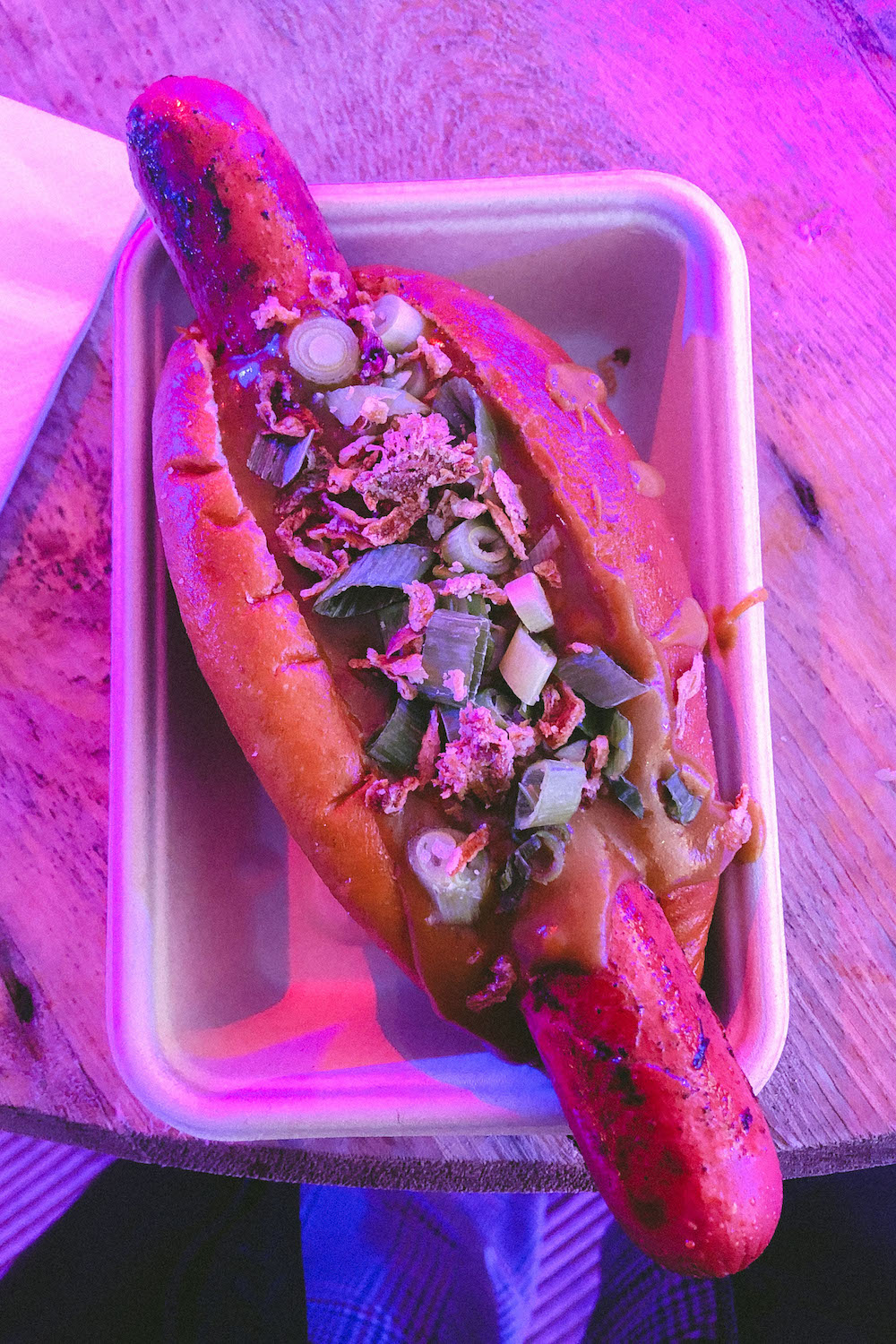 ? Kartoffelpuffer with Apple Sauce (potato pancake)
If you love potato rostis or hashbrowns then Kartofflepuffer/Reibekuchen are a must-try. They're like a fluffy deep-fried potato pancake, most commonly served with apple sauce. So yum!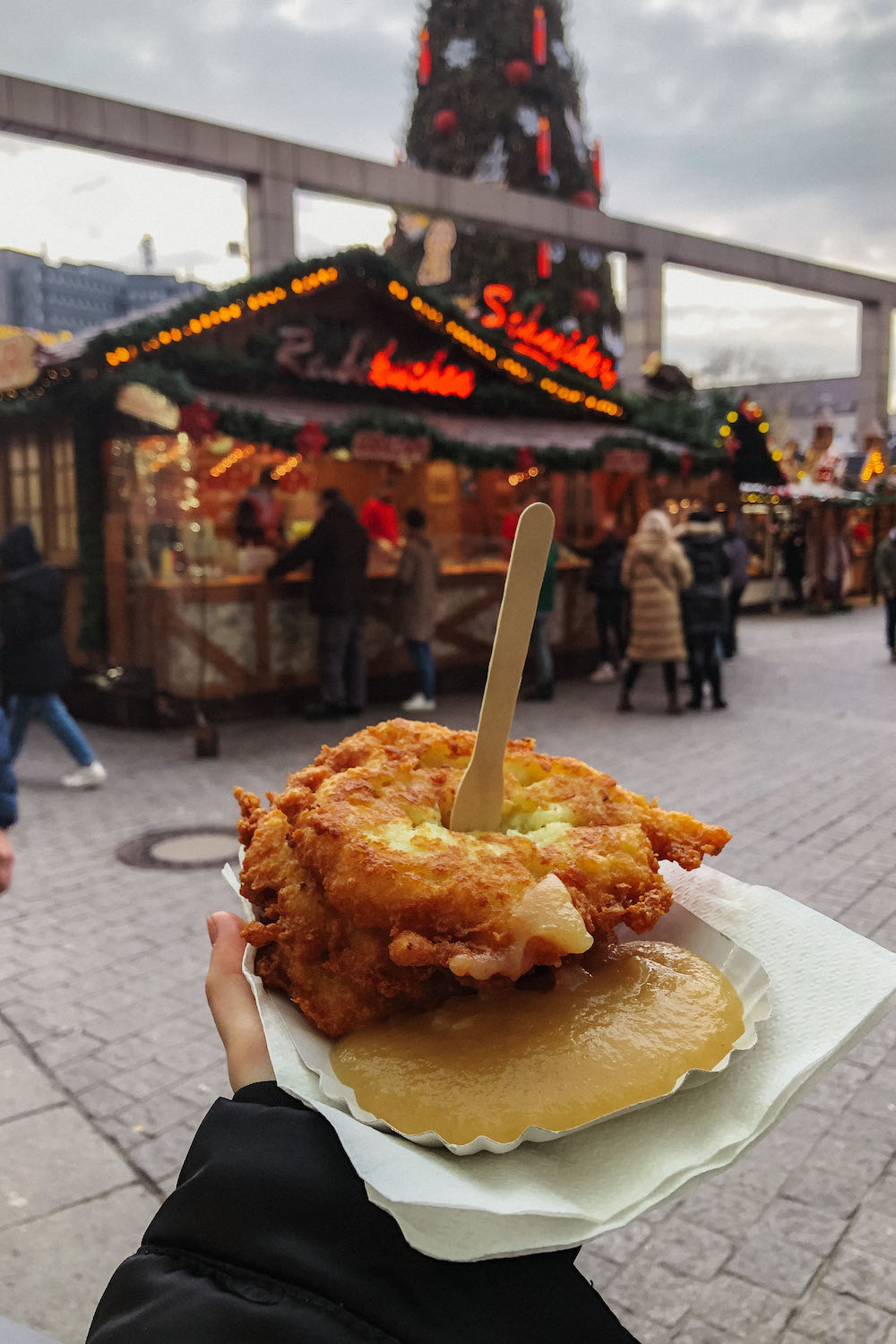 ? Pretzel
Need I say more!
? Käsespätzle (cheese noodle)
Typically a very Bavarian dish, Käsespätzle is similar to what we would call Mac and Cheese, but a little more authentic and with greater flavours. It's made with egg noodles, covered in Emmentaler cheese and topped with crispy fried onions.
While it is one of my absolute favourites in Germany, it's not too common to find at the Christmas Markets.
? Champignons mit Knoblauchsoße (mushrooms & creamy garlic sauce)
I have never been that big on mushrooms, but the German market spin has changed my mind! Champignons mit Knoblauchsoße are mushrooms fried up with garlic and butter (usually with onions) and served with a creamy garlic sauce. They are a staple at any German Christmas Market so you can't miss them! These are often also served at vegan stalls with an alternative topping. 

? Flammkuchen (flatbread pizza)
Flammkuchen or Flammekueche is composed of flatbread dough rolled out very thinly in the shape of a rectangle or oval. It's then covered with crème fraîche, thin-sliced onions and bacon.
? Lángos (fried dough with toppings)
While Lángos isn't German, I've seen it's stalls at every market I've been to so far. Lángos looks similar to pizza, but is a Hungarian specialty of deep fried dough, traditionally smeared with sour cream and shredded cheese or chopped ham. Nowadays they can be found with a variety of toppings.
? Ofenkartoffel (baked potato)
Baked potatoes aren't exactly a German delicacy, but they are a much-loved treat when visiting the Christmas Markets. They are typically filled with crème fraîche and topped with cheese but usually there is a variety of toppings to choose from.
Sweet
? Crepes and Waffles
We know them, we love them. Nutella crepes are the best! 
? Lebkuchenherz (gingerbread cookie hearts)
Depending on the region you may also see it called 'Honigkuchen' or 'Pfefferkuchen', but Lebkuchen has a long history dating all the way back to the 13th century. It's creation originates in the Franconia region of Bavaria, but not this German treat is served at around the country. These cookies are also a very popular find at Oktoberfest, so they are a German delicacy year-round! Lebkuchenherz are also pretty synonymous with Germany's touristic scene as they are a popular souvenir/gift or "right of passage treat" you could say.
Lebkuchen is usually served in a heart shape and iced with cute messages. It's fun and makes the perfect souvenir – but tastes even better! While most people would opt for the "Ich leibe dich" (I love you), or "Frohe Weihnachten" (merry Christmas), you can even find some for the neighbouring Bundesliga teams, some with jokes, and even some displaying your relationship status!

? Apfelstrudel (apple strudel) with Custard
Though a traditionally Austrian dessert, it's one of Germany's favourites. Layers of pastry surrounded by spiced poached apple and sultanas. Personally, best served with some ice cream of vanilla custard! 

? Schaumkuss
These were described to me by my German partner as similar to a flavoured marshmallow or meringue covered in chocolate. While the most common flavours are those like; vanilla, coffee, rum and stracciatella, each year there are more and more being made. They are a staple at German Christmas Markets so you can't miss them!
? Gebrannte Mandeln (candied almonds)
One of my favourite elements of the German Christmas Markets is the smell of warm roasted almonds in the air. You can't miss it! Gebrannte Mandeln are made by cooking a blend of sugar, cinnamon, and vanilla and then adding in the almonds. The nuts are then cooked in the sweet mixture until it melts and coats the almonds. While almonds are the most common, now you'll usually find cashews, walnuts, peanuts and macadamias too. Some places also sell different flavours like chilli or rum.
Every market without fail will have these and it's worth trying them at least once. They're fairly cheap, and are usually served in a paper cone – so very easy to wrap up and take home. Personally I think they taste WAY better when they're fresh so best to eat them while they're hot!
? Fruchtspieße (fruit skewers) & Paradiesäpfel (candied apples)
While they are not quite the most exciting, Fruchtspieße and Paradiesäpfel are a VERY common staple of the German Christmas markets. If the market doesn't have sugar covered fruits, then somethings not quite right. Exactly as they sound, Fruchtspieße are skewers are made with fresh vibrant fruits like; strawberries, grapes, pineapple and banana, and are then covered in various chocolates. Candies apples, I'm sure you can figure that one out for yourself!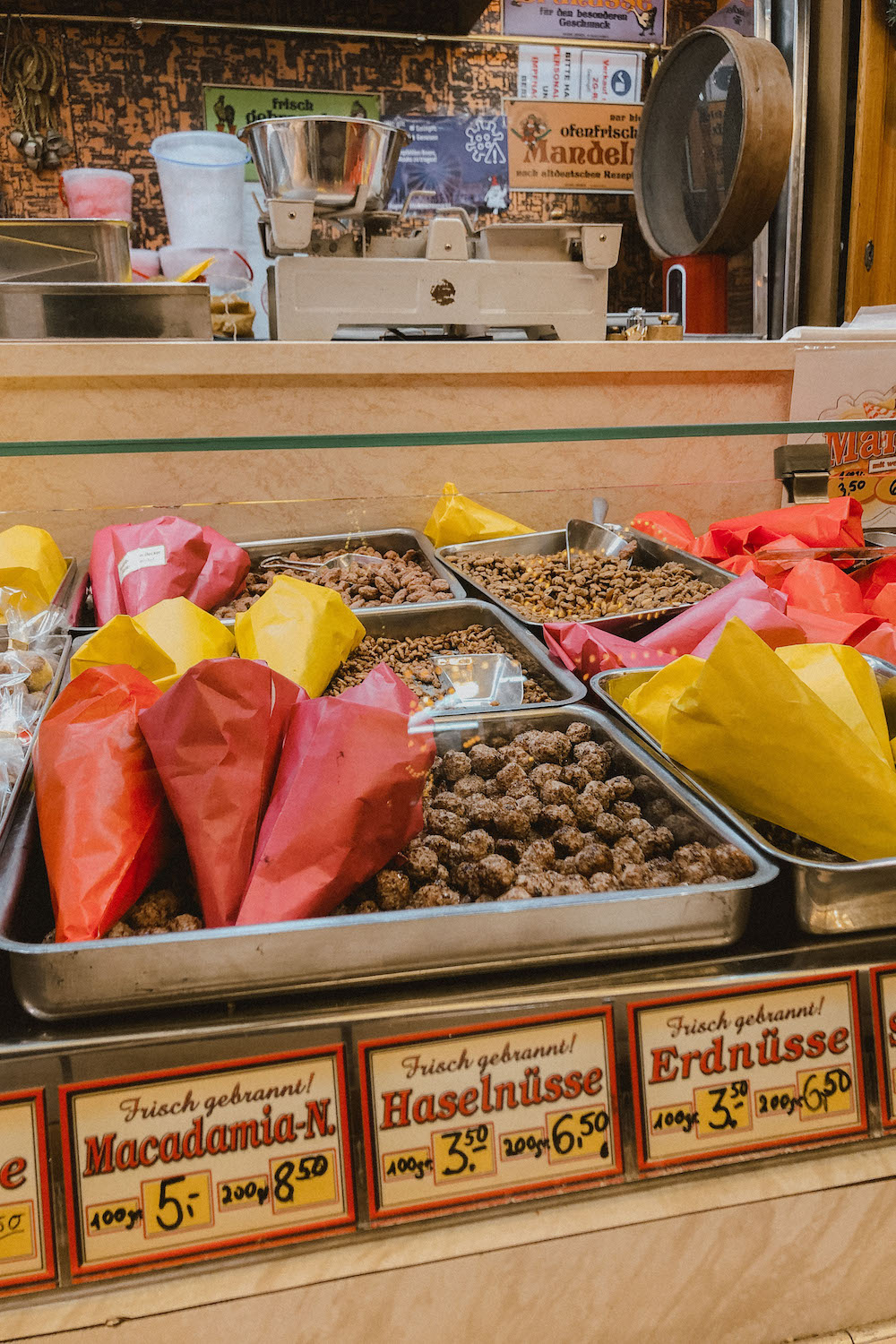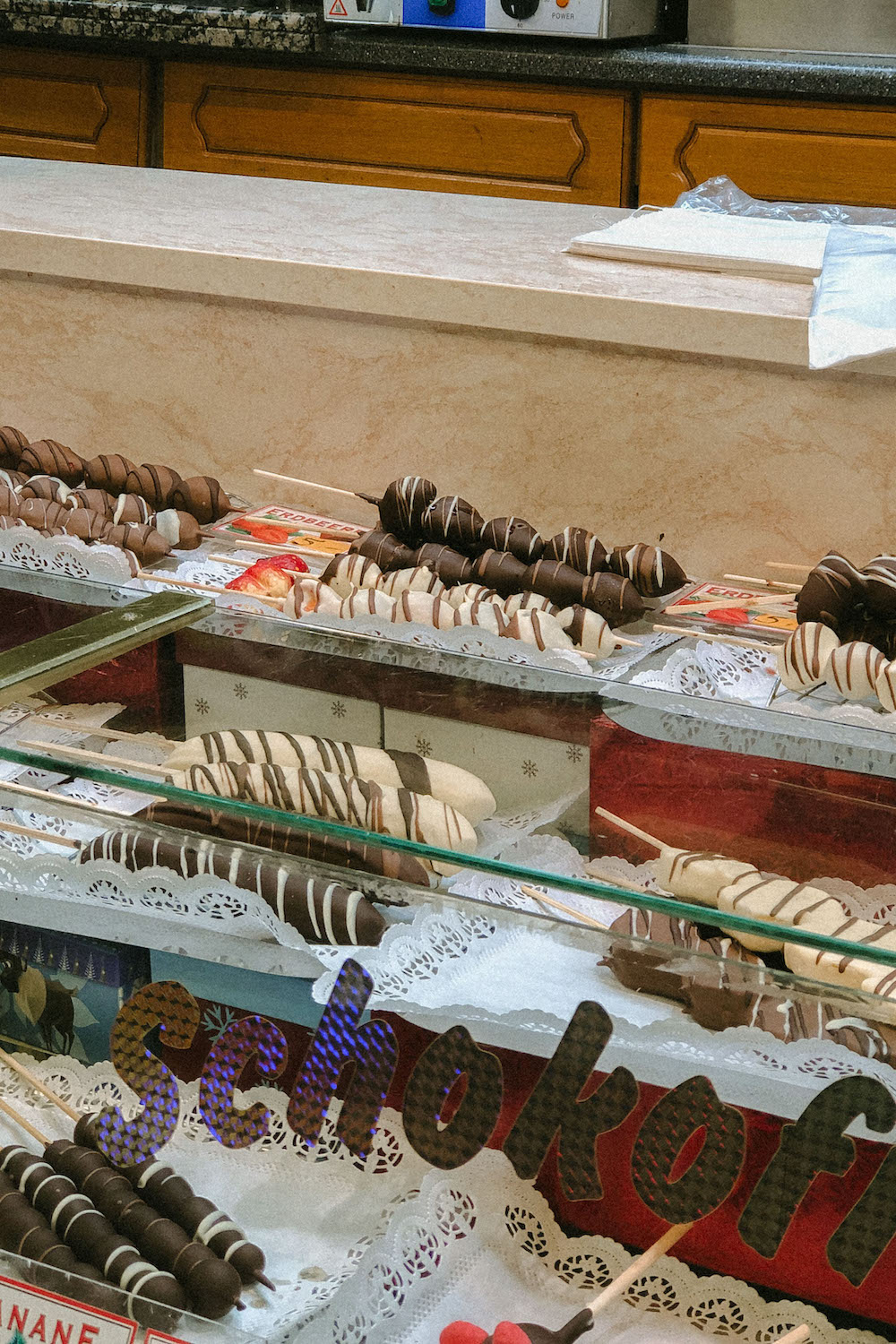 ? Kürtőskalács (chimney cake)
Kürtőskalács is a Hungarian pastry that's coated onto a "roller" and then baked over a fire. It is usually coated with cinnamon sugar, but you can usually pick from a plethora of toppings like nuts or sprinkles. These chimney cakes are the perfect warm snack to pick at while you walk around the markets.
If you get the chance you should definitely upgrade to the Baumstriezel Cone! For this the pastry is shaped into a cone and then filled with a couple of ice cream scoops!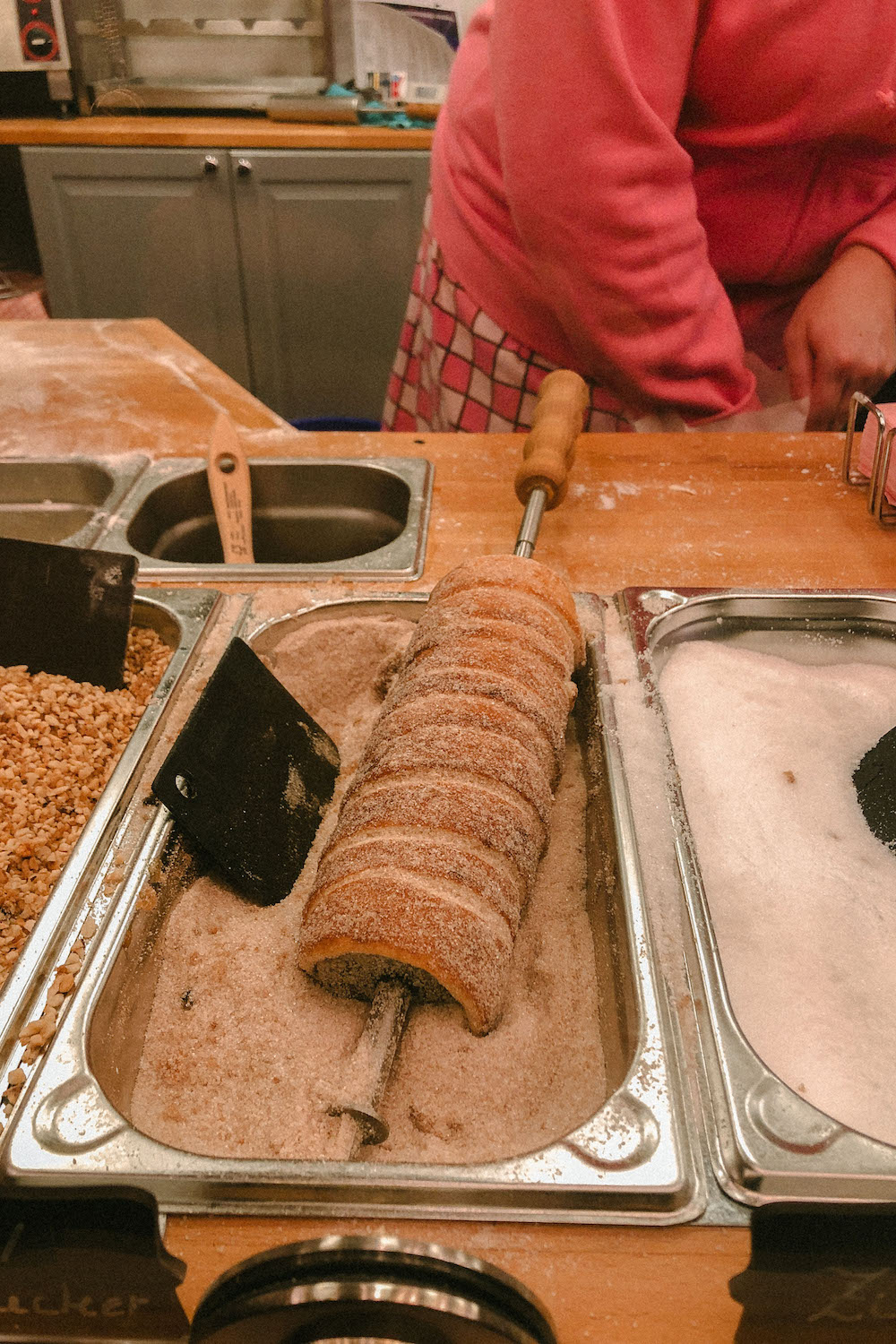 ? Stollen
Something I have yet to try, Stollen is one of the most commonly found cakes around Germany during the festive season. From what I understand, in a sense it's pretty similar to what we call Christmas Cake in Australia. It's always at Grandma's house, always in the supermarkets, but I've never actually tried it. Stollen is a thick "fruit cake" that is baked with dried fruits, nuts and spices all topped off with some powdered sugar.
Beverages
? Glühwein
Glühwein is the ultimate Christmas drink in Germany – it's a beverage that's now synonymous with Christmas spirit. It's essentially like a hot wine mulled but with spices to create the ultimate comfort drink. This mulled wine can be found in most European countries around Christmas time, but in Germany you'll struggle to find anyone not drinking it at the markets! 
Each market across Germany serves their beverages in their own collectible cups – usually in a variety of sizes. These come at an extra cost, but this can also be returned if you bring the cup back afterwards. These cups are a pretty popular souvenir for travellers as they can always associate it with that memory of trying Glühwein for the first time!
? Kinderpunsch
For those who want to experience the cosiness of Glühwein but without the alcohol, Kinderpunsch is the one for you. For families visiting the markets it's also very popular with the kids. Kinderpunsch is similar to Glühwein but instead of wine it's made with spiced juice.
☕️ Heiße Schokolade (hot chocolate)
Heiße Schokolade is the perfect winter drink for those who aren't in a wine-mood. They are popularly sold with whipped cream to top and with a splash of baileys or rum – your choice!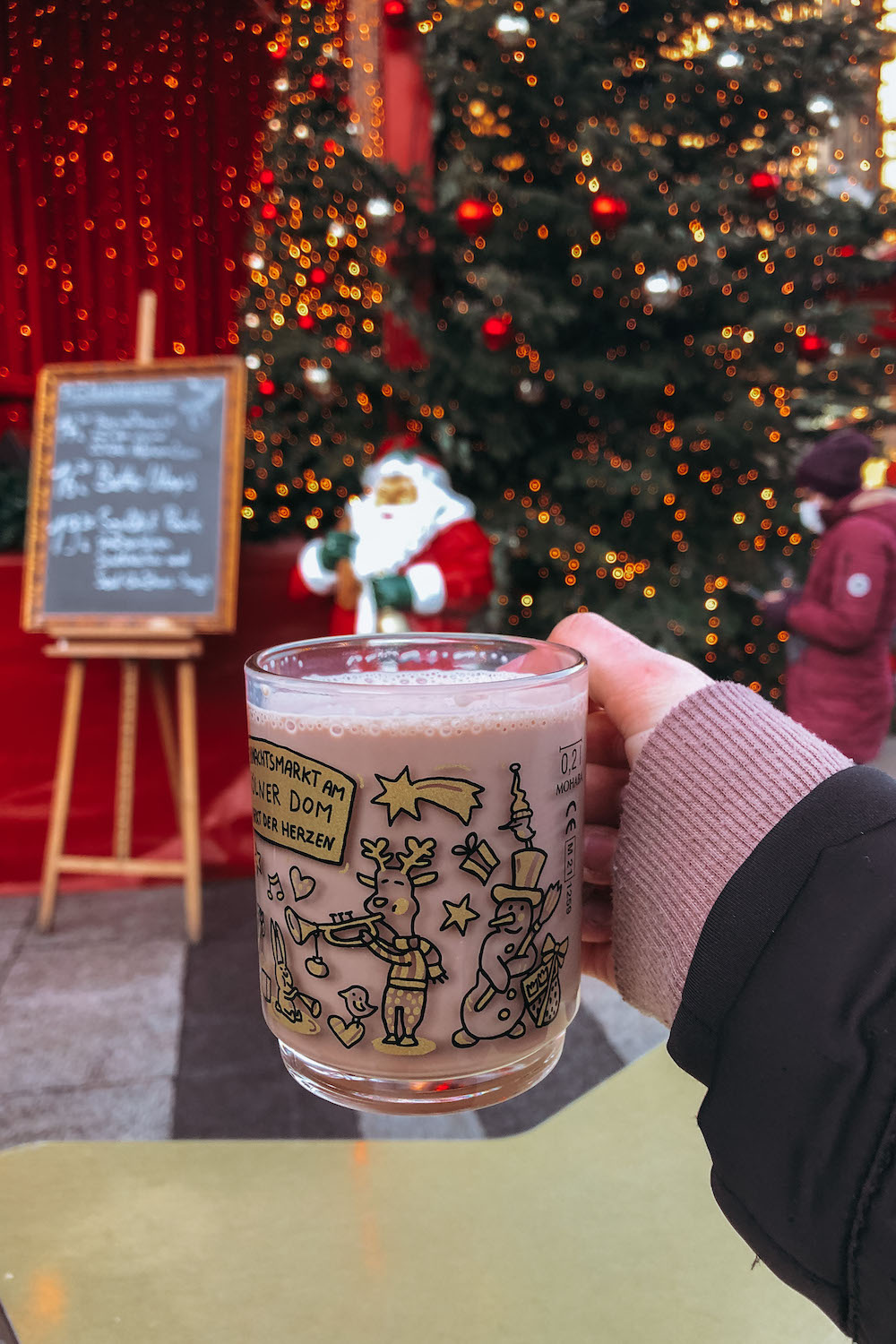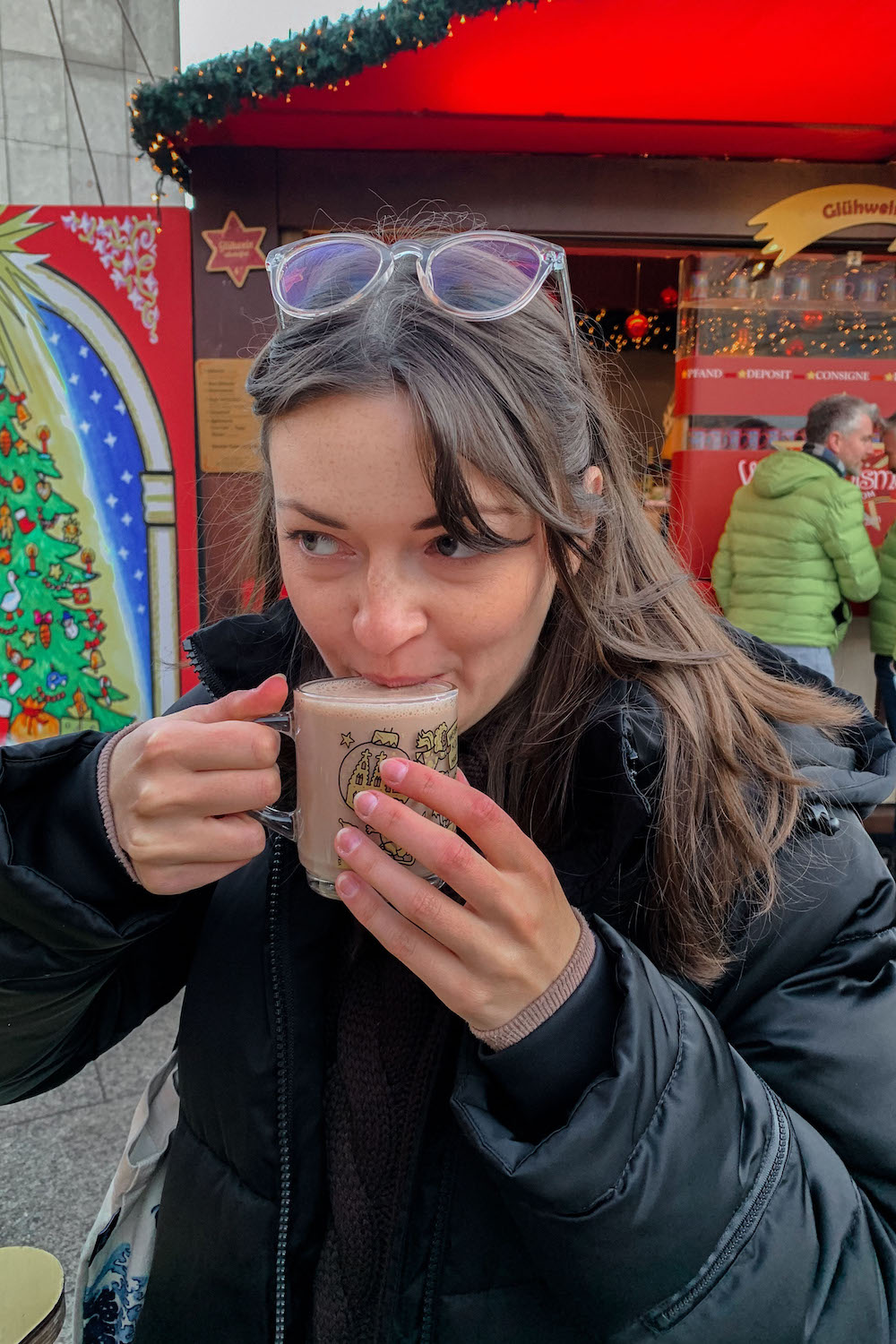 ? Eierpunsch
When googling Eierpunsch, it's said to be a warm, sweet, alcoholic, egg-based drink similar to egg nog. I personally have never tried egg nog, but that is not the vibe that I got when I tried Eierpunsch. To me it tasted like silky apple pie in a cup, with a strong kick at the end. It was warm, sweet, a little bit too strong for me – but still tasty, especially with cream on top! It reminded me of apple crumble cocktails, yum…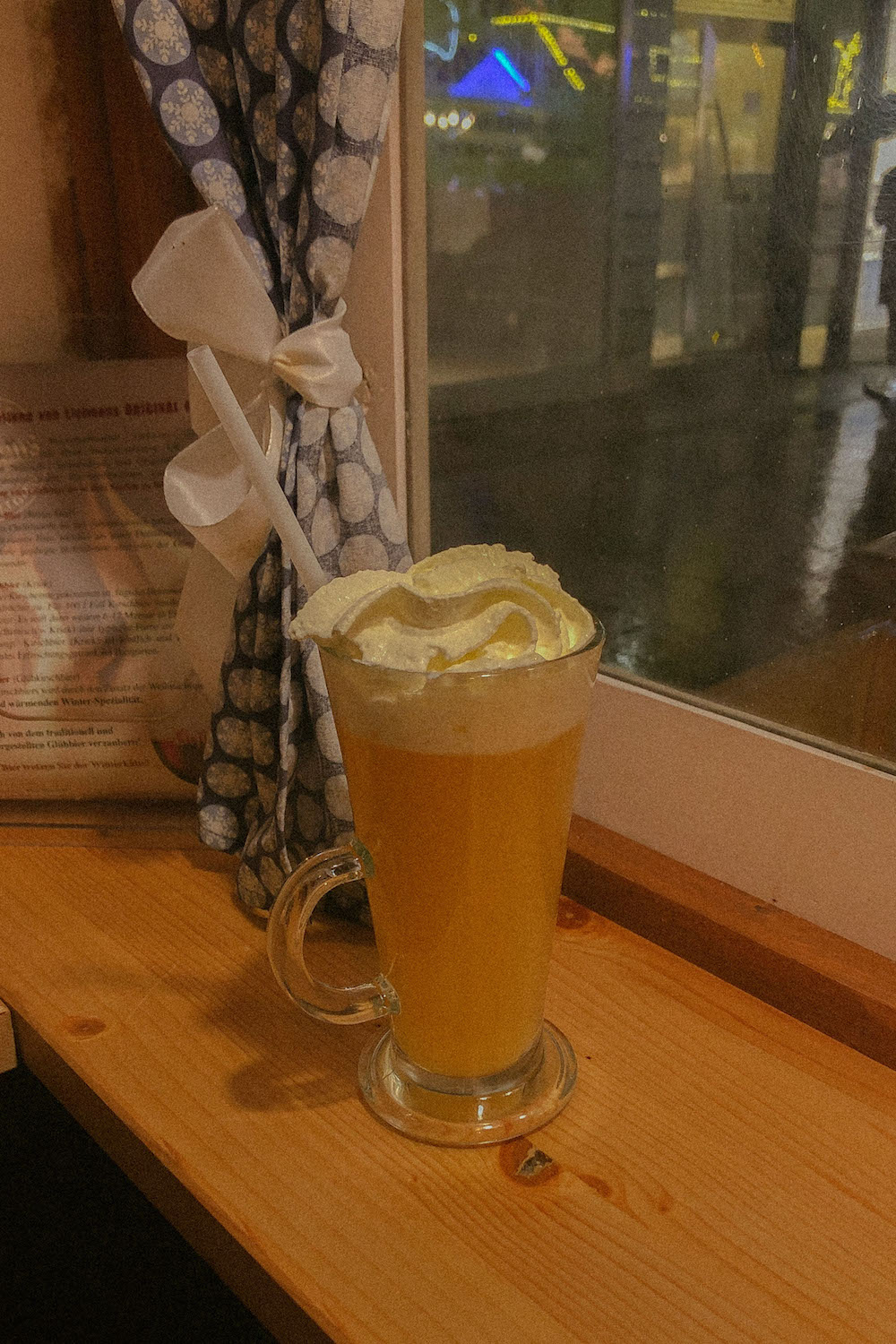 And that's it! I'm sure there are so many more things that could be added to this list, but for now – these are the most popular and/or common treats to find at the Weihnachtsmarkts. I'm sure as time goes on we'll find new things and different regions will always have their preferences, but this is a good start. What do you think?
Have you been to a German Christmas Market? What was your favourite food or drinks to try?!