"My name is [Holly]. So what else do you need to know… Stuff about my family or where I'm from?

None of that matters… Not once you're across the ocean and cut loose. Looking for something more beautiful, something more exciting… and, yes I admit… something more dangerous.

So after 18 hours in the back of an airplane, 3 dumb movies, 2 plastic meals, 6 beers and absolutely no sleep… I finally touched down…"

My first solo journey started straight after high school when I embarked on my gap year around Northern America and Western Canada. So many people from school doubted I would ever leave, but little did they know that this was just the start of my travelling addiction. This trip was also my first experience as a travel writer – I created on-the-go content for publications such as BoundRound, Views on Top and my own personal blog that has now become this.
After returning home I quickly quit my "day job" at Maccas and pursued travel journalism full time. I continued to write and take photographs for publications such as Yahoo7! Travel, Out and About with Kids Magazine, Travel Monitor, Flight Centre, and expanding my own blog THATraveller.com. Would you believe that THATraveller started as a Tumblr blog?!
Having completed various photography courses already I was able to incorporate my love for landscape photography into my stories. Now 7 years later and I have travelled all around Europe with companies such as as Contiki and Busabout, and independently around various locations in Indonesia, Japan and Thailand, Vietnam, Malaysia, New Zealand, New Caledonia, and domestically all over Australia, all whilst completing my university degree in Tourism Management from home (completed 2018!)
And now we are here! It's 2021 and the world is now completely different to how it was before. My last international trip was around the islands of Thailand right before the borders closed – and now I am living in New Zealand. I closely missed the delta-wave in Sydney, so we will see how things go from here!
A Little More;
Country I Dream of Visiting: Mexico
Favourite Country: New Zealand
Favourite Place Visited: Santorini, Greece
 Favourite Family Trip: Mount Buller, VIC
 Favourite National Park: Theodore Roosevelt National Park, ND / Banff National Park / Uluru-Kata Tjuta National Park
 Favourite Bridge: Lions Gate Bridge
 Favourite Beach: Positano Beach, Amalfi Italy
Favourite Island: Ambon Islands, Indonesia
Favourite Cities: Santorini, Queenstown, Rome, Athens, New York City
Favourite Accommodation:
Hotels

The Fairmont Waterfront – Vancouver
The Hotel Beacon – New York City
The Shangri-La – Tokyo
Hoshinoya – Tokyo
Sanctoo Villas, Bali
Suites of the Gods Cave & Spa – Santorini, Greece

Hostels

Safestay, Athens
The RomeHello, Rome
Paradise Beach Club, Mykonos
Far Out Beach Club, Ios
Places I'd love to visit: Africa, Hawaii, Iceland, New Orleans, Mexico
Favourite Locals: Canadians, Kiwis
Favourite Place for Food: Thailand, Japan, Italy
 Favourite mode of transportation: Flying with a window seat
Longest Transit: Cagliari > Rome > New Dehli > Sydney
Shortest Transit: Probably Sydney > Melbourne/Gold Coast
Favourite way to Travel: With a suitcase
 Do you like travelling alone? YES. I love the independence.
Contact: hollyosullivan7@gmail.com
Instagram: @holly_osullivan
Random Facts;
 Favourite Ice Cream: Connoisseur Caramel Honey Macadamia
Favourite TV Shows: Grey's Anatomy, Veronica Mars, Black Mirror, Teen Wolf, TVD, FRIENDS, Stranger Things, anything Marvel
Favourite Drink: Thai Milk Tea
Favourite Food: Thai Chicken Larb (but I'm vegetarian so I have it with fake chicken!)
Where have I been?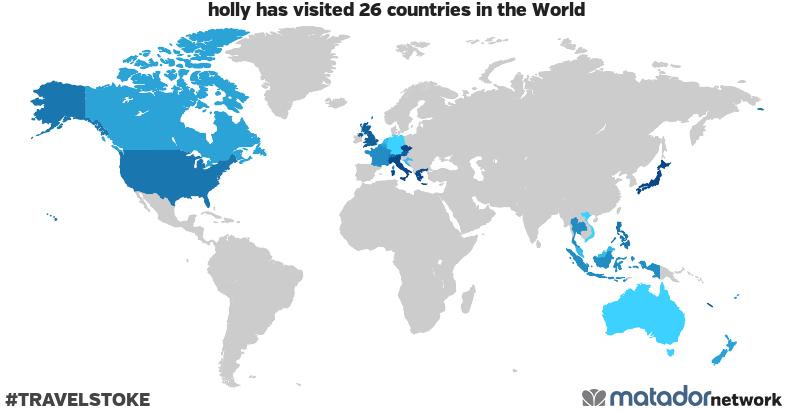 Australia
NSW

Sydney
Coffs Harbour
Bundanoon
Tamworth
Snowy Mountains
Blue Mountains
Hunter Valley
Newcastle
Penrith
Nelson's Bay
Port Stephens
Seal Rocks
Thredbo
Jindabyne

ACT
QLD

Brisbane
Gold Coast
Sunshine Coast

NT

Darwin
Alice Springs
Katherine (Nitmiluk)
Mataranka
Uluru-Kata Tjuta
Kakadu
King's Canyon
West MacDonnell Ranges

VIC

Melbourne
Mount Buller
Great Ocean Road
Geelong
New Zealand
North Island

Auckland
Matamata
Rotorua
Wellington

South Island

Christchurch & Canterbury
Hamilton
Lake Tekapo
Franz Josef
Wanaka
Queenstown
Arrowtown
Mount Cook
Glenorchy
Fiji
Hong Kong
Indonesia
Bali
Jakarta, Java
Sulawesi

Makassar, South Sulawesi
Palu, Central Sulawesi
Manado, North Sulawesi
Bunaken Island, Manado, South Sulawesi

Maluku
Tulek Ambon, Pulau Ambon
Palau Saparua
Minahasa Highlands
Papua

Raja Ampat, Papua
Sorong, Papua
Waisai, Papua

Flores

Larantuka, Flores
Labuan Bajo, Flores
Komodo Island, Flores
Malaysia
New Caledonia
Singapore
The Philippines
Thailand
Phuket
Phi Phi Islands
Bangkok
Koh Sichang
Koh Samet
Koh Lanta
Krabi & Railay Beach
Pattaya
Phang Nga Bay
Japan
Tōhoku Region;

Aomori Prefecture;
 Fukushima Prefecture;

Ouchi-Juku
Inawashiro
Koriyama
Kitashiobara
Lake Hibara

Kantō Region;

Greater Tokyo Area;

Tokyo
Shibuya
Shinagawa
Harajuku
Shinjuku
Ueno
Seijogakuen-Mae
Akihabara

Shikoku Region;

Ehime Prefecture;
Kagawa Prefecture;
Tokushima Prefecture;
Vietnam
Europe
United Kingdom
England

London
Manchester
Ludlow
Shropshire
Studley
Stratford upon Avon

Scotland
Wales
The Netherlands
Austria
Belgium
Germany
Switzerland
France
Italy
Venice
Rome
Florence
Cinque Terre
La Spezia
Amalfi Coast
Antrani
Positano
Ravello
Sorrento
Naples
Capri
Cagliari, Sardinia
Vatican City

Greece
Athens
Paros
Mykonos
Ios
Santorini
Croatia
Split
Stari Grad
Hvar
Mljet
Dubrovnik
Korcula
Makarska
Omis
United States of America
California

Anaheim
Catalina Island
Los Angeles
San Francisco
Santa Monica
Venice Beach

Illinois
North Dakota
New York

New York City
Brooklyn
Bronx

District of Columbia
Canada
Vancouver, BC
Whistler, BC
Banff, AB
Lake Louise, BC
Whitehorse, YT