Hamburg is one of the largest port cities in Germany, and is connected to the North Sea by the Elbe River. Its city is full of canals and lakes which create the perfect "seaside" town. The city contrasts at every corner, from red brick warehouses, to charming nightlife, and a taste of fish and chips – Hamburg has a little bit of everything! 
So what to do in a weekend? I've got you covered! During my New Year travels around Germany I found myself in Hamburg for a few days, and tried to see as much as I possibly could without wearing myself out.

 
This itinerary covers all of the best bits for your first time in Hamburg;
Day 1 – The Altstadt & St Pauli
Coffee & cakes @ Die Rösterei Coffeum
Having discovered this spot on Instagram before arriving in Hamburg, I was pleased to find that it was right on my way towards the Rathaus on my first day. I stopped by and got a delicious Oat Capp and was very happy to see a very colourful cakes display. Whilst the cafes interior is quite small and cramped, they have warm alfresco dining with heaters and fluffy blankets for those colder days.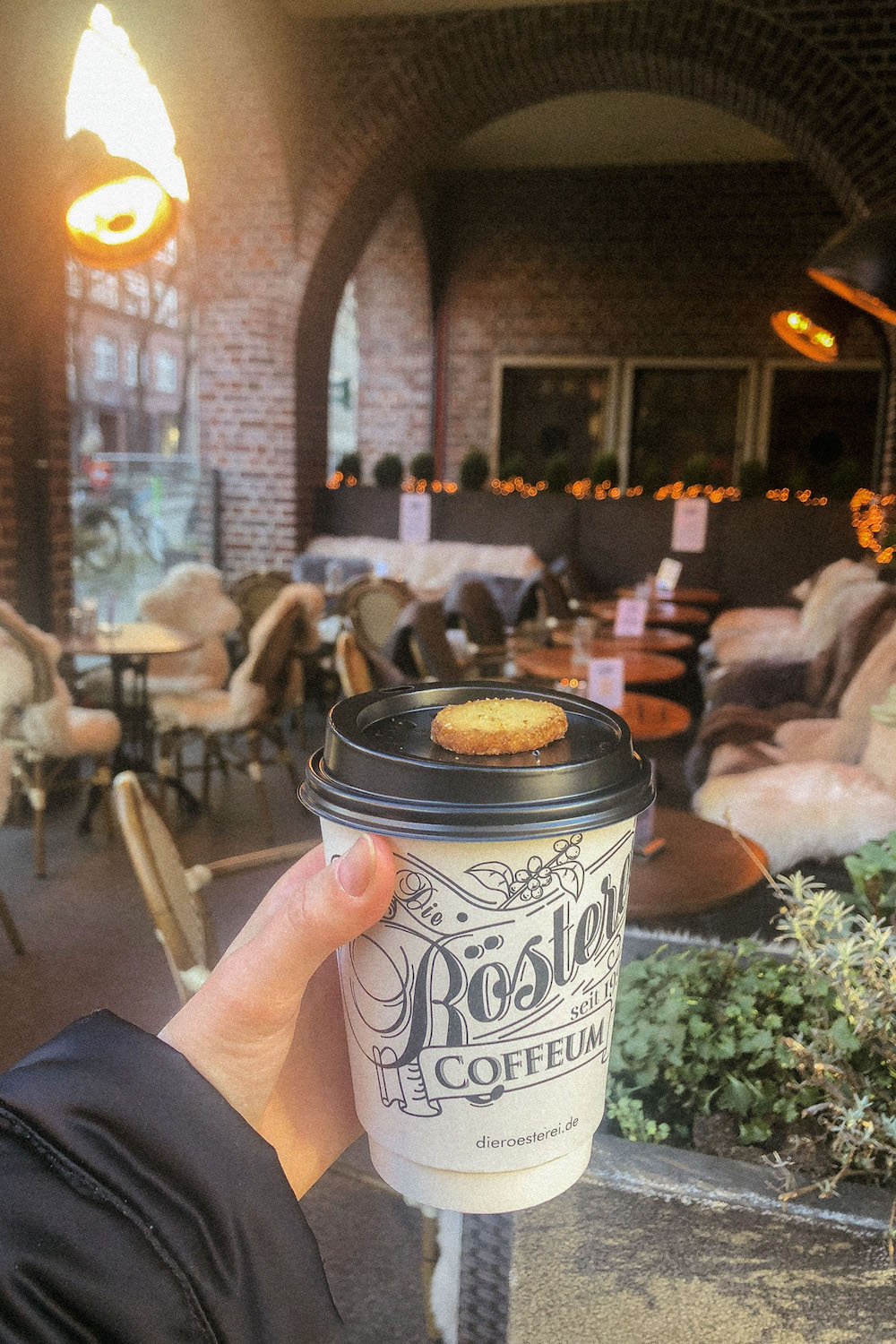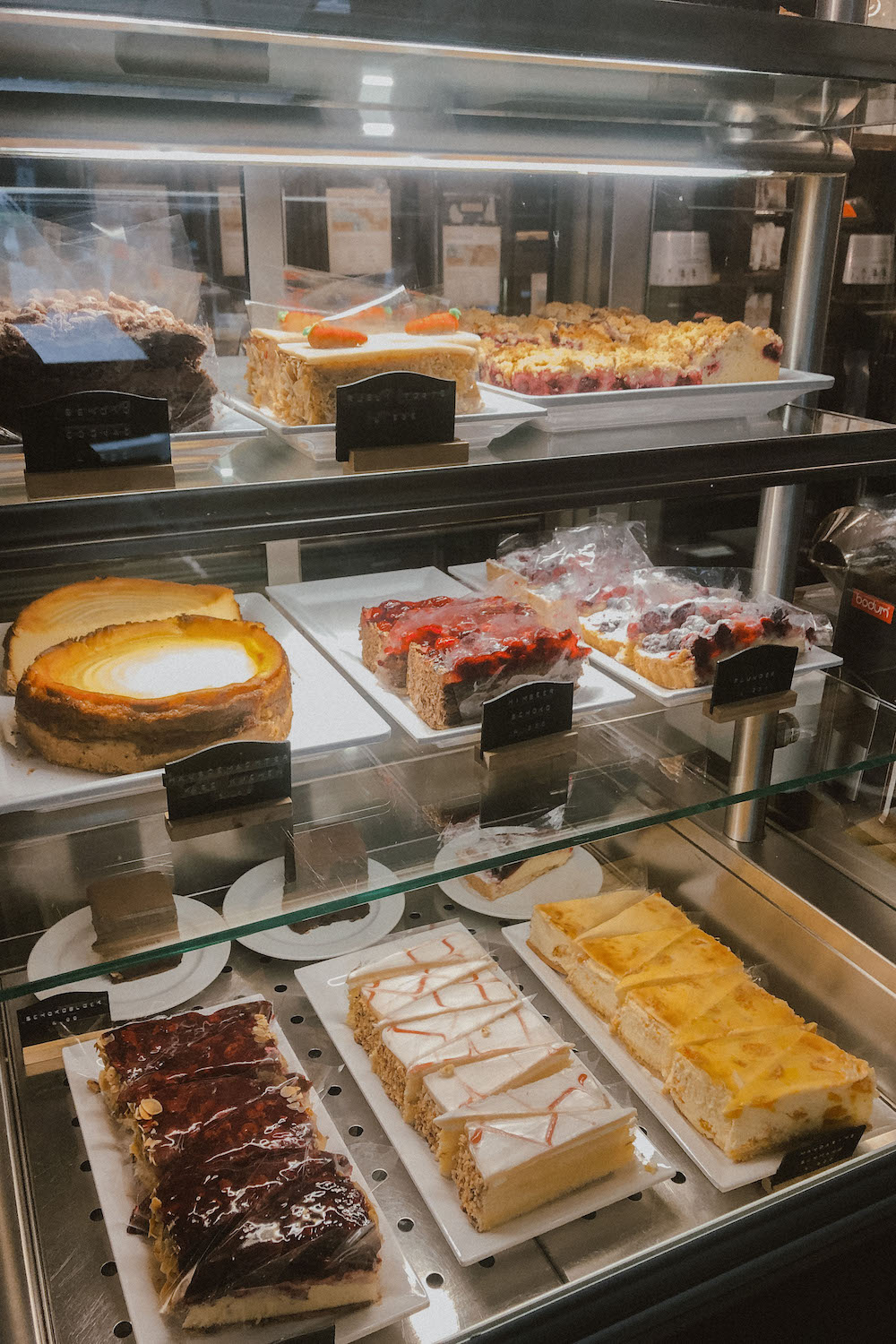 Check out Rathaus
The most impressive building in Hamburg, is the Neo-Renaissance Town Hall – Rathaus.  It was built to reflect the prosperity and optimism of a newly united Germany at the end of the 19th century. The Rathaus is essentially the most iconic building in Hamburg, and sits right in the centre of the city. It's just steps away from other popular sites in the Altstadt quarter and some great shopping spots.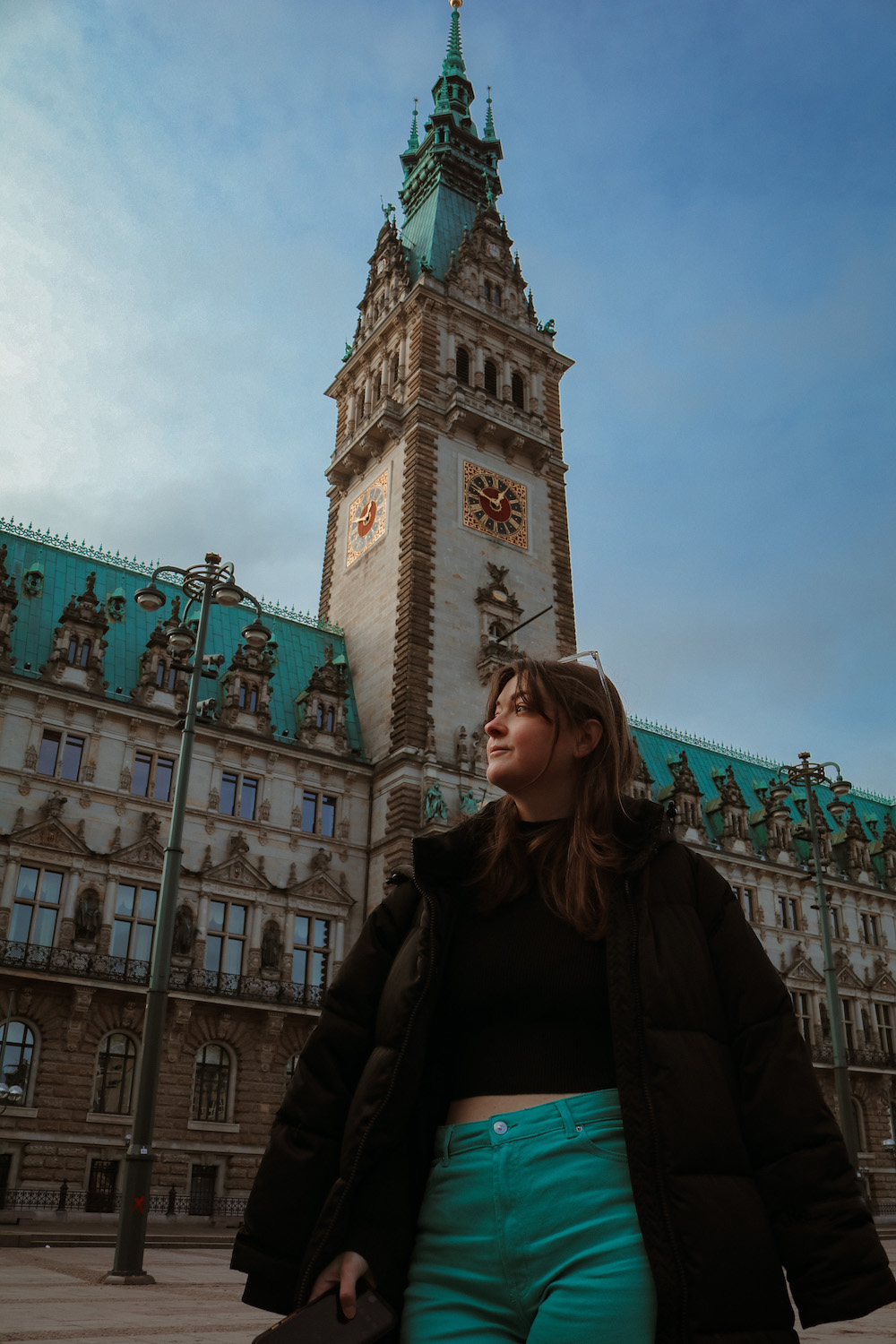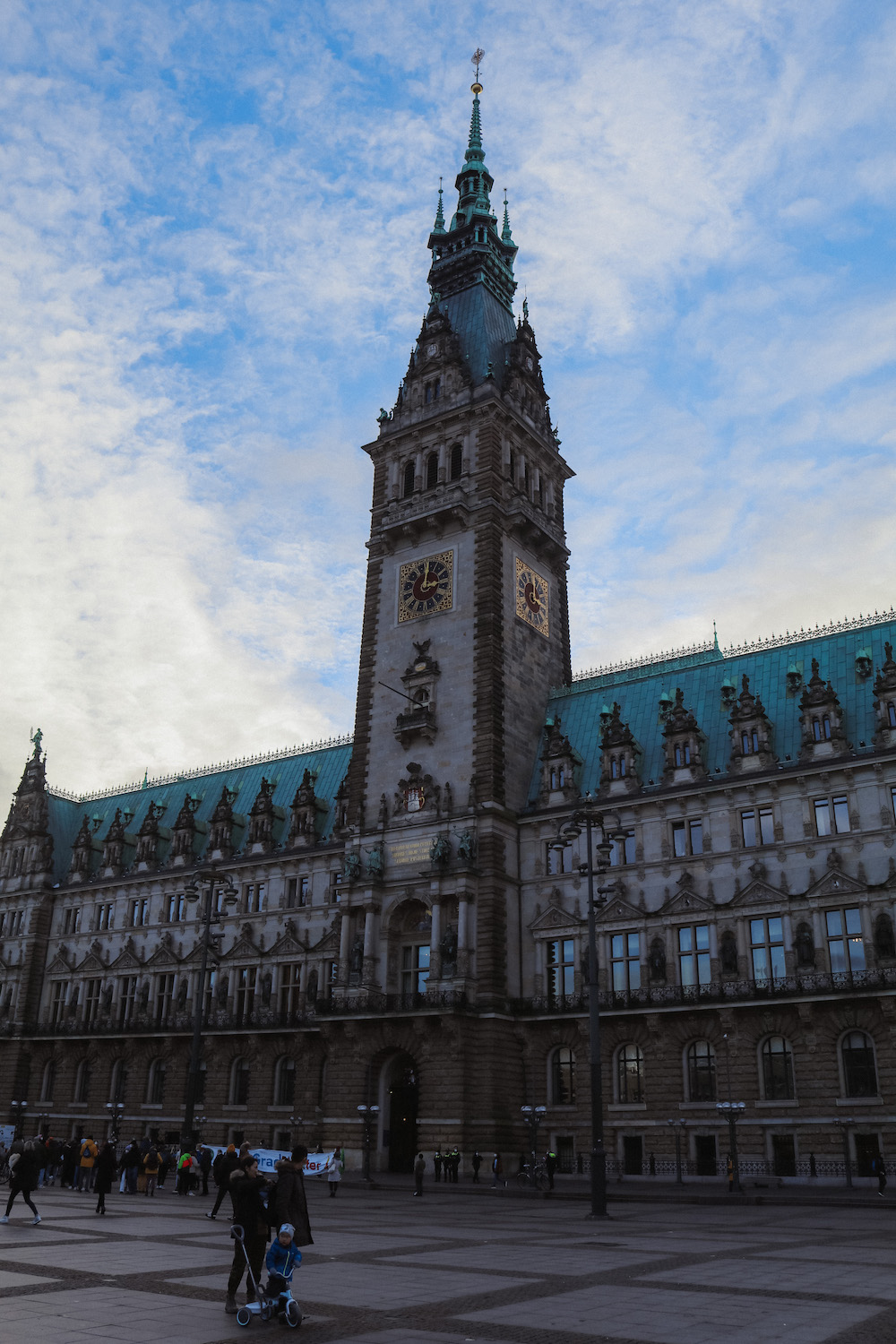 Get your bearings on a Free Walking tour
Walking tours have become my new favourite thing to do when I'm arriving in a new city solo. It's a great way to get your bearings whilst actually learning a bit about what's around you. I also love the idea of getting a guided walk around to scout possible photo spots that I can come back to later. Here are some great walking tours;
Free tours will usually include places such as;
Rathaus – Town Hall Square
Church of St. Peter
Deichstrasse
St. Nicholas Church
Trostbrücke Bridge
HafenCity Riverbank
Deichstraße
Deichstraße is the oldest remaining street in the Altstadt of Hamburg. Deichstraße dates back to the 14th century and was first mentioned in 1304.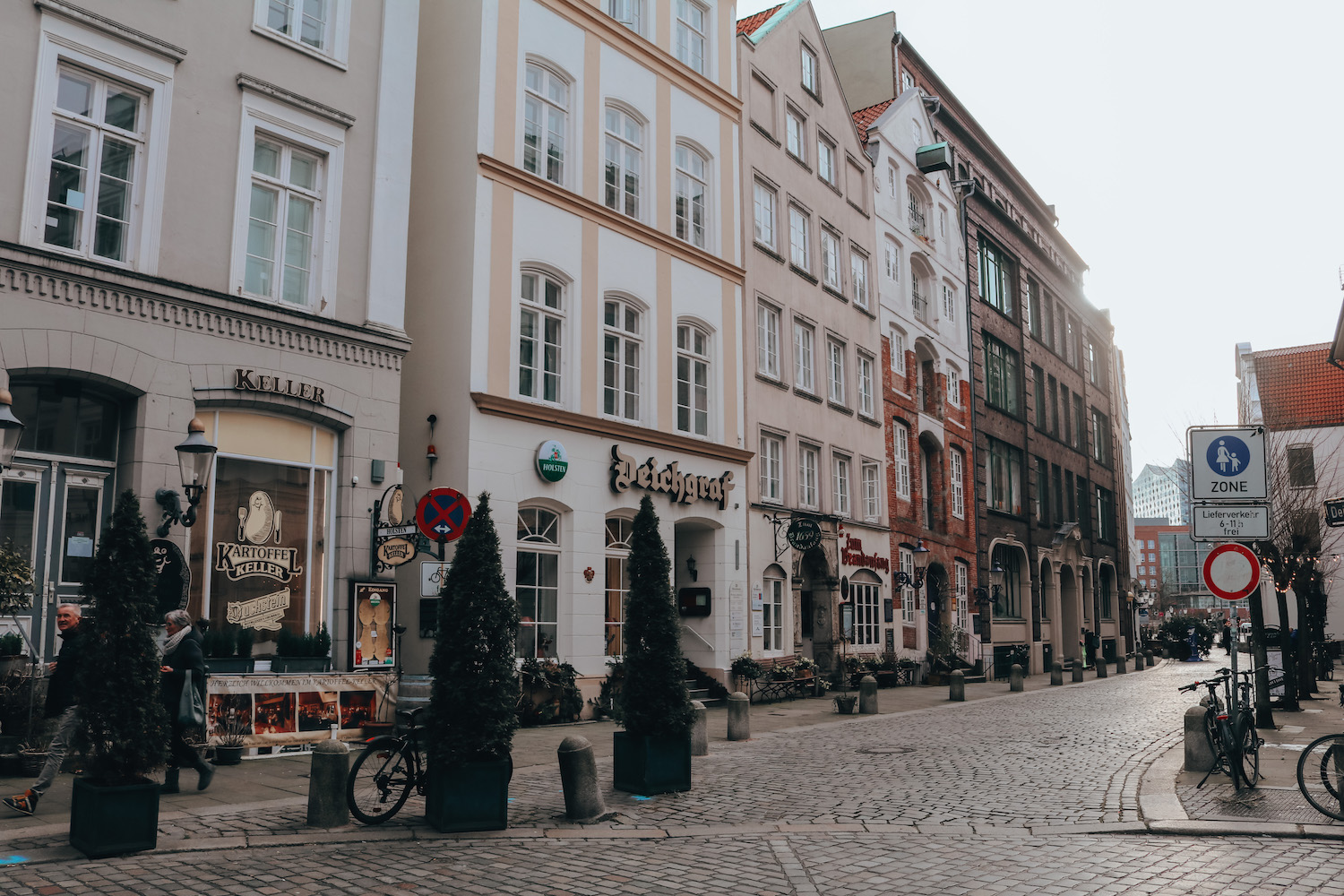 Wander around Speicherstadt
A visit to Hamburg wouldn't be complete without a visit to its very own UNESCO World Heritage Site. Speicherstadt is the largest warehouse district in the world – all made of red brick gothic revival buildings along the canals of Hamburg. A popular way to see the area is by harbour tour (I would check the tides before doing this), or to just wander around and explore for yourself! This is also where you'll find some of Hamburg's newer attractions such as Minatur Wonderland, Hamburg Dungeon, and the Coffee Museum.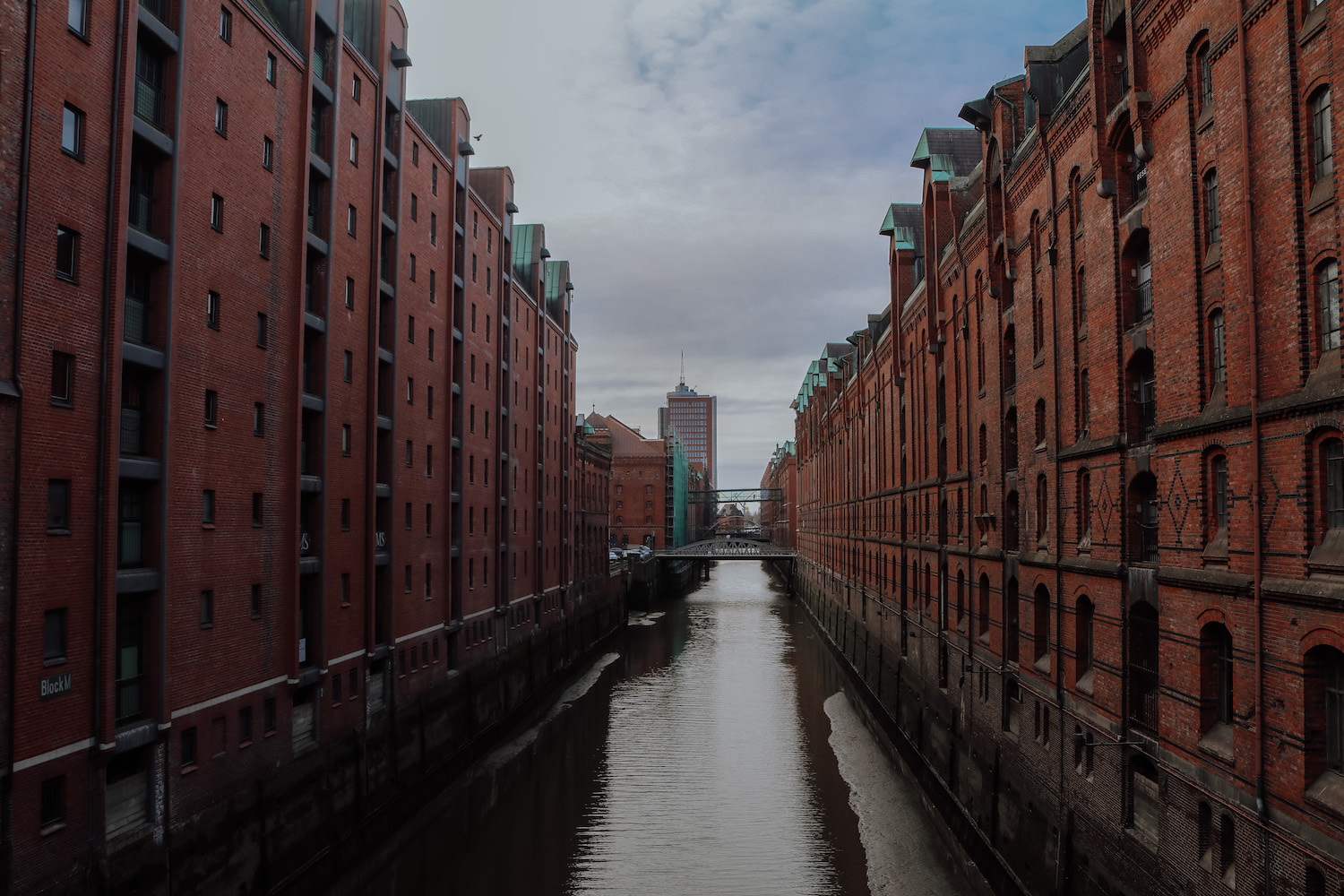 Visit the Elbphilharmonie
Elbphilharmonie is one of Hamburg's most iconic examples of architecture. It's unique modern design and harbourside location create the perfect spot for a viewing deck. Visitors can head up to the viewing platform and take in incredible views of the harbour – or they can enjoy one of the events hosted inside.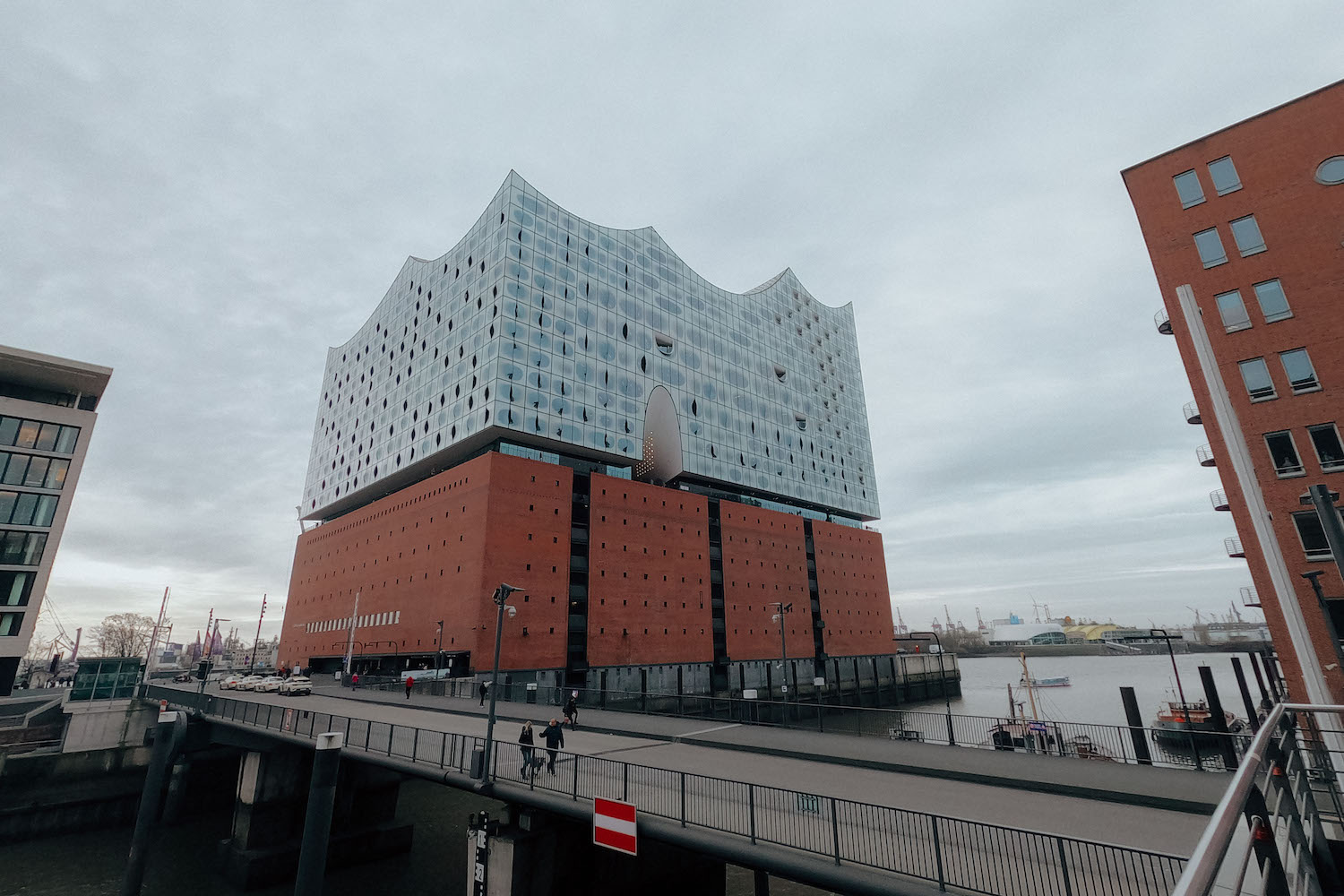 Climb St Michael's Church tower
St Michael's Church has a 132metre high tower from which visitors can take in Hamburg's vast views. You can see over Germany's largest seaport as well as the historic Speicherstadt.
St Pauli walking tour by Drag Queen
While there are so many walking tours available in the St Paul area, the most popular way to do so is guided by Drag Queen or a Local celebrity! I was very surprised to learn the history of The Beatles in St Pauli – I never knew they had so many notable moments in their bands creation that started right here in Hamburg! On a walking tour you'll be taken around to a few of the spots where these historic moments in Music History took place, as well as towards the red light district, and the famous Reeperbahn! Along the Reeperbahn you'll spot Germany's most famous Drag Queen – Olivia Jones. If not in person, than through the many businesses that operate along the Reeperbahn! You can find Olivia's guided tours here.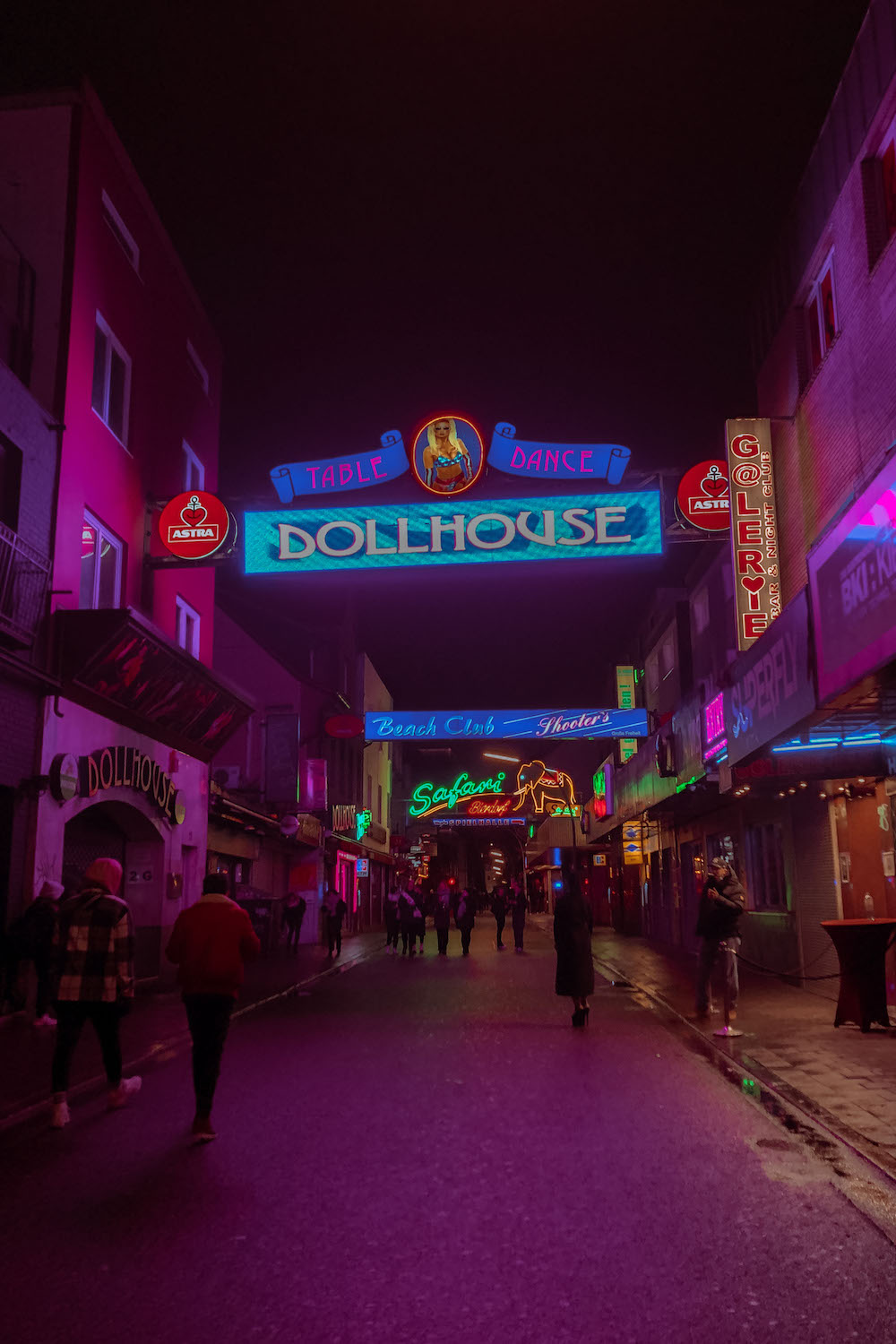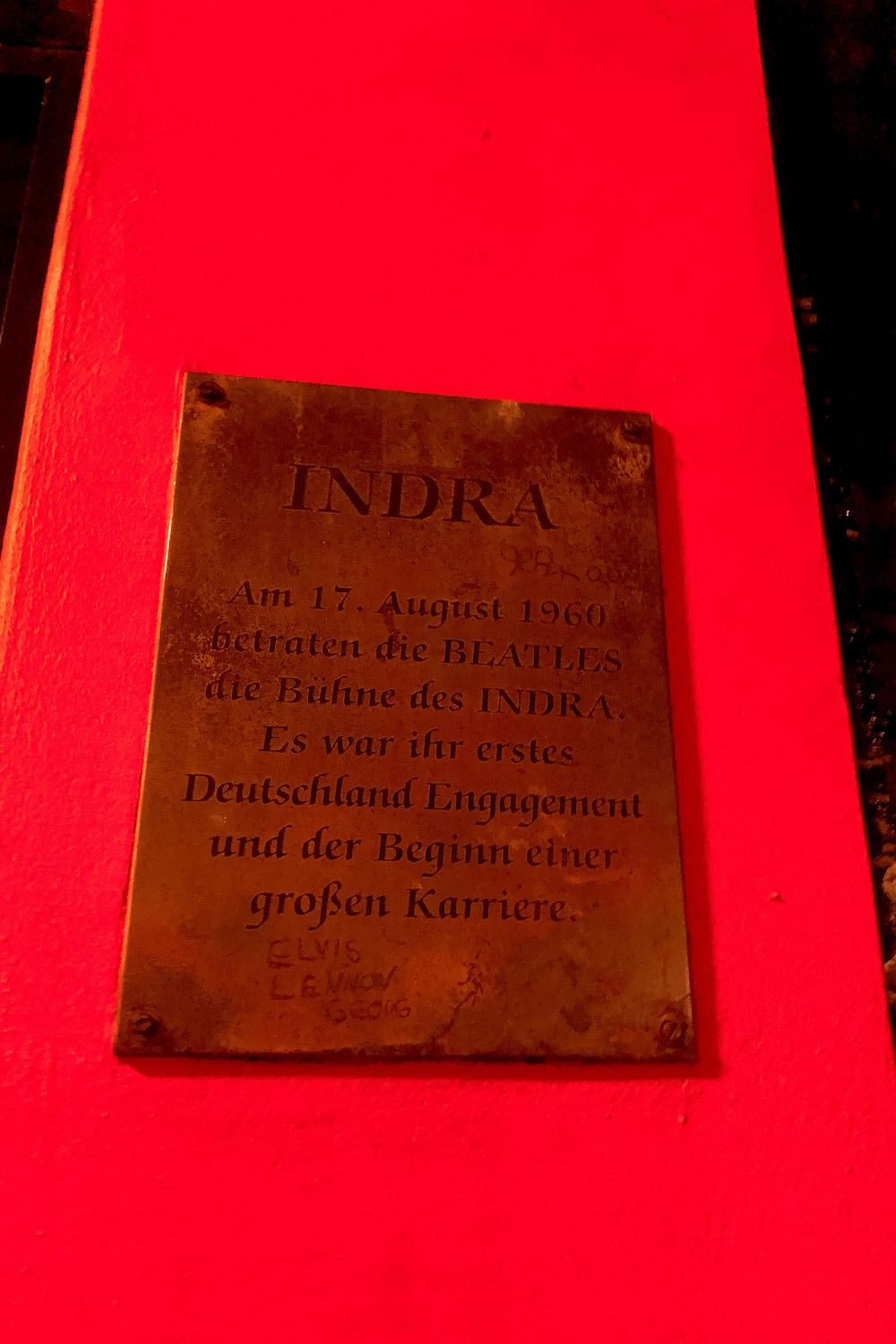 Dinner @ The Bird
Recommended by my tour guide, The Bird can be found just a short distance from the heart of the Reeperbahn. It's a New York style bar and kitchen with a specialty in burgers – it's time for a Hamburger in Hamburg! For the veggies, there are a few options for us too!
Go for drinks at Reeperbahn
An incredible contrast to the Hamburg we've seen so far, "the sinful mile" is the perfect place to explore some of the cities incredible nightlife. 
Day 2 – the Fishes & Lakes
Spend your morning at the Fish Market (Fischmarkt)
Every Sunday morning, the Hamburg fish market by the Elbe attracts thousands of visitors – some getting up super early, and others wandering over for a fish sandwich after a night on the Reeperbahn. You can find a lot more than just fish at the markets, fruit, flowers, clothing – a little bit of everything. You can come down to watch the fish auctions, or just to enjoy some fresh food and listen to the hustle and bustle of competing markets with sunrise views over the Elbe. 
Summer (April — October) Sundays 5:00 a.m. — 9:30 a.m.
Winter (November — March): Sundays 7:00 a.m. — 9:30 a.m.
View this post on Instagram
Check out the Elbe Tunnel
In 1911, the Old Elbe Tunnel was created to provide a more direct route for dock workers over to the southern banks of the Elbe river from the Landungsbrücken. Today it is free for pedestrians pass through and enjoy an example of some outstanding German engineering. 
Brekky at Lu Souffle
If a fishy breakfast isn't really your style – Another Instagram discovery (of course), Lu Souffle is yet another spot just walking distance from Rathaus. They have a delicious menu of soufflé pancakes with various yummy toppings and coffee. It's interior is a little cramped so I would recommend heading there early or at off-peak periods to avoid a crowd. They also only take cash! (As of January 2022)
View this post on Instagram
Hamburger Kunsthalle
The Hamburger Kunsthalle is the art museum of the Free and Hanseatic City of Hamburg, Germany. It is one of the largest art museums in the country. Highlights include the works of local artists from the 14th Century, Dutch master of the 16th and 17th centuries, as well as its collections of 19th century German and French paintings. 
Explore the Alster Lakes
In medieval times, a dam turned the Alster river into a water reservoir to power the mills operating on its banks. This shaped what are now two large artificial lakes; Außenalster (Outer Alster) and the Binnenalster (Inner Alster). You can reach these lakes just a short walk away from the Rathaus and nearer the shopping districts. It's the perfect place to sit down for sunset or to jump on to a harbour cruise.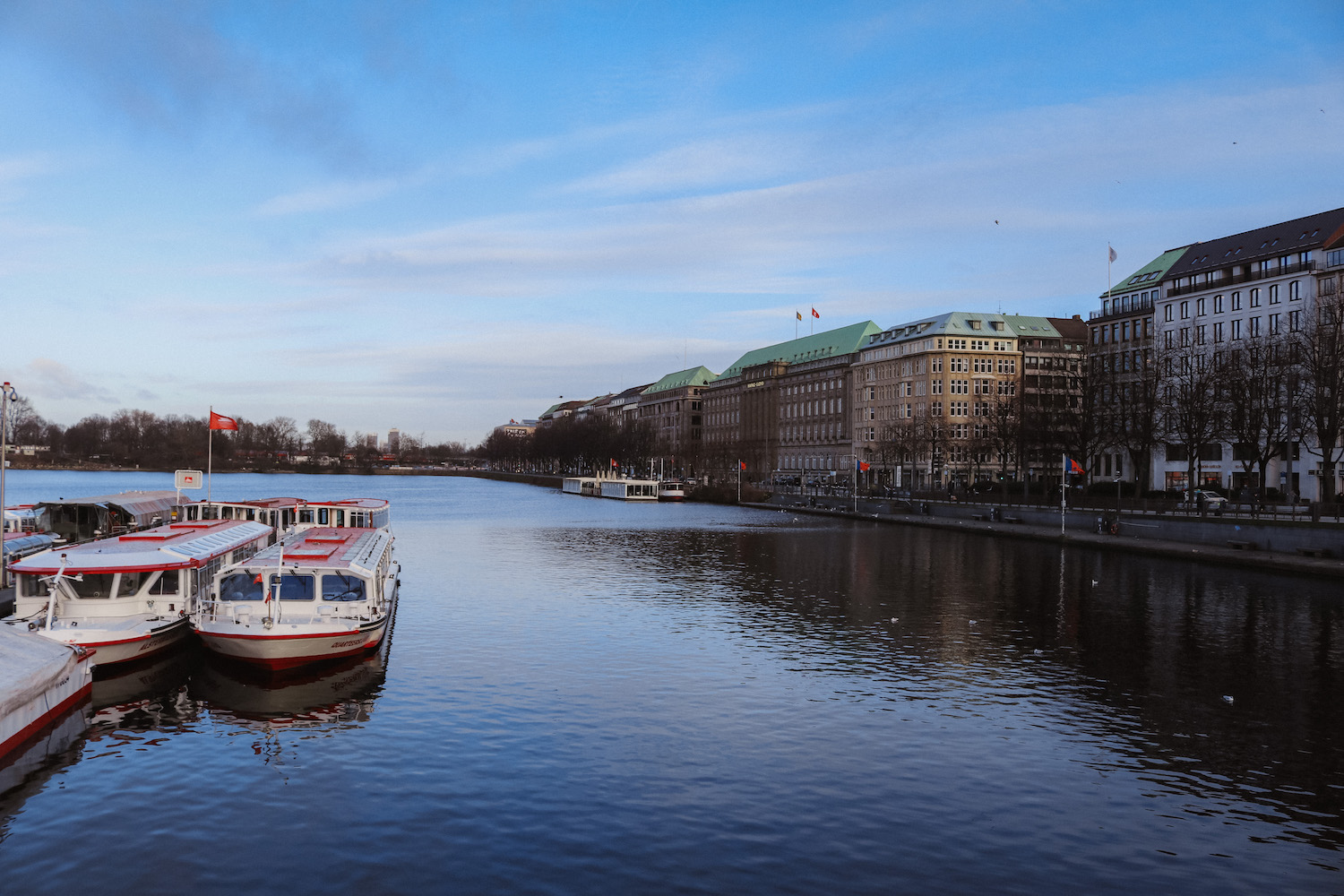 Krameramtswohnungen
The Krameramtsstuben are historic buildings on Krayenkamp, near St. Michaelis Church. This area is home to some of the oldest surviving residential buildings in Hamburg. Formerly housing widows of members of the Grocers' Institute, the 1620 to 1700 built, timber-framed buildings form the last of the 17th century enclosed courtyards of Hamburg. Today, they are occupied by small shops, galleries, restaurants and museum along a narrow courtyard. 
Fish and chips for dinner
Being a seaside town, it's no surprise that fish and chips are one of Hamburg's most popular dishes! You won't struggle to find it, because every other shop serves the famous fish sandwiches.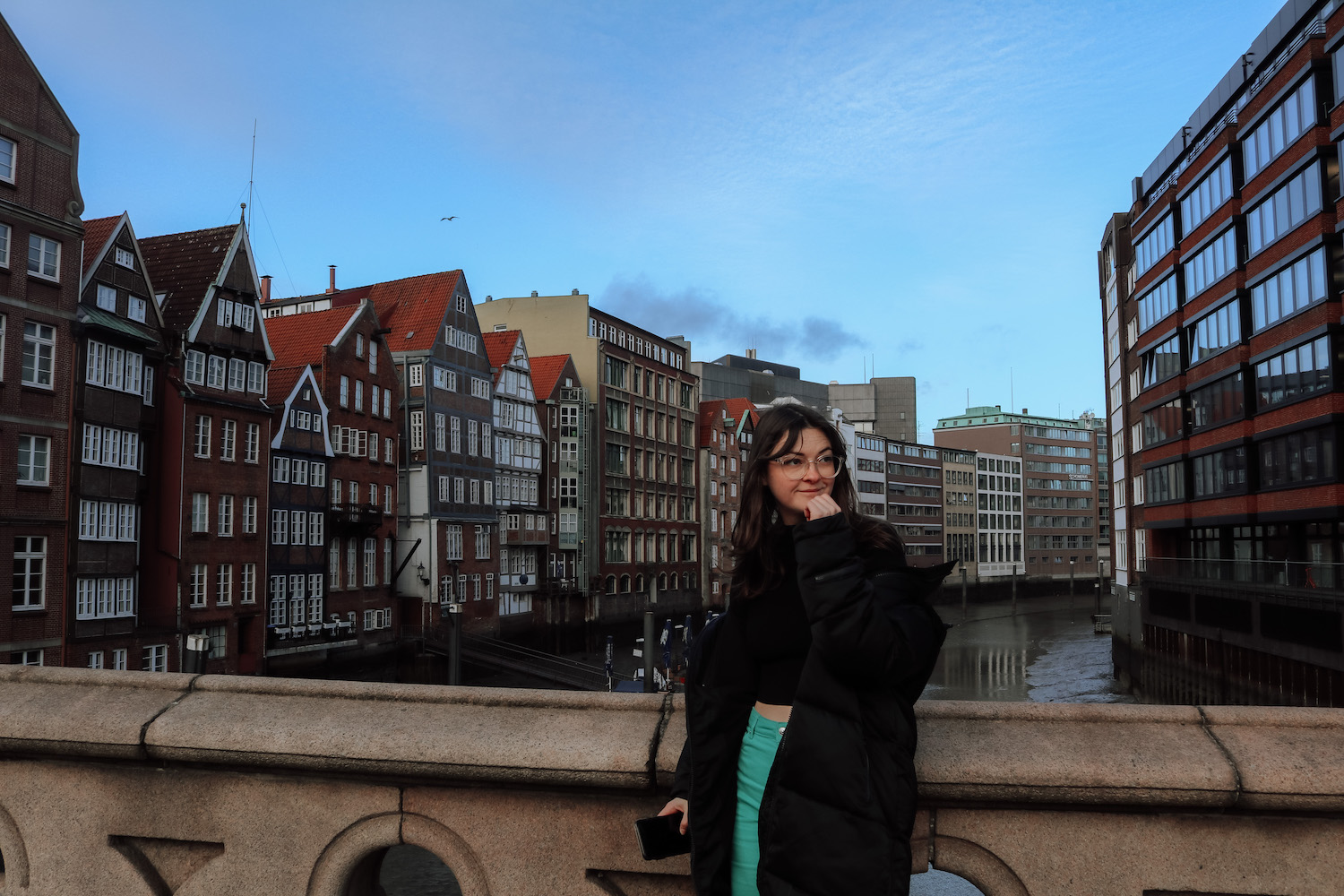 Enjoy a drink at the Beach Bars
Berlin isn't the only place who is known for their beach bars! One of the best spots to enjoy a cold drink on a warm Summers day is one of the beach bars. There are some artificial beach bars throughout the city, but along the Elbe River you'll find some actual sand bars. 
What would you add to your trip around Hamburg?!