The Great Ocean Road is an Australian National Heritage listed 243km stretch of road that trails around the south-eastern coast of Victoria, Australia. Known as one of Australia's most famous roadtrip routes, its renowned for it's beautiful coastlines and cliff side formations like the 12 Apostles and London Arch.
Top 10 Destinations
1. 12 Apostles
The 12 Apostles are the icon of the Great Ocean Road, and consist of what once was 12, limestone rock formations that have been created due to the erosion of cliff faces. Located in Port Campbell National Park, these formations are the most recognised icons of Victoria's dramatic coastline.
Depending on the weather and tides visitors can take the 86 Gibson Steps down to the sandy shores beside the Apostles – and possibly even touch one!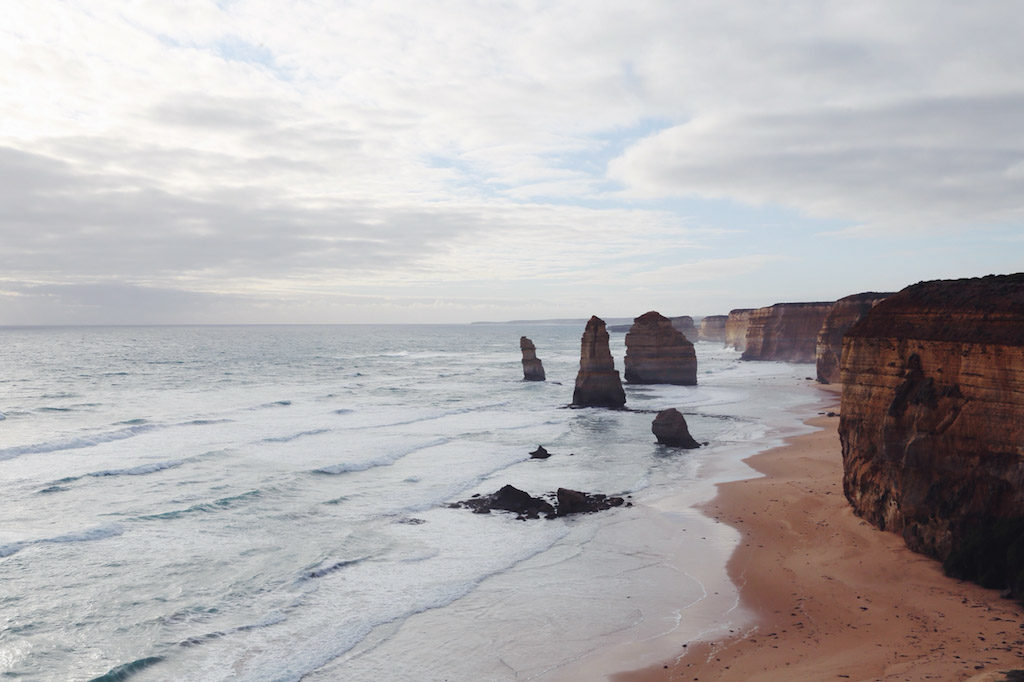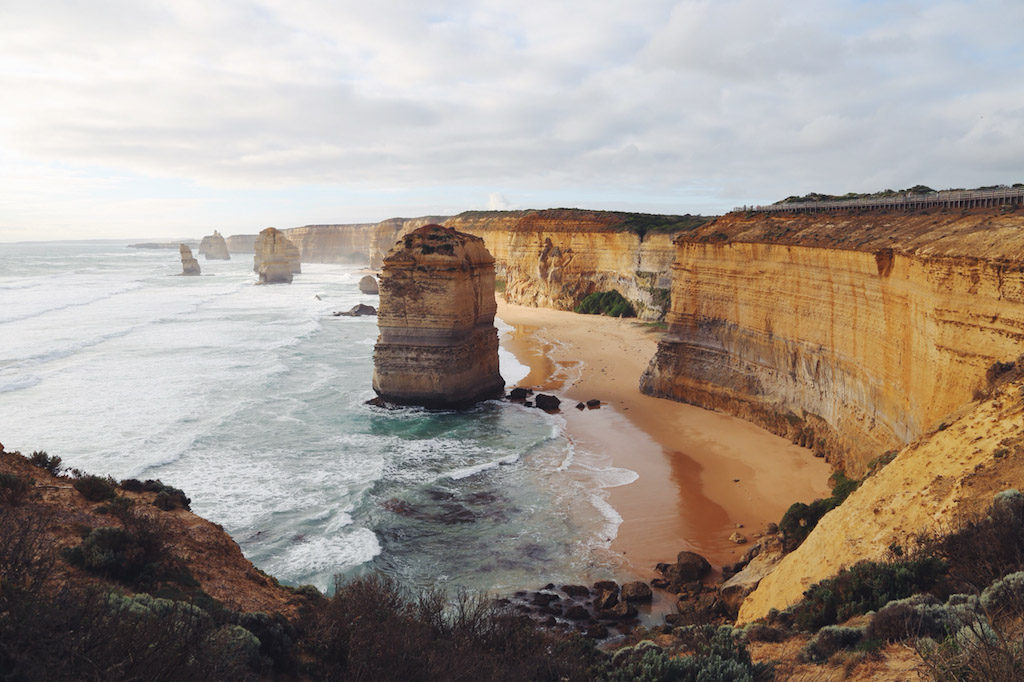 2. London Bridge
Well I guess it's actually the London Arch, previously the London Bridge before part of the formation fell. London Arch is an off-shore formation in Port Campbell National Park and is a popular destination along the Great Ocean Road. Not only popular for its natural beauty, London Arches history is what draws a lot of its visitors here. Before 1990, London Bridge was exactly that, a bridge that connected the arch of land to to the mainland. In 1990 part of the bridge collapsed into the ocean while there were two tourists sightseeing on the arch. They were stranded there and had to be rescued by helicopter.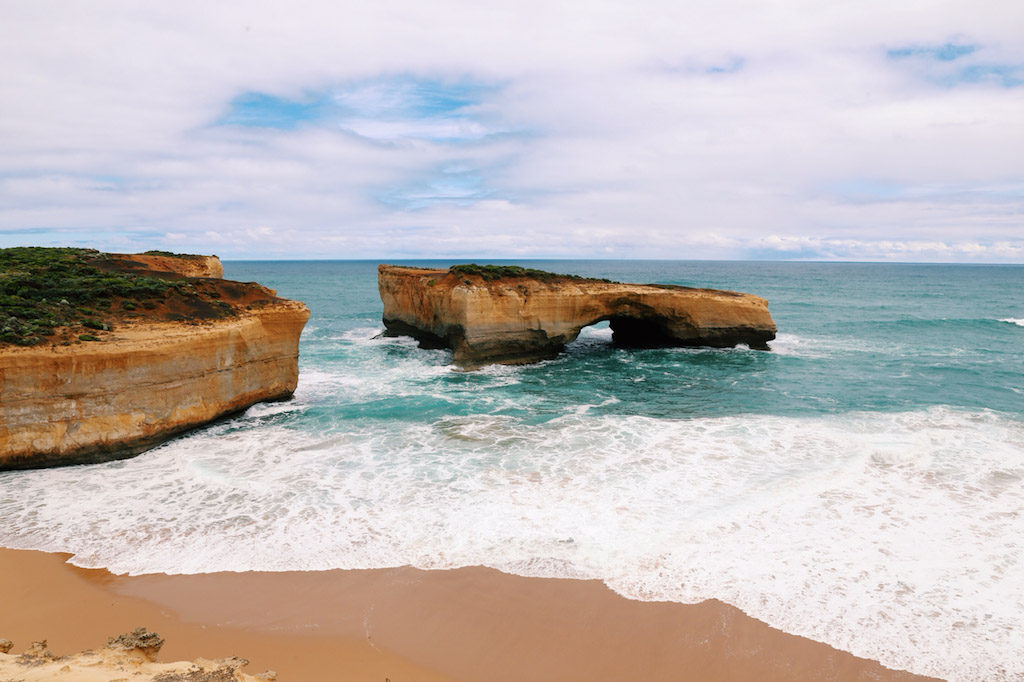 3. Bells Beach
Named one of Australia's top 10 beaches, of course Bells Beach is a must-see when travelling down the Great Ocean Road. Located near Torquay – GORs entrance – Bell's Beach is mainly an experienced surfer's beach. "The beach is an exposed reef and point break with excellent right hand breaks, at their best during autumn and winter."
For sight-seers, Bells Beach has amazing panoramic views and is great for watching surfers, whether by one of the various viewpoints or down on the bright yellow sands.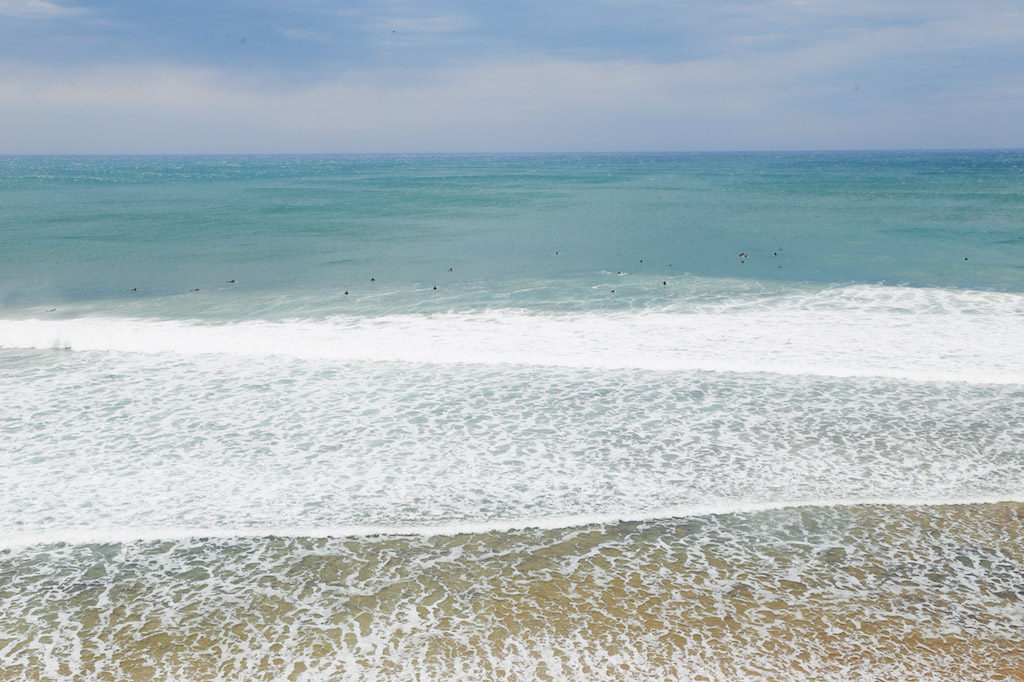 4. Erskine Falls
Erskine Falls is the most well-known of the various waterfalls in the Otways. There are two lookouts for visitors to take in the views – one a short walk from the carpark and the other a further walk down to the base of the falls. Visitors are told that the walk back up the 240 steps is quite strenuous, though it really depends on your fitness level.
5. Loch Ard Gorge
Loch Ard Gorge is a must see when visiting Port Campbell National Park – less than a 5minute drive from the 12 Apostles. If you're a fan of Leonardo DiCaprio's 'The Beach' 2000, this might give you a little glimpse of what Maya Bay really looks like. Down on the sand the beach is surrounded by enclosing cliff faces with a narrow opening that leads out to sea.
"The gorge is named after the clipper ship Loch Ard, which ran aground on nearby Muttonbird Island in 1878 approaching the end of a three-month journey from England to Melbourne." It's said that of the fifty-four passengers and crew, only two teenagers survived.
At Loch Ard Gorge there are various walks available that trail to other sights like Thunder Cave and Broken Head.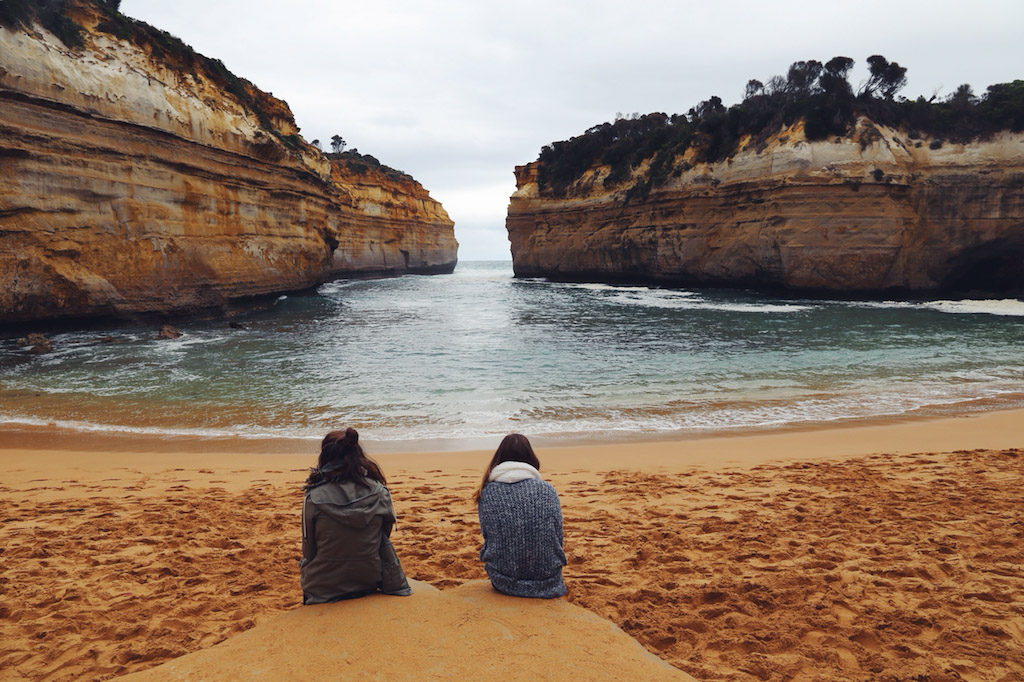 6. Maits Rest Rainforest Trail
Not far from Apollo Bay, Maits Rest is renowned for its beautiful rainforests. Taking about the 30-45minutes, visitors can walk along the self-guided wooden boardwalk that shields the fern-tree gullies and moss covered roots. The trip doesn't take up a lot of your day so it's a great place to rest up for lunch or to cool off for the afternoon.
7. Marengo Marine Sanctuary (Kayak with seals)
Marengo Marine Sanctuary protects a reef system known as Little Henty Reef, and is packed with sea life and beautiful coral reefs. Sea-Kayaking is a popular activity in the area that can have visitors up close with an Australian fur-seal colony. With Apollo Bay Surf Kayak Tours visitors take part in 2 hours of instruction and touring, then paddling out to the friendly seals that often like to come and swim around you.
"Paddle out to the Seal Colony viewing the coasts beautiful hills and reefs from the ocean."
8. Split Point Lighthouse
Have you ever, ever felt like this? How strange things happen. Are you going round the twist? Alright, a little lost? Split Point Lighthouse is the home of the old Australian TV show Round The Twist. Split Point Lighthouse now offers regular 30minute guided tours, where guests can climb the original staircase, and take in the panoramic views from the balcony.
"Whether you want to step back in maritime, forward in coastal conservation or capture the now with a perfect snapshot, this is a stop worth every minute."
The carpark and surrounding area is also a great place to settle down for lunch. From the cliff side lookout you can also get a good look at some of the amazing rock formations below.
9. Teddy's Lookout
Probably the most well known of the lookouts along the Great Ocean Road, Teddy's Lookout offers picturesque views of the St. George River and the surrounding coastline.
10. Cape Otway & Lightstation
Cape Otway Lightstation is the oldest surviving lighthouse in mainland Australia. Built in 1848, today visitors are welcomed by some friendly koalas, and are then given a souvenir map detailing the Lighthouse, Telegraph Station, shipwreck relics and plenty more. Visitors can explore the area and then take in the views from the top of the lighthouse.
Other sights along the way…
Lorne Pier
Cumberland Falls walk
Gibson Steps
Thunder Cave
The Grotto
Bay of Martyrs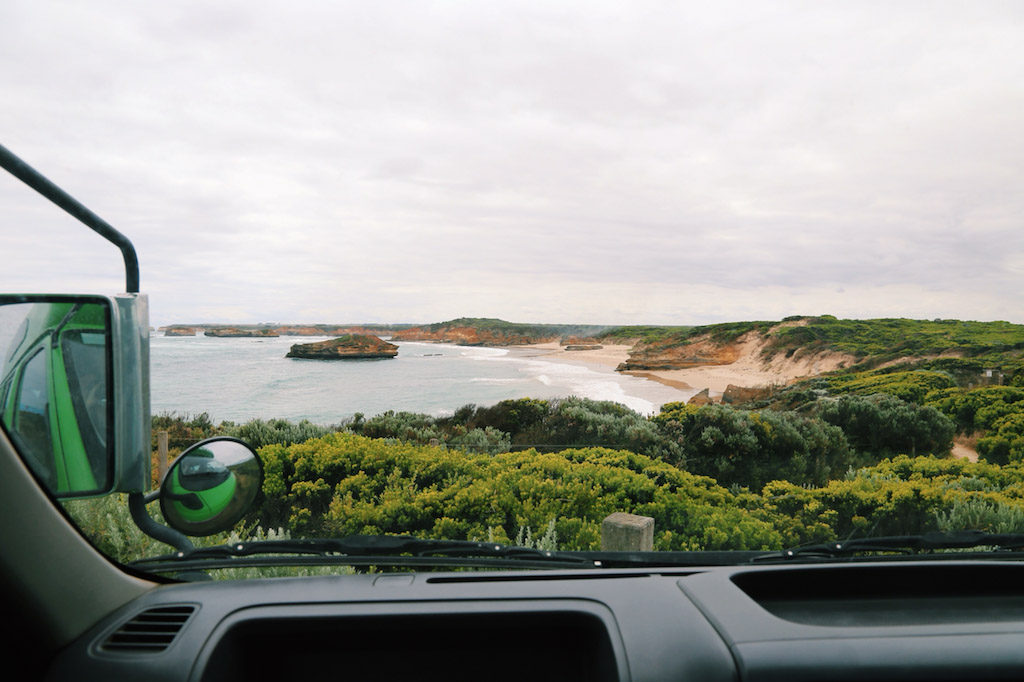 For more pictures see "PHOTOS OF; NOVEMBER '15"
Where to eat;
Timboon ice cream (said to be the best in Australia) – It's a little out of the way, but that fresh ice cream is a delicacy to die for
Burgers at Scorched Grill in Apollo Bay
Fishtales Café in Warrnambool – discovered when just about every other food outlet had closed at 5pm, Fishtales serves just about any dish you can think of – the menu is about 5 pages long!
Where to stay; along the way…
Getting around; Jucy Rentals
Jucy rentals are those big green and purple vans you see along every gorgeous shore, and they are the perfect way to get around on the Great Ocean Road. Not only are they surprisingly easy to drive with a comfortable turning circle, the Jucy Condo can sleep 4 people and drive 5.
The Condo has a custom built interior with two double beds, a DVD player, and a walk-in kitchen featuring a fridge, kitchen sink and cooker. Jucy rentals supply you with everything you would need when in a new destination down to the linen and cutlery, as well as charging ports and interior lighting.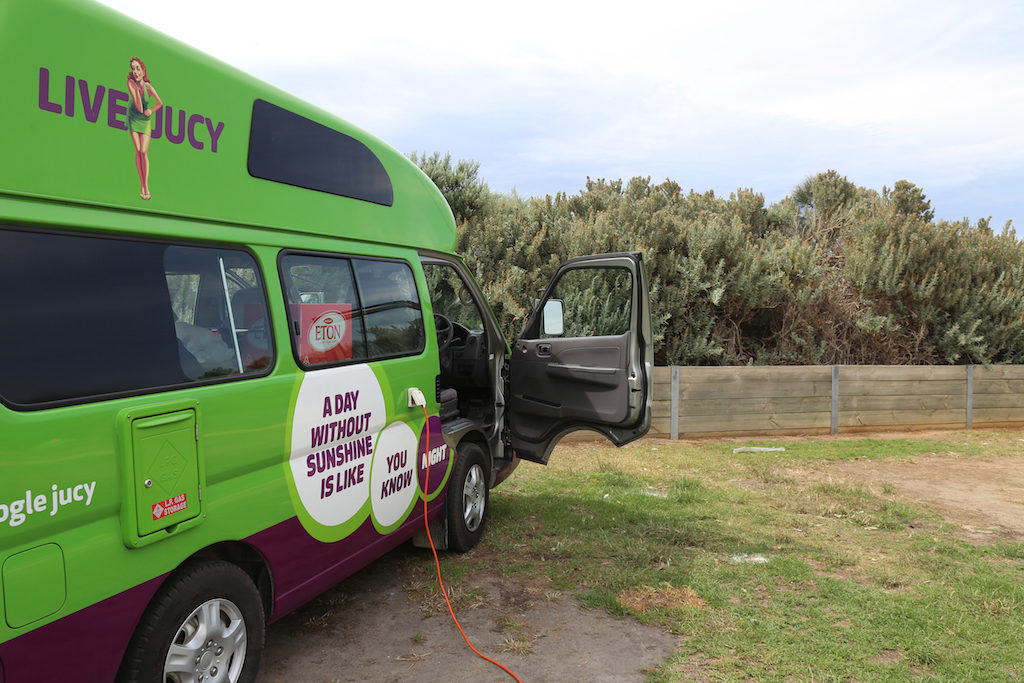 THATraveller was welcomed to the Great Ocean Road thanks to Jucy Rentals, Tourism VIC and Tigerair. My opinion is my own.