My journey from Auckland with GreatSights to Waitomo Caves (under earth) and Hobbiton (middle earth).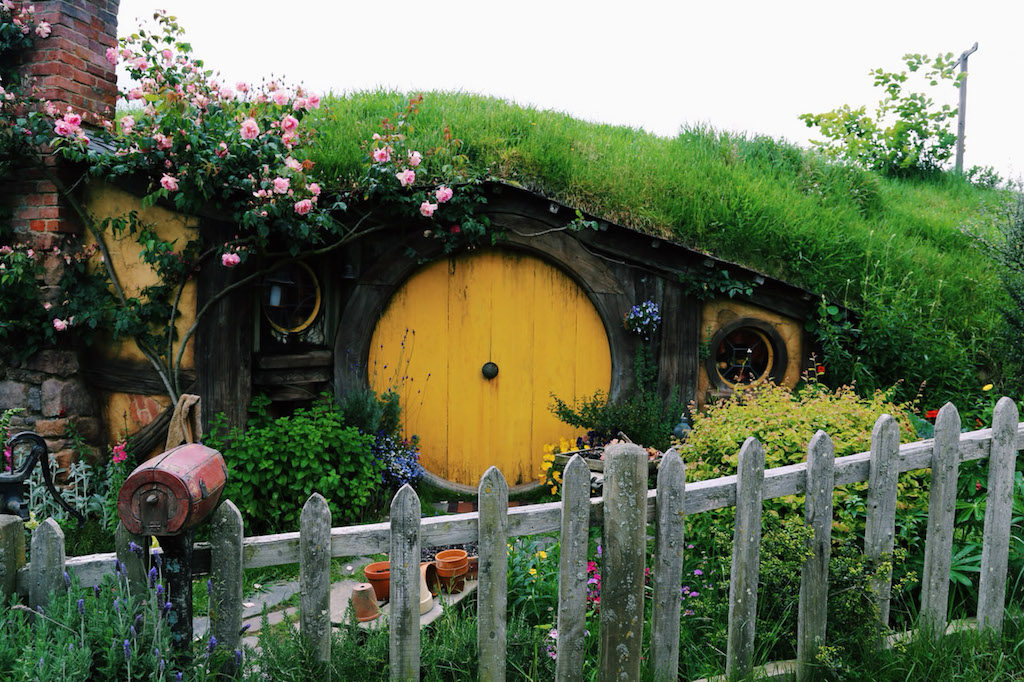 My day begun bright and early outside Sky City Hotel at 9:30am and I spotted the large GreatSights bus pulled up outside. After greeting our tour guide/driver in the hotel lobby I made my way outside and chose one of the many seats on board.
GreatSights is a premier sightseeing tour company in New Zealand. Founded over 20years ago, the establishment offers a comprehensive range of tours in the comfort of an air conditioned luxury coach with reclining seats.
Entrance fees are included within the tour price as well as extras like lunches, and snack packs. With complimentary hotel transfers and entertaining commentary, exploring New Zealand has never been easier.
Hobbiton Movie Set and the Waitomo Glowworm Caves
Full day tour
Operates daily
Departs and returns: Sky City Coach Terminal, Auckland
Complimentary Hotel pick-up / drop-off available
Included fruit snack-pack upon departure
Guided tour of Waitomo Caves
Guided tour of Hobbiton Movie Set
Included lunch
Scenic coach travel and commentary
The order of this tour is subject to changes
Due to seasonality, there were only 16 people on my tour on a bus that looked like it could seat about 40-50. All the better, it was a little cloudy and it rained occasionally but we didn't mind. Our first stop was just around the corner where we signed in and chose any dietary requirements for lunch. After receiving a snack pack of fruit we made our way to our first stop. The first stop was Waitomo Caves, though we stopped about half way at a roadside café in Huntley. Huntley was about an hour away, and is an optional stop depending on how quickly the driver picks up all the guests. The café was a short stop and had restrooms, souvenirs, coffee and quality bakery options including pies and cakes.
10am.
Waitomo was about 1-1.5hours from here. Most guests opted to sleep, though when not filled with silence, the driver gave information about local produce and history over the coaches speakers.
11:30am.
Before our arrival our driver told us all about Taniwha, a water monster.
In Māori mythology, taniwha are beings that live in deep pools in rivers, dark caves or in the sea. They are sometimes considered to be protective guardians of people and places, though in some traditions they are seen as dangerous, predatory beings.
And now we enter the dark caves.
Waitomo Caves – Under earth.
Waitomo Caves are a popular draw-point for both domestic and international travellers in New Zealand with its impressive underground walk-through and limestone structures. The tour includes a guided walk-through and a boat ride through the Glowworm Grotto.
Once we arrived we said a temporary goodbye to our driver and made our way to the green screen that stood around the corner from the ticket desk. We all had our GreatSights stickers on, so everything had already been organised. After taking a photo we waited by the gate until the tour started. Our group was allowed in first and we were joined by a new guide who walked us through the rules before stepping into the caves. Surprisingly, our guide was actually a descendant of the original founders of the cave.
Annoyingly enough for me as an avid photographer, we were told that no photos were allowed. I had expected no flash, but none were allowed at all – one guest in our group was seen taking a photo and was asked to delete it straight away as there are also copyright issues.
Other guests who came to the caves themselves joined us and we made our way inside. We made our way through the first cave that was filled with stalactites, stalagmites, flowstones and columns – all whilst being told all about how they are formed. There were quite a few sets of staircases, and once we reached the cathedral some guests took a go at singing.
Then to the best part. The glow worms.
"The glow worm, Arachnocampa luminosa, is unique to New Zealand. Thousands of these tiny creatures radiate their unmistakable luminescent lights as out expert guides provide informative commentary on the Caves' historical and geological significance"
After this we took a short walk to board the boats. This area was kept quiet, not only for the benefit of the glow worms but to the general atmosphere of the experience. Once sat on the boat, we were slowly and silently pulled through various crevices and corners surrounded by the green glow that surrounded us.
Once we came out of the cave we were allowed to take photos, and though not of the glow worms there are some great photo opportunities of the cave opening and surrounding greenery. Then it was a short walk up the path to the buffet style lunch. Though earlier I had selected vegetarian it seemed that I could pretty much just eat what I wanted – aside from the beef on the barbecue.
For other options, there is a café that sells sandwiches, cakes and other delights including hot beverages.
From here it was a 1-1.5hour drive to Hobbiton.
1:30pm.
Hobbiton Movie Sets – Middle Earth
The thing on the top of my New Zealand bucketlist, I was finally here.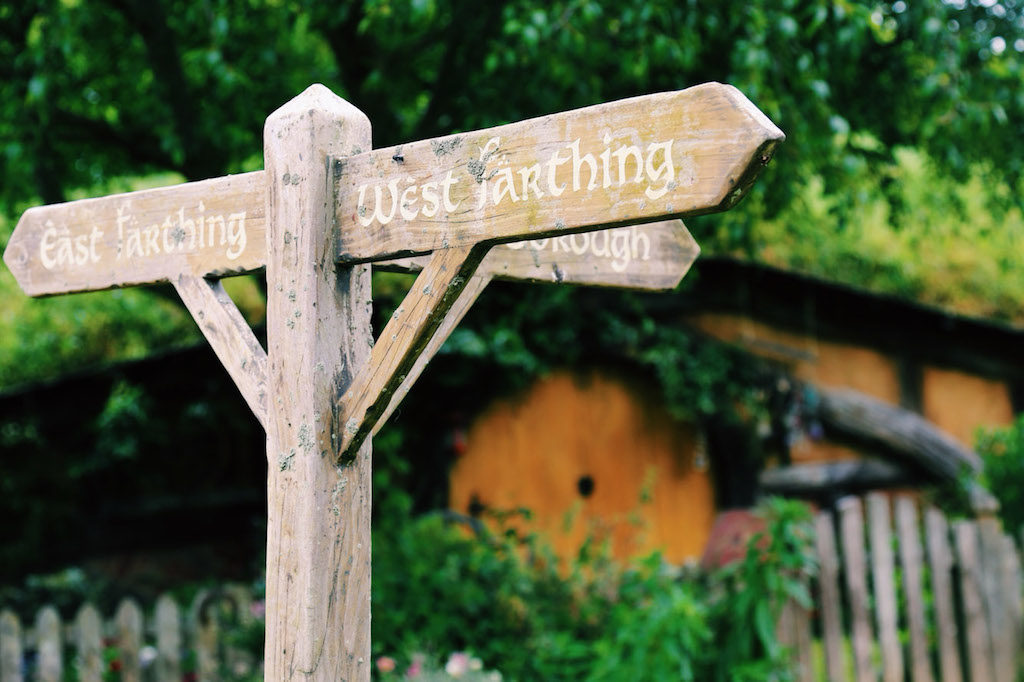 The Hobbiton Movie Set was a significant filming location used for The Lord of the Rings Trilogy and The Hobbit film series. This Middle-Earth experience is the setting for The Shire and has been completely rebuilt to be a permanent attraction.
We didn't even have to stop for entry, one of the Hobbiton guides hopped on our bus, introduced herself and gave us some informative brochures including a Middle Earth map. Our journey consisted of an informative walk-through of the Hobbiton village – some of which had indoor access, and photo opportunities (others are behind a fence) – and then it was a short stroll across the bridge to the Green Dragon Inn.
To start off we entered Hobbiton where Frodo and Gandalf are first seen together in the first Lord of the Rings movie.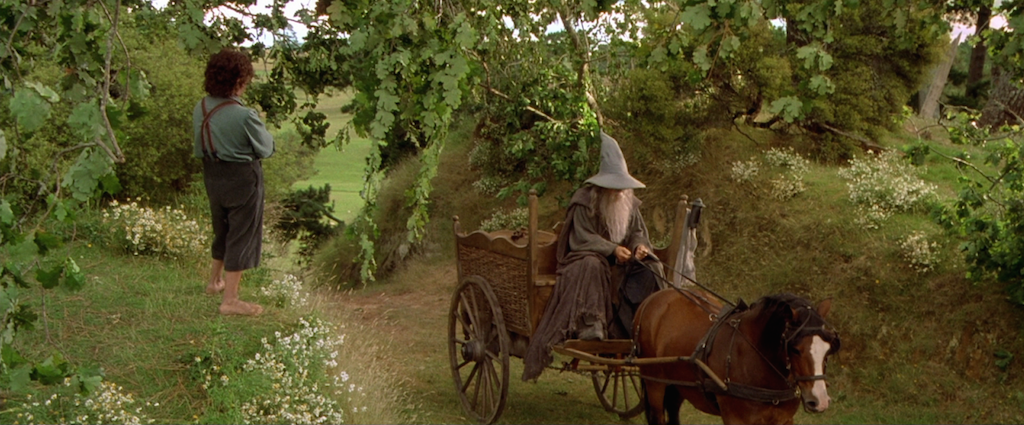 And then Hobbiton opened up before us. There are 37 Hobbit Holes, some of which were only made in case the camera were to pan over the hill during filming. Though the movies are no longer being filmed, the area is still kept new and gardened. Props are changed around regularly including the Hobbits washing that hangs on the clothing lines – some of which were actually in the films. The Hobbit Holes vary in size so that they could be used practically when filming – some are suited for the size of a typical hobbit (between two and four feet) and some are suited for the actual height of the actors. In one scene of the first LOTR film, Gandalf visits Bilbo Baggins at Bag End and after entering, you can see the height difference when Gandalf hits his head on the chandeliers, then turns around and bangs his head – turns out this wasn't scripted, though the great actor that Ian McKellen is, stayed in character and Peter Jackson decided to use the scene.
Though some of the Hobbit Holes opened to an actual room, most are just filled with scaffolding and indoor props to be seen through the windows – the only furnished Hobbit Hole is Bilbo Baggins' and it is only made enough to be seen through the ajar door as it is not accessible to the public.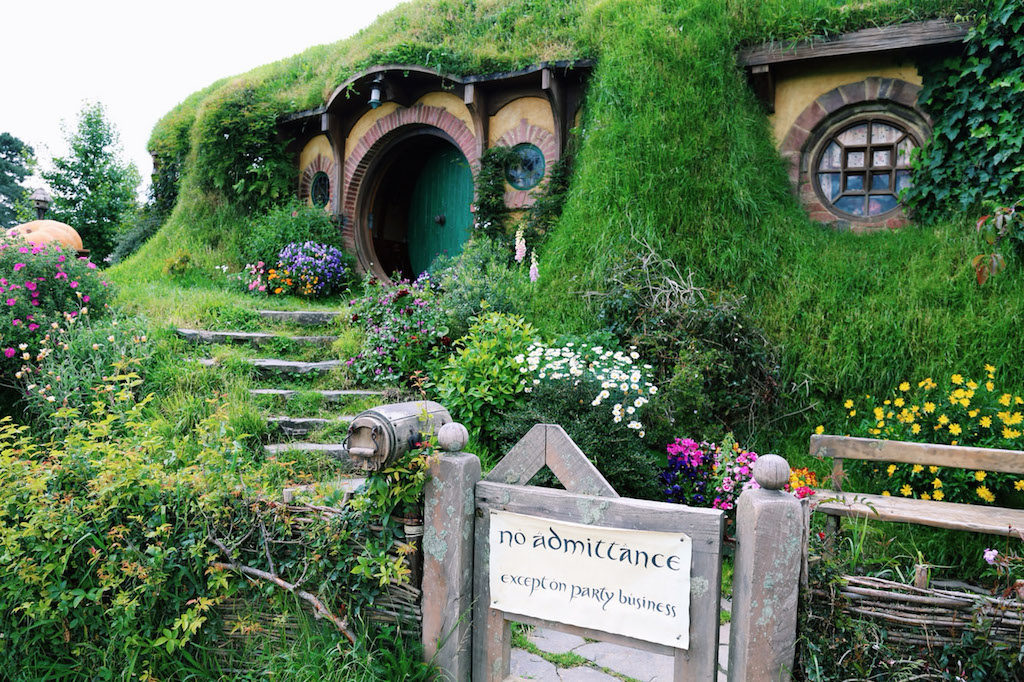 Bilbo's home is the first one you see of which you know who the owner is – though the others give an idea of who worked there by what sits outside – it could be a fish monger, or even a bee keeper. Through images I had seen on TripAdvisor I was given the impression that there would be various queues and lines – though the only lines were of those in my tour group, which were fine – it's typical to have to wait for a photo opportunity at any attraction.
Throughout the walk-through our guide recounted fascinating behind-the-scenes details of how the sets were created, and stories from during filming.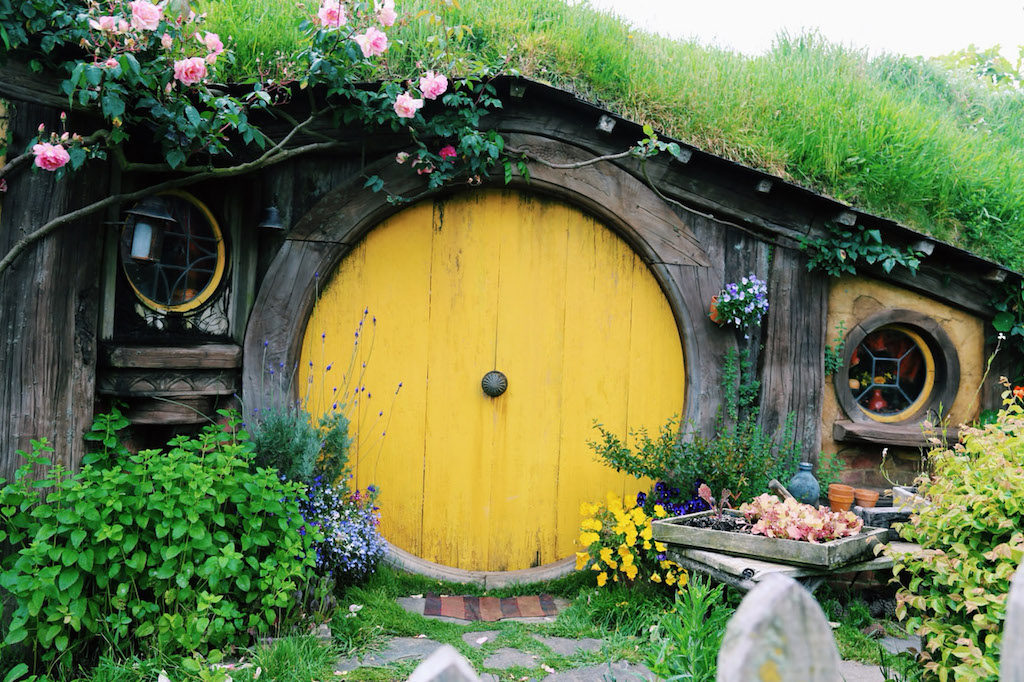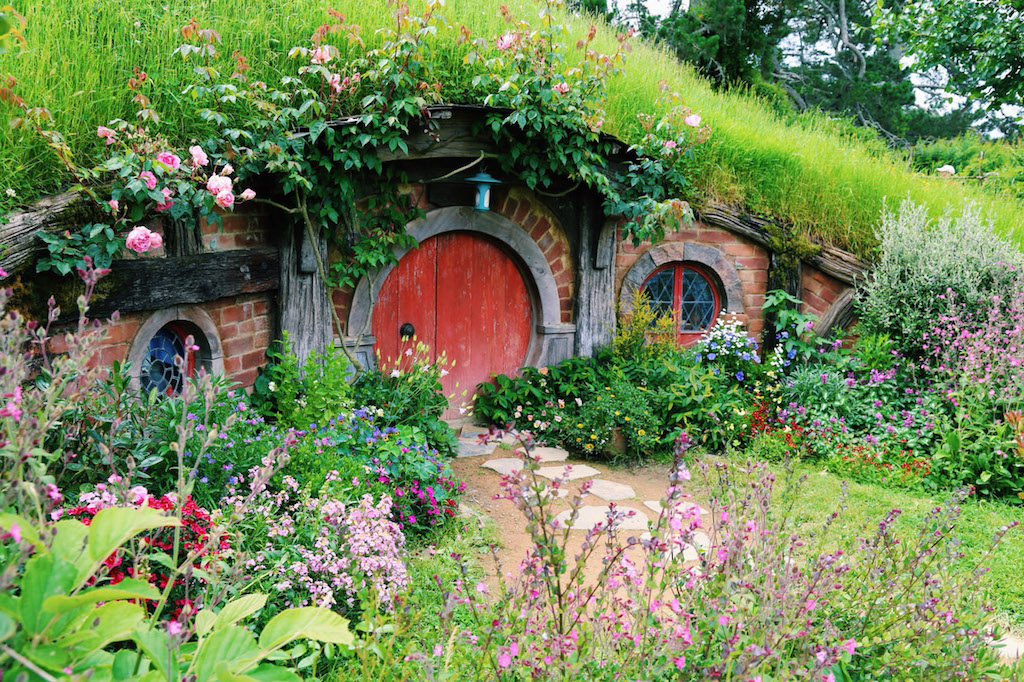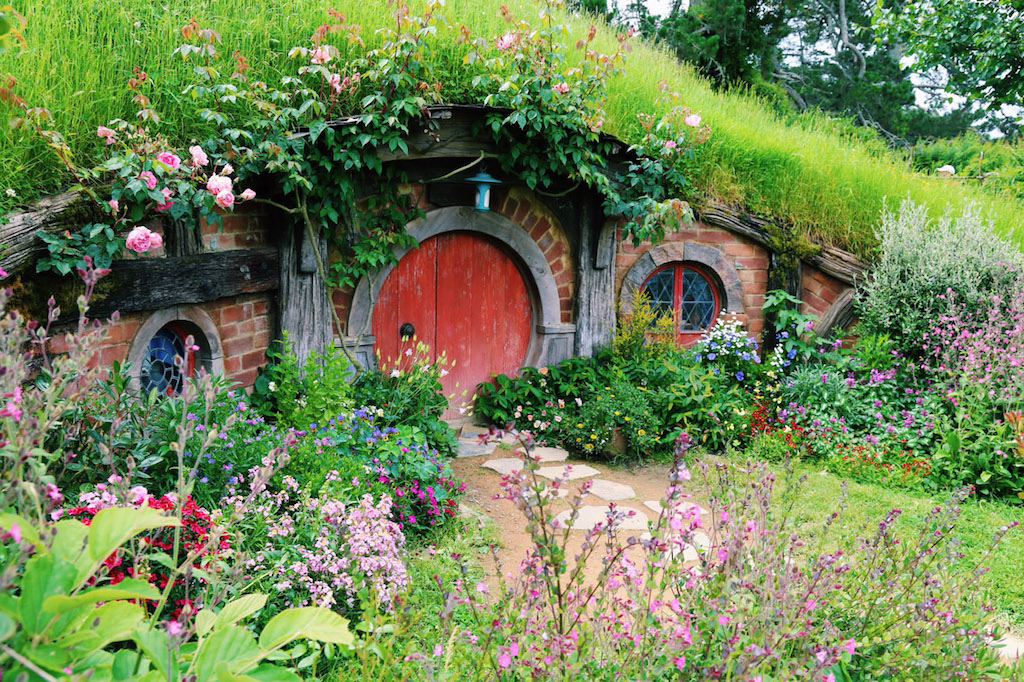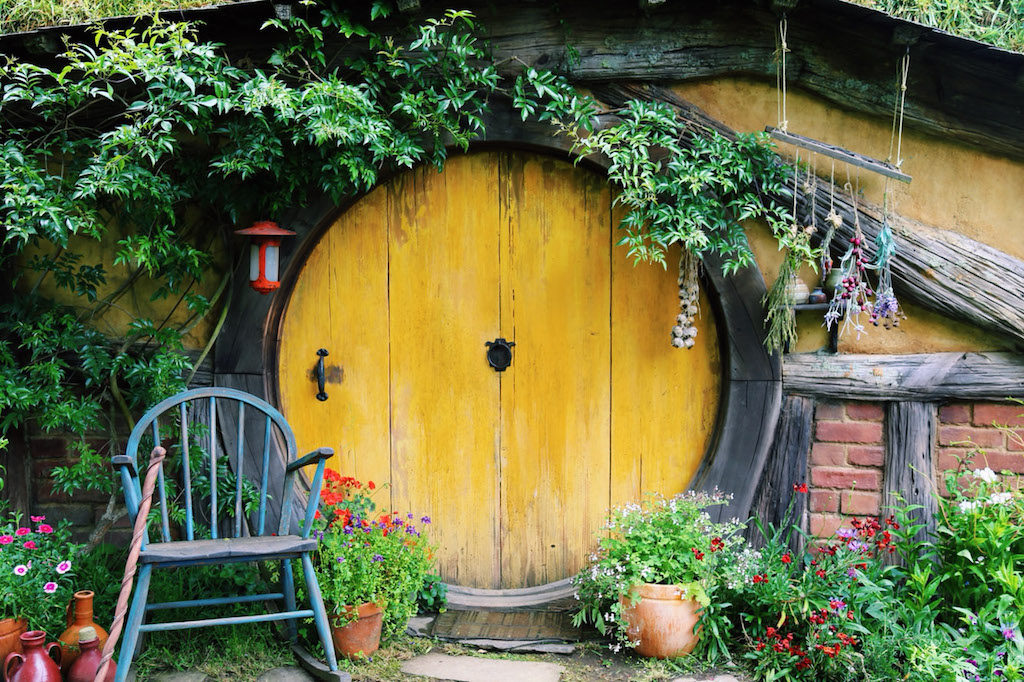 After this it was to Samwise Gangees! Probably my favourite of the Hobbits, he has one of the most beautiful Hobbit Holes with a bright yellow door. Our guide also loved Samwise the Brave, and told everyone about his story and about how he married the love of his life and had many children. In the film, less children are shown and turns out, the girl that runs into his arms, is the actor's real life daughter, and the child his wife holds, was her real life child.
From here we made our way across the bridge to The Green Dragon Inn where we saw some newlyweds taking some picturesque photos. The Green Dragon Inn had small bakery style foods available and with our tour we were allowed a free drink of the classic Hobbit style; ale, cider, or gingerbeer. I opted for a Sackville Southfarthing Cider, and even ended up buying one in the gift shop to take home. Though the exterior of the Green Dragon Inn was used in the films, the interior shots were not filmed here, though it has been modelled entirely off of the movie set.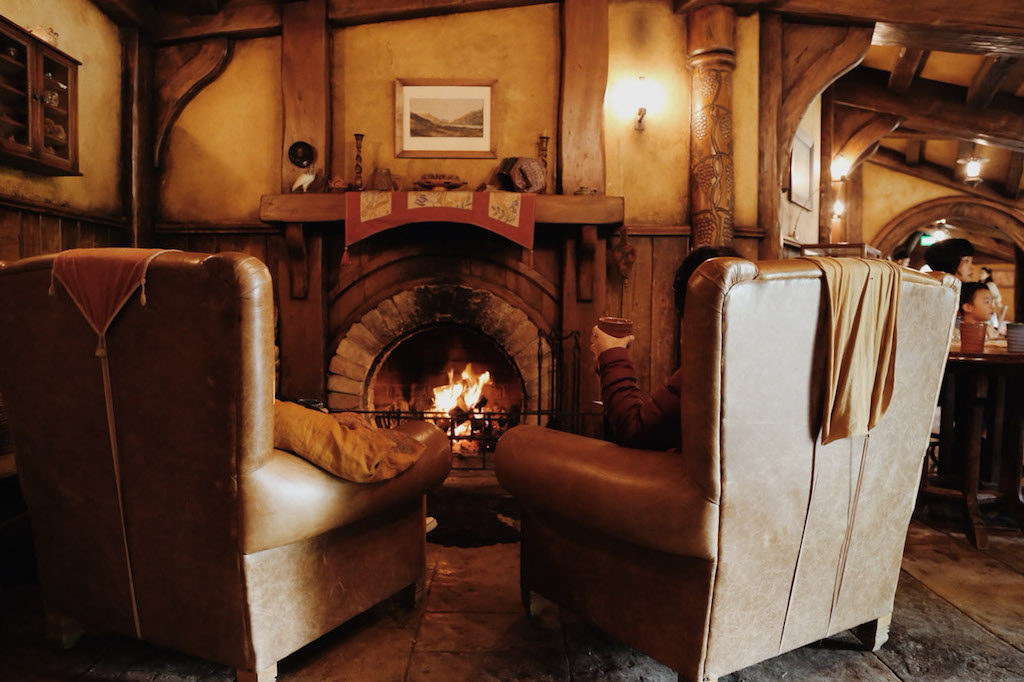 We sat by the fire and enjoyed our drinks, and after a short while we made our way back to the Great Sights bus that drove us back up to the gift shop and café. We were allowed an hour here before making our way back to the drop off point in Sky City.
THATraveller was welcomed by Air New Zealand and Tourism New Zealand. My opinion is my own.