Do you have a week to explore the Northern Territories Top End? Look no further! This blog covers my 7 day itinerary around Darwin, Litchfield, Kakadu, Elsey and Katherine. 
If you want to know where to get the best coffee, brekky or beer, or where to go for a hike and watch the sunset – this blog is for you! This is basically my entire diary of my travels around the Top End. 
Disclaimer: my trip was done via 2wd. Upon arriving in the NT we found that a lot of the roads were either unsealed or where high-clearance 4wd access only – so we were quite limited with where we could go. This blog won't include destinations that require a 4wd to get to them, sorry!
Before this trip we'd just spent a week exploring the NT's Red Centre, if you'd like to hear about that first you can find it right here.
Day 1 – Darwin
After a week in the particularly scarce Red Centre, you know where we are heading first – and that's for a bloody good breakfast! I found a place called Rays Patisserie. With pictures of fresh croissants and coffee I was sure I'd find something I'd like. 
While I was in Darwin, I mostly took to Instagram to find locals tips and ideas of where to eat. I came across an account @wearelocals_Darwin – and it basically became my travel bible. After speaking to the account to share some love I found that they'd created the account for the exact reason I needed it. The creators had moved to Darwin and also struggled to find info on what to eat and what to do, so they made this page to help travellers out! 
Next up, Crocosaurus Cove! I didn't actually visit Croc Cove while on this trip as I had before, but if there's any place to get up close to a Crocodile, this is the place. Not only home to Crocodile Dundee's famous croc Burt, but this park also has an aquarium, reptile rooms, and the famous Cage of Death experience. 
For a walk you can wander down to Darwin Waterfront and explore the various restaurants, the harbour, and if you feel like it – a swim in the famous wave lagoon.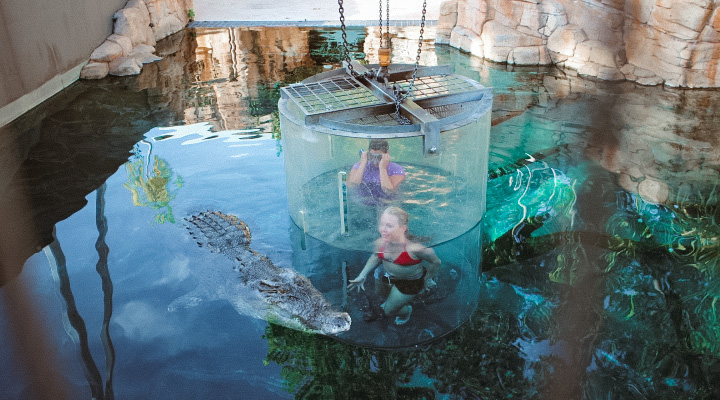 Where to Eat in Darwin
It's dinner time, and in Darwin we are spoilt for choice! On the main street – Mitchell Street, you'll find most of Darwin's nightlife scene – so this means pubs, clubs and dinner deals. Parmi nights, pizza nights, pasta nights, this is the best place to find them – and if you want your first taste of some crocodile, emu or kangaroo, some of the places here include these on their menus. On Smith Street it's a little more relaxed – you'll find Ray's Patisserie, and my absolute favourite of the trip; Meraki Greek Taverna. If you are after some completely authentic and traditional Greek food, Meraki is the place to go (and a tip; get the halloumi. Just get it).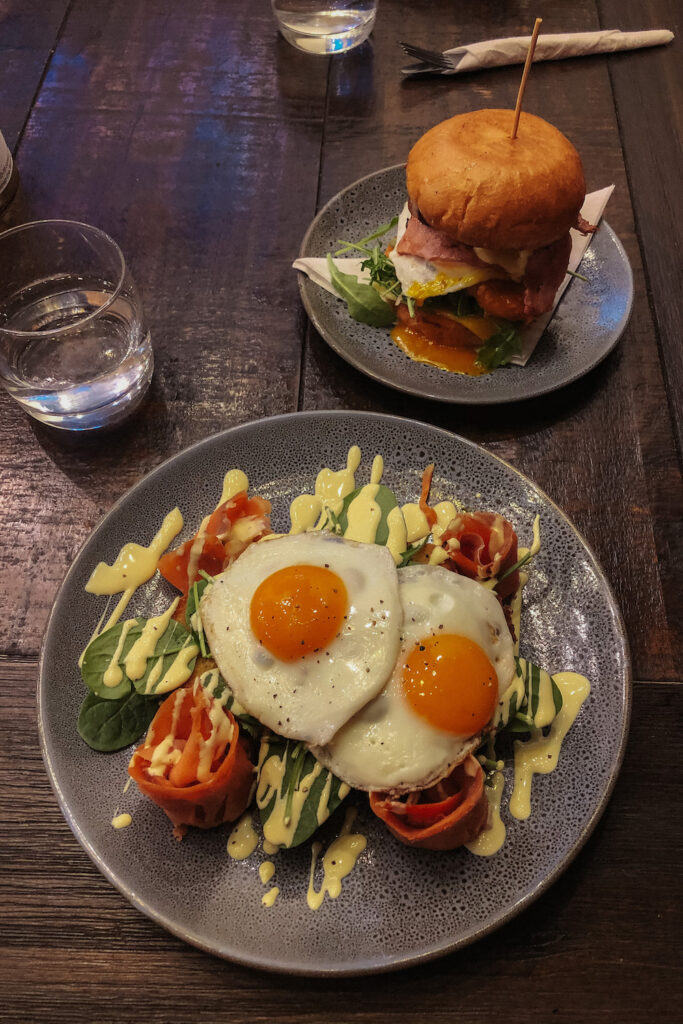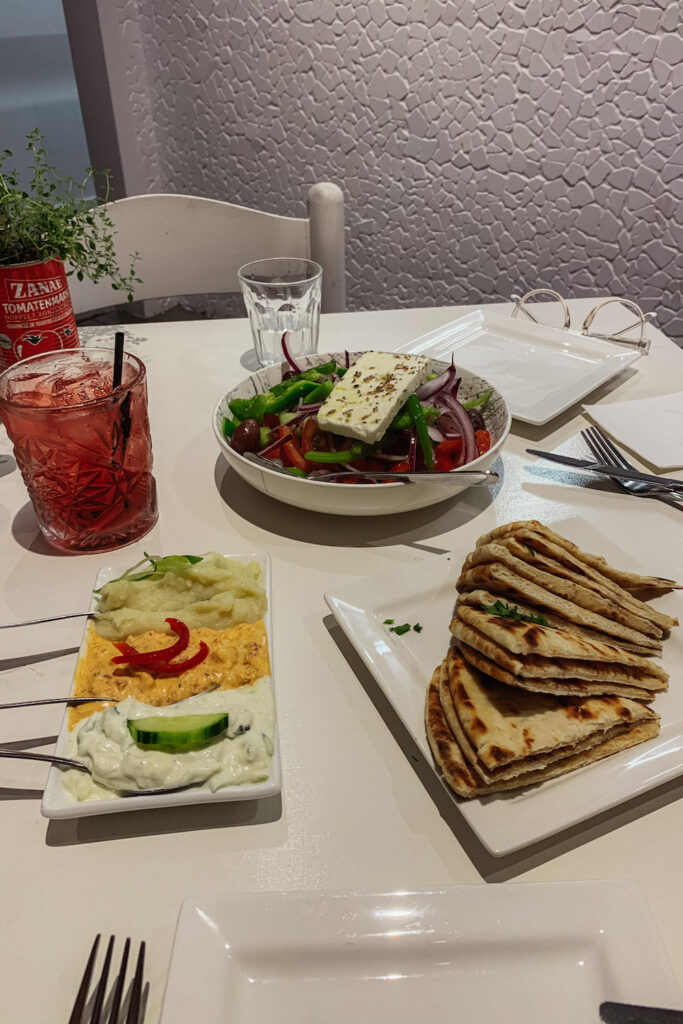 Day 2 – Litchfield National Park
Today for brekky we're off to Dukes Cafe. I'd heard of Dukes through local recommendation – my friend who previously lived in Darwin said it was her absolute favourite, and the Dukes Benny was a MUST. So that's exactly what I got, and it really is a MUST. My partner became so obsessed with their brekky burgers that we actually returned 3 TIMES! OB-SESSED. 
Now it's time to start exploring the Top Ends wildlife! Litchfield National Park is just over an hours drive from Darwin and through the township of Batchelor. It's home to several stunning waterfalls, swimming holes and is the perfect example of the Top Ends landscapes and bushland. 
First up is the Magnetic Termite Mounds. Honestly it's like a bunch of tall rocks – but the intricacy about them is pretty interesting. These huge compass-like nests are all built so that their broader sides face east-west. This thermo-regulates the mounds for the termites inside who prefer a higher humidity. By this point it's already boiling, so it's time to cool down – the closest spot is Buleys Rockhole. A series of shallow flowing pools, it's the perfect place to sit down and let the water rush over your shoulders. 
Florence Falls was our favourite stop of the park. It's the most popular designated swimming area and it's not hard to see why. Wangi Falls and the waters edge was prohibited when we visited, but the falls were all the more spectacular to view while deserted. Crocs are known to explore this area unmonitored so keep an eye out and you might spot one – we did! Our last waterfall was Tolmer Falls. Also a sanctuary for the fragile population of Ghost Bats and Orange Leaf-nosed Bats – you can see the caves from the Falls viewpoint. 
The drive to Katherine takes about 2.5hours.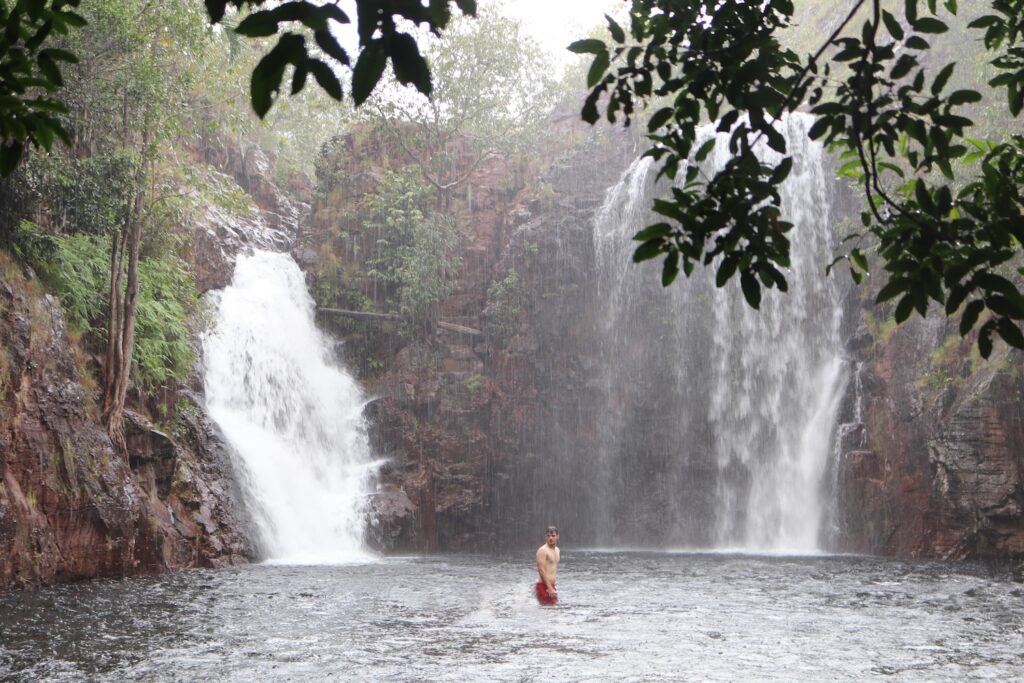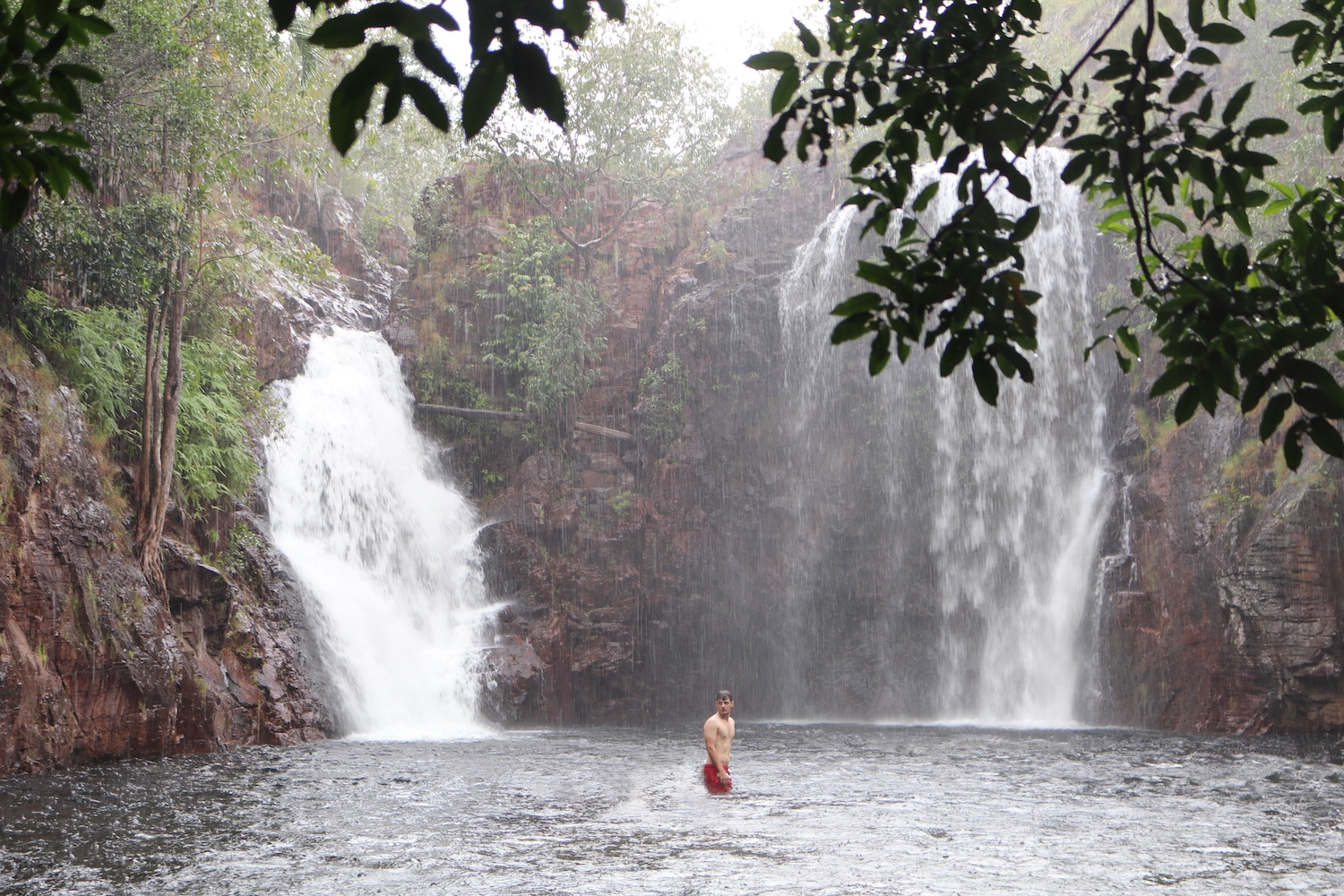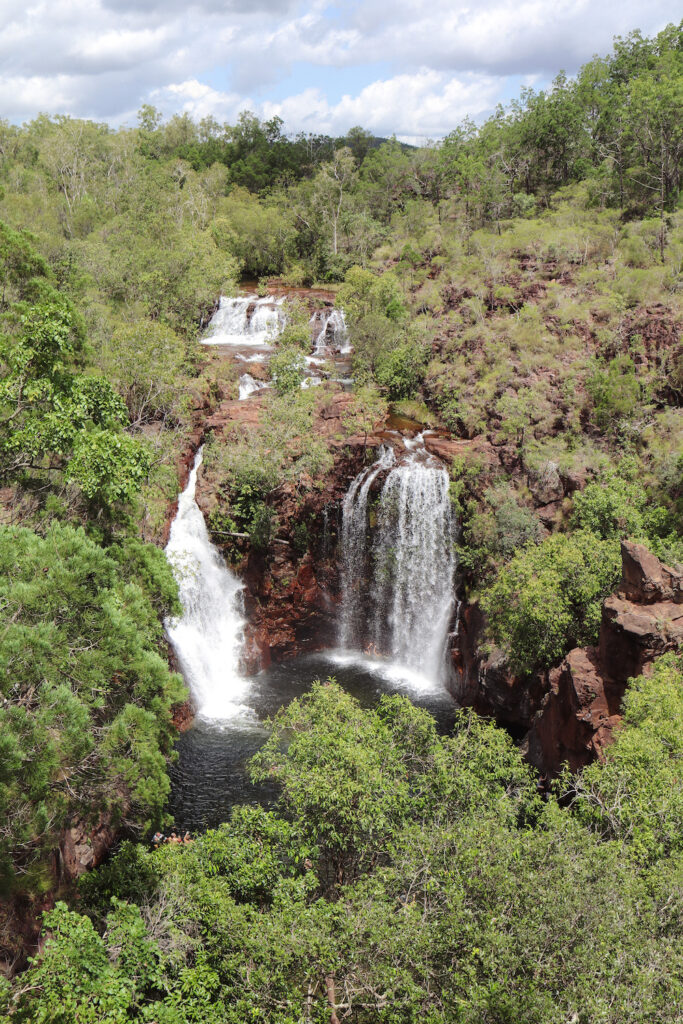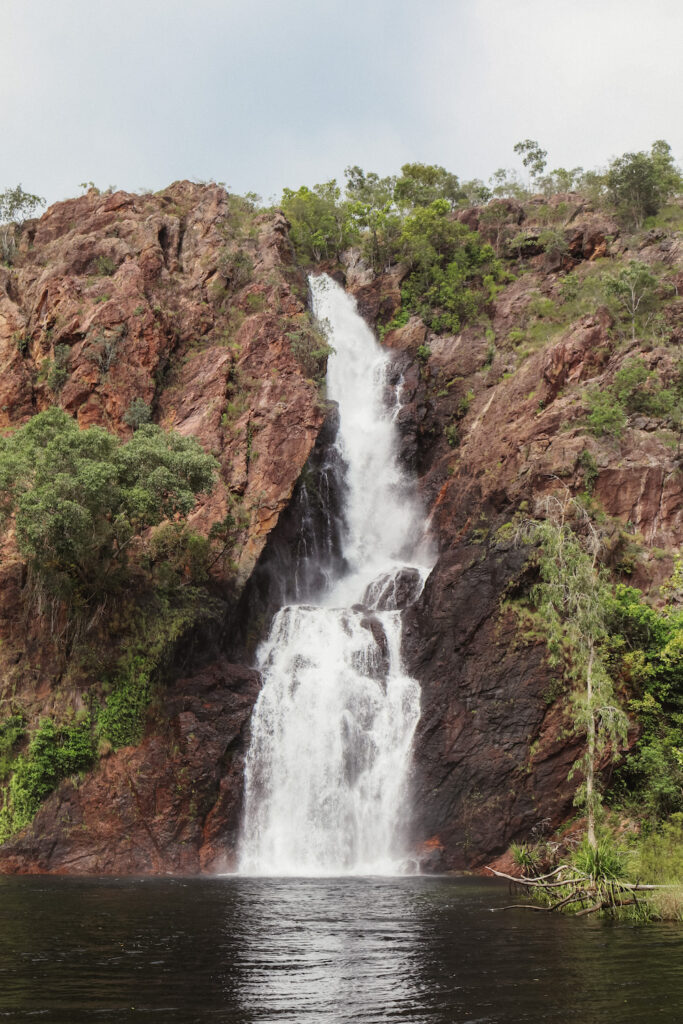 Day 3 – Katherine / Nitmiluk National Park
Katherine is not particularly rich in coffee, but in wildlife it DELIVERS. At the Katherine Visitor Centre you'll also find the Black Russian Cafe. It's a small caravan bar with a large alfresco park to dine in. Though the lines are usually long, the team is incredibly friendly – I happened to be running late so the girl at the counter rushed my order to help me out. Good deed not forgotten! 
For food, there's limited options, but in the centre of town you can find Woolies and all of the classic fast food joints. 
The entrance to Katherine Gorge (Nitmiluk National Park), is a half an hour drive from the township of Katherine. To enter the park, you'll pass through the Nitmiluk Visitors centre. I'll be honest, I did not have a good experience here. The staff at the visitor centre have turned off their phone lines, and are very slow with replying to emails. There's very little information in the centre, unless you specifically ask for it. Though things may claim to be closed online, some things are still open and not advertised. I recommend researching what you want to do, and bring any questions you have to your first visit to the centre. If you have a tour, be sure to arrive early, they can be very strict on time frames. 
ANYWAY. Next up is Katherine Gorge, and this has been on my bucketlist for as long as I can remember! Sadly the kayak experience was closed due to the effects of COVID-19, but after experiencing the heat we weren't too saddened by this in the end. We booked ourselves onto a 2-Gorge Boat Tour. The dock for boat tours is a very short walk from the visitors centre, but if you know where you're going you can go straight to the carpark by the docks. The 2 Gorge tour involved cruising down Nitmiluks first gorge, disembarking and walking over to the second gorge, and then hopping onto another boat there. This boat then floated on down to the end of the gorge, and we returned the same way. While we cruised the skipper gave us plenty of information about the park's history and Indigenous pastimes and dreamtime stories. 
It's time for sunset! While on the Gorge tour, I'd noticed some people standing up atop the cliffs looking down over us. There were a couple wooden platforms, and I deduced that that must be Baruwei Lookout. From the visitors centre most of the walk was all up stairs, but despite the heat it's short. And the view from the top is worth all of the work!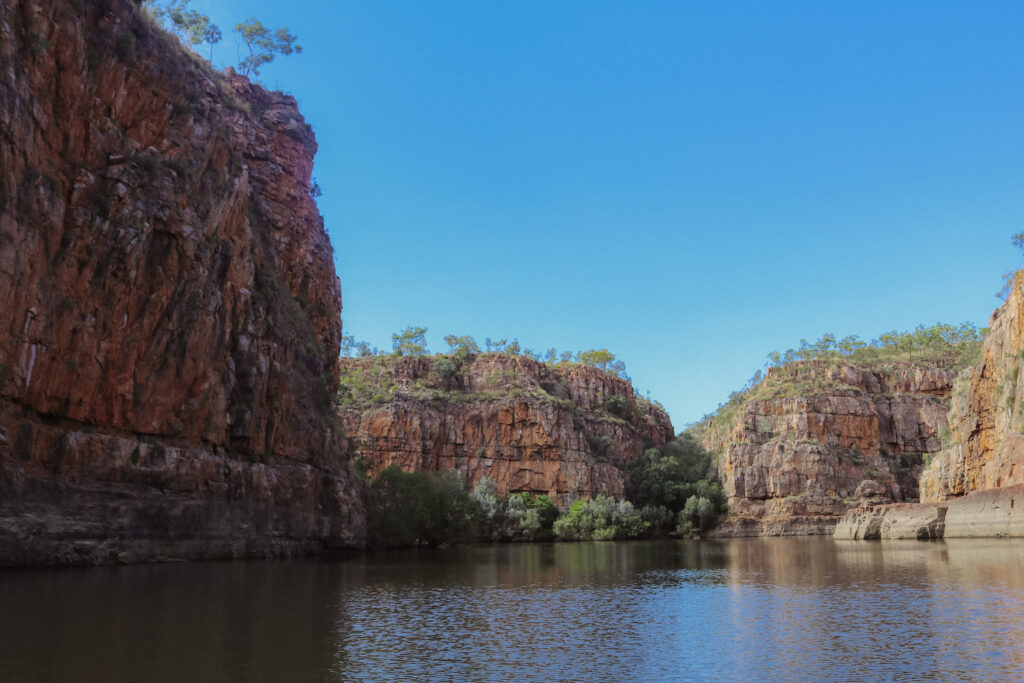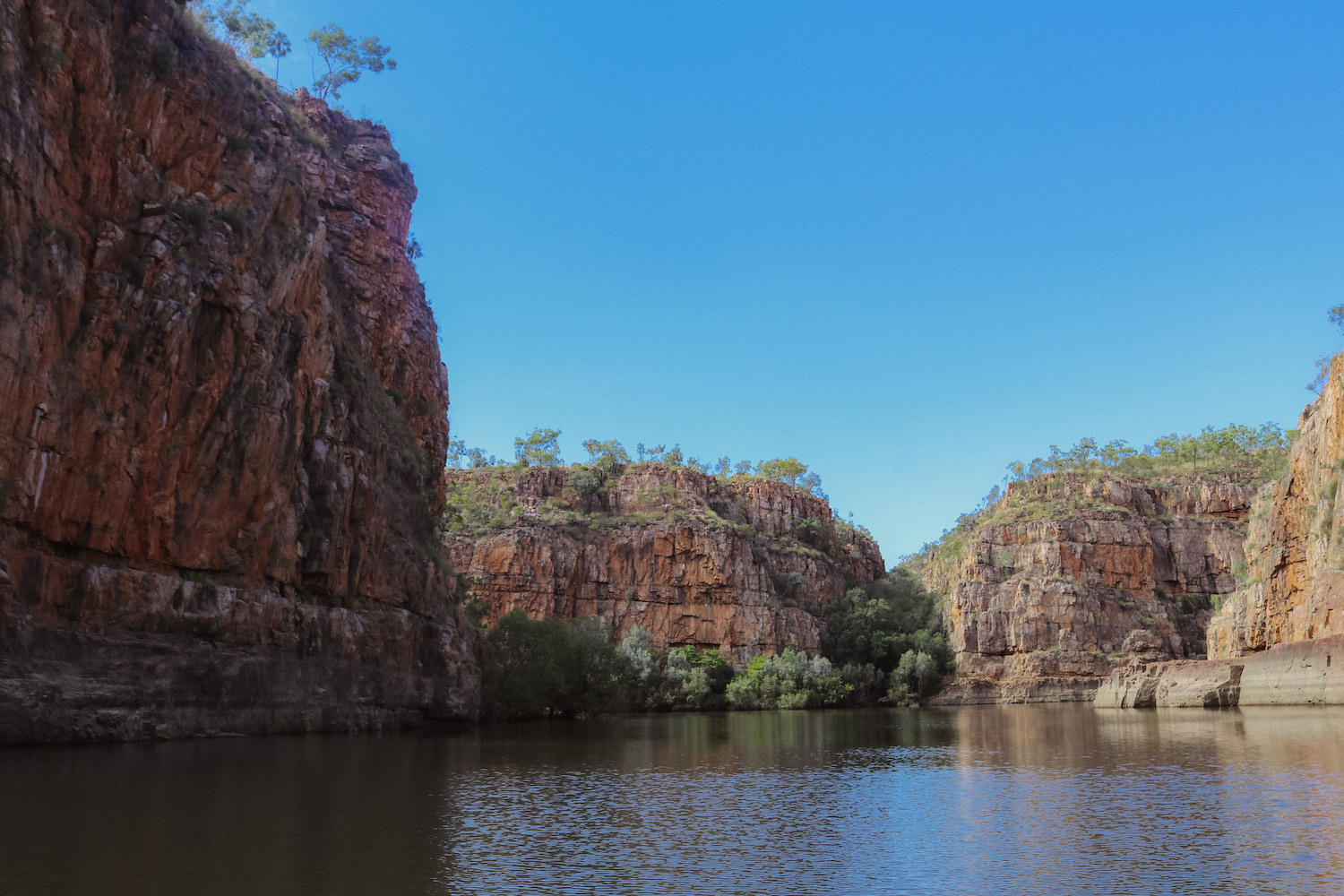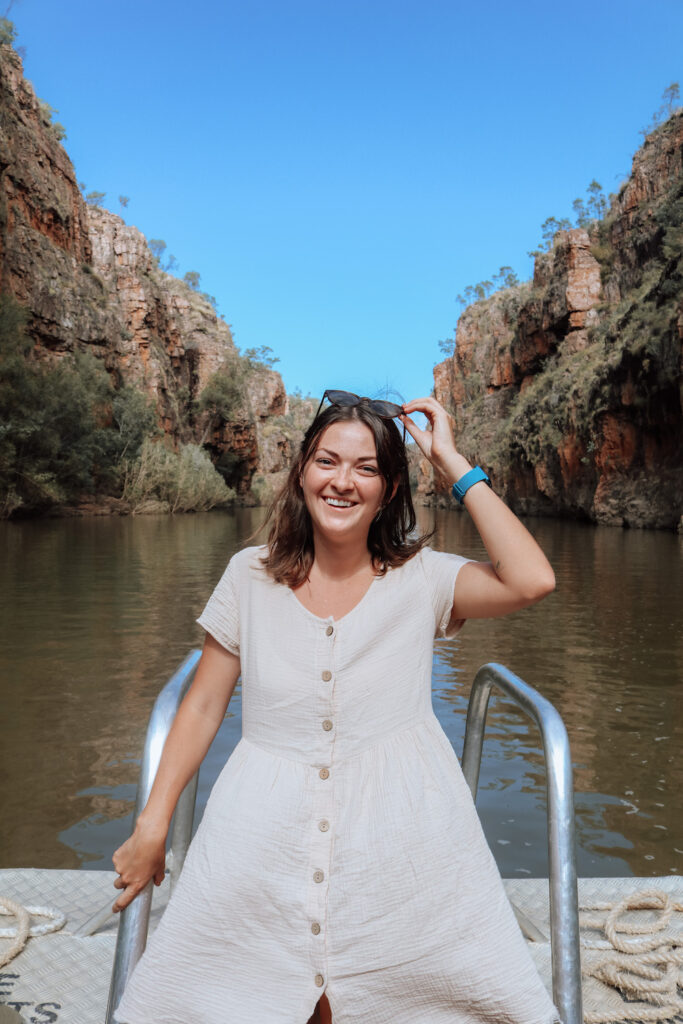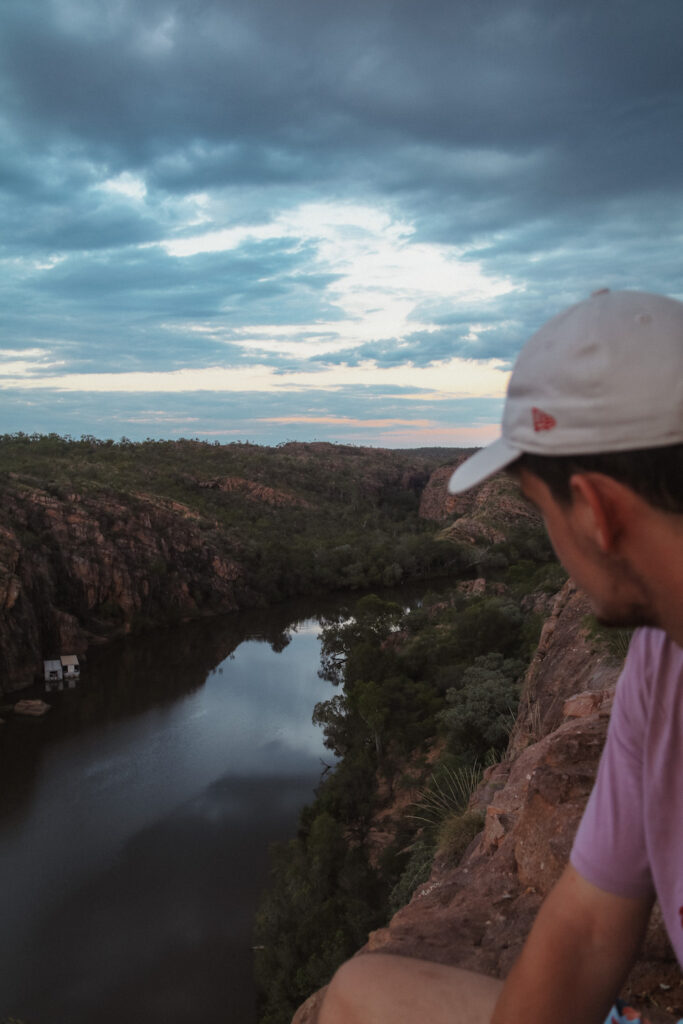 Day 4 – Mataranka / Elsey National Park 
We were very disappointed to find that Katherine Hot Springs were closed during our visit, but this wasn't going to stop us from visiting Elsey National Park to explore the springs there. It took an hour to drive down to Mataranka, and the entrance to the Springs were found through a campground, restaurant and pub. The water was incredible! We were surrounded by lush rainforest but the water was incredibly clear and crisp – and such a vibrant blue colour. The temperature was like that of a warm bath, but it was still cool compared to the temperature outside. The waters edge had a staircase and some steps to sit on.
Bitter Springs was equally beautiful but much more secluded during our visit. This spot was a bit more rural and bushy. There was no official waters edge – other than the metal ladder to enter the water the rest was surrounded by wetland moss and bushes. It was also a lot deeper with no places to sit, so Bitter Springs was much better for those who want to swim around. 
Other than the Springs there isn't a whole lot to see in Elsey National Park. We decided to take a look at Elsey Memorial Cemetery; the final resting place of the people made famous by Jeannie Gunn's book "We of the Never Never". Unless you can appreciate the history, there is not that much to see here.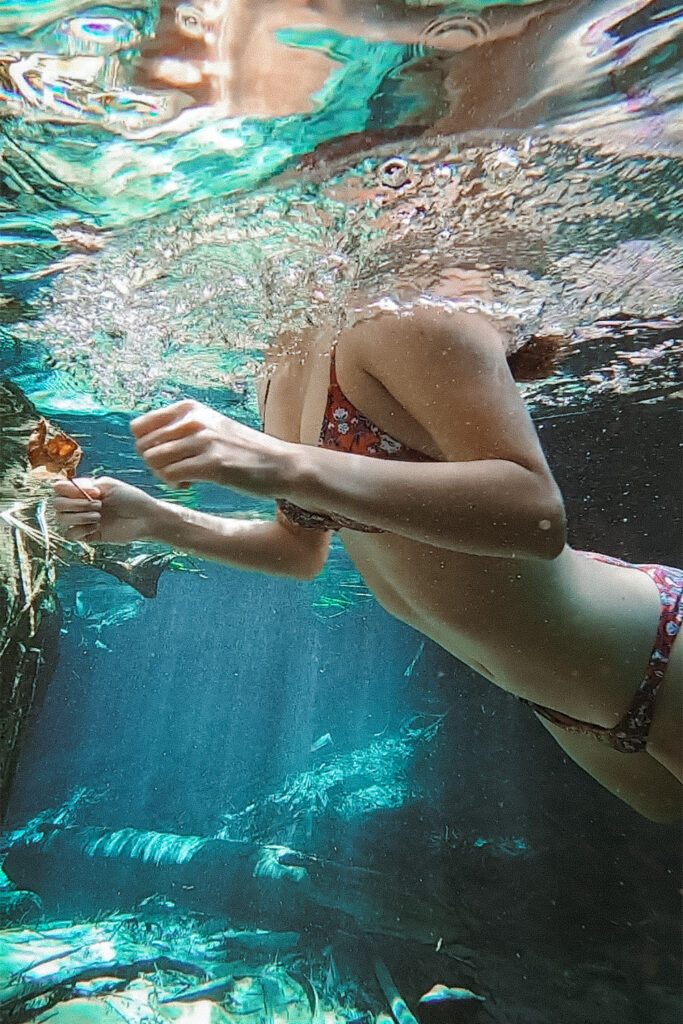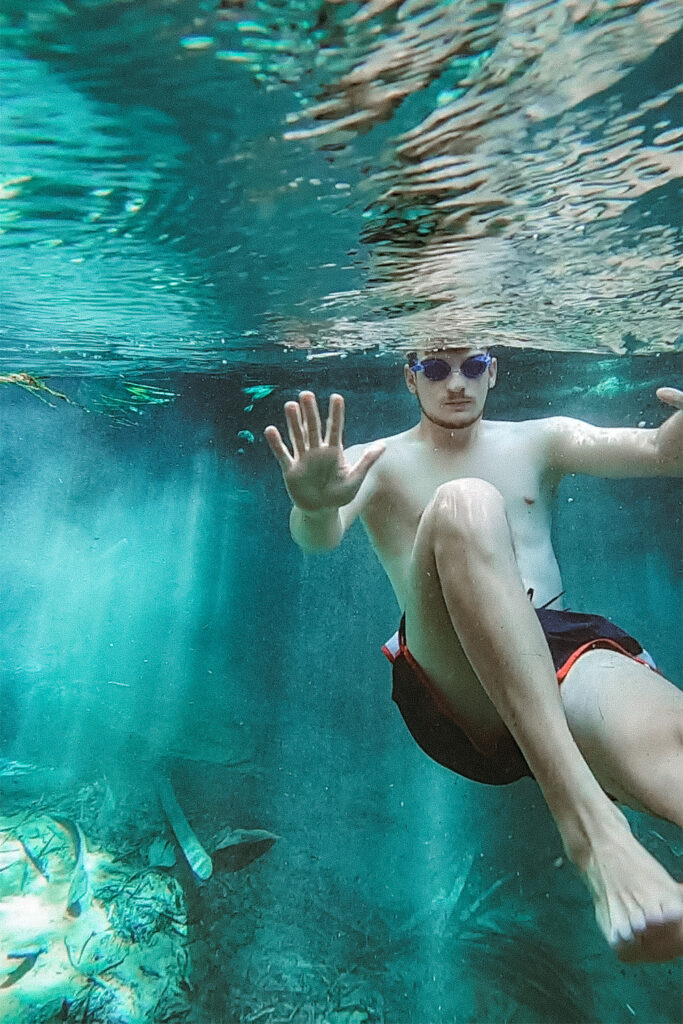 Day 5 – Katherine & Kakadu
Due to the heavy wet season, we were very happy to find out that the Southern Rockhole ferry was still running later into the year than usual. The Southern Rockhole Waterfall is accessible by a 8km return track. 4km there, and 4km back – so you can either hike the entire journey, or you can walk one way and catch the ferry for the other. 
To the Falls; 9am, 11am

Return from the Falls; 10:30am, 12:30pm
I recommend allowing yourself the most time possible. We got the 9am ferry there, and with the included travel time the 10:30am return didn't give us much time to relax at all. 
The Falls themselves are amazing, the water is cool and there is plenty of space around the base to relax and sunbathe. Underneath the falls there is a shallow space and some rocks you can stand on while you let the water rain down over you. 
On the way towards Kakadu we stopped by Edith Falls (Leliyn). It was closed for crocs and high waters, but I could easily imagine that it would be an incredible place to spend the day picnicking and swimming. There was a small restaurant/kiosk there too. I would recommend this spot to anyone who's visiting while it's open, otherwise it was just nice to look at from afar. 
From Nitmiluk to Cooinda it was a 3hour drive. For those staying in Jabiru it's not that much further, and if you want to take in the sunset at Ubirr Lookout it's a tiny bit further than that. We just missed the sunset at Nourlangie Lookout which I was really looking forward to (but we later visited during the day and it was equally spectacular).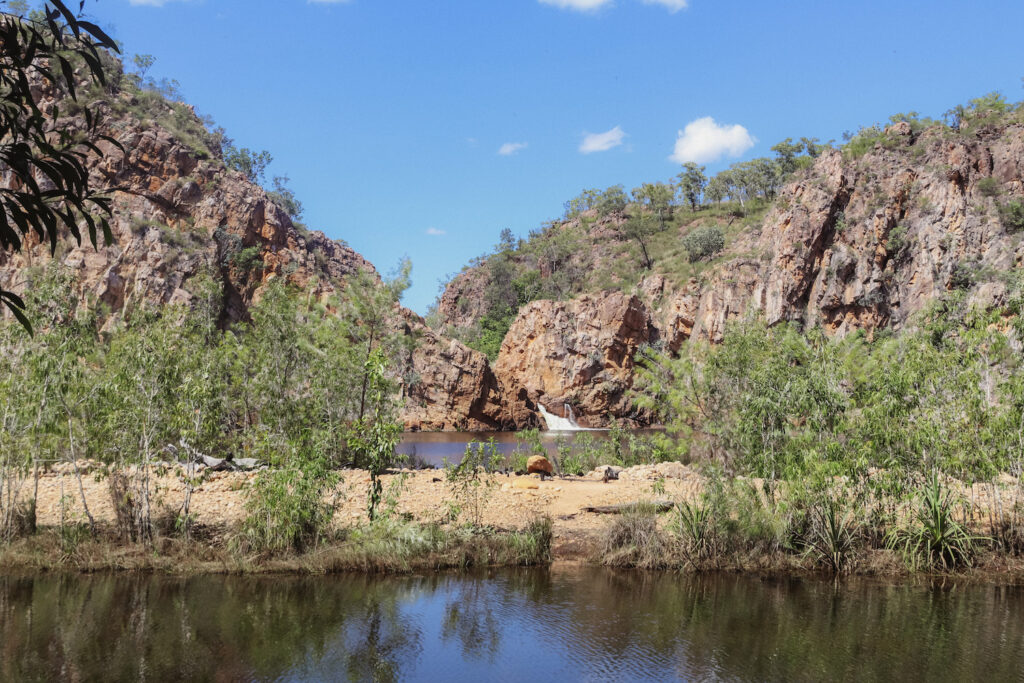 Day 6 – Kakadu
Upon entering Kakadu, within about half an hour of driving down the Kakadu Highway we had spotted 3 wild donkeys, and a wild buffalo ran across the road! They definitely are not exaggerating when they say that Kakadu is FULL of wildlife. 
As I've mentioned already, upon arriving in the Top End we discovered that one of the biggest wet seasons in a decade had just finished up. In Kakadu, that meant that almost everything was closed. Our options for exploration were incredibly limited. 
For wildlife, the best place to be is on a Yellow Water River Cruise. Sunrise is the most popular, but the sunset has been known to see more wildlife. And I can tell you, they are NOT wrong. For our sunrise cruise, we saw 7 crocs, our tour guides record! For sunset, the croc sightings were harder… It seemed that by morning the crocs relaxed on the sandbanks while it was cool (and much easier to spot), and in the heat of the afternoon they were all swimming around underwater. For sunset we saw maybe 3 crocs, and plenty of wetland birds. I almost had my doubts about how much wildlife we would see over sunset… but then it happened… for the first time of the season, we watched an entire herd of buffalo emerge from the bushes and enter into the wetlands under the golden sky. It was unlike anything I had seen before. I have never been on an African safari, but this felt like the closest thing to it. 
The cruises depart from Cooinda Lodge, and for the sunrise tour there is an included buffet breakfast in the Lodge's restaurant. If you book one tour, the second becomes 50% off, so I mean… why not?!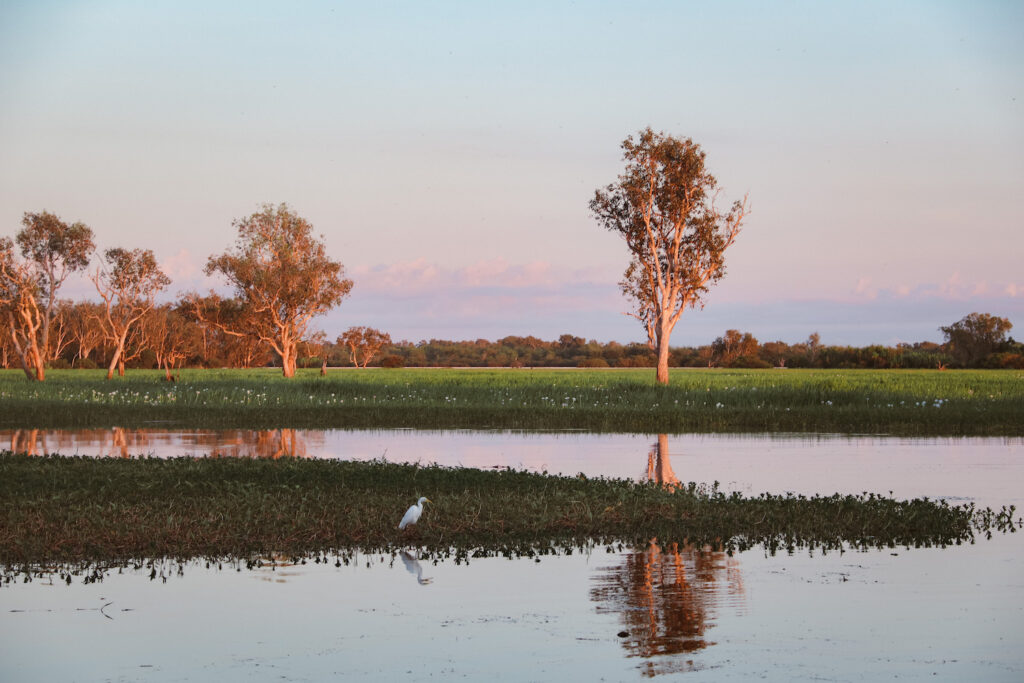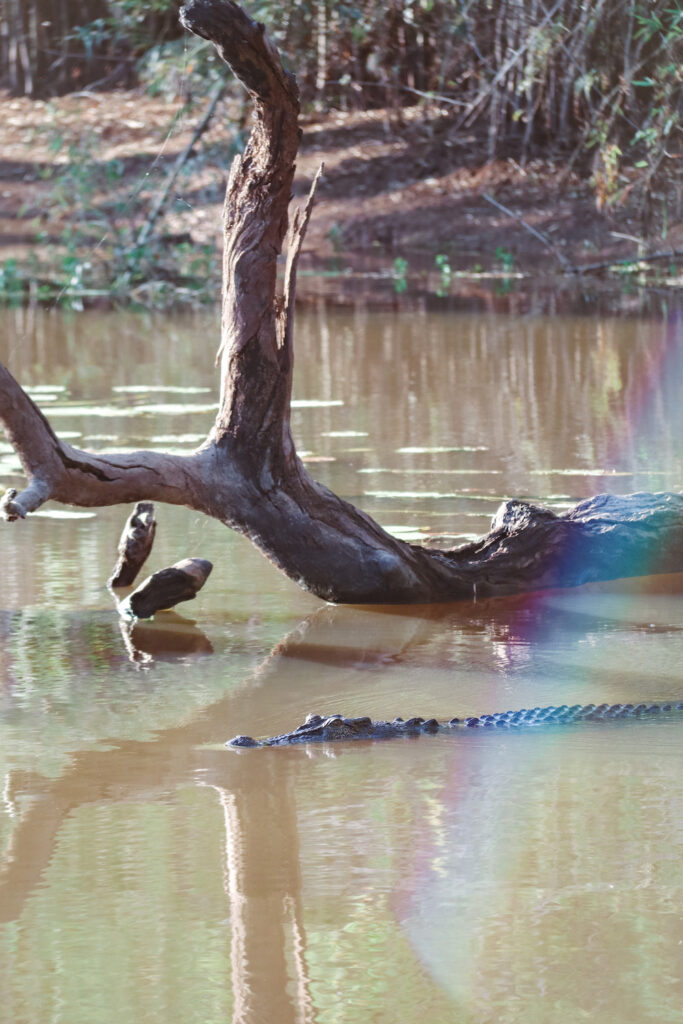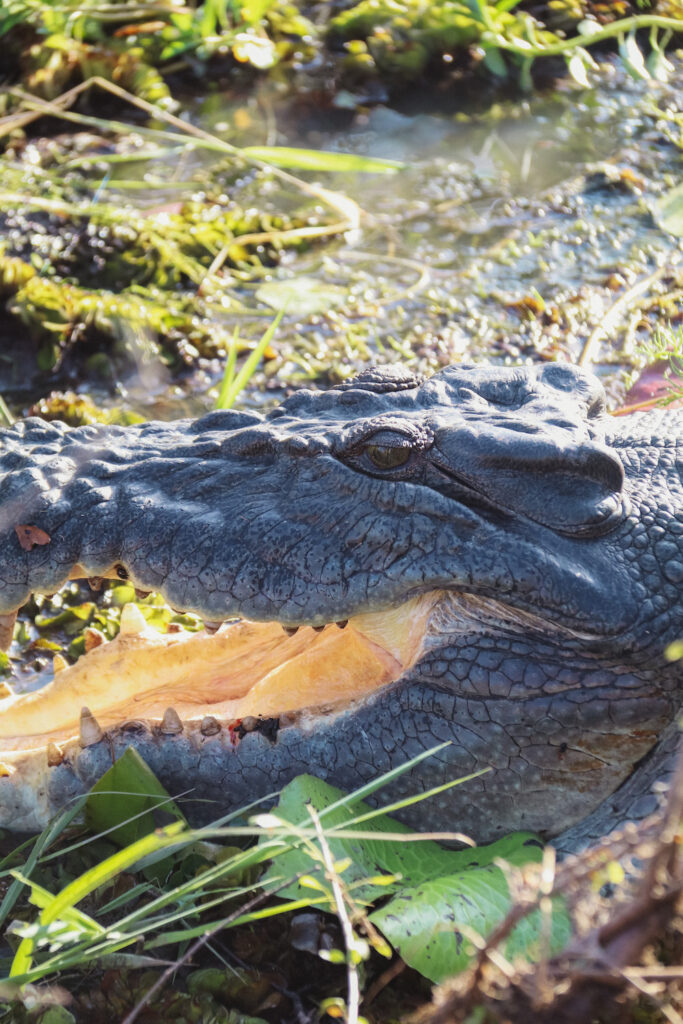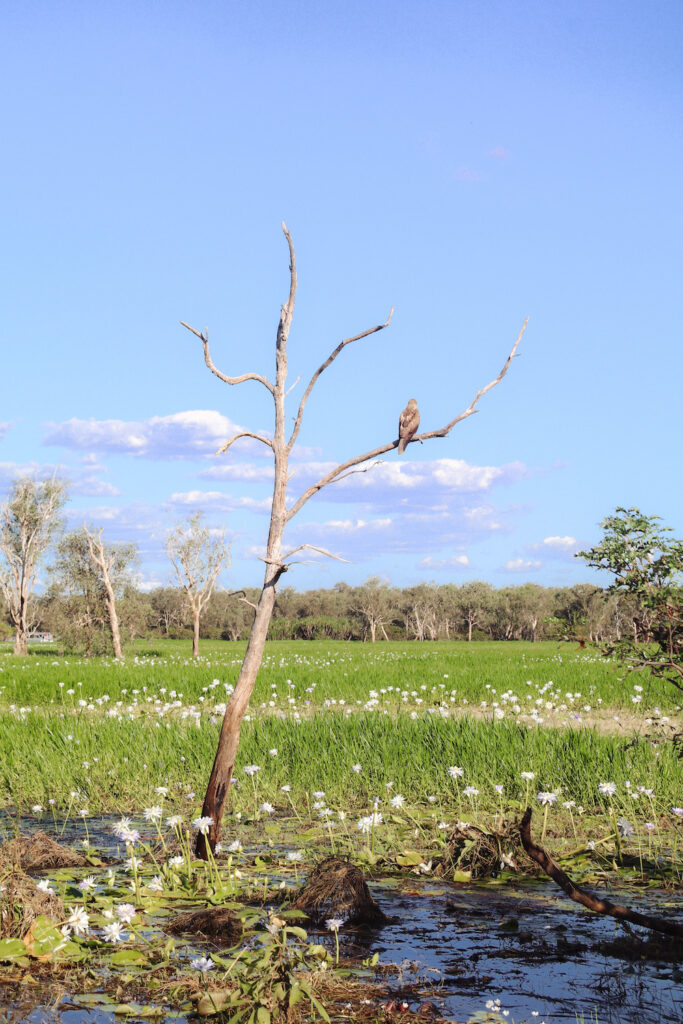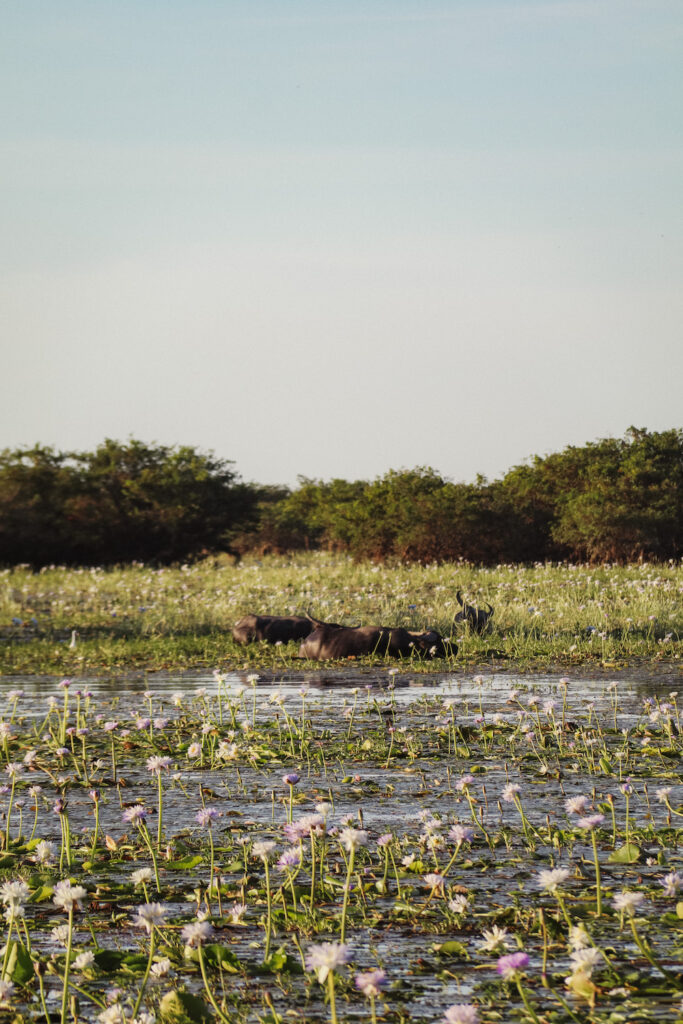 Day 7 – Darwin
Before leaving Kakadu we tried to fit in as much as we could that was open. We started with the Mirray Lookout walk. This 2km walk is signposted to take 1.40hrs, but it only took us about 25minutes. It was a very sweaty walk, so once we reached the top we took a long rest under the shaded viewpoint. The views looked down over the vibrant valley and over to Nourlangie. 
If you like walking, at Nourlangie there are plenty of walking trails that display some of the incredible culture, history and Indigenous rock art. 
It was about 3hrs back to Darwin, and just in time for our sunset cruise. With Cape Adieu cruises you can opt to just cruise, cruise with a prawn platter, or have a full buffet dinner. We opted for the cruise and then we were able to help ourselves to the onboard bar and included chips and dips (you're also welcome to bring your own food on board). The view over Darwin's waterfront for sunset is incredible. The entire sky lights up a bright pink colour as the sun falls down over the horizon. I had already done this cruise once before, but I knew I wanted to do it again. Darwin has sunsets unlike the ones I ever see from the East Coast of Sydney.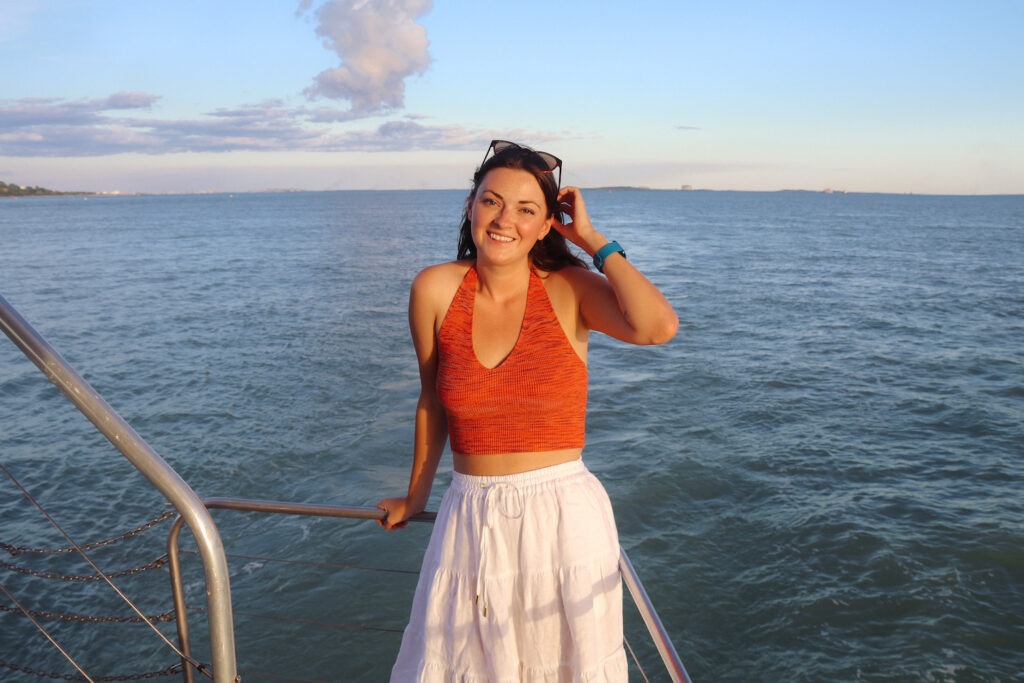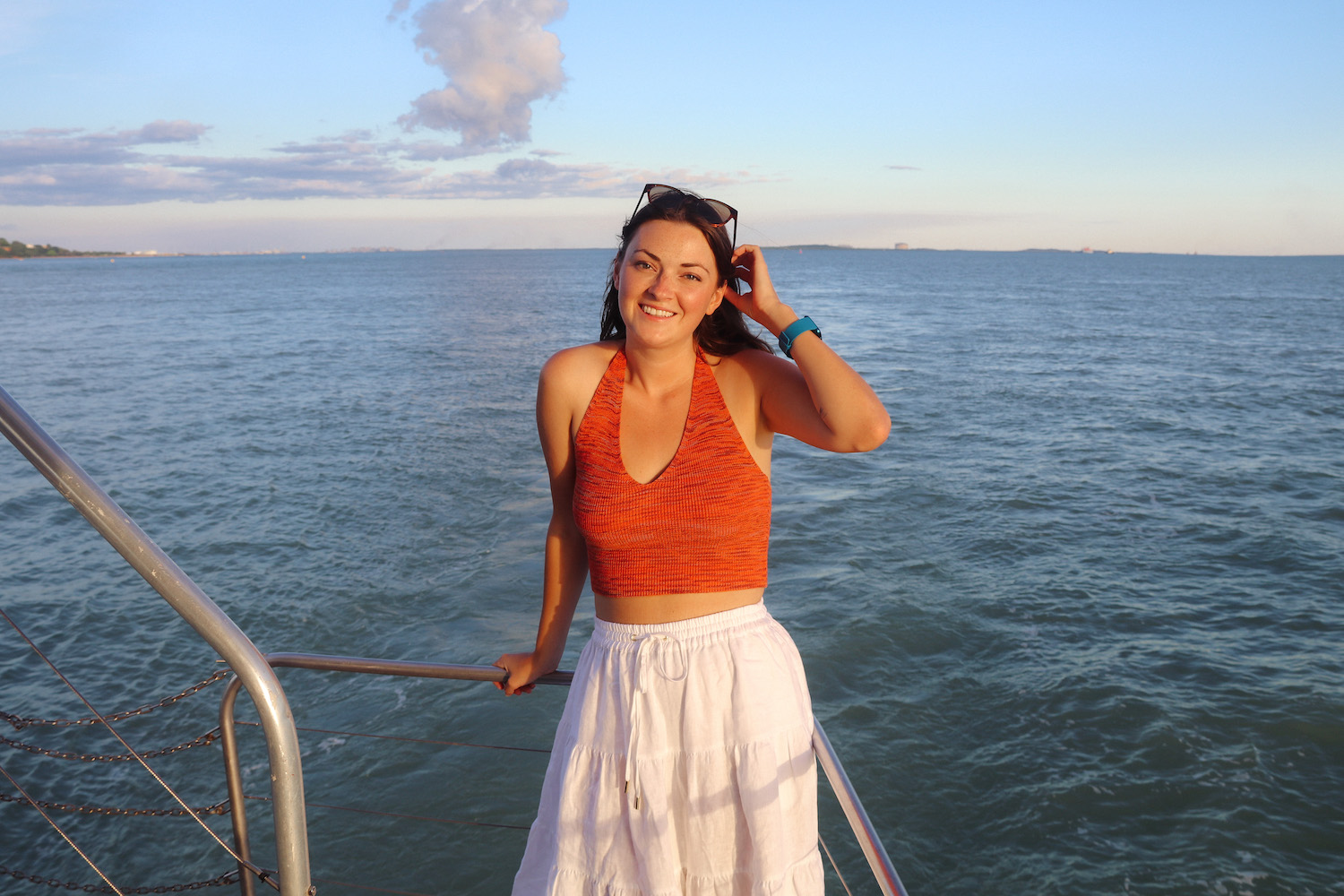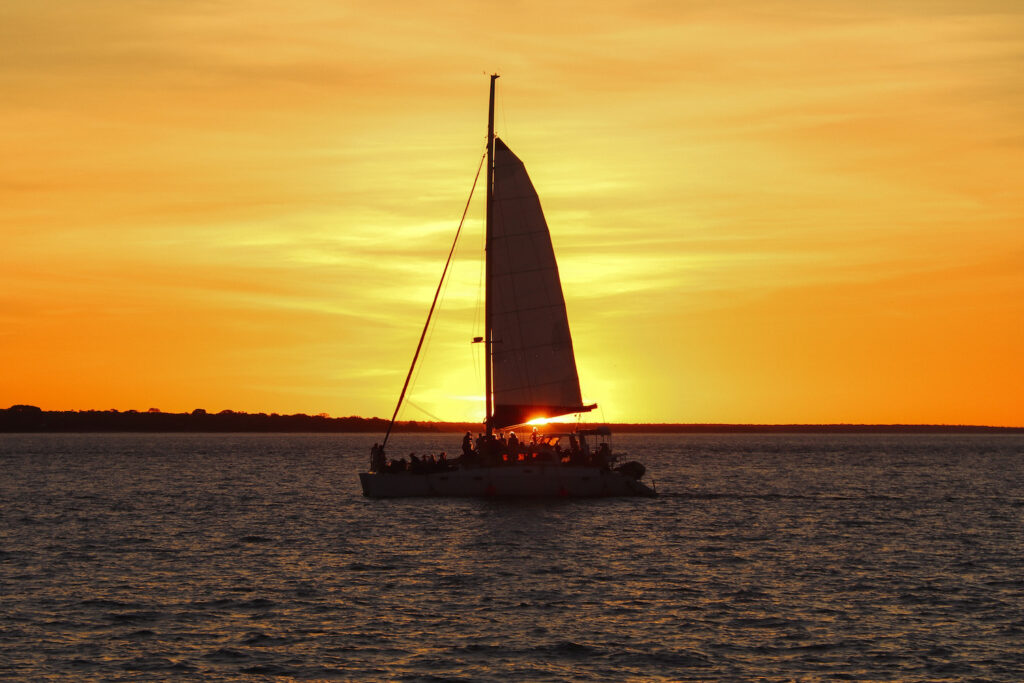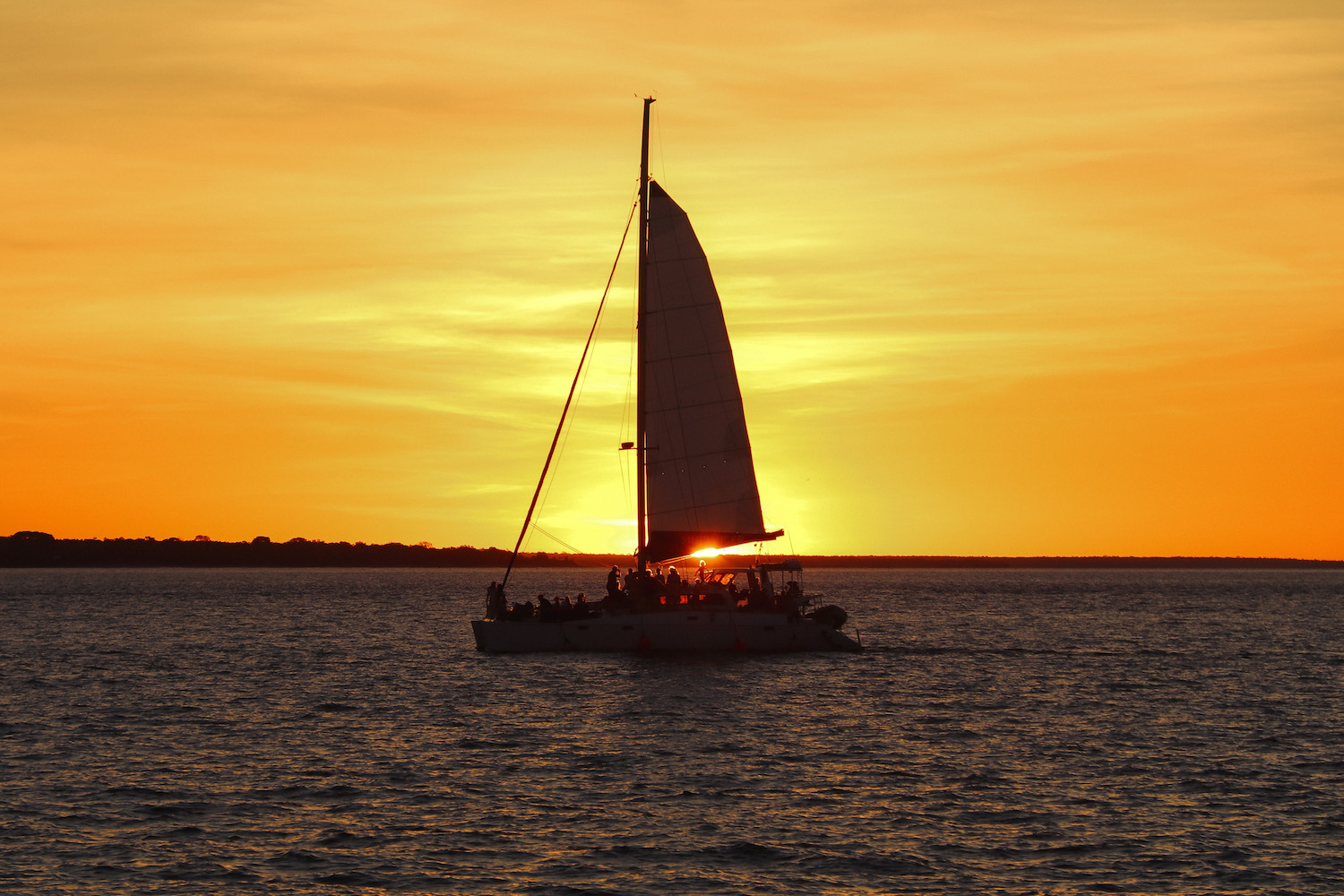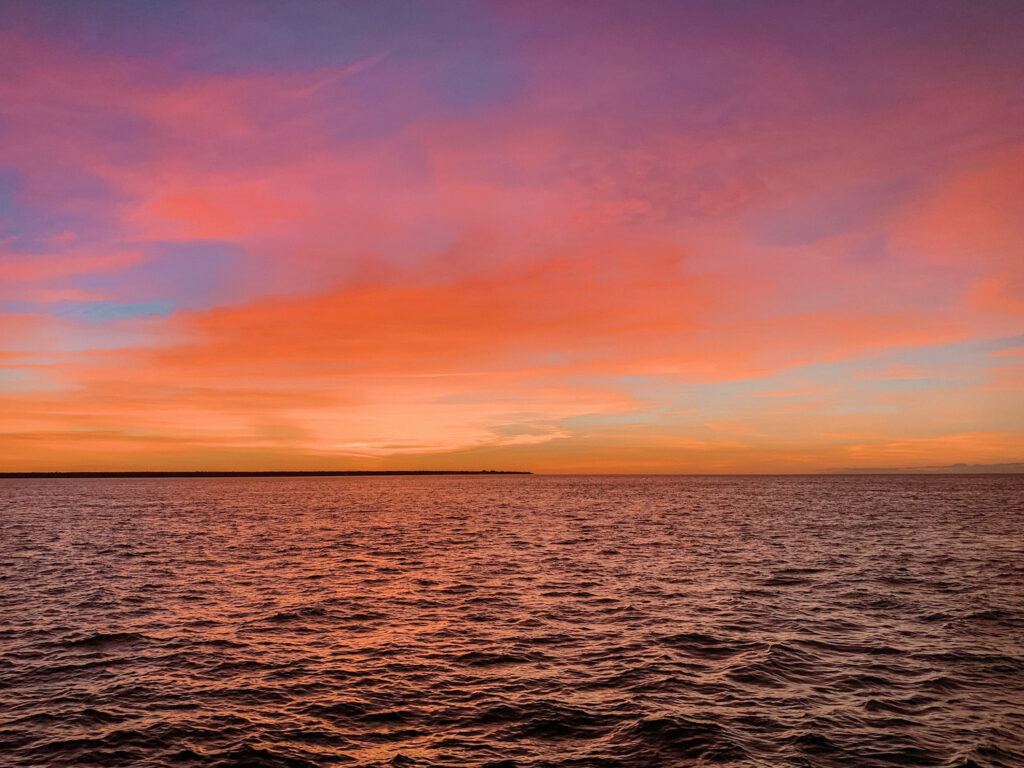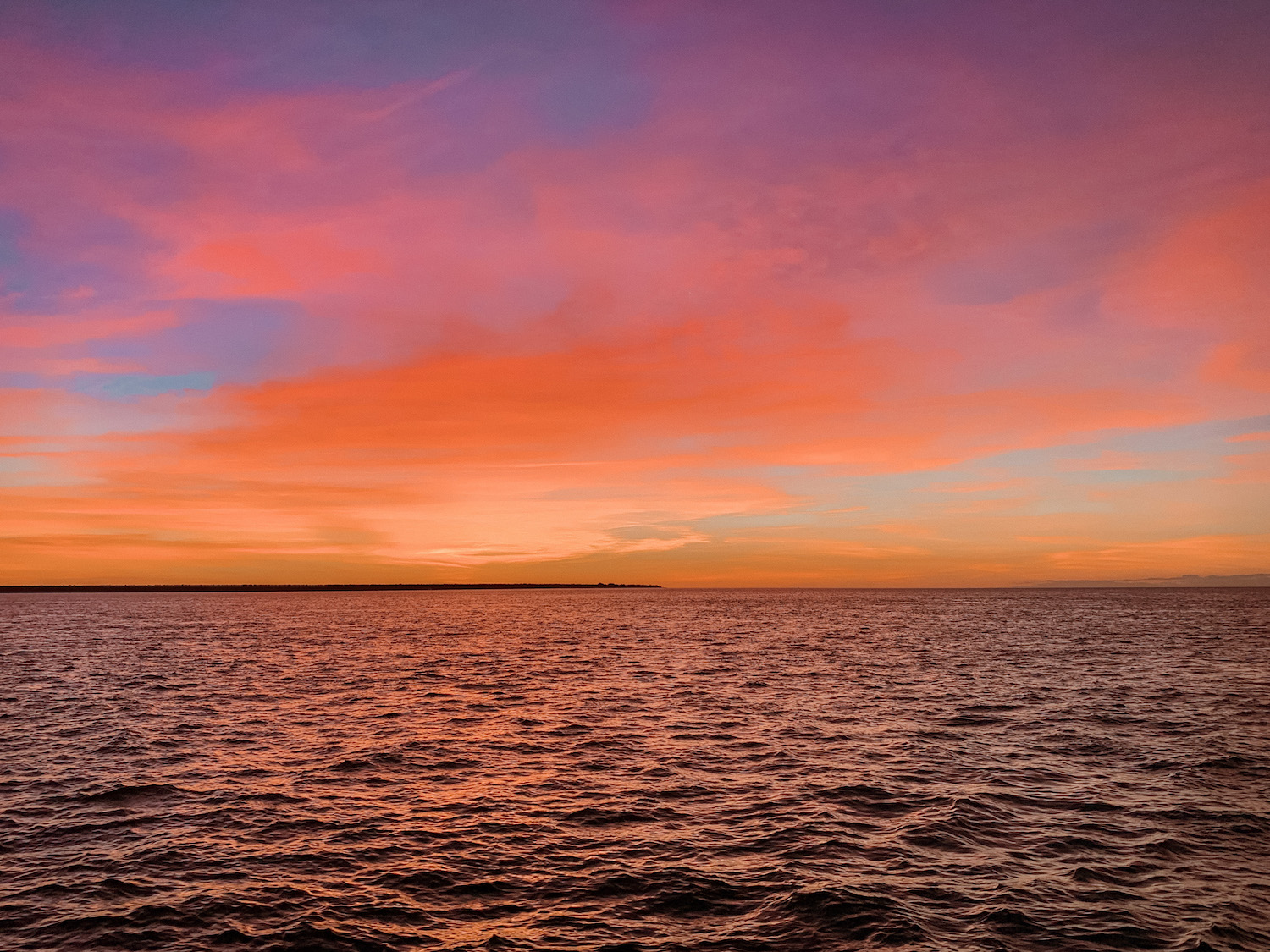 Where to Stay in Darwin
Darwin has a little bit of everything when it comes to accommodation. On Mitchell Street you'll find a lot of the backpackers – the YHA has just reopened! I stayed in the Youth Shack, which had really nice private rooms, but I would probably only recommend it to those who want to party. A little further from Mitchell Street you'll start finding some of the nicer budget hotels and resorts – H on Smith, Novotel, Vibe.