If you are looking for a 7 day itinerary for the Northern Territories Red Centre, I got you! This blog covers the best things to see in the area, as well as the best places to grab a coffee, brekky or a beer, go for a hike, and where to watch the sunset. This is basically my entire diary of my travels around the Red Centre. 
Disclaimer: my trip was done via 2wd. Upon arriving in the NT we found that a lot of the roads were either unsealed or were high-clearance 4wd access only – so we were quite limited with where we could go. This blog won't include destinations that require a 4wd to get to them, sorry!
Day 1 – Alice Springs & Mt Connor
I landed in Alice Springs and spent the day preparing for a few nights of camping in Uluru (aka Woolies & Kmart). For breakfast I kicked back in Wicked Kneads for some coffee and pies – somehow the smell of fresh pastries and warm oat milk already felt incredibly homey, and it was just around the corner from my accommodation. 
For Nature and Wildlife, you can explore Alice Springs Desert Park – this "natural" attraction gives you a close up look at Australia's desert and native animals. 
If you like hiking – the Larapinta Trail is one of the most well known walks in the NT. The entire trail spans over 230km of the West MacDonnell Ranges. It's divided into twelve sections that each take one or two days to walk. For something easier, and shorter – Anzac Hill takes about 10-15minutes, and offers the best view over the town of Alice Springs. This is where I went to watch the sunset, and with so little around – it's the best place to be for it. 
The drive to Uluru took about 5hours but it didn't feel that long. We made a few stops along the way – bathroom breaks, and a stop at the Welcome to Alice Springs Sign. After that, Mount Conner Lookout. The rumours are very true, the first sight of Mt Conner and we were in the car yelling "Oh! Is that Uluru??" – short answer, no. Across the road from the lookout there is a small sand dune that gives you a higher point of view – from up here you can also take a look at the Salt Water Lake on the other side. From here it was a 1.5hr drive into Yulara, the resort town just outside of Uluru-Kata Tjuta National Park. 
For sunset we headed to the nearby Ewing Lookout. It wasn't within the park so we didn't require an entry pass, but the benefit of this was that the entire lookout was deserted! We were the only people at the viewpoint for the entire sunset, and though it was quite far away it still offered views of both Uluru and Kata Tjuta.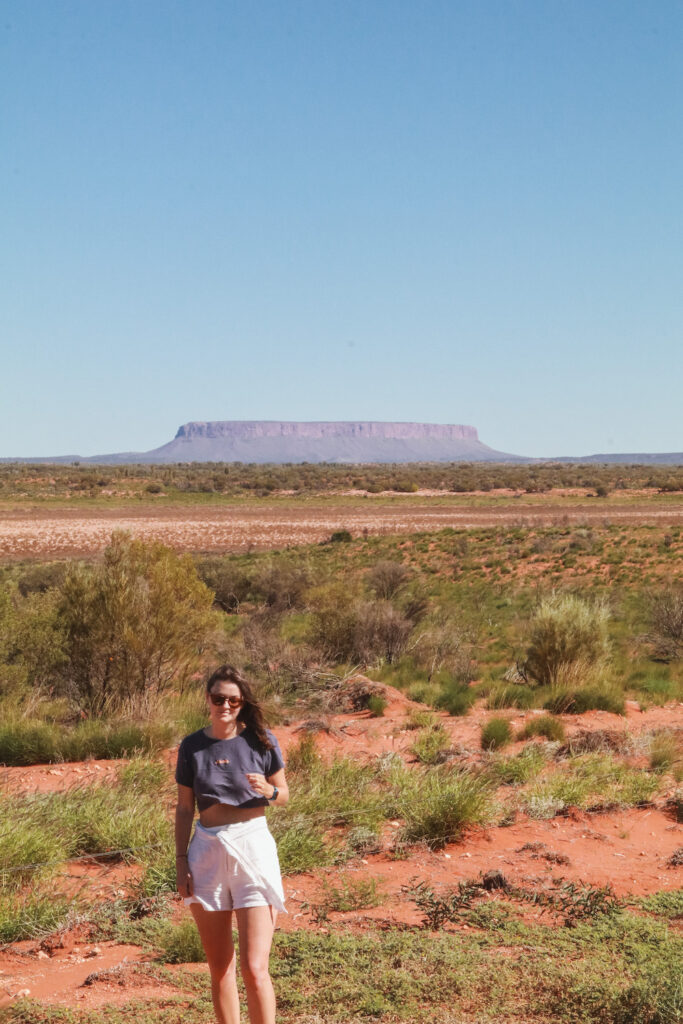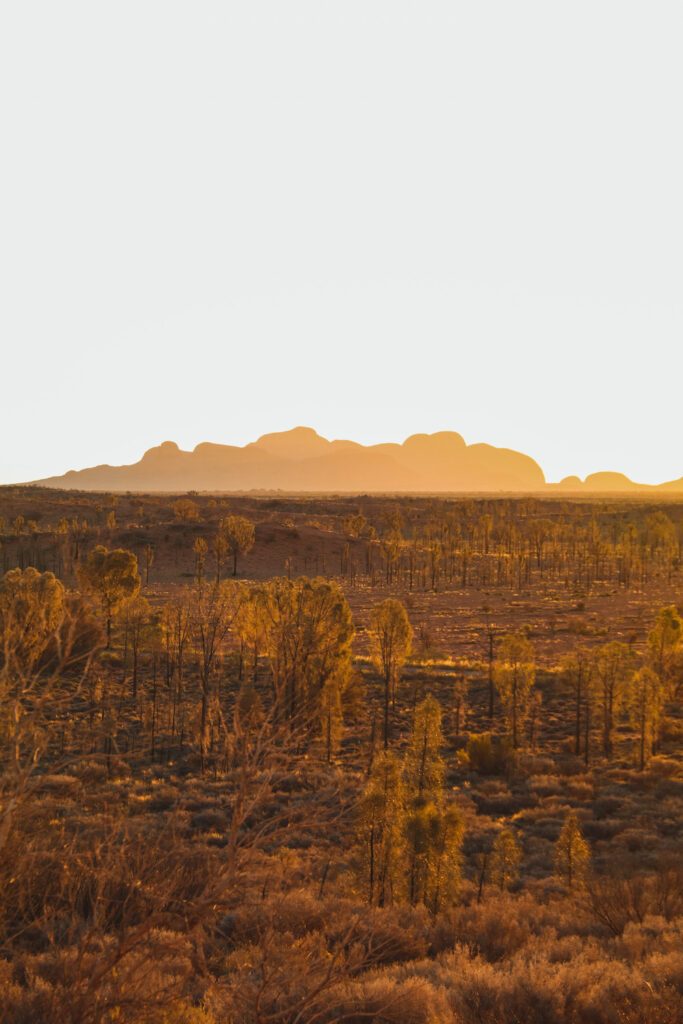 Where to Stay in Alice Springs?
If you're usually a solo traveller like myself, this year the big thing missing is international travellers – so staying in a backpackers is the perfect place to meet more likeminded travellers. Not only this, the team at Alice Springs YHA is one of the nicest, and friendliest crews I've ever come across. Alex and Anna, a couple from Germany and their newborn baby are running the place. 
I stayed in a private room overlooking the pool. Nearby the bathrooms, kitchen, and outdoor cinema! The YHA has been built into an old retro cinema, so it's only fitting that every night they project movies up onto the building for the guests to enjoy. As well the location was right on the edge of town away from the noise, but close enough to be walking distance to everything. There's no official car park on site, but Alex and Anna like to be safe and let their guests park on the grounds overnight. 
Day 2 – Uluru 
For sunrise my partner and I made our way out to the bus stop at 5am ready for pick-up. Where are we going? Somewhere bloody MAGICAL that's where. Uluru's Field of Lights is most spectacularly known for sunset, but for sunrise it's equally as incredible. Not only is it a little bit cheaper, but instead of bubbly, beer, and canapes, it's coffee, tea and biccys. The groups are generally smaller, and it still includes access onto the dune viewing area – the best view of the experience!
Next, we head to Uluru – this time a little bit closer! Uluru's Base Walk is a 10km track that takes you around the whole rock. It's said to take 3.5hours but I finished it in 2.5hours at a casual pace. I recommend doing the walk early in the morning (we stupidly didn't, and in that heat it sure did feel like 3.5hours of walking).
If you're a coffee addict like myself, Kulata Academy Cafe is the place to go. I had seen this place on Instagram and really wanted to support the cause during my visit. The Cafe is dedicated to helping Inigenous Australians take their first steps into hospitality careers. Cultural tourism gives the trainees an opportunity to learn in a working environment – so where better to get that fresh cuppa java?!
My next destination was somewhere for sunset, and the Car Sunset Viewing Area was my absolute favourite of the entire trip. The car park is huge, so there is plenty of space for everyone, but I still recommend getting in early if you want a nicer, quieter spot. We found that the first few parking areas were all full, but if you kept driving further most of the parking areas were empty.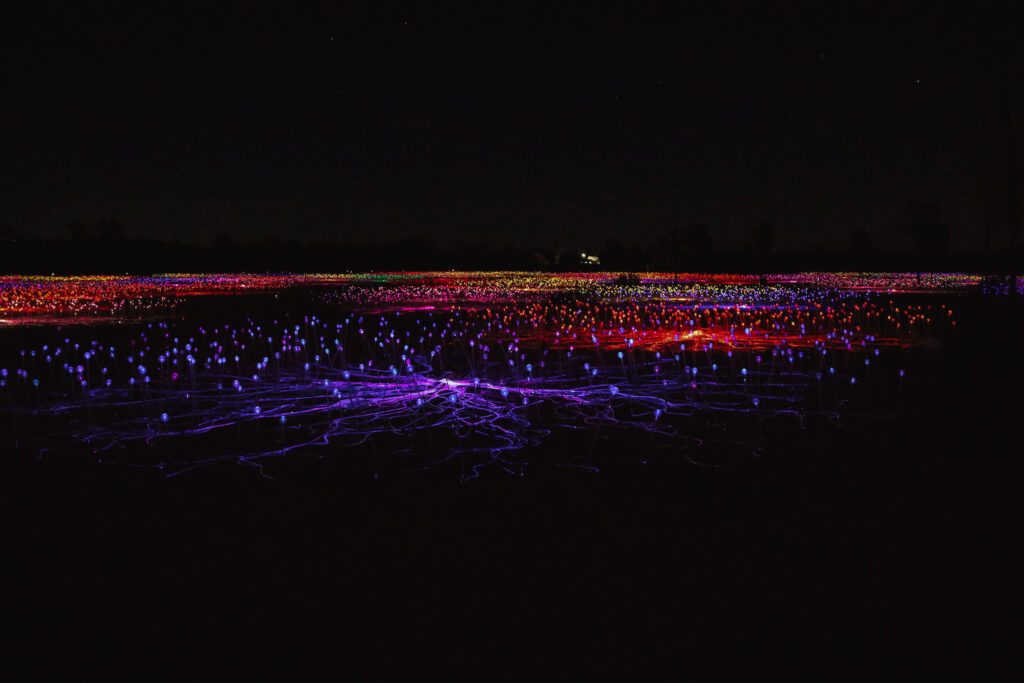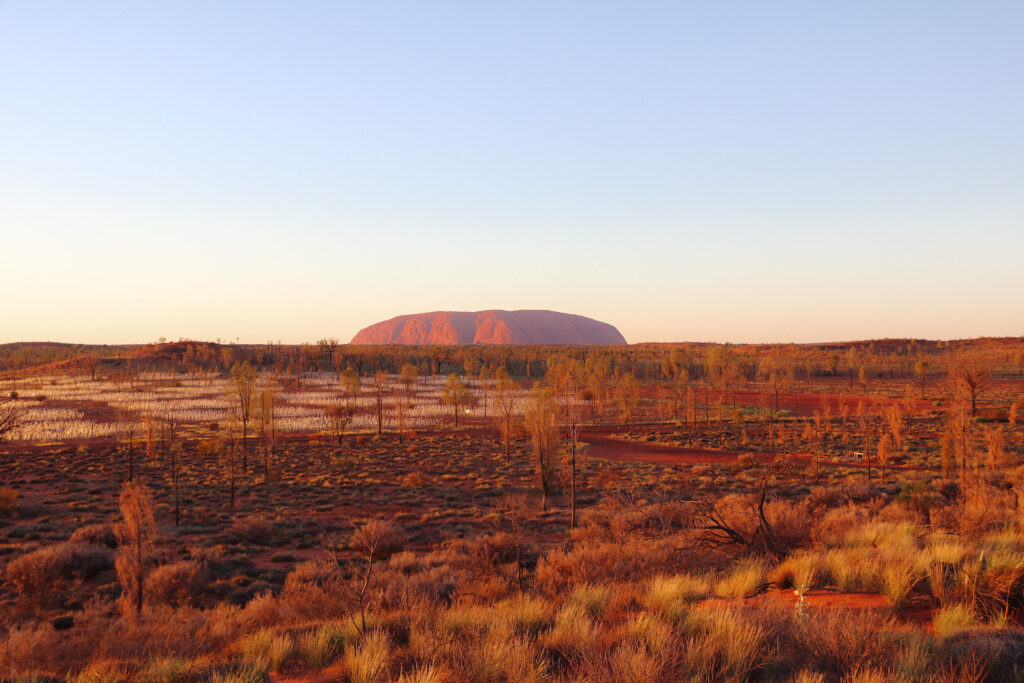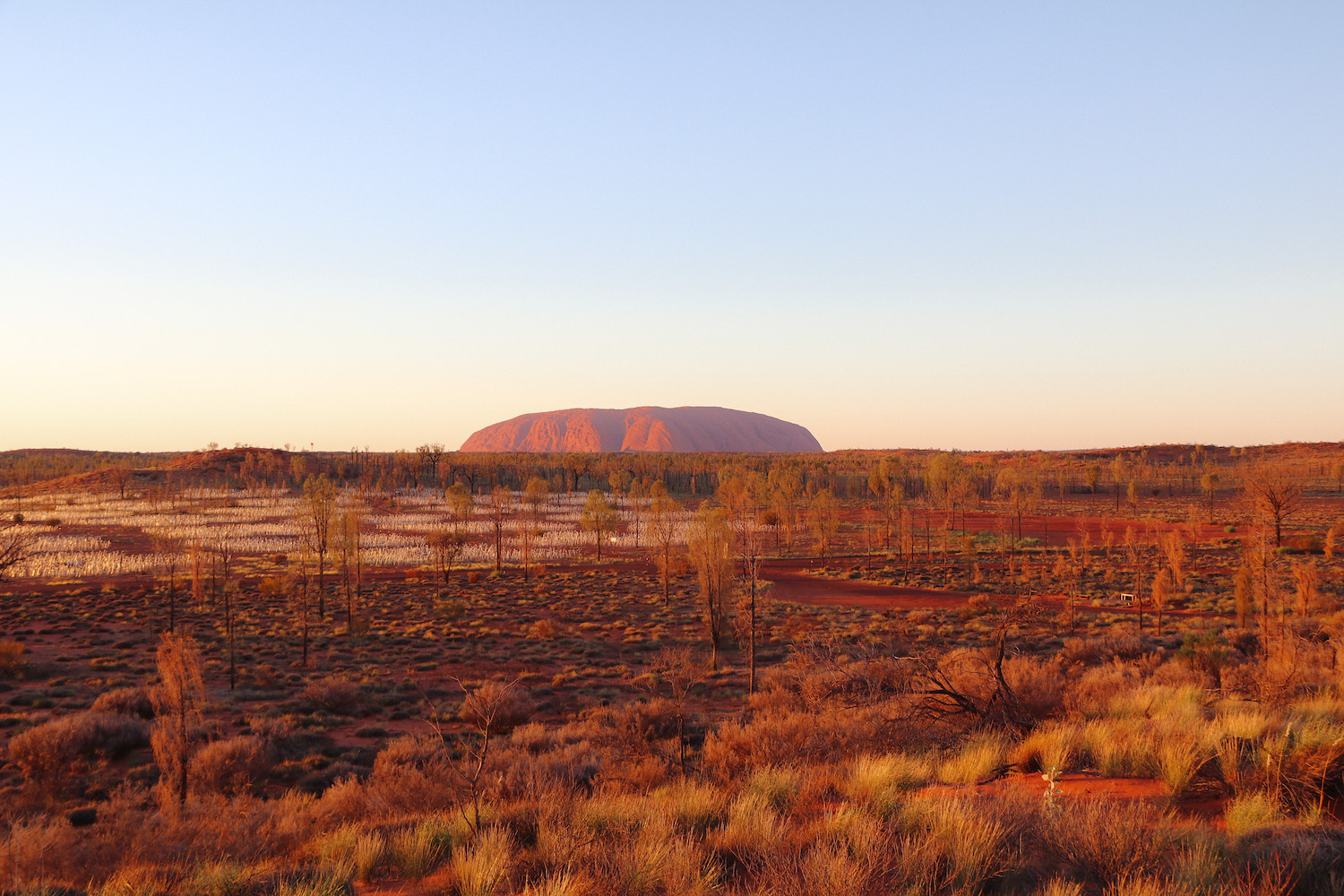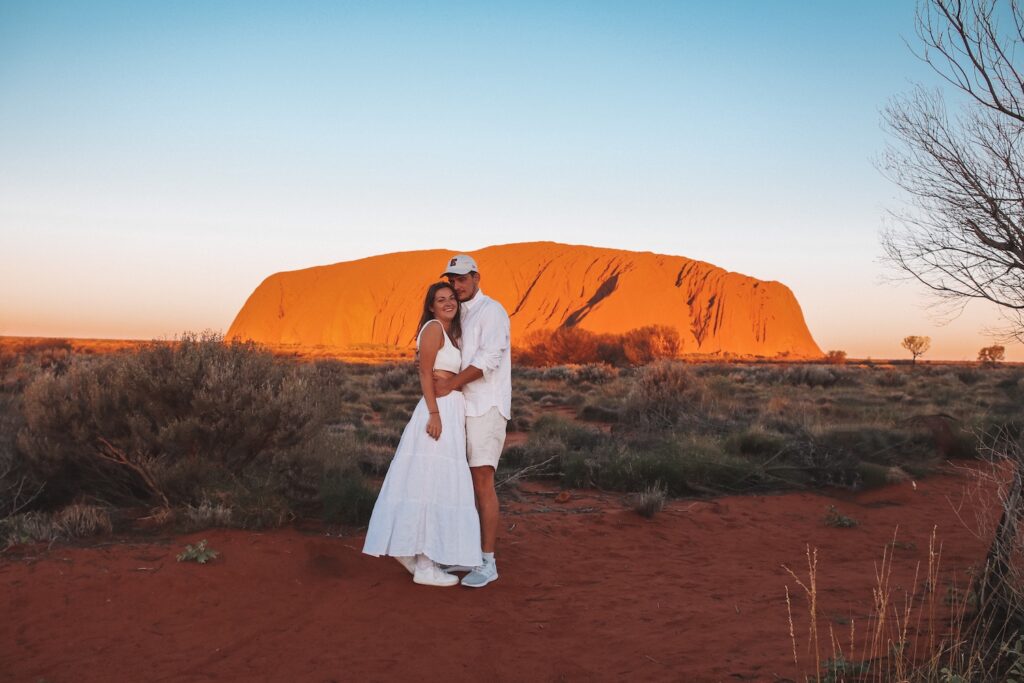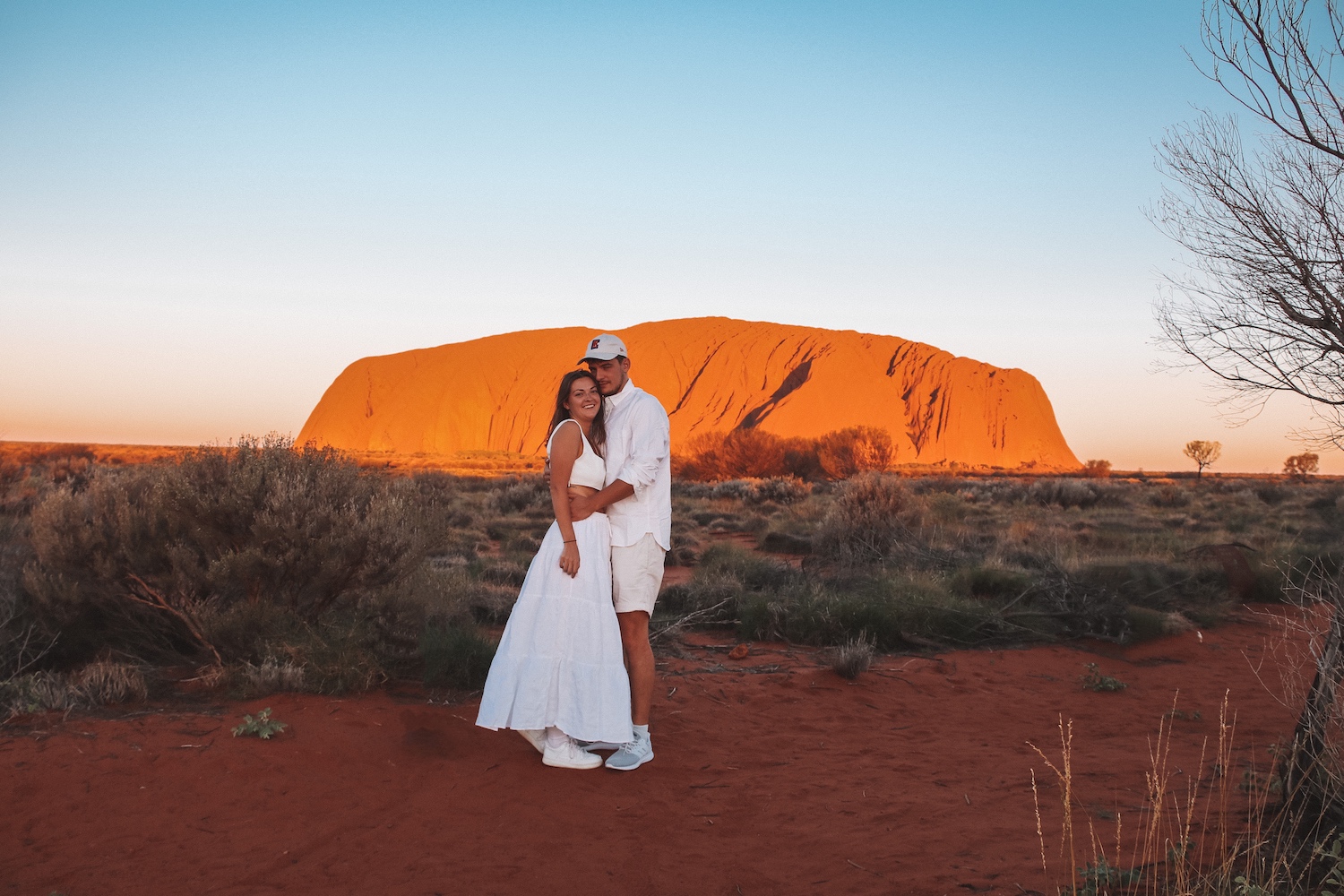 Where to Stay in Yulara?
My partner and I kept it as budget as we could for this trip – so this meant camping! We couldn't get a campervan, so this was as good as it was going to get, at least for Uluru. Ayers Rock Resort offers many types of accommodation, and the campgrounds are huge! We were under the impression that the grounds were fully booked, but we barely had a next door neighbour. An unpowered campsite cost about $40 a night, and this includes access to an outdoor kitchen – BBQs, fridge, freezer, microwaves, etc & shared bathroom facilities. 
Uluru-Kata Tjuta National Park Park Pass
You are required to purchase a National Park pass in order to get to Uluru and Kata Tjuta. These can be bought as either 3-day passes or an annual pass. The 3-day pass is perfect, one day at Uluru, one day at Kata Tjuta, and one last day to see them both. The entrance to the park has two lanes, one for pre-paid tickets and another to buy them there. Prepaying for your ticket online is more encouraged in case of queues at the entry gate. During my visit there were no queues except for on our last day to catch the sunrise at Uluru (however we did visit before peak season). All of the money is invested straight back into the park – if you would like to see where your money goes you can see it here.
$38.00 for 3 days (Adults 18+, any children/teenagers below 18yrs old have free entry)
$50.00 annual pass
Day 3 – Uluru & Kata Tjuta
Uluru-Kata Tjuta National Park is the ultimate destination for sunrises and sunsets, so if you can avoid missing any – it will be worth it! Today, the sunrise spot is Kata Tjuta Sunrise Viewing spot. 
Today's walks are a little more relaxed after the long 10kms yesterday. We started with Walpa Gorge which took an hour, 30minutes there and 30minutes back. It said on the trail signs that the walk was quite difficult and steep but other than a few hills there was nothing challenging. It was a nice and easy walk and the views from inside the gorge were unlike anything I'd seen before. I felt so so small standing beneath the towering red cliff walls. 
Next was Uluru's Kuniya Walk to Mutitjulu Waterhole. This walk admittedly was way too easy. We had skipped it yesterday during the Base Walk because we were too tired, but truthfully we could have done it. It only took about 10-15minutes to get to the waterhole, but we wandered back slowly to explore the Aboriginal Cave Paintings located nearby. 
Though it seems like such a short day, this provided us a lot of time to relax and kick-back during the peak heat hours of the day. I recommend keeping all walks to early in the morning and in the afternoon. Midday is way too hot and at this time the walks have little coverage from the sun. 
This time we took to Kata Tjuta for sunset. Something you'll come to notice in the National Park is that as the sun is setting the light hits the rocks just right, and the entire formation starts to glow a vibrant and incredible blood orange colour – almost fluorescent somehow. Uluru is generally a lot busier than Kata Tjuta for sunrise and sunset, so the Sunset Viewing Area at Kata Tjuta is the best place to be if you want a whoooole lot of space to yourself.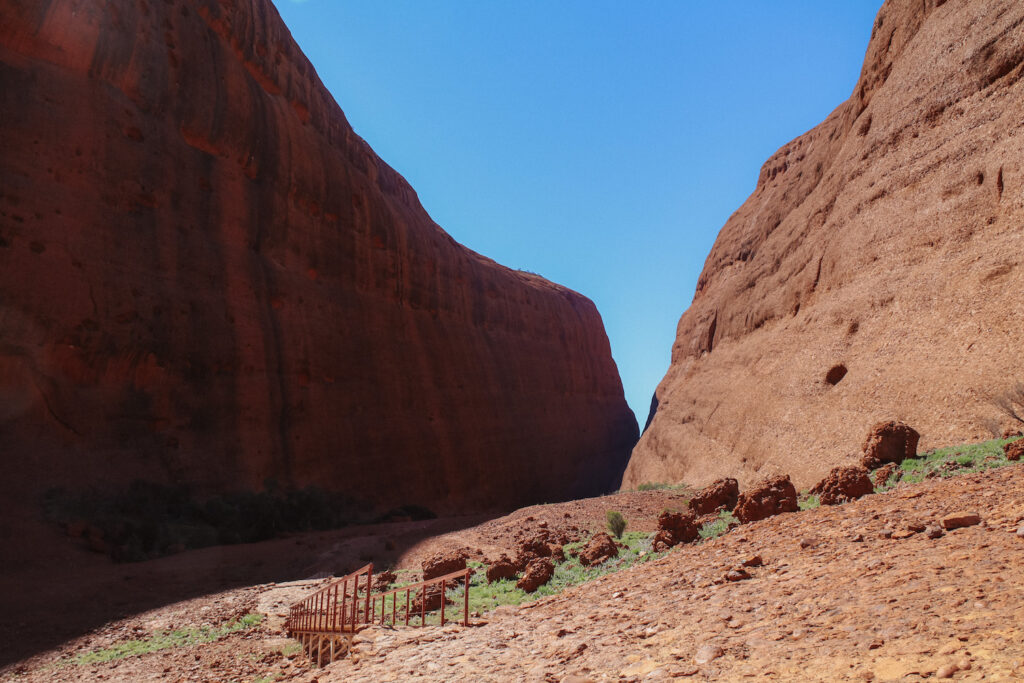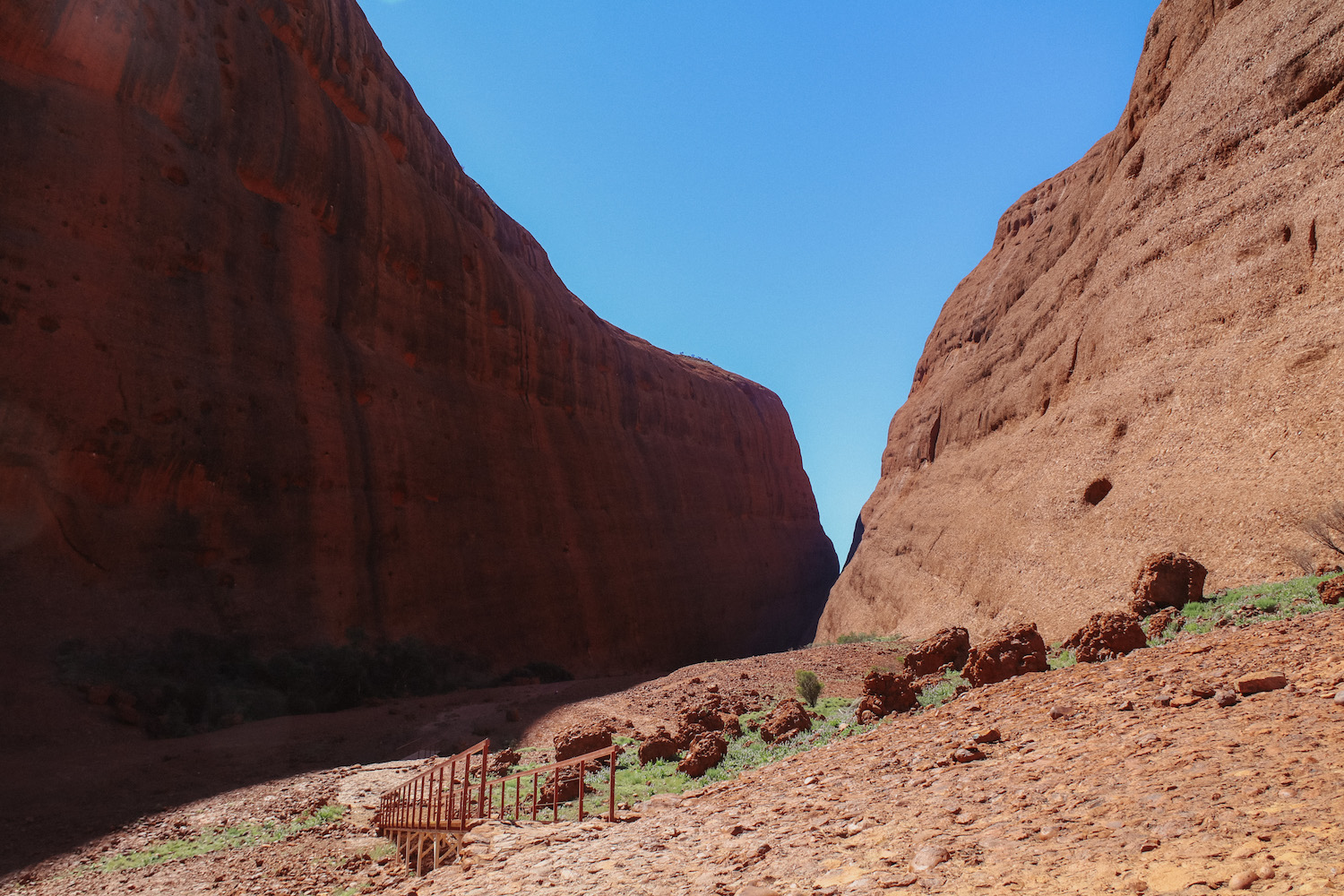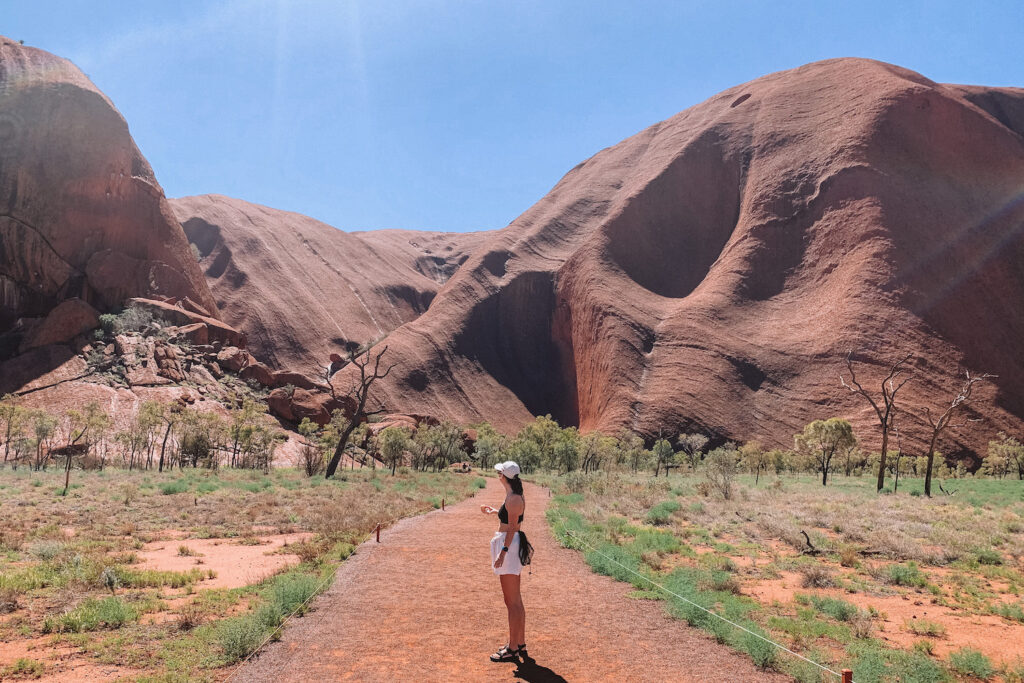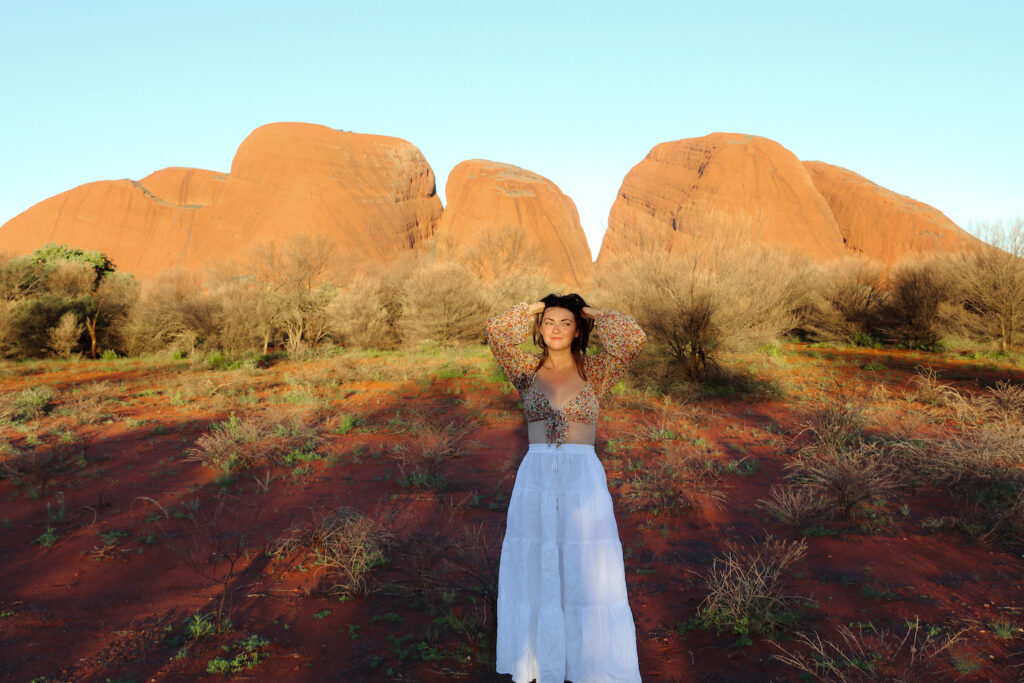 Where to Eat in Yulara? 
The options for food in Yulara is quite limited. Most of the hotels have restaurants on-site, but within the resorts "town centre" you can find the Gecko Cafe, and an IGA. Gecko's Cafe also uses staff from the Academy, and serves typical pub food – pizzas, parmis, you know – all the loves of my life. The IGA was pretty plentiful as well, I was surprised to find some vegetarian alternatives for myself. 
Day 4 – Kata Tjuta 
Our last sunrise of the trip – it had to be Uluru. Talinguru Nyakunytjaku Sunrise Viewing Area seemed to be the place to be today! It was packed! It was the first time we'd entered the national park to find a queue at the gate, and the car park was filled with cars – a rare sight on our trip so far! I recommend coming in early if you want to get first pick of a spot. The top area has a wooden walking area and viewing platform, and lower down there's a long dirt track parallel to Uluru. 
If you want to go for a walk, the Valley of The Winds Walk is definitely the best in the park. The Base Walk is the most monumental, but Kata Tjuta's Winds Walk is much more fun and challenging. At 7.2kms it was said to take 4hours, but I was done in 2.5hours. It took about 30mins to walk to Karu Lookout, and after a short rocky staircase down you'll find the first rest stop. From here it's mostly uphill, climbs and stairs until you reach Karingana Lookout. This viewpoint looks down through the towering orange cliffs and into the lush valley below. Then it's all downhill and flat until you reach the stairs back to Karu Lookout and the carpark. 
Driving to Kings Canyon was about the same distance as it was from Alice Springs. It took roughly 5hours. Just enough time to catch the sunset over Kings Canyon.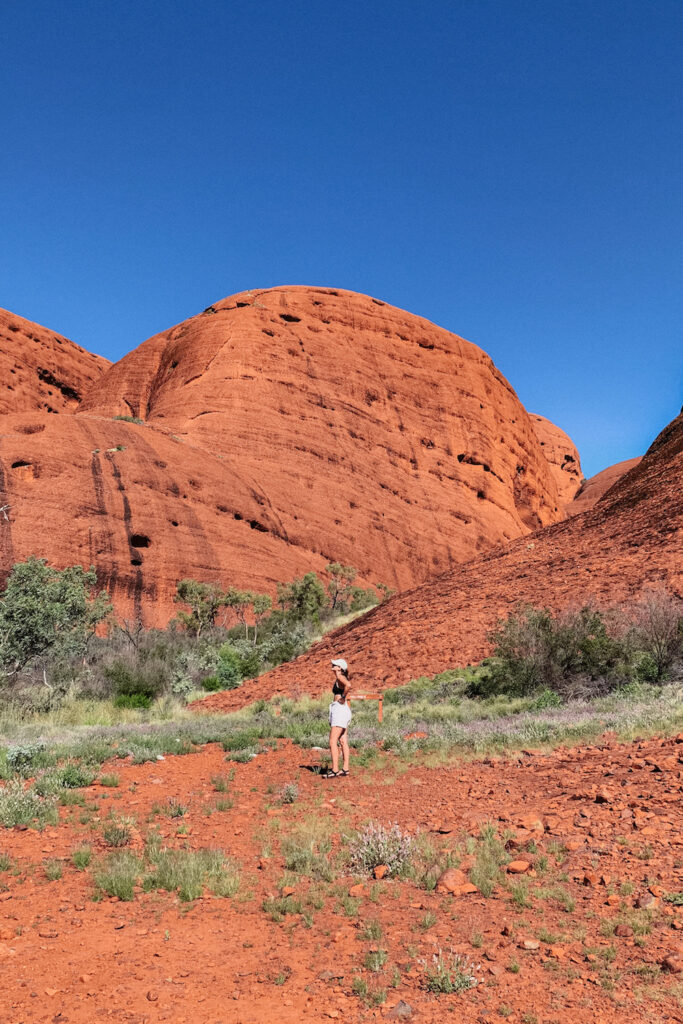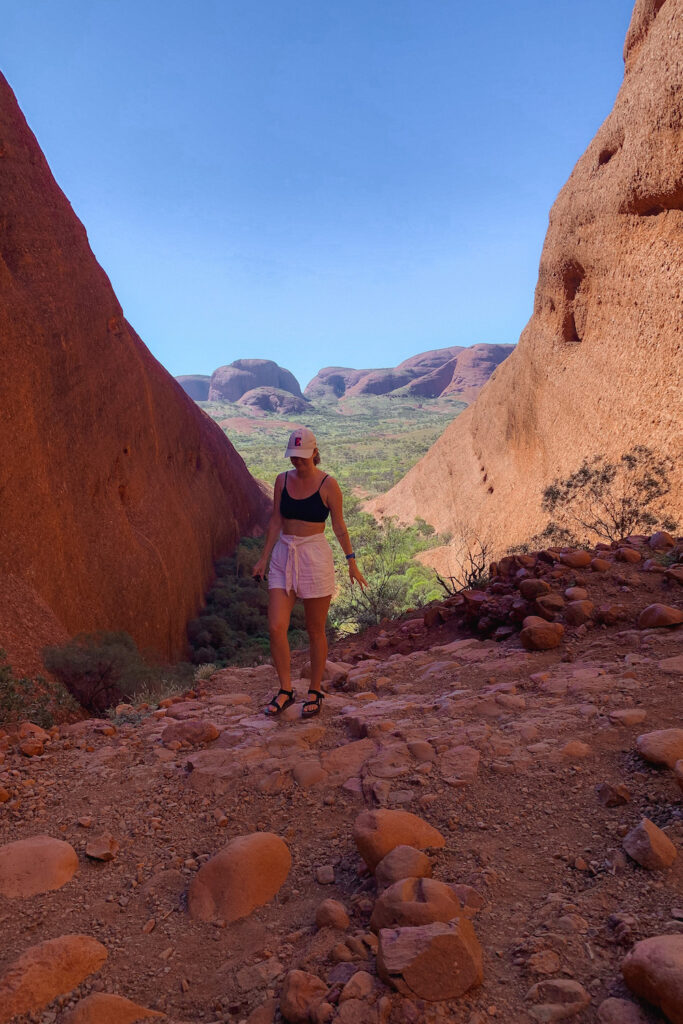 Day 5 – Kings Canyon, Watarrka National Park
Kings Canyon has basically become a destination because of its famous hike – the Kings Canyon Rim Walk. This walk takes you up onto the rim of the canyon, where you can walk around the red rock cliffs, the weathered domes, and the Garden of Eden. This 6km trail was said to take 3-4hours and I was incredibly intimidated by how many people had given me forewarnings for this hike – bring water, do it really really early, people have died from heat exhaustion, be careful – and etc. But to my surprise I had finished the walk in under 2hours! 
I personally wish I'd taken more time to enjoy the walk and explore the Garden of Eden. I rushed past a lot of things thinking I had SO much more walking to do.
The walk begins with a big climb of 1000 stairs, but after that almost the entire walk is relatively flat. There are many trail markers to keep you from getting lost, so follow the arrows. Once you reach the Garden of Eden there are a few more staircases – but this is the halfway mark. So after this, it's all flat and then downhill back to the carpark. 
For wildlife, Thorny Devils are actually all around! While driving I saw that curled little tail in the middle of the road so I pulled over. I'd read in a guidebook that if you spot one on the road you're encouraged to pull over and move it off of the road for its own safety. I expected them to be quite aggressive but they aren't! Another couple who pulled over were familiar with the Devils, picked it up in his hand, gave it a little back rub and then released him on the side of the road. My partner spotted three of them during our trip, so you're bound to spot one somewhere!
Driving back to Alice Springs unfortunately took us a lot longer than we wanted. We found that the road connecting us to the West MacDonnell Ranges (Larapinta Road of the Mereenie Loop) was for high clearance 4wds only – especially because of the recent wet season. We were told that Ernest Giles Rd was unsealed but accessible for us – it was not haha. After about 100 metres we turned back and went the long way. This took about 5hours with a stop at Erldunda Roadhouse and Emu Farm.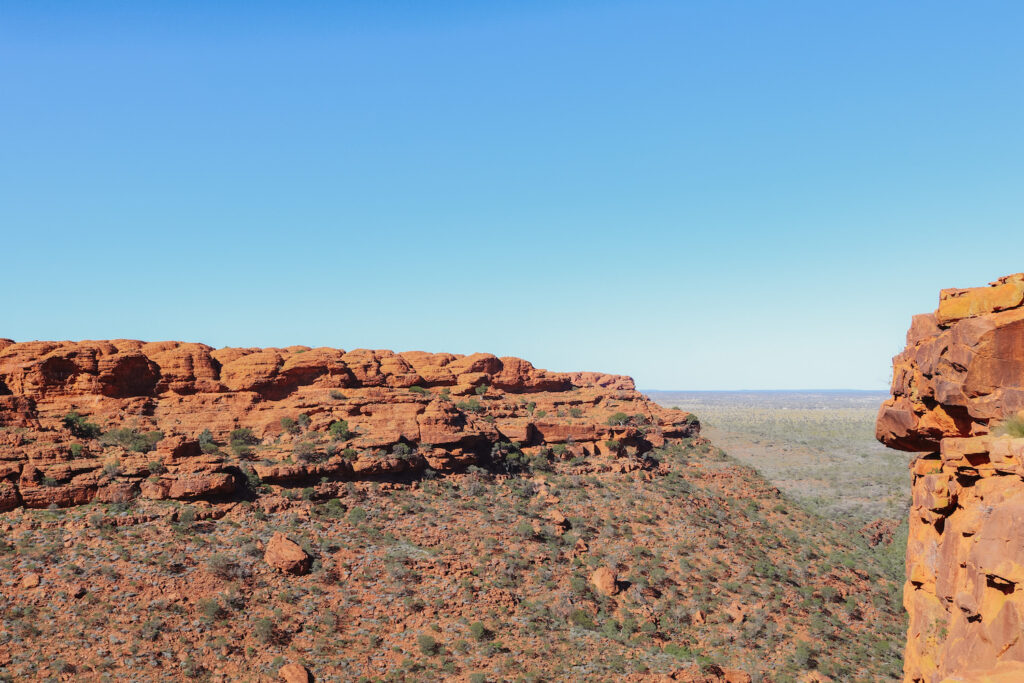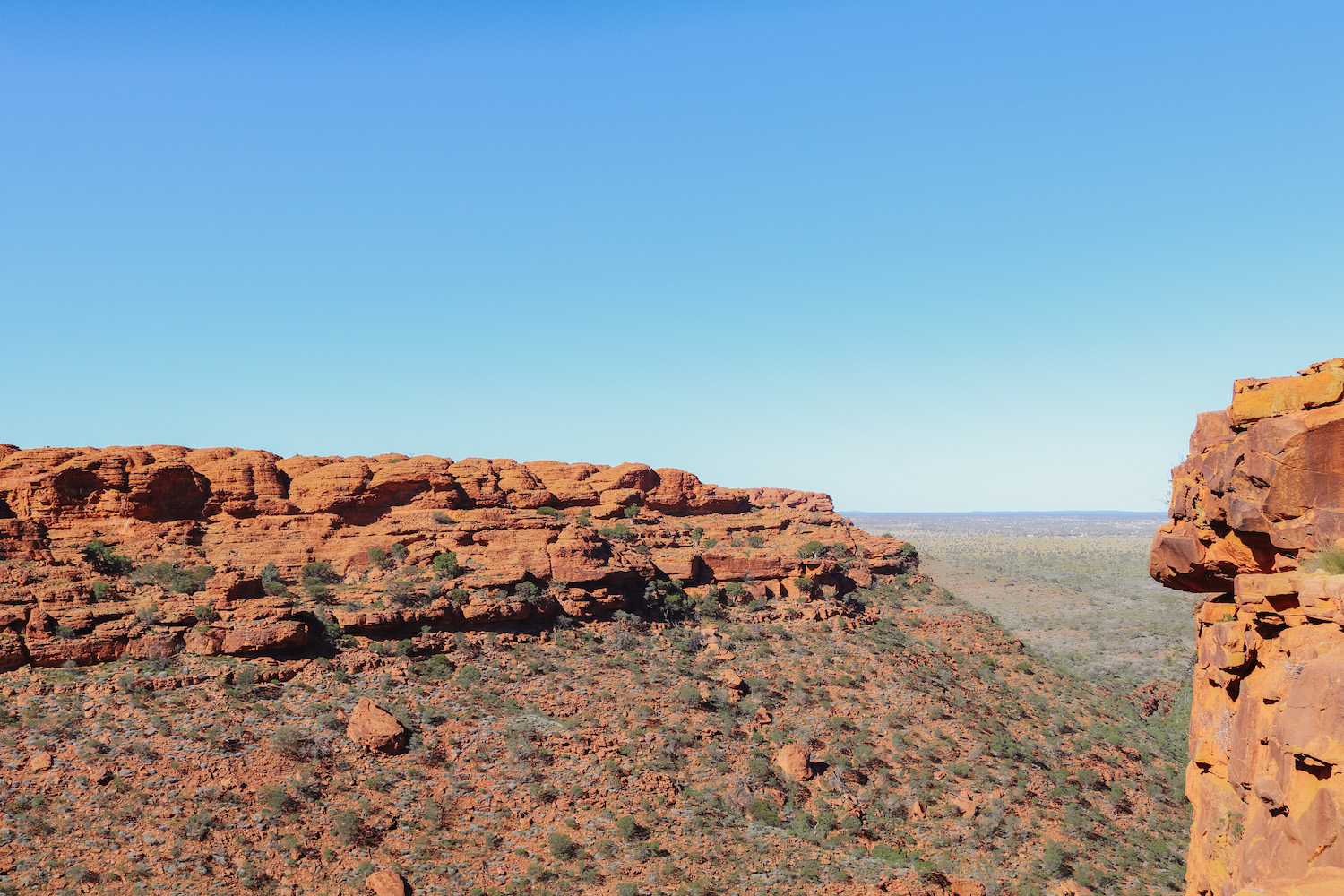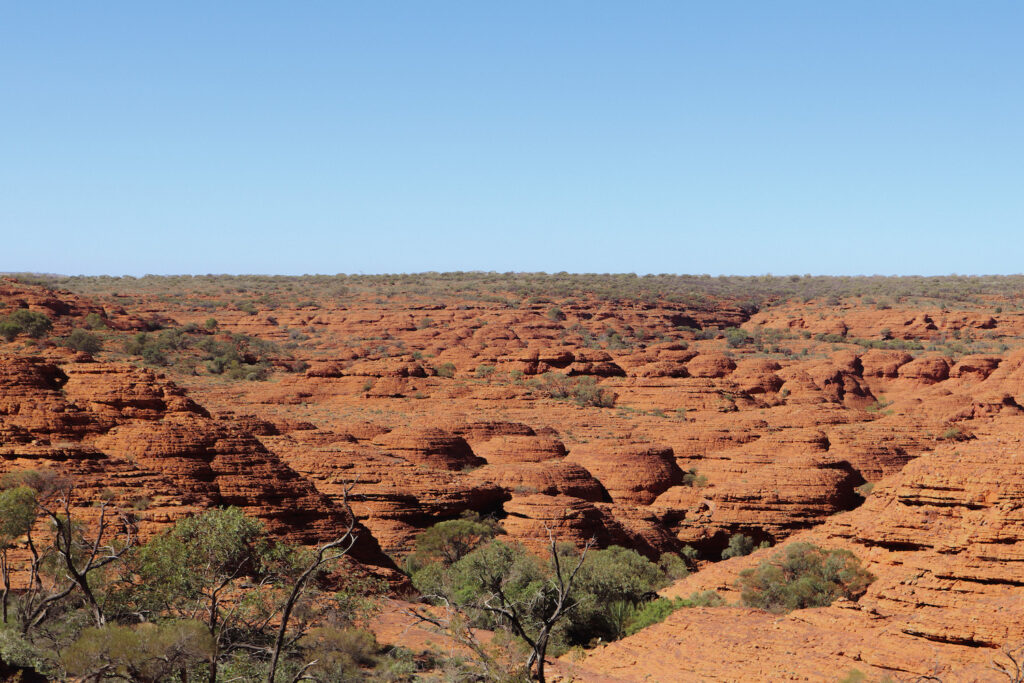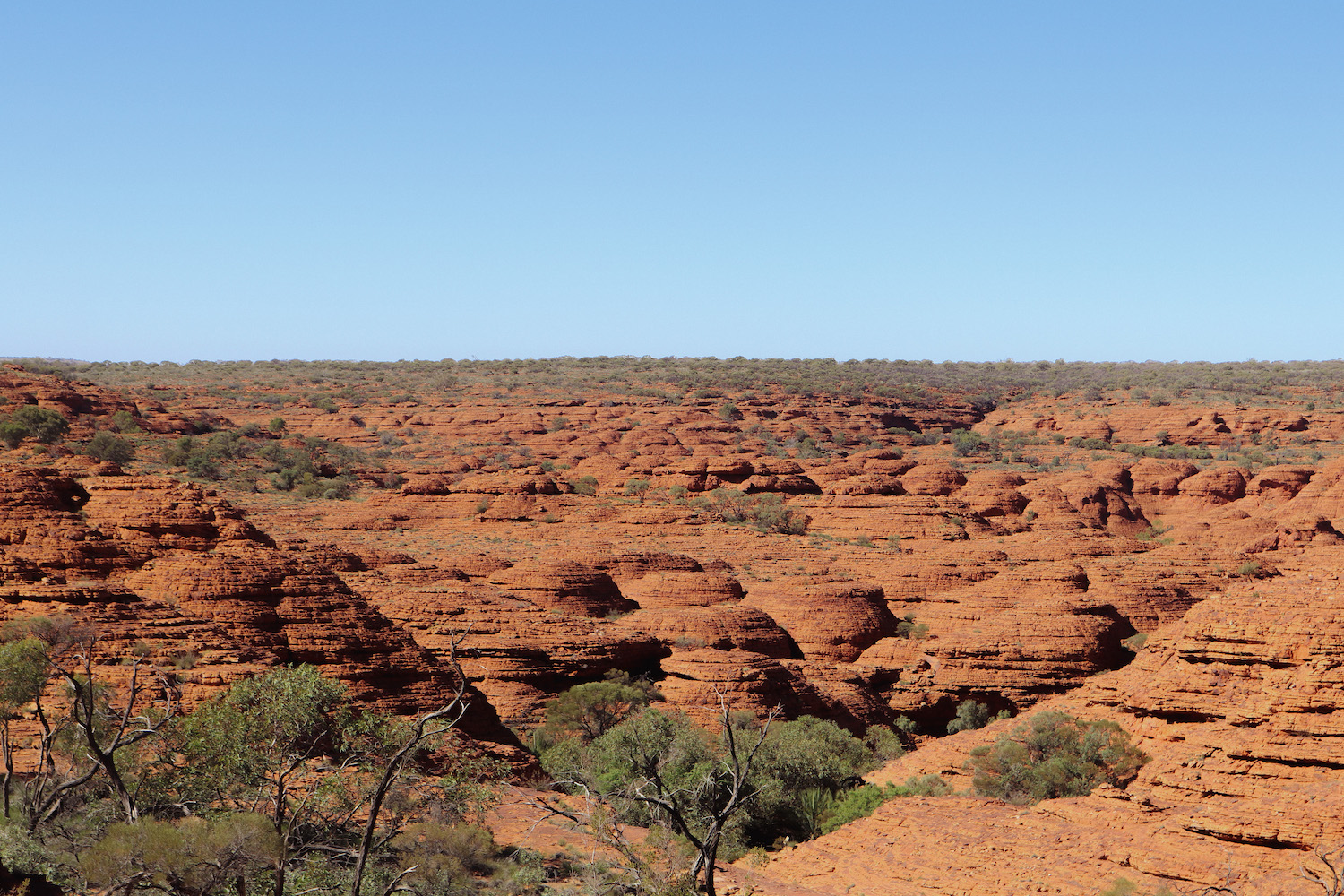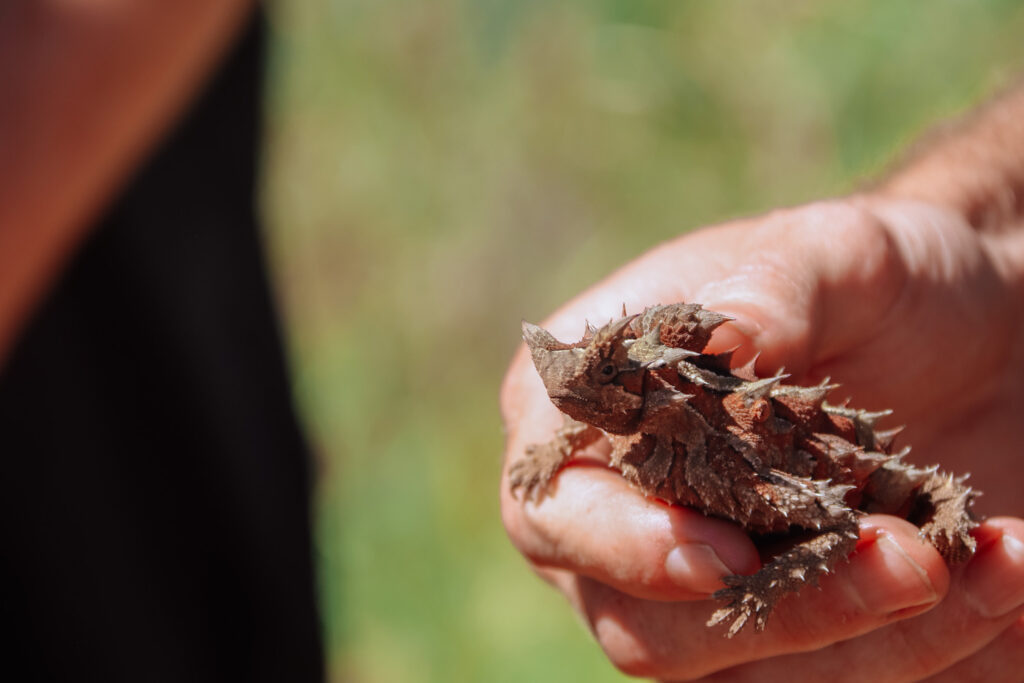 Day 6 – Alice Springs
This morning for brekky we are heading to Page 27 Cafe. I unfortunately wasn't able to enjoy this (there was a mix up with my order and I was on a tight schedule) but after seeing the menu I wish I had. Perfect for those who love all things breakfast food, Page 27 offers indoor and alfresco dining in a colourful laneway covered in graffiti and lush plants. 
To add to my earlier mention of things to do in Alice Springs, there is also a lot of history here. Not only educational, it's a great way to learn about how Alice Springs has come to be. Some places you can look into include; the Royal Flying Doctor Service Museum, School of Air, Old Ghan Museum and the Women's Museum of Australia in the Old Gaol.
Where to eat in Alice Springs?
It's time for a pub feed and beer! After a local recommendation and a look on google it was evident that the best place to go was Monte's! (unfortunately for us, it was closed each day we were there). Next up, Uncles Tavern! We made good use of the nightly food deals – parmi night, pizza night – Uncles was the place to be, and a good place to win some easy beers. They have regular game nights and trivia nights, very popular with the locals! 
Day 7 – West MacDonnell Ranges, Tjoritja National Park
Our last day in the Red Centre – and where better than to spend it swimming in some water holes! The West MacDonnell Ranges in Tjoritja National Park spans over almost 200kms from Alice Springs towards King Canyon. The closest stop is Simpsons Gap, which took us about 20minutes to drive to. This spot is one of the ranges most prominent gaps, and a great place to spot wetland birds. 
Next up is Standley Chasm. This spot is the only place you'll find along the West Macs where you'll need to pay an entry fee ($12 adult) – but it's totally worth it. As the chasm is located on Indigenous land the entry fee goes towards maintaining the site.
Without a 4wd we unfortunately couldn't make our way over to Redbank Gorge or Serpentine Gorge which we were really looking forward to. 
The Ochre Pits were a lot more interesting than we expected. The Pits are a really unique set of colourful outcrops that Aboriginal people once used as a quarry for ochre pigments. We were able to walk around and learn about how the ochre was used, and what the different pigments represented. 
Our favourite spot of the day was Ormiston Gorge. The waterhole is surrounded by large vibrant orange cliff sides, dark water and lush overhanging greenery. Ellery Creek Big Hole was pretty similar. The light would shine through the gap and create an illuminated runway through the waterhole – beautiful!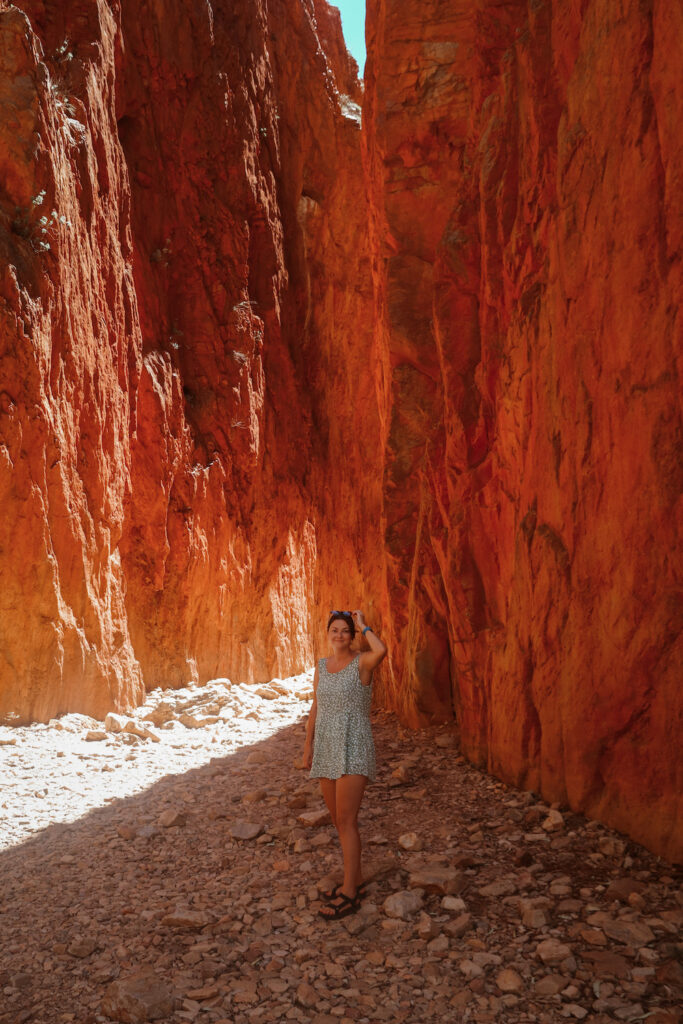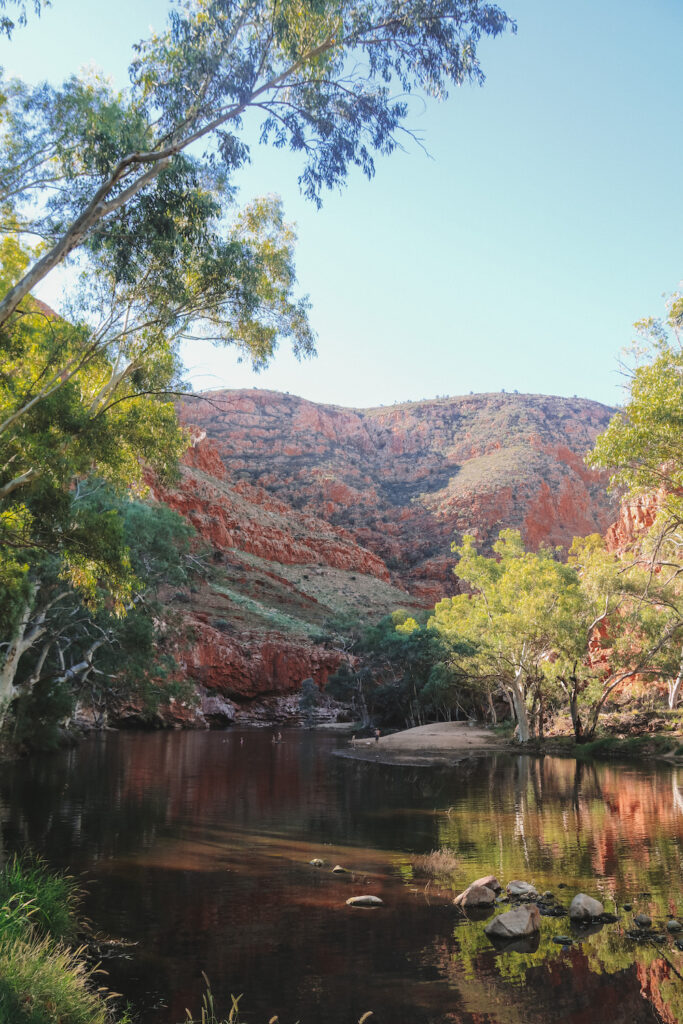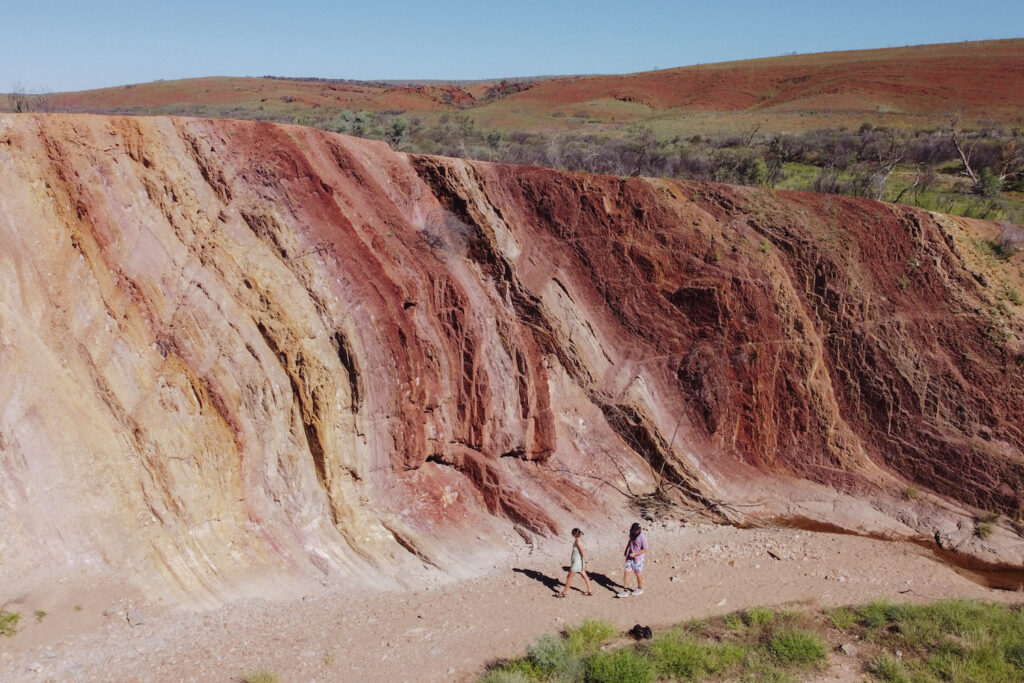 And that was the end of my trip to the Red Centre! What would you add to a journey to the Red Centre? Let me know in the comments or DM me on Insta!

Next we headed up north to the Top End and you can read about that here!