Pattaya is a town on Thailand's eastern Gulf coast popular among weekenders from Bangkok and expats. Thriving in a wild nightlife scene and beautiful beaches, it's known to attract international visitors year-round.
Top 10 Destinations…
1. Walking Street
Walking Street is pretty much called so because in the hours of night to early morn, cars are blocked off and it transforms into a red light district with dancers in windows, blaring neon lights and raging music. Vehicles can continue down the brick-paves road any time between 2am – 6pm. With go-go bars located wall-to-wall there's essentially something for every taste along the 1km strip.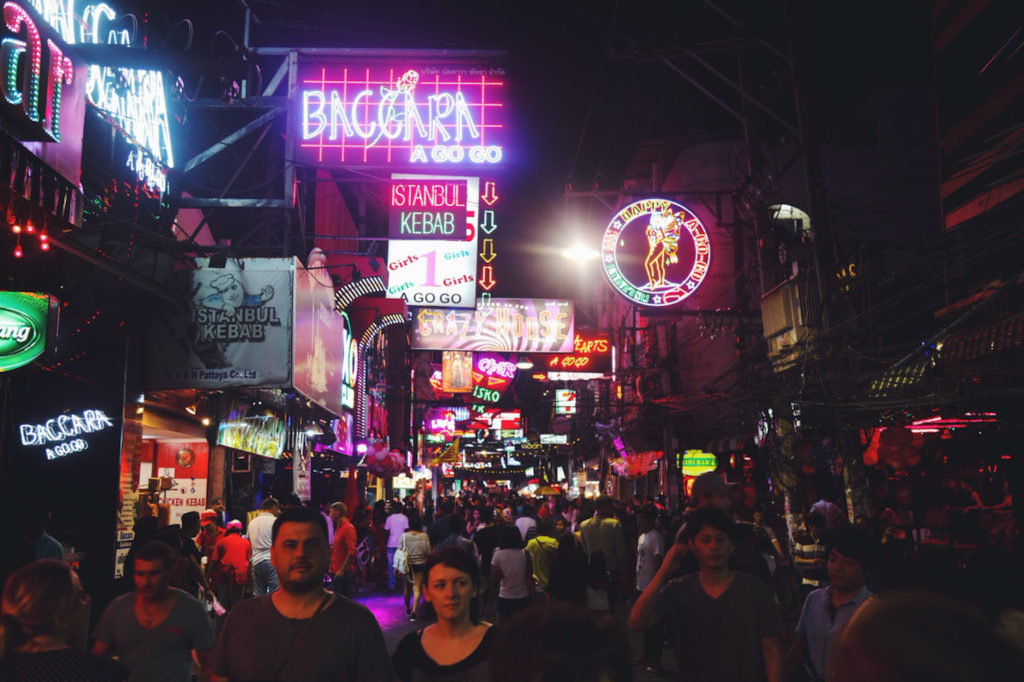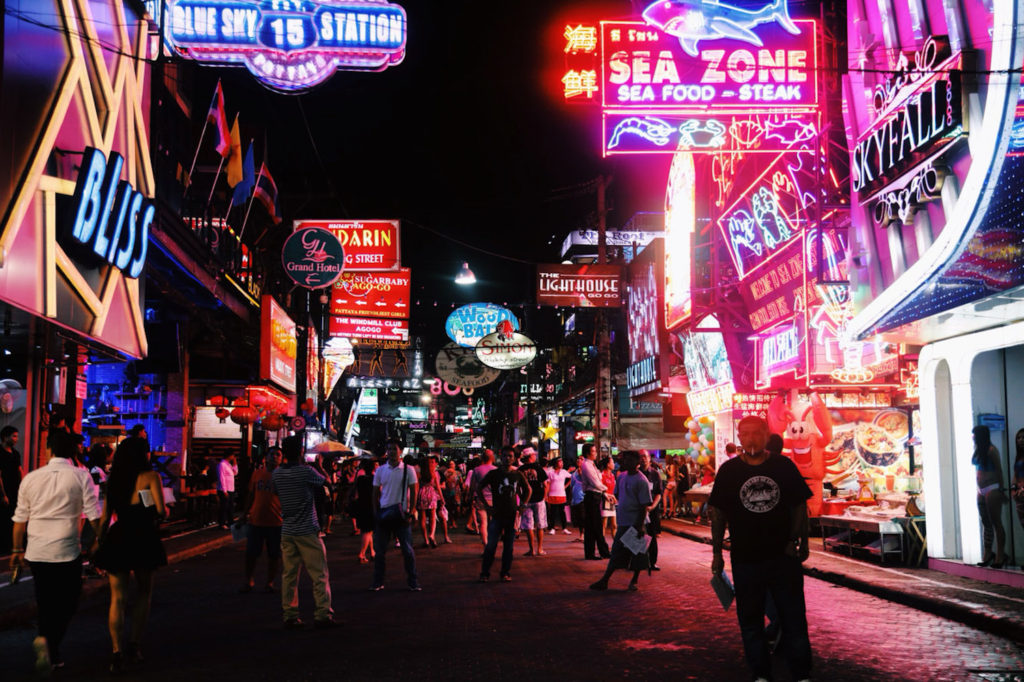 2. Sanctuary of Truth
Perhaps the most iconic structure in Pattaya, the Sanctuary of Truth is an intricately carved structure that stands 105-metres tall beside Wongamat Beach. Neither temple not palace, the building was commissioned by a local businessman to act as a place of appreciation for philosophy, art, culture and faith. Without being tied to a single religion, the monument shows detailed carvings of elephants, people, scenes, creatures and deities from mythology,
Note: because none of the teak wood is treated or protected from the elements, this means that the older parts gradually succumb to the rigours of the weather and climate need to constantly be replaced. The construction of the sanctuary, which began in 1981 is an ongoing task.
Note: Strict Dress Codes apply.
Opening hours: 8am – 5pm
Price Range: 450 Baht.
Dress Codes for Temples.
Although temples (or 'wats') are popular for tourists, they are also an important place of worship so it is important to dress appropriately. Although the Sanctuary of Truth isn't collected to one particular religion it is still a sacred monument, so men must wear long pants and shirts with sleeves (no tank tops) and women must dress modestly – no see-through clothing, midriffs or bare shoulders. If you are wearing sandals or flip-flops you must wear socks (so pretty much no bare feet). If you show up at the gate improperly dressed, you will either be turned away or referred to somewhere nearby where you can either purchase or rent cover ups.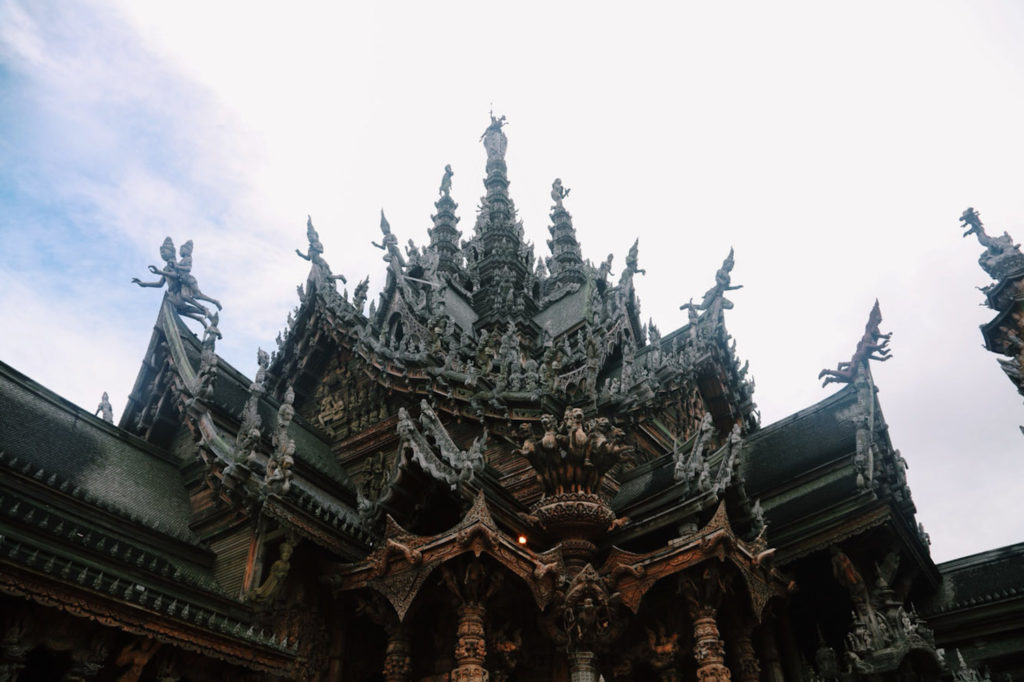 2. Tiffany Cabaret Show
The Tiffany Cabaret Show is the original transvestite Cabaret Show in Pattaya that shows the astonishing talents of the transvestite and transgender community. With over 100 professional performers, and a 1000 seat capacity theatre, the performance shows exotic spectacular scenes with beautiful costumes, incredible choreography and music, detailed scenery, special lighting and effects, and over 28 years of stage experience. The show takes you across the globe through song with dances and skits from all over the world. From Bollywood style musicals to Burlesque and Broadway, there's something for everyone.
The Tiffany Show plays 3 shows a night, each running for an hour, and tickets include a drink card to be used at the bar. After the conclusion of the show you are able to meet and greet the stars as well as take a few photos (in exchange for tips). Photography is not allowed during the show.
Showtimes: 6pm/7:30pm/9pm
Price: 650-1050 Baht.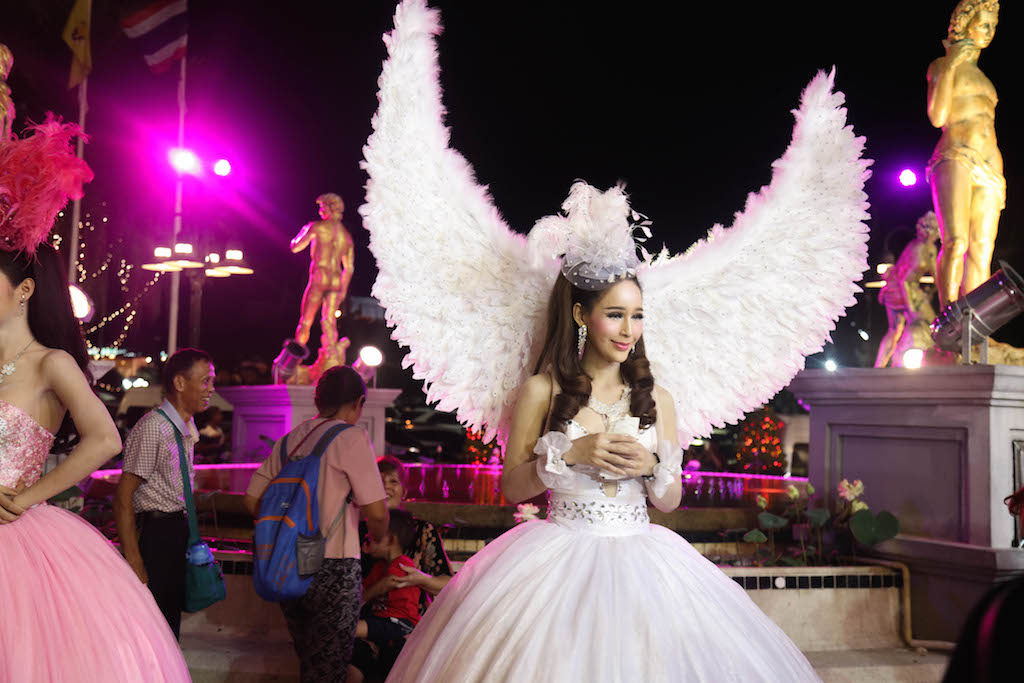 3. Nong Nooch Tropical Garden
Officially opened in 1980, Nong Nooch Tropical Garden was arranged to show Thai arts and cultures to visitors from all over the world. The gardens include;
Car gallery
Animal Sculpure Garden
French Garden
Stone Henge
Italian Garden
Desert Rose Garden
Butterfly Hill
European Garden
Cycad Valley
Zoo Garden
Topiary Garden
Orchid Garden
Pottery Display Garden
Bromeliad Display Garden
Heat Garden
Floating Garden
Riverside Garden
Variegated Plants Collection
Caribbean Walk
Floral Show
Streblus Asper (Koy)
Palm of the World
Cactus Garden
Agave Collections
Hortus Botanicus
Variety Garden
Bonsai Garden
If you take the Skywalk you are able to get a birds eye view of over 3kms of the gardens.
4. Pattaya Floating Market (Four Regions Floating Market)
With over 114 shops and water vendors selling authentic Thai food, desserts, souvenirs and more, Pattaya's Floating Market is a great place to go shopping. Covering an area of 100,000sqm, the market is divided into four sections, each representing and selling items from the four major parts of Thailand (north, northeast, central and south). For a more authentic experience you are able to hire boats for 30minutes – each fitting about 4 people.
Opening Hours: 10am – 11pm
5. Wat Phra Yai ("Big Buddha Hill")
The largest Buddha in the region, reaching 18-metres tall, is the highlight of Wat Phra Yai, a temple built in the 1940s. The staircase leading up to the temple has golden dragons running along the entire handrails, and although it requires some walking, it's worth it to bring yourself some good luck by ringing the line of bells at the top.
Located on Pratumnak Hill, only 2km from South Pattaya, you are able to get transport via songtaew (Baht Bus) that will take you there for around 200 Baht.
Note: Before you arrive at the top of the hill, you will probably notice traders selling many small birds that are kept together in cages. The idea is for people to pay to set them free in order to gain good karma. This idea is actually discouraged – as the more money provided, the more birds will be caught and enslaved. A better option is to donate to the temple.
Price Range: Free.
6. Pattaya Viewpoint
Pattaya Viewpoit is the best view point in the region, located on Pratumnak Hill. Offering views of the sweeping bay, the main lookout provides panoramic views of Pattaya Bay right up to the headland separating Pattaya Beach from Naklua Beach – as well as this there are also views looking south over Jomtien Beach. Best visited in the late afternoon, you can take a look at the changing lights during sunset.
Located on Pratumnak Hill, only 2km from South Pattaya, you are able to get transport via songtaew (Baht Bus) that will take you there for around 200 Baht.
Opening Hours: 7:30am – 9pm
Price Range: Free
 7. Jomtien Beach
Surely you can't visit Pattaya without cruising past Jomtien Beach. A 6km stretch of beach, it's the prefect spot to dine on some cheap seafood snacks and take in some sun on the beach. Most of the sand is taken up by various vendors that offer spaces on deck chairs.
8. Coral Island
Only a 45minute boat ride west of Pattaya, Coral Island (Koh Larn) is the perfect day trip to make when staying in Pattaya. Offering a change of pace from the beach side city, Coral Island has relaxing beaches, radiant blue waters and an abundance of coral and marine life.
9. Cartoon Network AmaZone Waterpark
Time to let the child within you free! With 30 state-of-the-art water rides and slides there's plenty to do for a day out in the sun. About a 20-minute drive from Pattaya Beach, the park is split into sections catering for different age groups. There are 10 entertainment zones, featuring characters such as Ben 10, The Powerpuff Girls, Gumball, Darwin, Adventure Time and others from popular TV shows on Cartoon Network.
Some of the rides include the Mega Wave, a wave pool that allows you the freedom of the ocean without the riptides, jellyfish and salt water. There are donuts available for floating, but for the more adventurous you have a go on some of the rides that feature free falls, loops even false-bottoms.
For food, there is Foodville, a fourt court that offers local and international dishes including Japanese, Korean, Indian, American and Italian cuisines. The food is a little over-priced, but as such at most waterparks, etc. Upon entry, you are able to get a waterproof credit band that can be loaded up with cash to purchase drinks and snacks throughout the day – this way you can keep your wallet and other belongings in the lockers.
Note: Where better to get an Ice Cream than Dexter's Ice Cream Laboratory?!
Opening Hours: 10am – 6pm
Price Rage: 1,800 for foreigners, 1,200 for Thai citizens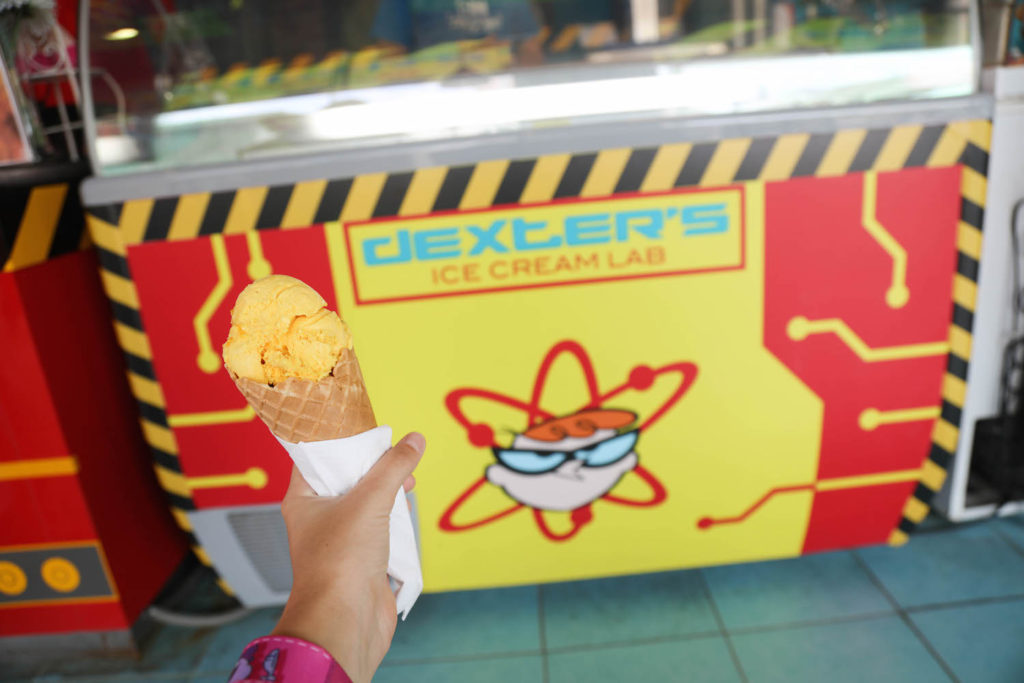 Some Phrases to get by:
Hello: Sa-wa-deee

Thank You: Ka-cup-kun

Excuse Me, Sorry: Kha-Toor

Bye: Bye
 What to Eat:
Tom Yum Goong (Spicy shrimp soup)
Som Tam (Spicy green papaya salad)
Pad Thai – Khao San Road pretty much invented Pad Thai, so where better to get some?
Gaeng Keow Wan Kai (Green chicken curry)
Mango and Sticky Rice (you can pretty much find this everywhere)
Tup Tim Krob (Water chestnuts served in ice and coconut milk)
Kanom Krok – Coconut-Rice Pancakes 
Where to Stay: Veranda Resort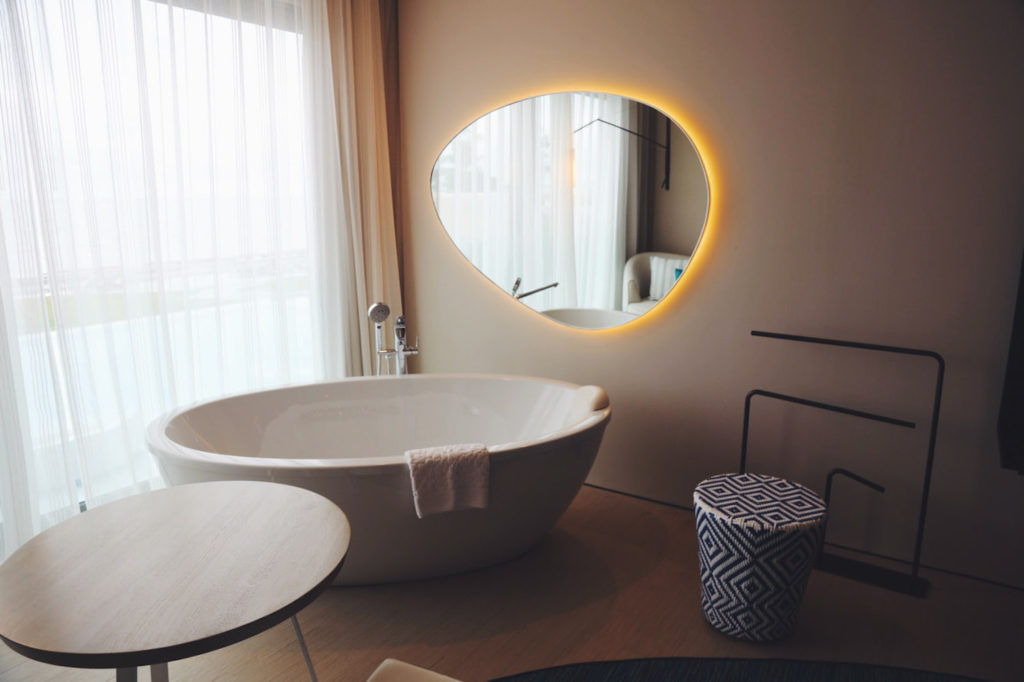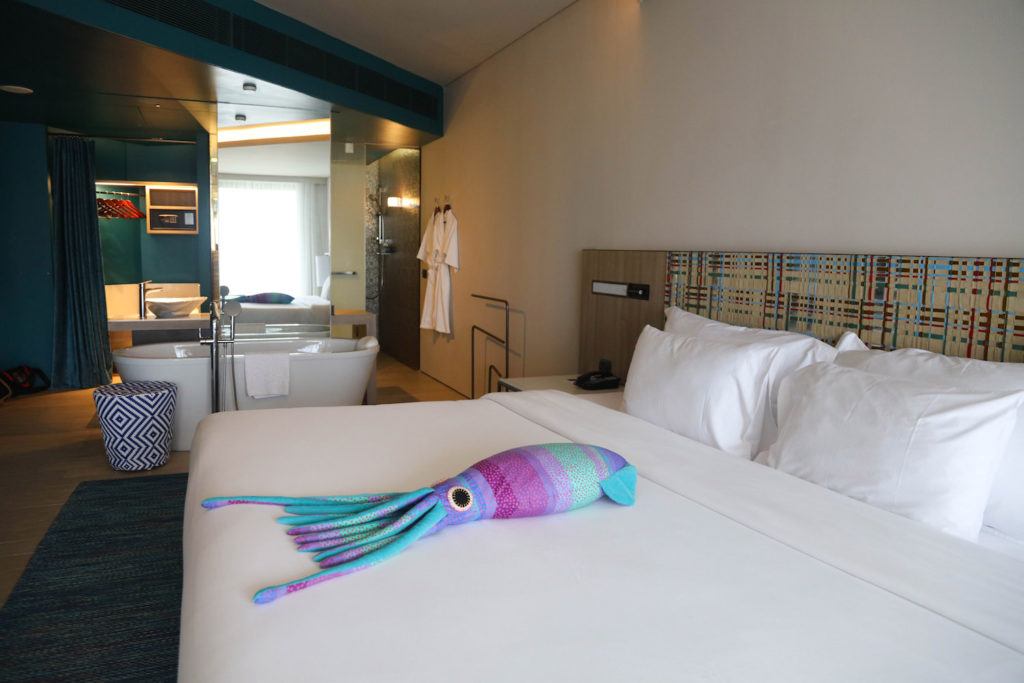 What would you get up to while in Pattaya?