While I was in Phuket I took two movie-inspired day tours – one around Phang Nga (home to James Bond Island) and another around Koh Phi Phi (home of Maya Bay – the setting for Leonardo DiCaprio's 'The Beach' 2000).
Here's how they went…
James Bond Island and Beyond with Siam Adventure World
Of the various companies that provide James Bond Island tours, Siam Adventure World is a great choice, although quite a large company, the tour groups are small.
Each group is only as big as what fits comfortably onto the speedboat. This makes it easier to get to know the guides and other tourists on the trip with you.
The crew on board includes the captain, photographer, boatmen and the guides who speak various languages – my tour had one English-speaking guide and one German-speaking guide.
On board various soft drinks, water and snacks are included free of charge – other than the overall tour payment there are no additional charges along the way – unless you want to buy souvenirs etc. I was happy to finish the day knowing I hadn't spent lots of money on food and drinks.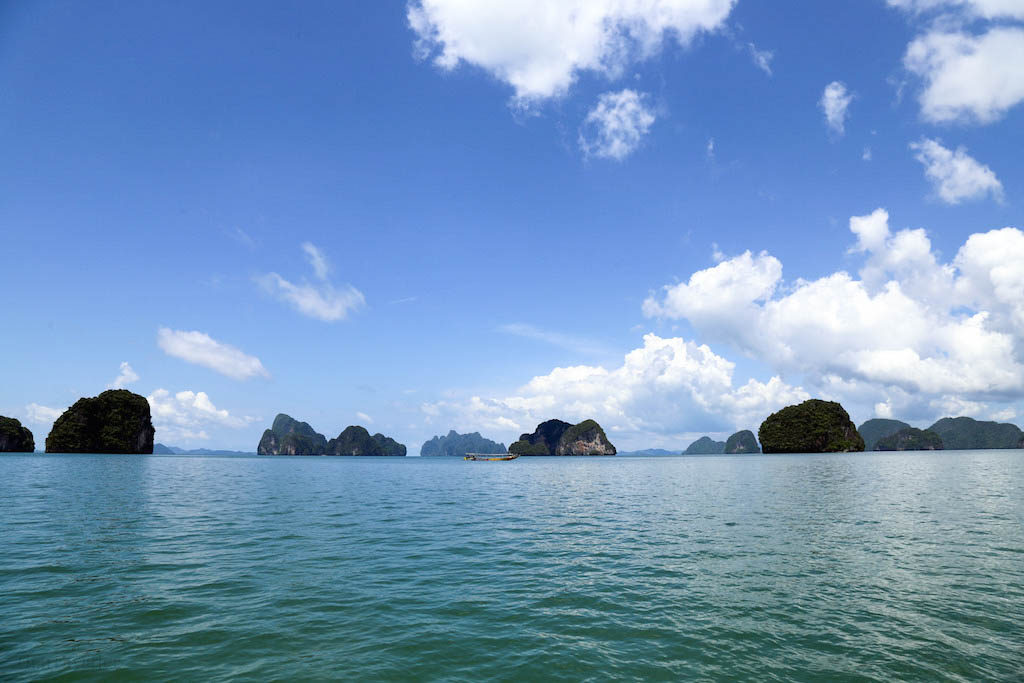 How the day went…
8:30am – I was picked up from my hotel and transferred to Siam Adventure World's office at Phuket Marina where we're offered free coffee, tea and snacks while we're waiting to board. There is also a gift shop where you can purchase things you may need such as; sunscreen, hats, sunglasses, waterproof phone/tablet/camera cases, dry bags and snorkelling gear. At first I was a little intimidated about all of the warnings about how the company would not be liable for any water damage done to electronics – however I easily survived the day using my camera and phone without getting them wet at all. Despite passing a few rain clouds in the day the only chance of getting your belongings wet is if you drop them off of the boat.
As I was a solo traveller, the guides made it their business to make me feel welcome. While I was looking at one of the gift shops my tour group left for the boat – I hadn't noticed and accidentally joined a Phi Phi Island tour group as they had the same colour wristband. Having only briefly met my English-speaking guide – she remembered my name and was able to call over to me to meet the rest of the group on the boat.
We were then given the opportunity to sit at the front of the boat – which I did. But BEWARE – I got very sunburnt. Despite bringing a large brimmed hat, it became quite useless for majority of the day because the speed of the boat makes it impossible to wear without losing it.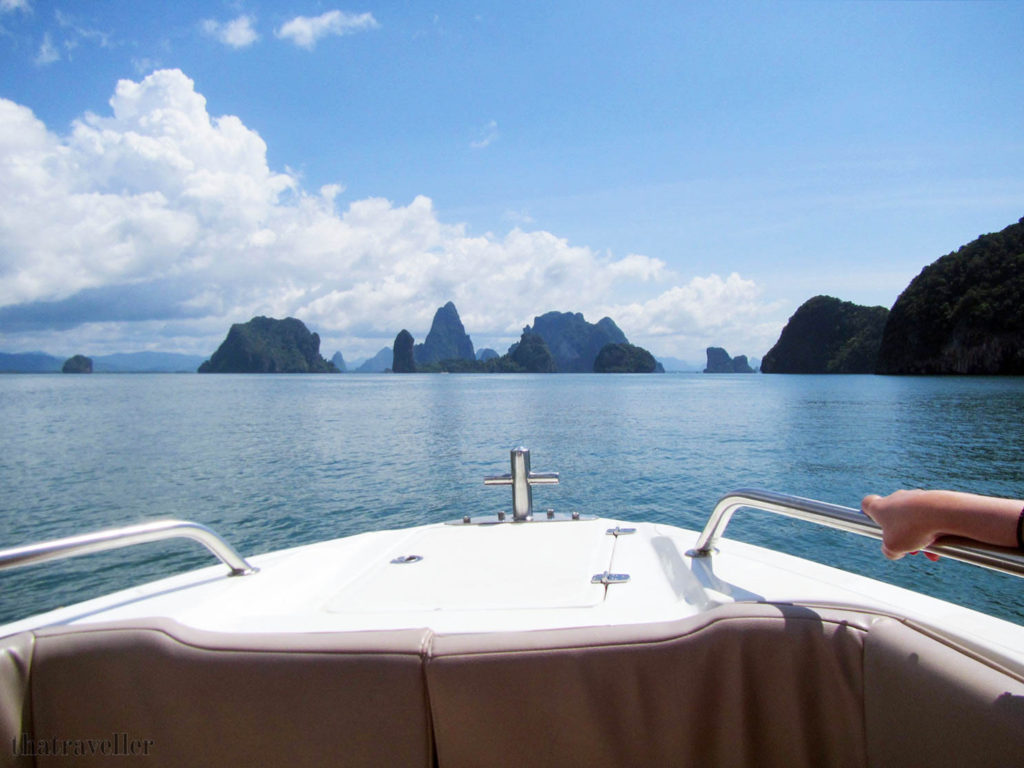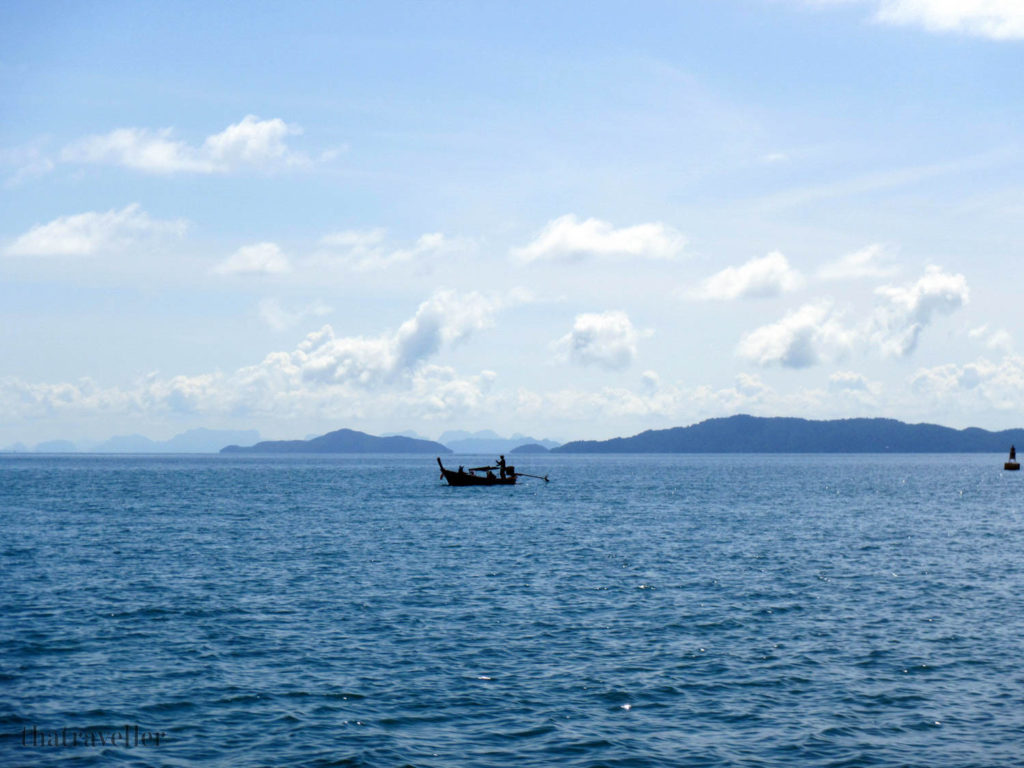 Then it was off to Phang Nga Bay – James Bond Island.
Around 11am – The rest of the day wasn't really timed – we were just enjoying it. Known for it's appearance in '007 The man with the golden gun', James Bond Island has become a well known destination, it's an iconic landscape that many people would recognise. It wasn't until I started researching day trips that I realised it was here.
We really weren't actually here for very long; we were given half an hour to walk around and do what we like – there are stalls, bathrooms a short scenic walk and an opportunity to swim – although most of the people on my tour opted to wait until we were at the beach later on.
As my guide knew I was alone, she offered to take photos of me with the famous landscape.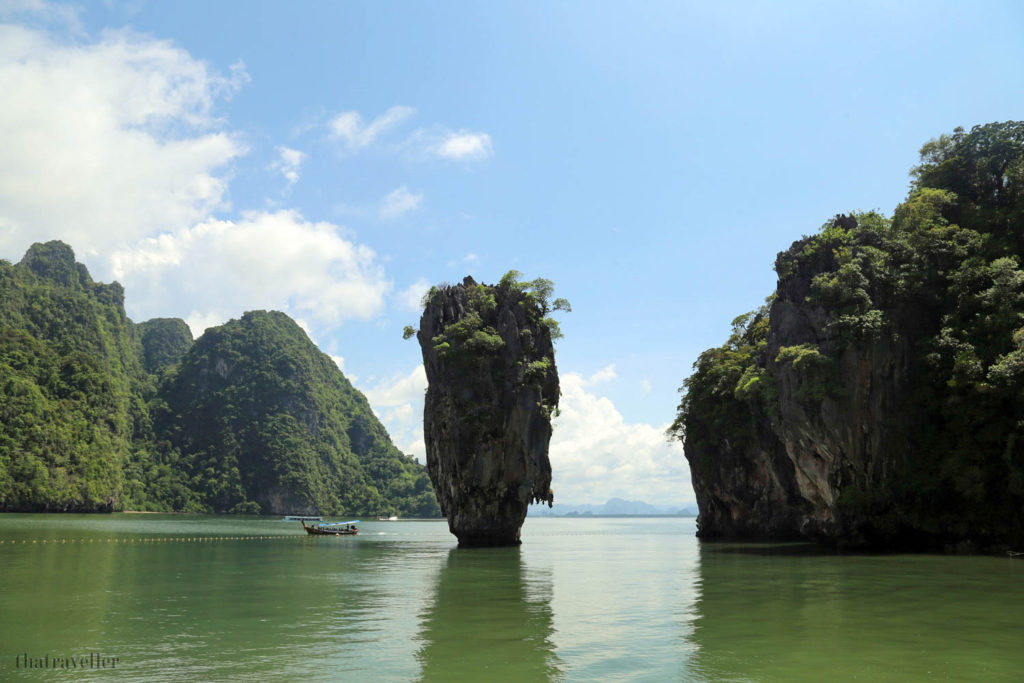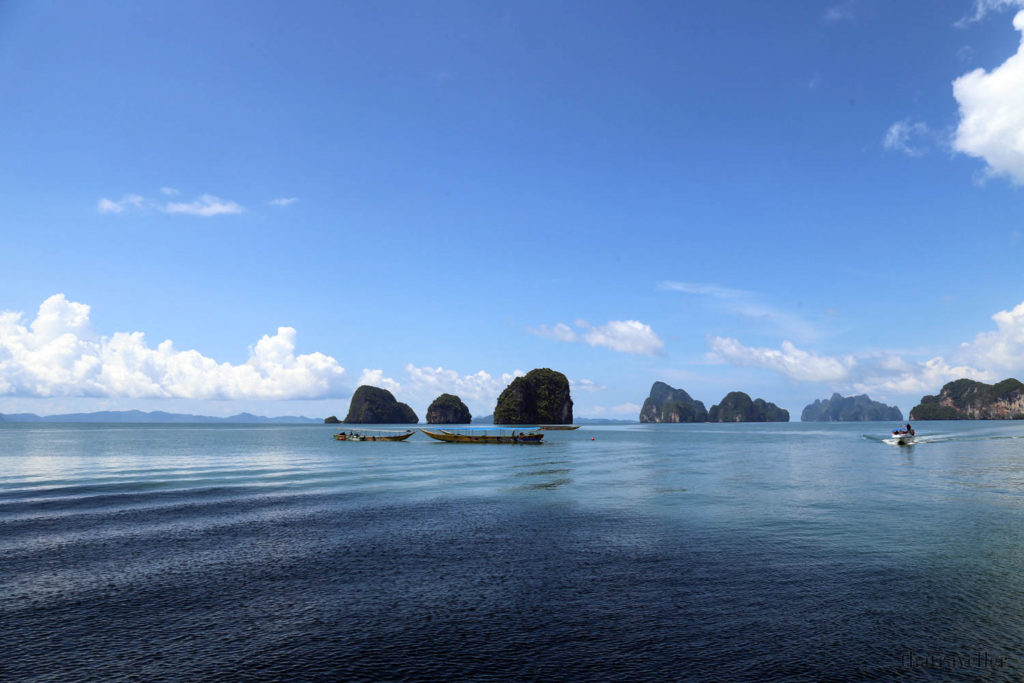 From here we made our way to Mangrove Cave for canoeing. We didn't actually paddle ourselves – in groups of two we were put onto a canoe with one of the canoeing guides and they paddled for us – this meant we were free to take photos and enjoy the view as we glided through caves and mangroves, keeping a keen eye out for wildlife. Various animals can be spotted here including monkeys, monitor lizards, birds, hermit crabs and more. While we were canoeing one of the many tiny rainclouds gave us a break from the beaming sunshine.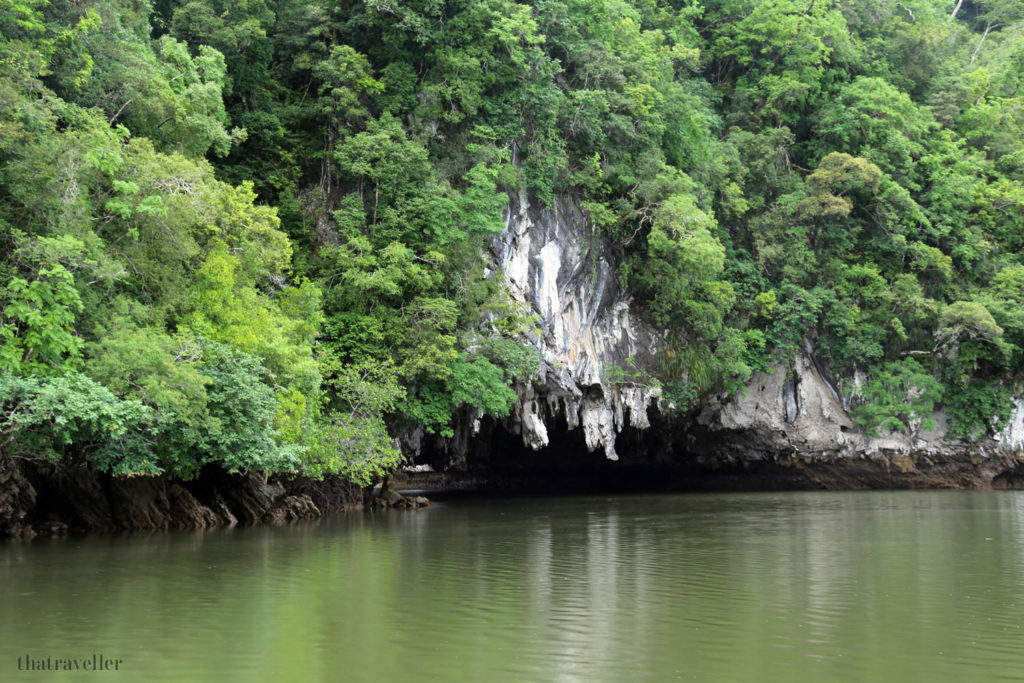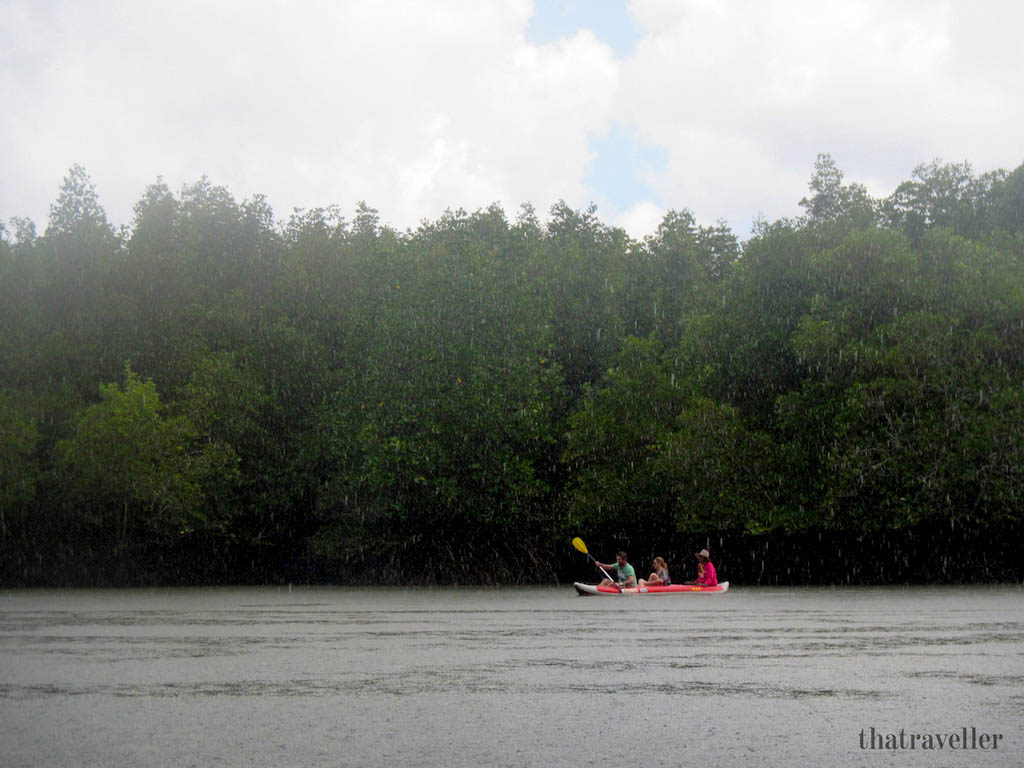 Around 12-1pm – Our next destination was Koh Panyee for lunch. Koh Panyee is a place I NEVER thought I would EVER come to. I've seen it in documentaries and shows like 'The Amazing Race' but I never thought I would actually step onto the floating football field.
"The village of Koh Paynee, located off the South Coast of Thailand is a fishing community built upon water. However, the Islanders have overcome the Islands limitations and built their very own floating football pitch.
Before lunch we walked from one side of Koh Panyee to the other. We started by the floating football pitch and then walked through the markets where we found a school.
For lunch we dined along with other tour groups with a view of the water. We were given about an hour at Koh Panyee including however long it took us to eat.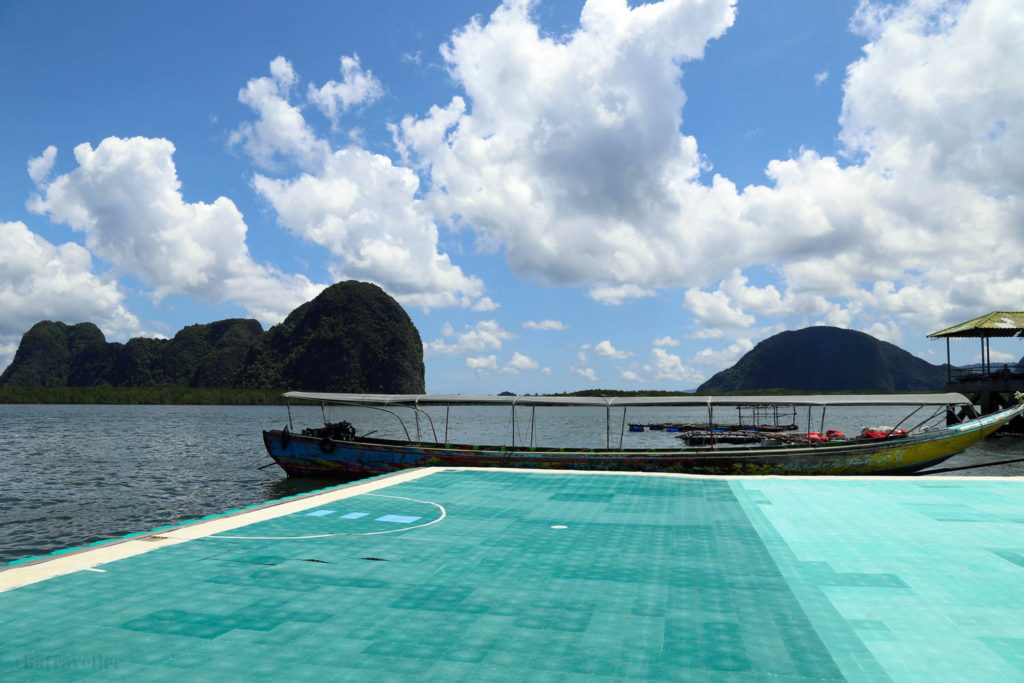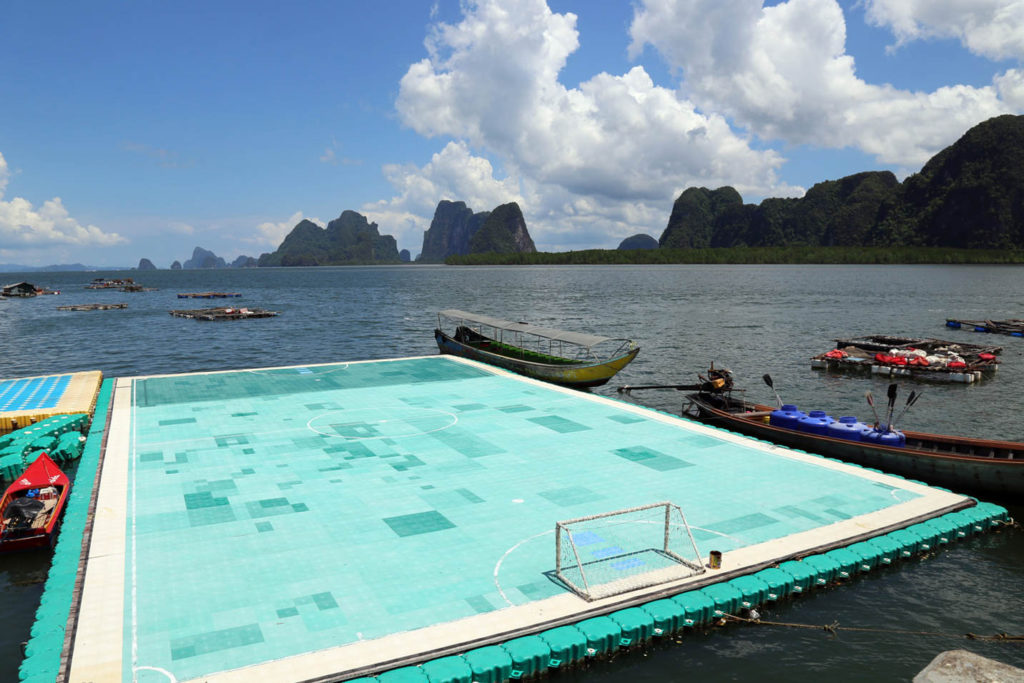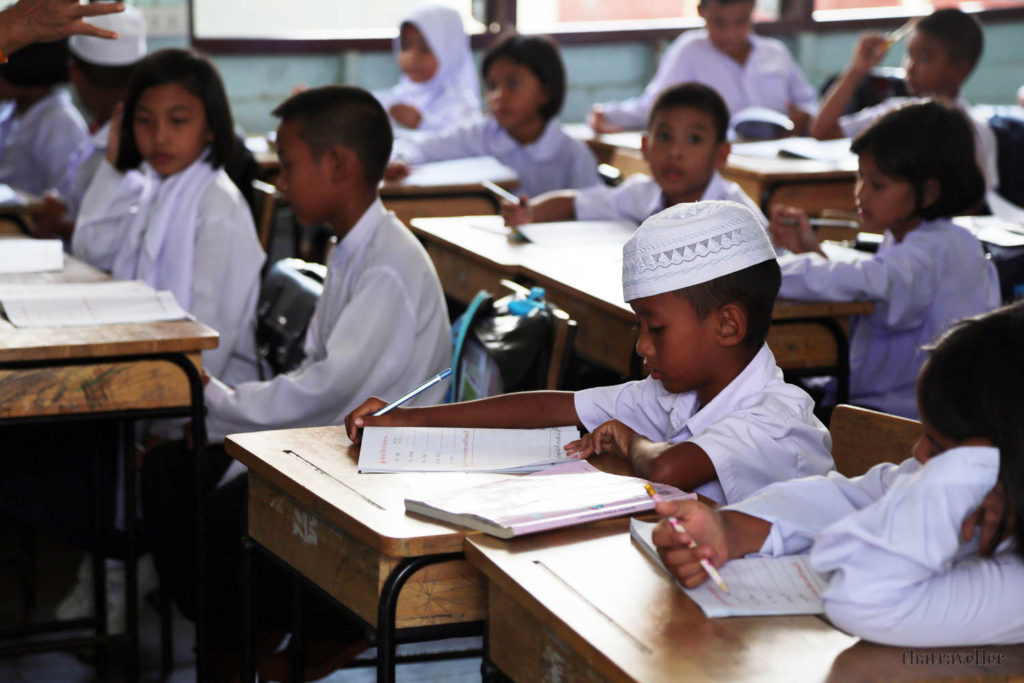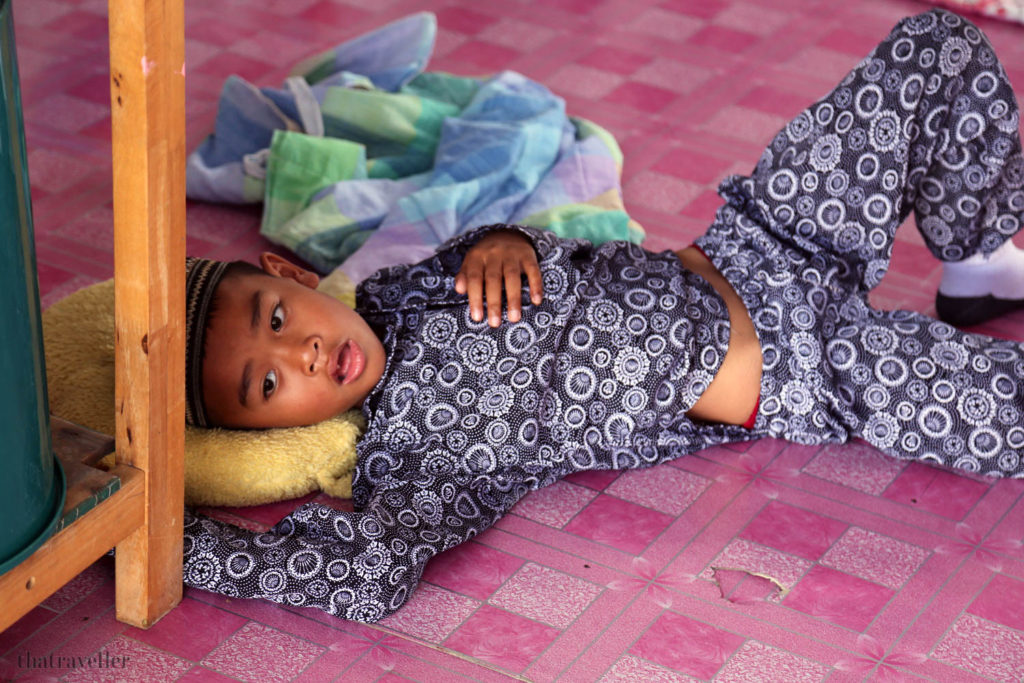 1-2pm – Then it was time to see some more beautiful sites. We passed an area called Scooby Doo Island (there is a rock on the top of one of the islands that resembles a dog). Next was Ice Cream Cave – the name really got to me in the heat – sadly there were no ice creams. Here we were given a helmet and a torch. The cave is small so we really just went in – took a look at the view at the end and returned to the boat.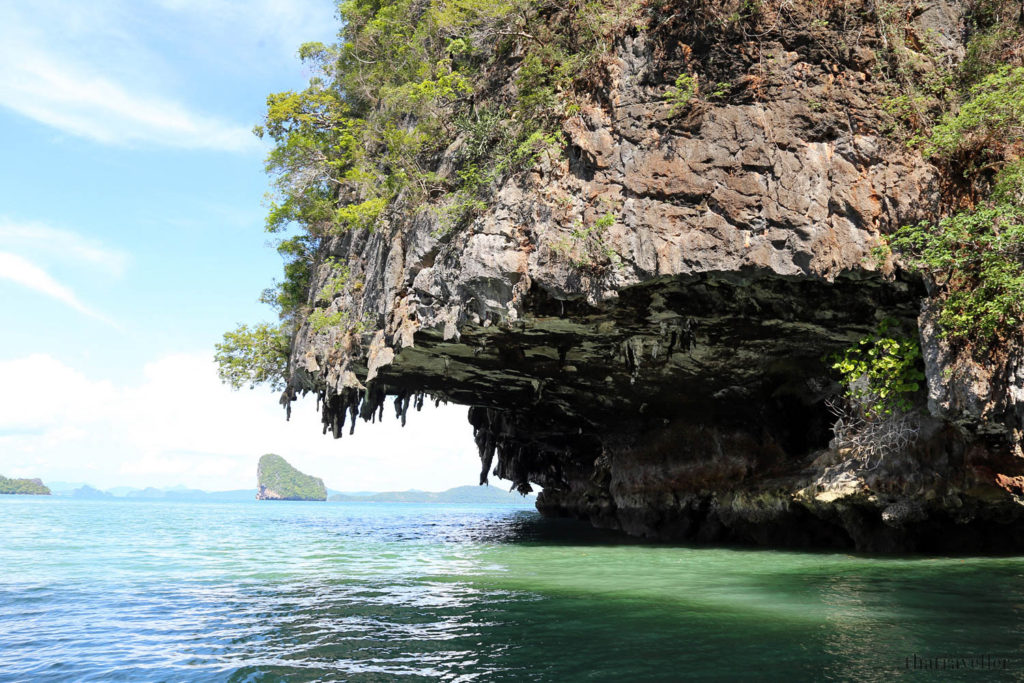 Around 3pm – The rest of the day was breezy.
Swimming time.
A common question that was asked was about snorkelling. Snorkels are not provided because there isn't anything to look at under the water – and I know this because I happened to have some goggles with me. I'm not actually sure where the beach was, but it was away from popular tourists areas, so other than our tour group there was pretty much no one else here.
Here people opted to cool down with a beer or one of the very aesthetic drinks served in coconuts or pineapples – if you want one of these be sure to take some money off of the boat when you go to swim.
Throughout the day whenever we visited a destination we were able to leave our bags on the boat – this way we were free to walk around with just what we needed – like our cameras 🙂
While we were at the beach I spotted a man further down-shore showing some sort of creature to visitors. It was a Slow Loris! He let me hold it and I noticed its hands and feet are just like little palms, it curled onto my arm and just sat there contently. NOW I REALLY REALLY WANT ONE. In fact once I got back I researched whether they are able to be pets. They are not 🙁 For an additional cost you can get photos with the Slow Loris.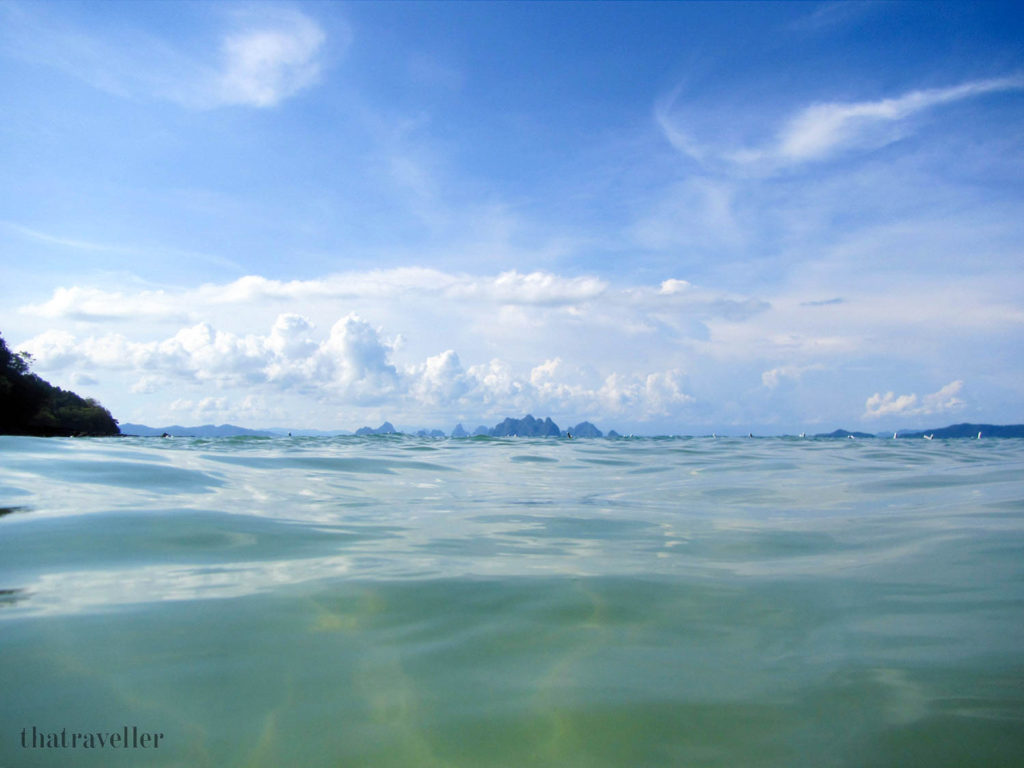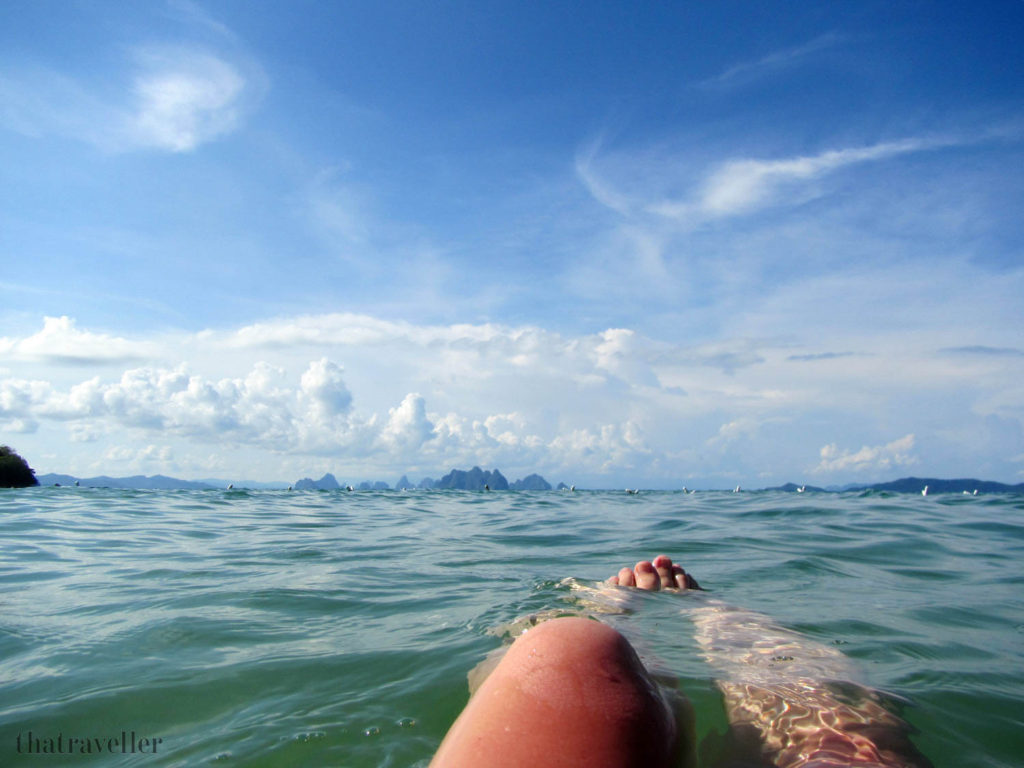 About 5pm – By this time we were back at the Marina. And after being offered to purchase a DVD of all of the images taken throughout the day, it was straight to the hotel transfers. I was back in my hotel room by around 6-7pm.
 ~
I took too many photos to include in this story – so if you want a more visual idea of the journey check out my 'PHANG NGA BAY AND BEYOND; PHOTO DIARY'.
~
Koh Phi Phi with Holiday Inn Resort
Now this isn't exactly a tour, it is more of a private chauffeur service.
Holiday Inn Resort Phi Phi offers its guests various private trips either by speed boat or longtail boat. There are many different trips, all with different duration times. I was able to experience a few of the different trips to get a look at some of Phi Phi's most popular islands.
8am – I made my way to the excursions desk and filled out all the typical forms and then waited as the driver loaded up the longtail boat with an esky full of drinking water, snorkeling gear and beach towels.
Now cue 'Porcelain' by Moby because that is the ultimate song for this journey.
8:30am – We were on our way. First stop Maya Bay, Phi Phi Leh!
Maya Bay is well known from Leonardo DiCaprio's 'The Beach' 2000. In the film the beach is depicted to look as if there is no entrance via the ocean and it is one big circle of rock formations – in reality, boats are able to access the beach easily and make their way to the shore where you can hop off.
This trip has additional costs depending on which trip you take.
Maya Bay has an additional entry fee cost of 200TBH as it is a national park ($7.78).
Once my longtail boat was parked at shore I made my way to the little made up table and got my entry ticket into Maya Bay. Maya Bay is a beautiful swimming spot, but there is no point for snorkeling, as there's no coral. I walked up and down the beach taking photos and then went for a swim.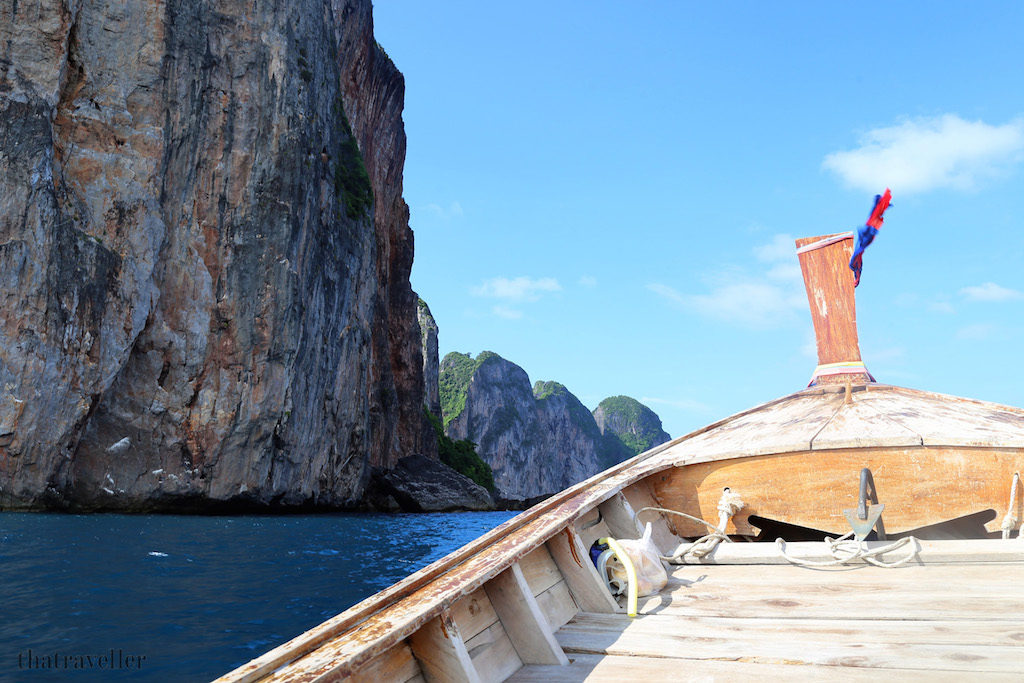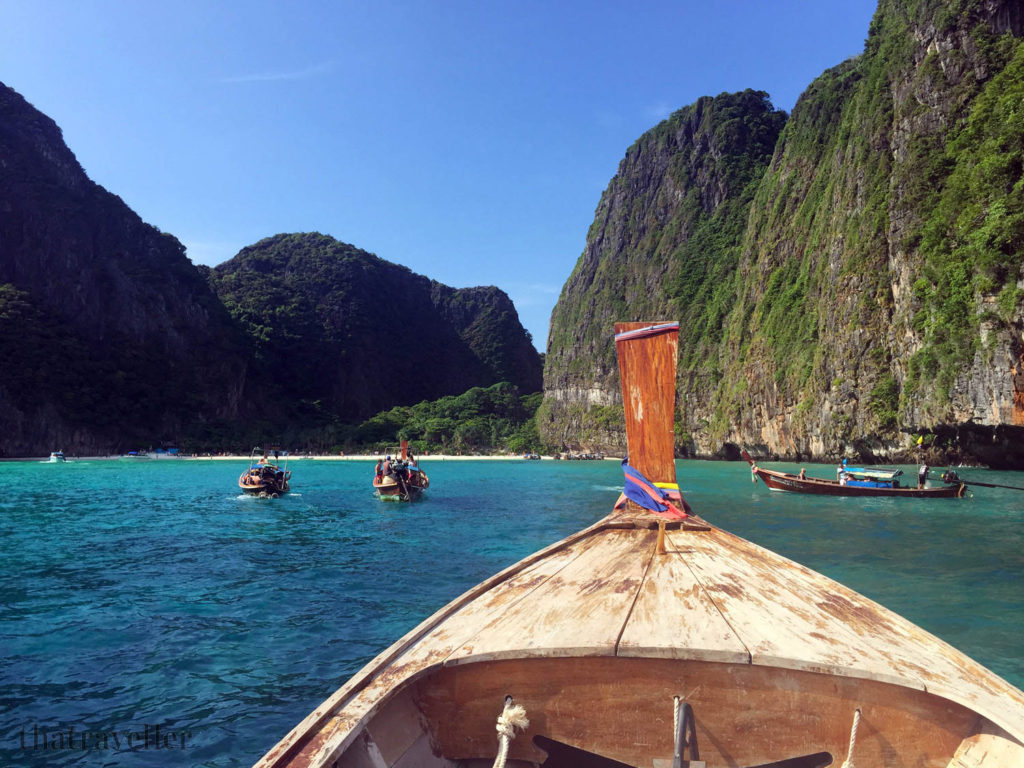 Around 10am – My next stop wasn't far from Maya Bay. Phi Leh Bay is situated on the opposite side of Phi Phi Leh to Maya Bay. Phi Leh Bay was my first snorkeling destination – and in my opinion it was my favourite, of all of the places I visited it seemed as if Phi Leh Bay had the clearest water. One of the most recognisable sights under the water are the stripy little fish called Sergeant Major – they are everywhere.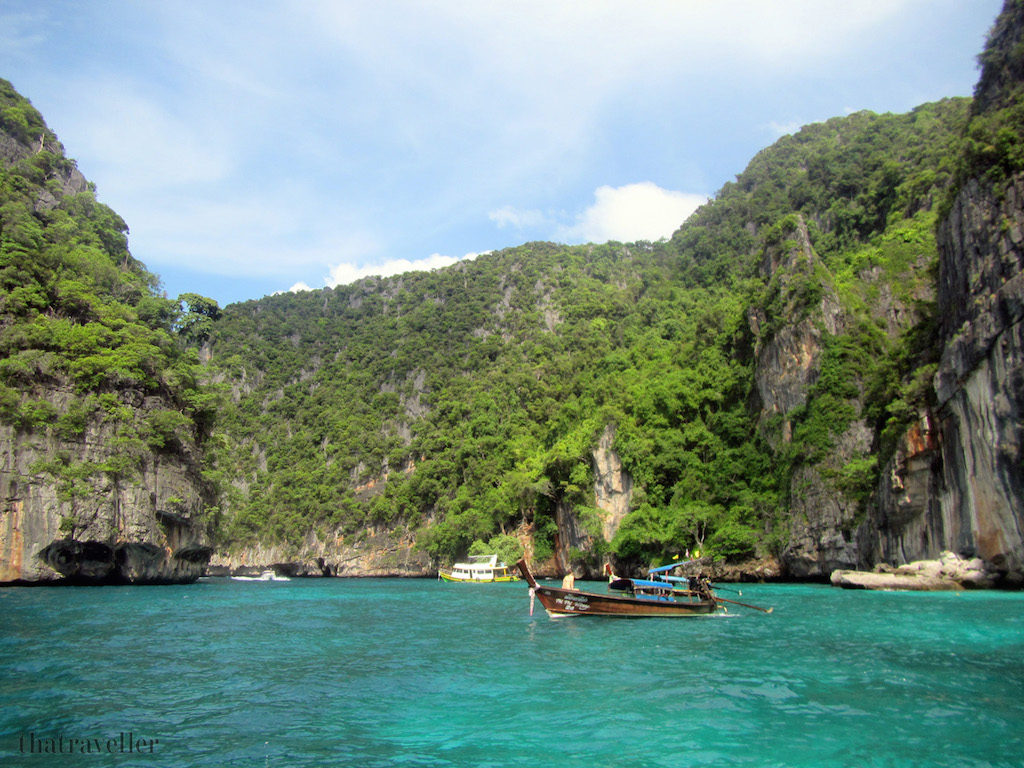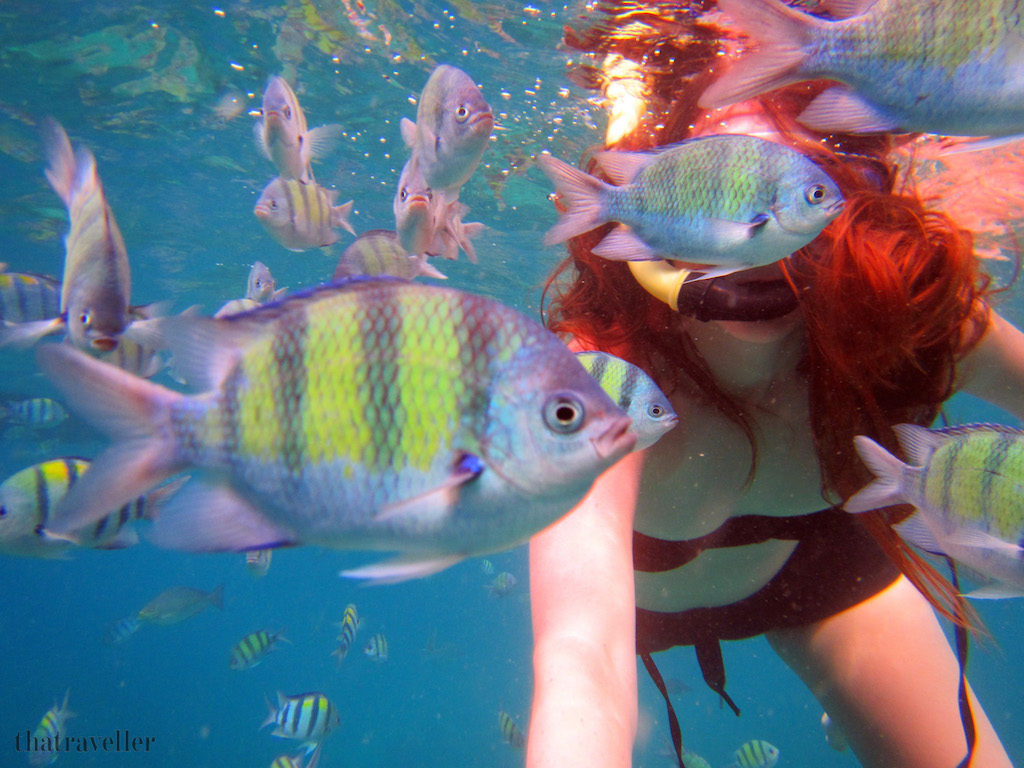 Around 10:45am – Loh Sama Bay is just around the corner from my last stop and is perfect for swimming around and jumping off of boats. The longtail boats stop, bobbing on the tiny waves and guests are able to jump off of the boat into the deep water and splash around.
Loh Sama Bay was one of the prettiest places we stopped at – I got to swim around while looking up at the lush green rock formations that surrounded me.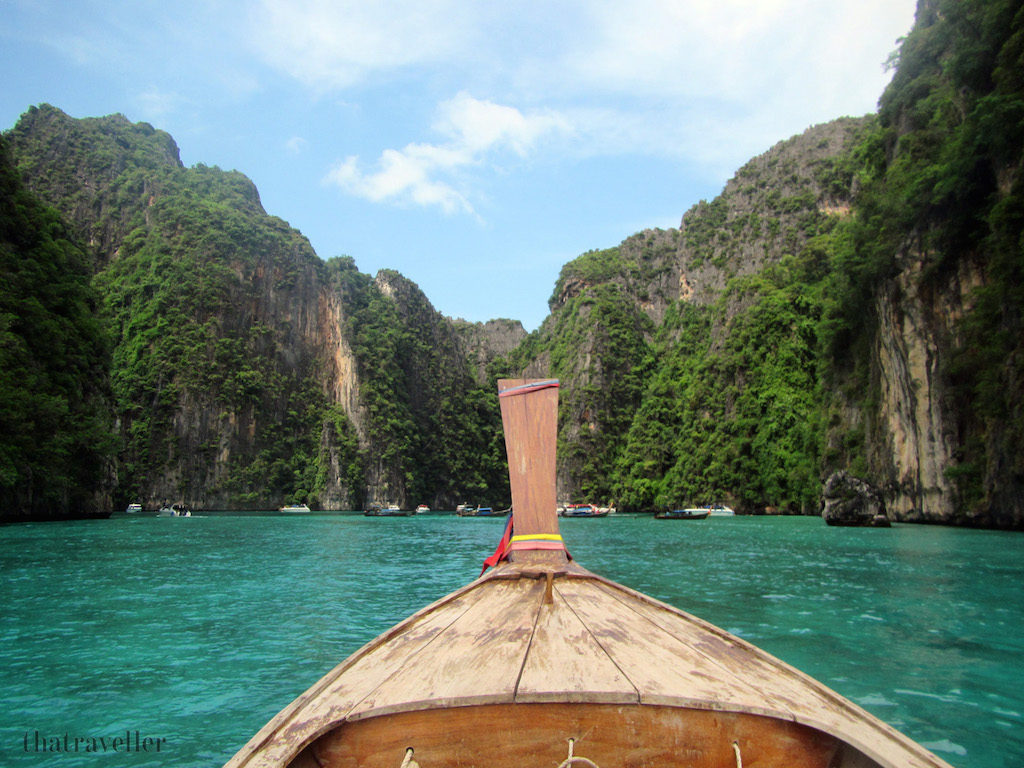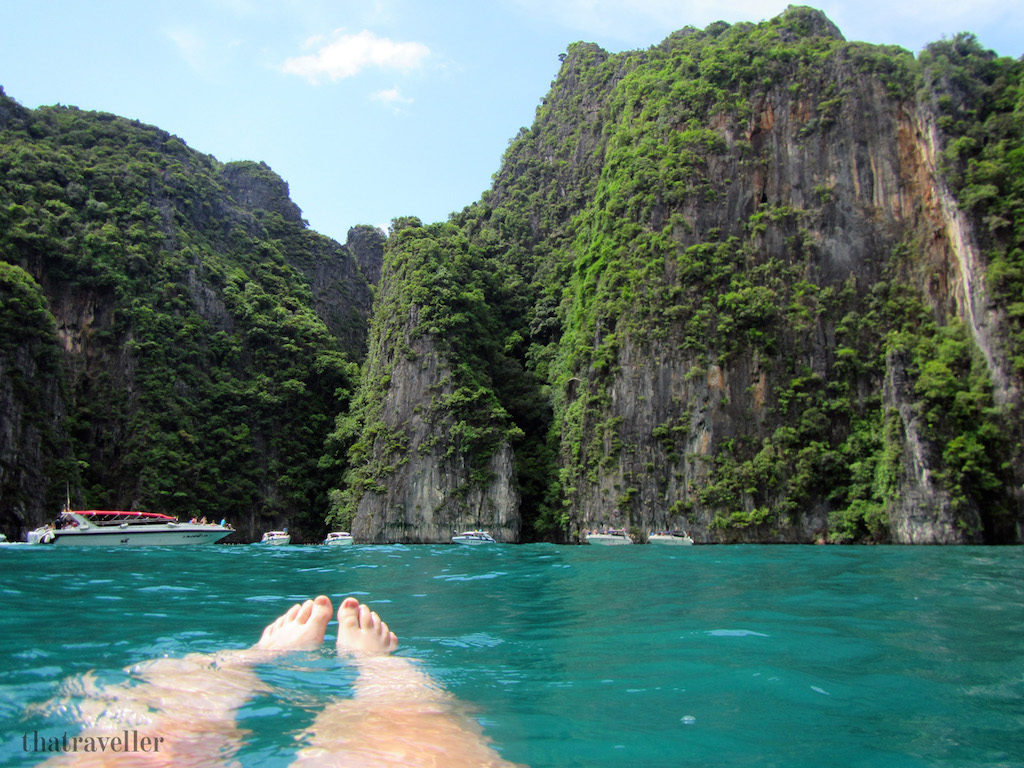 11:00am – The trips between the islands take a bit longer on the longtail boat than a speedboat, but it adds to the experience as it fits in well with the entire culture of the area. A speedboat only seems necessary if you are in a hurry.
On the way to Tonsai Bay of Phi Phi Don, we passed by Viking Cave which is a cave filled with bamboo scaffolding, home to swiftlet nests.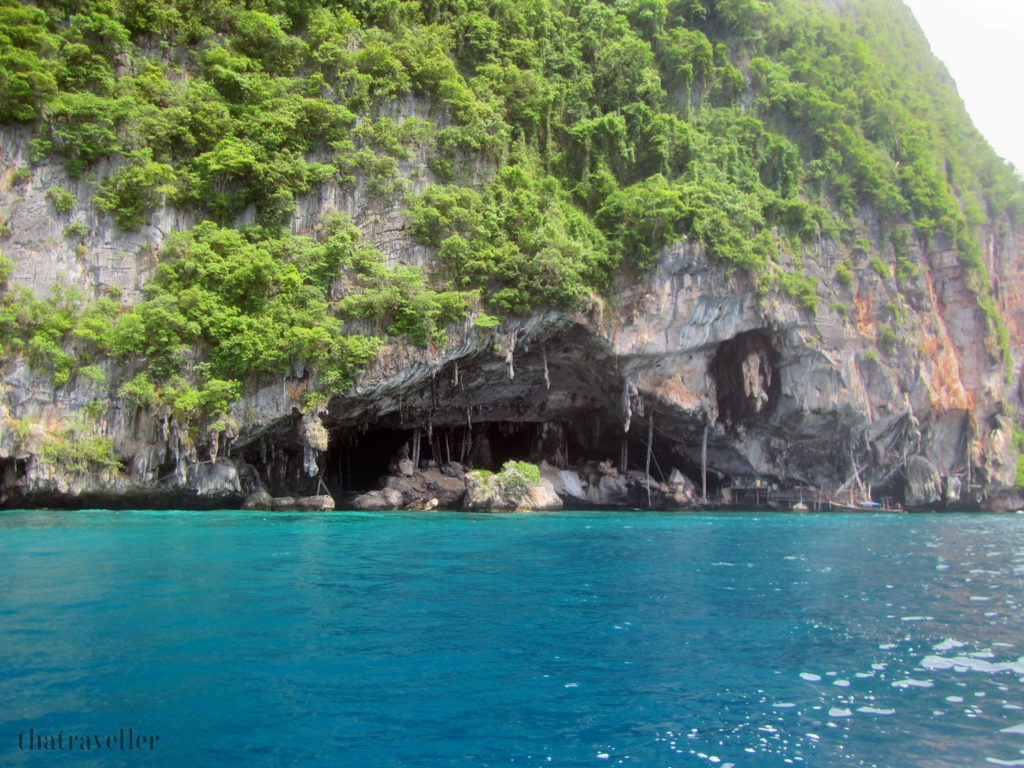 We arrived at Tonsai Bay earlier than intended, but I didn't mind. The expected time would most likely be closer to lunchtime because that's why we were here. I was given about an hour to explore on my own. Tonsai Bay is basically one big market. Every alleyway is lined with stalls, cafes, restaurants and bars – it's the perfect place for backpackers.
A popular place I found was Capulatte, a small coffee shop that serves breakfast meals like bacon and eggs or waffles. Capulatte also has free wifi offered to guests, the username and password is written up on one of the walls.
If you are allowed about 1.5 hours, this is plenty of time to make your way up to Phi Phi viewpoint. To get to there, you follow the 'Viewpoint 1' signs marked by the pathways, or the tsunami evacuation route signs. There are three lookouts, all paved – and creatively named Viewpoint no. 1, no. 2 and no. 3. It takes about half an hour to walk the hike one way (an hour's round trip) and at the top there is a snack bar.
I'm not sure if there are many public bathrooms available at Tonsai Bay but there are some at the café by the pier. The toilet costs 20TBH (77c) if you are not a guest of the café. The toilets do not have flush buttons, and you have to get the toilet paper from the wall of the bathroom before you enter the stall. To flush the toilet, in every stall there is an empty bucket, a plastic bowl and a tap. Run the tap into the bowl and pour it into the toilet until it clears. (I know, it's a little different…)
1:15pm – Our next stop was Bamboo Island. I had seen both Bamboo Island and Mosquito Island from the Holiday Inn Resort, they were not far from there, so we headed in that direction.
Bamboo Island was best for snorkeling, and this time I saw even more marine life. Plenty of Sea Slugs lay on the ground, and what I think were Rainbow Parrotfish swirled around me.
For this snorkel my guide decided to join me, as well as feeding some bread rolls to the fish to bring them all closer to us.
Bamboo Island is also a good place for swimming and relaxation as it is usually not too crowded. Usually the only people there are those on day trips.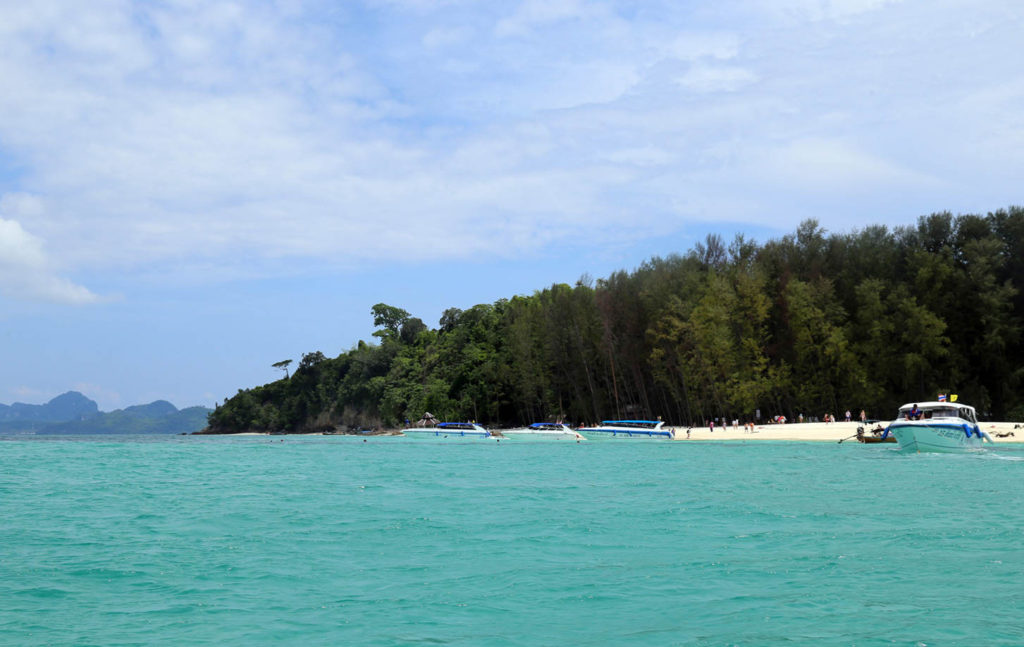 2pm –Mosquito Island! Now the name worried me, it really did. Mosquito Island is very close to Bamboo Island but has less visitors because it doesn't have that many beaches. Mosquito Island is another snorkeling destination (also very good for scuba diving), but this time I was warned not to set my feet on the ground, once I was in the water I knew why.
Large sea urchins were in every little crevice of coral.
My guide also assured me that the name Mosquito Island, did come from the amount of Mosquitos, but that they came out at night time – so we were safe!
2:30pm – And now it was back to my hotel, the Holiday Inn Resort, which I could see from where we were now. It took us probably 10-20 minutes to reach the shore, and I had the rest of my day to do whatever I liked.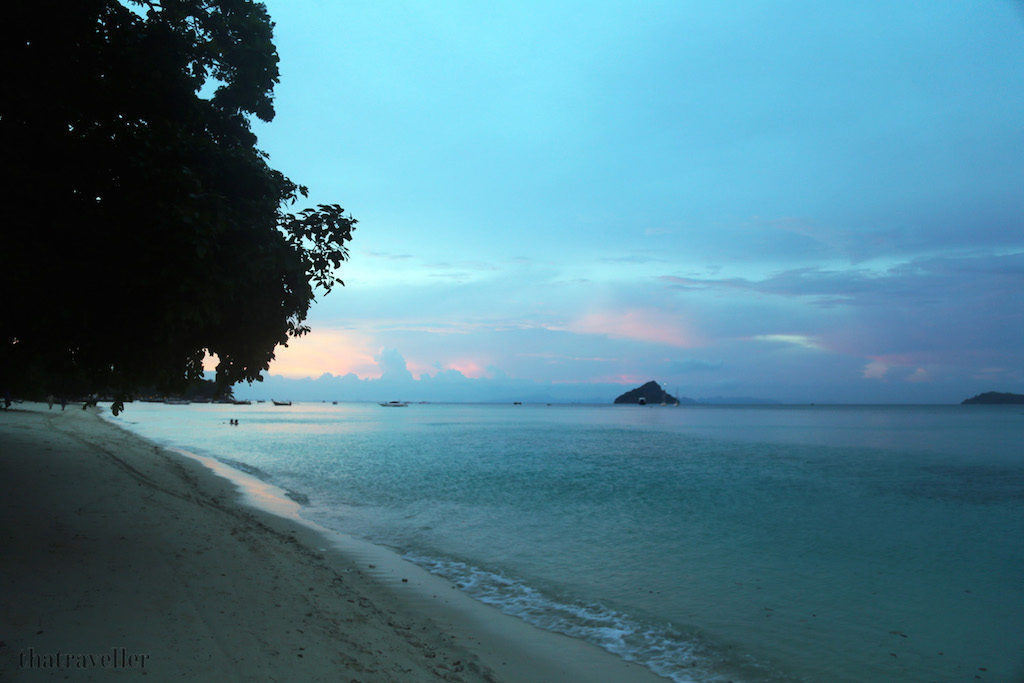 Things to consider for both day trips:
What do I need? Sunscreen, hat, water, swimmers – the

ESSENTIALS

.
Sea sickness? Now you might think, I don't get sea sick that's alright, but isn't it better to be safe than sorry? No one wants to be the person to ruin the trip for everyone else when they are feeling so ill that they cannot be on the boat anymore.
Which boat? Although the speedboat gets you around faster, and it is necessary for longer trips – longtail boats are better for short trips, as well as the fact that some speedboats are unable to get to shore – meaning a transfer to a smaller boat every time you want to get to land.
Anything to add?