The Blue Mountains "is a rugged region west of Sydney" in New South Wales. Just under a 2hour drive from Sydney, the destination is known for its dramatic mountain ranges, valleys and unique rainforest scenery.
Top 10 Destinations
1. Echo Point and the Three Sisters
The Three Sisters is the Blue Mountains most remarkable landmark. Located at Echo Point, this iconic attraction is essentially an unusual rock formation that represents, according to Aboriginal legend, Three Sisters that were turned to stone.
The Aboriginal dream-time legend has it that 'Meehni', 'Wimlah' and Gunnedoo' lived as members of the Katoomba tribe. "These sisters had fallen in love with three brothers from the Nepean tribe, yet tribal law forbade them to marry. The brothers were not happy to accept this law and so decided to use force to capture the three sisters causing a major tribal battle.
As the lives of the three sisters were seriously in danger, a witchdoctor from the Katoomba tribe took it upon himself to turn the three sisters into stone to protect them from any harm. While he had intended to reverse the spell when the battle was over, the witchdoctor himself was killed. As only he could reverse the spell to return the ladies to their former beauty, the sisters remain in their magnificent rock formation as a reminder of this battle for generations to come." There are other legends surrounding the landmark, though this is one of the more well-known.
Echo Point is the main viewpoint of the Three Sisters, though there are various walks trailing from beside the Visitors Centre. The Three Sisters Walk is a 1km walk (taking about 30minutes), that takes you down some steep steps through the eucalyptus trees down to Honeymoon Bridge which connects to the first sister.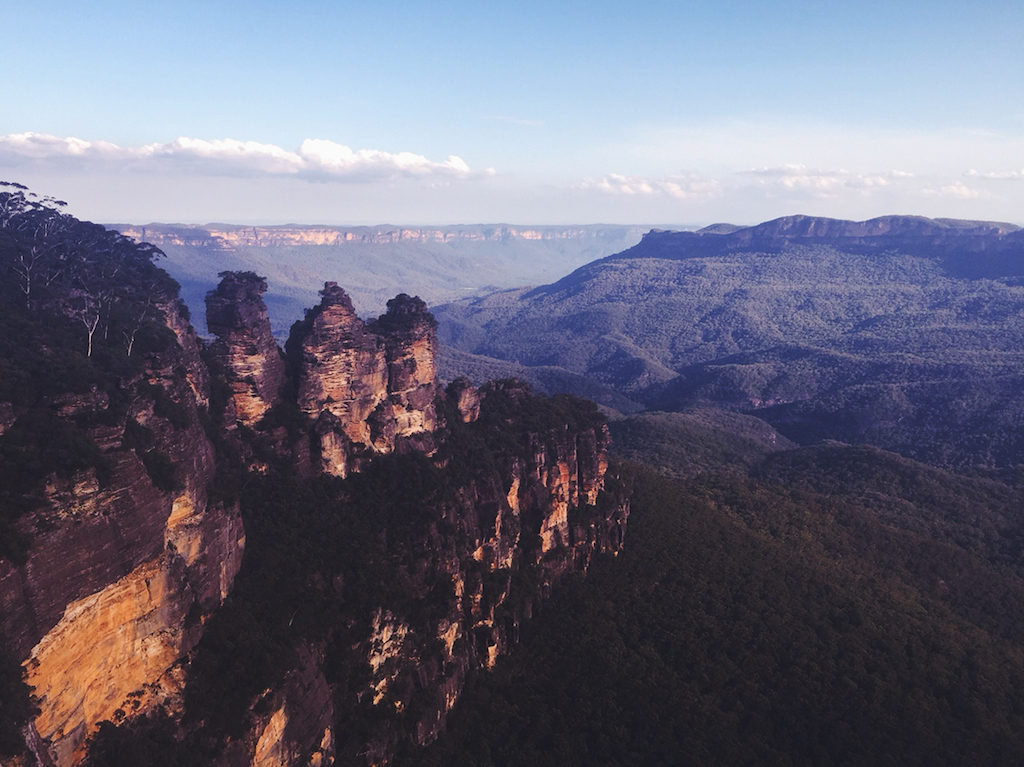 2. Abseiling and Canyoning – High n Wild

One of the best things I've done in Australia as a whole, is joining in on one of these day tours. Some people don't really know what I'm referring to if I say 'canyoning' but basically it involves abseiling down into a canyon, wetsuit and all, and then swimming through natural made pools, jumping off of ledges and even the occasional climb down a waterfall – yes, it's that amazing.
High n Wild runs daily tours in the Blue Mountains including Abseiling, Rock Climbing, Canyoning, Mountain Biking, Bush Survival courses and Bushwalking.
Empress Canyon, the tour I took part in goes from 8:45am – 4pm starting in an office by the lobby of the YHA Blue Mountains. This tour combines abseiling and canyoning – the first half of the day is abseiling, starting with a 5metre cliff for practice, and then a 15metres cliff to a 30metre cliff. I'm a fairly confident abseiler but the 30metre one did have my heart beating.
From there it's a lunch of a classic but delicious sandwich and cool cordial (great for the hotter days), and then it's down to the canyon – you walk down, put on your full body swimsuit, and then start the journey by jumping into the water and making your way through the natural pools until you reach the falls.
"This canyon is an exciting affair with water jumps, exhilarating swims, waterslides and fantastic scenery." The final abseil out of the canyon is one of the best abseils in the mountains – down the 30metre Empress Falls.
On the tours you are provided a wet bag, but it's up to you what you take. You are allowed to take your own camera as long as it is waterproof (otherwise is at your own risk) and the guides also supply a camera that can be passed around the group to later be uploaded to their facebook page.
3. Jenolan Caves
Open every day, the Jenolan Caves are the largest, most spectacular and most famous caves in Australia. With various award winning cave tours, neighbouring platypuses and thrill-seeking experiences like potholing and abseiling there's so much to experience. Great for a day trip, those who aren't that scared of small spaces can enjoy Adventure Caving – with overalls and a helmet you can "crawl and face your fears".
For cave tours, I've found from experience that a great option is to book tickets for one of the extended night tours. These tours are often less crowded and also allow you to see more cave formations than on a single cave tour. The River Cave is one of my favourites as it includes an "underworld labyrinth. It features the underground 'River Styx' which appears as pools of blue water, including the 'Pool of Reflections'" – a deep, illuminated, and still lake.


4. Minnehaha Falls
When my friends and I got to the Blue Mountains, one of the top things on our bucketlist was to swim under a waterfall. The visitors centre didn't seem to know a place where we could do this, but a trusty google search and a good word from the locals sent us to the little haven that is Minnehaha Falls.
At first we had some trouble finding the entrance to the walk down, and on a hot 35+ day we were desperate for the water. The car park is situated at the end of Minnehaha Rd in Katoomba and from there it's a 20-30minute walk down, including some steep steps. From there you are welcomed into a cool picturesque sanctuary where you can pick a spot to leave your things and jump under the 20-metre cascades. To our surprise, the water was incredibly freezing, but that didn't stop us from having a swim and relaxing under the sun on some flat rocks.
We forgot our towels, but the steep walk back up had us dry in no time.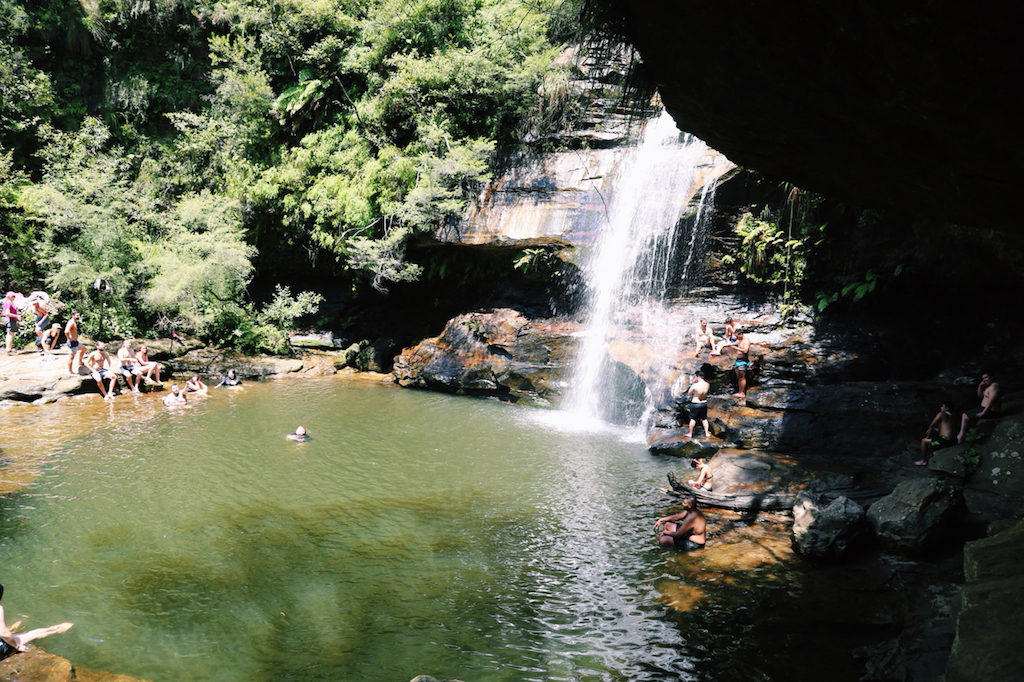 5. Lincoln's Rock
Lincoln's Rock was news to me. A night out at Katoomba's Station Bar had us drowning in local recommendations, and this was the one we took to. Lincoln's Rock is a lookout not to far from Wentworth Falls. Named after a mountaineer Lincoln Hall who lived in the area, this viewpoint offers panoramic views of Jamison Valley. This flat white rock allows great photo opportunities and a perfect chance for some sunbathing – it's that deserted! When we got there, it was a rocky dirt road until we spotted what looked like an entrance, and then a completely empty space.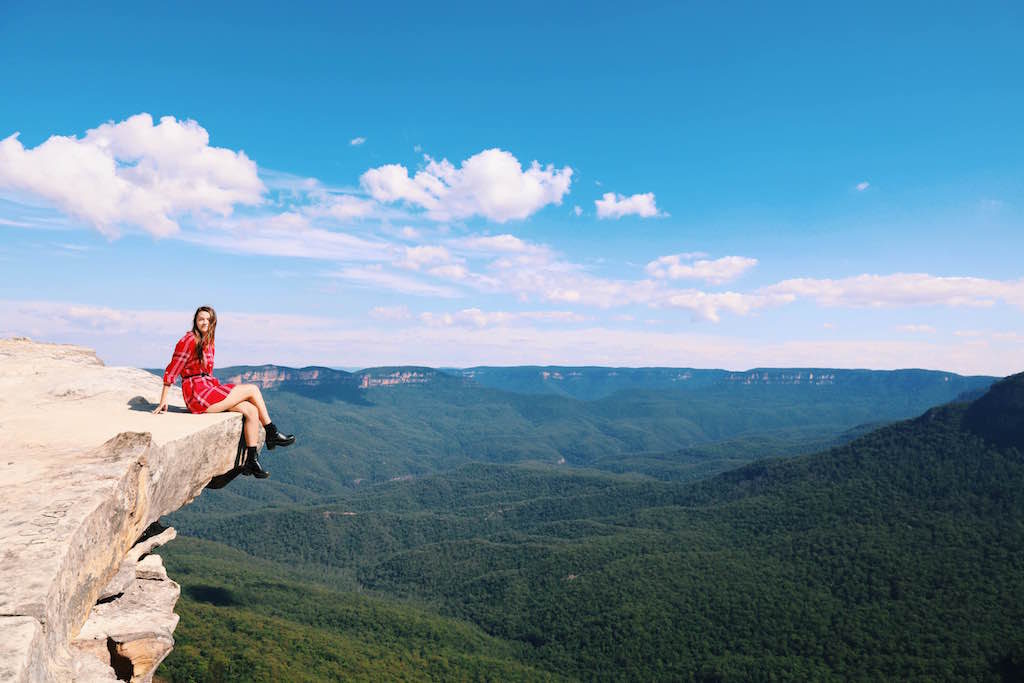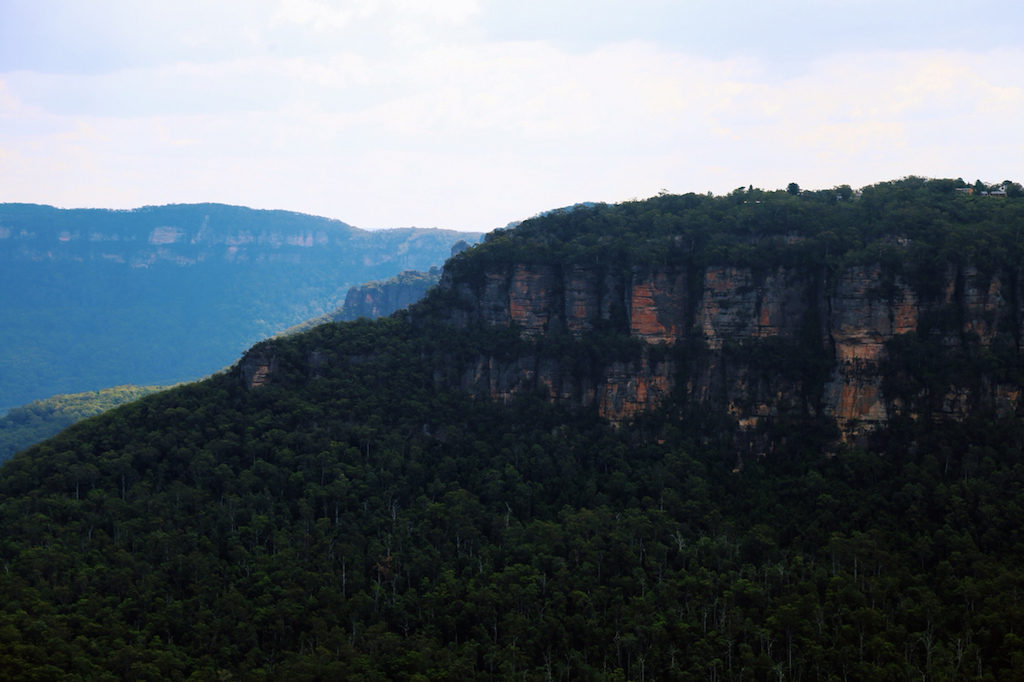 6. Scenic World
Scenic World is one of the more well-known destinations in the Blue Mountains, and offers a range experiences all dedicated to showing everything that the Mountains have to offer.
The glass-bottom Skyway hangs between cliff tops and offers amazing birdseye views of the waterfall and rainforest below, as well as extended views of the Three Sisters and the valley. The Scenic Cableway is a 545metre journey that descends into the Jamison Valley that can take visitors to and from the Scenic Walkway which offers various bushwalks. One of the more well-known experiences is the Scenic Railway, an award-winning carriage journey at a 64degree incline (chairs are adjustable for those wanting a more relaxed journey). This is one of the more favoured modes of transportation to getting down to the Walkway. The Scenic Walkway allows visitors to get a close up experience of the Jurassic rainforest at their leisure.


7. Silver Cascades
The Silver Cascades are located at the bottom of Victoria Falls. The walk takes about 2hours return (un-including time for swimming) and takes you down to a peaceful and picturesque swimming hole. If you're wondering where the name comes from, this unique rocky backdrop combined with the shining sun creates and illuminated wall of 'silver' water.
8. Wentworth Falls
The most popular waterfall in the Blue Mountains, Wentworth Falls is best seen from one of the walks offered from the lookout and picnic area. The lookout doesn't offer great views of the waterfall, but it does offer amazing views of the valley – for a better view, visitors can walk down the trail at their own pace.


9. Six Foot Track
The Six Foot Track came up quite a few times when chatting to the locals of Katoomba, and after some research I found that it is a three day 44km walking track from Katoomba to the Jenolan Caves. The Track can also be done as a day trip; you just wont get all the way there.
10. Empress Canyon
I only discovered Empress Falls after my canyoning and abseiling trip with High n Wild, but while there I discovered it was also a popular hike with the ending view of watching adventurers rappel down the falls. This walk is quite arduous as it basically consists of walking down stairs for the descend, and then trekking it back up – it can take about 1hour return.
A great lookout to check out while on the walk is Queen Victoria Lookout – one of the best views offered in the Blue Mountains.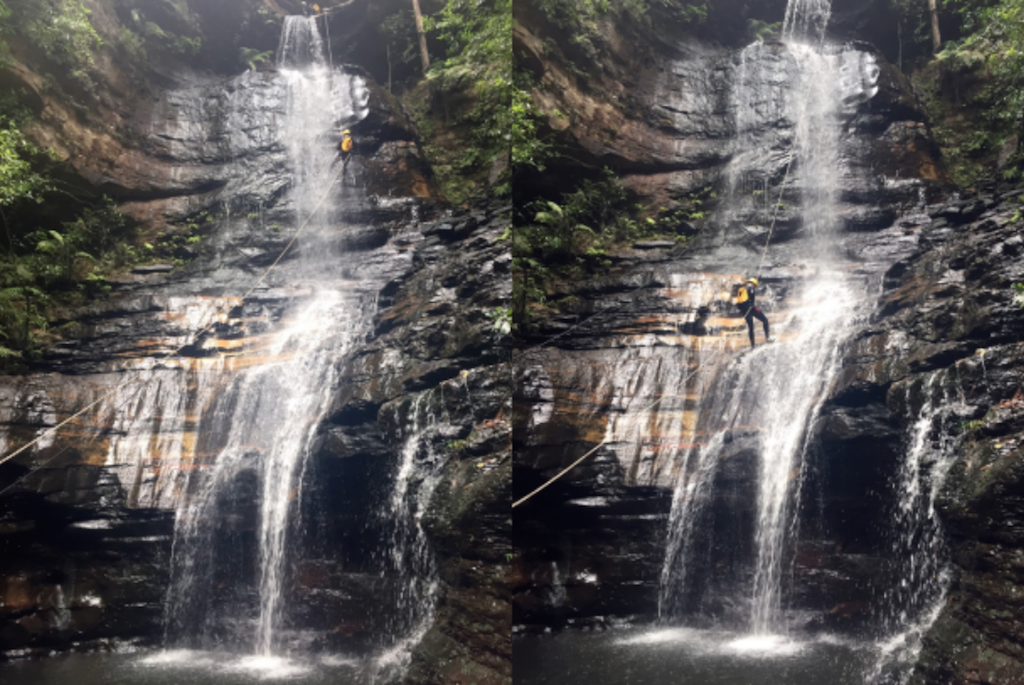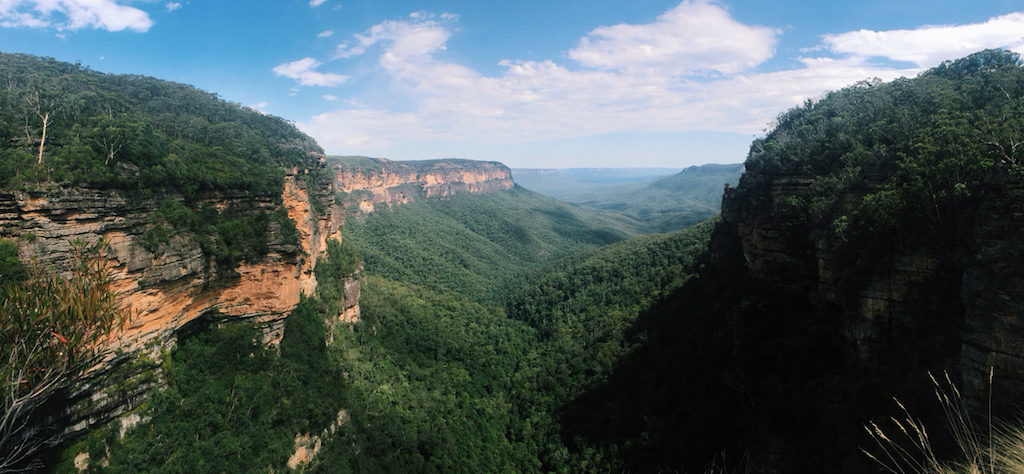 Where to stay;
As a resident of Sydney, I've been to the Blue Mountains quite a few times – it's my staycation spot when I'm getting antsy, and of all of the times I have stayed overnight I have always stayed at the same place, and I know I'll never want to stay somewhere else. The Katoomba YHA is in a restored red-brick National Trust building just a short 10minute walk from Katoomba train station. This award-winning backpacker hostel offers a large kitchen, free Wi-Fi, multiple shared spaces and cosy, spacious rooms.
THATraveller was welcomed to the Blue Mountains by YHA Australia. My opinion is my own.