Thailand's sprawling capital! Bangkok is known for its large riverside city, vibrant street-life, backpacking destinations and lavish shrines and temples. So here's a guide to navigate your way through the best of this overwhelming city.
Top 10 Destinations…
1. Grand Palace and Wat Phrakaew
Undoubtedly Bangkok's most famous landmark, despite being constructed in 1782, it continues to draw popularity through its history, beautiful architecture and intricate detail. For 150 years the Palace was the home of the Thai King, the Royal Court and the administrative seats of government. The Grand Palace is a complex of several impressive buildings, temples 'wats', gardens and courtyards – each with such asymmetry due to their organic development, with additions being made by successive reigning kings over 200 years of history. Although no one has resided within the palace since 1925, it is still used for official events, and only two of the throne halls are open to the public.
One of the most notable buildings within the Palace is Wat Phrakaew, the Temple of the Emerald Buddha. Dating back to the 14th century, the Emerald Buddha was carved from a single block of jade, and even though small in size, it is the most important icon for Thai people. A seasonal cloack is changed three times a year to correspond to Summer, Winter and Rainy Season by HM the King of Thailand. It is done so to bring good fortune to the country during each season and forms and important ritual in the Buddhist calendar. No one is allowed near the Emerald Buddha, and photography is not allowed inside the temple – you are able to see it from outside.
At the entrance there are maps available in various languages detailing information on each of the buildings within the palace. From 10am – 2pm, a guide is on duty and Personal Audio Guides (PAG) are also available in over 5 languages. Whether you take a tour or not, the route through the Palace is fairly fixed so it's incredibly easy to get around.
Note: Strict Dress Codes apply. See below for details.
Opening hours: Daily, 8:30am – 3:30pm
Price: 500 Baht.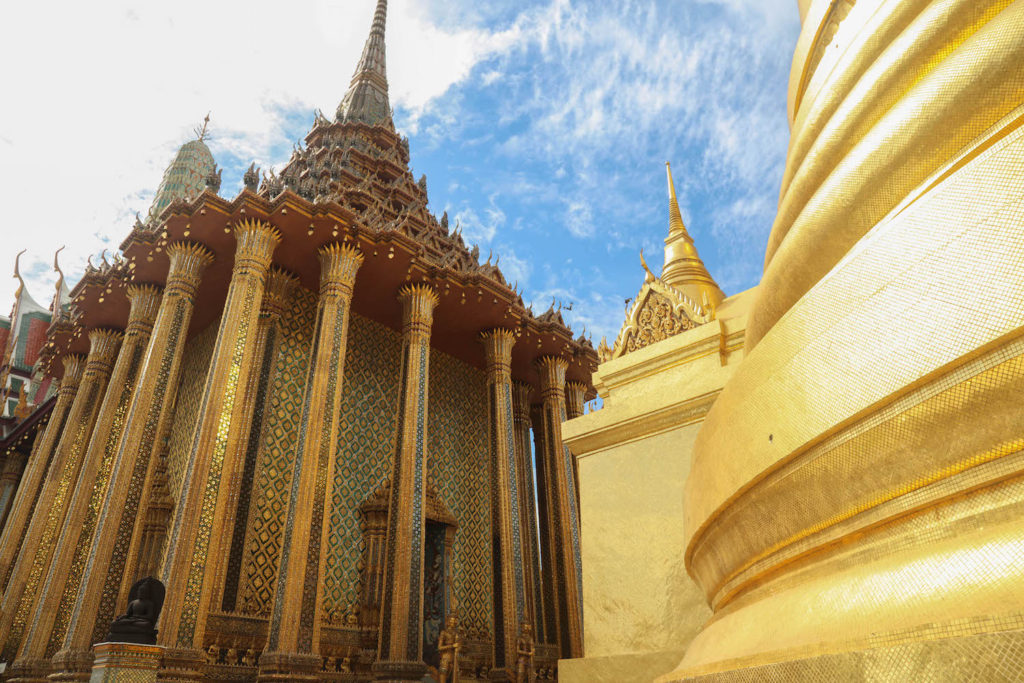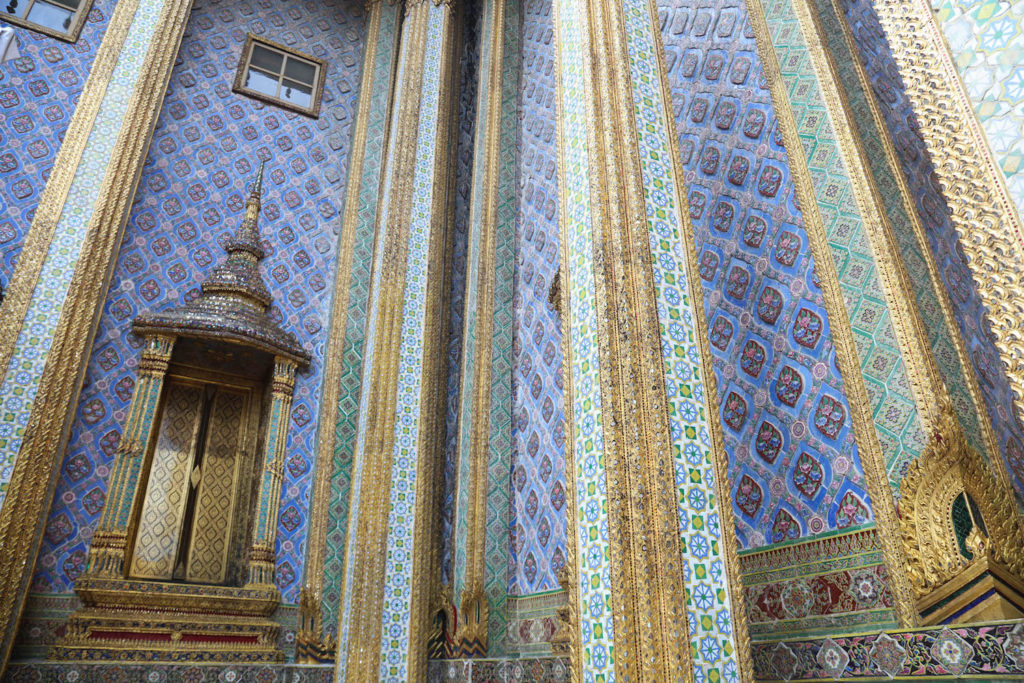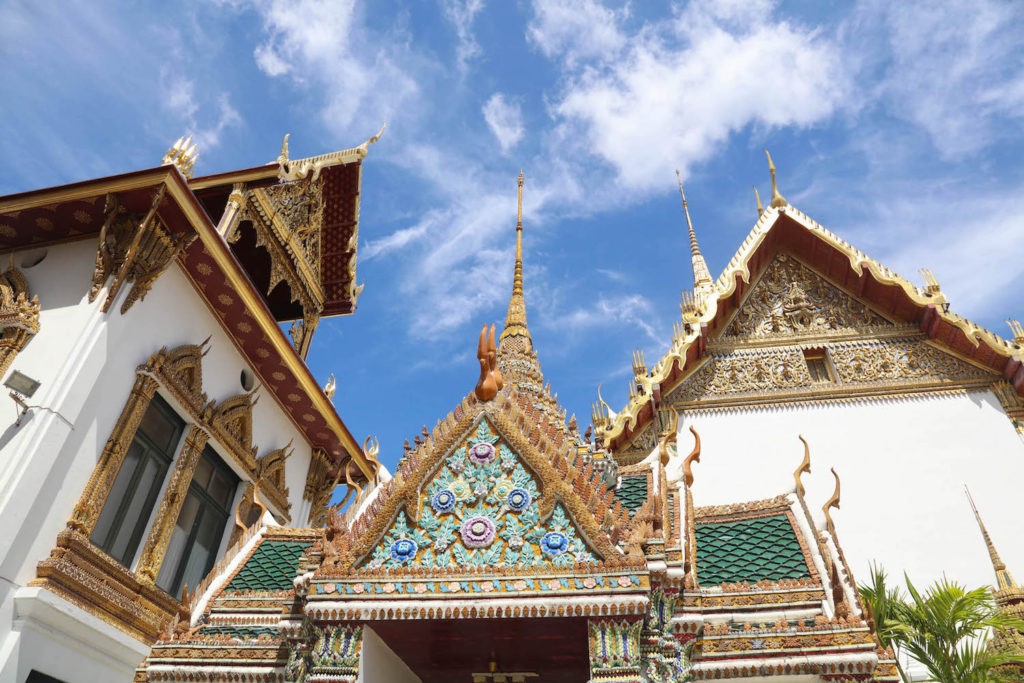 2. Wat Arun (The Temple of Dawn)
Situated on the west bank of the Chao Phraya River, Wat Arun is particularly renowned for its riverside location and physical differences to other temples found in Bangkok. Known as the Temple of Dawn, its spire is one of Bangkok's world-famous landmarks and is most beautiful at sunset, particularly when lit up at night. One of the most beautiful temples in Thailand, it has an imposing spire reaching 70metres in height, completely decorated with tiny pieces of coloured glass and Chinese porcelain. You can climb the central prang, though the steps are fairly steep – beware the heat and humidity! From the top you can see panoramic views of the winding Chao Phraya River, the Grand Palace and Wat Pho which sits on the opposite side of the river.
Some History: Wat Arun, named after Aruna the Indian God of Dawn, is an architectural representation of Mount Meru, the centre of the world in Buddhist cosmology. "In the mythology of Tibetan Buddhism, Mount Meru is a place that simultaneously represents the centre of the universe and the single-pointedness of mind sought by adepts. Thousands of miles in height, Meru is located somewhere beyond the physical plane of reality, in a realm of perfection and transcendence. The four-corner prang of Wat Arun, which houses images of the guardian gods of the four directions, reinforces the mystical symbolism."
Directly opposite Wat Pho, from Sapphan Taksin boat pier you can take a river boat that stops at Pier 8. From here a small shuttle boat takes you from one side of the river to the other for only 3 Baht.
Note: Strict Dress Codes apply. See below for details.
Opening hours: Daily, 8:30pm – 5:30pm
Price: 50 Baht.

3. Damnoen Saduak Floating Market
Damnoen Saduak is the most popular floating market in Thailand, and is a great place to seek some traditional tastes. Located over an hour outside of Bangkok, the easiest way to get to the market is by joining a tour. To avoid the crowds and the heat, an early morning start is worth it to catch it at its liveliest. Generally, tours provide transport to/from the markets past the skyscrapers and towards the countryside. Upon arrival you can hop onto a decorated long-tail boat and make your way to the colourful vendors to enjoy fruits and the selection of tasty foods lined along the docks.
4. Wat Pho – Temple of the Reclining Buddha
Located behind the Temple of the Emerald Buddha (Wat Phrakaew), the Temple of the Reclining Buddha is one of the largest temple complexes in Bangkok. The Buddha measures 46 metres long and is completely covered in gold leaf. The temple is an easy 10-minute walk from the Grand Palace, and has English speaking guides who are happy to provide interesting information for around 200-400 Baht. Wat Pho is often considered the leading school of massage in Thailand, so where better to get a traditional Thai massage? Or even just a foot, or shoulder and neck massage to relax after a day of walking.
For a little bit of good luck, you can purchase a bowl of coins at the entrance of the hall which you can drop in the 108 bronze bowls which line the length of the walls. The money goes towards helping the monks renovate and preserve Wat Pho.
Note: Strict Dress Codes apply. See below for details.
Opening hours: 8am – 5pm
Price: 100 Baht.
5. Wat Traimit – Temple of the Golden Buddha
Housing the world's largest gold seated Buddha, measuring nearly 5 metres in height, Wat Traimit is a free destination located at the end of Chinatown's Yaowarat Road.
Some History: In the past, artisans crafted the Buddhas in gold, and to disguise them from invading armies, covered them in stucco and plaster. The Buddha at Wat Traimit was discovered by accident when it was accidentally dropped revealing under its casing of plaster, a beautiful solid golf Sukhothai style Buddha. Pieces of the plaster are still kept on display within the museum – 10 Baht.
Opening hours: 9am – 5pm
Price: Free.
6. Chatuchak Weekend Market
Once only a destination for wholesalers and traders, Chatuchak Weekend Market has become a well-known attraction for tourists due to its sheer size and diverse collection of merchandise, foods and more. With over 8000 market stalls, on the average weekend the market sees more than 200,000 visitors bargain hunting in the maze of stalls. Perfect for a day trip you can expect to find;
Clothing and Accessories,
Handicrafts
Ceramics
Furniture and Home Decoration
Food and Beverage
Plants and Gardening Tools
Art
Pets and pet Accessories
Books
Antiques and Collectibles
Miscellaneous and Secondhand Clothing
 Note: Most vendors do not accept credit cards, and ATMs cannot always be found nearby.
Opening hours: Sat & Sun, 9am – 6pm, Friday's 6pm – 12am.

7. Chao Phraya River & Waterways
There's no way you can visit Bangkok without spotting this winding river settled within the heart of the city. The original site was chosen by early settlers because of its fertility and abundant fish, and now around 50,000 people catch ferries along this 25km long river to get around each day. 'The River of Kings' as King Rama I named it, has 5 public boat lines, all operated by the Chao Phraya Express Boat company. There is the 'local line', 'orange', 'yellow', 'blue', and 'green-yellow' – all operating between 6am and 7:30pm daily.
For travellers, there are 'Tourist Boats' that offer unlimited trips to nine prominent piers for a 150 Baht flat fee (service hours, 9:30am – 3pm, daily). These run every 30minutes while the public lines used by locals typically run every 15 to 20 minutes.
8. Jim Thompson's House
"The lovely garden-enclosed compound sitting on the bank of the Saen Saeb Canal would have gone completely unnoticed, had it not been for a legacy left behind by a middle-aged American man named Jim Thompson. His elegant residential enclave, comprising six traditional Thai teakwood houses transported from Ayutthaya and Bangkok's Ban Krua community, echoes Jim Thompson's 30-year love affair with Southeast Asian art and cultural heritage. An architect by training and an avid collector of Asian objects of art, Jim Thompson's keen eyes and flair for design breathed life into everything he touched.
After his discharge from military service in 1946, Jim Thompson decided to settle down in Thailand, where he dedicated over 30 years to reviving Thai silk – then a dying cottage industry – and introduced it to the world's most respectable fashion houses and catwalks in Paris, New York, London and Milan. The same goes for his Thai house, which was no ordinary teakwood villa complex filled with incongruous collections of antiques, but a breathing museum – even then – that embodies Jim Thompson's life-long passion and whimsical design choices. One day in 1967, while at the height of his success, he mysteriously disappeared into the Malaysian jungle, and thus began the legacy of Jim Thompson…"
Operating hours: 9am – 5pm
Nightlife…
1. Soi Cowboy
If you're exploring Soi Cowboy, chances are you were looking for some flashing neon lights and a wall-to-wall go-go bars. Named after an African-American cowboy who opened the first bar here in the 1970s, this red-light district offers a more easy-going feel. With go-go bars lining the sides of the street, each is brightly lit with blaring music and offers various seating options – most arranged in tiers around a central stage.
If you've seen the Hangover 2, this is where they spent their night partying (Cactus Bar, Tilac) / where they came to decipher the night before.
Opening Hours: Bars usually close around 2:30am.
Price Range: Entry is always free and drinks are usually around 100-150 Baht.
2. Khao San Road
If you've been reading along to my stories for a while, you'll know that my absolute favourite book is 'The Beach' by Alex Garland. Also made into a motion picture in 2000 starring Leonardo DiCaprio, he describes Khao San Road as the "centre of the backpacking universe". And he's absolutely spot on. A few moments on Khao San Road I was looking at edible scorpions and spiders and I was wishing that I had come with some of my friends to crash in some budget hostel.
A 1km long strip, Khao San Road homes countless guesthouses and mid-range hotels, internet cafés, clubs and bars, restaurants, massage parlours, travel agents, tattoo shops, vendors and more.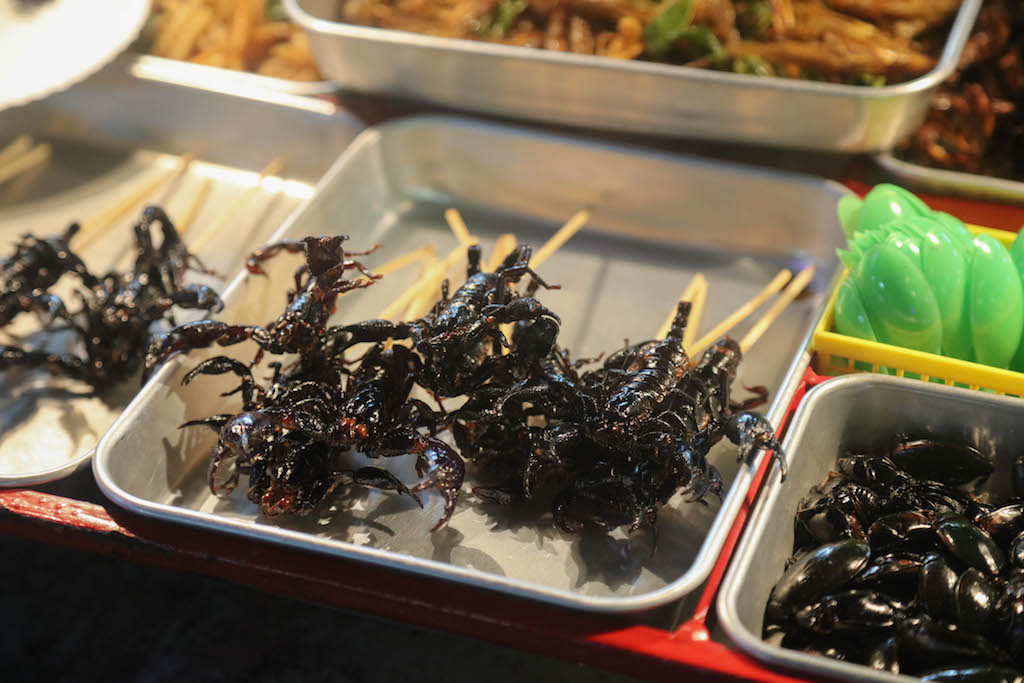 3. Flower Market (Pak Klong Talad)
The biggest wholesale and retail fresh flower market in Bangkok, the Flower Market is located on Chak Phet Road near the Memorial Bridge in the Old City. Sitting just south of Wat Pho (Temple of the Reclining Buddha), the flower market is liveliest after midnight or predawn (3-4am) – this is when the vendors receive their bright and colourful floral goods from growers all around the country. During the day the market is fairly slow going, but it is a better opportunity for shopping as wholesalers and traders aren't too distracted with unloading trucks full of freshly cut flora. You can also find props and accessories for flower arrangements, vases, flower pots, floral foam, ribbons, florist wire, twigs, decorative leaves, and previously arranged bouquets, flower garlands, floral accessories for weddings or other special occasions are also available.
Due to Australia's customs and regulations, I knew I wasn't going to buy anything, I just wanted to explore the maze of colours made by the various flowers under the dim lighting of the street lamps. You can expect to see; roses, forget me nots, orchids, lilies, jasmine, chrysanthemum, gerbera, tulips, snapdragons, iris, lisianthus, and delphiniums.
Note: During festivals such as Valentines Day, certain flowers will be three to four times more expensive
Opening hours: 24 hours, most popular are night-time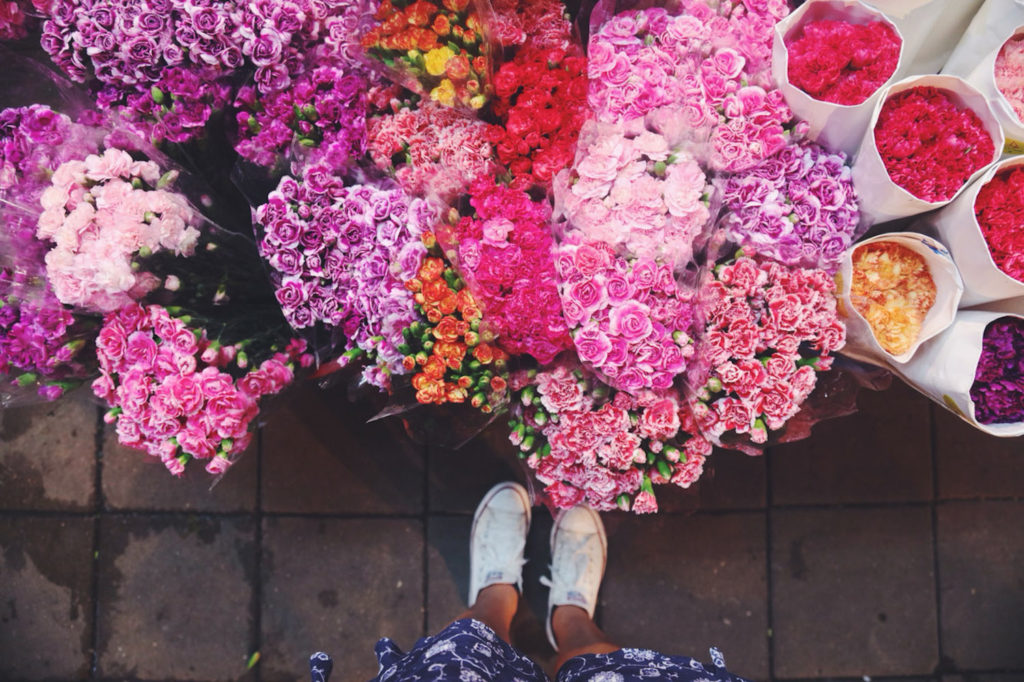 4. Chinatown (Yaowarat)
Chinatown in Bangkok is a popular tourist attraction and a food haven for travellers. With vibrant street-side cuisine and delicious tastes the area is packed with market stalls, restaurants, and shopping outlets. While in the area it is also worth visiting one of the nearby Chinese Temples.
Note: For an incredible experience, plan your trip during major festivals like Chinese New Year.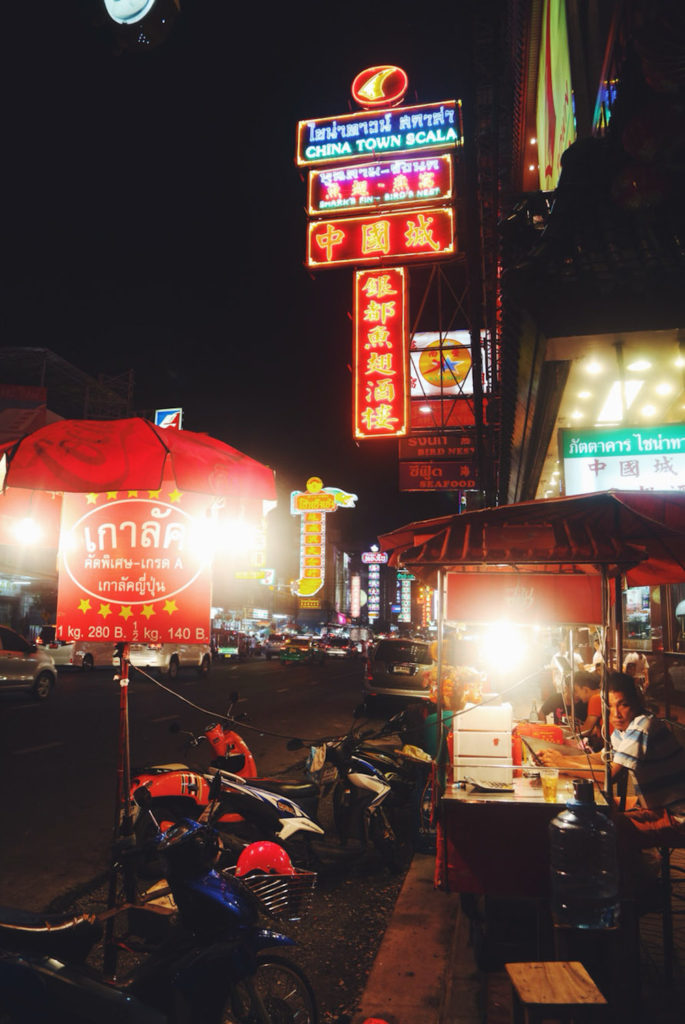 Dress Codes for Temples.
Although temples (or 'wats') are popular for tourists, they are also an important place of worship so it is important to dress appropriately. The sites are incredibly sacred, so men must wear long pants and shirts with sleeves (no tank tops) and women must dress modestly – no see-through clothing, midriffs or bare shoulders. If you are wearing sandals or flip-flops you must wear socks (so pretty much no bare feet).
If you show up at the gate improperly dressed, you will either be turned away or referred to somewhere nearby where you can either purchase or rent cover ups.
Some Phrases to get by:
Hello: Sa-wa-deee
Thank You: Ka-cup-kun
Excuse Me, Sorry: Kha-Toor
Bye: Bye
What to Eat:
Tom Yum Goong (Spicy shrimp soup)
Som Tam (Spicy green papaya salad)
Pad Thai – Khao San Road pretty much invented Pad Thai, so where better to get some?
Gaeng Keow Wan Kai (Green chicken curry)
Mango and Sticky Rice (you can pretty much find this everywhere)
Tup Tim Krob (Water chestnuts served in ice and coconut milk)
Kanom Krok – Coconut-Rice Pancakes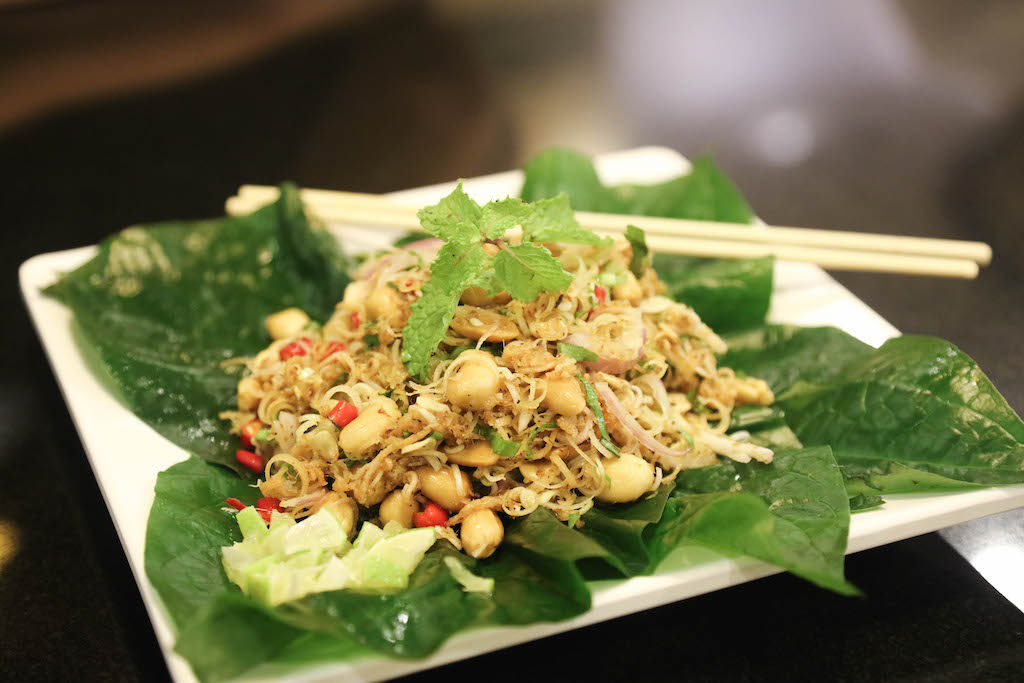 Where to Stay: Mode Sathorn Hotel
Where would you go while in Bangkok?