10 of the best ways to experience Sydney… FOR FREE

1. Stroll around the Sydney Opera House and the Botanic Gardens
One of Australia's most iconic landmarks, the Sydney Opera House is the sail-like shaped building that sits along side the famous harbour. Visitors are able to roam around the Opera House, walk around it, and go up the stairs without any charge. The Botanic Gardens are located just behind the Opera House so they are best suited to do together. One of the most popular spots to visit in the Botanic Gardens is Mrs. Macquarie's Point which provides a perfect view of Sydney's Harbour – to get here, it is a flat 15-20minute walk along the waterside.

2. Walk the Sydney Harbour Bridge – need I say more?
My preferred route when walking the Harbour Bridge is to start at the staircase across the road from the Shangri-La Sydney. This staircase leads up to a pathway that goes along the freeway – then it reaches some stairs that often confuses visitors. You go down the two flights of stairs, and then take a right – this path is shaded under the trees, and leads towards the bridge. People are only able to walk along the side facing the Opera House as the other side is exclusively for people riding bikes etc.
It's a misconception that the fencing around the walkway prevents you from taking any good photos. Despite the fence there is a gap that from my own experience is big enough for me to hold my DSLR camera through (THOUGH I KEEP MY STRAP ON).
Note: It can get windy up there, so if you decide to hold your phone to through the gap to take a photo BE CAREFUL. Dropping it over the ground could cause someone serious harm.

3. Bondi to Coogee Coastal Walk
Bondi has a reputation for being overcrowded, so if you want to see the beautiful beach areas, and MORE, this walk is the perfect way to do it. This walk pretty much begins at Bondi's Icebergs which is closely located to the local shopping outlets. Before leaving this point, you may as well check out the famous lifeguard house, and markets (subject to dates).

4. Hike up to Barrenjoey Lighthouse and take in the views
One of Sydney's most AMAZING views, this hike leads up to a lighthouse. From here you are offered spectacular views of Palm Beach stretching out before you, and hilled residential areas beyond it.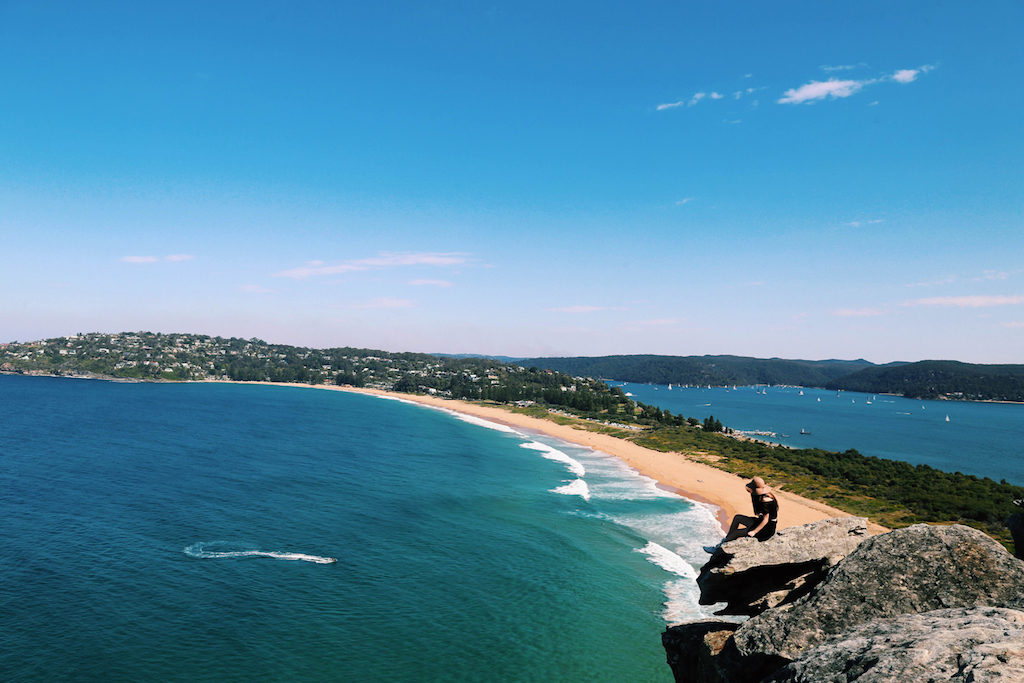 5. Take the Manly to Shelley Beach Coastal Walk
Recently TripAdvisor awarded the Manly to Shelley walk with a Certificate of Excellence. Shelley Beach is one of Sydney's most beautiful, but overlooked beaches. Instead of sand, there is a bed of small sea shells that have washed up on the shore. Shelley Beach is also known for its snorkelling opportunities.
6. Discover Circular Quay and The Rocks
Circular Quay is the area in-between Sydney Harbour Bridge and the Opera House where the ferries come in. This area can get quite busy, but provides some amazing views of the harbour as well as eateries and shopping opportunities. When facing the ferries, to the left of Circular Quay is the historical area 'The Rocks'.
"The Rocks became established shortly after the colony's formation in 1788. The original buildings were made mostly of local sandstone, from which the area derives its name". Despite a little modernisation, this area generally gives an idea of what Sydney used to look like in its early years. Generally The Rocks is filled with souvenir outlets and luxury dining options.

7. Take a dip in the water at Home and Away's Summer Bay
If you haven't heard of the TV show Home and Away, it is a well-known Aussie soap opera that runs weekly, and is filmed in Sydney. It's most recognised location is "Summer Bay", which is actually filmed on Palm Beach, north of Sydney's City centre.
8. Take the bush trail to Collin's Flat Beach in Manly
'Collin's Flat' is actually the name of a beach, and is VERY unknown to people visiting the area. Collin's Flat is a 20 minute walk from Manly Wharf and after a small bush path down some stairs, you come out at a small sandy beach that is nestled between headlands.
9. Take a bushwalk in Manly Dam Reserve
This is a better choice for someone who is after a more 'outback' experience. Manly Dam is located approximately 2km inland from Manly in the suburb of Manly Vale – this is about a 10minute drive away. The entrance to the nature reserve is nestled within the back of the suburb where the bushland starts. There is no entry fee into the reserve, and plenty of parking. Manly Dam Reserve is a War Memorial Park, and has 4 separate sections (creatively named section 1, 2, 3 & 4) that are dotted along the only road. Section 1 is best for swimming, 2 for those with boats for water sports, and 3 & 4 for picnic-goers. On the other side of the road, are many bush walking paths, though I wouldn't take one at random without researching it first. Some can be a few kilometres long, and some just 30 minute walks – each path is signed, and has continuous signage to help guide you, though forked intersections etc can be expected. A popular route is the Waterfall walk which starts at the end of Section 4 and takes about 30-40minutes depending on how much time you spend at the falls.

10. Stroll through Paddington Markets
Paddington Markets take place on Saturdays 10:00am to 4:00pm and has been running since 1973.
"Started as a market to encourage local fashion designers, craftspeople, jewellery makers and artists, the market has over 150 unique stalls filled with creative fashion and accessories, beautiful smelling soaps and candles and pictures that inspire… You will not find these Australian designed and crafted products in any shopping mall and many of our products are exclusive to Paddington Markets… Take a look at our Australian Made Section in the Courtyard of the Market or try our selection of handmade chocolates and local bread.  Relax under the trees with your coffee and lunch and then buy some flowers or a bonsai to brighten up your home… New Traders every month, and live music every Saturday… Paddington Markets is a community based market supporting local people passionate about their craft and the local community."